Hey there! Are you a fan of mythical creatures? If so, then you might love the idea of getting a small and unique phoenix bird tattoo!
The phoenix bird has appeared in many cultures and mythologies, from Chinese to Greek mythology. This immortal bird is said to regenerate itself from the ashes of its predecessor, making it a powerful symbol of rebirth and transformation.
While the origin of the phoenix can be traced back to ancient Egypt, modern scholars believe that the concept of the bird may have been inspired by folktales and legends. Regardless of its origins, the phoenix has become a popular tattoo design, serving as a beautiful metaphor for personal growth and transformation.
If you're looking for a tattoo idea that symbolizes change and rebirth, then a phoenix bird tattoo may be perfect for you!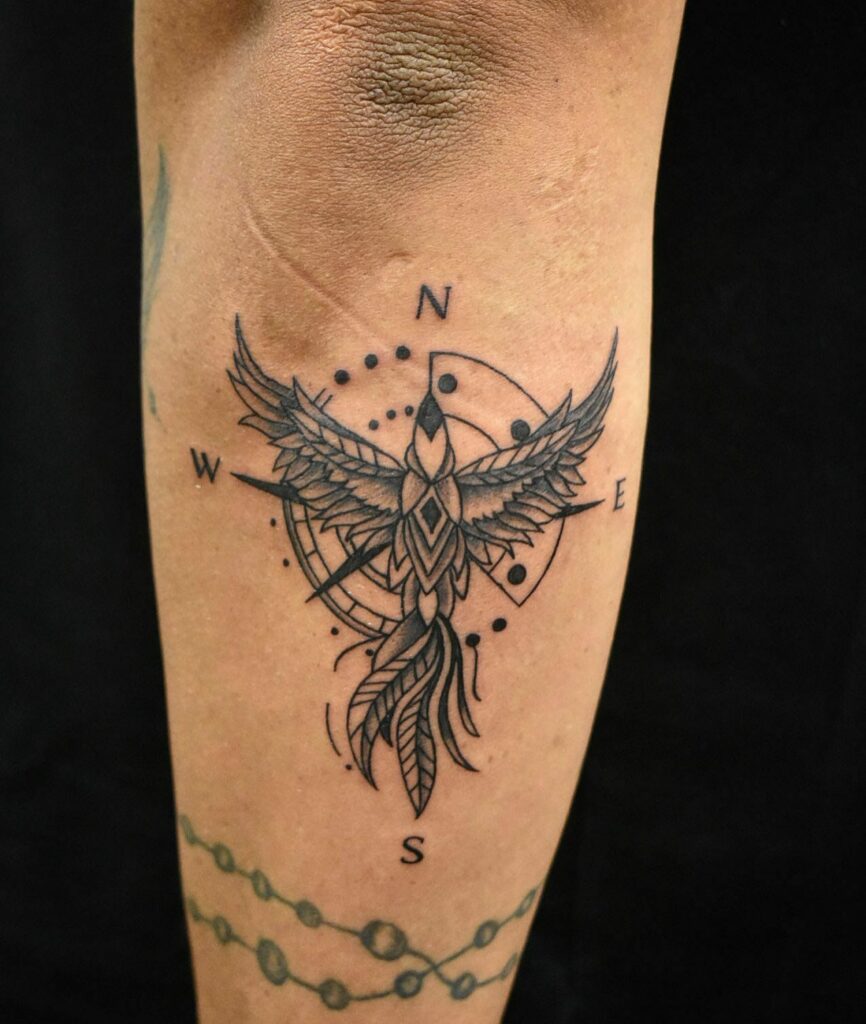 Small Rising Phoenix Tattoo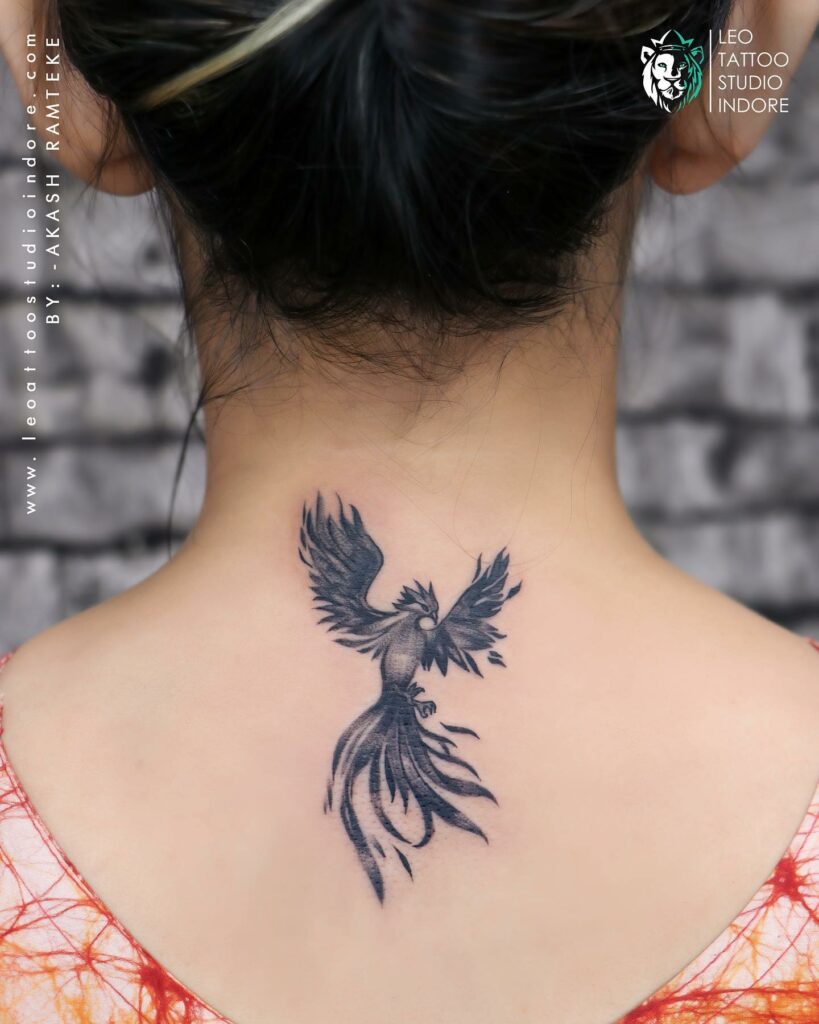 This design is super popular with both men and women and can be done in classic black ink or with a beautiful array of colors, just like in ancient Greek mythology. When it comes to placement, you've got plenty of options to choose from, including the neck, forearm, chest, shoulder, ankle, and back. The rising phoenix symbolizes resilience and strength in the face of adversity. It's a beautiful reminder to face challenges head-on and rise from the ashes, just like the legendary bird.
Small Forearm Phoenix Tattoo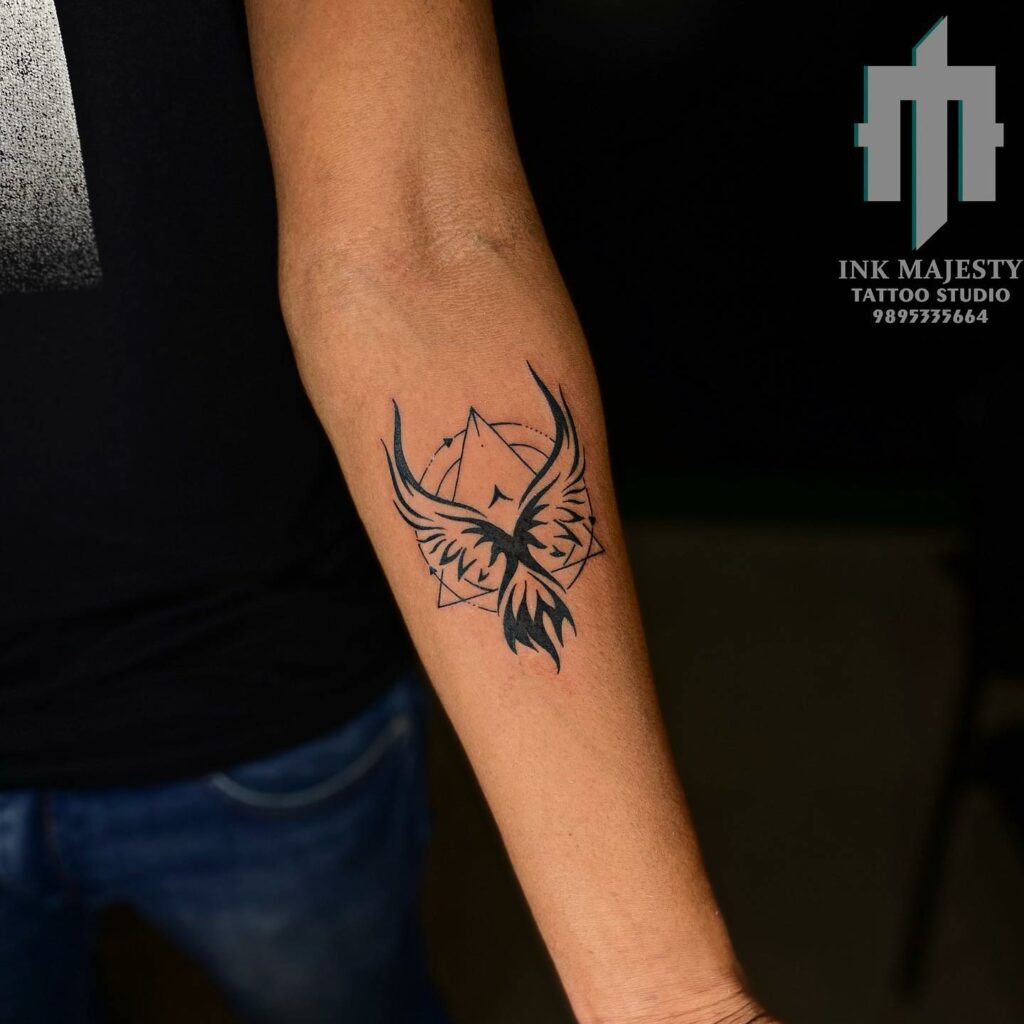 If you're looking for a design that symbolizes resilience and courage, the phoenix tattoo is an excellent choice. When it comes to placement, the forearm is a popular choice for both men and women. Why, you ask? For one, it's a highly visible space that showcases the confidence and honesty of the wearer. Plus, the forearm hurts less than other more sensitive areas, making it an excellent option for those new to the tattoo world.
Now, let's talk design. A minimalist phoenix tattoo or a larger, more ornate one can both look fantastic on the forearm. A skilled artist can use a variety of colors, such as purple, blue, or orange, to make the wings of the phoenix bird really pop. Or, if you prefer a more classic look, black ink can be used for a bold, timeless effect.
No matter the size or color, a phoenix rising from the ashes is a powerful symbol of overcoming adversity and facing challenges with renewed strength and courage. So if you're ready to embrace your inner fighter, a phoenix tattoo on your forearm might be the perfect way to show it off!
Small Harry Potter Phoenix Tattoo
If you're a fan of the beloved book series and movies, you'll love this tattoo design featuring Fawkes, the male phoenix and loyal companion of Dumbledore. Fawkes is a symbol of loyalty and friendship, and this design is a beautiful way to pay homage to one of the most iconic characters in the series.
For this design, we recommend using colorful ink to really bring Fawkes to life. The perfect placement for this tattoo is on the forearm, chest, back, calves, or ankle, where it can be easily shown off and admired by fellow fans.
Not only did Fawkes accompany Dumbledore on many of his adventures, but he also helped Harry when he was in a dangerous situation. And even after Dumbledore's death, Fawkes sang a beautiful song of lament and then disappeared into the night sky, never to be seen again.
If you're looking for a tattoo that represents the power of friendship and loyalty, then the Fawkes design is an excellent choice. So, gather your fellow Potterheads and head to your nearest tattoo parlor to get this magical design inked on your skin!
Small Ankle Phoenix Tattoo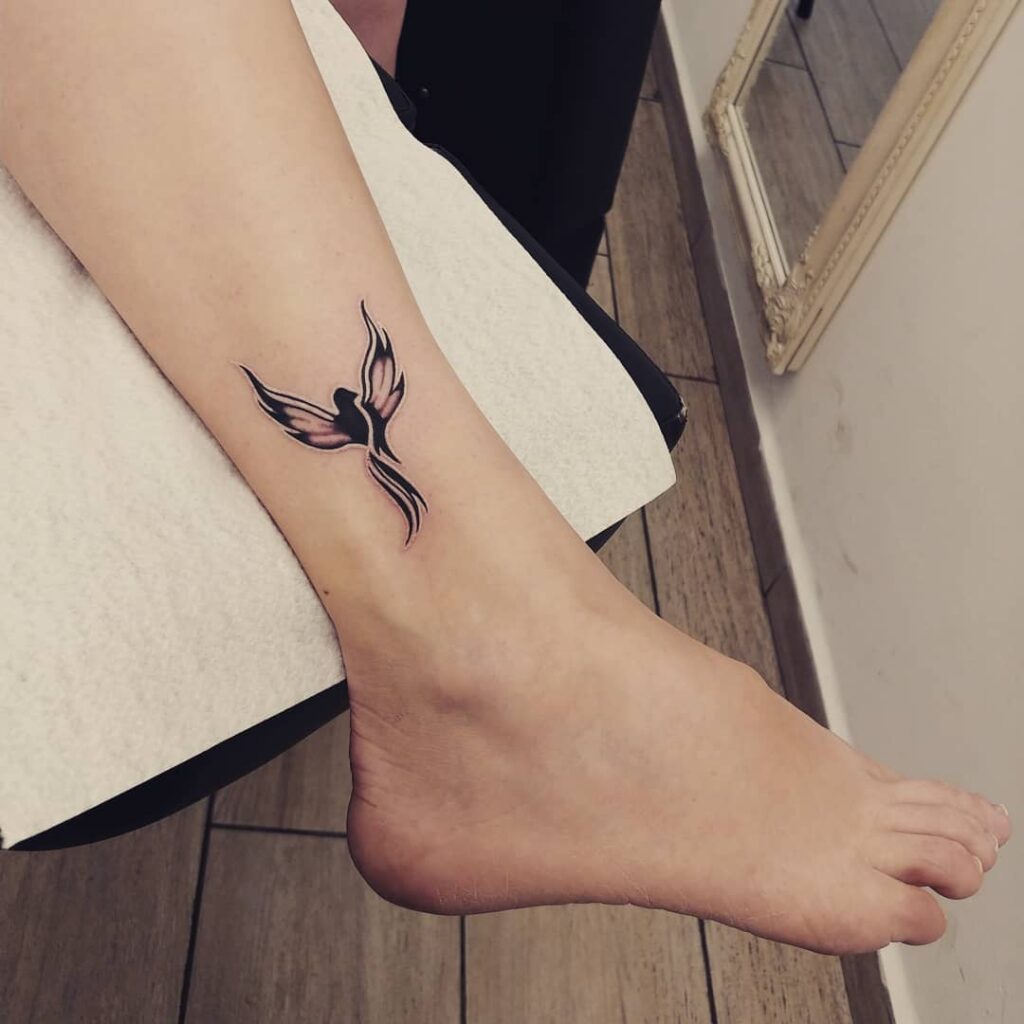 Are you considering getting a tattoo, but don't want it to attract too much attention? Well, have you ever thought about getting inked on your ankle? It's a fantastic spot to showcase your unique style without being too flashy. Whether you prefer black ink or a range of colors, there are so many possibilities for designing a beautiful ankle tattoo.
I should mention that getting a tattoo on your ankle can be a bit painful, as there's not much muscle in the area. But if you're brave enough to endure the discomfort, the end result can be stunning. One popular design for ankle tattoos is the phoenix, which symbolizes strength, resilience, and rebirth. Other popular themes include hope, balance, and renewal.
And don't worry, ankle tattoos are not just for women! Many men also choose to get inked on their ankles, and the design options are just as varied. So if you're ready to express yourself through body art, consider getting a tattoo on your ankle. It's a subtle yet stylish choice that will have you feeling confident and empowered.
Small Realistic Phoenix Tattoo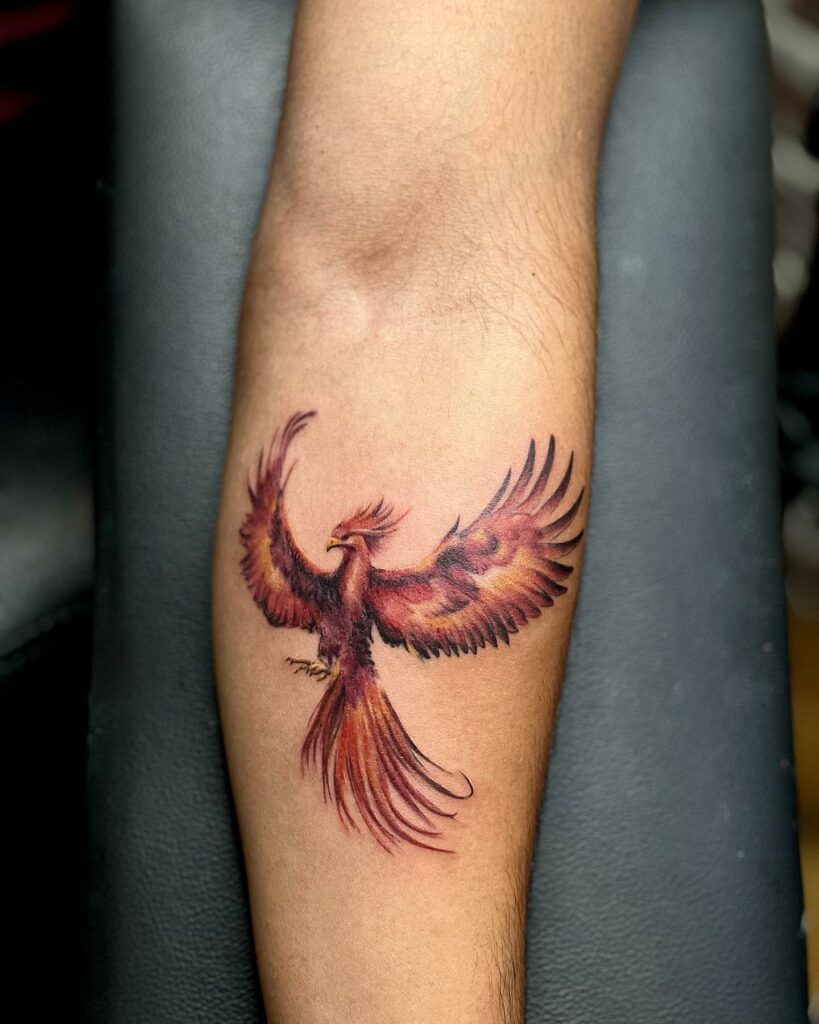 When it comes to small tattoo designs, it's easy to make mistakes and mistake them for a photograph. But fear not! Let me educate and inform you about a unique tattoo technique that's been around since the 1850s in France, and still regarded as one of the highest forms of art – photorealism.
Creating a creature like the phoenix using this technique is truly a feat, but the end result is breathtaking. The artist can use either traditional black and grey ink or add a pop of color using orange, purple, or blue to create the feathers and wings of the phoenix. These designs reflect both the concept of rebirth and realism, and can be inked on any portion of the arm, leg, or back – depending on the artist's expertise and the client's preference.
So if you're looking for a tattoo design that's both striking and meaningful, consider a realistic phoenix tattoo that will leave everyone in awe of your ink!
Small Shoulder Phoenix Tattoo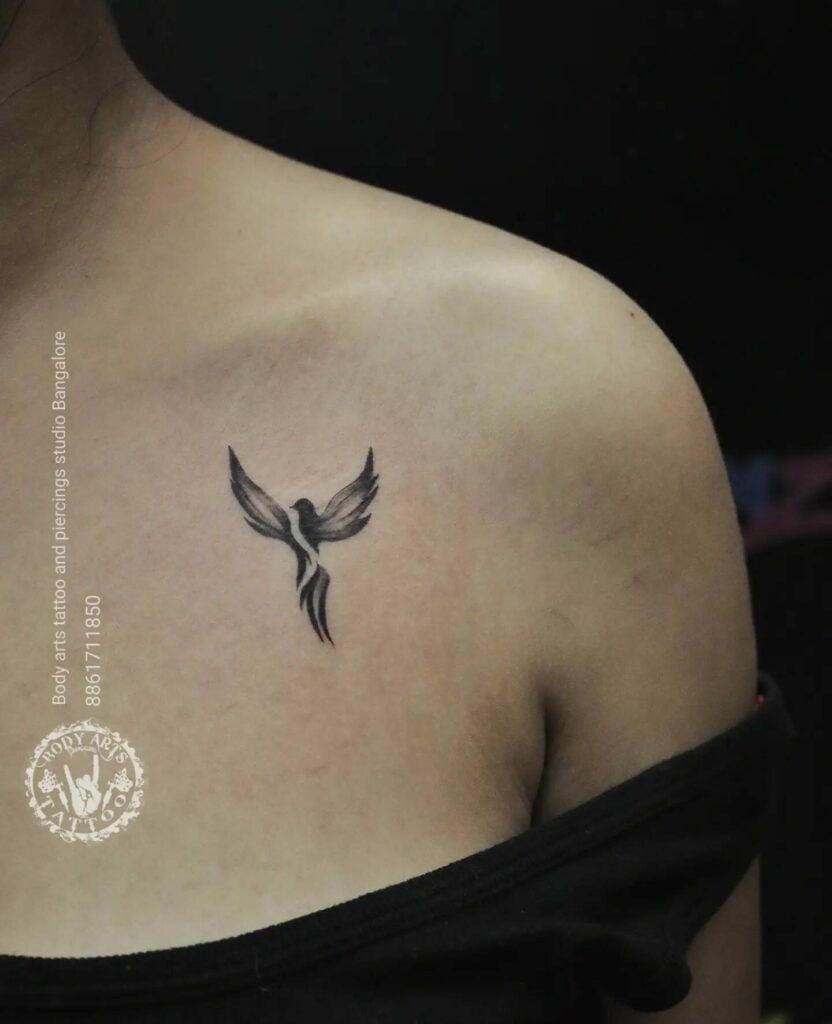 Did you know that sailors were among the first to popularize tattoos, with the shoulder being a traditional place of choice? Not only does the shoulder area reflect strength and power, but it's also the perfect canvas for a phoenix tattoo design.
You can opt for traditional black ink or vibrant colors to create a stunning phoenix tattoo on your shoulder. The great news is, this area is popular among both men and women!
When it comes to pain, getting a tattoo on your shoulder is one of the least painful options due to the fatty tissues and muscles in that area. Plus, a phoenix tattoo on the shoulder has a deeper meaning than other tattoos. Just like the mythical bird, the tattoo owner with a shoulder phoenix tattoo embraces challenges and carries the weight on their shoulders while achieving victory.
So, if you're looking for a tattoo that's not only visually striking but also carries a significant meaning, consider a shoulder phoenix tattoo to symbolize your strength and power!
Small Tribal Phoenix Tattoo
Tribal tattoos are always unique in their designs, with different geometric patterns and cultural influences making them truly interesting. And when it comes to phoenix tattoo ideas, inking this mythical bird in a tribal pattern is a surefire way to make a statement.
Mostly done in black ink, these phoenix tattoos are popular among both men and women. What's more, a phoenix tattoo done in a tribal pattern has a two-fold meaning. Firstly, it symbolizes rebirth, wisdom, honor, prestige, self-improvement, and the ability to overcome pain.
Secondly, this tattoo design traces back the lineage of the tattoo artist and honors their tribe for their achievements. It's almost as if the soaring phoenix wings represent the tribe's collective success.
So, if you're looking for a tattoo design that's both visually striking and rich in cultural symbolism, consider a tribal phoenix tattoo to showcase your lineage and triumphs.
Small Upper Arm Phoenix Tattoo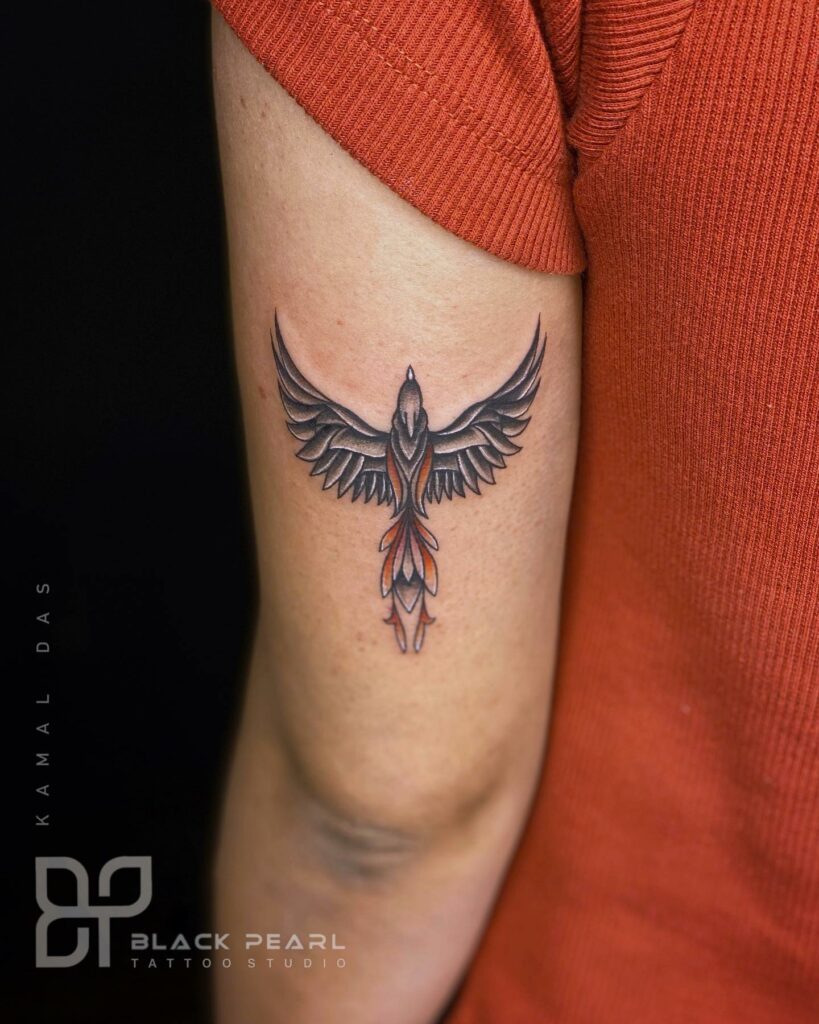 A phoenix tattoo design in this area can be particularly impactful, as it symbolizes not only strength but also growth and rebirth.
The great thing about getting a phoenix tattoo in this area is that you have a wide range of color options available to you. From traditional black and grey to a rainbow of hues, your tattoo artist can work with you to create a custom design that fits your style and preferences.
It's worth noting that the bicep and tricep areas have a lot of muscles, which means that getting a phoenix tattoo in this area may cause some moderate pain. However, the end result will be well worth it, especially if you have a toned, athletic body. A phoenix tattoo in this area will not only look exquisite but also showcase your strength and ability to rise from the ashes like a phoenix. So if you're considering a phoenix tattoo, don't overlook the upper arm as a fantastic placement option.
Japanese Phoenix Tattoo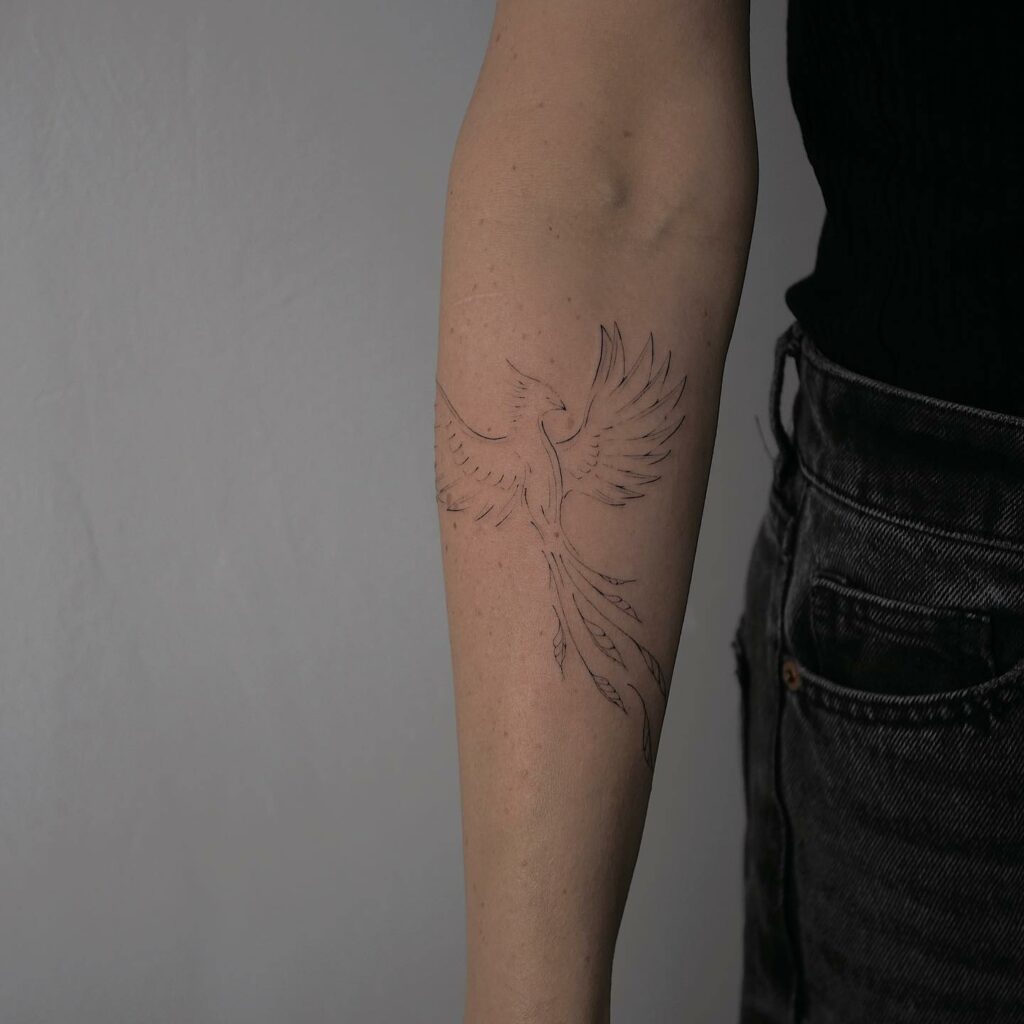 This design has a rich cultural history and is believed to have originated in China before spreading to Japan. In Asian culture, the phoenix is seen as a powerful symbol sent from the gods to the Empress, representing royalty and the imperial household.
The Japanese phoenix tattoo often features intricate details and is often paired with flowers or paulownia leaves in its tail feathers, making for a stunning and unique design. The phoenix's ability to rise from its ashes also represents the idea of overcoming adversity and fighting on, making it a popular choice for women looking for a tattoo with a deep meaning and a feminine quality. So if you're looking for a tattoo that combines beauty and cultural significance, the Japanese phoenix might be the perfect choice for you!
Small Dragon and Phoenix Tattoo
Are you looking for a tattoo idea that symbolizes the unbreakable bond between you and your partner? Look no further than the dragon and phoenix rising tattoo! This stunning design, which is typically inked in traditional black ink, can be placed on the forearm, wrist, ankle, shoulder, or calves.
The phoenix portion of the tattoo is typically inked on the skin of women, while the dragon is done on the body of men. When combined, these two mythical creatures create a beautiful symbol of love, peace, and unison. According to Chinese mythology, the dragon and the phoenix are an emblem of marital harmony, making this tattoo a popular choice for couples.
Did you know that other cultures also have mythical creatures that are associated with the phoenix? In Hindu mythology, the Garuda is a parallel creature that represents rebirth and long life, while the firebird in Russian mythology represents strength and renewal. Konrul in Turkish mythology also symbolizes strength and rebirth. These creatures can also make for great tattoo ideas!
Still looking for inspiration, then checkout this blog post about small dragon tattoos
Still looking for inspiration, then checkout this blog post about butterfly tattoo with flowers
feature image from Pinterest – Want your tattoo to look brighter? Try "Tattoo Balm"