Want some eye-soothing small watercolor tattoo ideas? Check out this article to know and discover more about watercolor tattoos.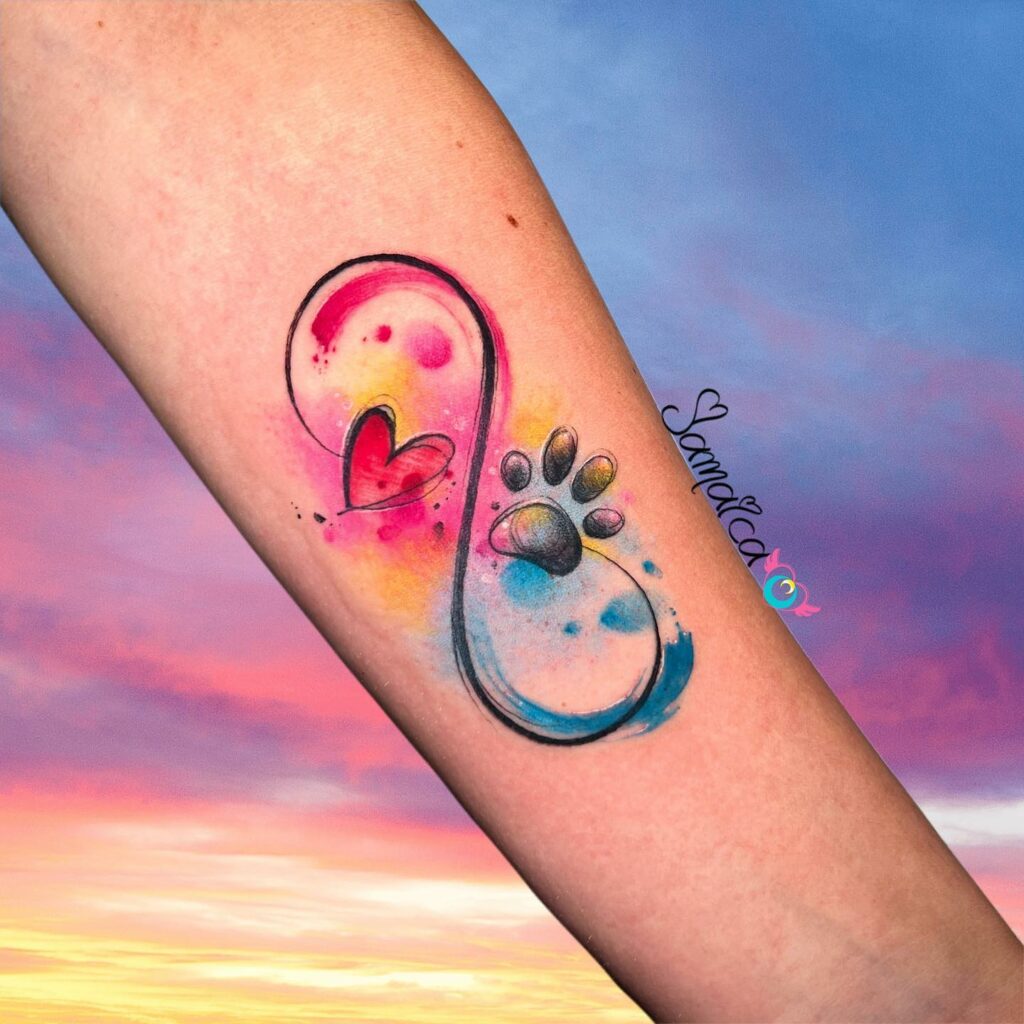 Watercolor as a medium of painting is very calm and pleasant in appearance.
Tattoo artists have adopted this medium of painting and used it to make various innovative designs over the years. Watercolor tattoos have a hint of elegance and beauty in them.
One of the biggest questions is do watercolor tattoos hurt? The answer is that it is less painful than your usual tattoos. This is because watercolor tattoos use less ink than traditional tattoos, so there are fewer piercings made on the skin by the needle. If you are someone who loves tattoos but is apprehensive about getting one because of the pain, then watercolor tattoos are a good choice. The longevity of the tattoo might raise a question since not much ink is used, the truth is, if you are getting such a tattoo always go to a reputed and trusted artist, who will use techniques that will help your tattoo last, and not fade away.
Bright Yellow Color Bird Tattoo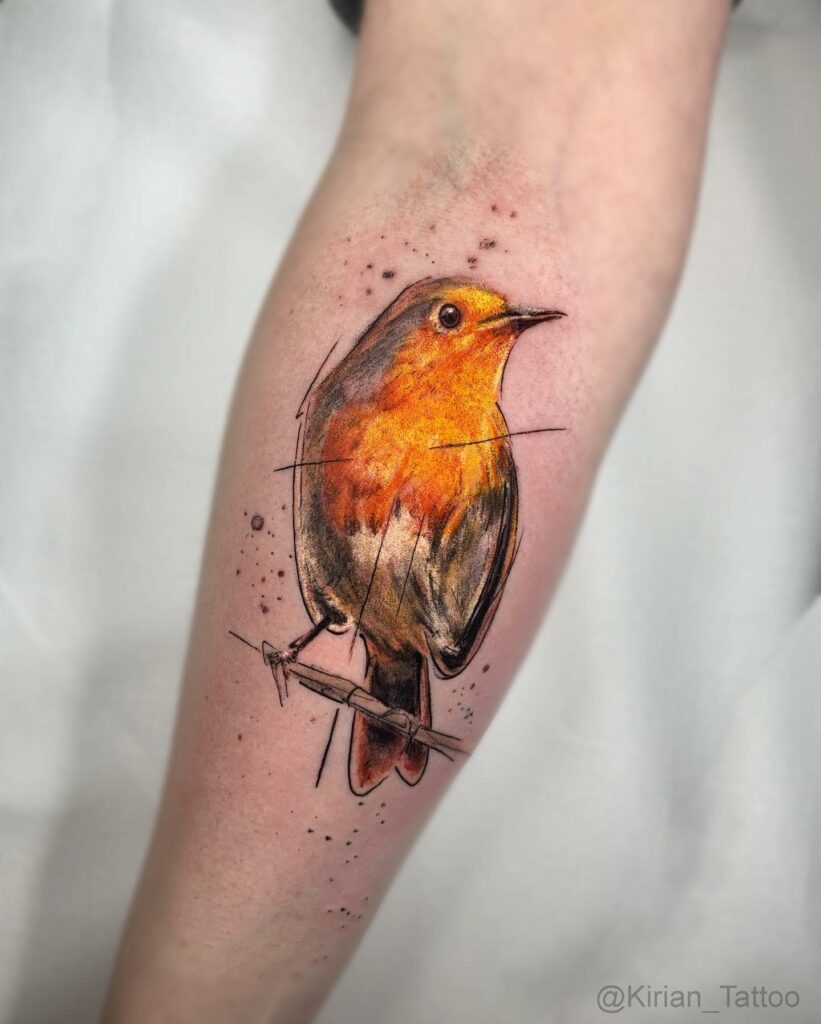 Watercolor-style paintings are generally inspired by nature. Birds are the brightest part of nature along with flowers. Poems of many ages have written verses dedicated to different birds like Keats' 'Ode to a Nightingale' or Shelley's 'To a Skylark'. Birds symbolize the flight of the free spirits. The tattoo chosen here uses warm colors like yellow and orange and has prominent black lines.
This winged creature tattoo will look good on your forearm or either corner of your chest. The tattoo portrays a simple design, of a small bird sitting on a twig. The beautiful detailing and mixing of the colors give the tattoo a realistic look. Both men and women can easily sport this tattoo. If you want, you can customize the bird's color according to your liking.
Fawkes The Phoenix Tattoo
All the Potterheads out there, this tattoo is for you! Phoenix is a mythical, immortal bird associated with greek mythology. The bird cyclically rises or is born from its ashes. This bird is a powerful symbol of immortality, life, death, also resurrection. According to the ancient Greeks, this winged creature lives near a cool well, in Arabia. In JK Rowling's Harry Potter Series, Fawkes is an extremely intelligent phoenix, who happens to be Albus Dumbledore's companion and saves Harry Potter in the Chamber of Secrets. The bird has scarlet golden feathers and looks beautiful. Even when it bursts into flames on the event of Burning day, it always appears to be majestic and powerful.
This small watercolor phoenix tattoo is gorgeous. The blend of orange, yellow, and red ink emanates a sense of regeneration, and fierceness, and paints a picture of a dancing star. The tattoo artist has not only chosen the watercolor background carefully but also prominently designed the phoenix so that the tattoo does not fade faster than usual. The phoenix tattoo is a sign of new beginnings. The best placement of the tattoo would be on your chest.
Red Watercolor Flower Tattoo
This is a delicate flower tattoo design that yet again upholds the beauty of nature, and has a touch of Australia in it. The yellow Craspedia globosa or Billy Button flowers are native Australian flowers with narrow silvery grey leaves. This tattoo appears to be like a watercolor portrait and is elegant. The artist has carefully outlined every tiny detail in the tattoo. The use of vibrant colors like red and yellow is eye-catching.
The best places where you can get this tattoo is the forearm, ankle, back, or on either side of your abdomen. Even though flower tattoos are usually sported by girls, with correct confidence, even men can carry them. In this watercolor tattoo section flowers are the most popular tattoo options.
Colorful Breathe Tattoo
This tattoo is a great example of a unique design. The artist has used a lot of bright shades and blended human lungs with the plant world to manifest unity. Even though this tattoo is slightly bigger than the ones on the list so far, it is a marvelous piece. The lungs represent the process of breathing, taking in oxygen, and releasing carbon dioxide. This could portray the fact that you should imbibe positivity as much as you can and let out all the pessimism that resides within.
The artist also abstractly shows the leaves of a plant on top of the trachea. This could mean a blend of the human world and the flora world. With increasing urbanization, this is also a reminder of the fact that just like humans, plants are also living beings who live and breathe the same as us and that we are always dependent on plants. The use of vivid colors like red, yellow, and blue is bound to make your tattoo stand out.
Simple Floral Arm Tattoo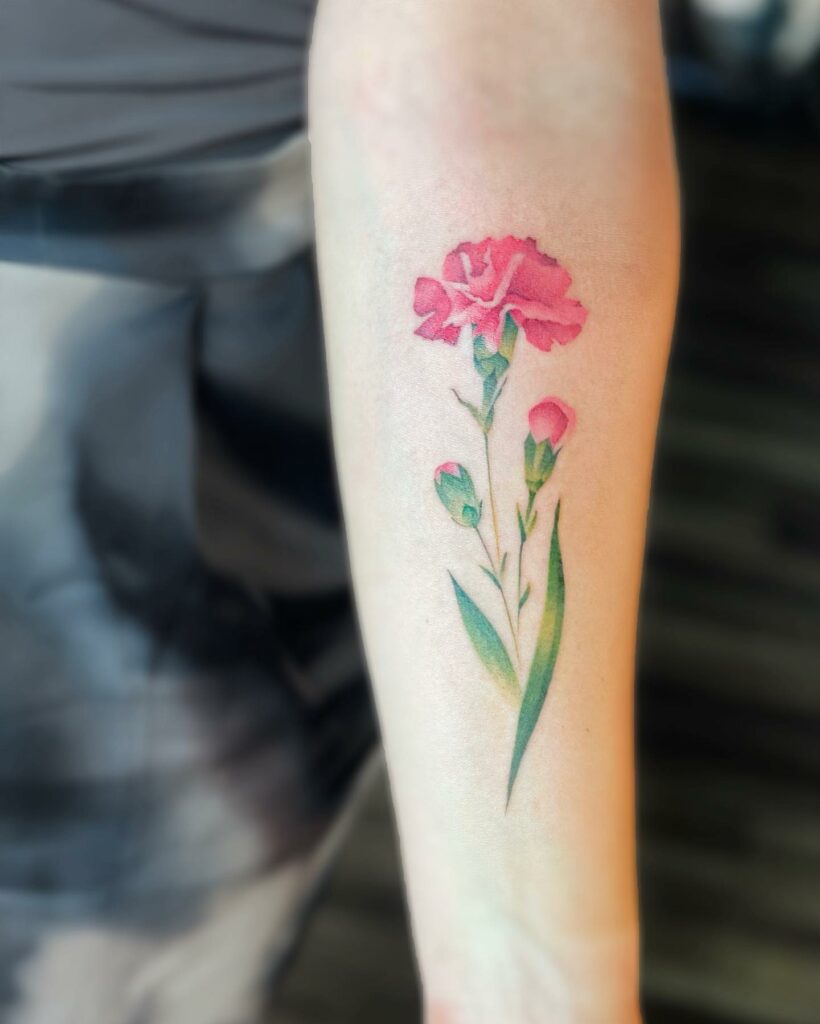 This beautiful tattoo uses light shades of mainly two colors red and green. A basic watercolor technique has been used to draw this tattoo and will look best on your forearm. The other placements that you can try for this tattoo are the ankle, nape of the neck, or wrist. Tattoo artists generally refer to such watercolor tattoos as feminine body art.
Just like the buds bloom into beautiful flowers, similarly, every young girl grows up to be beautiful and unique in her own way. Such meaningful artwork boosts the confidence of the bearer in this hard world. Even though it is a small watercolor flower tattoo, the artist has put in intricate details like the petals, to make the tattoo look real and lively. If you are looking for a simple, sober tattoo then this is your perfect catch.
Lisbon's Tram Tattoo
Using bright colors like blue and yellow, the artist has portrayed Lisbon's trams, which are an integral part of the city's transport system. The one in the tattoo is the traditional Lisbon Tram 28, which is the most famous tram as you can see all the major landmarks while traveling on it. The tram is clad in mustard yellow and is one of the most celebrated heritages.
For people who love to travel and want to carry a piece of where they visited always with them, this kind of tattoo idea is an appealing option. To travel the world is a traveler's paradise and like Francis Bacon had said that where ever we go we should carry a piece of that place with us. With the popularity of tattoo art what better way than getting inked? With the help of tiny watercolor tattoos, you can add life to what you have seen and carry it with you for the rest of your life.
Trio Of Butterflies Tattoo For Women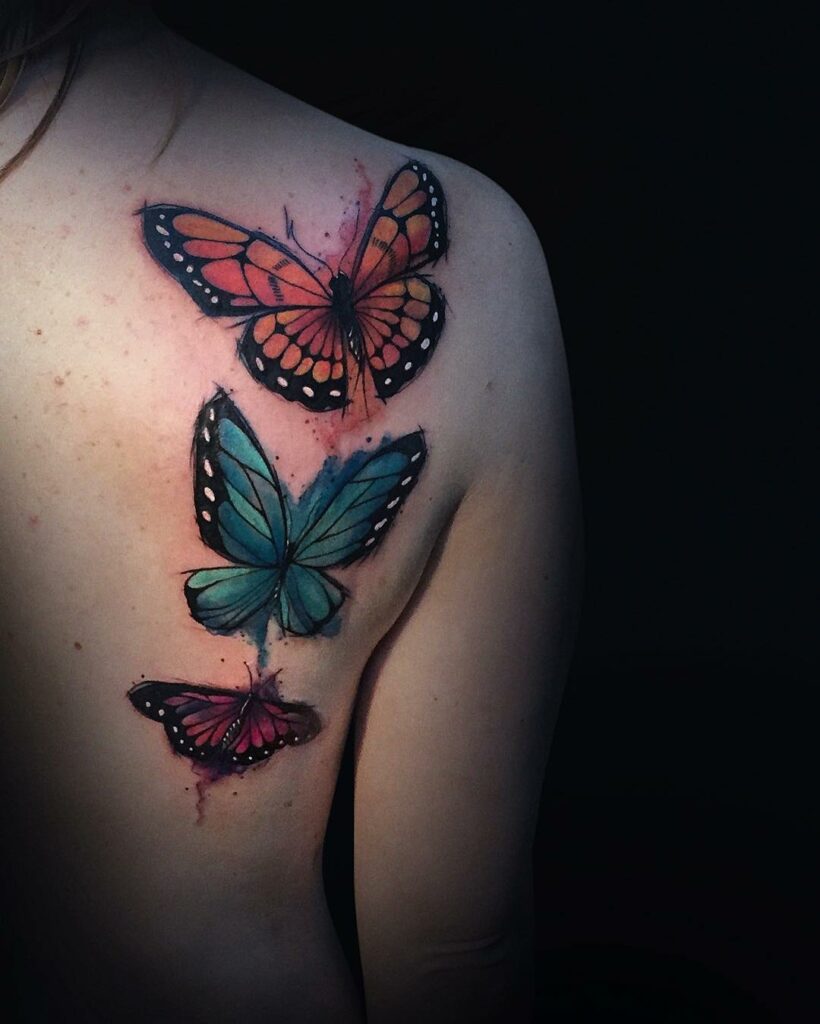 Among the various tattoo ideas that we have presented so far, this is one the most beautiful piece. This small watercolor butterfly tattoo is gorgeous. The use of three different colors makes the tattoo bright and unique in its own way. You can customize such cute tattoo ideas in terms of the size, shape, and color of the butterflies. The different hues used in the tattoos emote different emotions.
The biggest butterfly is a combination of warm colors depicting the fierceness, power, and strength of a lady. The middle one is a combination of cold colors representing calm, beauty, and connection with nature. Lastly, the tiny butterfly in pink and purple expresses the capability of love, compassion, and kindness that a lady's heart holds. So, the three butterflies together represent complete female power.
Pet Face Watercolor Tattoo
No mythical creatures or out of the box to give power, this tattoo is the face of your most beloved pet. Getting tattoos is not just about looking cool and edgy. Tattoos are a way of expressing one's self. Many times we get a tattoo to inspire or boost ourselves during tough times, and what can be greater motivation than love?
Our pets are our most beloved ones, so getting a tattoo of your cat or dog or any pet that you own is not a bad idea. In that way even if you are not physically present with them, you will always have them with you. You can either get the original color of your pet tattooed, or you can just get the black outline and then use different shades of colors to make it aesthetically pleasing. A Pet tattoo is generally a tiny tattoo best suited on your chest closer to your heart.
Little Girl Tattoo
The best time most of our lives is inarguably our childhood. The pure joy of being tension-free, the simplicity, the innocent wandering mind, everything is dearly missed and loved. This tattoo captures the innocence of being little. What makes watercolor tattoos special is their ability to portray the perfect emotion through abstract colors.
The bright pink and blue shades perfectly emote the happiness, joy, and beauty of the child and her happiness. The heart-shaped blue balloon enhances the cuteness and love that is contained in this small tattoo. Get this tattoo on your back or upper arm as a reminder of the happy days.
Feminine Small Watercolor Tattoo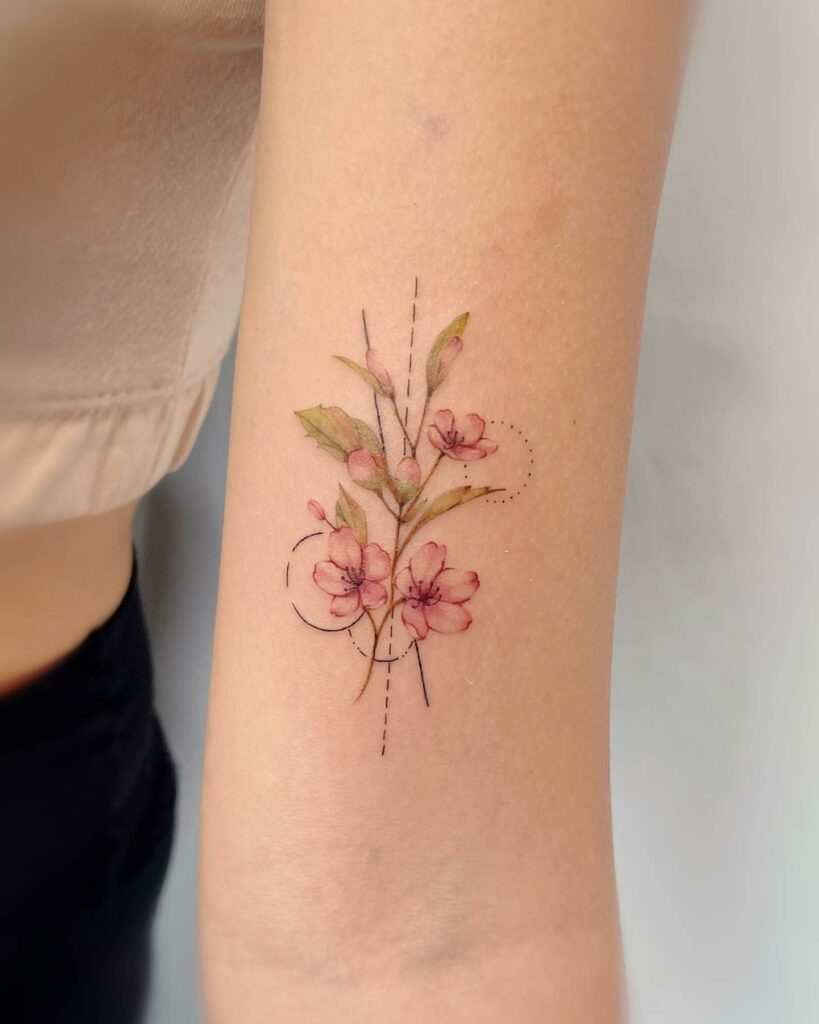 We started the article by mentioning how pleasant watercolor tattoos are, so we end the list with the most delicate and gorgeous tattoo. All the flowers in the tattoo are of the same pink shade and the leaves are not colored in the usual green hue. The pink and ochre color combination is different and eye-soothing.
The beauty of this piece of art is its simplicity any woman would look beautiful getting inked in this piece. The watercolor technique used here focuses mainly on the deep and light shading contrast giving it an aesthetic appearance. You can get this tattoo on your back, ankle, forearm, and upper arm.
Watercolor tattoos or tattoos in general are a kind of body art that is personal and requires a lot of patience and creativity to come up with. The colorful tattoos are brought to life after long hours of hard work and dedication. Watercolor tattoos require special effort to bring the correct color effect. Let us end the article by looking at a few suggestions.
feature image from Pinterest – Want your tattoo to look brighter? Try "Tattoo Balm"