Are you thinking of getting a new tattoo but not sure what design to choose for your fingers? No need to fret, as we have got you covered with some cool and creative snake finger tattoo ideas. Snake tattoos have been a popular choice for ages, as they hold different meanings across various cultures and can be designed in a variety of ways.
While some people may see snakes as scary or negative creatures, others find them to be symbols of transformation, protection, and healing. For instance, in Hinduism, the snake is revered as a spiritual symbol, while ancient Japanese cultures believed that the snake represents good fortune and prosperity. Regardless of what the snake symbolizes for you, it can be an excellent choice for a tattoo on your fingers, wrists, or ankles.
In this article, we've curated some of the best snake finger tattoo designs that you can use as inspiration for your next ink session. So, go ahead and check them out!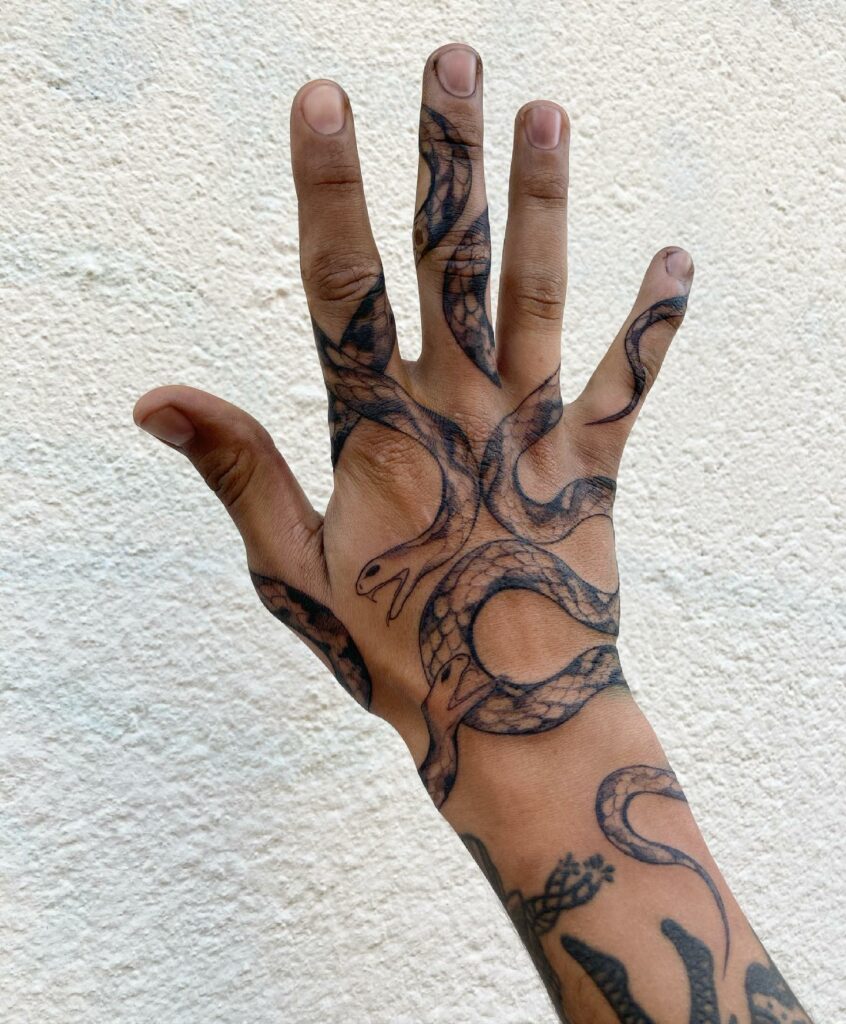 Finger Small Snake Tattoo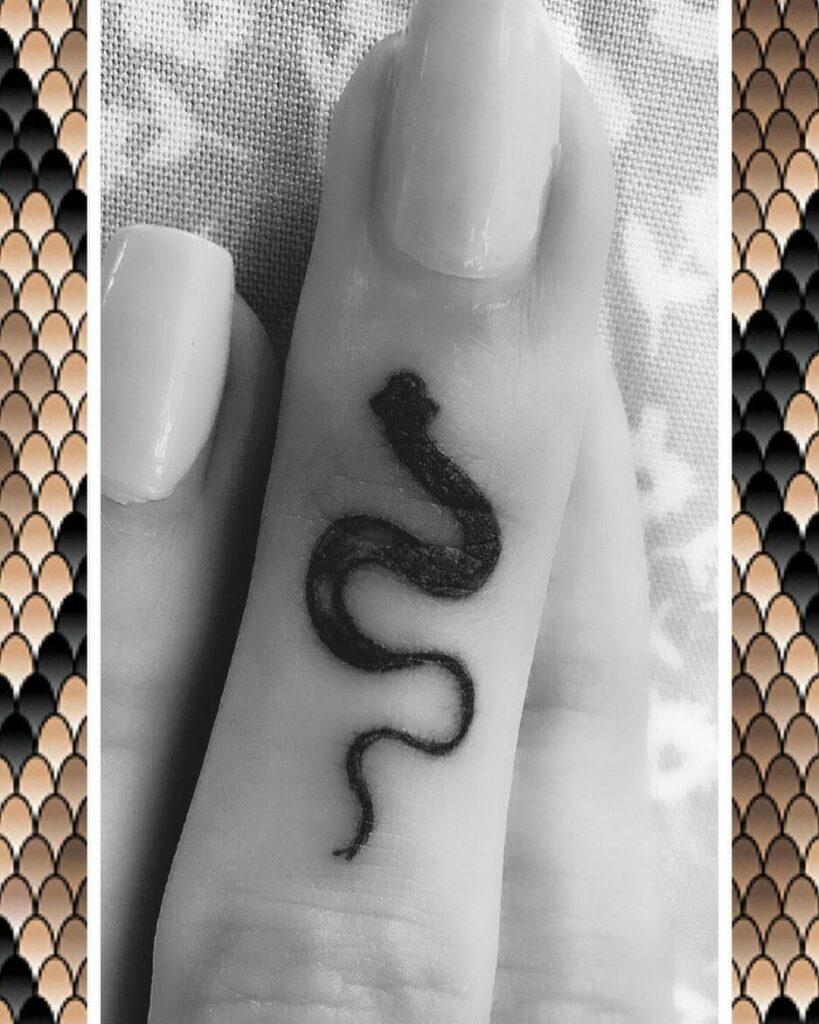 Are you considering getting a cool snake tattoo etched onto your finger? While the black and white design can look stunning, it's important to be aware of the potential risks before getting inked. The artist has highlighted the snake's slimy and wavy body beautifully, but finger tattoos can come at a great cost. Pain is one of the biggest considerations. Fingers are known to be one of the most painful areas to get a tattoo due to the sensitivity of the skin and the high number of nerve endings. Techniques to reduce pain exist, but if you have a low tolerance for pain, it may be best to avoid getting a finger tattoo altogether. With the right information, you can make an informed decision about whether a finger tattoo is right for you.
Middle Finger Snake Tattoo
The middle finger of this individual is adorned with an elegant snake tattoo that exudes a subtle yet bold vibe. The skilled artist has used fine straight lines to bring out the curvy form of the snake and added some black shading underneath to make it look more realistic. This simple and aesthetic design is especially popular among women, and you can even add some color to create a bolder look. However, before getting a finger tattoo, it's important to note that fingers are one of the most painful areas to get inked due to their tender skin and nerve endings. So, it's best to be mentally prepared and consult your artist for pain management techniques.
Black Snake Tattoo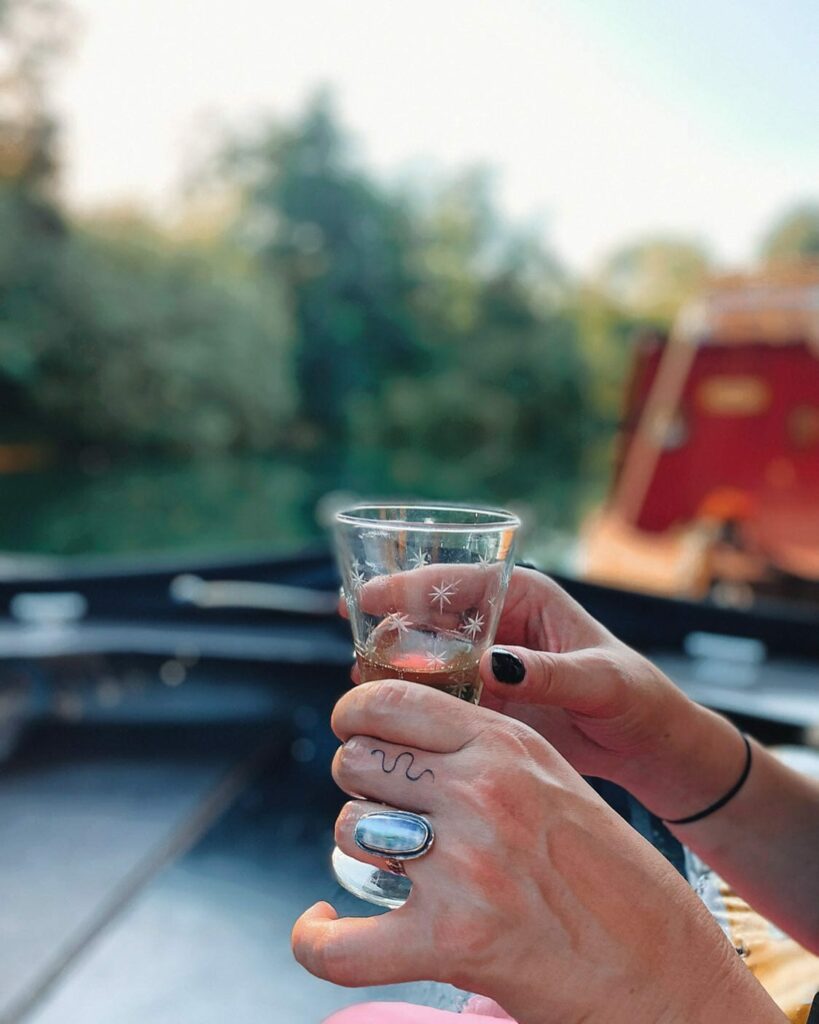 As mentioned earlier, finger tattoos can be excruciatingly painful. After learning all the downsides of it, if you still wish to get one, this design right here can be the perfect way to start your journey. The image mentioned above contains a simple and cute design of a snake, imprinted on the finger of the individual. From a distance, it appears as if the woman in the picture, is wearing a ring. Without any detailing or shading, the artist has simply drawn a curved line, representing the S-shaped wave of a snake. The whole design has been made using black ink only. Although minimal in size, these kinds of tattoos are definitely eye-catching. They will reflect that badass and cool side of your personality in the perfect way.
Minimalist Snake Tattoo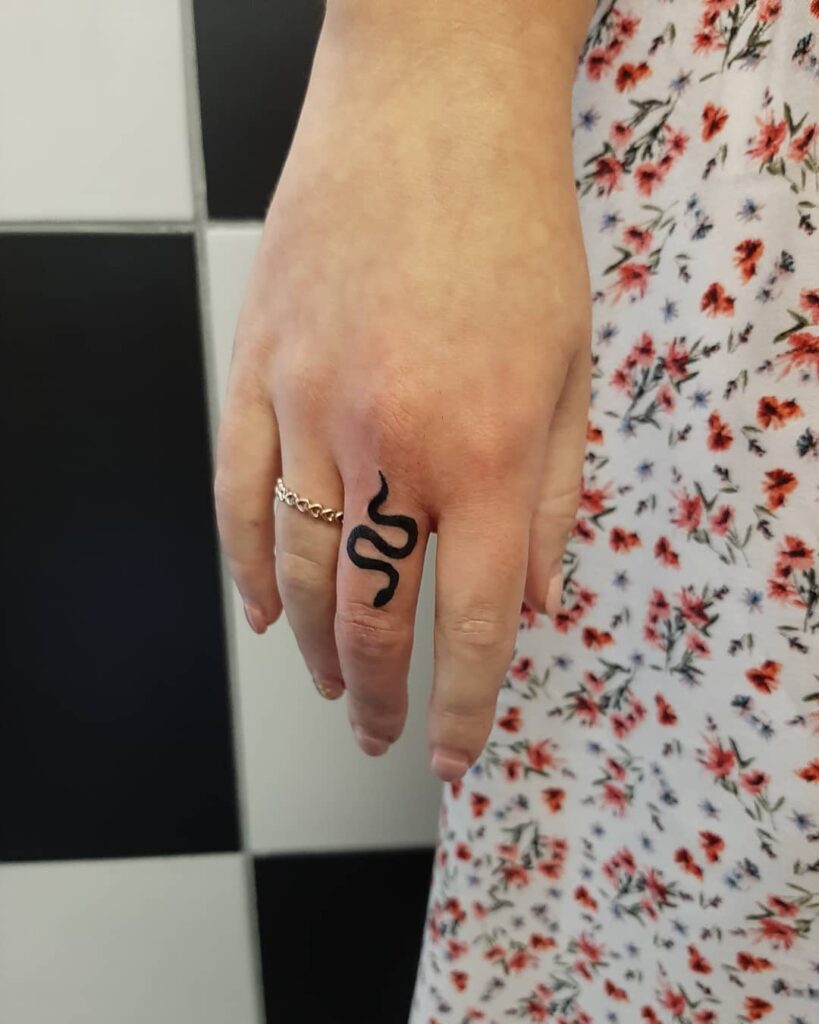 Snake tattoos are one of the most versatile designs in the world of tattooing, and they remain a popular choice among tattoo enthusiasts. Whether you prefer a simple and minimalist design or want to pair it up with other elements such as butterflies and flowers, snake tattoos are always a great option. The featured image is a perfect example of a minimalist snake tattoo, imprinted on the finger of the individual. The snake, which symbolizes renewal and transformation, is portrayed through a simple and elegant design, accentuated by pitch-black ink. The snake's ability to shed its skin and regenerate is why it is associated with renewal and transformation. So, if you're looking for a meaningful tattoo, a snake design may be the way to go. Despite the pain associated with finger tattoos, this design is sure to grab attention and leave an everlasting impression.
Red Snake Tattoo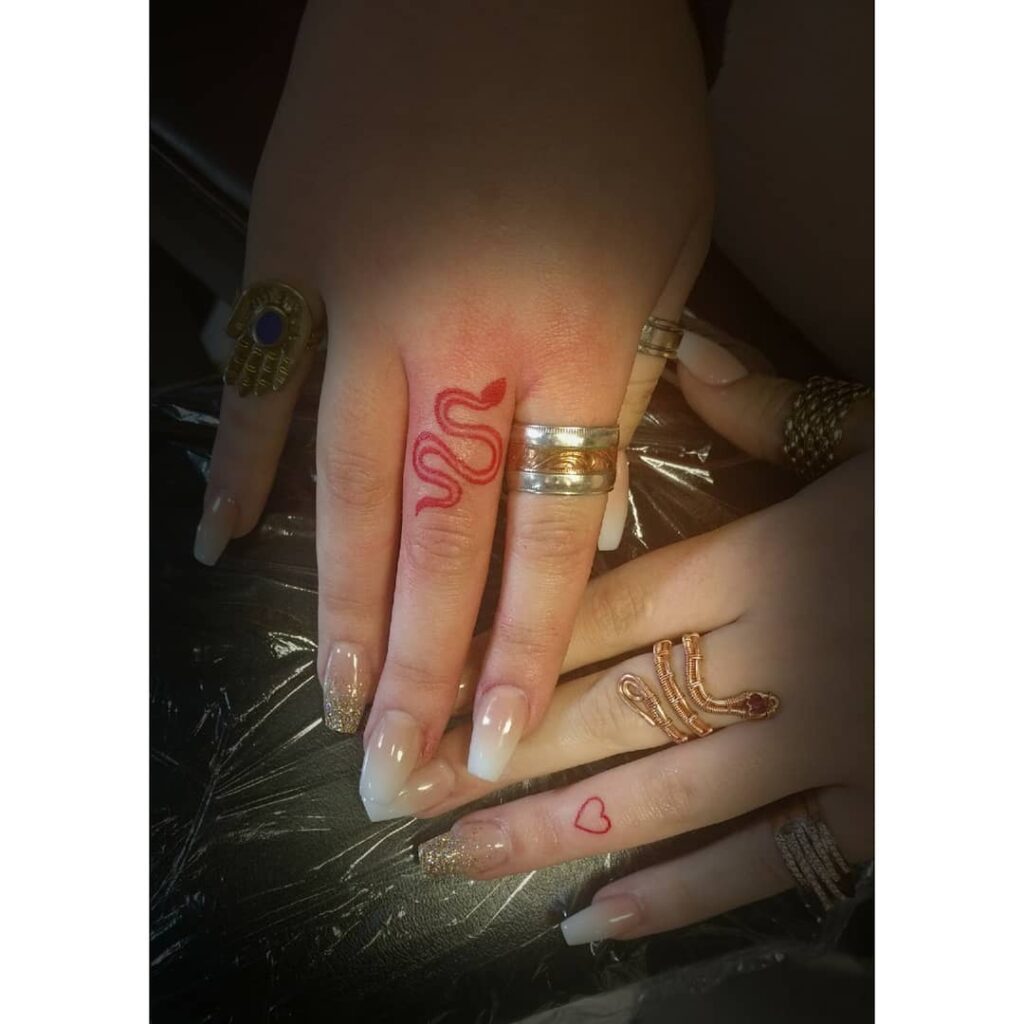 Snake tattoos are a popular choice due to their versatility and the many different meanings they can convey. The use of different colors in snake tattoos can also alter their significance. For instance, a black snake tattoo represents wisdom and intellect while a red snake tattoo symbolizes protection and strength. Adding vibrant colors to a simple snake tattoo design can make it more eye-catching and prominent. Japanese tattoos are famous for their wide range of color palettes and use of various elements in their designs. Regardless of the design, the underlying theme of a snake tattoo remains the same, which is the never-ending cycle of life and death. If you are looking for a colorful tattoo, you can use a snake tattoo design like the one shown above as a reference, or opt for a white or green snake tattoo which are equally meaningful and beautiful.
Snake Head Finger Tattoo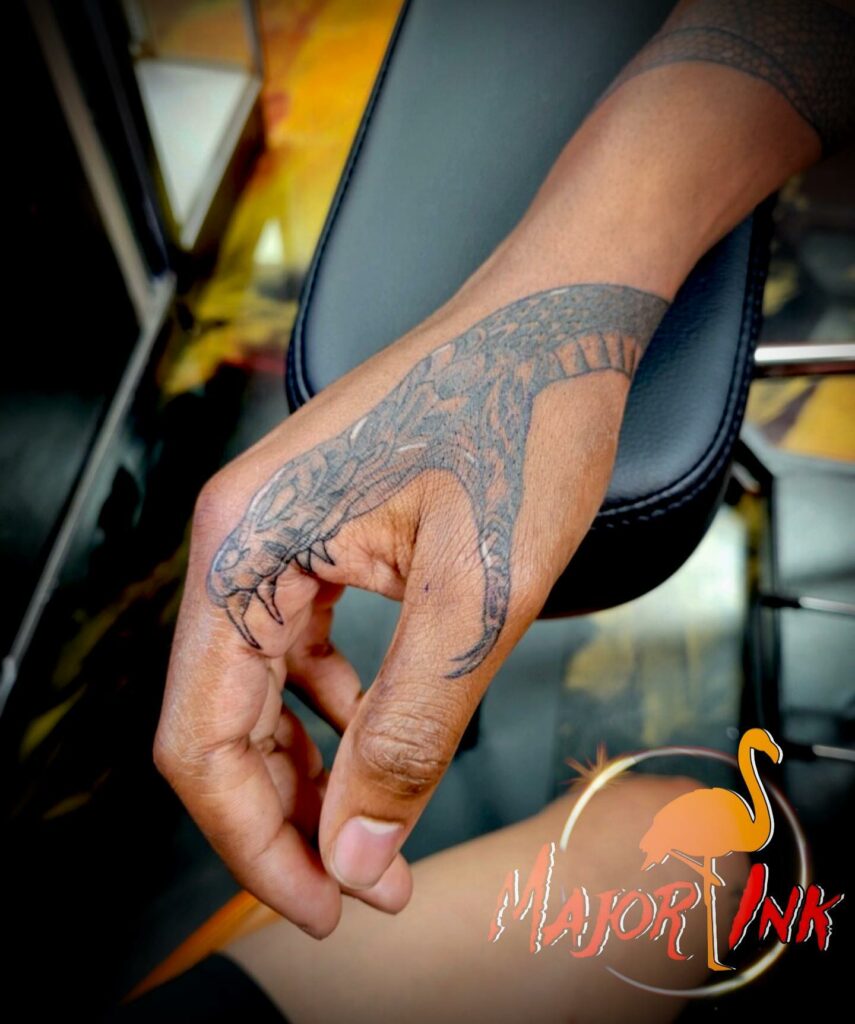 If you're seeking a tattoo that exudes boldness and power, then look no further than this stunning snake design. The centerpiece of this tattoo is undoubtedly the sharp fangs of the snake, which lend a striking and intimidating air to the design. This tattoo is particularly well-suited for men who want to showcase their strong and fierce personality. One cannot help but be impressed by the expert skill with which the artist has rendered the piercing gaze of the snake. However, finger tattoos can be a challenge to execute and maintain, as they often require frequent touch-ups. It's worth noting that finger tattoos typically have a shorter lifespan than other types of tattoos and may require more care and attention to heal properly. Nevertheless, if you're up for the challenge, this bold and daring design is sure to turn heads.
Snake Skeleton Tattoo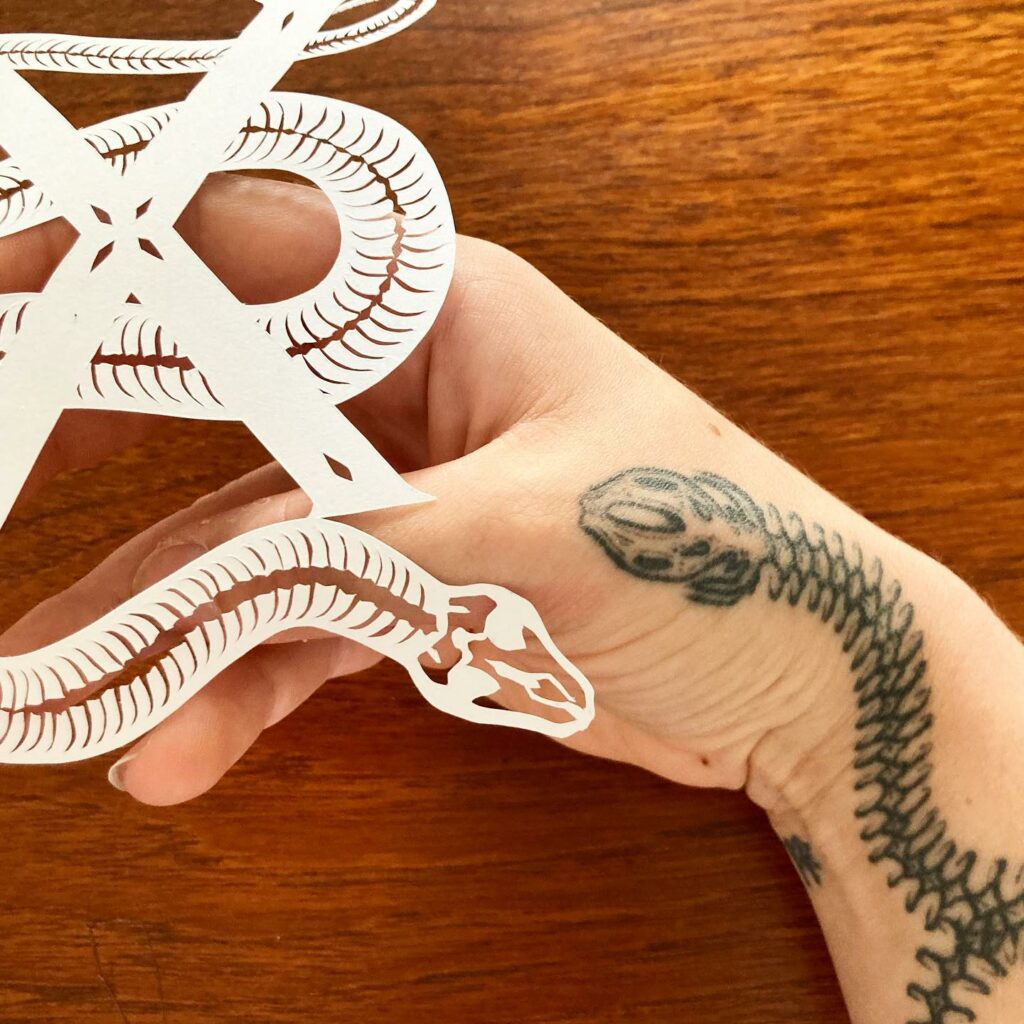 Snake tattoos have always been popular, and an anatomical snake tattoo design is a unique way to make your tattoo look even more interesting. Such tattoos are growing in popularity due to their unique and creative designs. However, it's essential to find a tattoo artist who has experience in anatomical designs. The above image showcases a stunning example of a snake skeleton tattoo design etched on the thumb of the individual. You can also try out other designs, such as a snake skeleton wrapped around your arms or ankle, which are great options for both men and women. The intricate details of the skeleton and the way the artist has created it to match the natural contours of the hand make this design stand out. If you're looking for a tattoo that is both unique and eye-catching, then an anatomical snake tattoo design is a perfect choice.
Elegant Snake Tattoo On Finger
In this exquisite tattoo design, we see a snake that elegantly extends from the wrist up to the fingers of the individual. While many opt for the design of a fierce snake with its bared fangs, this design presents a unique approach that showcases the positive characteristics of this fascinating creature. As we previously discussed, snake tattoos are versatile and can symbolize a range of positive meanings, including fertility and immortality. In fact, the long and winding body of a snake has often been compared to the umbilical cord that connects humans to the natural world. So, if you are looking for a tattoo that exudes a positive and meaningful message, a snake tattoo might be just the perfect fit for you.
Snake Wrapped Around Finger Tattoo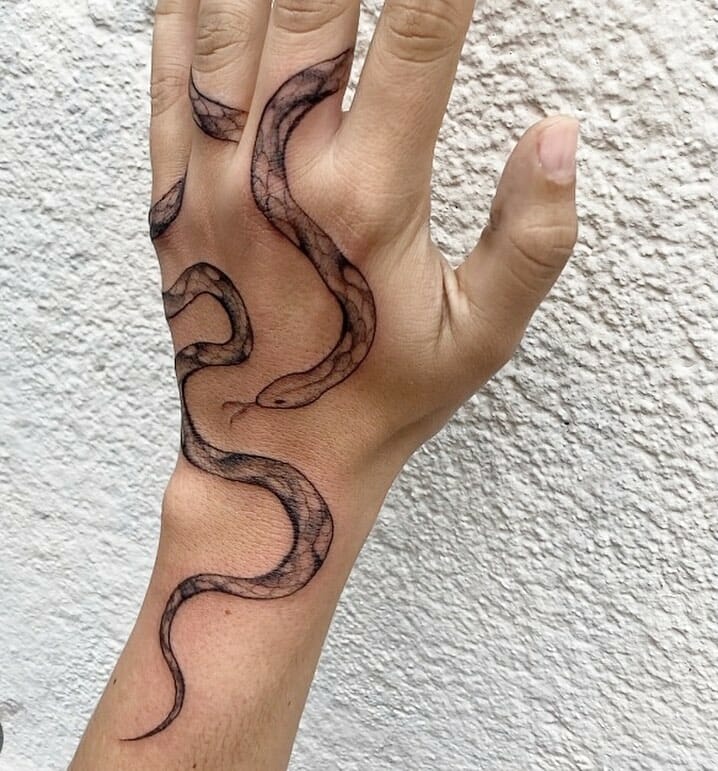 Snake tattoos are a timeless design that can look incredible in a variety of placements on the body. One popular and striking option is the wrap-around design, where the snake coils around a specific area, such as fingers or an arm. This particular design showcases a beautifully executed snake that wraps around the fingers of the wearer, making it a great choice for those who want a subtle yet stunning tattoo. When creating these types of designs, it is crucial for the tattoo artist to have a keen understanding of depth and space. Adding too many elements in a small area can create a cluttered and confusing appearance. However, when done correctly, a simple snake tattoo like this can be a true work of art. So, whether you prefer a bold forearm design or a subtle finger tattoo, the wrap-around snake design is a classic choice that will stand the test of time.
Colourful Snake Finger Tattoo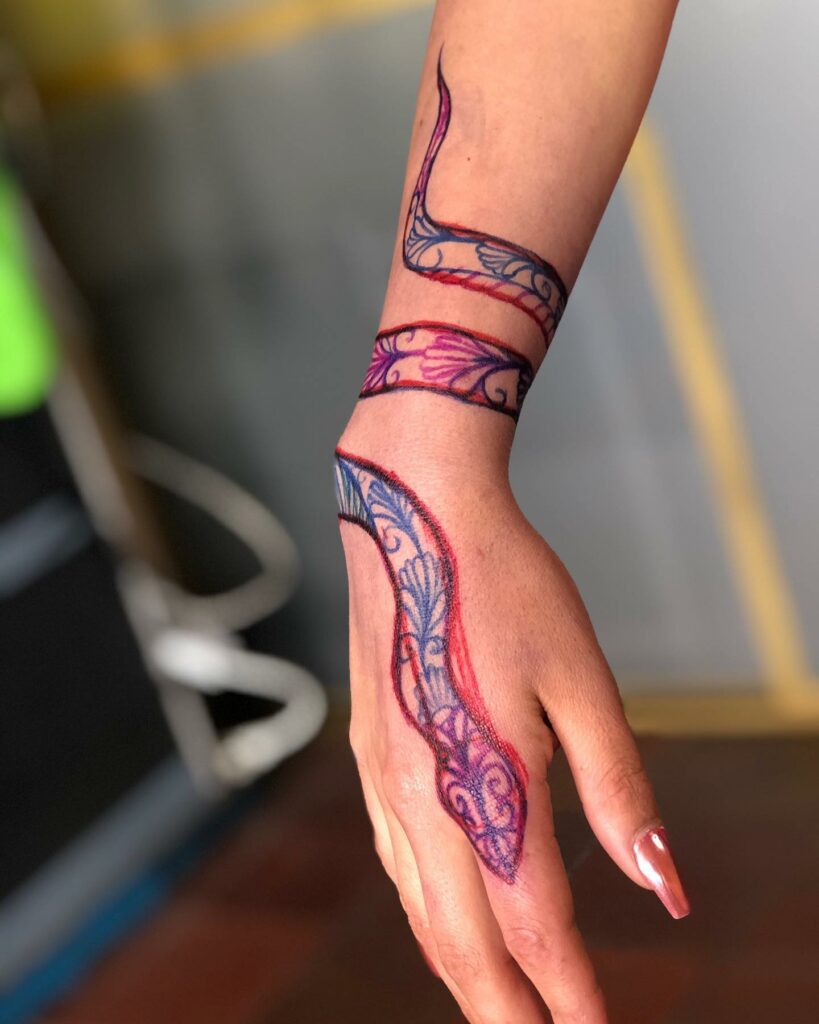 When it comes to snake tattoos, adding color to your design can make it even more visually appealing. The use of a mix of colors like purple, red, and blue in the design mentioned above, really pops against the skin. However, adding color to finger tattoos, in particular, requires extra care and attention. They require frequent touch-ups, which can be quite painful and time-consuming. Before getting one, it's important to consider all the pros and cons. On the plus side, finger tattoos are excellent conversation starters, as they are highly visible and often draw people's attention. So, if you're looking to make a bold statement and start conversations, a colorful snake finger tattoo might be perfect for you!
feature image from Pinterest – Want your tattoo to look brighter? Try "Tattoo Balm"
Last reviewed and updated on May 15, 2023