Greetings, body art enthusiasts! In the vast landscape of tattoo designs, star tattoos hold a unique place. As ubiquitous as they are distinctive, these designs twinkle with a charm that's as varied as the night sky itself. They're like little gems of self-expression, each carrying its own tale, in color, size, and placement. But the story doesn't end there, my friends. Behind these starry configurations lie layers of symbolism, like cosmic secrets waiting to be uncovered.
Choosing your star tattoo design is a thrilling journey — a dash of anticipation mixed with a whole lot of stardust. Yet, don't be swayed merely by aesthetic appeal. Peel back the layers, dig deeper, and discover the narratives that lie beneath the surface of these cosmic emblems.
Drawing from the vibrant tapestry of experiences shared by our ink-obsessed comrades, we bring you an intimate rendezvous with these celestial bodies of the tattoo world. Remember Rachel, the lead guitarist from your favorite indie band? Her nautical star tattoo wasn't just a homage to her love for sea shanties, but also a symbol of her own path towards navigating the tumultuous seas of the music industry. And how about Mark, the cool barista at the local café, whose forearm dons an intricate constellation design, a silent testament to his lifelong romance with astronomy?
Sprinkled throughout our curation, you'll encounter a rich assortment of starry inspirations, including a few from our glamorous celebrity circle. Together, we'll embark on an interpretative journey, decrypting the meanings behind these star tattoos and illuminating the constellation of stories they represent.
As we dive into this star-studded selection of our 16 most beloved tattoo designs, remember: each star is a nod to someone's journey, a snapshot of their universe etched in the language of ink. So, come along as we take you on an expedition, navigating the celestial highways of star tattoo lore.
Star Tattoo Design Ideas
Simple Star Tattoos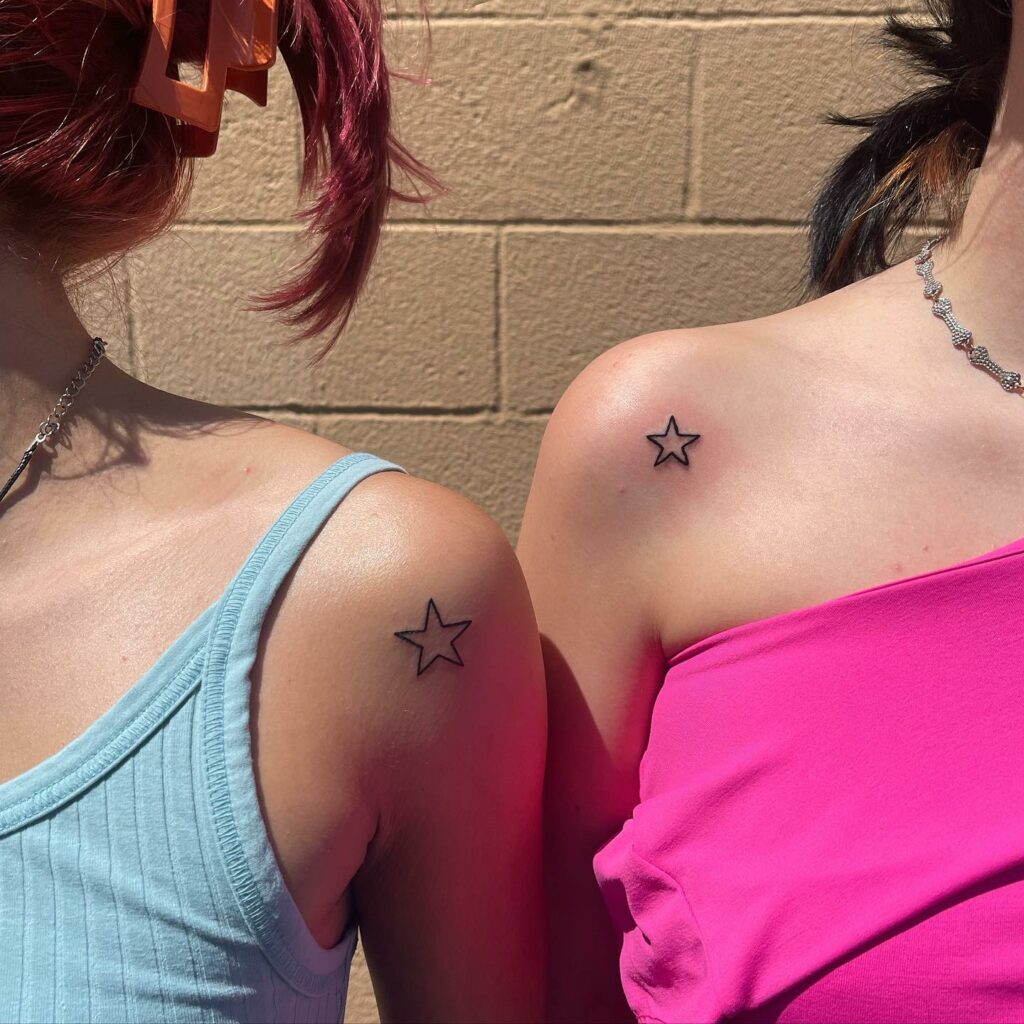 And here's a secret — such simple designs have a charm that ages like fine wine, ever enchanting yet less prone to the whims of changing tastes. They could be anywhere – on your wrist, ankle, the small of your hip, or nestled behind your ear – and make a statement as bold as the extravagant ones.
Minimalist Star Tattoos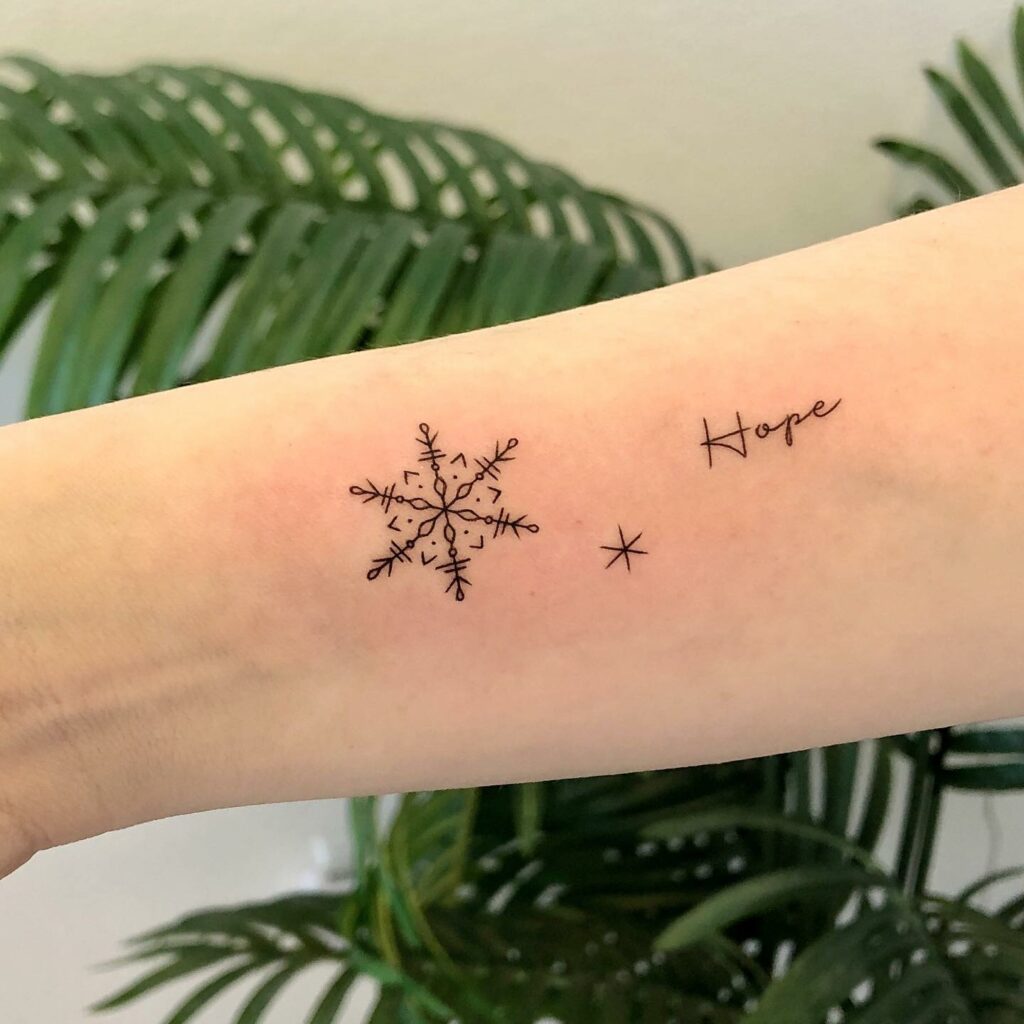 Stepping into the minimalist alley, we have designs that are creating ripples in the tattoo trend-pool. They're like the modern architecture of the body art world, using simple, straight black lines that often seem to defy expectations by not quite meeting! Remember Maria, the eccentric librarian? Her minimalist star tattoo, which paired a northern pointed star with a tiny moon, was a subtle testament to her love for minimalist poetry. Don't be misled, though, these tiny wonders are not just a women's game. They're equally appealing on men, and their location on wrists, ankles or collarbones makes them conveniently concealable.
Trailing Stars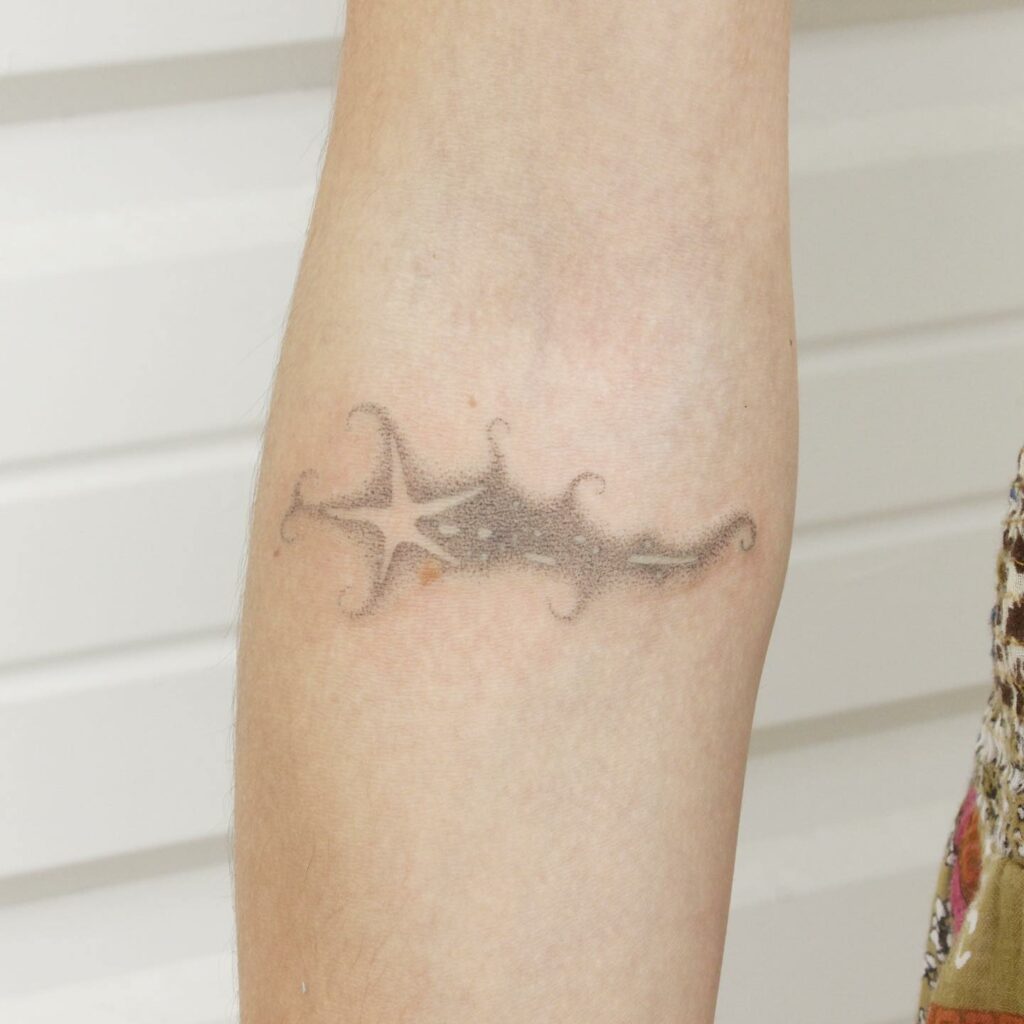 Next up, we have the spectacular trailing stars, the kind that makes heads turn and sparks fly! If you're wondering where you've seen them before, cast your mind back to our pop queen, Rihanna! These clustered tiny stars, trailing up your back and neck or swirling around your forearm, look just as mesmerizing on men as they do on women. Remember Dan, the graphic designer who worked on the mural downtown? His sleeve tattoo featuring trailing stars still gets people talking.
Inside Out Star Tattoos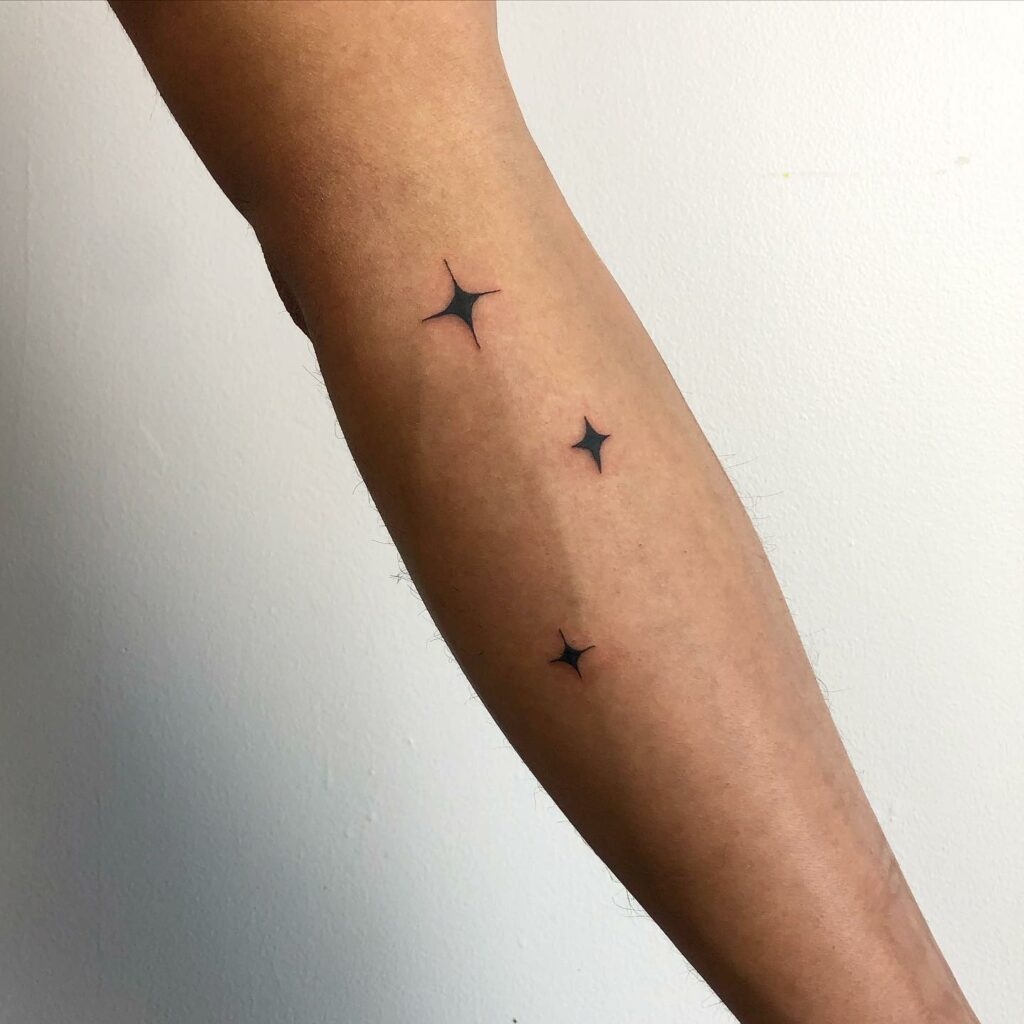 Brace yourself for the next stop: Inside out star tattoos. A masterful play of shading techniques leaves blank spaces in the shape of stars, creating a piece of art that is both bold and intricate. Larger designs work better here as they let the artistry shine. Men might have a slight edge in favoring this design, but with the right artist and design, it can add a feminine touch too.
Moon and Star Designs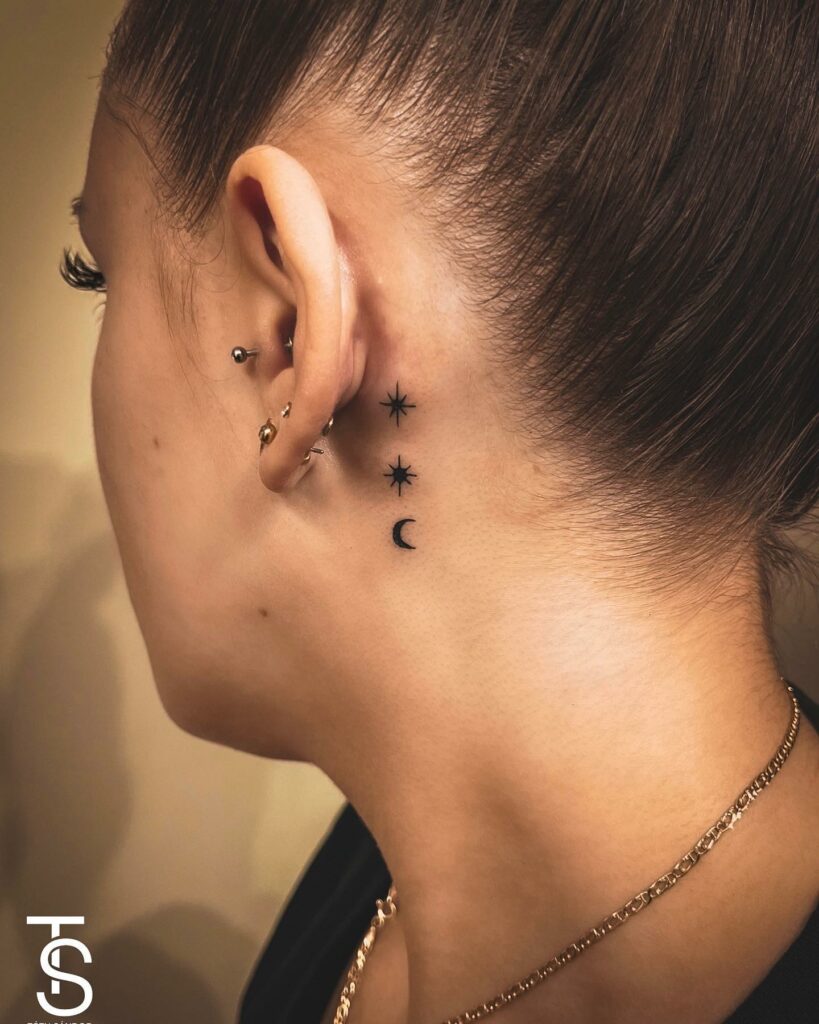 Moon and star designs have a certain whimsical allure, creating an atmospheric vibe that can't be achieved with stars alone. This design can be tailored to fit any size and location on the body, with the inner wrist, ankle, or shoulder being popular choices.
Northern Stars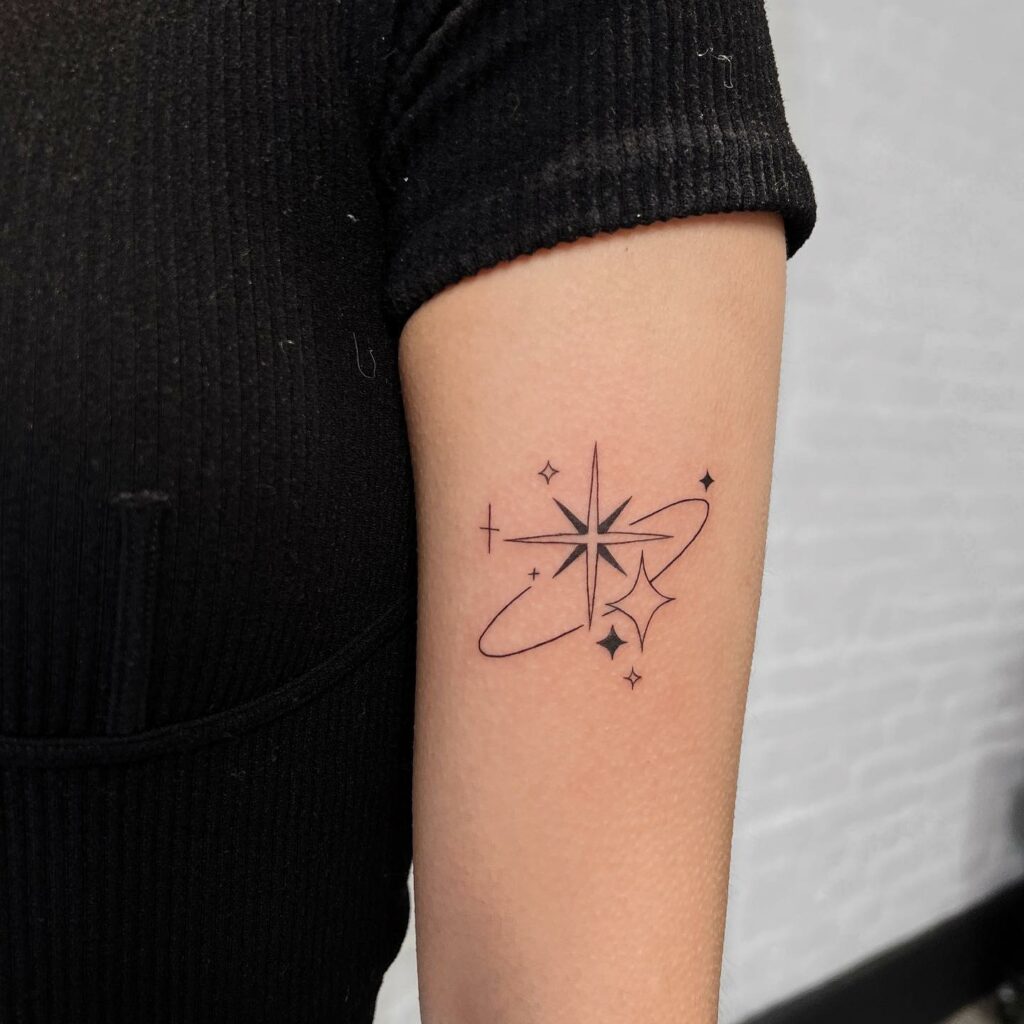 The Northern star design is a favorite among those who love the symbolism of journeys and travels. It's like carrying a part of the Nativity scene or a symbol of the North right on your body. Minimalist in design but rich in meaning, these are favored particularly by women.
Astrological Constellations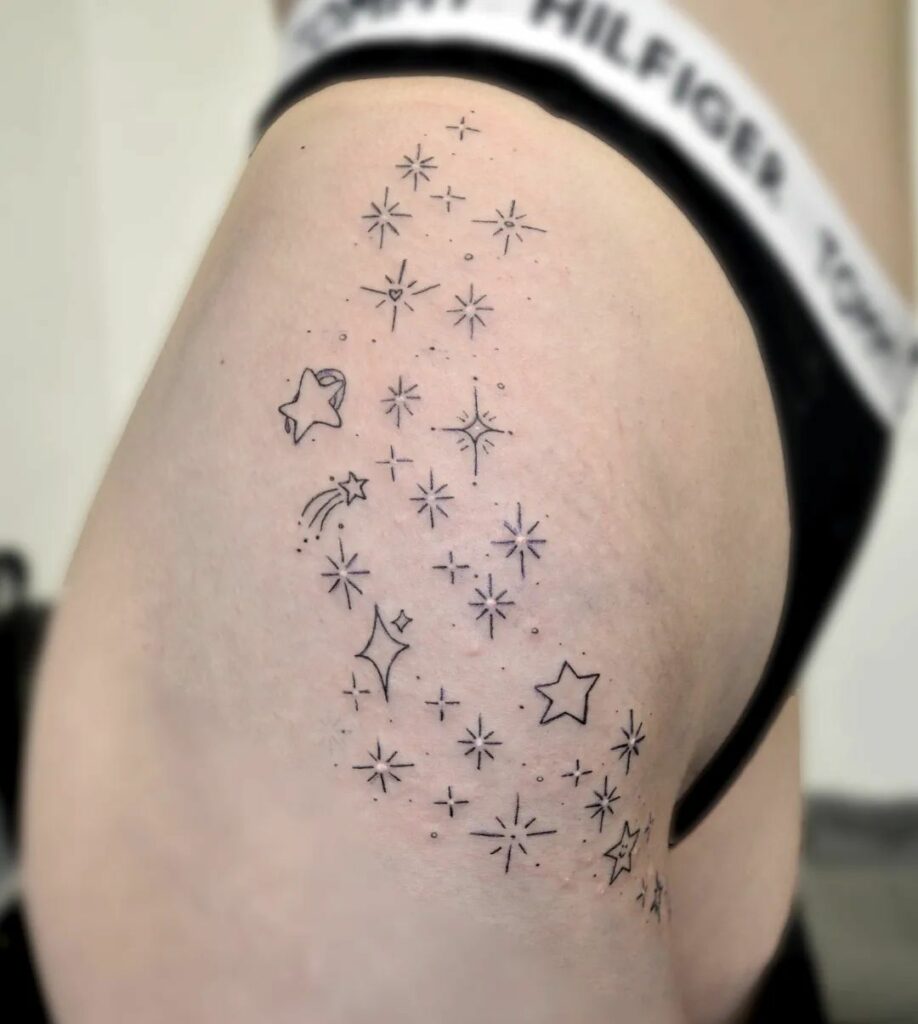 Constellation tattoos are like a celestial map on your body, linking together several dots or tiny stars to showcase your zodiac constellation or a constellation that resonates with you. They're a fairly recent trend and are highly versatile, appealing to both men and women of all ages.
Colorful Star Tattoo Designs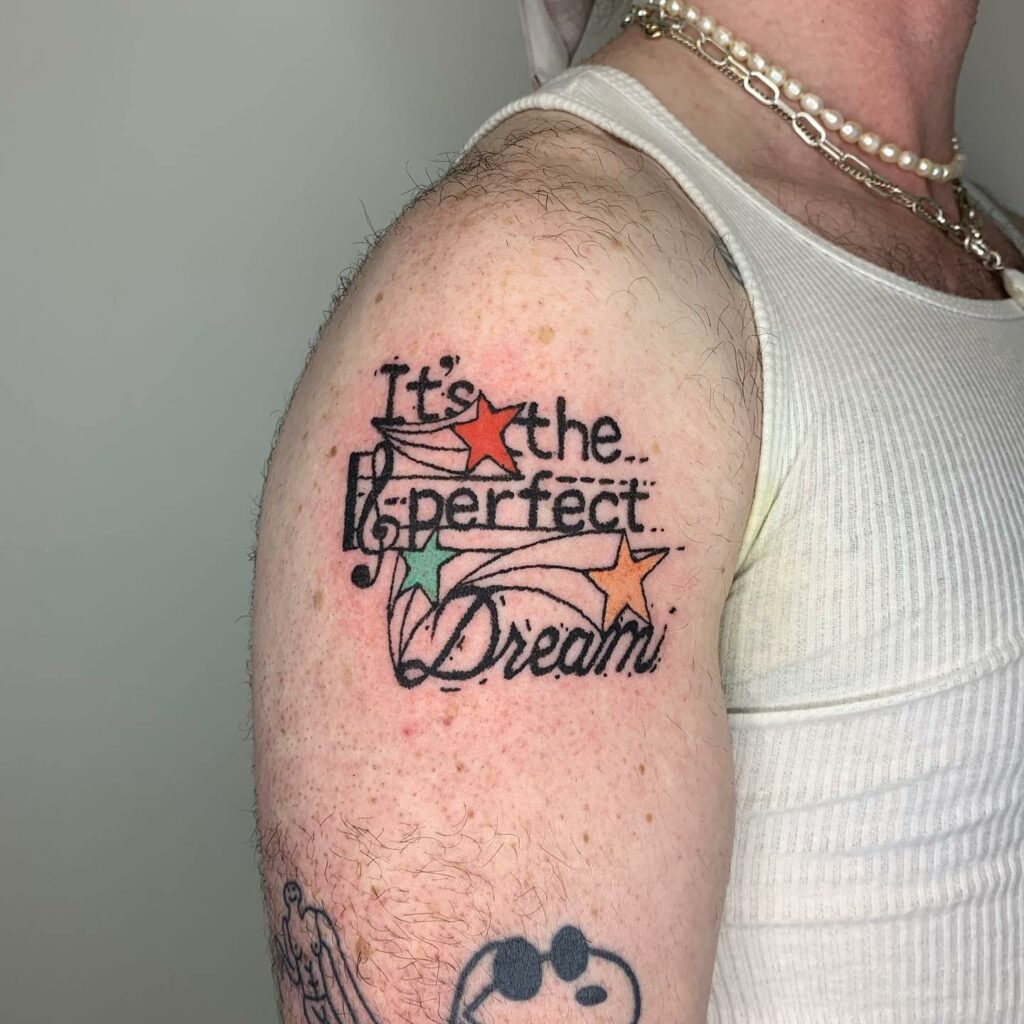 Colorful star tattoos are the vibrant stars of the show, with colors representing different meanings. From pink for breast cancer survivors to a rainbow of colors celebrating pride, these tattoos make a striking statement.
Star Portraits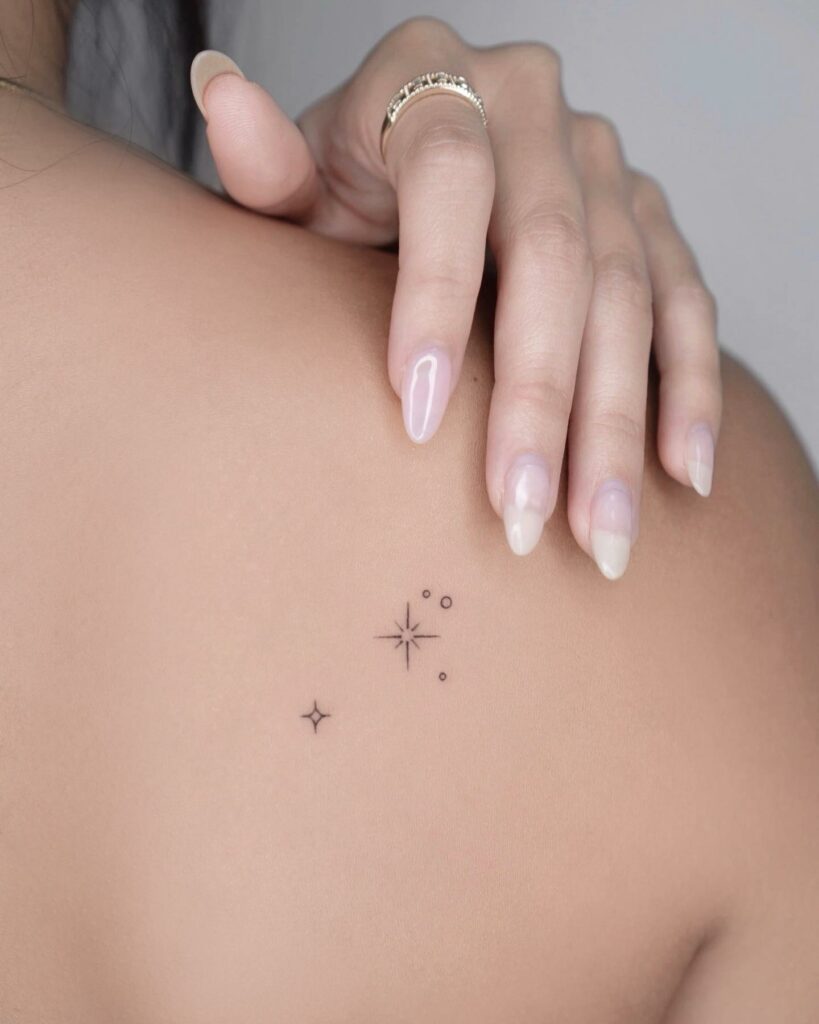 Star portraits are a heartfelt way to commemorate someone special, be it a loved one or a beloved character. They're large and detailed, requiring a sizable canvas like your back, ribs, or upper arm.
Tribal Style Designs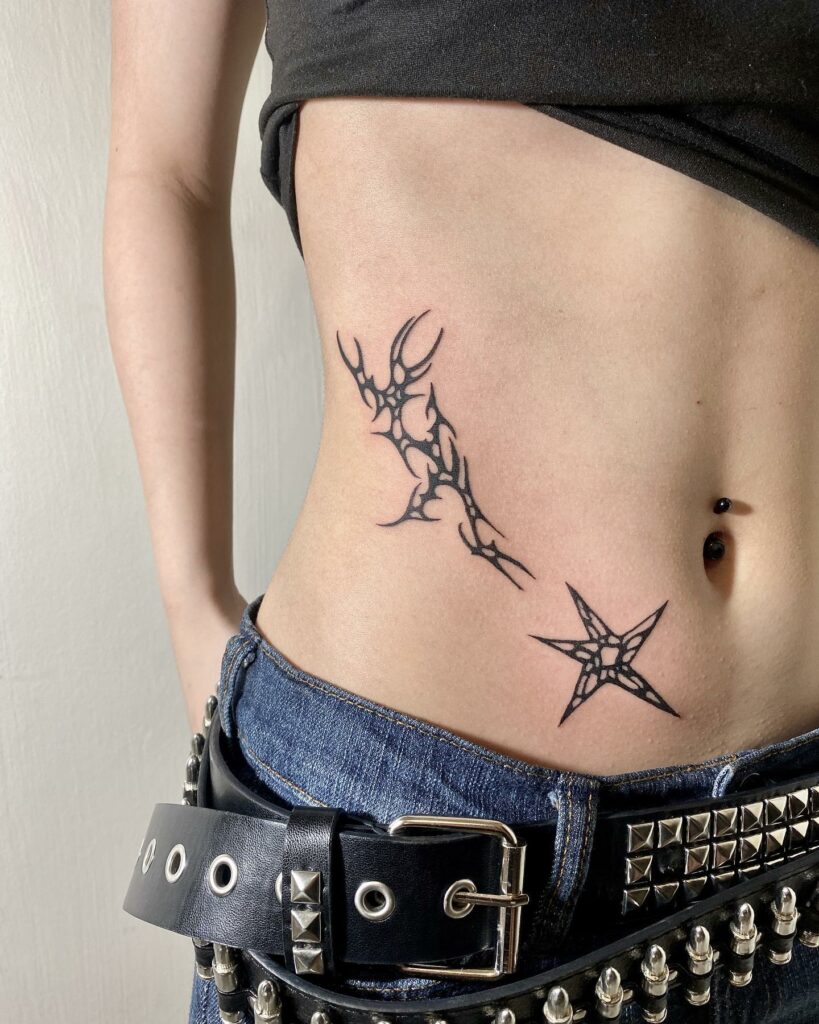 Tribal style star designs bring with them the rich heritage of tribal culture, with thick black bands creating visually captivating tattoos, usually favored by men.
Geometric Star Designs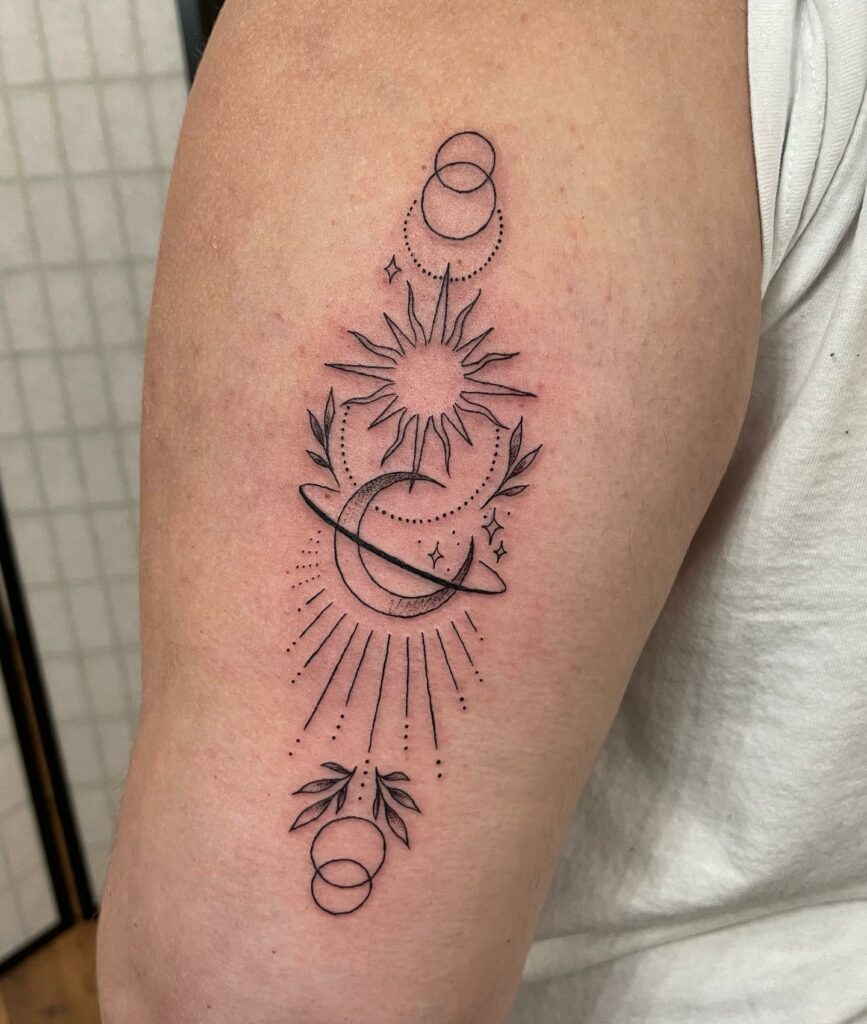 Geometric star designs are like the perfect blend of science and art, with sharp lines and angles symbolizing interests in various fields. They're suitable for everyone, of all ages.
Nautical Star Designs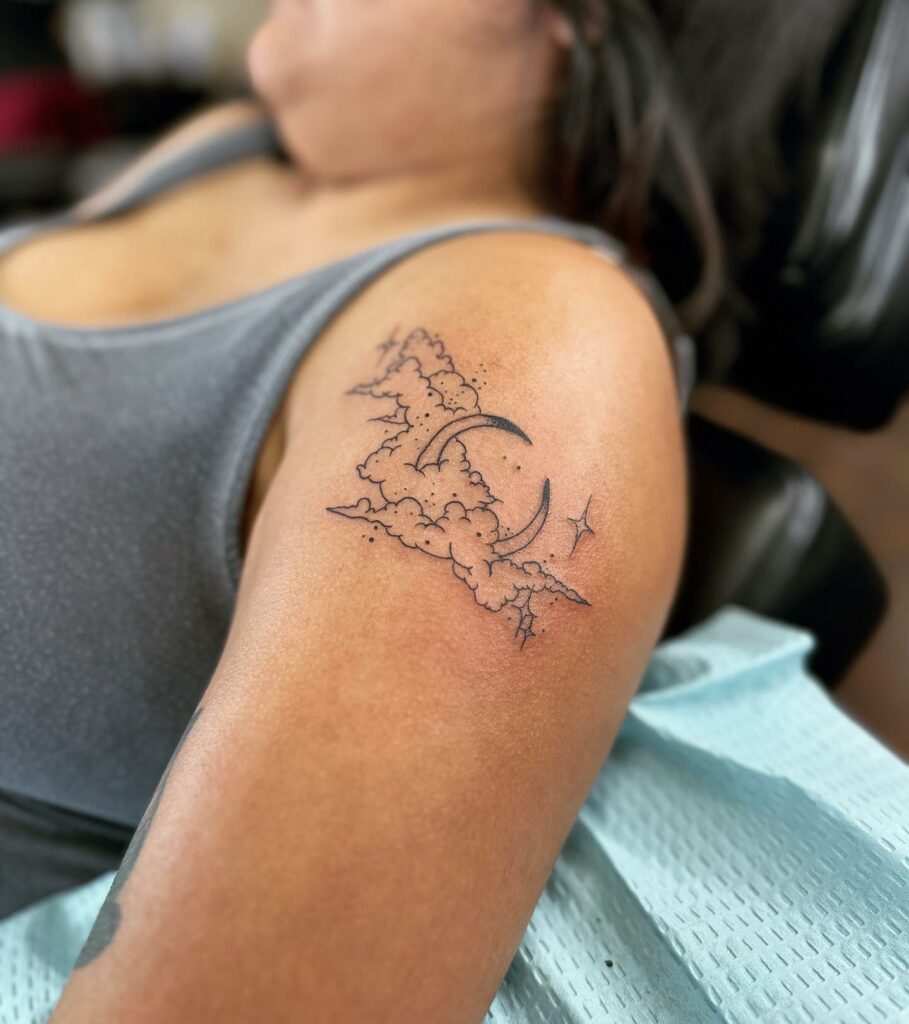 Nautical star designs have always been a hit with adventurers and sailors, with the star often symbolizing a compass rose for navigation. These tattoos, usually medium-sized, look great in black and white or with block colors.
So, whether you're looking for a simple star or a constellation, remember each design has a unique tale to tell, just like the stars in our night sky.
Star Tattoo Meaning And Symbolism
he North Star or Polaris, for instance, has been a guiding light for travelers and adventurers throughout history. It remains constant in the night sky while other stars seem to revolve around it. As a tattoo, the Northern Star symbolizes a steadfast beacon, guiding us through life's challenges, offering us a sense of direction and constancy. It's an ideal choice for those who value loyalty, resilience, and guidance.
Astrological constellations, on the other hand, carry a more personal significance. Each zodiac sign corresponds to a specific constellation, and these star patterns bear the ancient lore and character traits of the signs they represent. For instance, the constellation for Leo, represented by the lion, is symbolic of courage, charisma, and leadership. Choosing a constellation tattoo can be a poetic way to express one's identification with their zodiac traits or a personal bond with celestial mysticism.
Remember, your tattoo can be a unique conversation between you and the cosmos, a silent whisper of your story imprinted on your skin. So whether you're a steadfast Northern Star or an astrological constellation, let your tattoo reflect the universe within you.
What Our Readers Think
Meet Jaz, a spirited African-American barista from Chicago. She sports a minimalist five-point star on her wrist, a symbol of her resilience. For her, each point represents a significant life event – from her struggles in her early life, working multiple jobs to support her family, to her triumph in opening her own cafe. She keeps her story, her journey, close at hand – a reminder that she has the strength to shine even through life's toughest storms.
Meet Aoto, a sushi chef. Emblazoned on his forearm is a geometric star design – a pentagram. For him, the star symbolizes balance – each point a representation of the five elements of earth, air, fire, water, and spirit. This ethos seeps into his craft, as he meticulously creates each sushi roll, striking a balance in taste and presentation. It's his testament to harmony and unity.
Now let's travel to London. There, we find Anaya, adorning her shoulder blade is a cluster of trailing stars. To her, each star symbolizes a milestone in her journey towards body positivity. She says, "Each star is a celebration of my individuality. Together they trail a journey that's uniquely mine. Just like the stars in the night sky, we all shine in our own beautiful way, regardless of our size or shape."
These stories are as diverse as the stars themselves, reflecting the unique journeys of individuals across the globe. Each star tattoo is more than just ink on skin; it's a personal narrative, a symbol of identity, resilience, and celebration of the self.
Conclusion
There you have it, folks, our grand tour of the galaxy of star tattoos. We've journeyed through designs simple and complex, trailing and static, monochrome and colorful – each a reflection of a unique narrative. But remember, it's not just the design, but its placement too that adds to its charm. Whether you choose to have it inked on your wrist, ankle, or maybe a constellation trailing along your back, make sure it resonates with you.
Now, a bit of ground reality. A tattoo is an investment, both emotionally and financially. Costs can vary based on the complexity of the design and the reputation of the artist or the parlor. Smaller designs can start as low as $50, while intricate ones can reach up to several hundreds of dollars. Always prioritize quality over cost – this is, after all, a lifelong commitment.
Lastly, remember that every rose has its thorns. Tattoos do come with their share of risks – skin infections, allergic reactions, or scarring. Always do your homework, find a reputable parlor that maintains high standards of hygiene and sanitation.
In the end, each star tattoo is a personal journey of expression, each design a reflection of the self. Here's to finding your star, my friends – may it guide you through your journey, just as the stars guide us through the night sky. Safe travels, star-seekers!