In love with Steven Universe tattoos and want to show-off your love for this cartoon series? You are exactly where you are meant to be.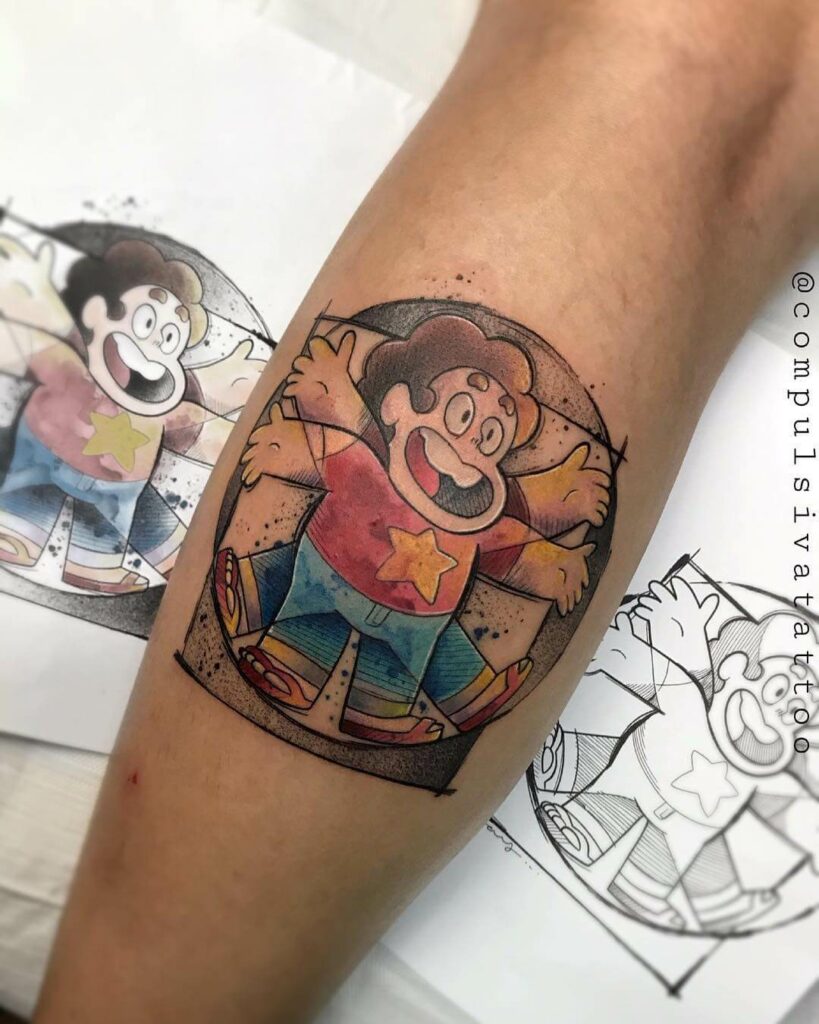 With its unique plot and characters, Steven Universe has earned fans of all ages all over the world.
Rebecca Sugar first came out with the Cartoon Network series Steven Universe back in 2013. With its very first episode being all about ice creams, hardly anyone might have guessed how amazing it would be.
The cartoon series Steven Universe revolves around a young boy named Steven, a half-human half-Gem, who inherits his gemstones from his mother, Rose Quartz. The series belongs to a coming-of-age genre where a group of magical guardians, including Steven, protects the planet Earth. The series deals with a variety of heavy and deep themes ranging from war to friendship. Steven lives in Beach City with his Crystal Gem friends Amethyst, Garnet and Pearl and the series follows through the journey of Steven's discovering how to use the Gems that he received from his mother. Steven Universe is a mixture of humour and emotion but what adds to its popularity is its involvement of some of the coolest cartoon characters, their personal growth and beautiful song numbers. Ever since the series aired, it has earned itself millions of fans and quite naturally, just like fans of Harry Potter, Dragon Ball Z, Spiderman, these lovers of the cartoon have also been searching for their favorite tattoo ideas to help them show-off their love for Steven, his friends and their adventures. If you are a hardcore Steven Universe fan and been looking for a Steven Universe inspired tattoos, you are in the right place. We have here a catalogue of some of the coolest Steven Universe animation fan tattoos just for you.
Steven Universe Tattoo Rose Quartz Sword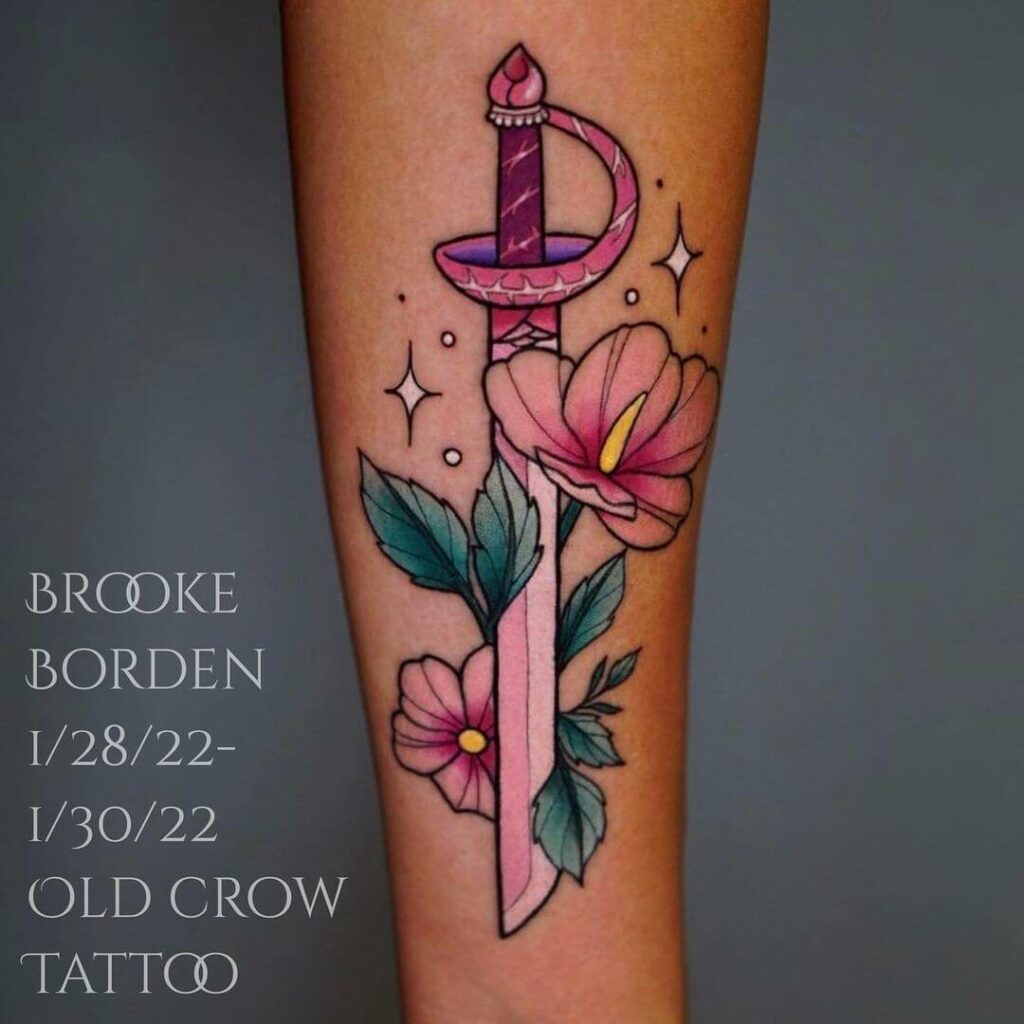 The first in the list has to be the Rose Quartz sword that was forged by Bismuth and belonged to Steven's mother, Rose Quartz. Discovered by Steven and his best friend Connie, the sword was initially wielded by both Connie and Steven but was later destroyed with just the handle intact. The blade was later, however, remade for Connie. The sword was dark pink and had a rosebud-like pommel with embedded Rose Quartz. The colour of the sword resemblance a rosebud and has been created skillfully to fit the owner of the sword, Rose Quartz. If you love Rose Quartz and her sword, You might want to definitely consider this tattoo for your next trip to the tattoo studio.
Steven Universe Hugging Himself Tattoo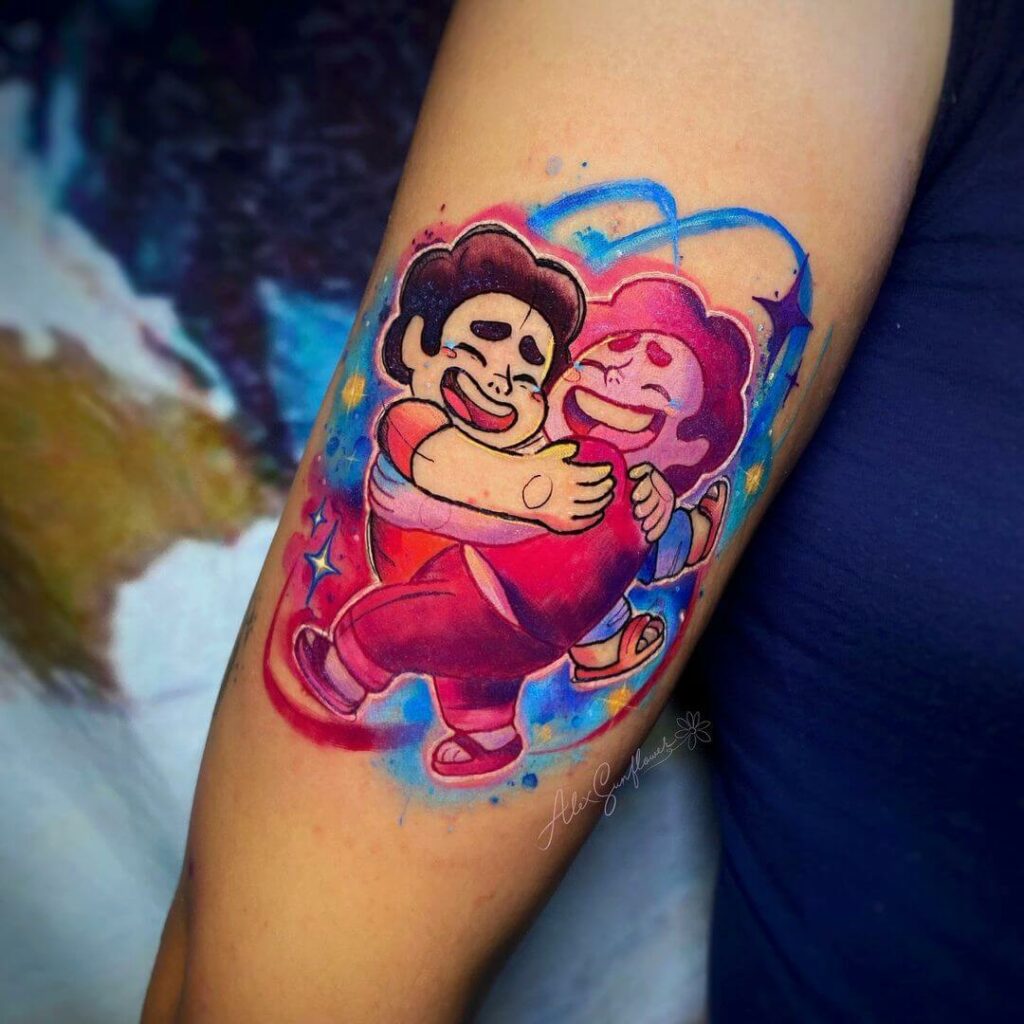 This tattoo belongs to one of the most emotional scenes from the series. This scene from the season finale 'Change Your Mind' takes place when White Diamond tries to restore Pink Diamond into her original form and separates Steven's gem from his body. Steven's gem then takes the form of Steven's body and on being asked where Pink Diamond is, Steven screams "She's GONE!" at White. Connie then carries Steven's body to his gem and they reunite. If you have connected with this scene and were flooded with emotions, this tattoo is meant for you.
Steven Universe Lapis Tattoo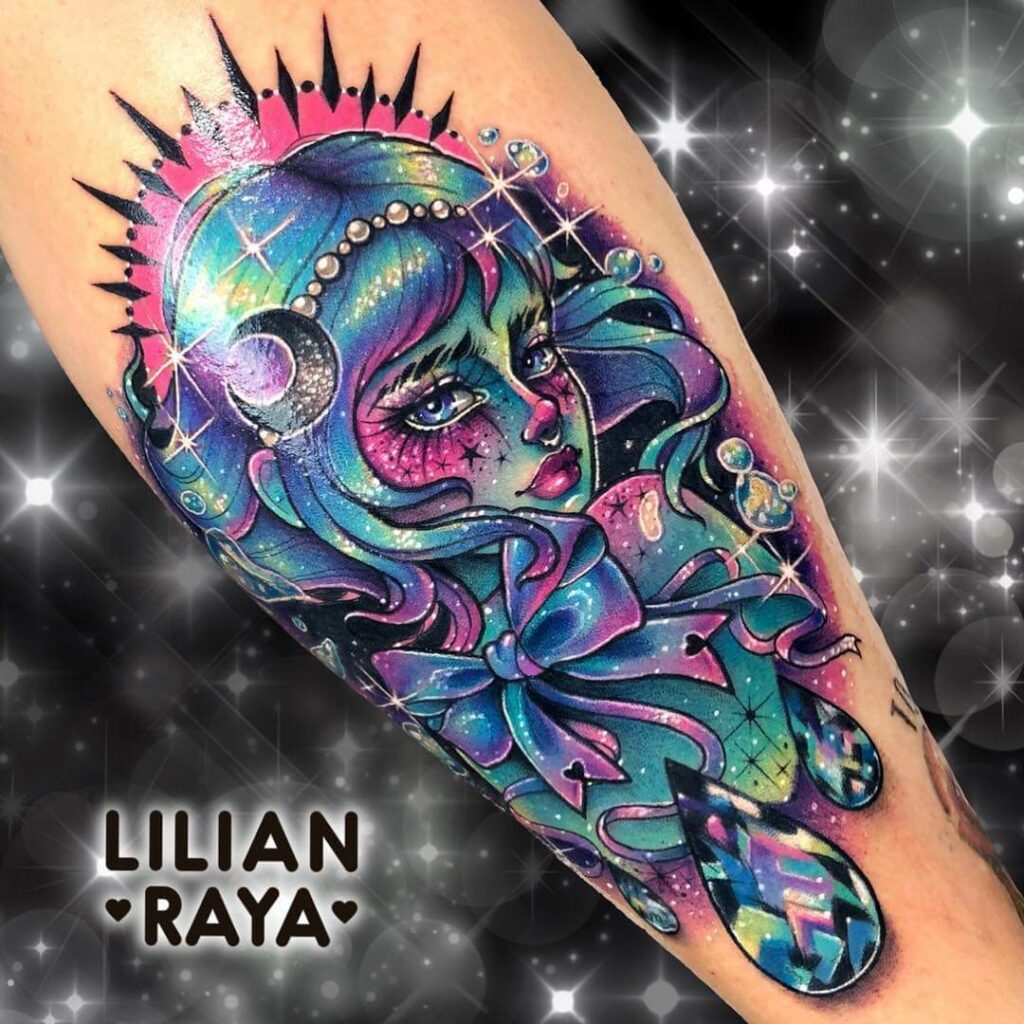 Being trapped in a mirror as a prisoner and having formed a misguided hatred for the Crystal Gems, when poor Lapis was finally freed and was helped in fixing her broken Gem, Lapis developed a friendship and connection with Steven and his friends like never before. Although a tragic plot for Lapis, what makes fans absolutely adore her is her strong will power. Coming from a sad past, Lapis was finally having a change of fate and happiness and true friendship all around her. If you adore Lapis and her blue Gem's power to control water, this tattoo is perfect for you.
Steven Universe Gemstones Tattoo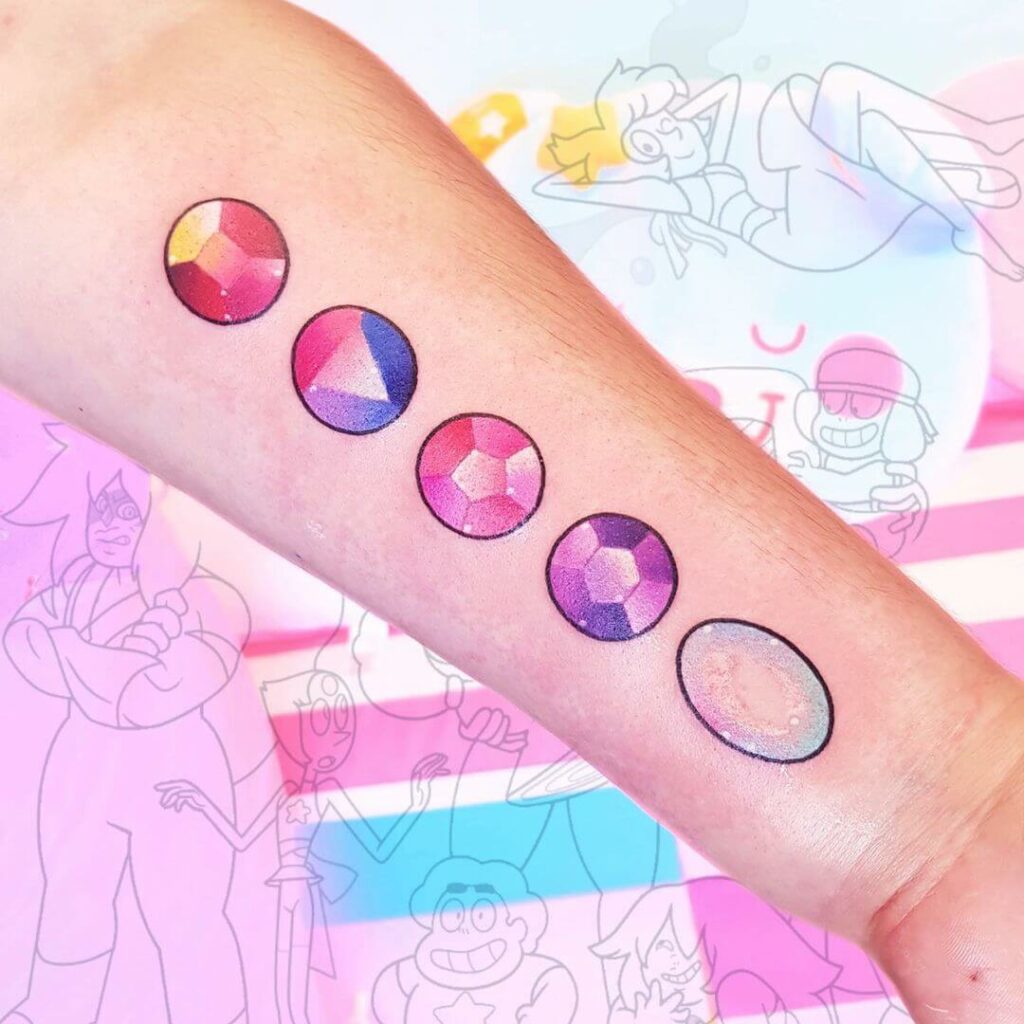 If you are not that into full-fledged figure tattoos, you might want to look for the Gemstone tattoos like these ones. Each character in the series is a Gem and all of them have a Gemstone attached to a part of their body. For instance, Steven has his Gem attached to his naval and Pearl to her forehead. These tattoos can also be made minimalistic and a single Gem can also pass as a standalone tattoo. This tattoo is a great idea to choose if you want a simple yet something that screams "Steven Universe".
Steven Universe Garnet Tattoo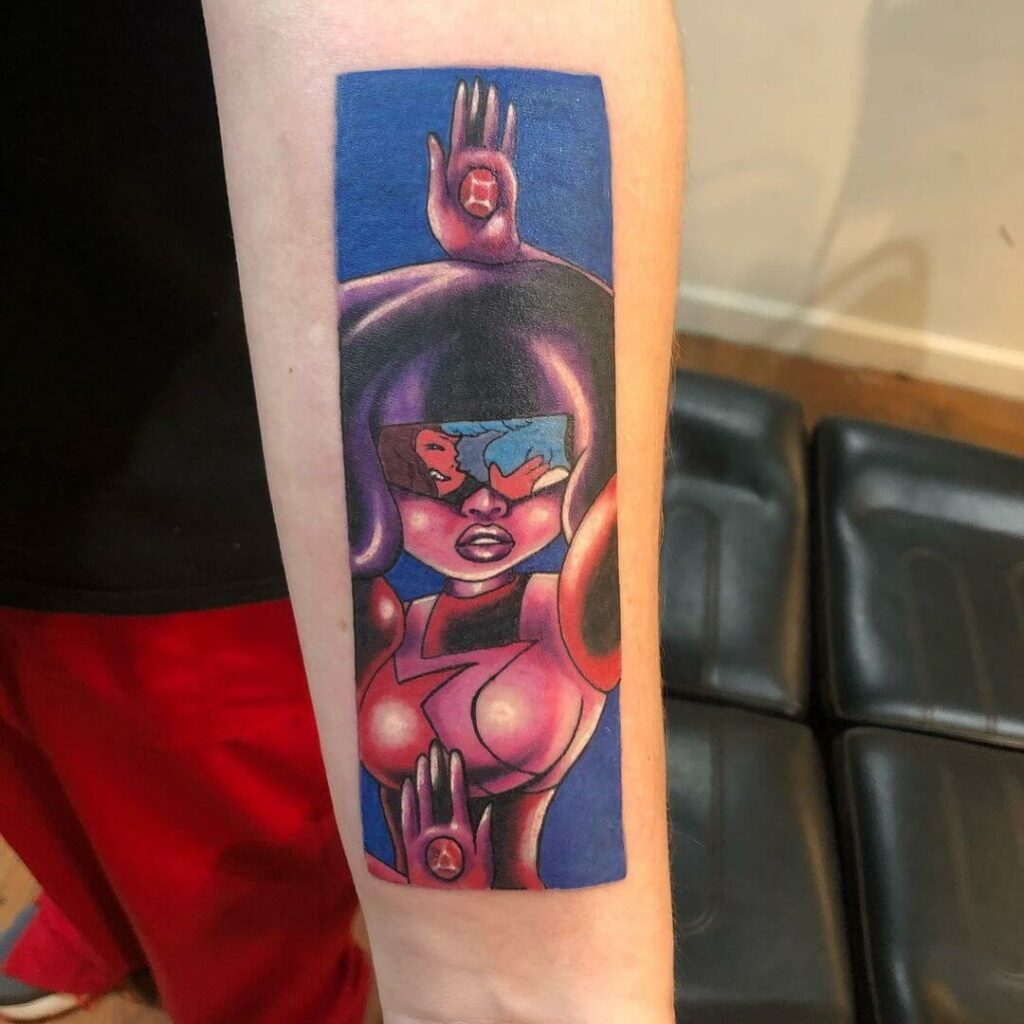 Powerful, cool and bold are the words that always come to mind when someone talks about or looks at Garnet. The current leader of the Crystal Gems, Garnet is actually a fusion of Ruby and Sapphire. Garnet is not only a powerful character but her 80s iconic fashion sense and square hair have had her fans mesmerised. If you too are in love and can relate to her stoic and bold personality, this tattoo is made for you.
Steven Universe Weapons Tattoo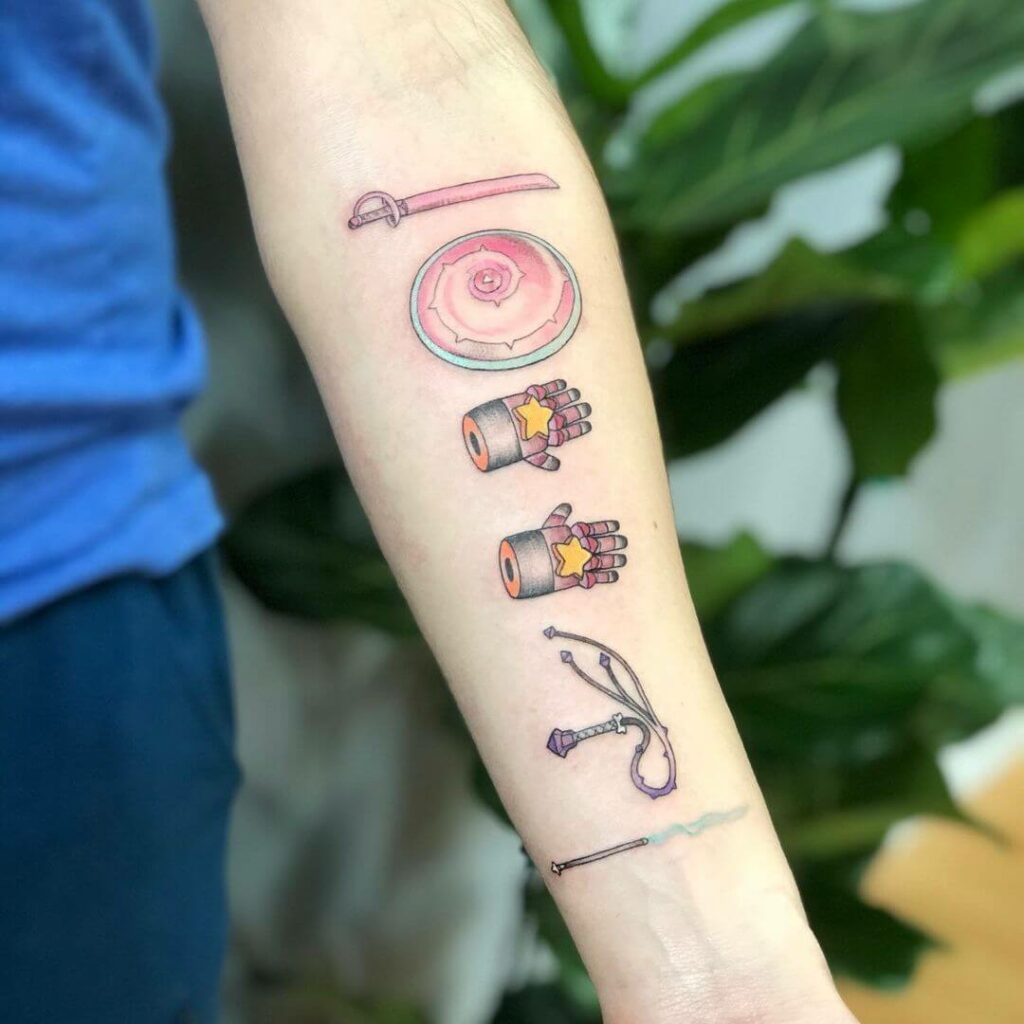 All Crystal Gems in this series possess the power to summon a weapon through their Gems. This tattoo features some of the weapons used by the Crystal Gems in the series. Rose Quartz shield and sword that was passed down to Steven and can be summoned using his Gem, Garnet's gauntlets that has the ability to manipulate its size, Amethyst's whip that can also be manipulated in size, and Pearl's Spear. If you are looking for an aesthetic and minimalist Steven Universe ink, this one has your name written all over it.
Steven Universe Pearl Tattoo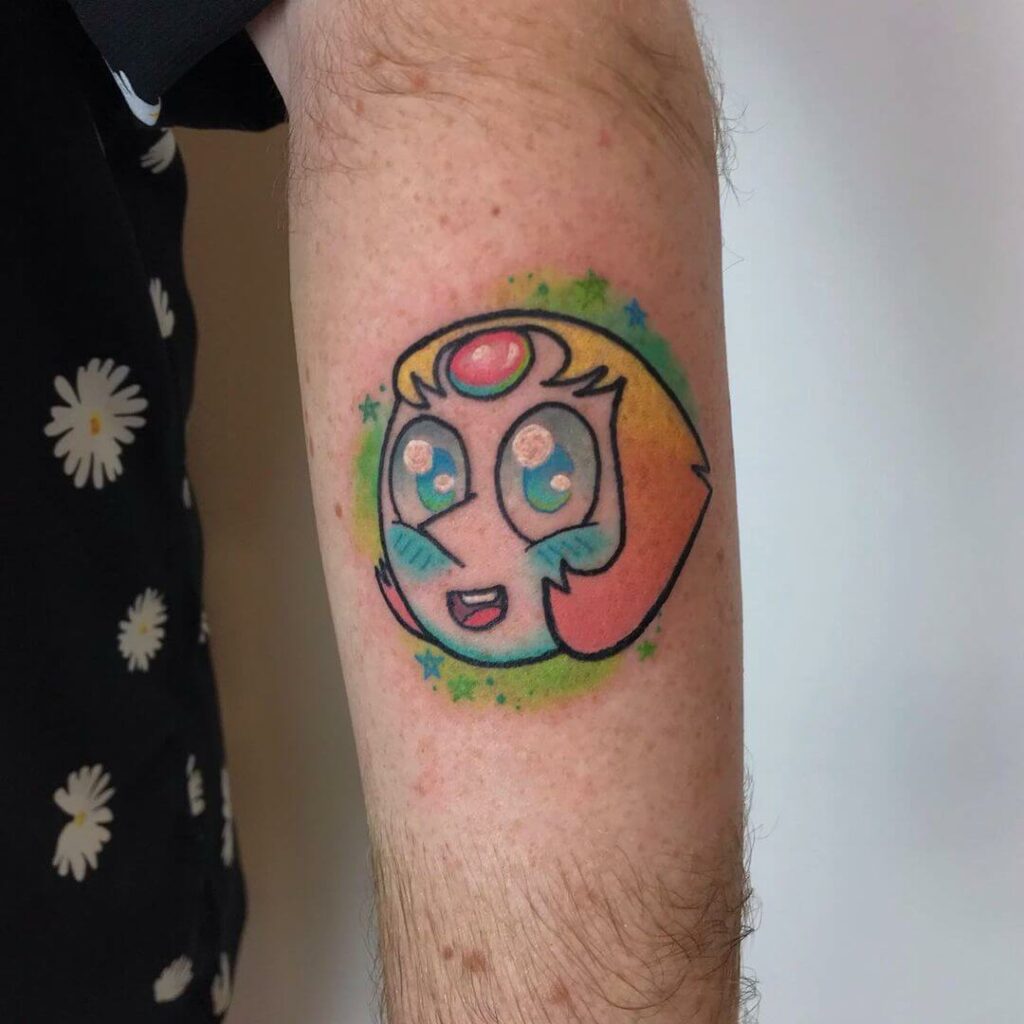 One of the original members of Rose Quartz's rebellion against Gem Homeworld, Pearl is one of the queer characters that have been portrayed in the series. Pearl has been created in a way that viewers can easily relate to and sympathise with her personal complexities. Pearl has always been in love with Rose Quartz and has had an undaunted devotion toward her. Pearl is elegant and sensitive, and also really powerful. If you consider yourself a Pearl's fan and are completely head over heels for her elegance, you should definitely get a tattoo like this.
Steven Universe Cookie Cat Tattoo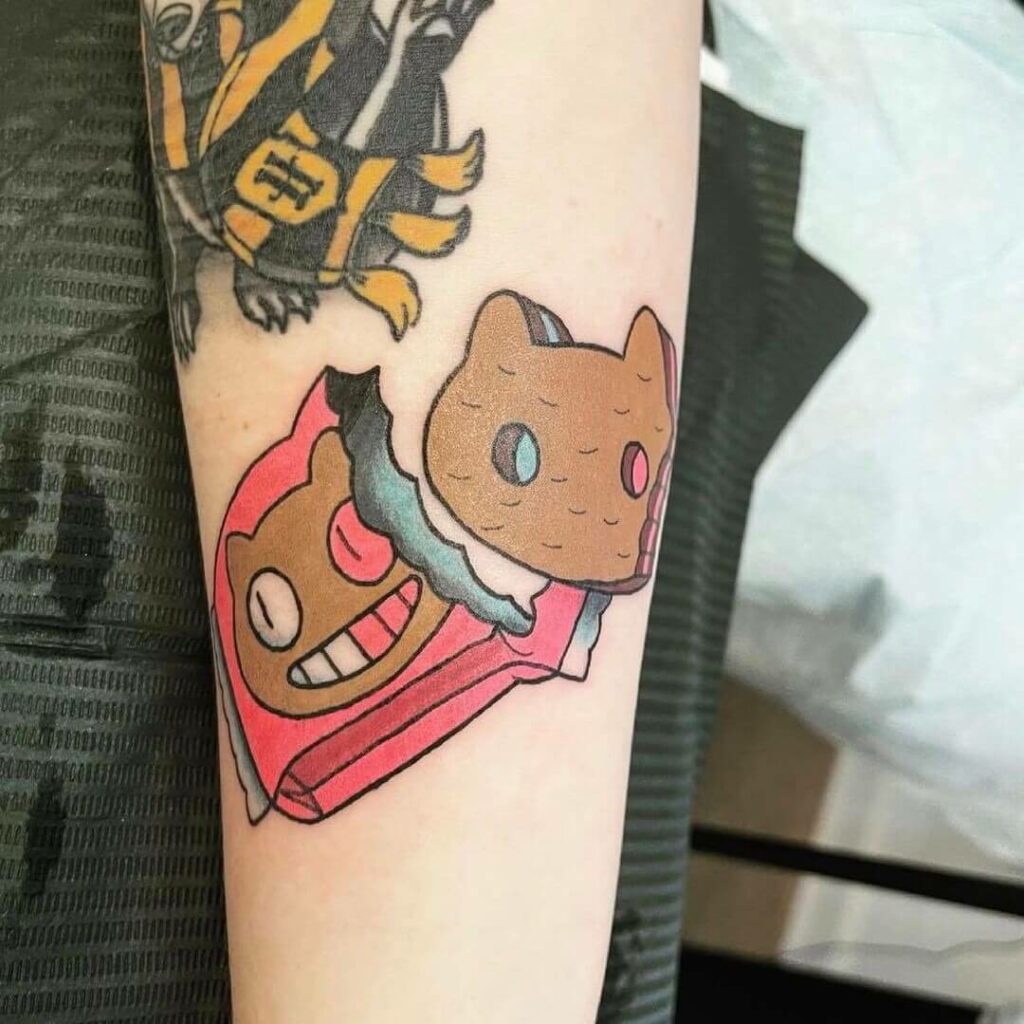 A symbol for the series, the Cookie Cat is an ice cream sandwich that is shaped in a cat's face and is one part vanilla and one part strawberry making it half white and half pink in colour. Steven, in the song 'Cookie Cat', mentions that the Cookie Cat is a "refugee from an interstellar war". Steven's mother, Garnet and Pearl too were refugees from an interstellar war, making the Cookie Cat have a major significance with the show. Another instance that made the Cookie Cat more significant is when Steven first ate it that made his Gem glow for the very first time. If you want a symbolic ink idea that only belongs to Steven Universe fandom tattoos, this could be it for you.
Steven Universe Lion Tattoo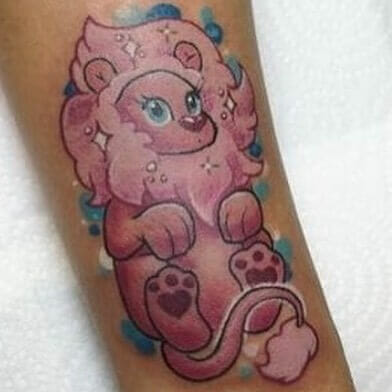 Befriending a lion must be a dream for many of you, but our boy Steven is living that life with his pink lion friend. This cute animal was initially a normal lion until he was resurrected from death by Rose Quartz and was given pink fur and magical powers. Steven is indeed a lucky guy to have amazing friends and then even befriending a pink cute animal. If you are in absolute awe of this cute pink Lion, this tattoo is meant just for you.
Steven Universe Peridot Tattoo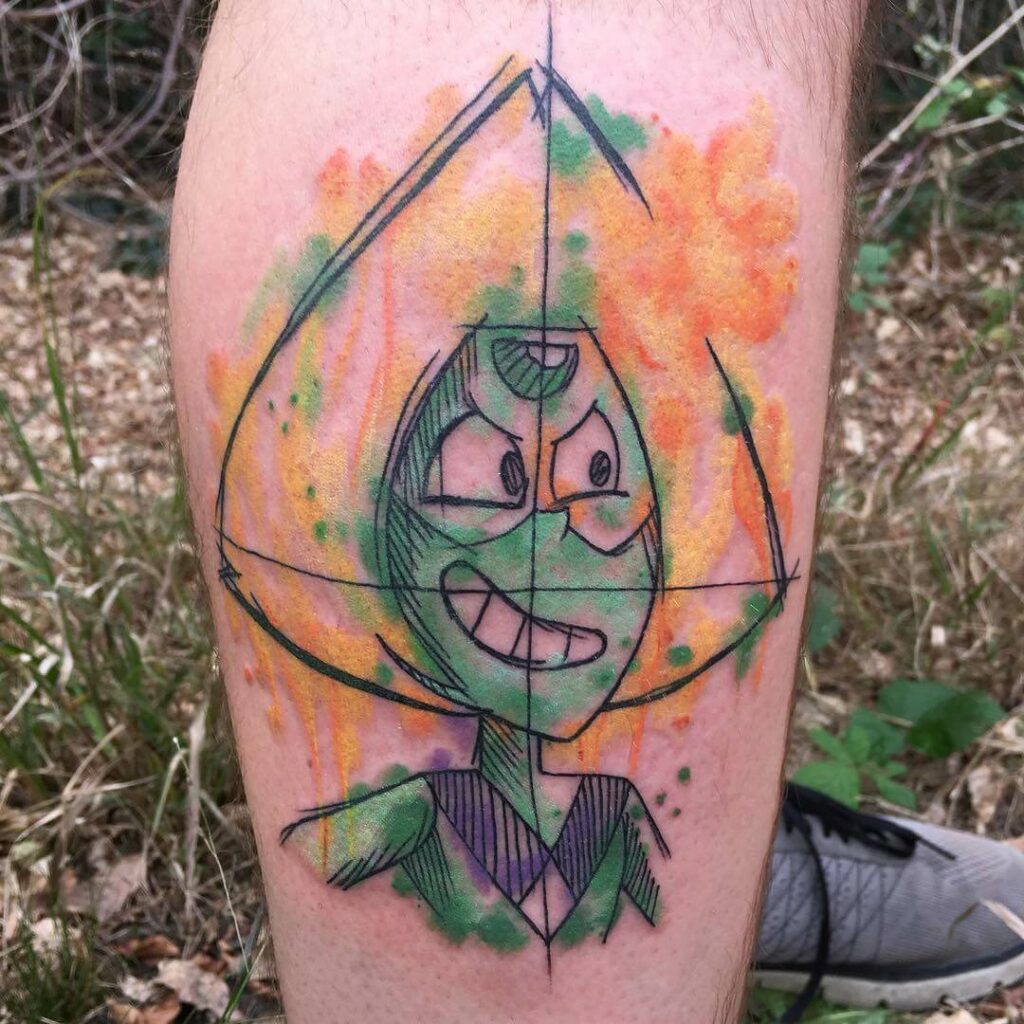 Okay, first things first, we have got to appreciate how the artist has outdone himself in this peridot design. Second, who doesn't love a good villain-turned-hero kind of character? Although rude and a little awkward, Peridot certainly has won a lot of hearts and has soon become a valuable Crystal Gems member. A 'know-it-all', Peridot is a kind-hearted person, who might come across as rude and an obnoxious character, but is actually a very good person at heart and that's all that matters, right? If you too agree with our Peridot description, we would highly recommend you get this tattoo.
We are sure by now you must have made up your mind regarding your favourite Steven Universe tattoo. Be it a Steven tattoo, or one of the other characters from the series, any tattoo choice that you make, will never disappoint you when it comes to your favourite show. So, what are you waiting for? Go get that ink right this moment!
Still looking for inspiration, then checkout this blog post about universe tattoo ideas.
Feature Image from Pinterest – Want your tattoo to look brighter? Try "Tattoo Balm"