Well, hello there, beautiful people of the tattooverse! There's no denying it: stick-and-poke tattoos have quite the reputation. Some dismiss them as prison ink or amateurish DIY doodles, but let me tell you, these simplistic beauties are far from being just that. They are the underdog of the tattoo world: relaxed, minimalist, but oh so artsy when done right – by a professional, that is.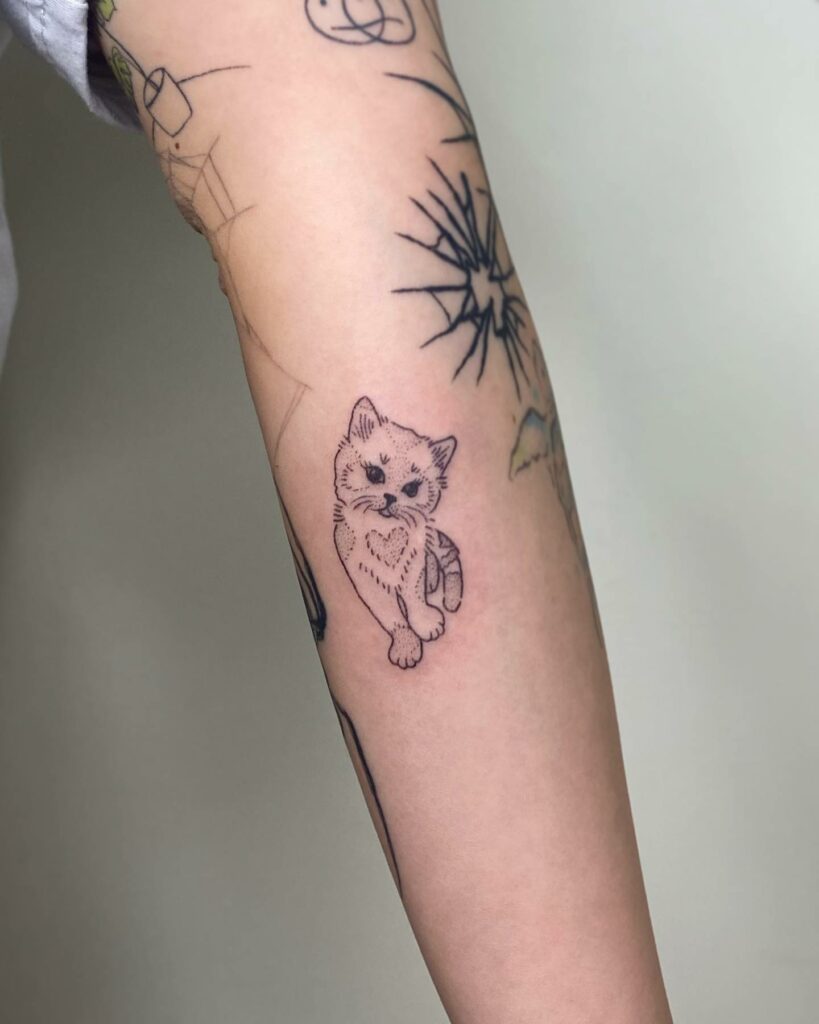 I remember a chap named Tommy who walked into our parlor with a frown deeper than the Mariana Trench. He was looking for something fresh, something different. After hours of poring over intricate designs, he decided on a simple, minimal stick-and-poke design – a tiny anchor on his wrist. It was nothing too fancy, but boy, did it carry a weight of meaning for him. And let me tell you, when he walked out of that parlor, the twinkle in his eye was worth a thousand Mona Lisas.
Now, stick-and-poke tattoos are like the jazz music of the tattoo world – they find beauty in simplicity and leave room for improvisation. Sure, they might not offer the grandeur of a hyper-realistic portrait or the intricacy of a Japanese dragon, but that's not their aim. Their charm lies in their straightforward, raw design that seems to tell you: less is more.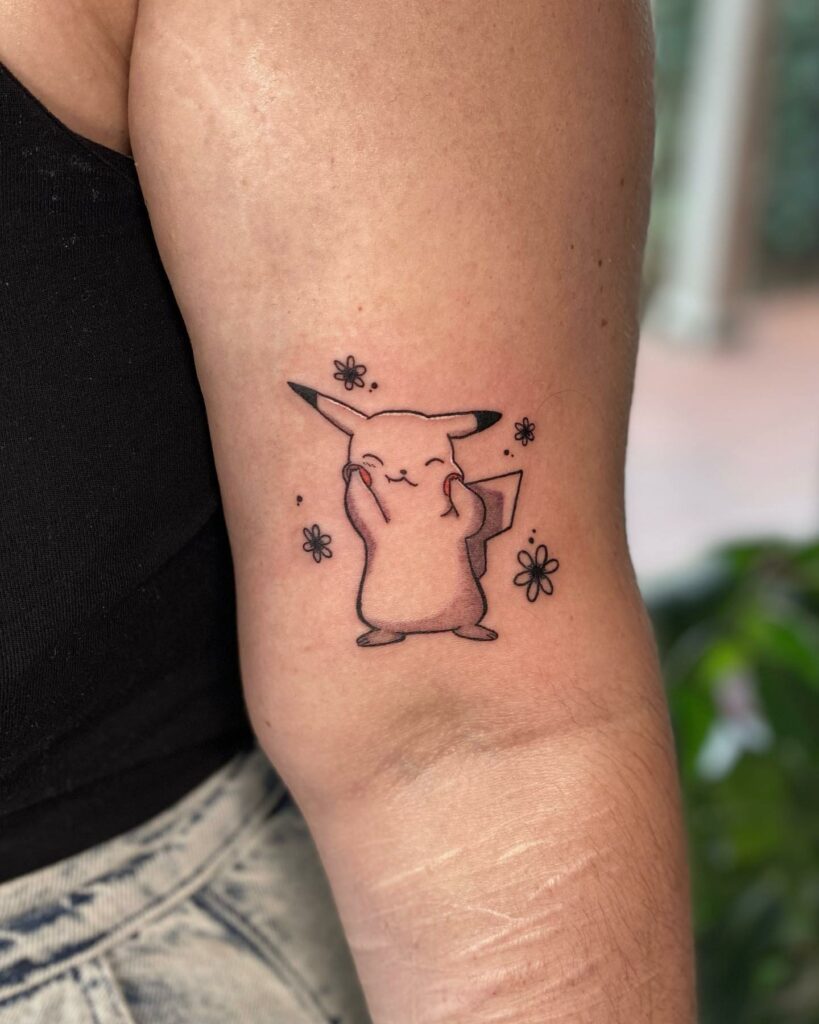 You're here because you're craving that needle buzz and the thrill of a new tattoo, right? Well, you're in for a treat! We've sifted through this year's hot trends, talked to countless artists and ink enthusiasts, and we're about to serve you a platter of the most exciting stick-and-poke tattoo ideas. So, fasten your seatbelts, ladies and gents, because we're about to embark on a wild, inky journey!
Stick-and-Poke Design Trends and Inspirations
Floral Hand-Poked Tattoo Ideas
As we all step into the spring-summer bloom, what better way to celebrate the beauty of nature than with a floral hand-poked tattoo? These subtle yet stunning designs are as diverse and beautiful as the flowers themselves. Remember our friend Mary from Brooklyn? She opted for a dainty cherry blossom that graced her ankle, a daily reminder of her grandmother's backyard tree. And guys, don't shy away. I've seen a burly biker rock a rose stick-and-poke with such panache, it would make a rose bush blush.
Butterfly Hand-Poked Tattoo Ideas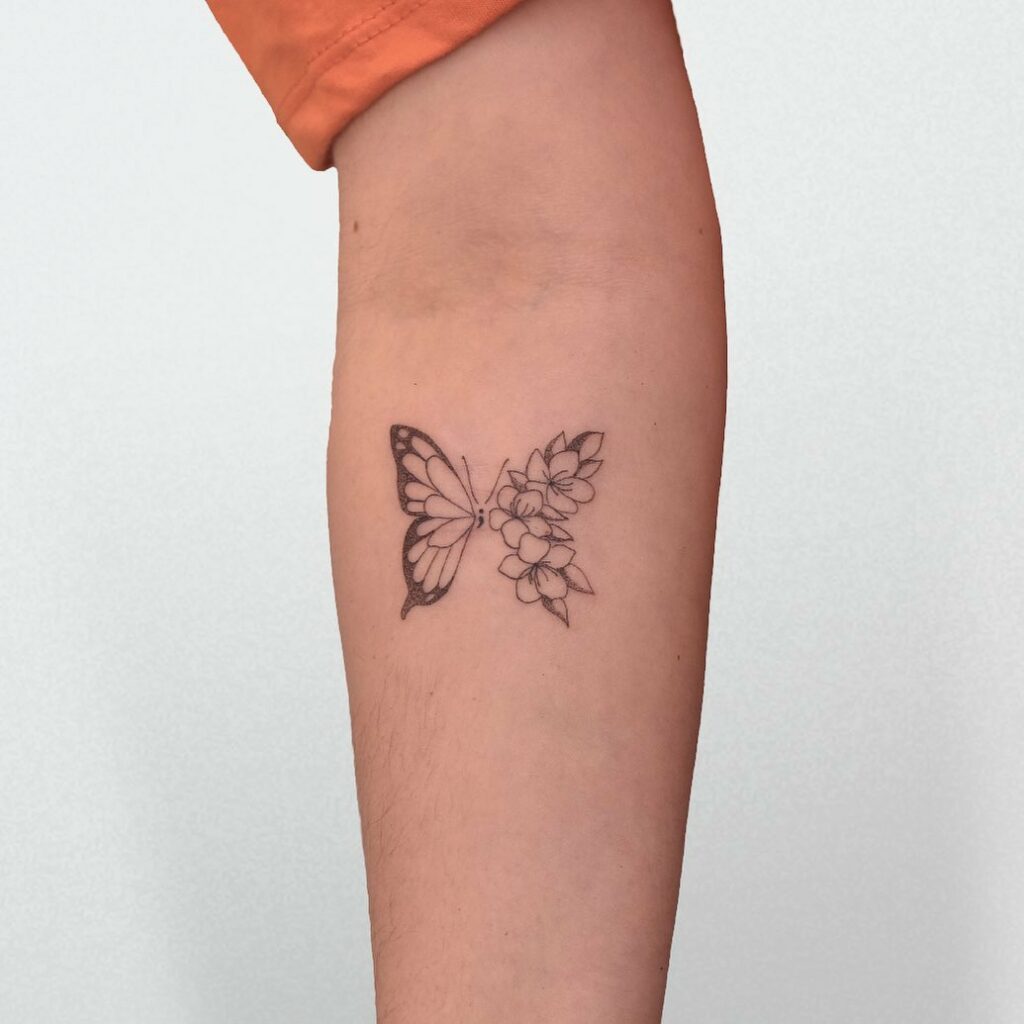 Butterflies, the universal symbol of transformation and personal evolution, are another fantastic hand-poked choice. Much like our friend Tim who had spent years overcoming adversity and found a newfound appreciation for life, his simple butterfly tattoo became a symbol of his journey and transformation.
Hands Hand-Poked Tattoo Ideas
Next up, we have the humble hand tattoos. Our hands can reveal so much about us. I recall an electrician named Luke who came into our shop. His hands were rough and calloused from years of hard work, and he wanted a hand tattoo as a tribute to his craft. His stick-and-poke hand tattoo was a testament to his pride in his work, showing how simple symbols can hold profound meanings.
Mountain Range Hand-Poked Tattoo Ideas
Amid the chaos of city life, some of us yearn for a slice of serenity. A stick-and-poke tattoo of mountain ranges could be your constant reminder of nature's grandeur and tranquility. A woman named Emma got her mountain tattoo as a homage to her life-changing trekking adventure in the Himalayas, forever etching the majestic peaks on her forearm.
Fruit Hand-Poked Tattoo Ideas
And who doesn't love fruit? These symbols of joy, seasonality, and abundance have been making quite the buzz in the tattoo world. One of our regulars, Danny, sports a tiny strawberry on his wrist, a nostalgic nod to his childhood summers spent picking strawberries at his grandma's farm.
Moon Hand-Poked Tattoo Ideas
Let's not forget about our celestial guide, the Moon. With its omnipresence and profound influence on our lives, a moon tattoo can serve as a constant reminder of our place in the cosmos. A young woman named Ava chose to get a crescent moon on her ankle, embodying her belief in the interconnectedness of all life.
Art-Inspired Hand-Poked Tattoo Ideas
As Picasso once said, "Art is the lie that enables us to realize the truth". Many are drawn to tattoos inspired by famous artworks, paying homage to the masters like Van Gogh or Dali. Like our friend Chris, an art teacher, who has Van Gogh's Starry Night cascading down his arm. His stick-and-poke rendition of this classic brings an edge to this timeless art piece.
Linework Hand-Poked Tattoo Ideas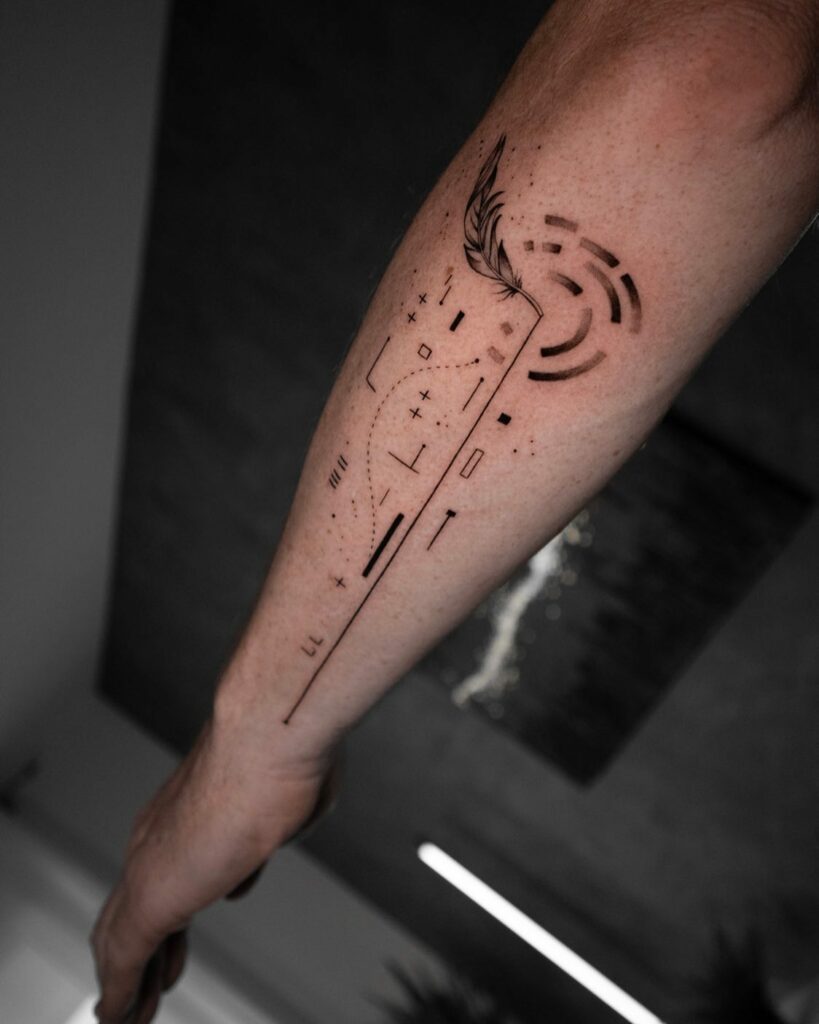 Linework tattoos, with their clean lines and abstract elegance, can create mesmerizing effects. They may not always have profound meanings, but they certainly make a visual statement. Our friend, Zoe, a dancer, chose a linework design that follows the contours of her body, almost like a dance of ink on her skin.
Hand-Poked Quotes and Phrases Tattoo Ideas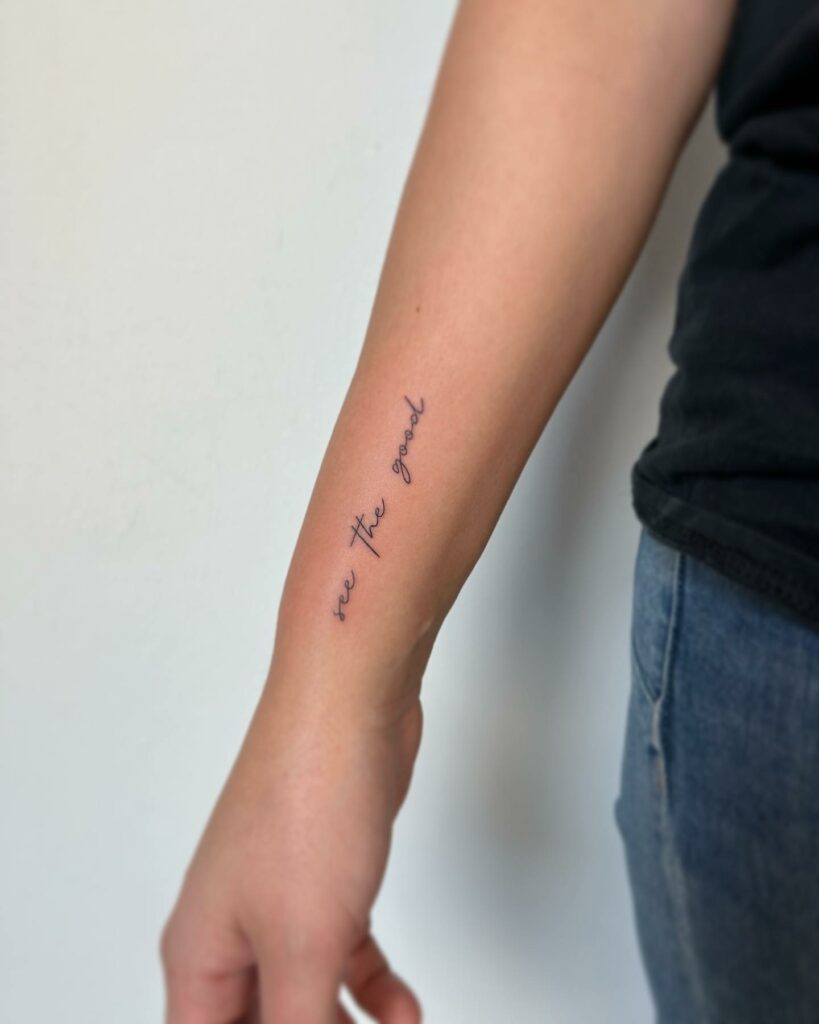 Who can resist the allure of words inked on skin? Inspirational quotes or motivational phrases can serve as daily reminders to stay on our chosen path. Remember Pete? He has "Carpe Diem" inscribed on his collarbone in stick-and-poke, a reminder to seize the day.
Unique Hand-Poked Tattoo Designs
Finally, for those seeking a unique, one-of-a-kind design, remember that the beauty of stick-and-poke tattoos lies in their personalization. They can be as unique and individual as the people wearing them. Like Jess, a biologist, who wears a beautifully hand-poked DNA helix on her arm, a testament to her love for science.
Safety And Aftercare Of Stick-And-Poke Tattoos
Safety and aftercare should always be at the forefront when considering any type of tattoo, including stick-and-poke. Firstly, finding a reputable artist is paramount. Don't be shy to ask about their portfolio, their safety procedures, and even their training background. A great artist won't hesitate to share their experience and knowledge, assuring you of their commitment to quality and safety.
Sterilization is the key to a safe tattooing process. Make sure your artist uses single-use needles, fresh ink, and thoroughly cleaned equipment. A trustworthy artist should always open new needles in front of you, wear gloves, and ensure a clean working environment. Once your stick-and-poke masterpiece is complete, aftercare begins. Typically, your artist will cover your new tattoo with a protective bandage. Leave this on for at least a few hours to protect it from bacteria. After that, cleanse the area gently with warm water and mild soap, then pat it dry.
Avoid the urge to scratch or pick at your healing tattoo – as tempting as it might be! Regularly apply a thin layer of unscented moisturizer or a specific tattoo aftercare cream as advised by your artist. Keep the tattooed skin clean and avoid exposure to direct sunlight and bodies of water like swimming pools or the sea until fully healed. Remember, your tattoo is not just a beautiful piece of art but a small, open wound initially. Taking good care of it ensures it heals beautifully and lasts a lifetime.
What are readers have said about a Stick And Poke Tattoos
ake our dear friend, Rosie. A passionate traveler, she had always found her solace in the mountains. So, when she finally decided to get a stick-and-poke tattoo, it was no surprise that she chose a minimalistic mountain range design. It was her tribute to the serenity she found amidst the peaks and valleys. Her tattoo artist, a veteran in the field, etched each line with great precision. And Rosie? She sat through the process like a champ, braving the needle with the ease of someone who'd scaled mountains. Now, every time she looks down at her forearm, she's reminded of the breathtaking sunrises she witnessed, the challenging terrains she traversed, and the quiet calmness she found amidst the wilderness. Her tattoo is her personal memoir, a tale of adventure etched in ink.
Then there's Alex. A budding writer, he'd always carried a deep affinity for the power of words. Alex decided on a stick-and-poke tattoo of his favorite quote from a novel that helped him through a tough time. The result was a dainty, handwritten-style phrase on his inner wrist – a permanent reminder of resilience and hope. The process was not entirely painless, he'd admit, but the outcome was well worth it. Now, each time he sits down to write, a glance at his wrist fills him with inspiration. His tattoo serves as his silent cheerleader, an emblem of the healing power of words.
Rosie and Alex's stories remind us of the personal connections we can create with our tattoos. These unique designs, whether grand landscapes or small scripts, become a part of us, narrating our individual tales. So, if you're considering a stick-and-poke tattoo, think about what resonates with you. Your story is waiting to be told, in lines of enduring ink!
Conclusion
And there you have it, folks! As we've journeyed together through the world of stick-and-poke tattoos, we hope you've found some inspiration for your next piece of body art. Remember, placement is key. Choose a spot that not only fits your design but also suits your lifestyle and pain threshold. Don't forget that highly sensitive or frequently moving areas might cause a bit more discomfort during and post-tattooing.
As for cost, stick-and-poke tattoos can be surprisingly affordable, ranging from $50 to $200 depending on the complexity of the design and the expertise of the artist. But remember, this is an investment in your self-expression, and quality should never be compromised.
Now, a little word of caution. While this art form is charming and steeped in tradition, there are potential risks, much like any other tattooing process. Ensure your chosen artist follows rigorous hygiene practices to avoid any infection. And for those with sensitive skin, it's always best to consult with your artist or a dermatologist prior to getting inked.
At the end of the day, whether it's a rose, a butterfly, or a line from your favorite poem, your stick-and-poke tattoo is a unique reflection of you – your journey, your passions, and your stories. So go ahead and let your skin speak your truth. Remember, our bodies are simply canvases waiting for stories to be etched upon them. Happy inking!
Last reviewed and updated on May 26, 2023