Looking for some inspiration for stomach tattoos? Look no further! Stomach tattoos are an awesome way to get a large-sized and well-detailed tattoo. Men's tattoos are usually well-detailed and have extensive shading, and the stomach offers plenty of space for such designs. Many guys opt for stomach tattoos as they can help to cover stretch marks and other imperfections, providing a great confidence boost. Plus, stomach tattoos are a great option for beginners as even people with low pain tolerance can get one. So, if you're considering your first tattoo, the stomach is a great place to start.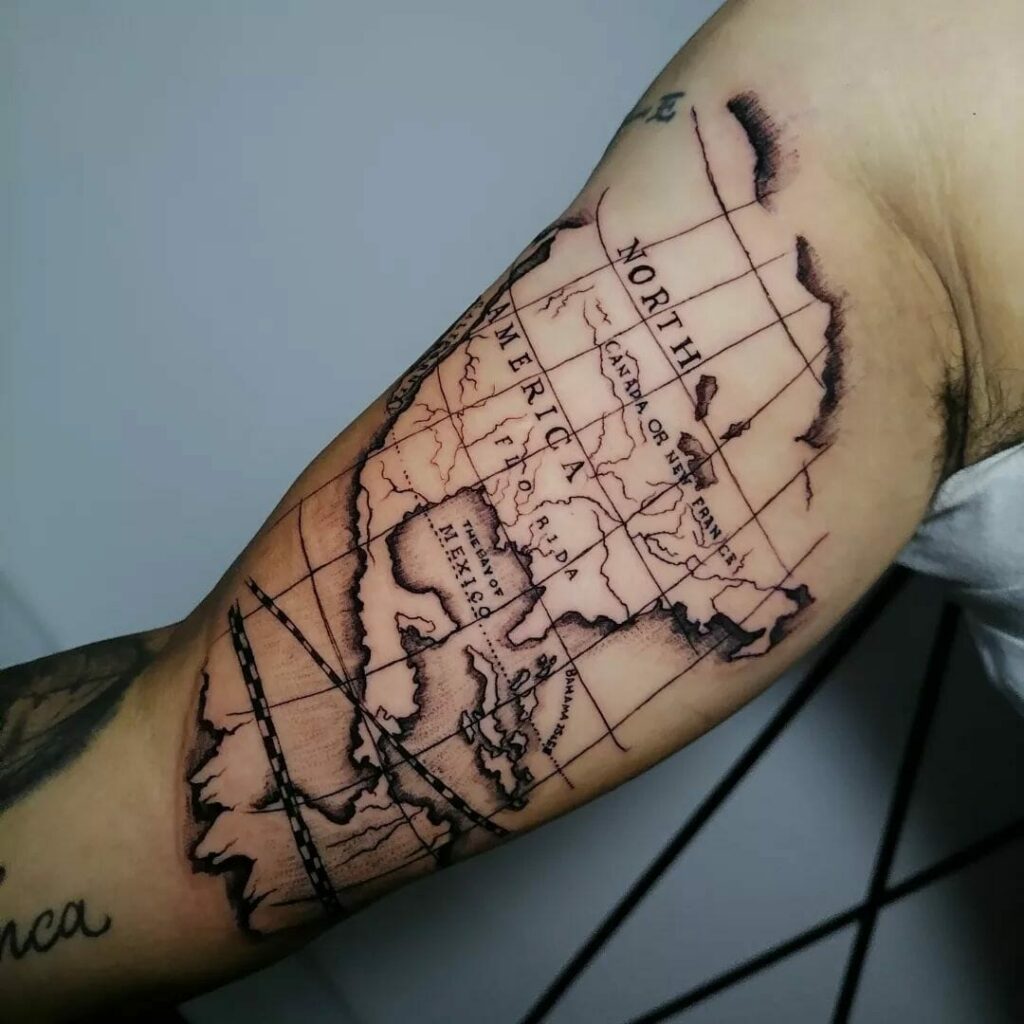 Jesus Stomach Tattoo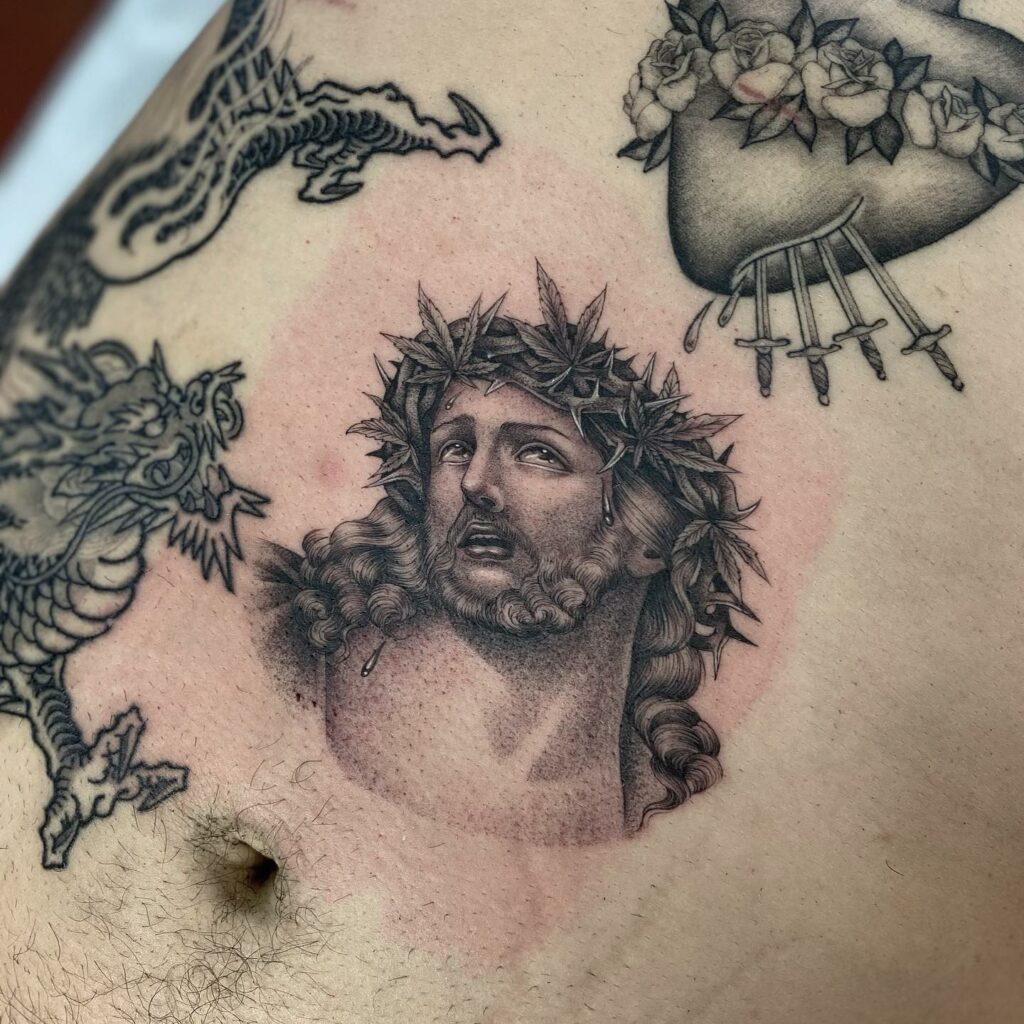 If you're looking for a tattoo that is meaningful and expressive, a Jesus tattoo on the stomach could be just the thing for you. This tattoo design uses black and grey ink to create a striking image of Jesus looking upwards with a distressed expression on his face. His crown of leaves and thorns is intricately drawn, adding depth and texture to the piece. The design extends up to Jesus' face and neck, ending in a circular curve towards the neck. Above Jesus is a heart surrounded by roses, with four daggers on one side and drops of blood oozing from the heart. While this design is beautiful on its own, you can always opt to incorporate the heart design into your tattoo alongside Jesus, as it is a personal choice. Overall, a Jesus tattoo on the stomach is a powerful and meaningful choice for those looking to express their faith through body art.
Cute Owl Stomach Tattoo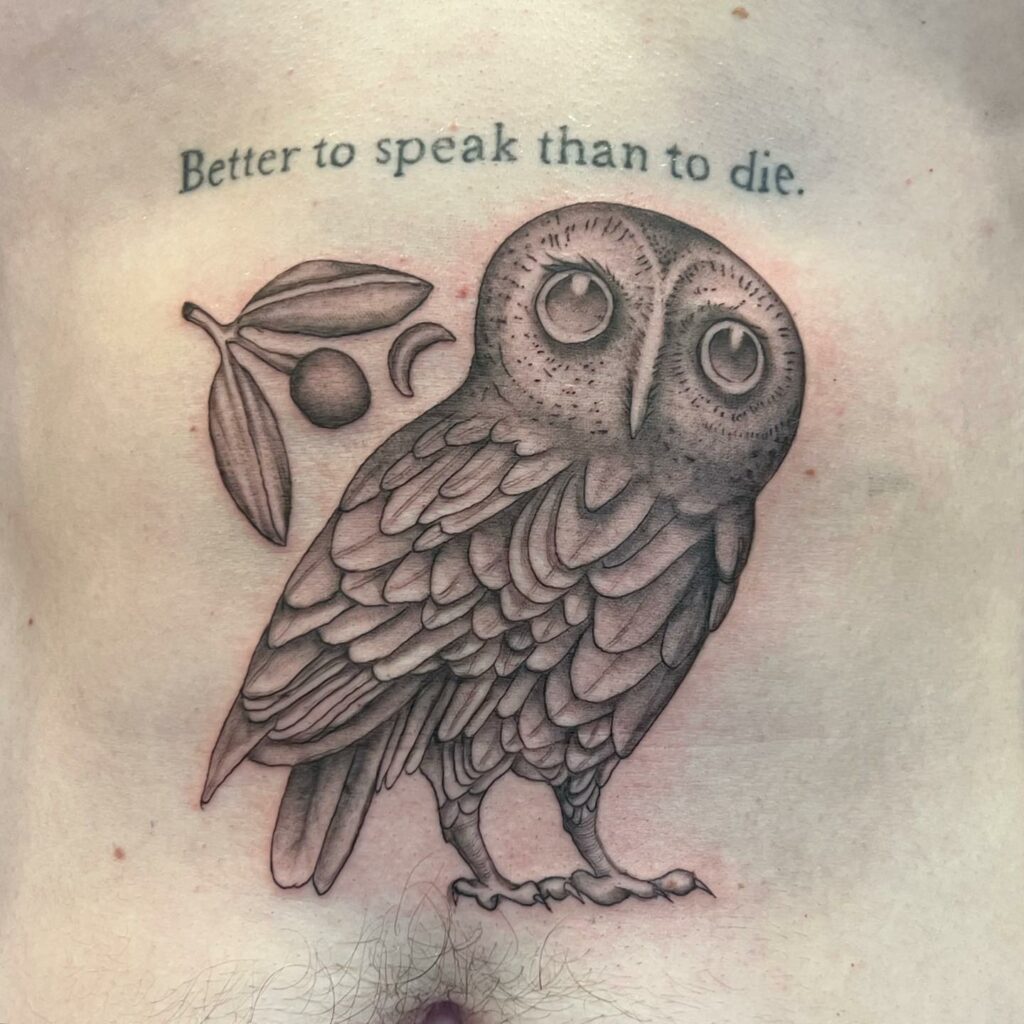 The owl tattoo is a stunning design that can be found just above the belly button. The entire tattoo has been delicately outlined with thin black lines, giving it an elegant look. The intricate detailing of each feather and the meticulous shading of the owl add to the overall effect of the design. Above the owl, you will find the words 'Better to speak than die' written in Roman style lettering, adding a meaningful message to the tattoo. A branch with two leaves and a central fruit, as well as a crescent moon, are drawn near the back of the owl. Owls are fascinating creatures that are often associated with wisdom, mystery, and the night. If you can relate to the unique personality of this creature, this owl tattoo might be the perfect design for you!
Eagle And Snake Stomach Tattoo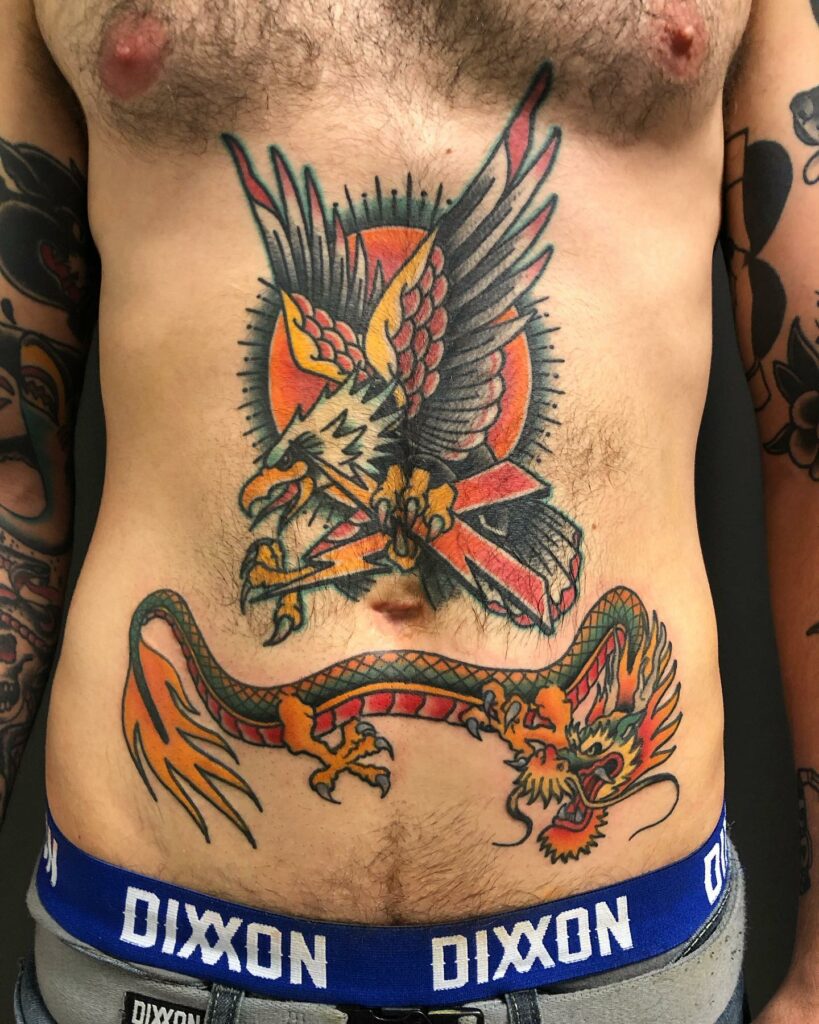 Looking for a unique and vibrant stomach tattoo design? Look no further than this trippy tattoo featuring an eagle and a snake. The eagle is depicted in mid-flight, poised to capture its prey while the snake is in a defensive position, ready to fight for its survival. In the background, a striking sun-like structure in orange and black completes the scene. The color combination used in this tattoo creates a fun and jolly vibe, while the well-executed depiction of the animals' emotions and nature makes this piece truly impressive. Stretching from the upper stomach to the lower belly, this tattoo is a great choice for anyone looking for a full stomach tattoo design that is sure to turn heads.
Horse Shoe Magnet Tattoo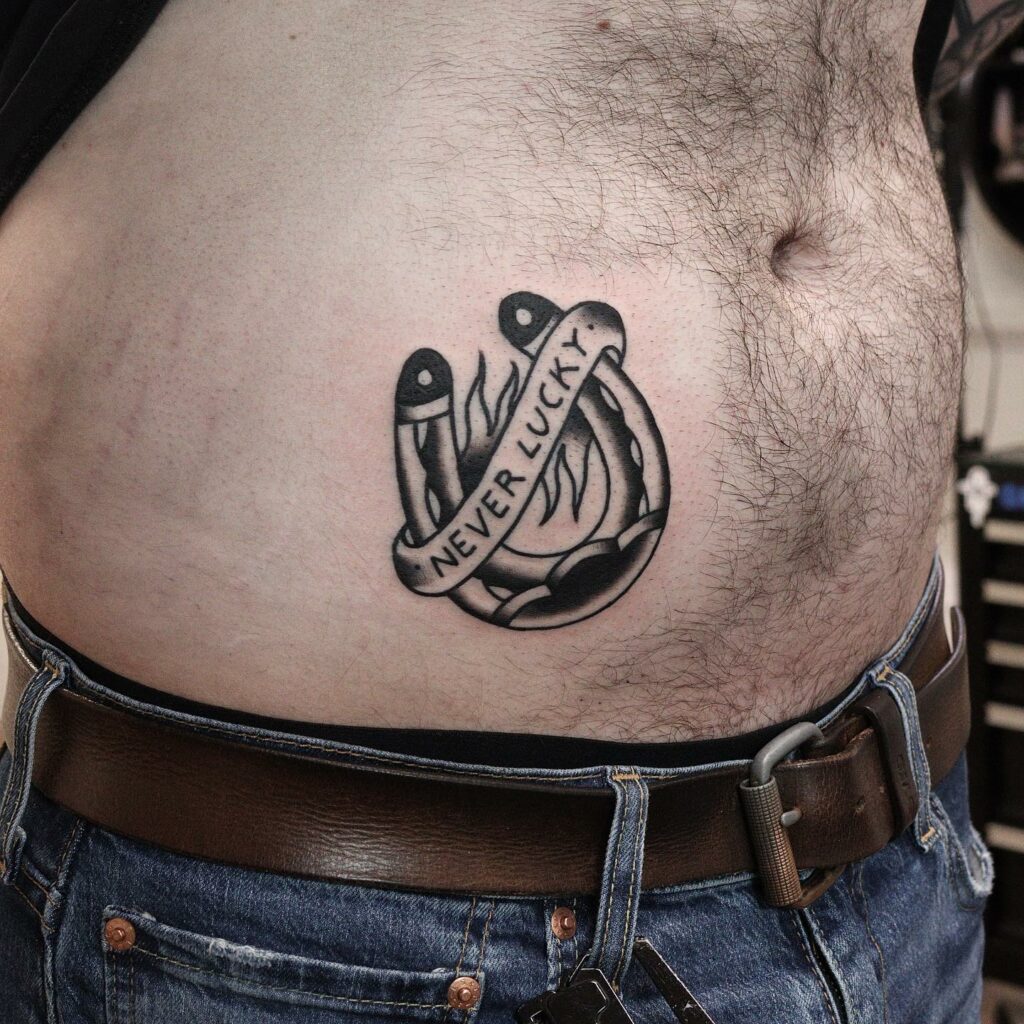 Let's take a closer look at these two unique stomach tattoo designs. The first design features a horseshoe magnet with the words "never lucky" inked onto it. The tattoo is situated on the lower stomach and the black ink used to create the design is expertly shaded to give it a 3D effect. The second design features two hands clasped together in a handshake. This design is simple, yet elegant and is situated on the upper region of the stomach. Both tattoos are created with a thick black outline, ensuring that they stand out and catch the eye. These two designs can be done separately, or if you're feeling adventurous, your tattoo artist can create a custom design that incorporates both tattoos into a single piece of art.
Dancing In A Ring Stomach Tattoo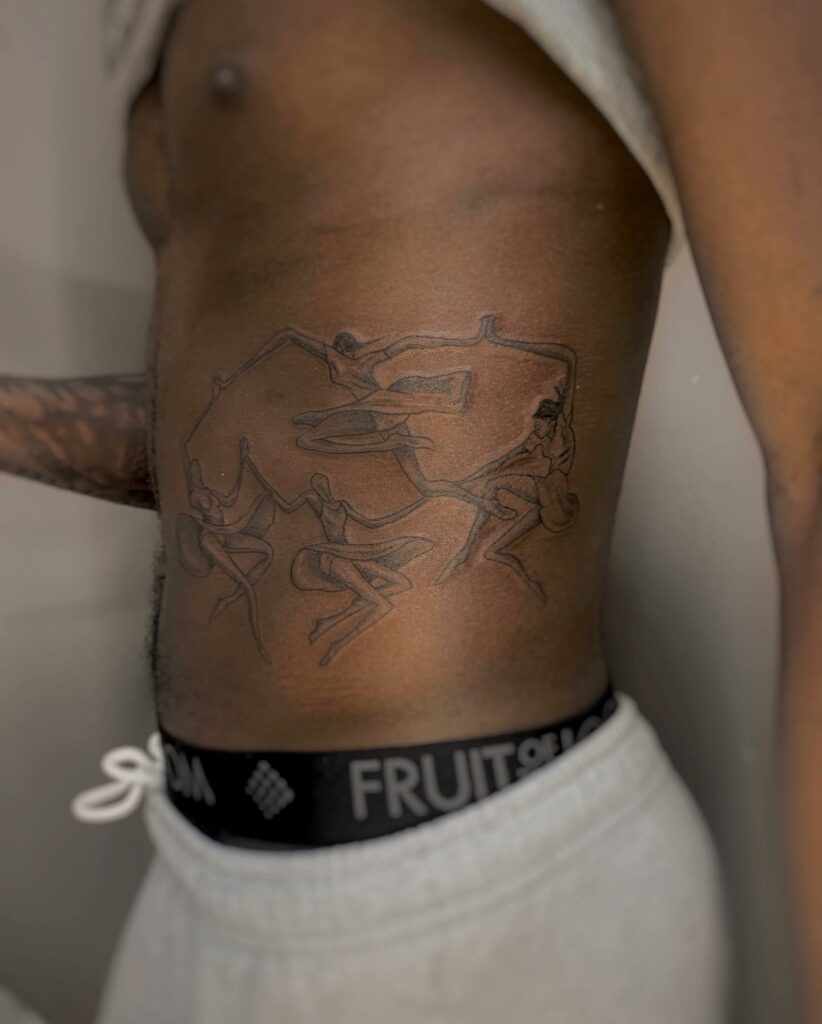 Imagine a tattoo design that celebrates women's grace, charm, and elegance. It's a side stomach tattoo featuring four beautiful women or angels dancing together in a circle, holding hands. Each woman is captured in a unique pose, and together they create a visually stunning and powerful image.
The design is outlined with thin black lines and uses minimal shading, allowing the beauty of the skin to become part of the artwork. This tattoo is of a moderate size and covers the entire side of the stomach. If you appreciate classic, timeless art, this design could be the ideal choice for you. It's a beautiful, simple, and elegant way to pay tribute to the beauty and power of femininity.
Realistic Modern Tattoo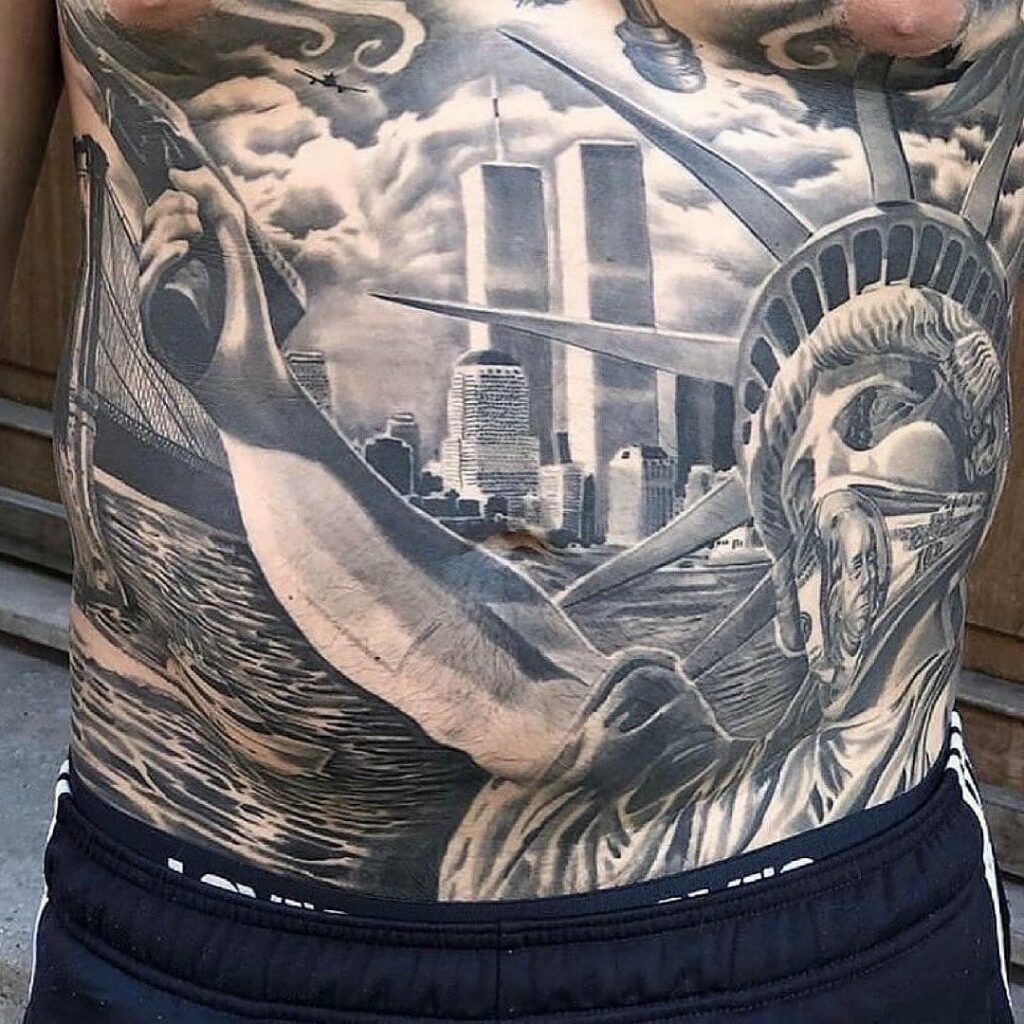 This stunning stomach tattoo captures the iconic sights of New York City with a unique twist. The skyline includes the towering buildings, The Brooklyn Bridge over the East River, and the Statue of Liberty. The attention to detail in this three-dimensional design is truly remarkable, with intricate depictions of aircraft, ships, and clouds. This cover-up tattoo is perfect for those who want to conceal an old tattoo or simply add a breathtaking piece of art to their body. The extensive shading adds depth and realism to the scene. If you're a proud New Yorker or simply have a deep admiration for the city, this tattoo is an excellent choice that will leave you feeling proud and inspired. Keep in mind, however, that due to the size and location of the tattoo, it's best suited for those with a high pain tolerance and some previous tattoo experience.
Shooting Fairy Tattoo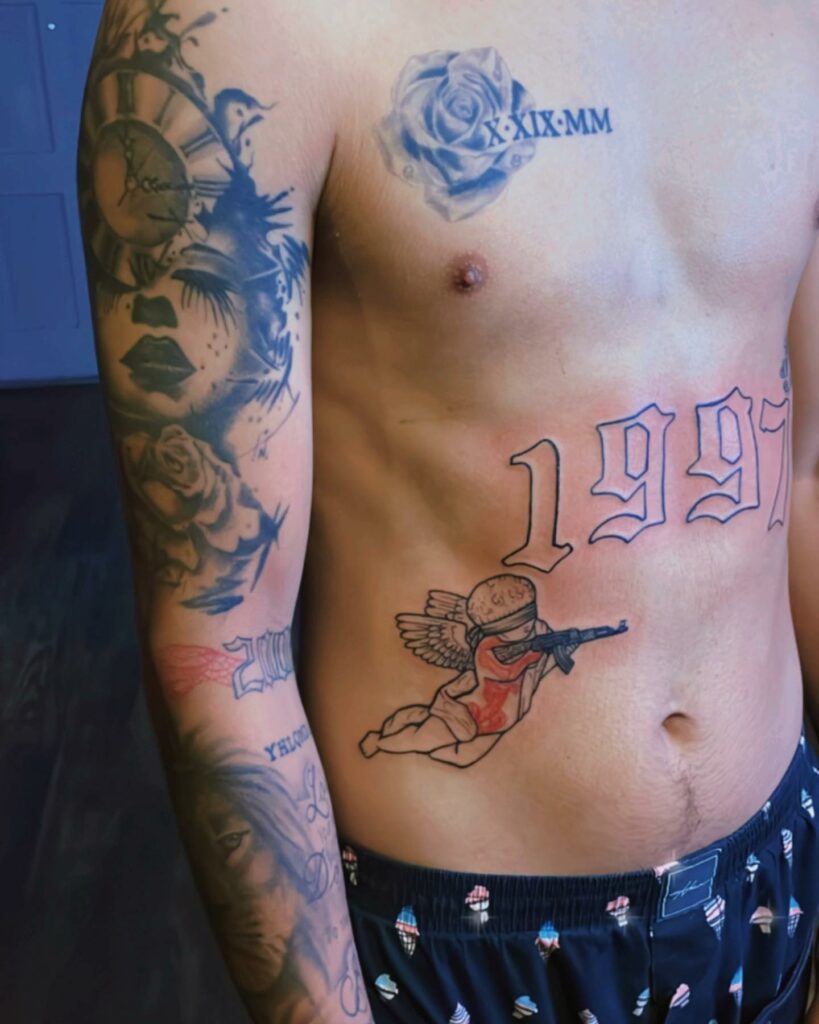 This enchanting tattoo design features a little fairy holding a rifle in a poised-to-attack stance, with her wings outstretched. The fairy is depicted in a red dress and is inked in black, adding to the simplicity of the design. The number 1997 is prominently displayed in a sizable font in the center of the stomach, outlined in black. The fairy is placed below the number, bringing balance to the composition. This delightful tattoo is perfect for those who love the fantasy world and appreciate minimalistic designs. The number can be customized to suit your preferences, or even removed if desired.
Eyes In A Circle Tattoo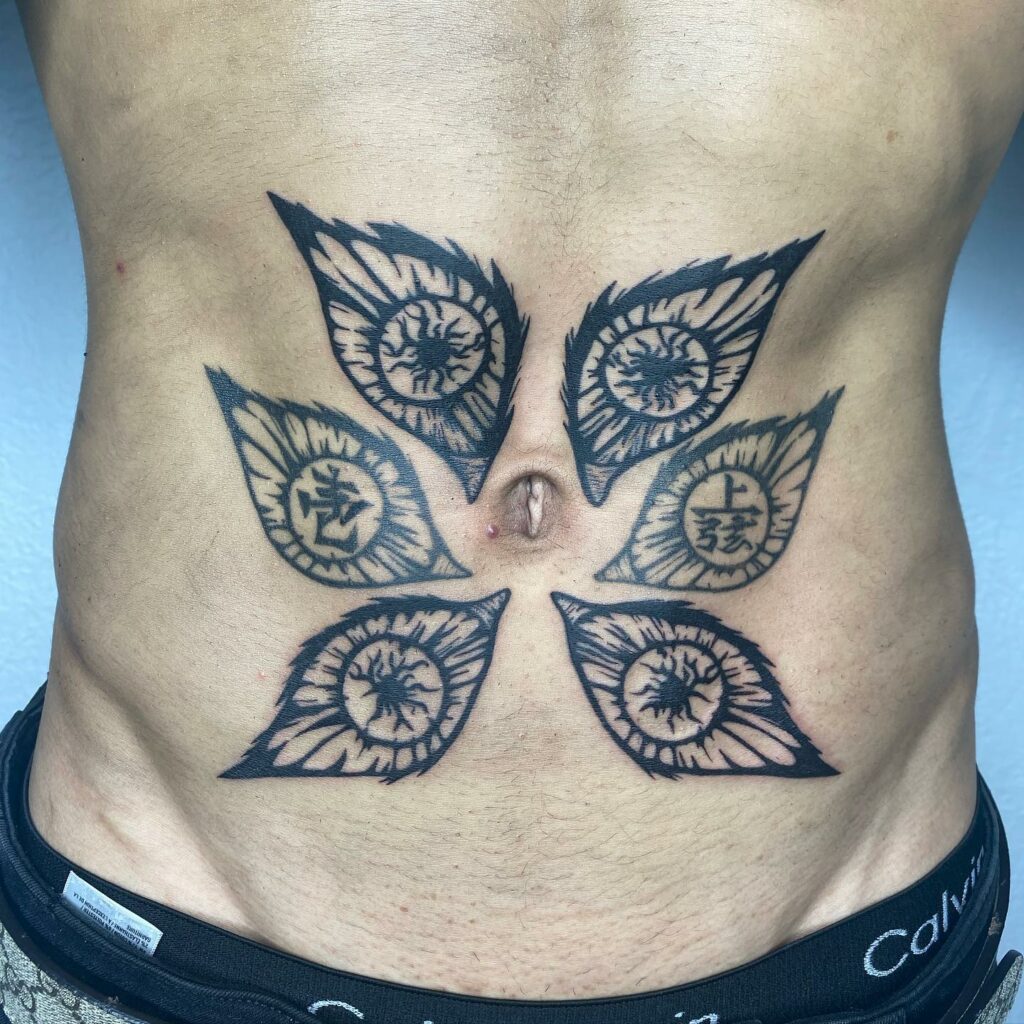 This tattoo design features six intricately drawn eyes in a circular formation, with two eyes sporting meaningful messages at their core and the other four showcasing striking fireball-like designs. This stunning and innovative design is centered around the belly button, making for an eye-catching tattoo that is sure to turn heads. The initial design features two eyes with messages, while the other four eyes were added later to complete the circle. Whether you choose to get the full design or just the two-eye combo, this tattoo is sure to make a statement and leave a lasting impression.
Tribal Japanese Stomach Tattoo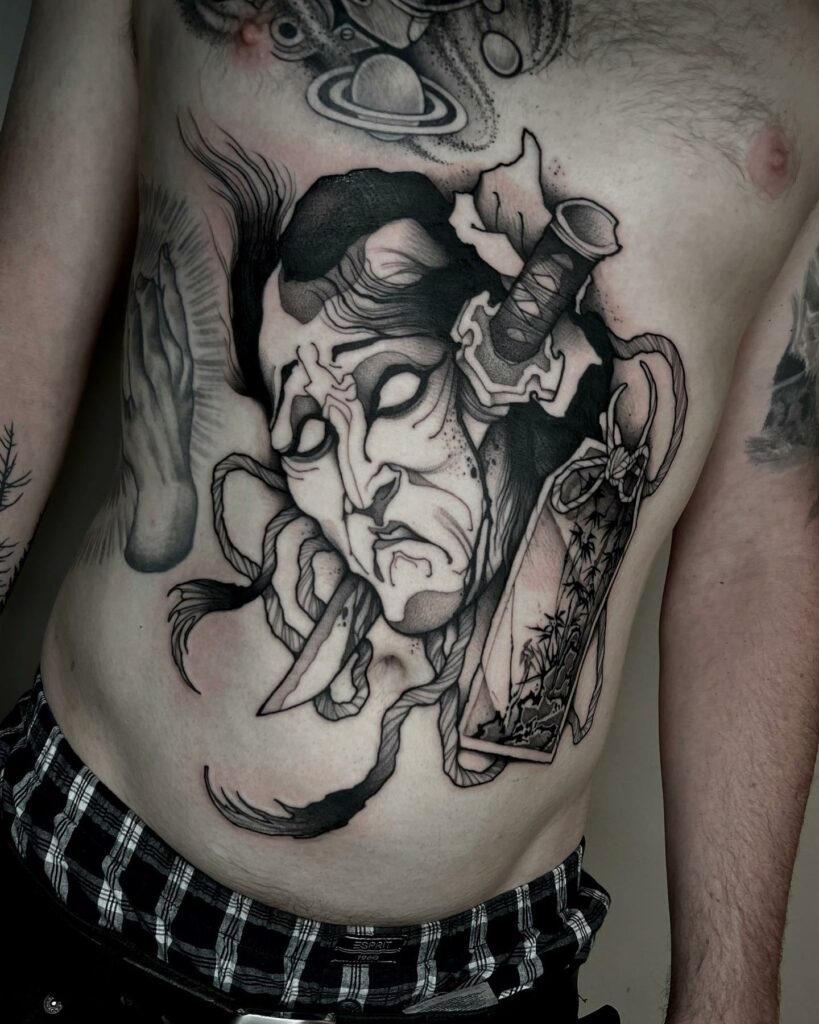 This remarkable tattoo features a traditional Japanese mask design that is beautifully executed on a man's abdomen. The artwork depicts a woman's face with a disgusted expression, pierced by a dagger, and with a rope and bookmark attached to it. The shading is meticulous and intricate, and the tattoo covers the entire stomach area. This stunning design is an excellent choice for anyone seeking a traditional-style men's stomach tattoo or for those interested in Japanese culture and symbolism.
Simple Skull Stomach Tattoo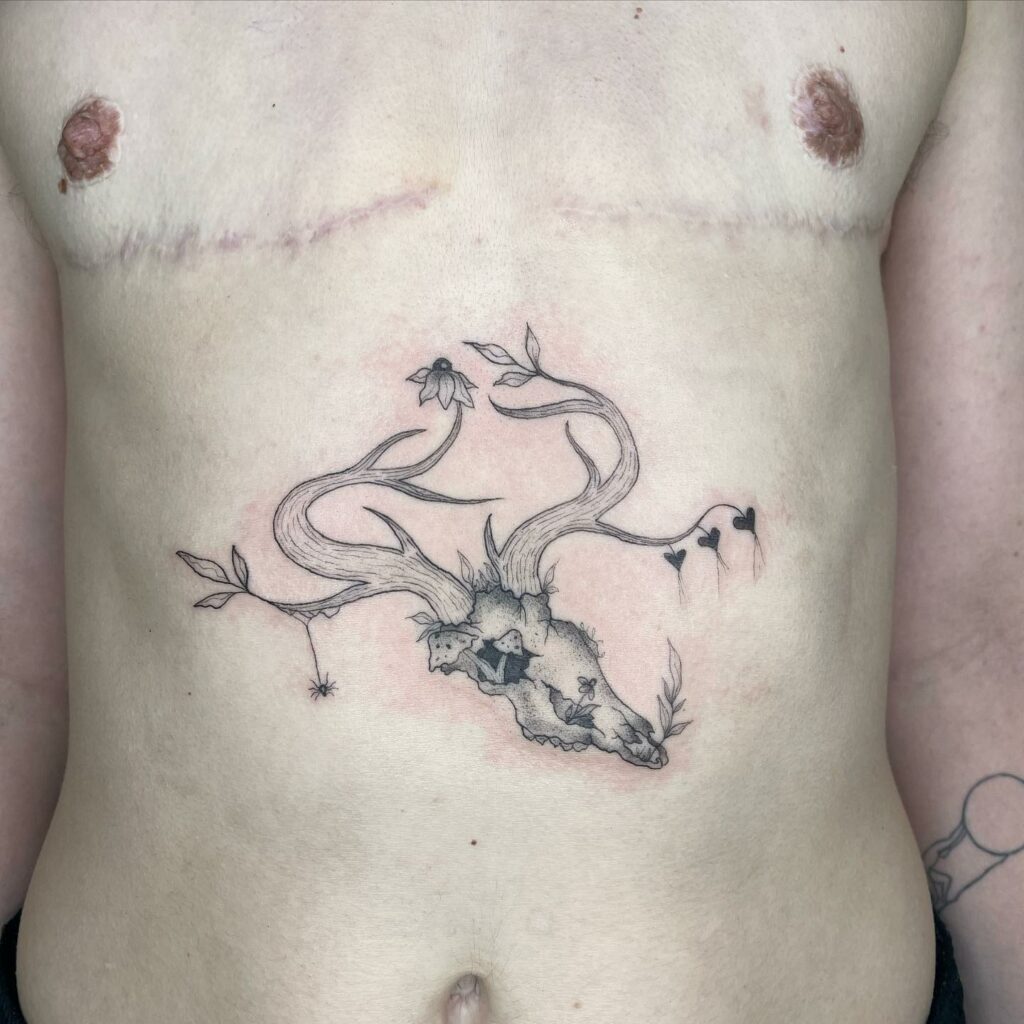 This stunning fine line tattoo is a creative and unique masterpiece that blends together different cultures beautifully. The intricate design is located on the middle stomach and features minimal shading, allowing the detail to truly shine. At first glance, the tattoo appears to be a skeletal head, but upon closer inspection, it is a small landmass with thick branches of trees. The branches are adorned with a spider hanging from its web on one side and three hearts on the other. The landmass also features mushrooms and herbs that seamlessly blend into the design. This tattoo is perfect for those who want a piece of art that is one-of-a-kind and sure to turn heads.
Male Tattoos On The Abdomen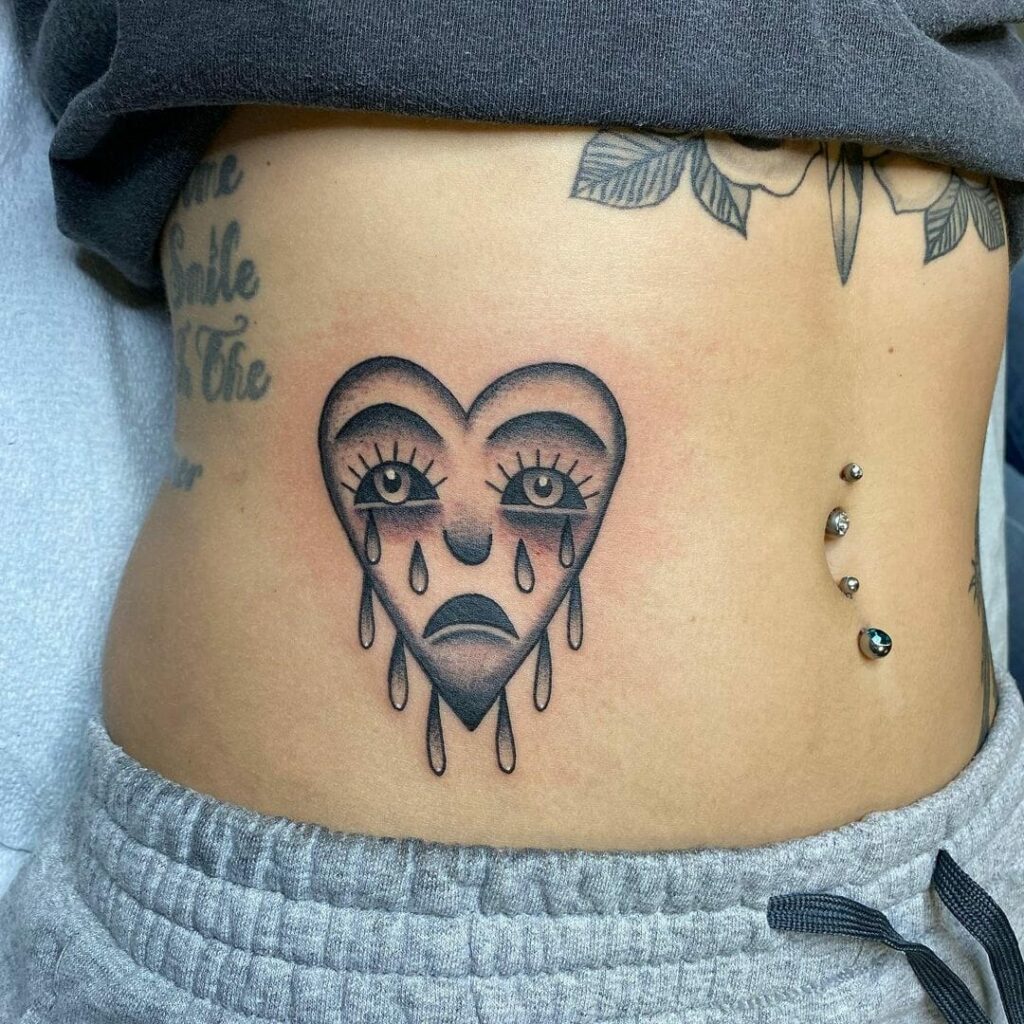 Still looking for inspiration, then checkout this blog post about japanese snake tattoos
feature image from Pinterest – Want your tattoo to look brighter? Try "Tattoo Balm"