Looking for tattoos that show your love for succulent plants? We are here to help with the best succulent tattoo designs for your next ink on your skin.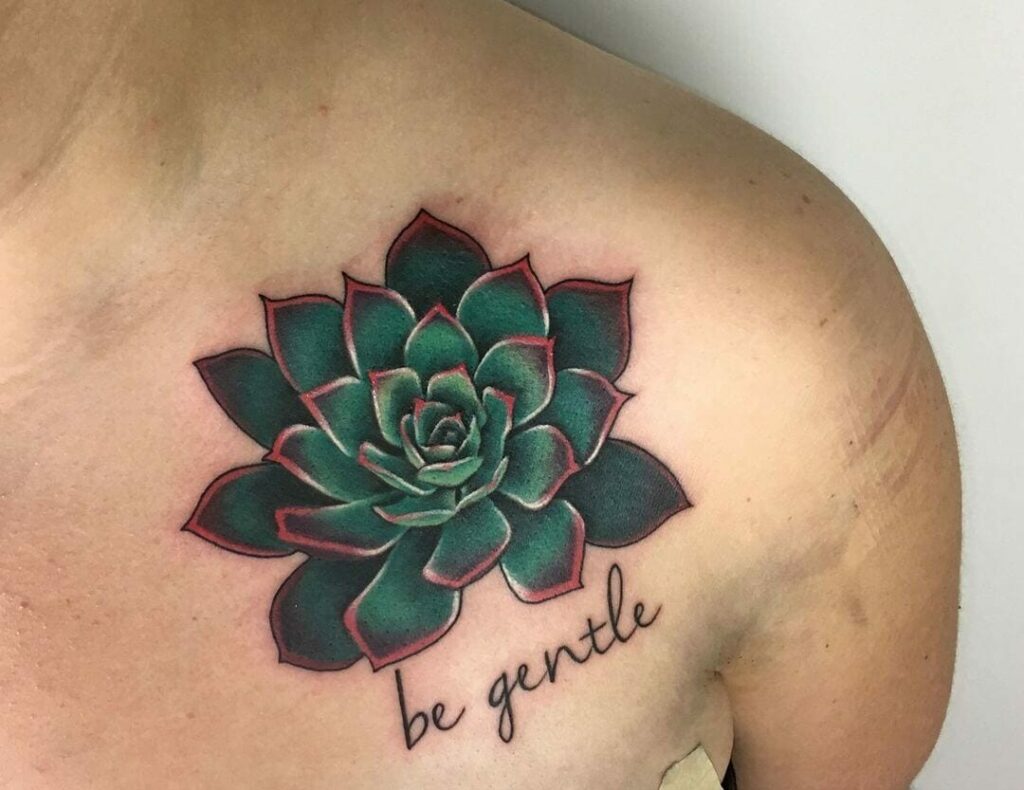 Succulent tattoos are incredibly versatile and can be created in any size, placement, design and colour.
Succulents have been gaining popularity for quite some time now and that is not just because of their aesthetics. These plants are also symbolic and are great for anyone with a green thumb personality who doesn't have a lot of time for plant baby commitments.
Known widely for their low maintenance quality, these plants also symbolise enduring and timeless love. Succulents, also known as fat plants, are a plant that contain fleshy thickened parts which allow them to retain water even in extremely hot temperatures. Except for Antarctica, these plants are found around the world and are loved by many. These plants are highly symbolic and many succulents also have quite a lot of medicinal benefits that add to their popularity. The fact that they conserve water and thrive under very difficult conditions is an example to us, reminding us that we are stronger than we think we are, that even the most difficult situations are not the end of the world. Succulent tattoos are a symbol of resilience, renewal, protection, and growth. Succulent tattoo designs are extremely versatile and you have only a couple of things to consider while getting the right tattoo. You can choose to either get a large colourful design that is bold and eye-catching but can also choose to keep it minimal and still make your new body ink look stunning and head-turning. If you are into full sleeve tattoos, succulent tattoos can also be a great choice for the same and would never disappoint you. These tattoos also come in a variety of colours making their range of versatility even wider. However, if you want, you can also keep it simple and make it monochromatic and still be the bearer of a super cool tattoo. Succulent tattoos are also a great design for any placement of your choice. With this basic knowledge about succulents, let's take a dive into our catalogue of a few of the perfect succulent tattoo designs that we have searched high and low, just for you.
Minimalist Succulent Tattoo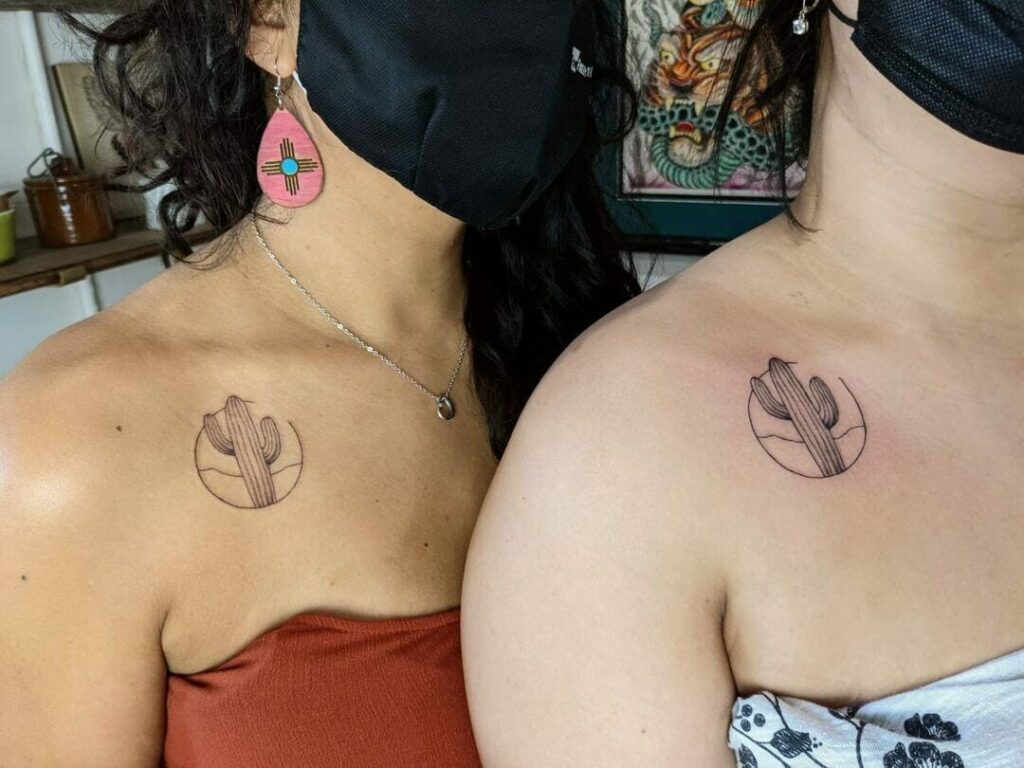 If you are a sucker for minimalistic tattoos, this one is the perfect fit for you. This tattoo features a cute cactus with just the outline details. You can also alternate this design with a different succulent and all you have to do is trace their outline. Minimal tattoos are for anyone who is not much of a commitment type and loves tattoos that are simple, cute and aesthetic. If you think you are all about minimalism, this tattoo is perfect for you. However, make sure you contact the right tattoo artist for a tattoo like this since it deals with tiny intricate details and crisp lines.
Succulent Tattoo Black And White
Remember when we said succulents are so versatile that you could also choose to add or not add colours at all? Well, here is a real example of how we were not at all joking about it. You can ink on a succulent tattoo and keep it simple and black and white with a few shading details, and your succulent tattoo will look just as fascinating as a coloured one. You can also play around with the size of your tattoo like the one below and make your tattoo smaller and you will find out that a black and white monochromatic succulent will still remain an eye-catching piece on your body.
Simple Succulent Tattoo
If you are into simple yet aesthetically pleasing art, this one is the perfect fit for you. The colour coordination and the minimal sun detail behind it is what we are living for. This tattoo features a sansevieria, however, you could also choose your favourite succulent and ink it the same way just like this tattoo. Also known as snake plant, sansevieria can be durable in both full sun and low light, and just like any other succulents, these plants too require minimum maintenance. In addition to being aesthetically pleasing, snake plants can also help to rid the air of harmful pollutants. Ink this tattoo and share your succulent knowledge with everyone around you.
Watercolor Succulent Tattoo
If you are looking for an artistic way of approaching these succulent tattoo designs, this tattoo design is a great option for you. This tattoo, just like the other succulent tattoo designs, features a cactus, but what makes this tattoo style stand out is the watercolour effects that the artist has incorporated into it. If you are really into watercolour aesthetics and have been looking for succulent tattoo inspiration, this cactus tattoo is God sent for you.
Tiny Succulent Tattoo
We bet you have never seen a better cactus tattoo than this one right here. This small cactus tattoo is the perfect example of how no matter the size, succulent tattoos look great anyway. This succulent tattoo is for anyone who wants to go an extra mile when it comes to minimalism. Although this tattoo just features a cactus, you could also replace or even add more other tiny plants to make it one whole collection of succulents on your body just like this tattoo.
Southwestern Cactus Succulent Tattoo
Southwest Indian styles infiltrate mainstream American culture and are instantly recognizable. These tattoos include a variety of elements that makes the southwestern touch visibly noticeable. This southwestern inspired tattoo features a cactus along with a horseshoe. According to the Native American culture, a cactus symbolises protection and motherly love due to its natural ability to protect itself from external elements. If you have been looking for a tattoo that represents traditional art and carries deep meanings, this tattoo would be perfect for you.
Colourful Succulent Tattoo
Succulent tattoos can never go wrong in any colour of your choice. This tattoo features this succulent in an extraordinarily vibrant colour that will for sure attract anyone's eyes and turn anyone's head. If your preferences lie in a vibrant colourful tattoo that shines through in the crowd, this tattoo is the perfect match for you. Obviously, you can also get a little creative and add personal touches to your tattoo and have an original vibrantly colourful succulent tattoo.
Money Plant Tattoo
Pilea, as known as a money plant comes with a huge number of benefits. It is believed that while a money plant strives, one will never be short of money in the house. You can use it as a dwarf, which is to keep this plant indoors, and also can be planted in the garden, however, it requires indirect sunlight or you will end up with burnt leaves. The name is believed to have derived from its almost round and flat leaves that give a resemblance to a coin. Get this cute little money plant tattoo if you are looking for a tattoo that would also shower you with good fortune.
Succulent Sleeve Tattoo
Big or small, succulent tattoos look great, period. This tattoo is a great example of how you can also choose to dedicate an entire sleeve towards a succulent tattoo and will never regret it. Most people choose to incorporate these with a couple of geometric lines as well and you too can for sure be creative and add your own favourite details along with all your favourite succulents. If you have been looking for a sleeve tattoo and love succulents, look no further, because this tattoo is it for you.
Plant tattoos have been popular for a long time now and we all, from this catalogue at least, know why. They are aesthetic and have a tendency to bring you closer to nature and also look great as standalone art. We hope you must have found your favourite succulent tattoo but now and we promise whatever design you choose, you will never go wrong with plant tattoos. However, since these tattoos require a lot of attention to the details, we would recommend you find artists who are experienced in tattoos that demand intricate details. Choose a design for yourself and talk it through with your tattoo artist to come up with an original piece that is unique in your own way.
Feature Image from Pinterest – Want your tattoo to look brighter? Try "Tattoo Balm"
Last reviewed and updated on June 15, 2023