Getting matching tattoos can be the perfect way to show the world, that your bond is unbreakable. Here are some of the excellent sun and moon tattoo matching designs.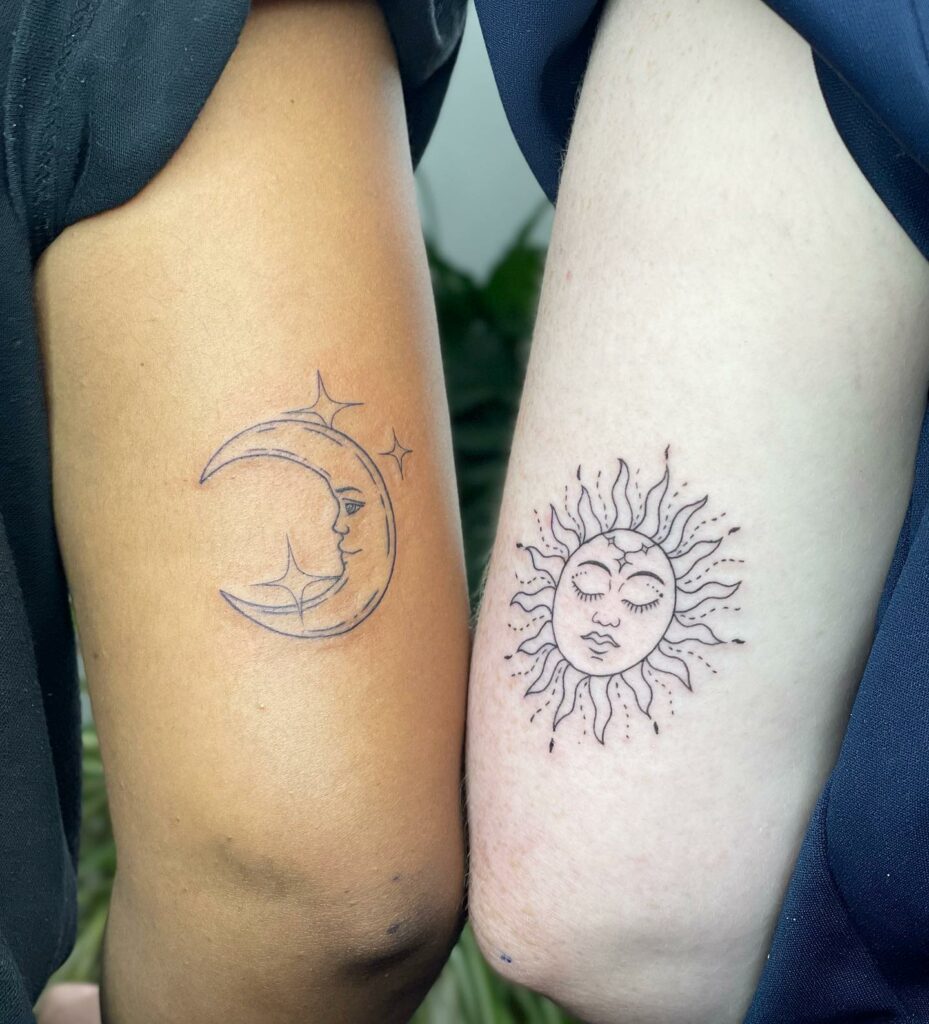 Are you looking for the perfect way to showcase your unbreakable bond with your partner? Look no further than the sun and moon tattoo! This popular design is rich in symbolism, with the sun representing masculine energy and the moon epitomizing feminine qualities. When combined, they create a perfect balance between light and darkness, a beautiful representation of the interconnectedness of our world. The sun and moon tattoo is a great way to show your commitment to your partner, and it's often associated with the Yin Yang symbol. Check out these stunning examples of sun and moon tattoo designs that will inspire you to get inked with your significant other!
Sun And Moon Matching Best Friends Tattoos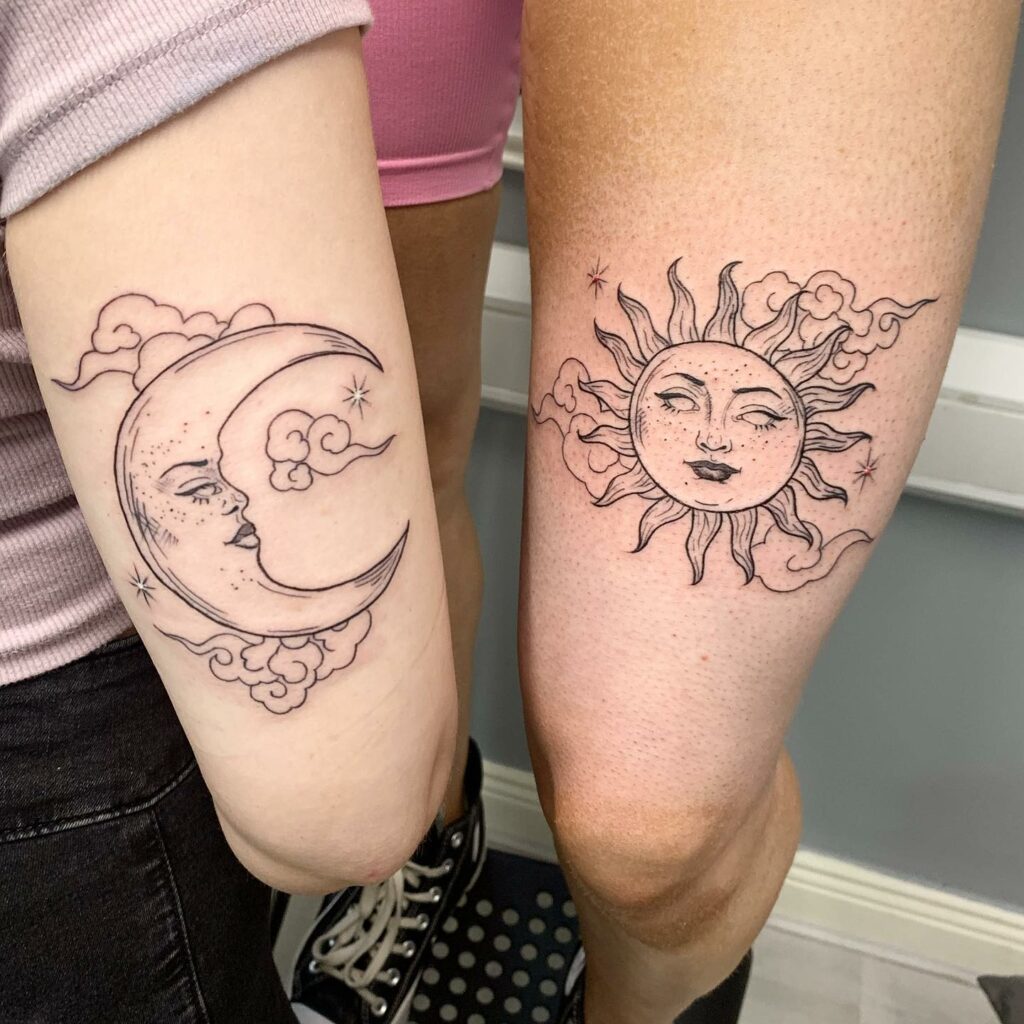 The sun and moon tattoo is more than just a representation of masculine and feminine energies. It can symbolize balance, harmony, and love. The picture above beautifully depicts this sentiment, featuring two stunning designs etched on the back of the arms of two individuals. The tattoo artist has gone above and beyond to create a more realistic design by incorporating facial features into the sun and moon. It's a touching way to show your friends just how much they mean to you and how significant their presence is in your life. These designs have been created using black ink but you can add a splash of color if that's more your style. Personalize it as per your preference and make it even more special.
Sun And Matching Crescent Moon Tattoos
The intricate detailing of this design is a true masterpiece of tattoo art. The precise line work and shading techniques used by the artist give this tattoo a bold and striking appearance. The sun and moon have been depicted in various ways across different cultures and in this design, the contrast between the two symbols creates a powerful visual impact. Some interpret the sun and moon as representing opposing forces such as light and dark or good and evil, while others see it as a balance between masculine and feminine energies. Depending on the meaning you want to convey, this design can be customized to suit your preference. If you're considering getting matching tattoos with a loved one or friend, a sun and moon tattoo is a great way to express your bond in a unique and meaningful way.
Minimalist Sun And Moon Tattoo
Matching tattoos can be a special way to represent the deep bond between two individuals. The options are endless, ranging from something specific that only you both understand to a fun and creative design. In the image above, you can see a unique example of a simple matching tattoo. The minimalist and elegant sun and moon tattoo is etched on the wrist of both individuals, representing balance and harmony. It's an excellent way to show your love for each other and proclaim your unbreakable bond to the world. Minimalist tattoos can be just as powerful and meaningful as larger, bolder designs. They are easy to create and require minimal pain, making them a great choice for first-time tattoo enthusiasts. So why not try out this design and kickstart your tattoo journey in style?
Tribal Sun And Moon Tattoo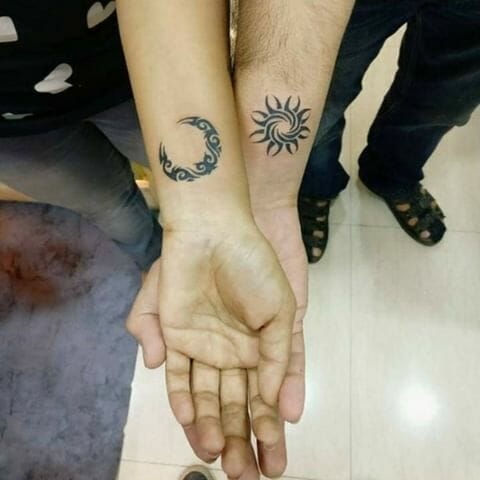 Tribal tattoos are known for their intricate geometric patterns and fine lines, making them not only aesthetically pleasing but also imbued with deep symbolism. Transforming a simple sun and moon tattoo into a tribal design can take your body art to the next level. Take a look at the image above to see a stunning example of this style. These tribal designs on the wrists of two individuals are highlighted with bold black ink, creating an eye-catching and mystical look. Matching tattoos don't always have to represent romantic love; they can also be a powerful expression of your unique self. Adding a tribal twist to your sun and moon tattoos can make them all the more meaningful and special.
Lettered Sun And Moon Tattoo
Matching tattoos have become a popular way to celebrate friendship, and the "No matter what and no matter where" tattoo is an excellent choice for showcasing the bond between you and your closest friend. This simple yet meaningful design pairs the sun and moon with heartfelt words, symbolizing the unwavering nature of your friendship. You can customize this design by incorporating your friend's handwriting, making it even more special and personal. Take inspiration from the image above, where the tattoo is etched near the shoulder of both individuals. This design is perfect for those who want to showcase their friendship in a unique and permanent way.
Couple Sun And Moon Tattoo
Matching tattoos can be a wonderful way to celebrate a special bond between two individuals. The image above features a unique twist on the classic sun and moon tattoo design that you and your tattoo buddy can try out. One half of the design features a black-filled moon and a simple sun design, while the other half showcases a simple moon and a sun design filled with black ink. This particular design is especially popular among couples, as the sun and moon have deep spiritual meanings in many cultures, representing the union of a man and a woman. If you're not quite ready for a permanent tattoo, you can still try out this design with a sun and moon temporary tattoo, allowing you to explore various designs before making a permanent commitment.
Mandala Sun And Moon Tattoo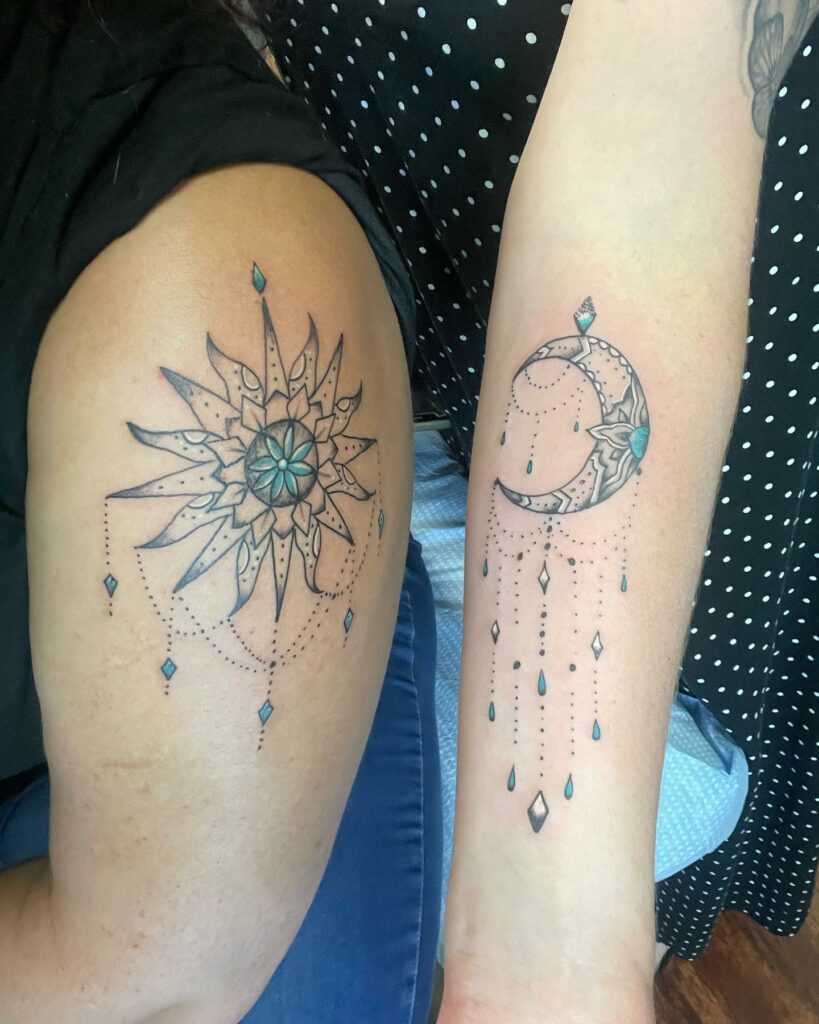 The word "mandala" comes from Sanskrit and means "circle". These intricate designs are composed of overlapping circles and patterns that create a symmetrical and balanced composition. They are deeply rooted in Buddhist and Hindu cultures and symbolize unity, harmony, and perfection.
In the image above, you can see a stunning example of a mandala-designed Sun and moon tattoo. The intricate patterns are simply breathtaking and the bright shade of blue ink adds a pop of color to the design. Each mandala is unique, making this design a true one-of-a-kind piece that represents balance and harmony.
Matching Sun And Moon Tattoos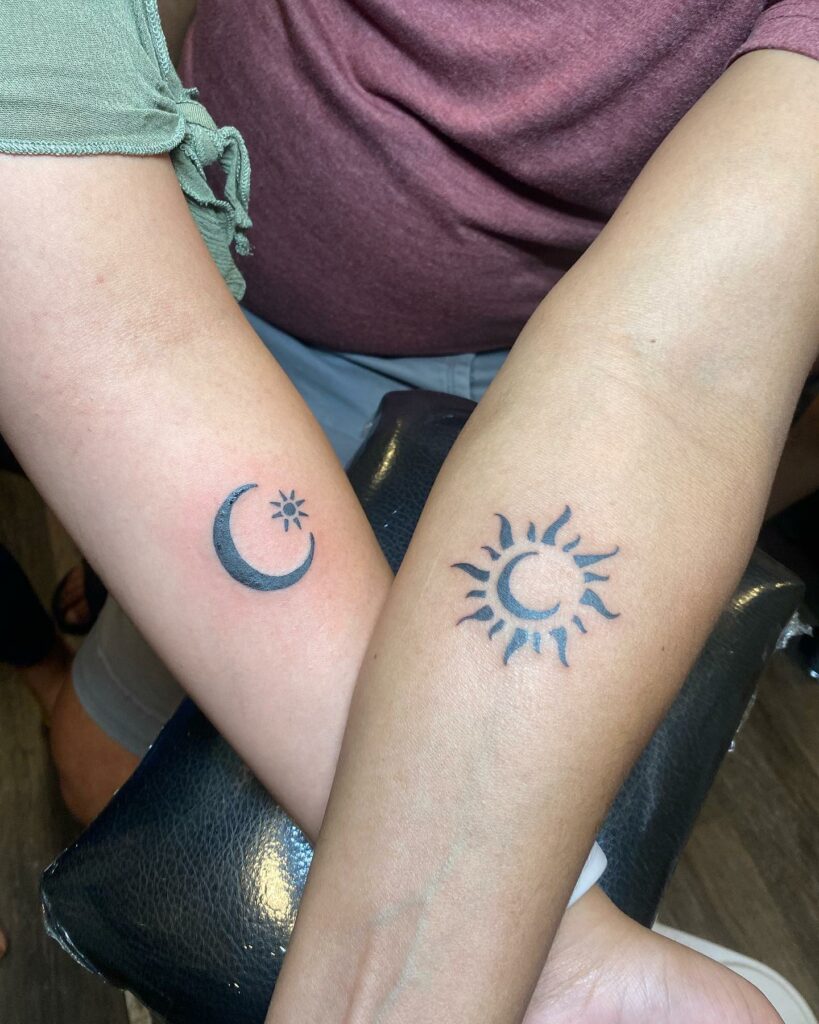 Sun and moon tattoos are a classic choice when it comes to matching tattoos, and this design takes it to the next level. The artist has showcased their creativity by seamlessly blending the sun and moon into a single image, while also separating them into distinct symbols on each forearm. The design features intricate details and uses only black ink to create a stunning contrast. This is a great example of how simple designs can be elevated by the right artist. Use this as inspiration for your next matching tattoo and make it a unique representation of your bond with your loved one.
Black And Grey Tattoo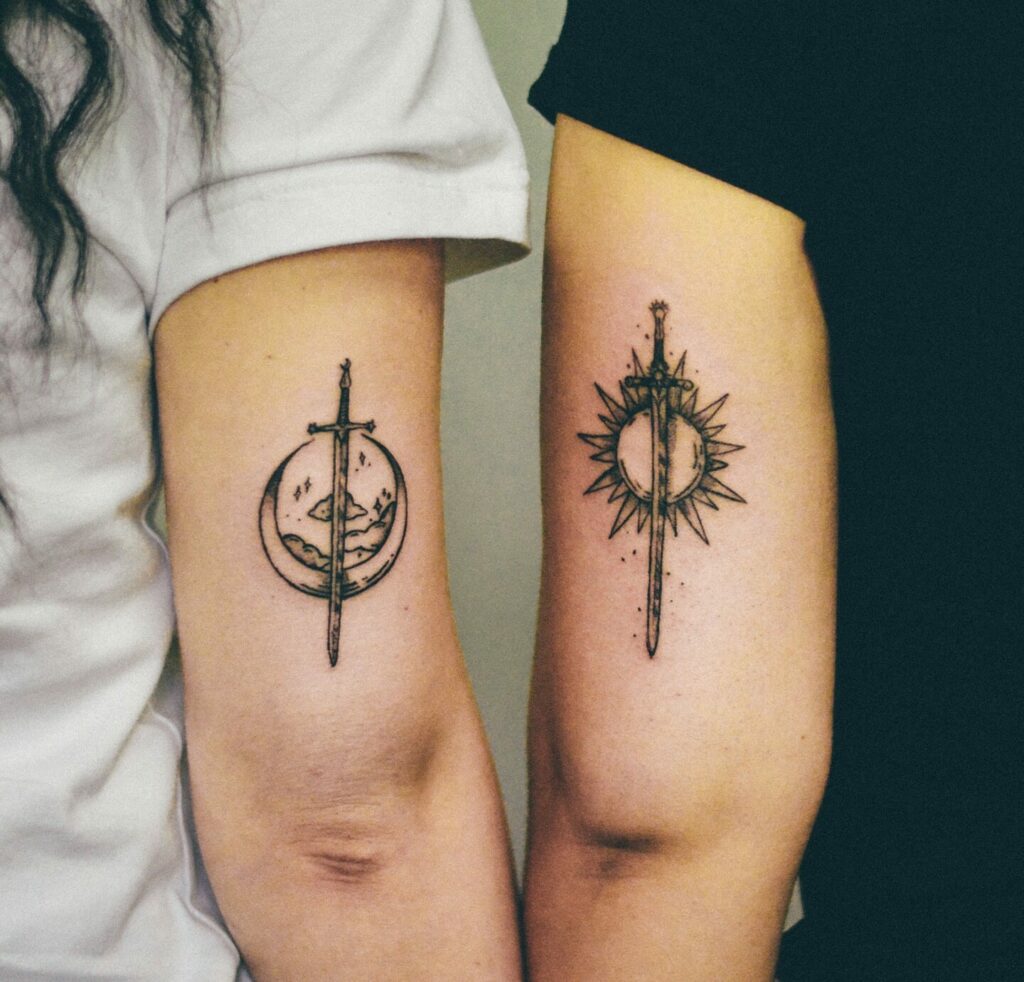 Let me introduce you to a unique sun and moon tattoo design. In this image, you can spot two swords piercing through the bodies of the Sun and the moon, which represent strength, courage, and power. Tattoo designs like this add an interesting twist and convey a deep meaning. The artist has done a great job in bringing these tattoos to life by using different shades of black and gray ink to create a realistic appearance. The inclusion of the cloud designs behind the moon is a brilliant touch. This design is perfect for couples who want to express their bond in a unique and powerful way.
Funny Sun And Moon Tattoo
Tattoos don't always have to be serious to be meaningful. Just take a look at this picture! By adding funny facial features to a simple design, the artist has made it more interesting and lighthearted. It's a great way to celebrate the fun and happy memories you share with a loved one. Adding bright colors like orange, red, and yellow can make it pop even more. This design is perfect for best friends or siblings who want to commemorate their bond.
There are countless options when it comes to matching tattoos. You can try a matching heart tattoo, matching bird tattoos, or even a matching Sun and moon tattoo like the one in the picture. Tattoos are a deeply personal form of body art, so it's important to choose a design that reflects the true nature of your relationship.
feature image from Pinterest – Want your tattoo to look brighter? Try "Tattoo Balm"
Last reviewed and updated on May 25, 2023