If you're considering a sun tattoo, the possibilities for design are truly endless! While many people opt for small or circular sun designs, there are also plenty of abstract and traditional options to choose from.
But before we dive into the different types of sun tattoos, let's talk about the symbol's meaning. The Sun has been a powerful symbol for millennia, representing everything from life and vitality to feminine power and courage. It's no wonder that sun tattoos have become so popular among ink aficionados!
One particularly stunning sun tattoo design is the sun rays tattoo. These tattoos feature the sun's powerful rays, often radiating outward from a central point. They're a beautiful way to showcase the power and energy of the sun, and can be customized to fit your personal style.
So without further ado, let's explore some of the best sun rays tattoo designs out there!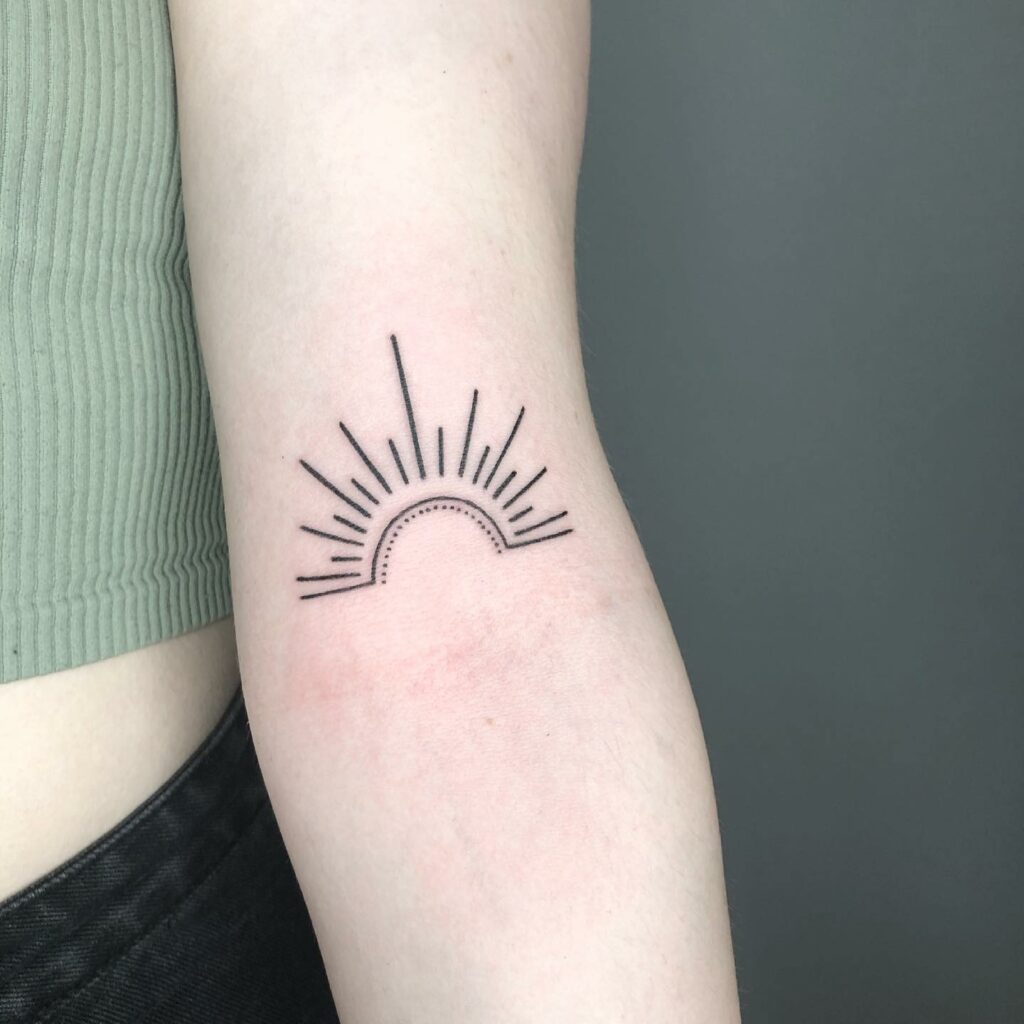 Ornamental Sun Rays Drawing Tattoo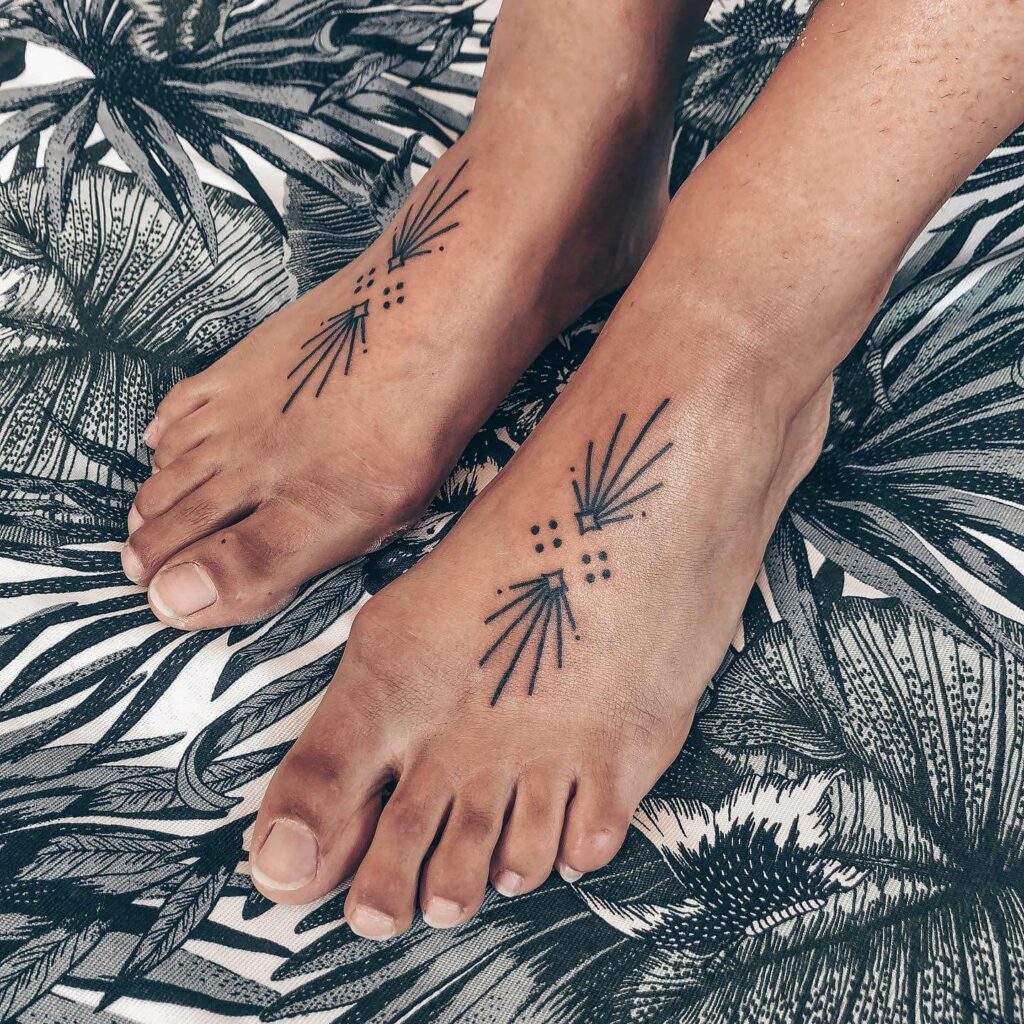 Did you know that the ornamental tattoo style has its roots in the ancient Roman empire? This type of tattoo design uses various lines, spirals, and waves to create intricate patterns that not only look beautiful but also add depth to the tattoo's meaning. The tattoo we're discussing today is a stunning example of ornamental design. Located on the feet, it features a unique take on a simple sun rays tattoo. Using only black ink, the artist has created an impressive design with various patterns. While ornamental tattoos are often large in size, a small ornamental tattoo can be just as impactful if executed correctly.
Sun Rays And Cloud Tattoo Designs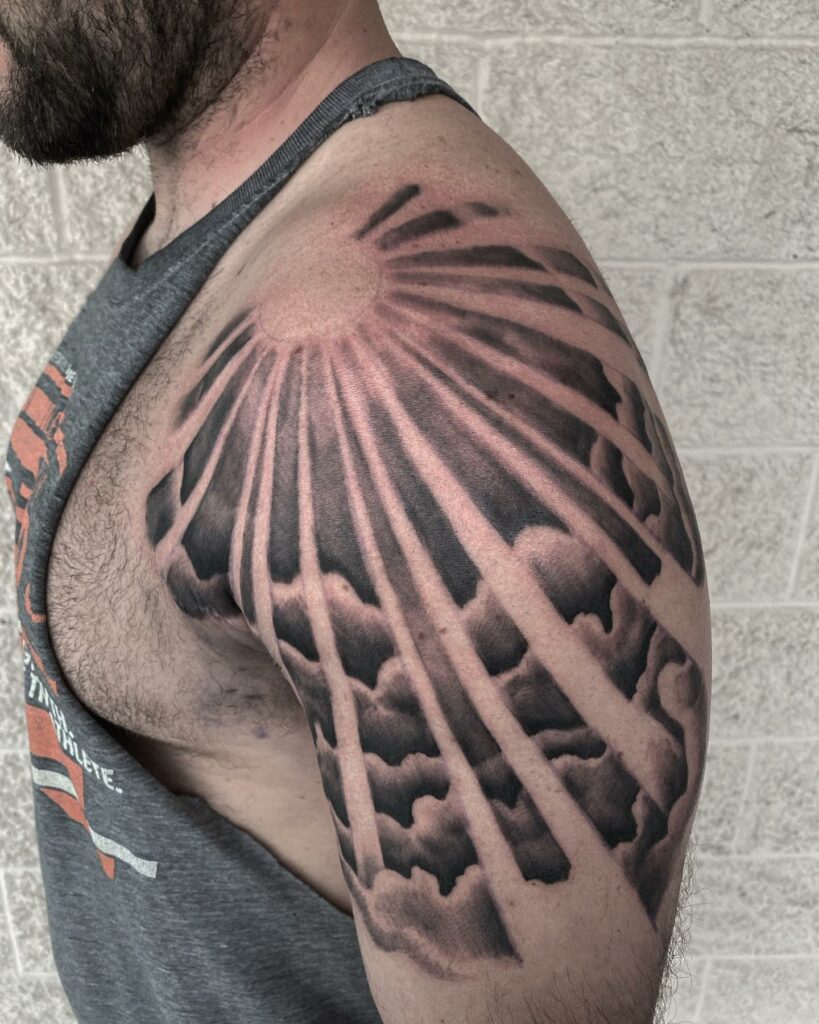 This particular tattoo features a beautifully intricate design of sun rays and clouds that add a realistic touch. The artist has used black ink and skillful shading to create an impressive 3D effect that makes the tattoo pop. It's no surprise that such designs are very popular, especially among men who associate the sun with strength and power. This design is perfect for anyone looking for a bold, symbolic tattoo with meaning. The ideal placement for this tattoo is on the upper arm, thigh or chest, as these areas provide ample space for the design to shine.
Sun Rays And Eye Tattoo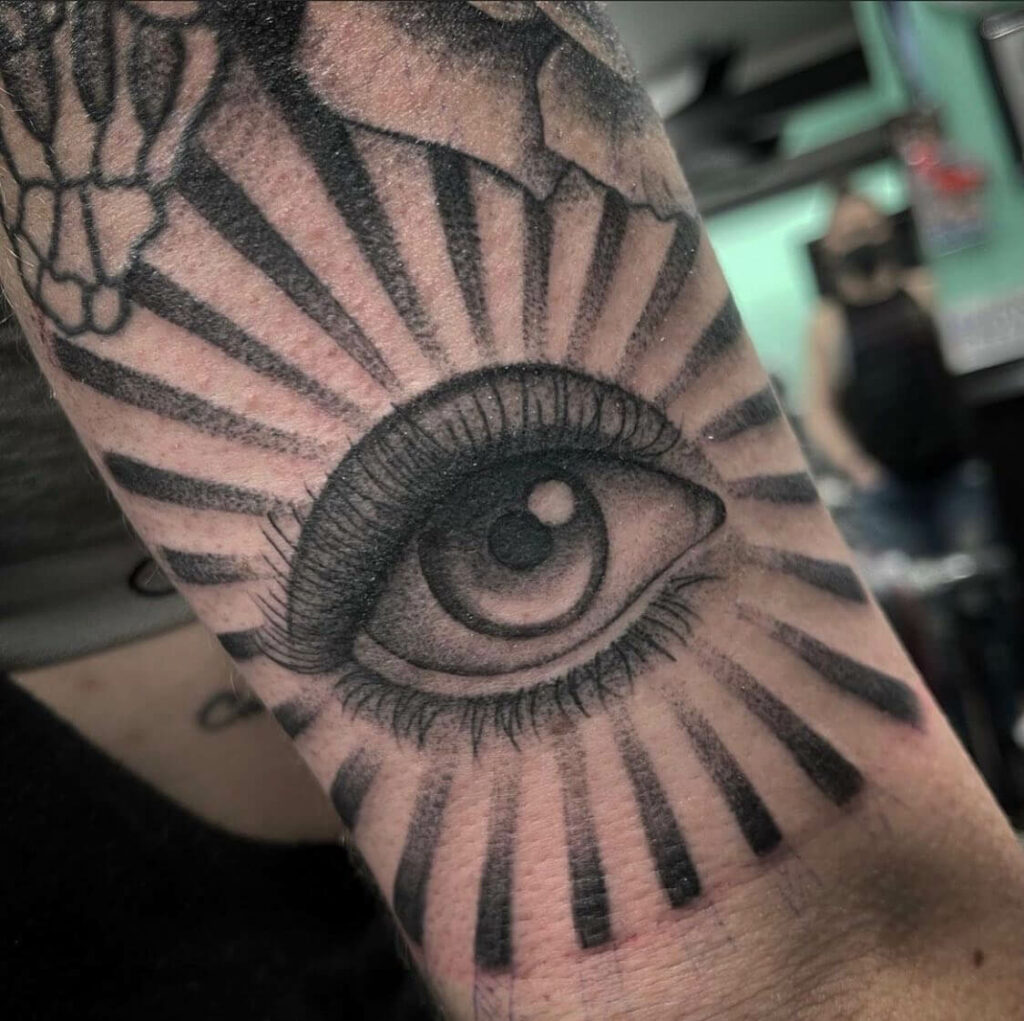 Sun tattoos can represent different meanings depending on the culture or religion. For instance, in ancient Chinese culture, the sun is viewed as the cosmic eye in the sky, which can be seen in the unique design of this particular tattoo. The tattoo features a beautiful sun ray tattoo, with an eye design incorporated in the middle. The eye is said to be the window to the soul, and when paired with the sun, it creates an incredibly unique and meaningful design. The attention to detail is also remarkable, showcasing the artist's skill in creating realistic designs. However, this intricate design requires a skilled and experienced tattoo artist to ensure that it is done correctly. If you are interested in this design, be sure to choose an artist with the right expertise to avoid any potential mistakes in your tattoo art.
Small Sun Tattoos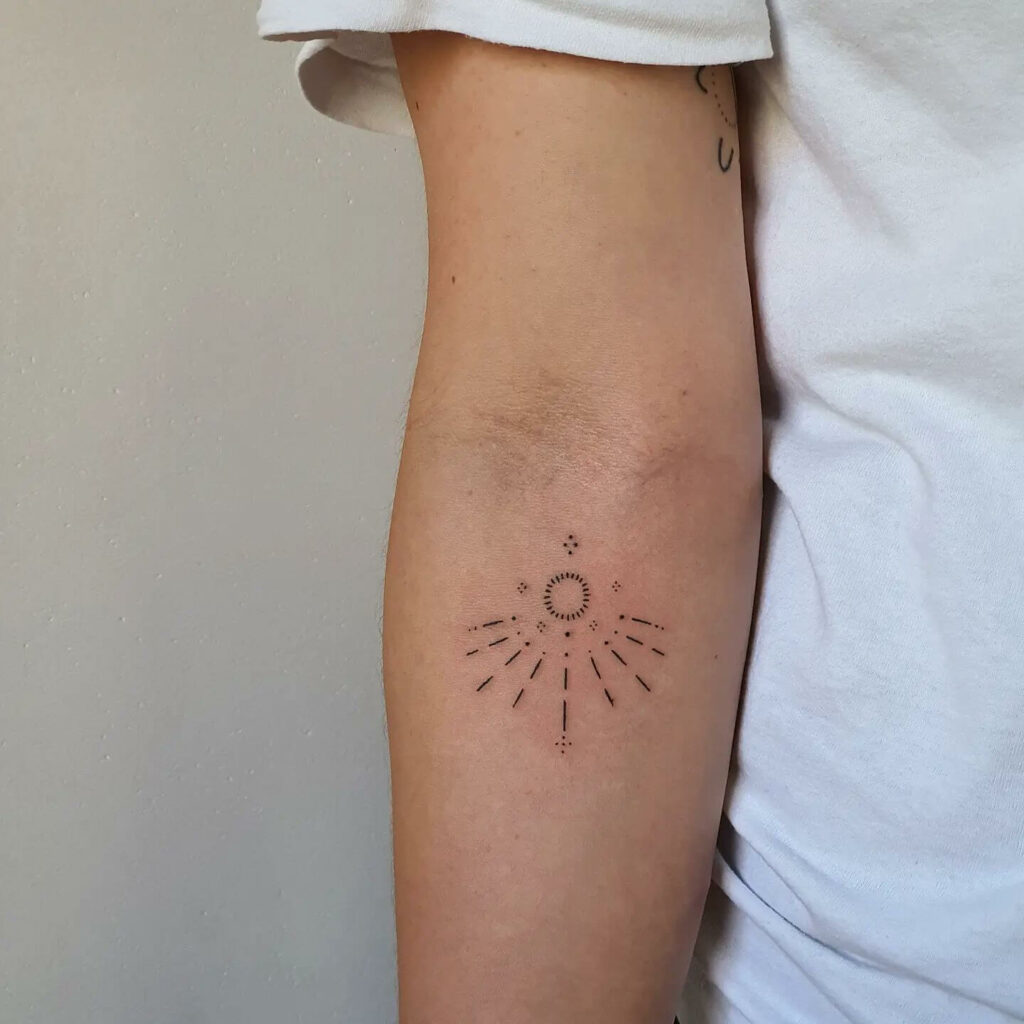 Did you know that sometimes, less is more when it comes to tattoos? A small yet charming design can pack just as much punch as a larger one. Check out this adorable Sun tattoo, etched on the forearm of its proud owner. Minimalist designs like this one are often preferred by women, as they showcase a simple yet graceful appearance. The tattoo artist has used bold lines to depict the Sun's rays, and has added delicate and unique patterns to make the design pop. Another perk of minimalist tattoos is their versatility; you can place them virtually anywhere on your body! Plus, they're usually quick and easy to create. So why not consider a minimalistic approach to your next tattoo?
Lettered Sun Ray Tattoo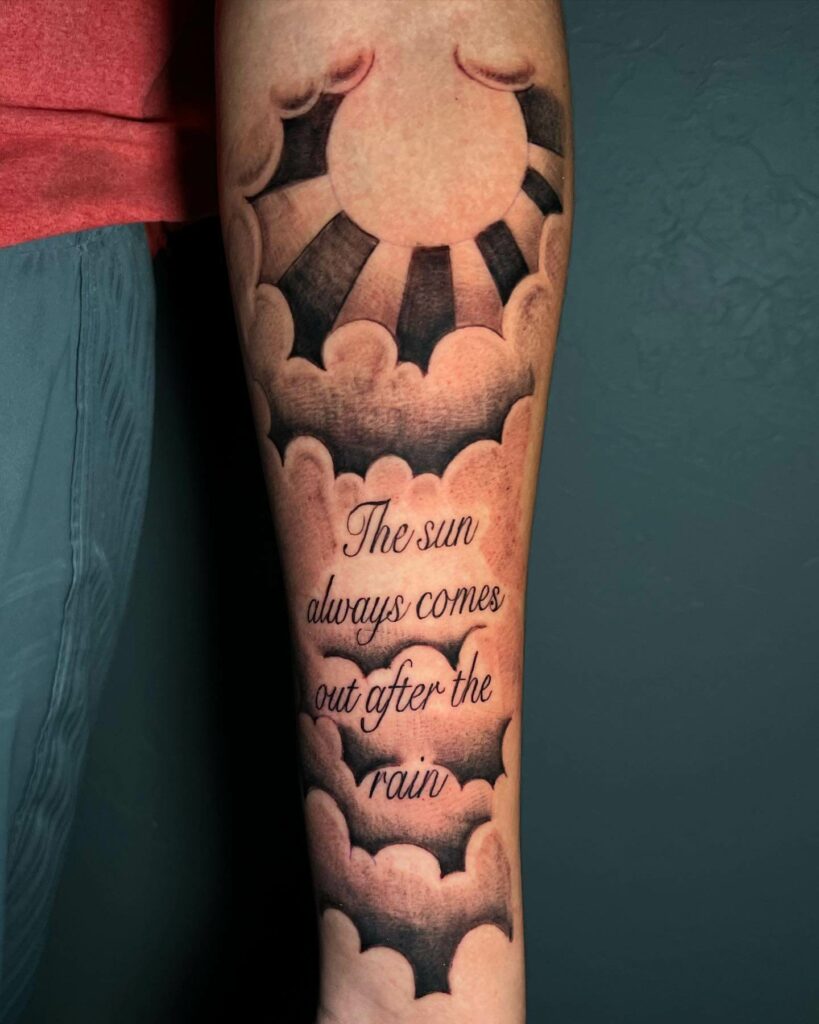 Today, we bring you a unique and impactful sun ray tattoo design that you must check out. This design is a perfect blend of two essential elements of nature – the Sun's rays and the clouds. To make the tattoo more impactful, the artist has also added a meaningful quote that says, "The Sun always comes out after the rain". This phrase resonates with the fact that even after the darkest and most challenging times, there's always a ray of hope that shines through. Sun's rays are often associated with new beginnings, and when paired with such quotes, they make for a perfect combination. You can also add bright colors like red or orange to this design to make it more vibrant and eye-catching. So, if you have a favorite quote, why not get it inked with this beautiful sun ray tattoo design?
Dove And Sun Rays Tattoo Design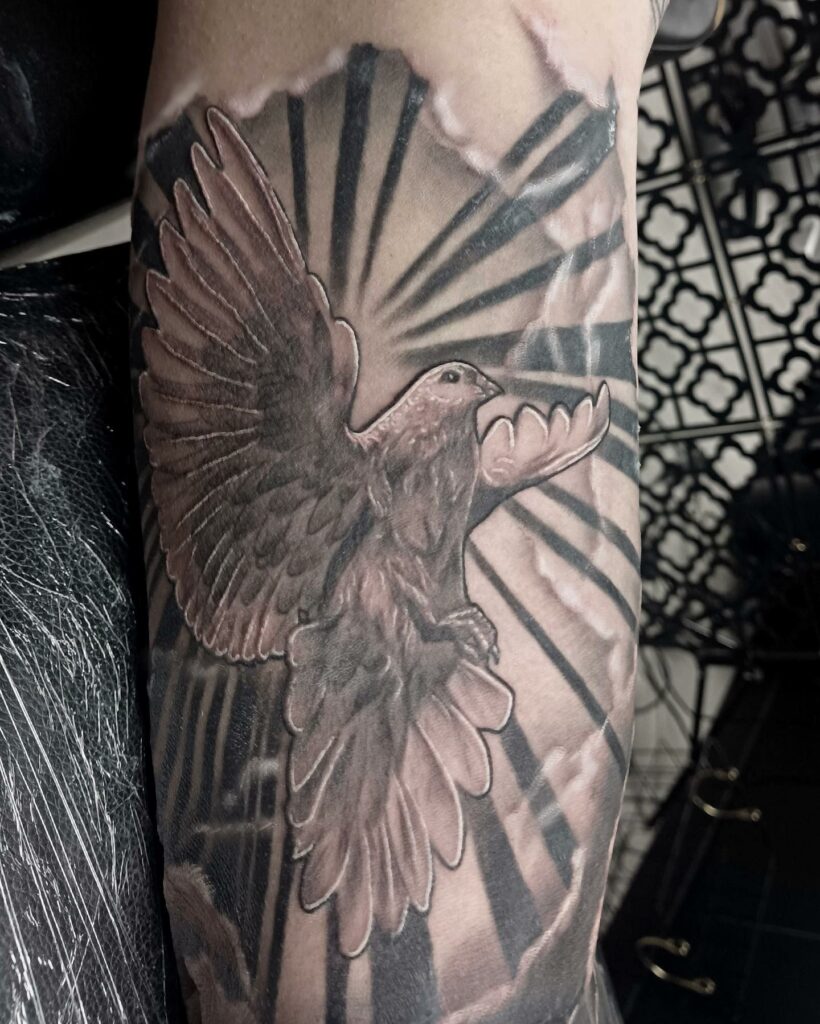 The dove is a timeless symbol of peace and serenity that has been embraced by tattoo enthusiasts for generations. The pure white dove in particular has been referenced throughout history in various forms of art and literature. In Christianity, it is often depicted carrying an olive branch as a symbol of harmony, while in other cultures, it is seen as a representation of divinity and a highly spiritual bird. This stunning dove tattoo design features intricate details, with the added elements of the Sun and clouds to enhance its spiritual symbolism. Dove tattoos are typically done with white ink, although you can personalize your design with any color you prefer. If you're drawn to spiritual tattoo designs, this one could be the perfect inspiration for your next ink session.
Wave And Half Sun Tattoo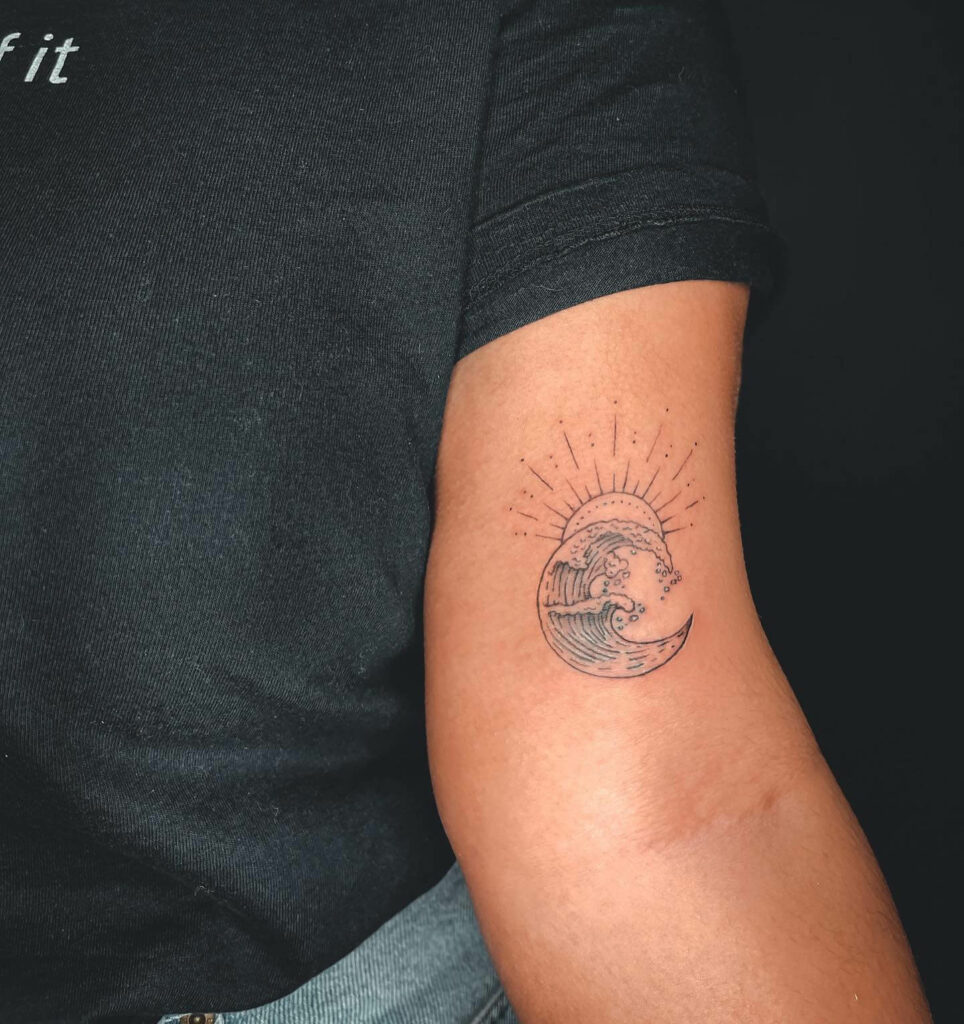 Tattoos are an expression of individuality and a unique way to tell a story. The Sun and ocean, both representing different aspects of life, can come together to create an unforgettable tattoo design. The picture above showcases a half Sun and wave tattoo, drawn beautifully on the individual's upper arm. The wave, shaped like a moon, adds a touch of creativity to the design. The Sun's rays, done with delicate lines, create a stunning contrast against the black ink. This tattoo design is not only visually pleasing but also holds a profound meaning. If you are new to the world of tattoos, this design can be an excellent starting point to explore your artistic expression. With its simplicity and depth, this tattoo is bound to make a statement.
Sun And Sword Tattoo Design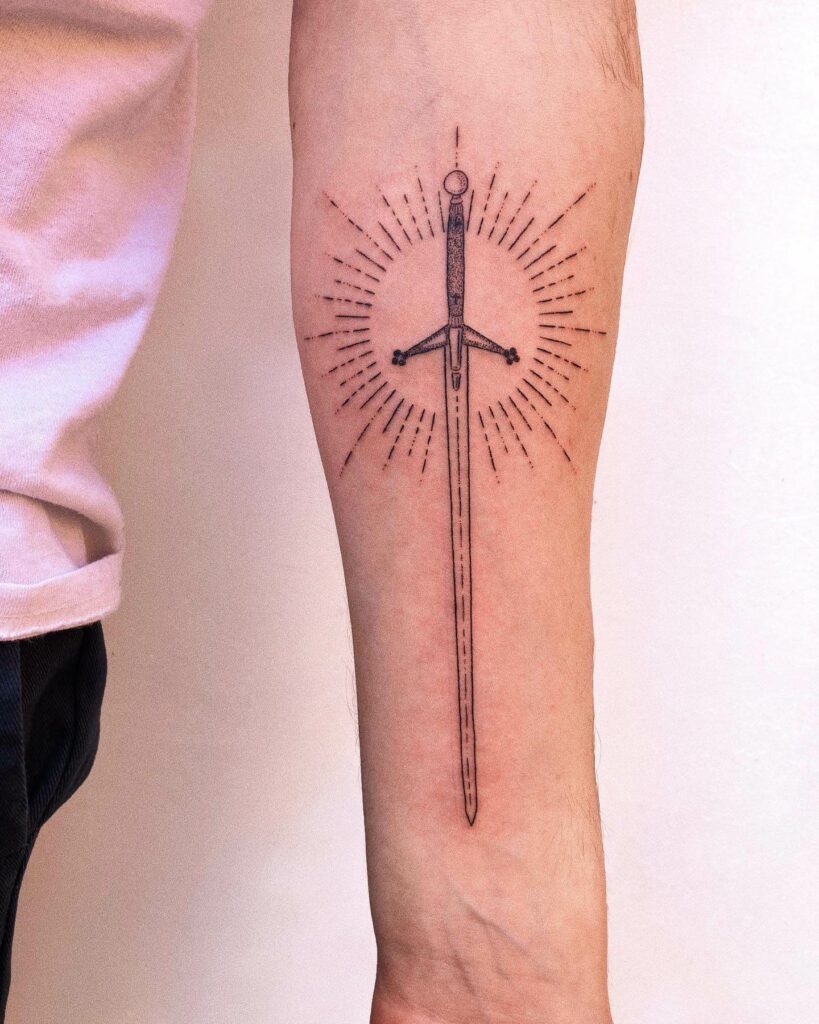 Tattoos are not just an art form but also a way of representing your personality and beliefs. The sword is a perfect embodiment of strength, honor, and freedom, making it one of the most iconic weapons used in battles and wars throughout history. This tattoo design is a beautiful representation of this symbolism, where the sword has been incorporated into the Sun symbol. The design is not only creative but also unique. The artist has intricately designed the Sun's rays, making them look circular and well-defined, while the sword has a sharp and crisp look. The whole tattoo is an excellent representation of power and courage. If you are someone who admires the qualities of a warrior, then this design is an excellent way to showcase your beliefs through body art.
Cute Sun Tattoo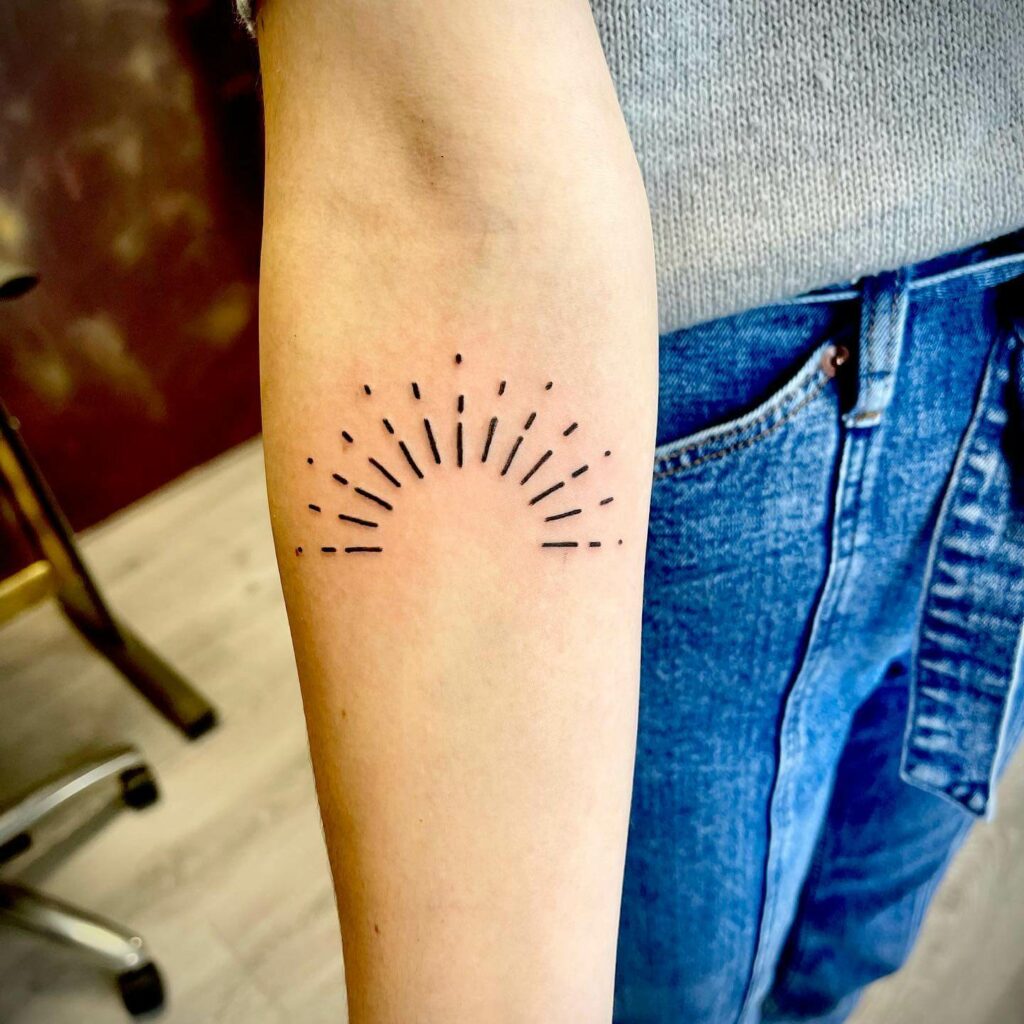 The simplicity of this tattoo is what makes it so unique and breathtaking. The design is etched on the individual's forearm, and the tattoo artist has used pitch black ink to create the Sun's rays. This may seem like a simple design, but the Sun holds deep spiritual meanings of light and rebirth. For those who prefer a small and subtle tattoo, this is a perfect choice. It is a beautiful way to incorporate symbolism into your body art without being too loud or flashy.
Colored Rising Sun Tattoo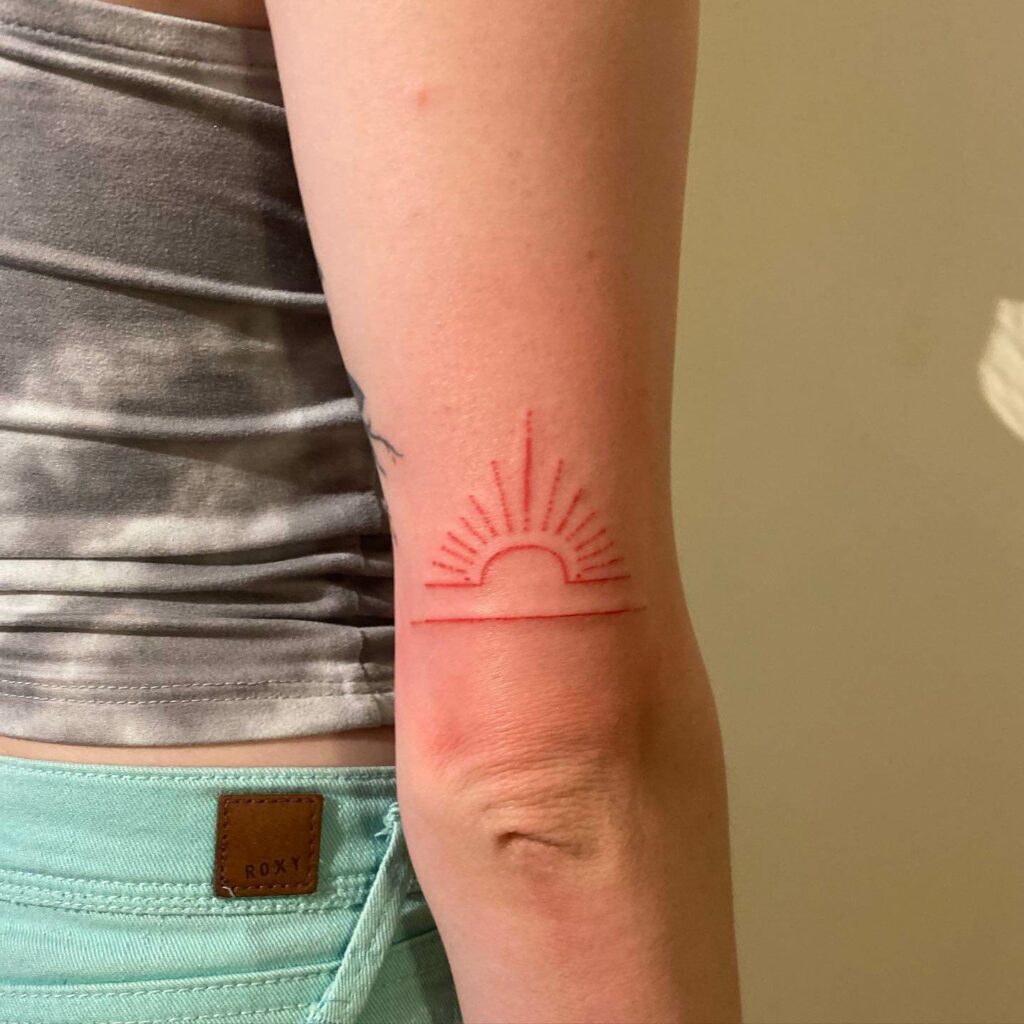 The tattoo design we're discussing here is a rising Sun, which has been inked on the back of the elbow. As you can see, the wearer has chosen a colorful approach instead of the classic black and white one. This gives the tattoo an appealing and lively vibe. You can always personalize your Sun tattoo design by adding any color that suits you best. It will make your design stand out and catch everyone's attention. Typically, colors like red, orange, and yellow are commonly used in Sun tattoo designs. One of the best things about a Sun tattoo is that it's easy to create, and it doesn't require intricate details. So, if you're looking for a simple yet meaningful tattoo, a Sun tattoo is a great choice.
Still looking for inspiration, then checkout this blog post about japanese snake tattoo
Feature Image from Pinterest – Want your tattoo to look brighter? Try "Tattoo Balm"