Looking for an intriguing, yet meaningful tattoo for your next piece of body art? You might want to consider an ant tattoo! Though small in size, these insects have remarkable qualities that have inspired people for ages.
Ants are not only some of the oldest creatures on Earth, with fossil evidence dating back to the Early and Late Cretaceous periods, but they're also known for their extraordinary teamwork, discipline, and organization. These social insects have long been admired for their hard work, compassion, and dedication to their community.
Traditionally, ant tattoos symbolize wisdom, luck, endurance, dreams, and hope. In various cultures, they also represent intelligence, positive energy, justice, and a fighting spirit. As formidable fighters and heavy lifters, ants can carry an astounding twenty times their own body weight.
Ants form intricate colonies with each member having a specific role, usually divided into three groups: the queen, drones, and workers. Interestingly, ants boast the largest brains among insects, making them the most intelligent of their kind.
Today, ant tattoos continue to captivate people, offering a delightful contrast between their simple design and powerful symbolism. With their small size, ant tattoos can be placed virtually anywhere on the body, making them an excellent choice for a first tattoo or a discreet design on sensitive areas. Plus, ant tattoos come in various shapes, sizes, colors, and styles, so you can truly make it your own. Explore our curated list of ant tattoo ideas and fall in love with the perfect design for you!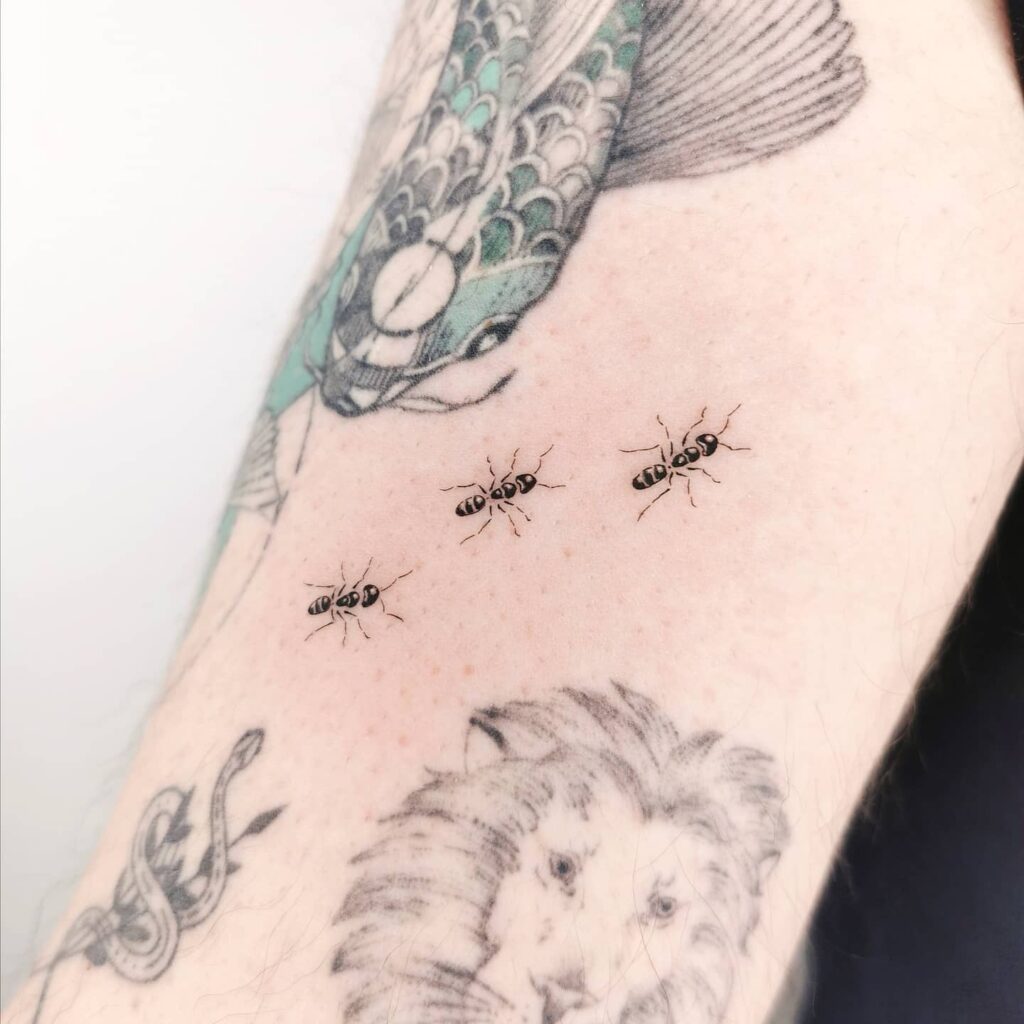 Four Ants Tattoo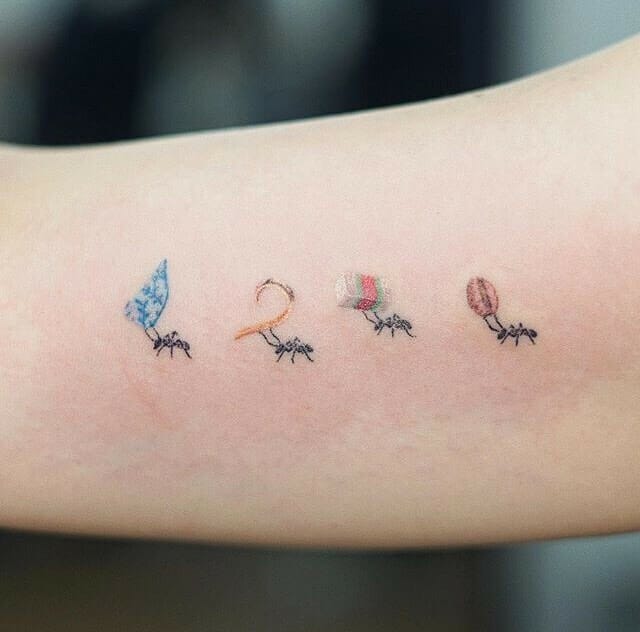 This tattoo design features four adorable ants marching in a straight line, each carrying a unique item on their backs. The artist has used a combination of black ink and bright colors like blue, green, yellow, red, white, and brown to make the tattoo even more eye-catching. You can get creative and choose to ink just one of the ants at a time, rather than having all four in a row. This ant tattoo is a cute and playful option for those looking for something unique and fun.
Simple Forearm Ant Tattoo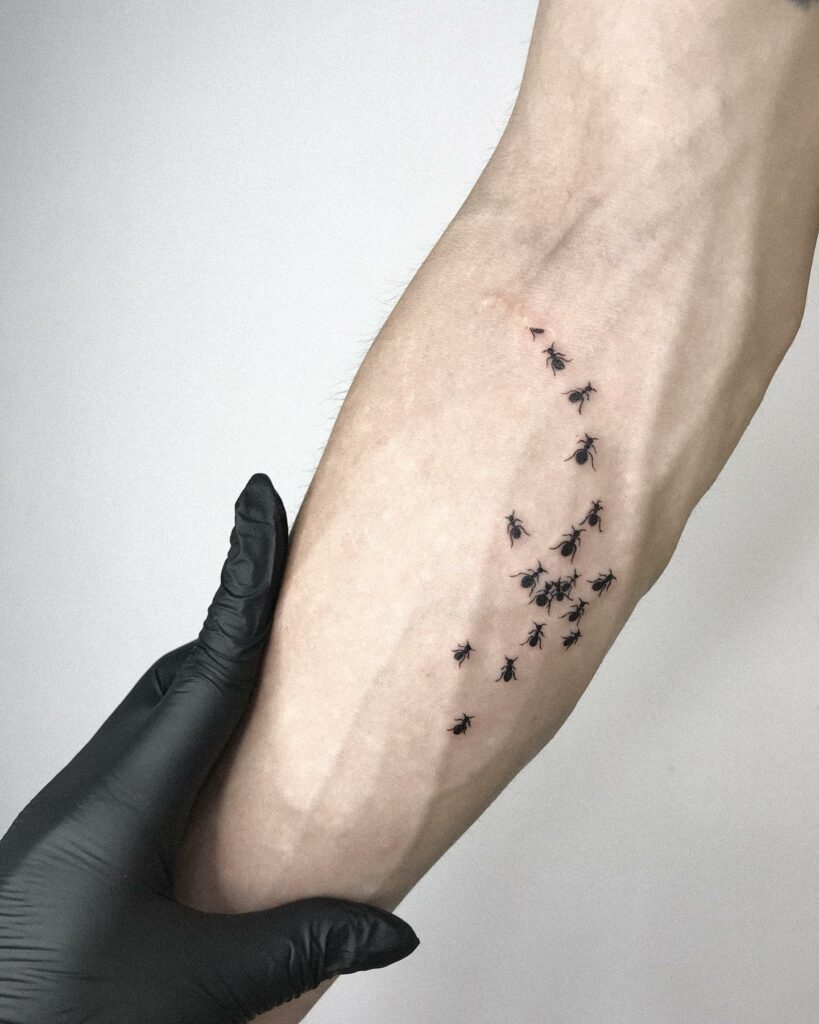 This tattoo design features a group of ants working together in unity, with ten ants in the middle and three leading the way, while four follow from behind. The simplicity of the design is what makes it attractive, as it reminds us of the importance of teamwork and discipline. The ants are depicted with extra dark black ink, giving them a distinct and clear appearance. This tattoo is perfect for those who want to symbolize the values of ants, such as hard work, cooperation, and determination, and want a design that is easy to get and easy to admire.
Curvy Ant Tattoo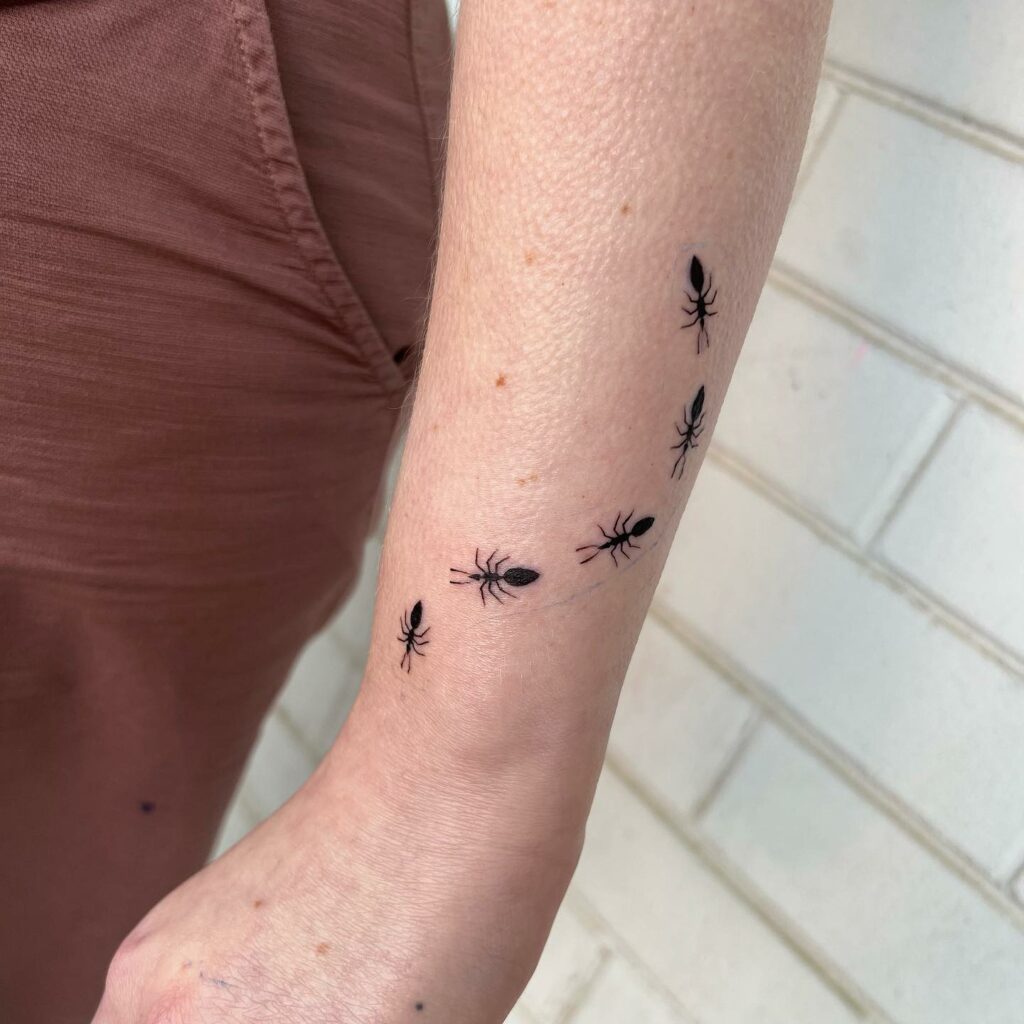 Ant tattoos are becoming popular and this design is one of the most elegant ant tattoos that you can have. The line of five ants follows each other in a gentle curve, making it a perfect tattoo for those who appreciate simple and clean designs. The use of thicker black ink for the ants and the visible legs and antennas on each ant adds to the realism of the design. The size of the ants in this tattoo makes it perfect for placing on any part of the body. This design shows that even the smallest creatures like ants can inspire a great tattoo.
Nasty But Elementary Ants Tattoo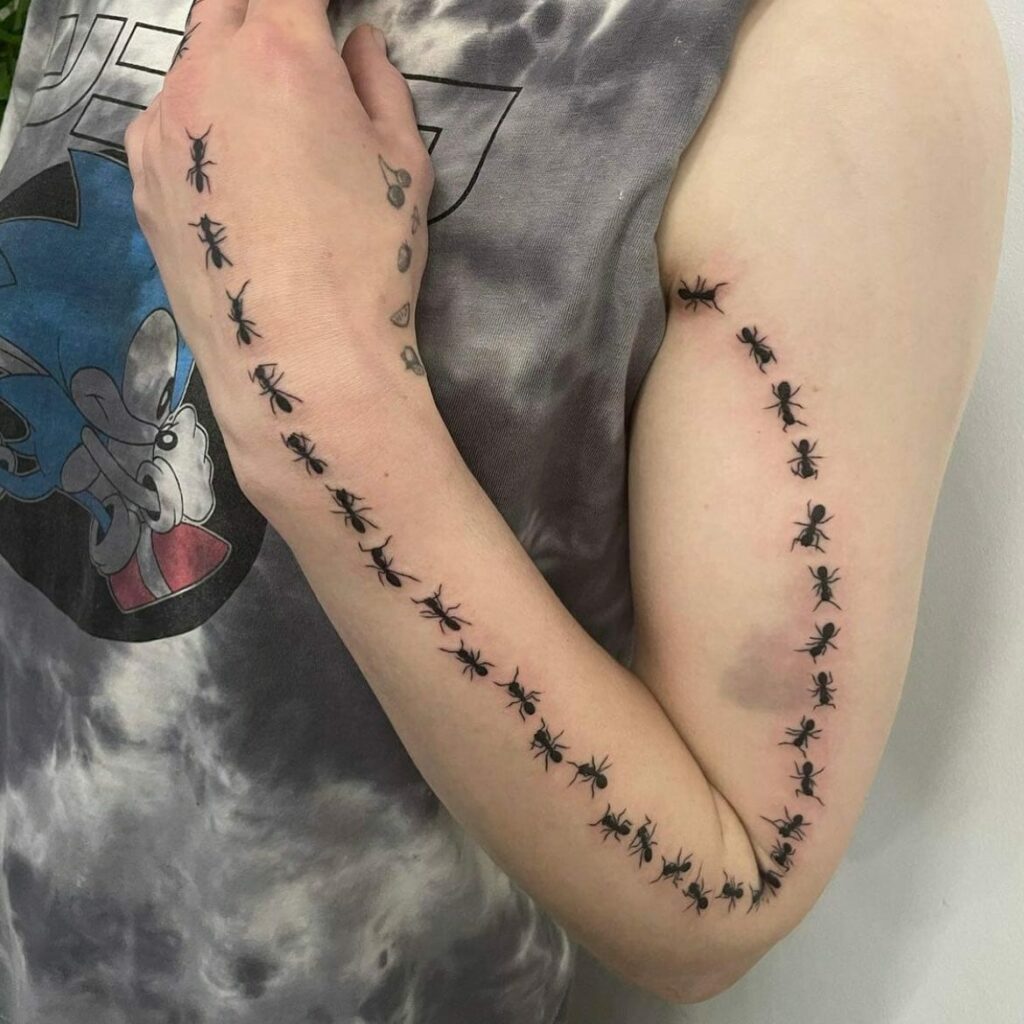 This tattoo is unique and stylish, with a clever use of space on the arm. The ant design is simple yet effective, with each ant being drawn in a different pose to create a dynamic and interesting effect. The largest ant at the end of the arm is particularly striking, with its size allowing for intricate detail work. This design is perfect for those who want a minimalist tattoo that still covers a lot of ground on the arm. The spacing of the ants makes the tattoo feel balanced and well-composed.
Queen Ant Tattoo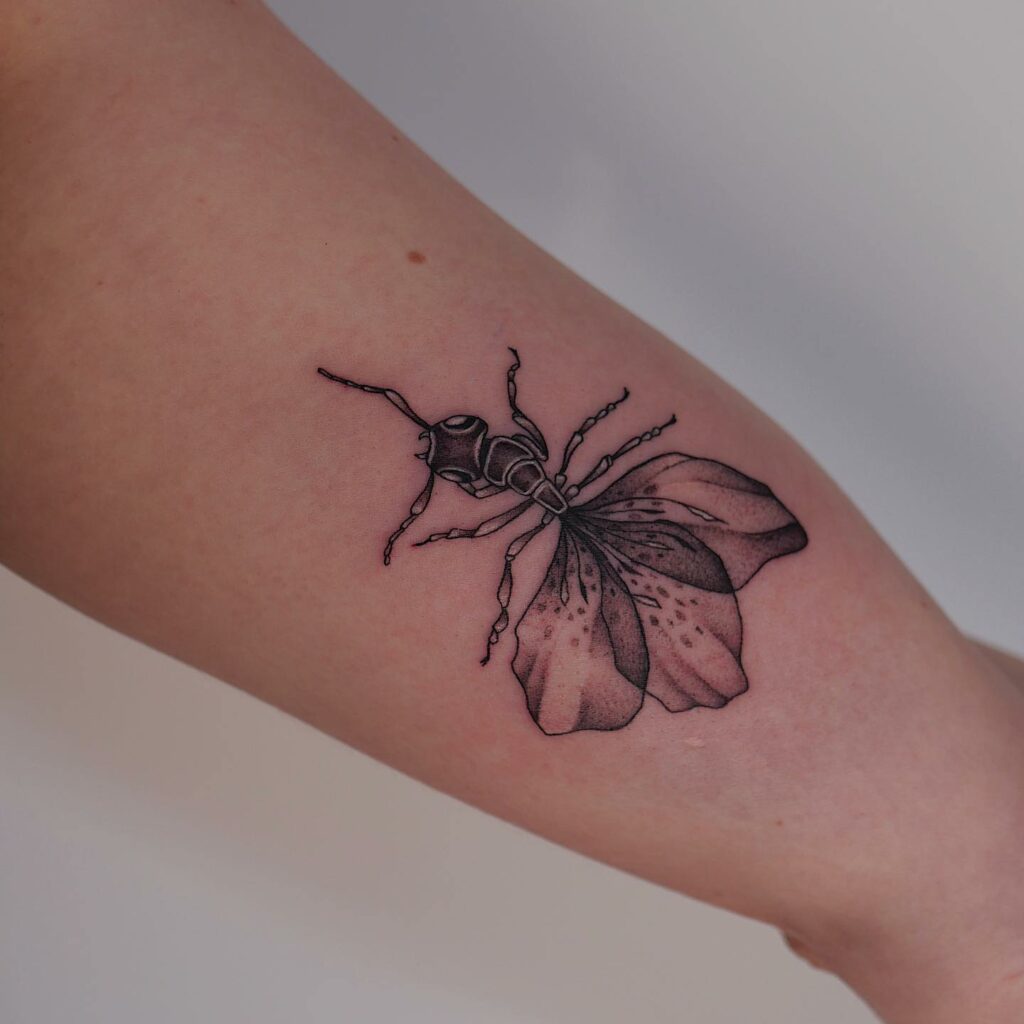 This stunning tattoo design features a powerful image of a queen ant, with wings spread and legs firmly planted. The attention to detail in this tattoo is impressive, with three distinct wings at the back and two antennas at the top of its head. This medium-sized tattoo is the perfect representation of individuality and strength. The underwing design adds to the overall elegance of the tattoo. If you are someone who values their uniqueness and feels like a queen in their own right, this tattoo is a great choice for you.
Mega Ant Tattoo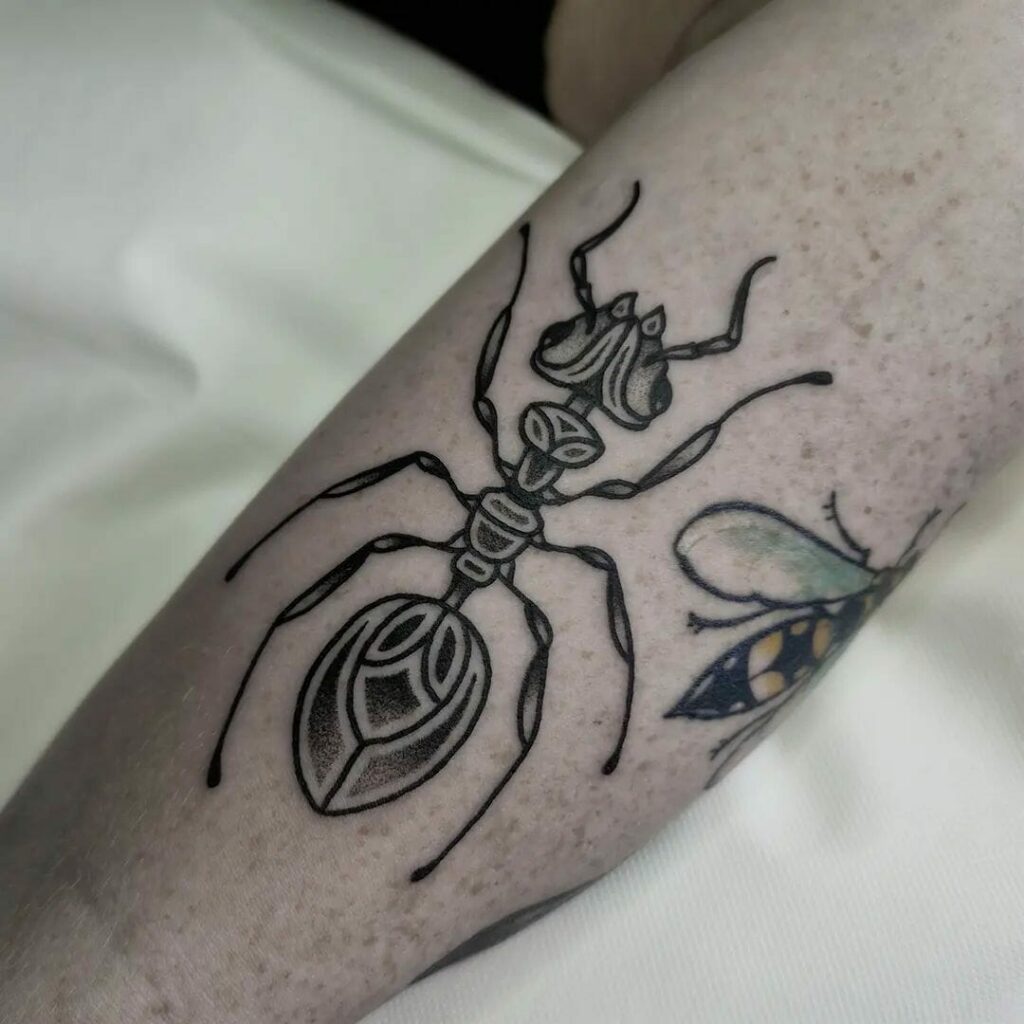 This tattoo is a true masterpiece that stands out due to its size and intricate details. The ant is depicted in a realistic way, with six large legs and two impressive antennas, and its body is divided into three parts, making it look like a true giant. The shading is impeccable, with extensive work done on the streamlined body and simpler shading on the legs and antennas. The tattoo artist made sure to outline the design with black ink, creating a stunning contrast with the brown and black mix used for most of the shading. Symmetry is a key element of this tattoo, making it visually appealing and balanced. Furthermore, this tattoo design allows for future add-ons and customization. If you are looking for a striking, visible, and precise ant tattoo, this design is the perfect choice for you.
Black And Red Ant Tattoo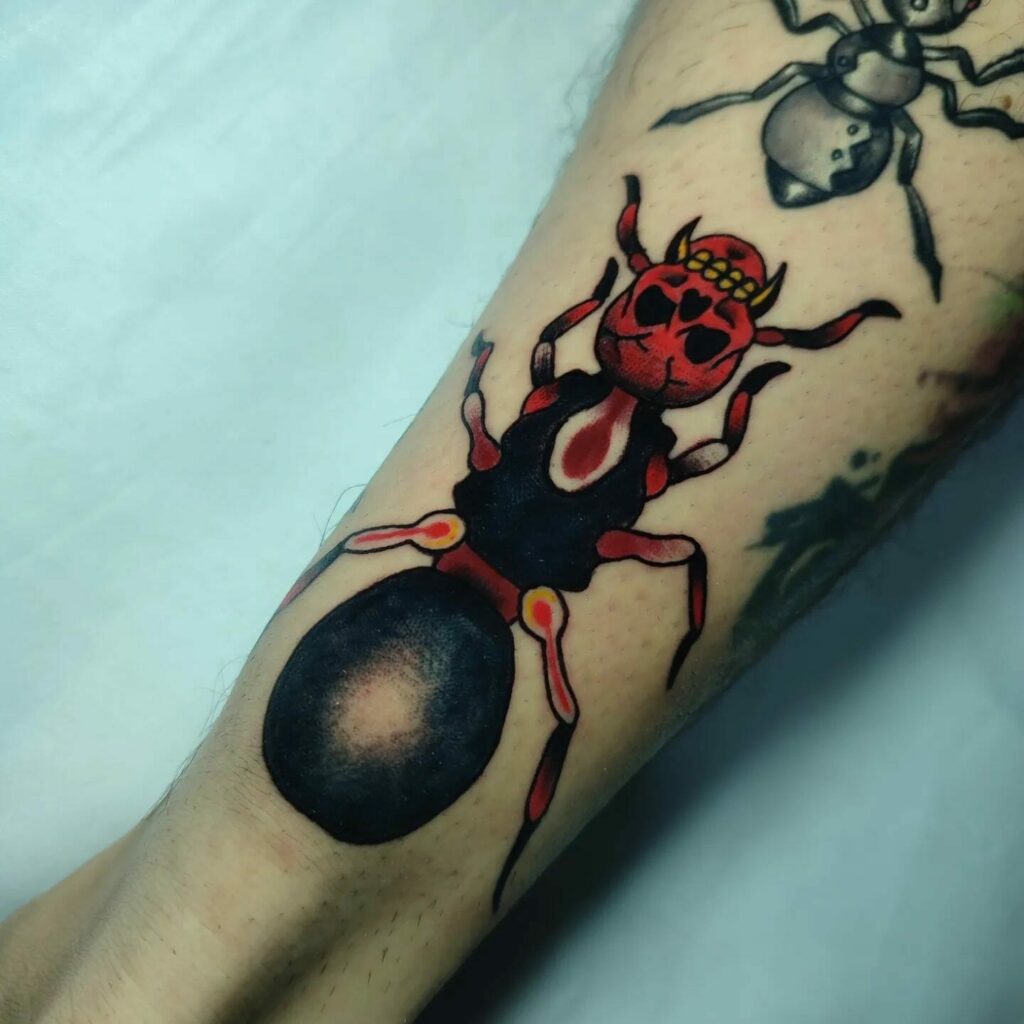 This devilish ant tattoo is sure to make a statement. It's a unique twist on traditional ant tattoos, with its black and red ink, and the addition of horns and devilish eyes. The design is meticulously done, with extra attention given to the abdomen, which is inked with black and features a bright red mark in the center. The legs and horns are highlighted with hints of yellow, giving the tattoo a more vibrant look. This is a perfect tattoo for those looking for a darker-themed ink, and those who want to showcase their edgy side.
Minimalistic Ant Tattoo
This tiny ant tattoo is perfect for those who want a minimalistic yet significant design. The black ink gives it a classic and timeless look, but you can always opt for adding colors. This tattoo symbolizes the virtues of hard work and determination. Its size also allows you to be flexible with the placement of the tattoo. If you're looking for a simple but meaningful design, this ant tattoo is perfect for you. It's an excellent choice for those who are new to tattoos and want to test the waters before diving into larger and more complex designs.
Sketch Ant Tattoo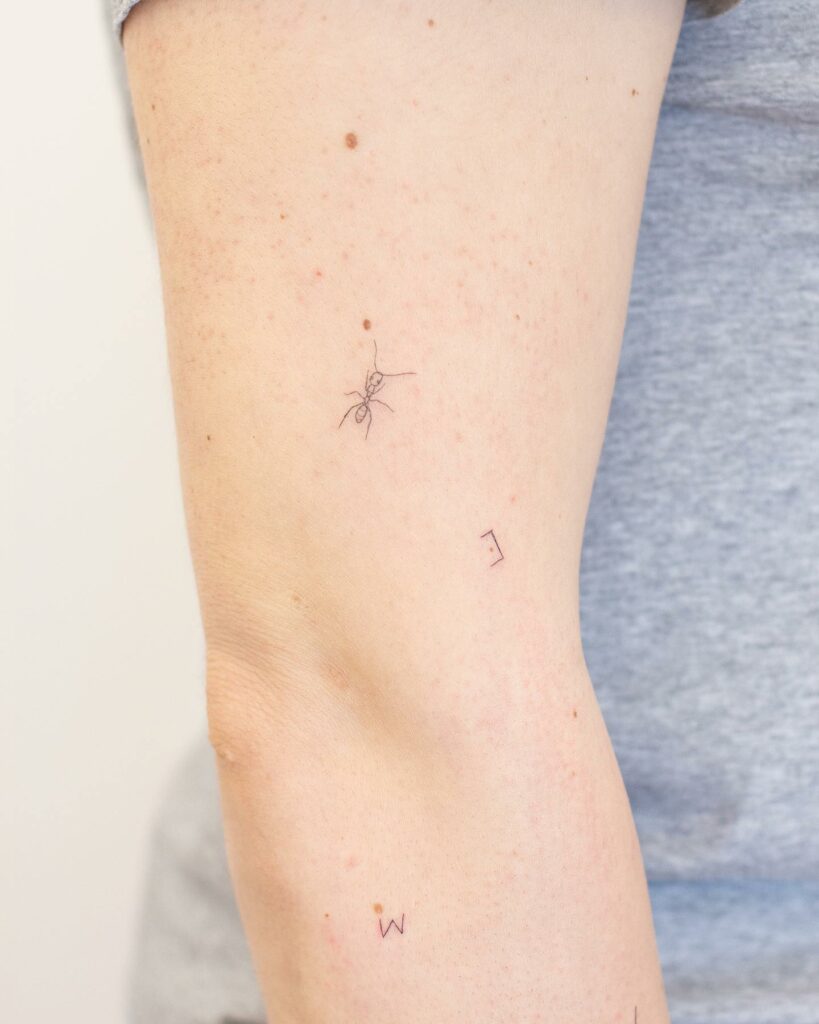 This tattoo features a 3D design of an ant, showcasing the skeleton and structure of the insect in a basic yet visually pleasing manner. The artist has used thin dark lines to ink the tattoo, creating a caricature-like effect that adds to the design's charm. This tattoo is done with only lines and does not include any shading. The side view of the ant is featured with a distinctly drawn eye, and the insect has been modified to include a mouth and nails. There are patterns drawn all over the ant's body, giving it a unique and quirky appearance. This is a great choice for those who appreciate a minimalist style with a touch of whimsy.
Ant And Flower Tattoo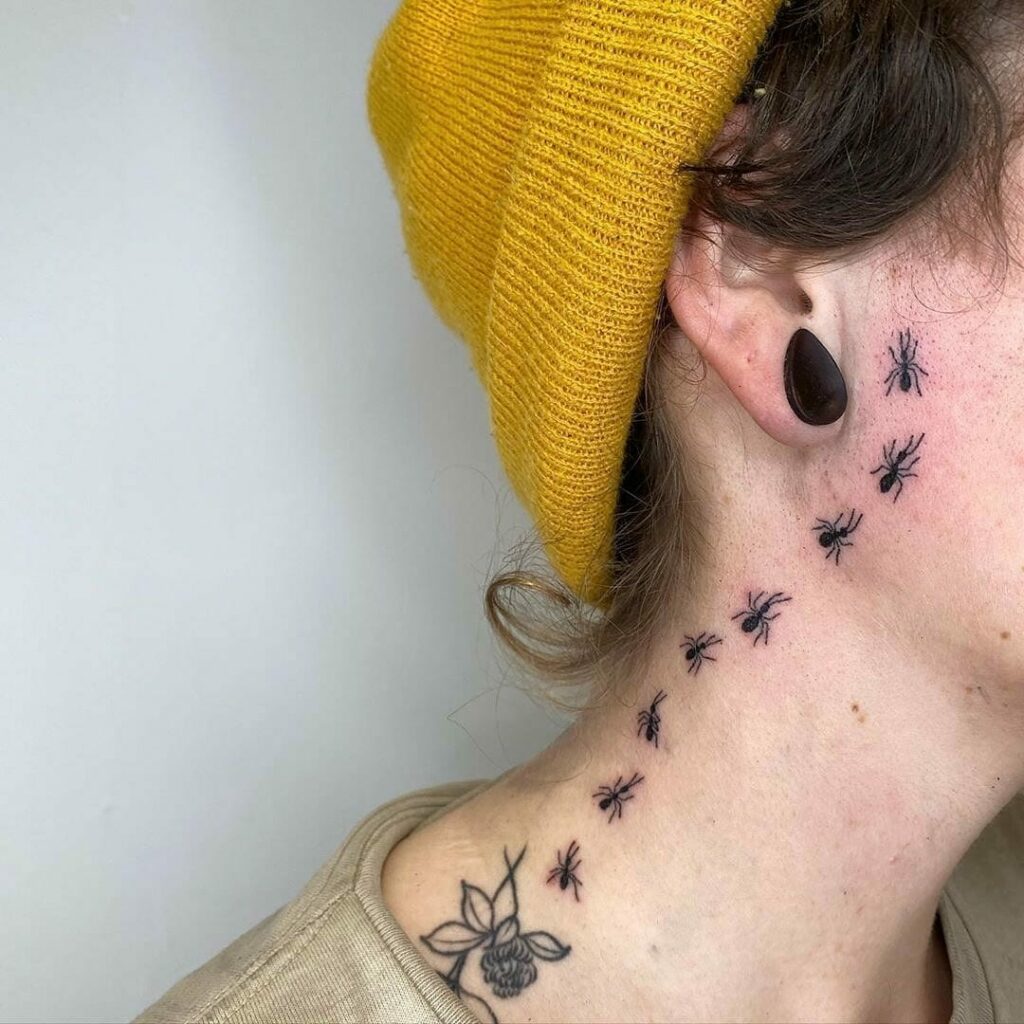 This is a beautiful and minimalistic ant tattoo design that starts from the side of the neck and extends to the face, reaching the side of the ear. The tattoo ends with two entwined flowers, adding a beautiful touch to the design. The ants are drawn in black ink, and the size and number of ants can vary according to personal preference and the size of the body. However, it is essential to note that the neck and face are sensitive spots for getting tattoos, and it is crucial to consult with a professional tattoo artist before making a decision. They can help guide you on the design and ensure that it fits your body's shape and size. This design is perfect for those who want a subtle and understated tattoo but still want to make a statement.
feature image from Pinterest
Last reviewed and updated on May 4, 2023