In the mood for something inky? Here's a list of stunning tattoo ideas curated exclusively for girls to pull off your fashion fervour in style!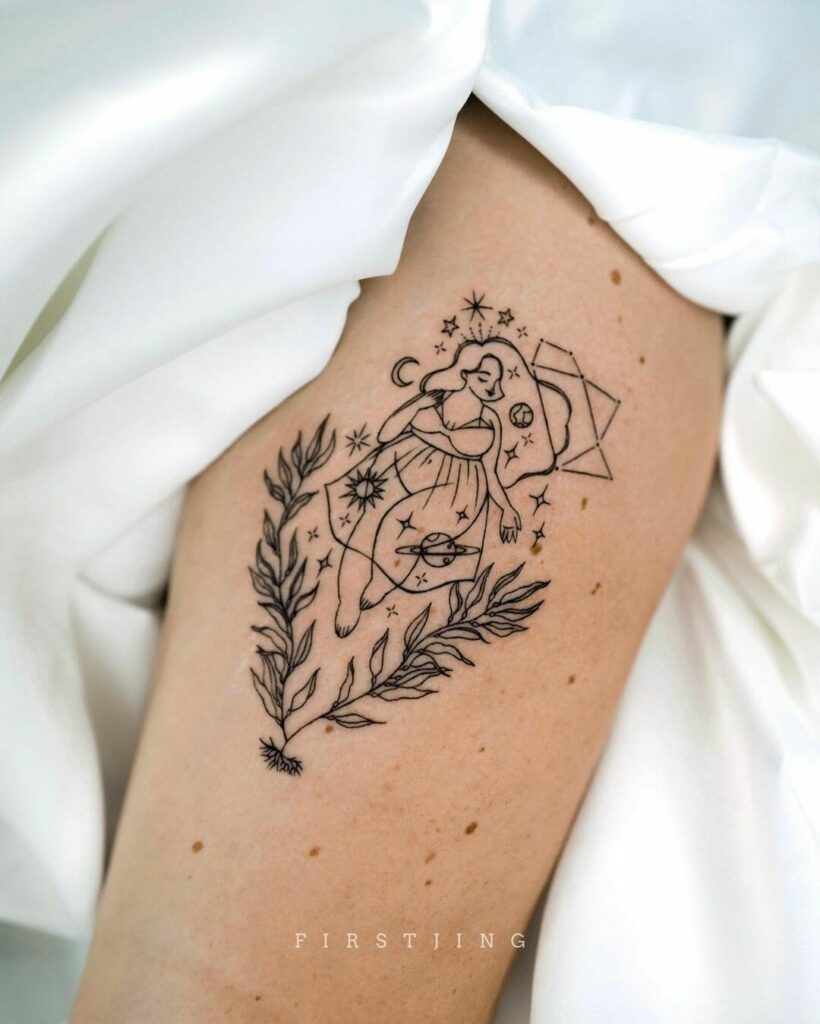 Tattoos are a great medium of self-expression, especially when you are a free woman trapped in an essentially unfree society.
As had been the case for a long time, patriarchy in tandem with mass media persistently exploits female identity through hyper-sexualizing their bodies in advertisements and films. Juxtaposed to this norm, the deliberate choice of adorning the same body with ink and symbols and letters can be read as a woman's act of reclaiming agency and identity.
When it comes to tattoo ideas for girls, myriad designs turn up by the cartload on the internet on a daily basis. We understand that choosing one from an end number of options can be quite a task. Thus, we offer to help you out on this matter. Whether you are a minimalist person for whom 'less is more' or someone who roots for larger-than-life designs; whether you are a stargazer or a butterfly catcher (not saying that you cannot be both!) we have something in store for everyone.
Butterfly Tattoo Design
The artwork is uncompromising in its depth and clarity. It constitutes a butterfly tattoo set against a celestial template featuring a planet and a crescent moon. Butterfly tattoos stand for faith, freedom, and the transforming power of human experience.
The unique choice of colours resembling a vintage polaroid faded out at the edges is a fascinating aspect of this tattoo. You can get this butterfly tattoo coupled with a moon tattoo on your nape or just above your elbow. Apart from the feminine undertone of the design, it can be also be read as a meditation on the unexpected beauty of things small and fragile alongside an exploration of the transcendental beauty of natural phenomena
Flower Tattoo Design
It is an elaborate and ornamental design that can be the best worn sleeve style. The light-handed use of black and white shades in collaboration with fine detailing of the borders as if with felt-tip pen successfully restrains the gushing effect of the whole piece to an understated gracefulness.
The calm energy which this body art exudes has an almost therapeutic appeal. As we know, flower tattoos symbolize many things at once and are essentially subjective. From passion to purity; devotion to love; spirituality to wisdom, flower tattoos are an inexhaustible storehouse of symbolism.
The tattoo artist can choose to experiment with the number of petals shown here or the size of the tattoo design according to the tattoo lovers' preference. It can be sported as a shoulder tattoo as well but in that case, the contours of the shoulder and that of the collar bone can lead you to compromise with the flowing style of the design.
Lotus Tattoo Design
The digital art effect used in colouring the bulb of the lotus makes this tattoo design stand out from the rest of the flower tattoo options, one comes across on the internet.
The South Asian religious discourse is permeated with lotus symbolism. Apart from its significance in Buddhism as a sacred flower, it is also believed to symbolize the indomitable human spirit which urges mankind to overcome its limitations and emerge victoriously; just like a lotus flower that keeps on growing tall until it floats above the surface of the muddy water. Unlike many tattoo designs intended for girls and women, this one manages to achieve a perfect aesthetic balance that suits the dispositions of both a girl and a woman.
Cute Tattoos With Cottagecore Vibes
Of all cute tattoos, this one is perhaps the cutest. It features a two-headed cow embedded in a canvas of stars and sparkles which is directly inspired by cottagecore aesthetics.
You can get this one inked on any part of your body. It is apt for a chic wrist tattoo or a quirky one for your calf. The condition of being born with more than one head is known as polycephaly. The state of multi-headedness is often interpreted within mythological discourses as the multiplicity of the self. The two-headed cow tattoo can mean the invested dualism of human nature or the implicit binary which is but an inescapable default of the human condition. For fun, you can also add a dash of colour to it.
Cool Tattoos For Fingers
We know money speaks, but do you know what else speaks better than money? Tattoos! Channel your love for dollars with these cool yet cute small tattoos.
The classic red can be replaced with signature Black and White which will add dimension to the design since the pop effect can at times strike one as a tad over the top. The best thing about small tattoos is they can be worn anywhere, anyway. This small tattoo compilation makes it to this list also because unlike most tattoos for girls, it breaks apart to form the quintessentially 'feminine' motifs of the moon, flowers, stars, and heart shapes.
Unique Tattoo With Deep Meaning
An astonishingly liberating work of art that deals in aesthetics ranging from the seemingly coquettish to the staggeringly profound.
The design features the face profiles of two women fused against a bold black template bounded on one side by the silhouette of a rose. The light-handed application of the outline strokes when placed in juxtaposition to the absolute opacity of the backdrop, renders the entire piece a luminous quality. The elusive nature of the design makes it difficult for one to pin down any possible interpretation. Some can read it as romantic while others can interpret it as existential.
Moon Tattoo Design
A serene night sky tattoo idea that features a crescent moon hovering about pine trees. The tattoo can be worn on any part of the body but we recommend exposure so as to ensure maximum play of light which brings the details to blinding clarity.
Moon tattoos for girls symbolize the deeply creative and transformative power of womankind. No matter where you are in the world, the captivating and enthralling beauty of the moon never fails to fascinate you. The changing phase of the moon symbolizes life cycle, transience, female reproductive cycle, etc.
Bird Tattoo Idea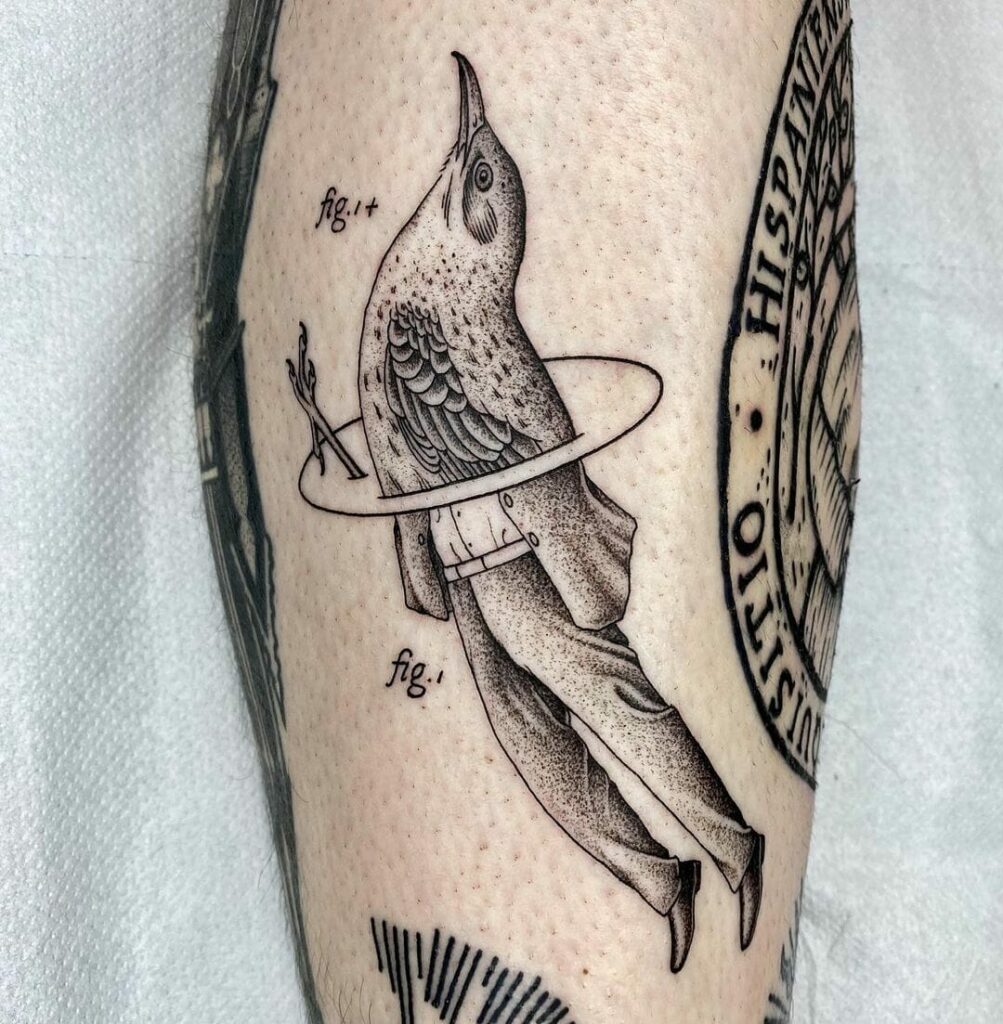 The sheer idiosyncrasy of the design is almost Kafkaesque in its appeal. Unlike most bird tattoos and other cool tattoo ideas, this one combines the thematic significance of birds with those of humans to create a hybrid design that functions as a bold yet precarious refusal in the face of common sense.
Bird symbolism is open to interpretation owing to its high popularity across the world. It is the strange combination of the mundane and the fantastic which makes birds such an important subject of scrutiny in art and literature. While some people perceive birds as creatures possessing a link between heaven and earth owing to their ability to fly, others assign supernatural qualities to them. In this tattoo, our closely compartmentalized understanding of the magical and the mundane is thrown into jeopardy. This tattoo design is a tribute to the surreal and the absurd.
Wolf Tattoo Design
This is an epic piece to which this introduction hardly does justice. Wolves have severely misunderstood creatures owing to their extensive conceptualization as embodiments of evil in popular culture.
Here in this tattoo, the ferocity of the creature is depicted through the use of a red coloured crescent moon at the backdrop and the piercing eyes of the animal itself. But multiple noble traits can be traced in the animal-like teamwork, loyalty, playfulness, friendship, wildness, etc. This wolf tattoo can also be portrayed as a fox tattoo inspired by the Kitsune fox mythology from Japan. The mythical kitsune fox is believed to be a nine-tailed creature that can shapeshift into humans and are patrons of the benevolent Goddess Irani. This tattoo is a powerhouse of dynamic energy and traditional aestheticism. Get this one to pay a tribute to all that is indomitable and untamed in you.
Feather Tattoo Body Art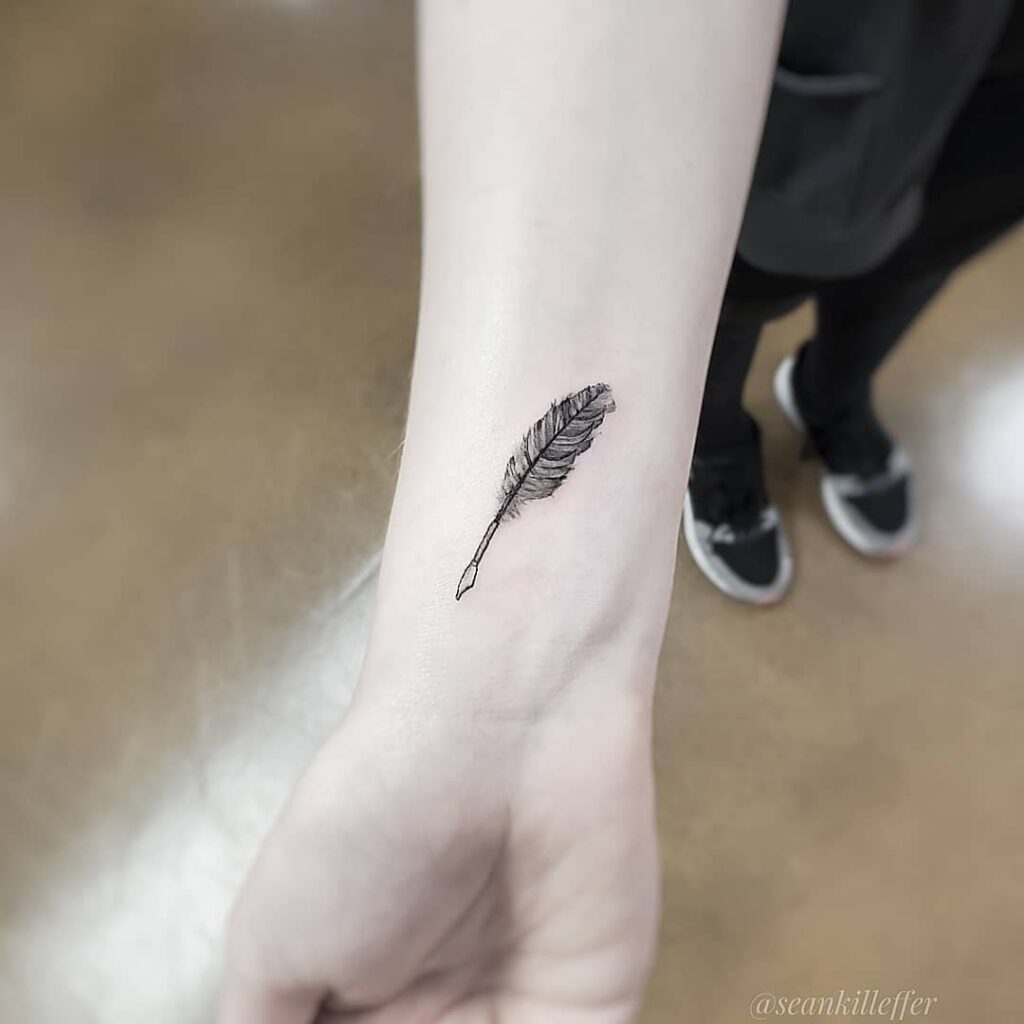 Feathers are one of the most delicate and fragile things on earth. The Victorian feminine ideal promoted the image of a passive, repressed, and ignorant woman as the epitome of patriarchal fetishism in 19th century England. It is during those times that everything white and delicate like feathers, pearls, and laces came to be associated with a woman's virginal purity and were incorporated in everyday fashion.
Apart from the patriarchal and historical baggage which the feather motif carries, we can interpret it as a symbol of innocence, honor, and untethered existence. This is a subtle yet chic tattoo featuring a minimalist black feather tattoo that can be inked either on your wrist or as an ear tattoo. It is elegant and the sparingly beautiful design allows ample scope for experimentation.
Tattoos For Women
Tattoos have a complex lineage. They came into being at a time when indigenous cultures discovered ways to inscribe symbols and signs representing their indigeneity on their body parts. Tattoos were used to demarcate tribe members of lower social standing from the ones with a higher social standing. With time, tattoos found a permanent place within the Western cultural discourse. While on one hand the rise in popularity of tattoos is heralded as a century-defining phenomenon, on the other hand, tattoos are extensively stigmatised in society as 'informal', 'obscene', and 'superficial'. According to The Huffington Post, millennials sporting tattoos have a hard time finding a job. And when it comes to girls and women, things get messier because their morality and characters are put into question. Thus, tattoos for girls function within the patriarchal discourse as both markers and manufacturers of identity. Tattoos are important to girls and women
in the newer generations and will continue to be more important as time goes on. They are important because they allow people to express themselves in ways besides words. Everyone has a right to express themselves without being cowered down by the possibility of never finding a job. If acceptance of the body in its natural state is normal then so should be a modified body!
Thus, tattoo designs are not just inscriptions on the body but are means to reinvent oneself. They urge us to express ourselves better and in a more liberating manner, especially in the current times of body positivity.
Feature image from Pinterest – Want your tattoo to look brighter? Try "Tattoo Balm"