If you are looking to get inked but cannot make up your mind about your next tattoo, then this list of the best tattoos will surely help you.
Tattoo art has been a growing art form lately with millions worldwide opting to get inked with tattoos of their choice.
With the advent of technology, a wider range of choices is available nowadays, ranging from personal tattoos such as of your family tree or any sort of family tattoo to things you see all around. You can even get inked with temporary tattoos if you simply cannot make up your mind.
As this form of art flourished, some experienced and professional tattoo artists have even attained cult status with celebs and icons making a beeline outside their studios to get inked. One such famous tattoo artist is Scott Campbell, who enjoys a clientele of the likes of Robert Downey Jr. and Lebron James. To learn more about the best tattoo artists in the world, best sleeve tattoo in the world, best tattoo school in the world, and to take a sneak peek into some best tattoos as well as cool tattoos, this specially curated list of best tattoos in the world is a must-read.
Best Lion Arm Sleeve Tattoo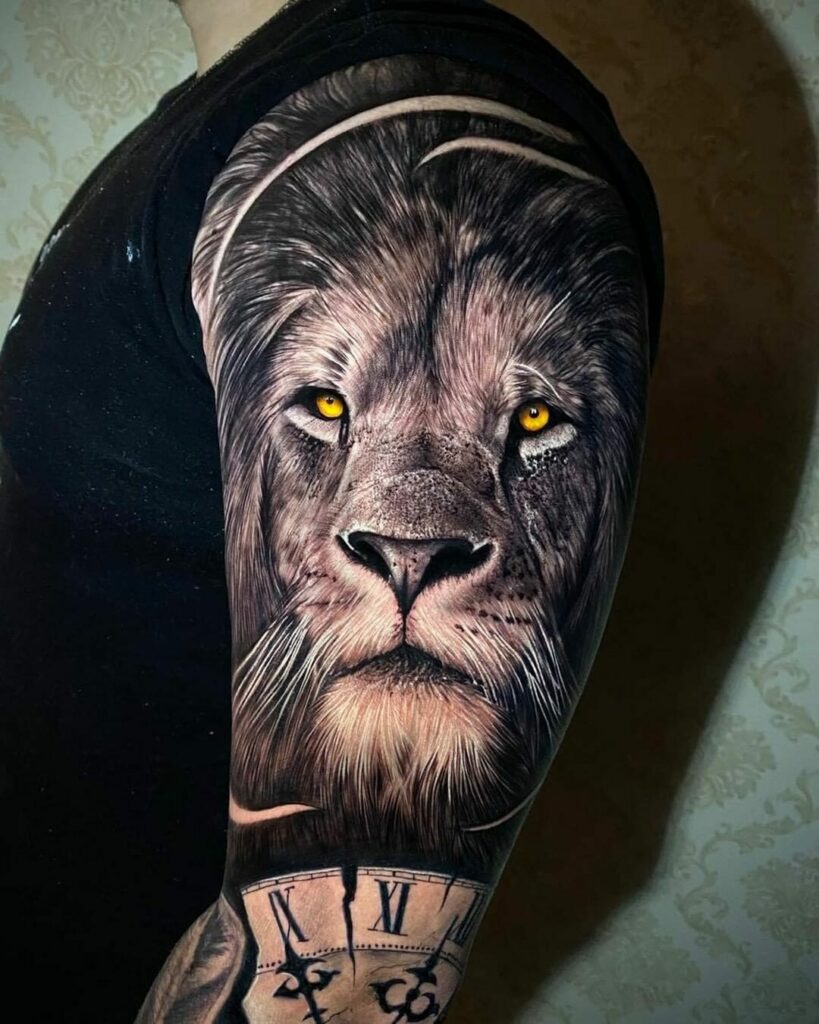 Lions and humans have been co-habiting for thousands of years on this planet now, and hence it is least surprising that the animal has made into many cultures and traditions worldwide. From popular culture to religious significance to cultural rites, the king of the jungle is a representation of courage, royalty, power, and masculinity. We can find the giant cat on the flags of the House of Gryffindor in the 'Harry Potter franchise to the 'Wizard of Oz' and the 'Narnia' films. In both Judaism and Christianity, the lion is an important symbol as well as in other major religions and even in various ancient civilisations. Even in astrology, we can find the lion in the zodiac sign of Leo that symbolises qualities such as leadership, justice, and an adventurous spirit. Thus, lion tattoos are quite popular and this incredibly detailed lion tattoo sleeve with its lifelike depiction of the giant yellow-eyed cat is an example of awesome artwork.
Best Tribal Scorpion Tattoo
Infamous for its stinger, pincers, and venom, the scorpion is a predatory arachnid that can be lethal to human beings. Due to their deadly nature, the scorpion is usually associated with strength, death, and intimidation, among other qualities. The scorpion is also found in astrology and serves as the zodiac sign of Scorpio that symbolises ambition, courage, sensuality, as well as vices such as jealousy and manipulativeness. Though less popular among women, the arachnid can be a symbol of feminine strength and sensuality with its nature of protecting itself as well as its sensual mating dance. Thus, scorpion tattoos are a symbol of strength, power, death, sensuality and, when executed in the tribal style, can also ward off negative vibes and act as a protector. Hence, if you are looking for traditional tattooing, get these wonderful and colourful tribal tattoo ideas to pay homage to your roots.
Best Angel Arm Tattoo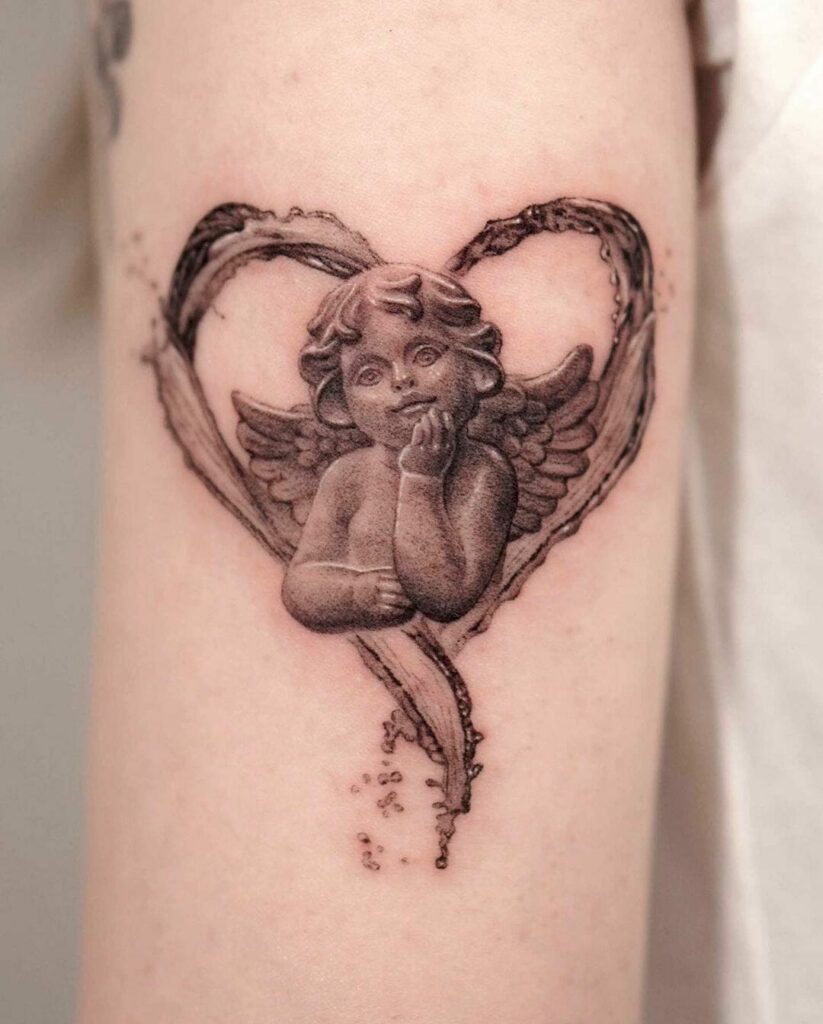 Angels have been symbols of all things divine and heavenly since time immemorial. They have been the inspiration for many literary works as well as films and are thought to be celestial beings who have been sent by God to look over humanity and guide them during troublesome times. Angels are a symbol of integrity, innocence, love, strength, and hope. As angels embody an individual's resolution to overcome any adversity, they can also stand for determination, power, and triumph. We find the presence of angels in popular culture as well as in many celebrated literary works such as Dante's 'Il Paradiso' and John Milton's 'Paradise Lost'. While certain goth religious fans prefer the dark and complex angel tattoos, most people opt for the Cherubs such as Cupid with a harp when it comes to tattooing their skin. This angel tattoo, with its realistic designs and extensive shading, is a perfect example of the best tattoo designs when it comes to angel tattoo ideas.
Best Dragon Back Tattoo
The dragon tattoo has dominated the tattoo circuit for decades now with its powerful symbolism and rich cultural heritage. Owing to their highly complex symbolism and rich cultural heritage, these antique powerful monsters vary when it comes to what they represent due to their roots in different cultures all over the world. In Christianity as well as Western traditions, the dragon is a symbol of evil forces, while in Oriental and Chinese beliefs, the dragon is more of a sacred creature that represents strength, wisdom, and hidden knowledge. However, in popular culture, the hero is often seen to slay a dragon to save the damsel, or get the treasure or stumble upon ancient wisdom. Here, assassinating the dragon is seen as a conflict between good and evil, light and darkness. We find the dragon to represent war and sex in the works of Blake while Yeats portray the mythical creature as a guardian of life. These awesome black and grey tattoos of a dragon in flight is a must-have tattoo design if you want to make a bold statement.
Best Minimal Money Hand Tattoo
The minimalist tattoo idea is a current trend that has been gaining popularity among tattoo enthusiasts getting their first tattoo or those on a shoestring budget. While bigger and larger full sleeve tattoos undoubtedly have their charm, they might prove a bit too overwhelming for those getting inked for the first time. The minimal, small tattoo makes the same style statement while costing a lot less and taking up a lot less skin space. This simple tattoo of dollar bills is a good example of minimal tattoo design with its definitive use of black and grey ink and extensive shading technique. The money tattoo is an explicit representation of metaphorical or literal ambition towards wealth but can also symbolise that the individual sporting the tattoo knows exactly what it stands for yet also understands that money cannot buy everything. Get these minimal money tattoos if you are a first-timer and not sure about the best tattoo you can choose for yourself.
Best Blue Rose Wrist Tattoo
The rose tattoo is one of the most popular designs out there with its complex nature, unique style, and heavy symbolism across various cultures all over the world. This floral tattoo has symbolised passion and desire for centuries and presents a fine balance between grace and emotion like no other. Romans used roses and their petals to flaunt wealth, while the Greeks believe that the flower was created by Aphrodite, their mythical goddess of beauty and sexuality. Nevertheless, the universal symbolism of the rose has always been love, desire, and passion, from Catalonia, Spain to Italy to Korea, where couples gift their partners with rose bouquets to express their love towards each other. However, the rose has a number of colours with each colour meaning something definite. While the red rose stands for love and passion, the white rose stands for innocence, purity, and spirituality, and the blue rose stands for hope and the metaphysical striving for the unattainable. If you are looking for a meaningful tattoo that can symbolise the emotions and characteristics of the female form, then this blue rose tattoo is definitely for you.
Best Tribal Owl Chest Tattoo
Owls have been birds of fascination for humans for ages, with most of them being attracted towards the owl's dual symbolism of darkness and wisdom. These nocturnal predatory birds have been associated with ancient wisdom and their ability to see in the dark has been literally translated to the idea of seeing past deception. Throughout various cultures worldwide, the owl has enjoyed different symbolism with the Japanese thinking of it as a talisman of good luck, while Medieval Europe associate it with black magic and witchcraft. People of the Middle East look upon the bird as a guardian of the afterlife, Plain Indians adorned owl feathers to ward off evil spirits, while the Greeks linked the bird with their mythological goddess of wisdom, Athena. In popular culture also, we find the owl in form of Harry Potter's pet Hedwig who became the foremost symbol of the boy wizard's innocence. This colourful tribal style owl tattoo, with its floral background, bold black linework, and use of various ink colours, make for a wonderful piece of bodywork.
Best Music Tattoo On Hand
American poet Henry Wadsworth Longfellow described music as the universal language of mankind. Considering the fact that music is one of those art forms that surpasses all barriers notwithstanding the limitations of language, caste, or creed, it is not surprising that music tattoos remain one of the most popular choices of tattoos among tattoo enthusiasts. Thus, music tattoos are a metaphor for life and hence its enraging popularity among those getting inked with body art. There are more than a few ways to signify music, including getting inked with certain musical instruments and notation. These pieces of body art most often characterise the dedication of a musician to their art form or devotion to the creation of music in some manner. This specific music tattoo makes use of a clarinet to show love towards the beautiful art form with the use of black and grey tattoo ink and extensive shading technique. The clarinet tattoo has been executed in a unique style and can be considered one of the best tattoos out there.
Best Realistic Cross Tattoo On Hand
Religious symbols and verses remain some of the most popular choices of tattoos for men as well as women out there. In this context, the holy cross is one of the most profound symbolism of Christianity and cross tattoos are adorned by many devout Christians all over the world. Jesus Christ was nailed to the cross by the Romans where Christ died to save humanity and hence the holy cross can be a symbol of unconditional love and sacrifice. It can also symbolise your devotion towards your faith and can also be a tributary symbol inked in the memory of your loved one. This realistic cross tattoo has been executed primarily with the use of black ink with white and grey for shading purposes as well as to bring out the detailing on the religious symbol. The use of classic white, black, and grey tattoo ink, combined with the delicate detailing, is sure to turn heads.
Best Royal Crown Tattoo On Hand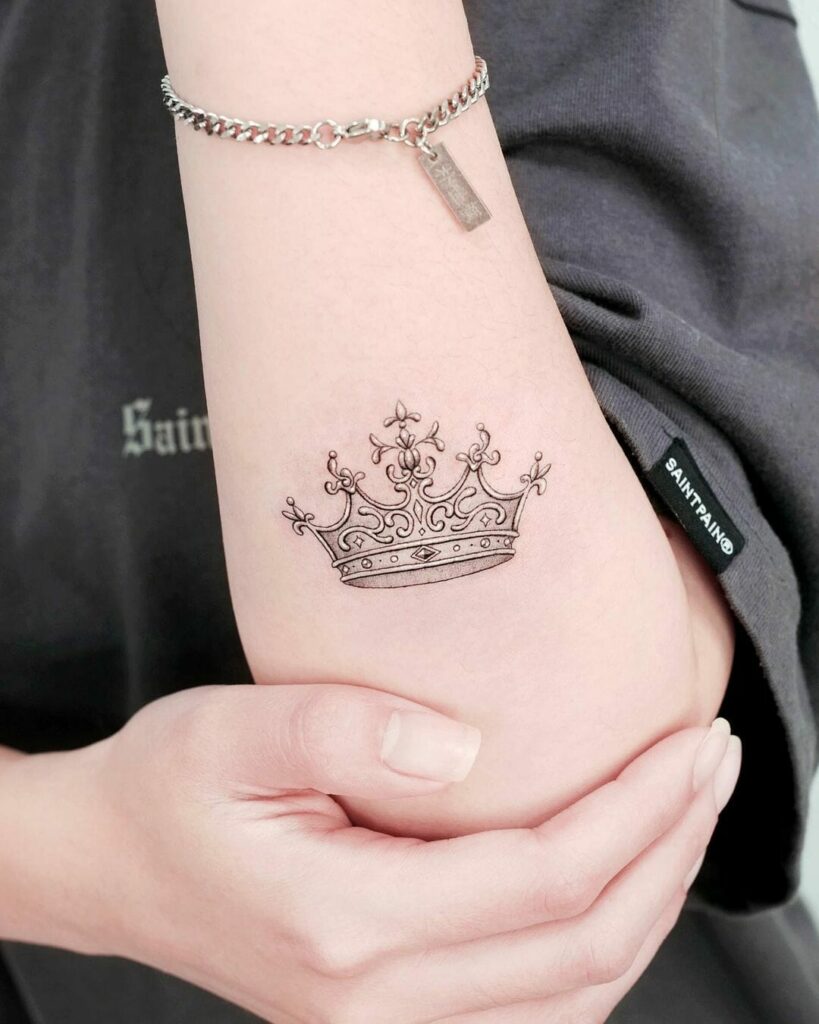 Crowns are usually representative of royalty and are seen as representations of strength, authority, leadership, and glory. Throughout history, crowns have featured as symbols for different things – a crown of thorns was adorned by Christ before the crucifixion, making it a symbol of martyrdom, while Virgin Mary was gifted it with a crown to make her the Queen of Heaven on her ascension to heaven in Roman Catholic tradition. This simple crown tattoo is an example of a line tattoo with the outline of a crown being drawn with the help of black and grey ink.
As always, opt for the tattoos that portray what you are comfortable with and go with your style. While getting inked, always choose experienced and professional tattoo artists to save yourself from future skin issues and also to obtain the best result. While this specially curated list tries to compile the best tattoos available out there by comprehensively searching through all the works of the best tattoo artists out there, it is by no means exhaustive.
Feature image from Pinterest – Want your tattoo to look brighter? Try "Tattoo Balm"