Hey there, typography buffs and tattoo enthusiasts! If you're searching for the perfect font to bring your tattoo lettering ideas to life, you've come to the right place. We've got a plethora of options for you to explore and find the ideal one that speaks to you.
The power of speech is truly remarkable, with the ability to inspire or devastate in mere moments. In the world of tattoos, lettering captures that essence, providing a subtle and elegant way to express our emotions and communicate our thoughts.
Lettering tattoos not only offer a creative, personalized touch but also serve as stylish and decorative designs that can be tailored to your liking. From retro to contemporary fonts, the possibilities are endless, and even mixing text with imagery adds another layer of depth to your design.
Tattoos have come a long way since their ancient origins when they were used to mark criminals. Nowadays, they're a form of self-expression and body art, carrying special meanings and commemorating significant moments in our lives. For a truly unique touch, consider incorporating famous quotes or meaningful phrases into your lettering tattoo – a constant reminder to approach life with positivity and purpose.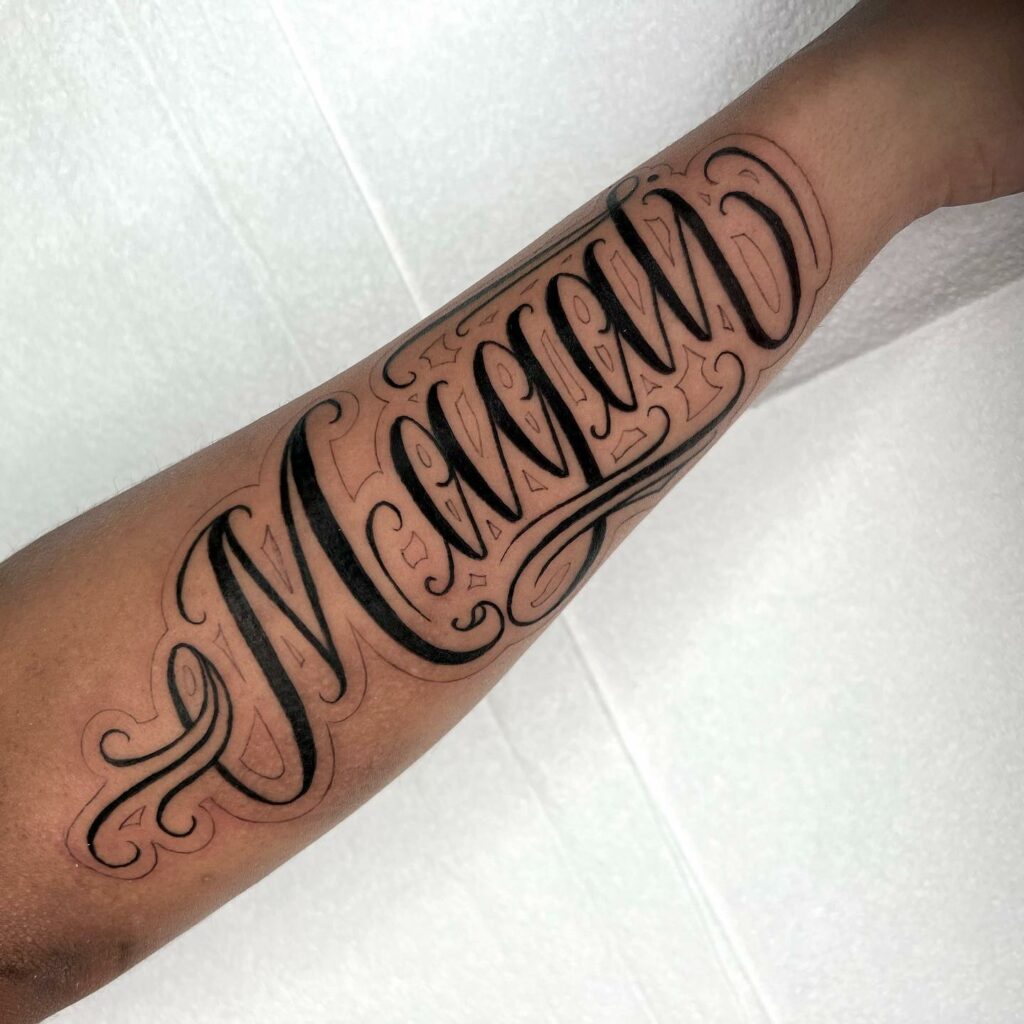 Delight Body Art

People have different reasons for choosing text tattoos over image tattoos. It could be that the text holds more meaning to them, such as a special date or a quote that inspires them. The font of the text can also have its own significance, such as conveying a sense of calmness or boldness.
This particular tattoo features the word 'delight' written in elegant cursive script on the person's wrist in black ink. Though it may seem simple, it serves as a constant reminder to find joy in life. This type of cursive font is a popular choice for lettering tattoos and can be placed on any part of the body. It's a versatile option that can be customized with a word or phrase that holds special meaning to you.
Hamburg Hand Font
When it comes to tattoo lettering styles, the Hamburg font is a popular choice. In this tattoo design, the word 'Absurd' has been inked in this unique font with line tattoo work. What makes this tattoo stand out is the shadow effect created beneath the main word. The thick black ink of the word contrasts with the light black ink of the shadow, giving it a unique and artistic touch. This particular tattoo is located on the forearm, but you can place it anywhere on your body. The great thing about lettering tattoos is that they can hold a lot of meaning to the person getting inked, and you can customize it to include words or phrases that inspire you.
Graffiti Font Tattoo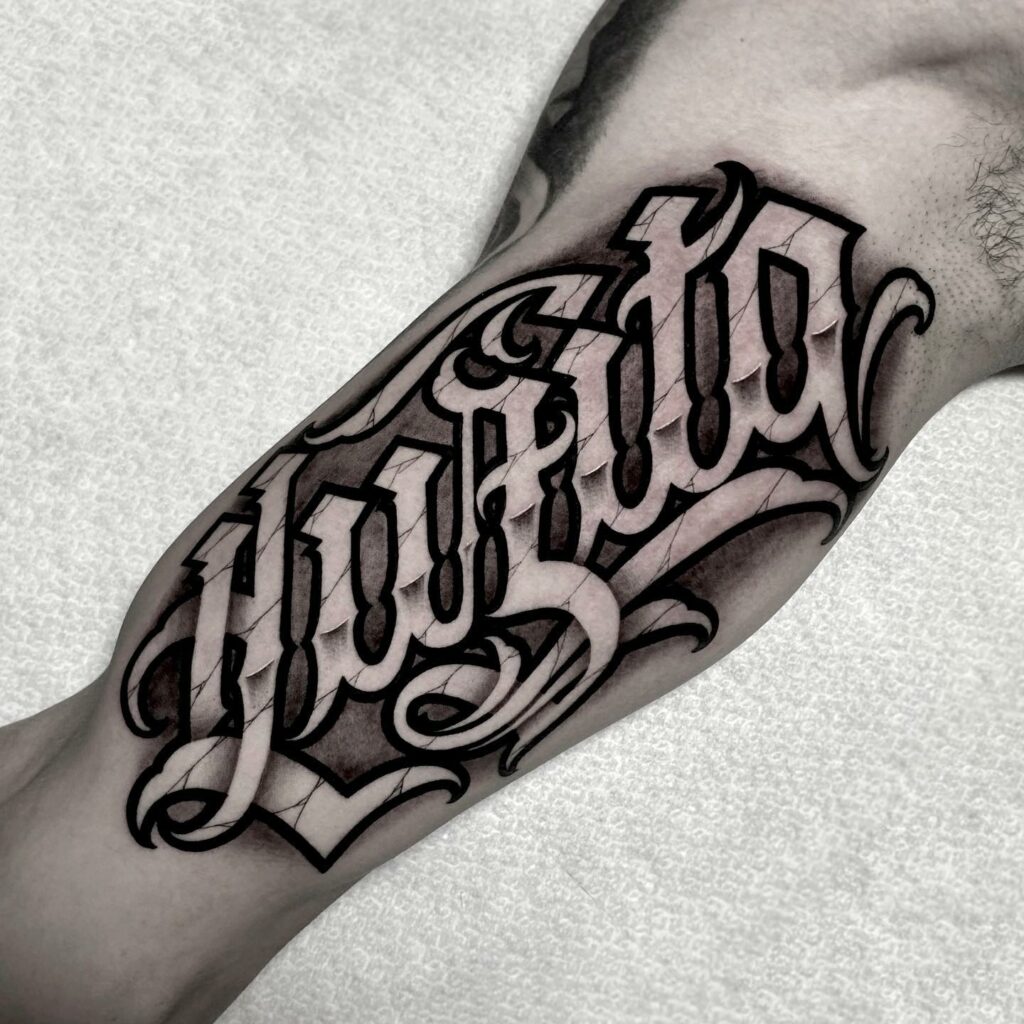 Graffiti-style tattoos have come a long way from being just street art to becoming a popular form of body art. These tattoos are characterized by vibrant and realistic words, symbols, or elements, often used to write the name of a loved one. They are loved by both men and women and can be inked on any part of the body.
Graffiti-style tattoos are a contemporary and modern style that is gaining popularity. This unique and creative style is becoming a fan favorite, with people opting for bold designs across their chest, back, or arms. This particular tattoo is inked on the upper round of the person, with the word 'Luzita' written in bold black lines, surrounded by shades of grey lines. It's a great example of how you can customize this style of tattoo to fit your personality and style.
Script Style Tattoo Fonts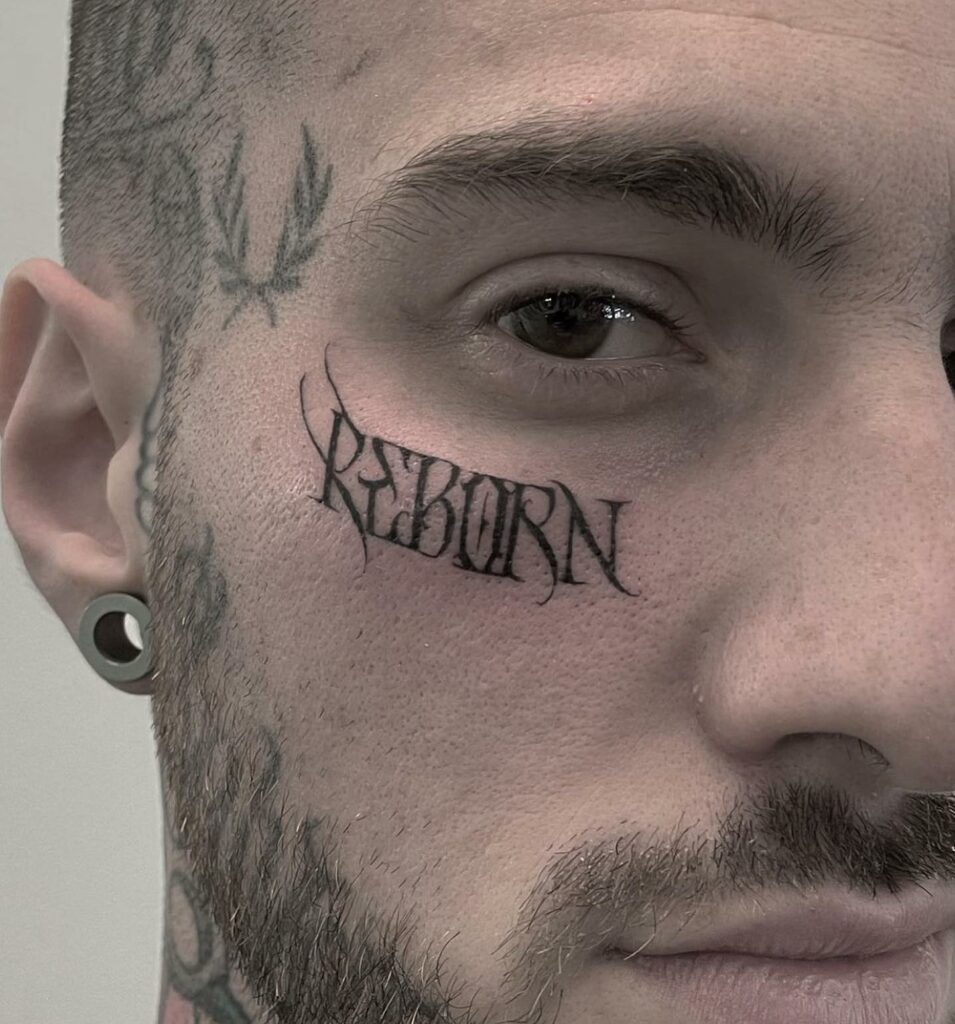 Script fonts are popular among tattoo enthusiasts and have a variety of styles under this category. Some of these styles include summer freestyle and calligraphy tattoos.
This particular tattoo showcases the word "rebond" written in script font under the right eye of the person. The artist has utilized different strokes to create this tattoo, which is completed in black ink. However, if desired, you can add colors of your choice to it. Although the placement of this tattoo was chosen by the client under their eye, it is a versatile design that can be placed anywhere on the body. You can also customize this design by writing different words in the same font that hold significance to you or that you find beautiful.
Cursive Font Tattoo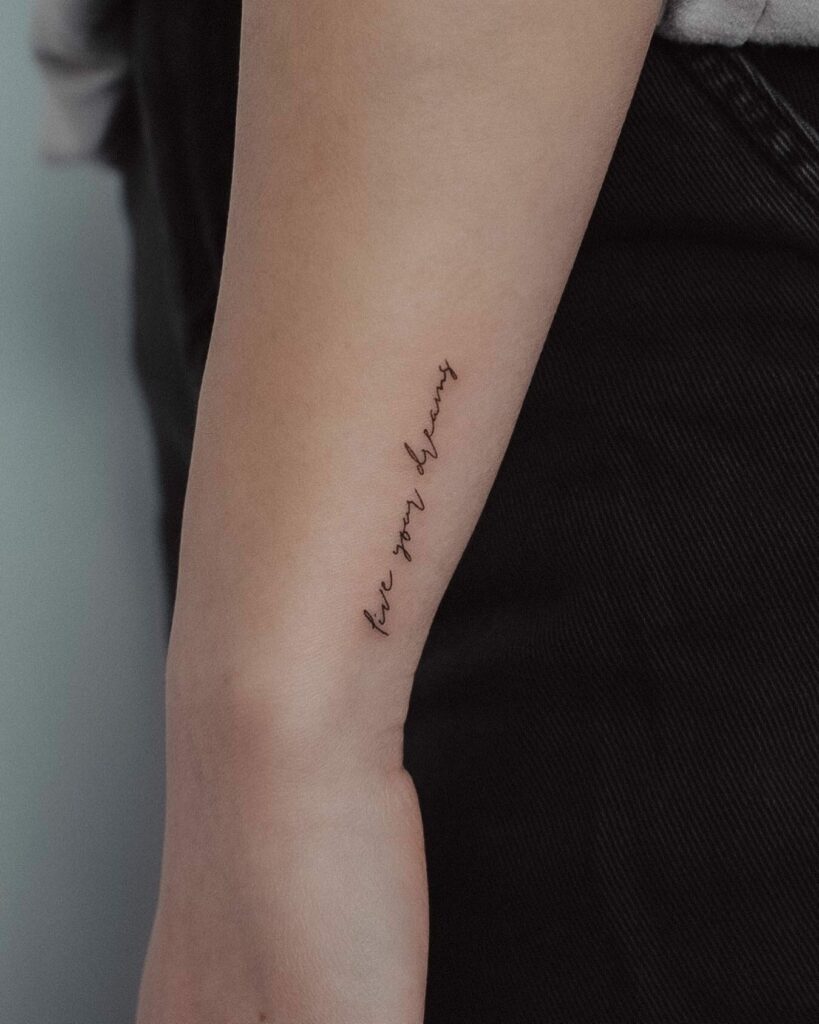 The art of tattooing is all about self-expression, and the calligraphy style tattoo is an excellent way to display your innermost thoughts and feelings. Calligraphy is a form of art that is both beautiful and timeless, and it's no wonder that so many people opt for this style.
This particular tattoo features the words 'live your dreams' written in stunning calligraphy font. The tattoo artist has used a single needle to make this design, resulting in an intricate and delicate look. The tattoo is inked in black, which adds to the classic feel of the design. The placement of the tattoo is on the wrist of the person. However, you can choose to place this tattoo anywhere on your body where it's easily visible, like on your forearm or behind your ear.
Calligraphy tattoos are not only beautiful but also a great conversation starter. You can customize the quote or phrase that resonates with you the most, and the tattoo artist can create a unique design just for you. It's a fantastic way to show the world what you stand for and to express yourself in a beautiful and elegant way.
Free Hand Tattoo
This ankle tattoo is a stunning example of freehand lettering. The colours used – black, grey and a hint of blue – complement the wearer's skin tone perfectly. The word 'workout' has been inked in a stylish font, and the placement of the tattoo is perfect for those who want a subtle yet meaningful design. This type of tattoo is highly customisable, and you can choose any word that holds personal significance to you. Freehand tattoos are a great option for those who want a unique and individualised design, as the artist can create a one-of-a-kind piece that is tailored specifically to the client's desires.
Black Lettering Tattoo
Tattoos featuring inspiring words or phrases are popular among those who seek constant reminders of positivity and self-improvement. This particular tattoo showcases the word "Meraki" on the stomach, which is a powerful Greek word that conveys the idea of doing things with love, creativity, and soul. The custom script font used for this tattoo is simple yet elegant, and the black ink gives it a classic look. The word "Meraki" is surrounded by subtle shades of grey, and a thin black border has been added to make it stand out. This versatile tattoo can be customized to suit your preferences, whether you want to change the font or add a pop of color. It can be placed on any part of the body, making it a great choice for those who want a meaningful and inspiring tattoo.
Rainbow Tattoo
This is a cute and simple tattoo that can bring joy and positivity to anyone who wears it. It features the word "smile" written in a playful rainbow font, with a small yellow smiley face above the letter "I." This small yet impactful design serves as a constant reminder to stay positive and always find a reason to smile. The beauty of this tattoo lies in its versatility; you can customize it to your liking by using different colors or fonts to express your personality and individuality. It's the perfect choice for anyone looking for a small and meaningful tattoo.
Fine Line Tattoo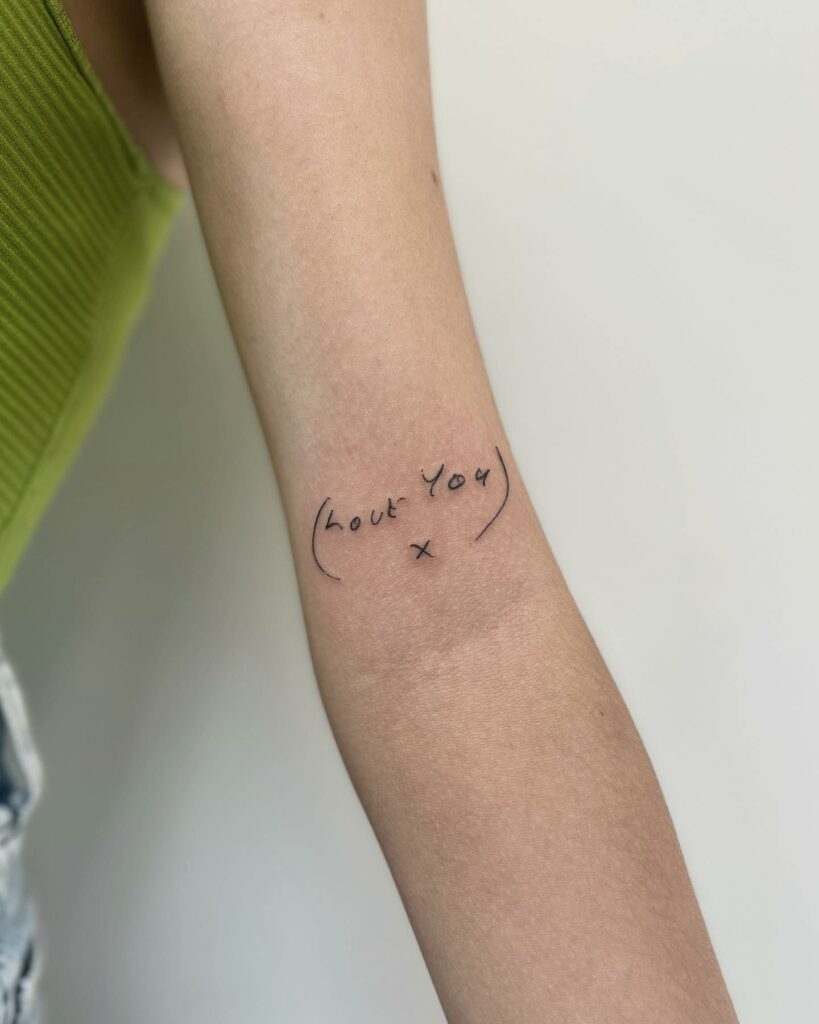 This is a beautiful example of a fine line tattoo, delicately placed just above the elbow of the person. It appears to be in someone's unique handwriting, making it a very personal and heartfelt tribute to a loved one. This is a great option for those who want a tattoo that holds deep meaning and sentimentality. The words "Love You" have been written in a freestyle font with brackets, giving it a unique touch. As always, you can customize this tattoo to fit your own personal style and preferences.
Double Font Tattoo
In the world of tattoos, mixing fonts is a popular way to add depth and meaning to a design. This particular tattoo is a great example of that. The phrase "if not me, who" has been inked in two different fonts, with the word "who" standing out in a unique and eye-catching way. The message of the tattoo is clear: it's up to the wearer to bring happiness into their own life. The tattoo has been inked in black ink, but can be customized with different fonts or colors to truly make it your own.
feature image from Pinterest