Are you a tattoo enthusiast and want to get inked on your legs? Here you go! Check out the 10 best tattoos on legs ideas that will simply blow your mind.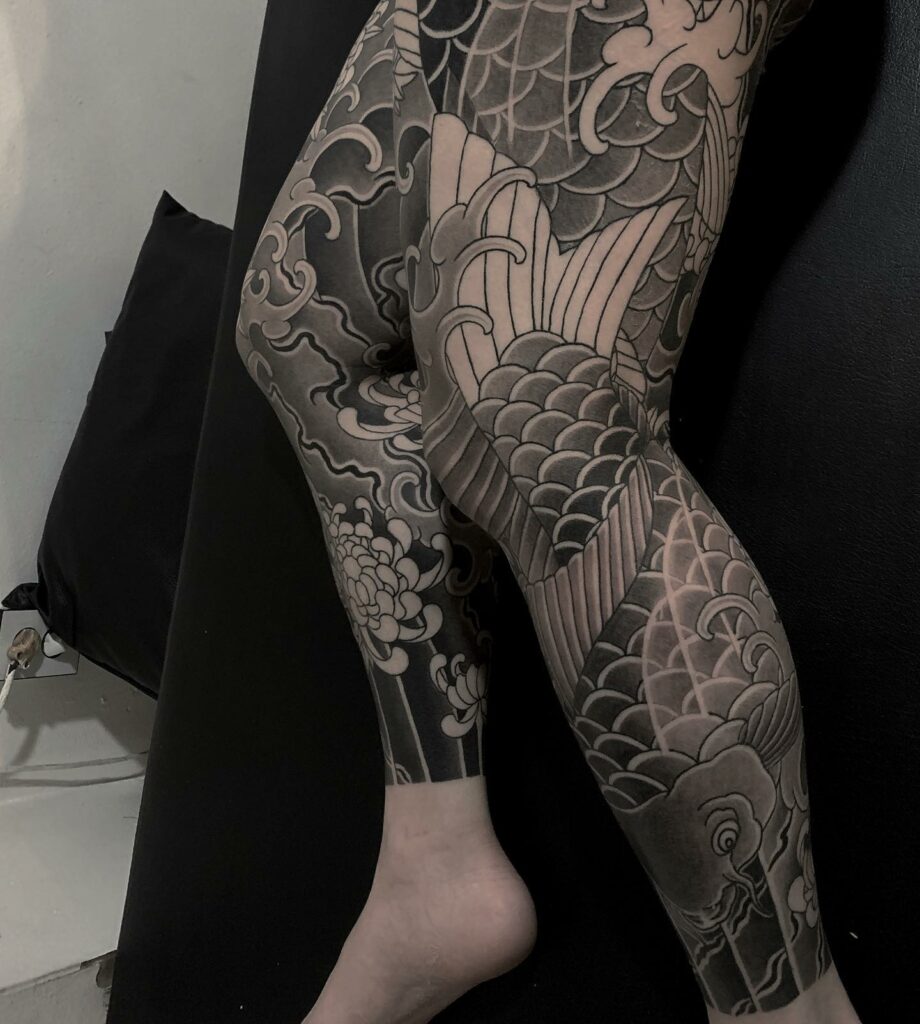 The concept of tattoos as body art is gaining immense popularity in the twenty-first century even though its origin dates back 5,390 years ago.
People irrespective of their age and gender get inked on different parts of their bodies for many reasons. Some people find tattoos to be a representation of modern art or a medium of artistic expression.
Many people get inked due to the fact that tattoos look cool on their bodies. There are multifarious tattoo ideas available and it is not very difficult to choose a tattoo that serves one's purpose accurately. Tattoos can be significant memoirs for some, and they can serve as a reminder of one's culture and traditions. Tattoos can be inked on different parts of the body to ensure artistic freedom, and many times they are inked on the body to give impetuous to the rebellious spirit of an individual.
Tattoos on legs look cool and no doubt leg tattoos cover a large part of the body due to their grand size and elaborate structure. People get leg tattoos inked only when they are quite sure how they want them to be. Tattoos on legs take time and need to be done with utmost care and sincerity as it is time-consuming and sometimes painful. There is no need to worry as an experienced tattoo artist has the potency to deliver a tattoo on your leg without causing you much pain. You need to go to an experienced tattoo artist and be prepared for multiple sittings as leg tattoos are time-consuming. Here are some of the best leg tattoo ideas that will give an insight into leg tattoos.
Angel Leg Tattoo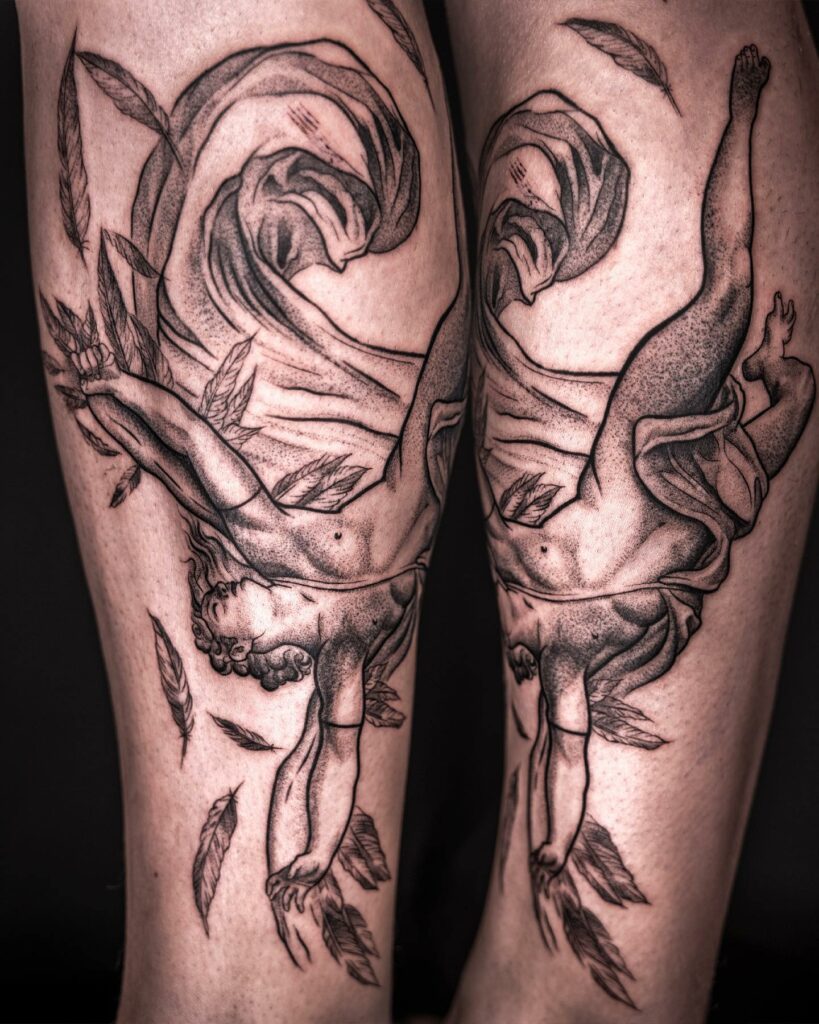 This is an angel leg tattoo inked using black colour and shades of black. The angel with its wings is magnificent on the legs of the tattoo owner. The upside-down structure of the angelic figure is likely to enamour the beholders. Such leg tattoos are quite popular among religious men who consider such tattoo designs to be a representation of their religious spirit or devotion. Angel leg tattoo can carry sacrilegious meanings. This is a religious leg tattoo that has been inked on both the legs and the angel-like figure transcends the beholder into a world of innocence and purity. The feathers floating in the air also add subtle beauty to this leg tattoo.
Are you into leg tattoos? It can be a perfect option for you as there is immense magnificence attached to it. An interesting fact is that tattoo symbolizes faith and the spirit of a warrior. The concept of a guardian angel can be materialized into body art through angel tattoos. You can get an angel tattoo inked in the memory of your loved one who has entered God's heavenly abode.
Full Leg Tattoo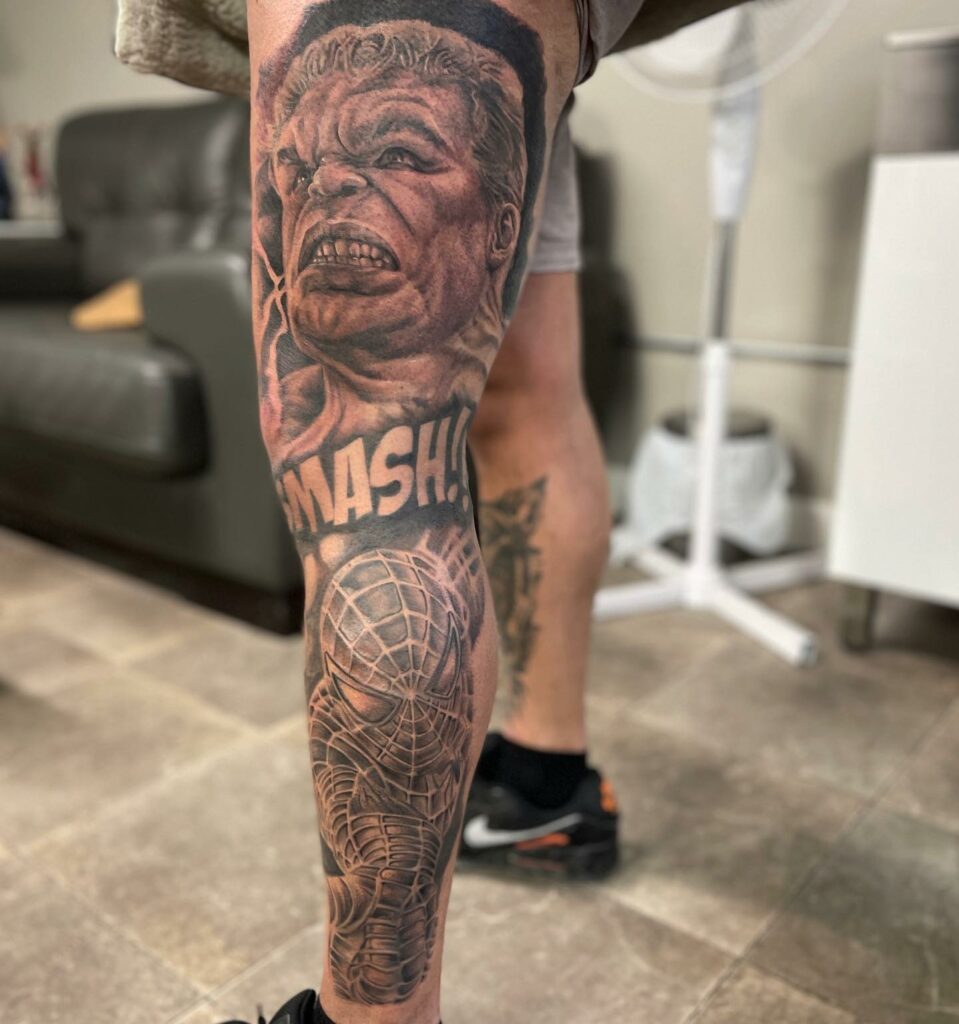 This is a full leg tattoo covering the thigh, calf, and ankle. This is a full-leg tattoo of a marvel character Hulk. The tattoo artist has tried with all its potential to make optimum use of the space and area.
This is one of the most widely popular leg tattoo ideas. It looks bold and rebellious on the legs. People with strong personalities or masculine traits can try this one out to express their strength and vigour. A full length leg tattoo is one of the best leg tattoos, however, it demands multiple sittings for the completion of the work.
Celtic Leg tattoo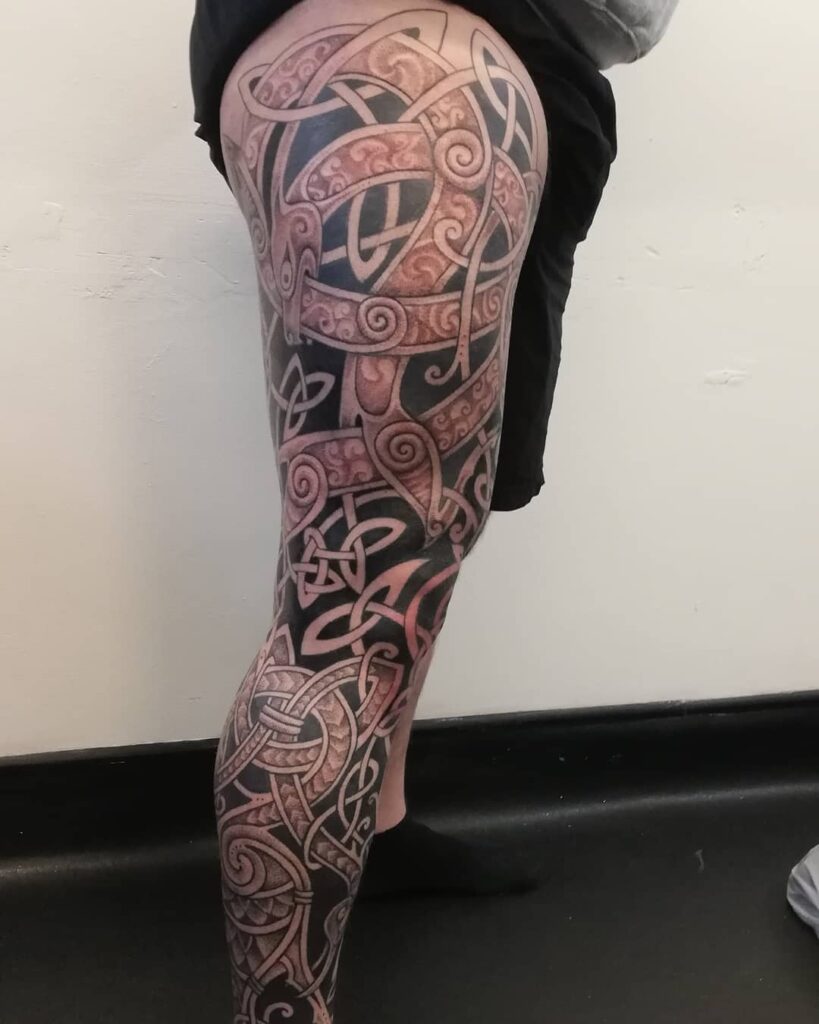 This is a Celtic leg tattoo with a complex pattern and shape that is inspired by Celtic art. It covers the entire leg with its intricate curves and patches that look attractive as well as engaging. It has been inked covering the entire leg using both red and black colours.
The Celtic culture and heritage are rich in style and two-dimensional graphics. Celtic art is one of the most popular art forms that employ circular shapes, knots, vertical lines, etc. thereby giving birth to an intricate pattern.
Tribal Tattoos on Legs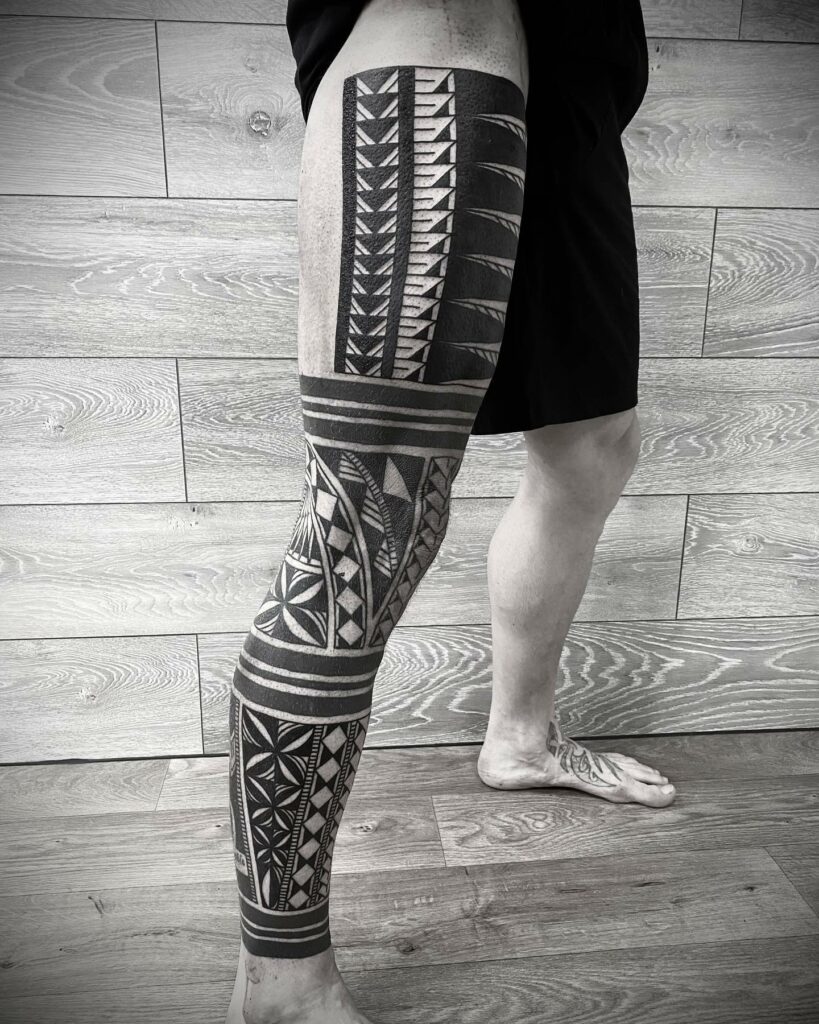 This is a tribal leg tattoo that is considered one of the popular leg tattoos for men. It seems to be a game of black and white just like the light and the shadow. This tribal leg tattoo has a number of patterns starting from the thigh up to the ankle. The pattern is a combination of simple shapes and designs.
Many people get tribal tattoos inked as they consider it a cultural symbol. In fact, tribal art also symbolizes strength, protection, and power in many cultures. Each tribal art has a particular meaning and there can be certain traditional elements attached to it. You can get a tribal tattoo if you do have a complete understanding of its meanings and implications. You can get a tribal tattoo inked on your sleeves as well.
Japanese Leg Tattoo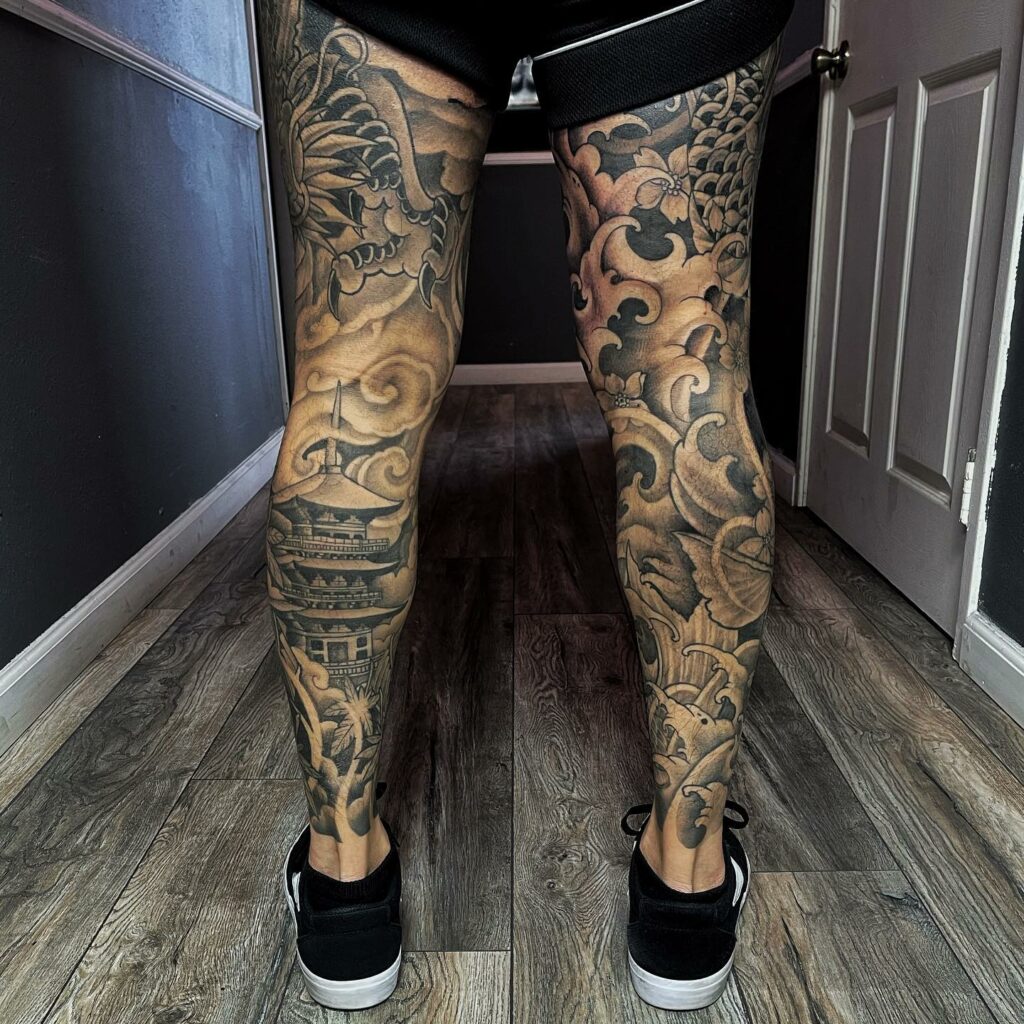 This is a Japanese leg tattoo that is one of the best tattoo ideas of recent times. This tattoo has a subtle golden tinge supplemented by black colour ink. The tattoo has covered the entire back of the leg with its unique design that tends to tell an ancient story.
A Japanese leg tattoo can represent the ancient tradition and culture of Japan. An interesting fact about this tattoo is that it carries a lot of symbols and representations. It can be a perfect leg tattoo for men who are tattoo enthusiasts. It represents battle or destruction and is symbolic of love and power. The background and the foreground can be clearly distinguished due to the use of contrasting colours and patterns. It can also symbolize valour and courage as a result of the bold lines employed throughout the design and structure.
Biomechanical Leg Tattoos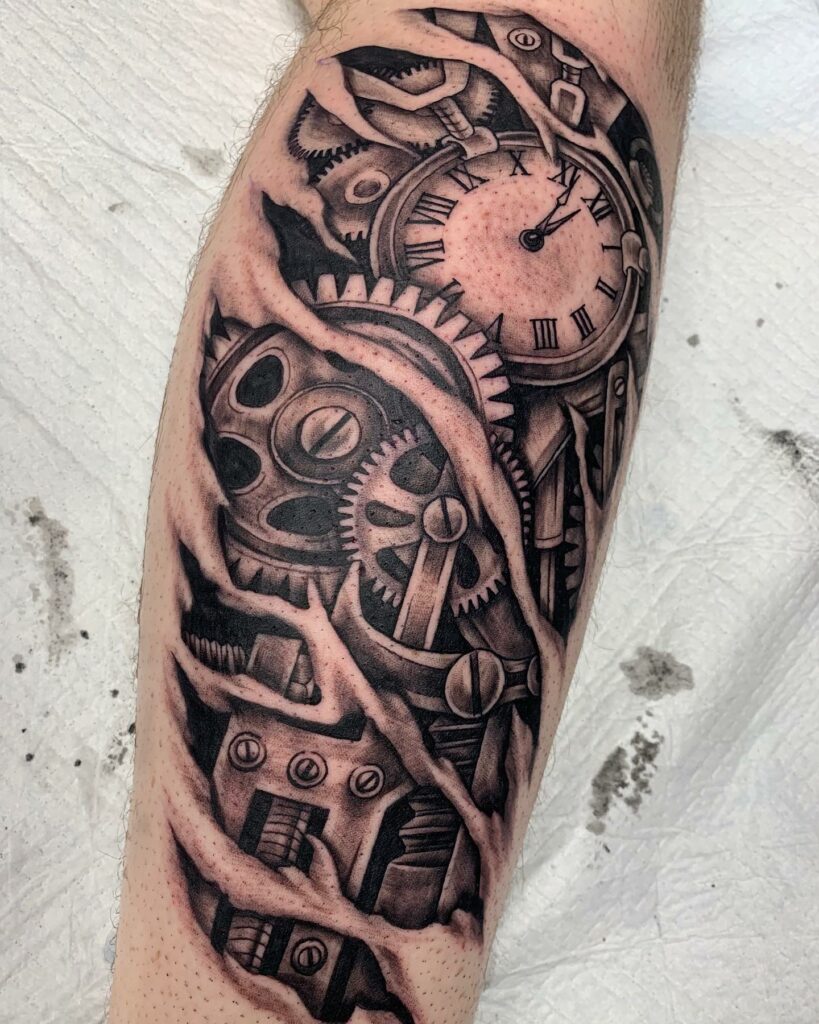 This is a biomechanical leg tattoo that represents a combination of modern and classical art. The clock design of the tattoo can be interpreted as a symbol of life and death. The mechanical structure of the tattoo is one of the best leg tattoo designs that exhibit both the biological as well as mechanical elements in a single structure. The shades and colours have been used systematically to achieve a realistic effect. It is one popular leg tattoo for men.
It is one of the best leg tattoos that create an illusion rendering a mechanical effect by inking machinery parts. Several sci-fi themes can be selected for a biomechanical leg tattoo. It is not very easy to get the biochemical leg tattoos inked as the process of colouring and shading involves an intricate technique. You can approach an experienced and expert tattoo artist if you want to get a mechanical leg tattoo inked.
Dragon Tattoo on Legs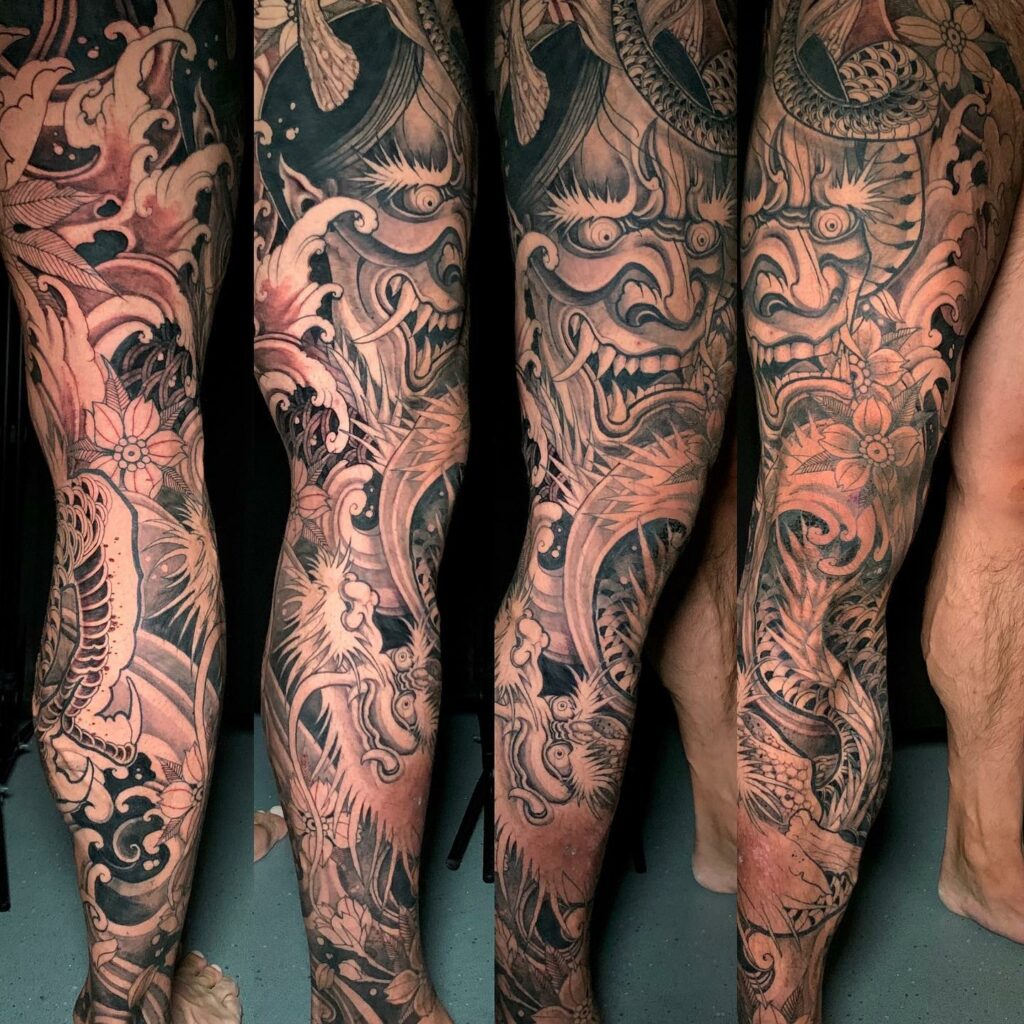 This is a jaw-dropping dragon tattoo inked on the legs. The monstrous look of the tattoo can be intriguing and horrifying at the same time. A lot of detailing has been done in the tattoo design as the leg provides enough space for a detailed dragon tattoo. Unlike this leg tattoo that displays only two colours such as red and black, dragon tattoos can be inked using many vibrant and bold colours, however, it needs to be remembered that leg tattoos are time-consuming and expensive.
In East Asian culture, dragons are considered auspicious, and many people believe that they bring good luck. Dragons in China and Japan are associated with strength and power. Chinese Mythology considers dragons to the mighty creature that controls natural calamities.
Rose Tattoo on Legs for Female
These are sweet and innocent rose tattoos on the legs of a female. The design looks simple and classy with its small strokes and subtle shades that contribute to its vividness.
These types of leg tattoos look pretty with individuals with feminine traits. Rose as a symbol of beauty and love can be inked on different parts of the legs such as the thigh, calf, or as a lower leg tattoo to manifest the artistic expression of femininity. You can also get a pretty rose tattoo inked on your forearm to add charm to your life.
Leg Sleeve Tattoo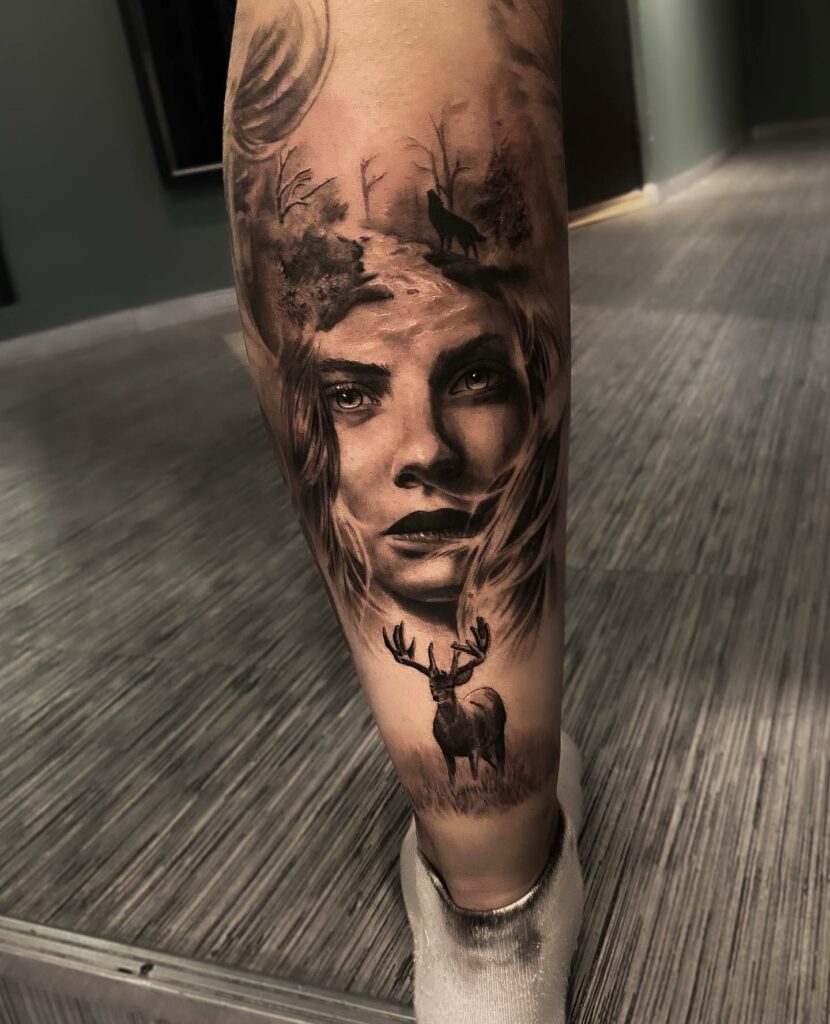 This is a leg sleeve tattoo that looks simply awesome as the tattoo artist has remarkably utilized the area of the leg sleeve. It is one of the best leg tattoos as it covers a lot of the skin starting from the ankle to the thigh or knee. This tattoo establishes an essence of mystery or connected elements of a story through the application of smooth shades and complete structures. It gives shape to some concrete and meaningful segments of the tattoo owner.
Leg sleeve tattoo or full leg sleeve tattoo ideas revolve around Japanese irezumi, geometric patterns, etc. Full leg sleeves or leg-sleeve tattoo designs require multiple sittings due to the extensive nature of the tattoo.
Koi Fish Tattoo
This is a magnificent koi fish leg tattoo that looks extraordinarily classy and exquisite to the vividness of the structure and the delineation of the scales. It serves as a reminiscent of the ancient folklore associated with golden koi.
The Koi fish tattoo is one of the popular let tattoos for men who exhibits perseverance to overcome the oddities of life. It also represents the traits of a strong personality or character and is symbolic of good luck and prosperity.
There are several men's leg tattoos. You can opt for a lower leg tattoo or a thigh tattoo if you do not want to get your full leg inked. People who are getting inked for the very first time can begin their journey with a simple leg tattoo and then get a full leg tattoo as their next tattoo. Small leg tattoos also look cool and sassy on both men and women. Calf tattoo ideas are there to help you choose the right tattoo design for your body.
Feature Image from  Pinterest – Want your tattoo to look brighter? Try "Tattoo Balm"