If people accuse you of being a meme addict, you are at the right place! Game up with our top 10 edgy tattoo quotes meme ideas that are too cool to miss out on!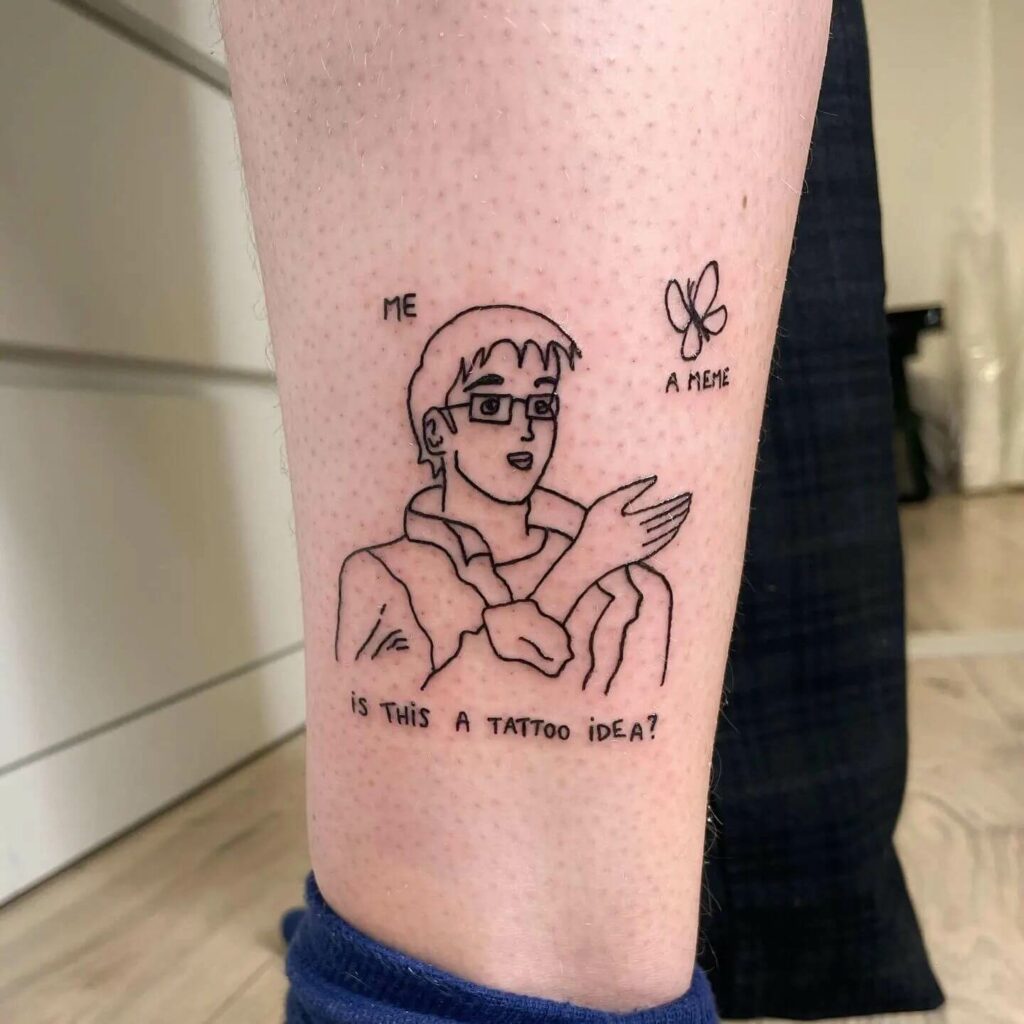 Funny tattoo ideas are gaining all the more hype as an influx of dope memes surface every other day.
Be it a pop culture reference, a piece of controversial news, or a scandalous celebrity slap, memes cover it all. Above all, memes are a free medium to share your quirky opinions and views on whatever the topic is, so why not get inked with a fun meme tattoo?
Popular meme tattoos are being readily adopted on skin with tattoo artists experimenting with various tattooing techniques. People often use similar ideas, popular templates, and recent trends for funny tattoo memes with quotes that comment on the context alongside the funny pictures. Ready to experience a good deal of funny tattoos? Prepare to ditch your boring tattoo ideas and sprinkle some humour on your body with these funny tattoo memes!
Funny Tattoo Meme Quotes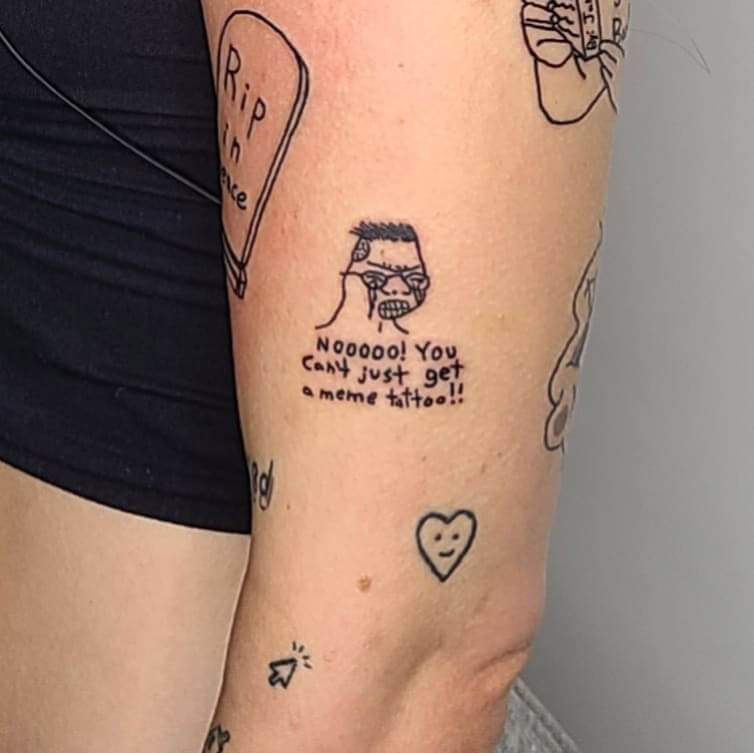 Have you heard this exact thing before? The common conception that goes around having a tattoo is that it should have a solid meaning or a design that conveniently expresses your true self. But meme tattoos give you the liberty to choose your body art for the sake of fun entertainment.
This caricature of a man is often seen in shit post memes and is aptly fitted here to be paired up with the nagging remark. The callous font and outlines add to the humour of this type of tattoo. You can take the easy way and just get inked with the quote to keep things simple.
Spongebob Meme Tattoo Quotes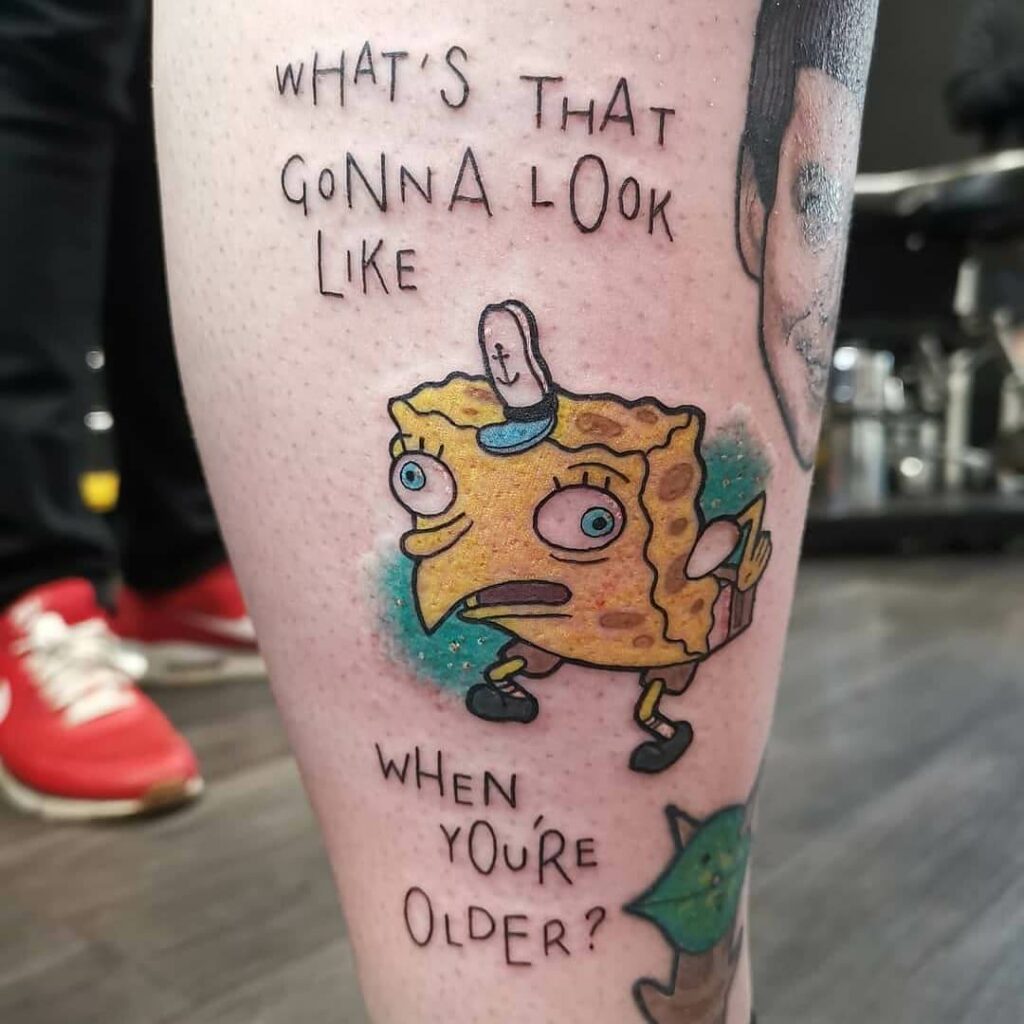 Rallying with the previous meme idea, this one features the all-time meme sensation- Spongebob! Using a pretty viral meme template, the tattoo artist here also opts for the wobbly font to add more to the silly element. The shades of yellow are toned down, followed by detailed work on the character.
With another one of Spongebob quotes that people love to use in conversation casually, the tattoo artist found a good way to make a brilliant design that can fit almost any context. The art is detailed in capturing what we see in pictures and puts forth a great example of how to get funny tattoo memes without having to be much creative.
Sed Hours Tattoo Meme Ideas
To people adopting sadness as a character trait, this tattoo artist has a lot in store for you! Judging by what seems like a therapy session, this guy is pouring his heart out about how being low is his aesthetic. As weird as it may sound, the whole internet is crowded with a bunch of sad people, really.
In a time when the whole world is coming to terms with breaking the binaries of sexuality, this kid identifies them as a failure. The inclusion of a chopper out of the blue confuses the viewers even more. Call it cool or just outright ridiculous, most memes are images rooted in this kind of theme.
Doge Meme Tattoos
Dog memes entered the game out of nowhere but they are every bit humourous like the other memes floating around the internet. However, the most relatable one amongst the plethora of 'doge' memes has to be this one. More than funny, this meme is a reminder of all the times we have just buckled up and dealt through life. Get this in plain black outlines or play with its original colours and shading, both ways it is going to be an edgy body art.
Trendy Cat Meme Tattoo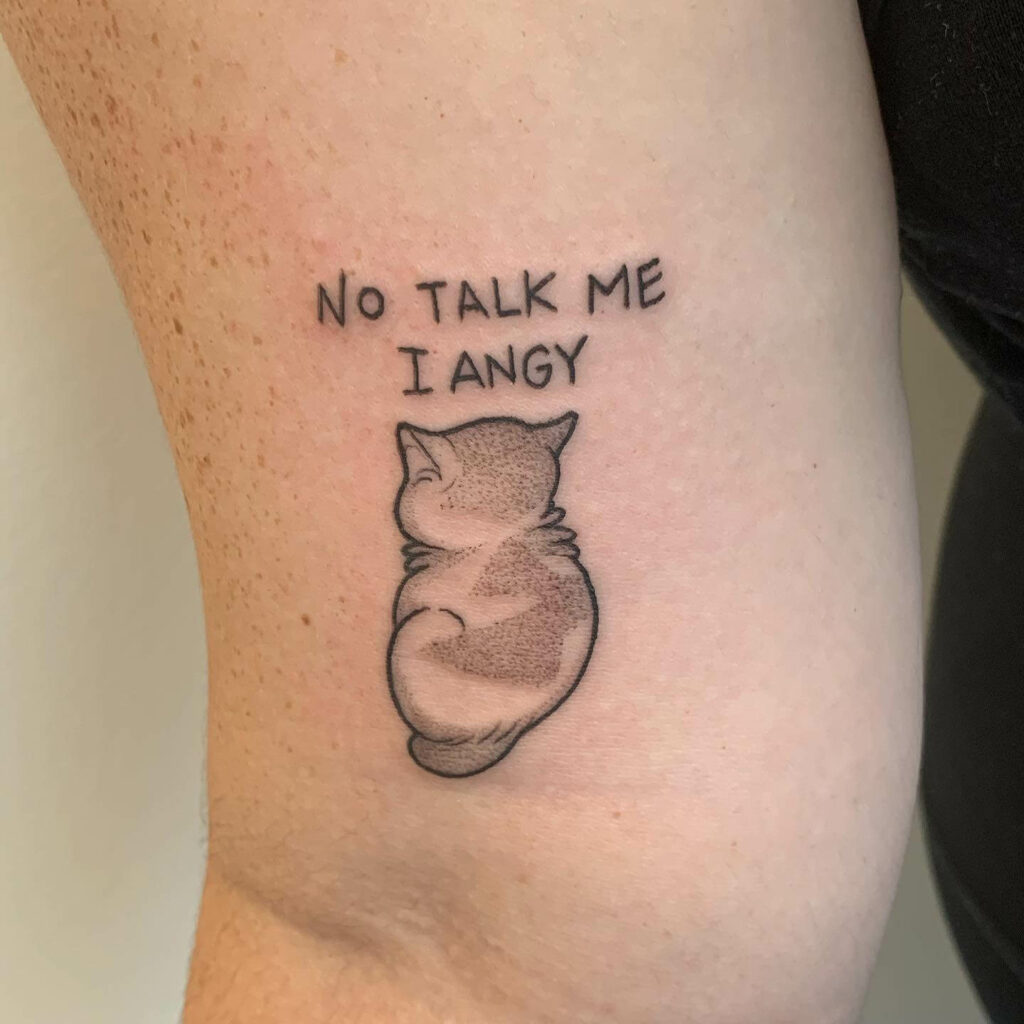 This funny tattoo meme features the furball that has surely sprung up on almost everyone's timeline by now. A tiny ginger cat being 'angy' could not be any more adorable.
The tattoo artist here has drawn the furbaby in plain black with some dot work as detailing but you can go all in and use colours and highlighting to capture such cuteness in real-time. Owing to the tiny size of this tattoo, it can be placed anywhere on your skin without much hassle. Try your upper arm or the forearm for a good chance of exposure.
Politically Incorrect Tattoo Quotes Meme
If you are a brave person, head to the darker side of the internet and wear the snarky attitude on your sleeve! This meme tattoo quote mocks the most common kind of sleeve tattoos on men.
It is true that most people choose a lion, watch, or red roses in their sleeves and it may get boring. This idea is a great way to showcase the same elements but with the cheeky intention of offending people. The quote also helps in amplifying the mocking stance and might earn you a few curses from friends with such tattoos.
Motivational Tattoo Meme Ideas
Feeling like trash lately? Your friendly neighbourhood racoon is here to cheer you up! The tattoo artist inks a happy racoon in the trashcan and the quote bannered around it. The font and the glittering eyes of the animal are sure enough to work you through those bad days.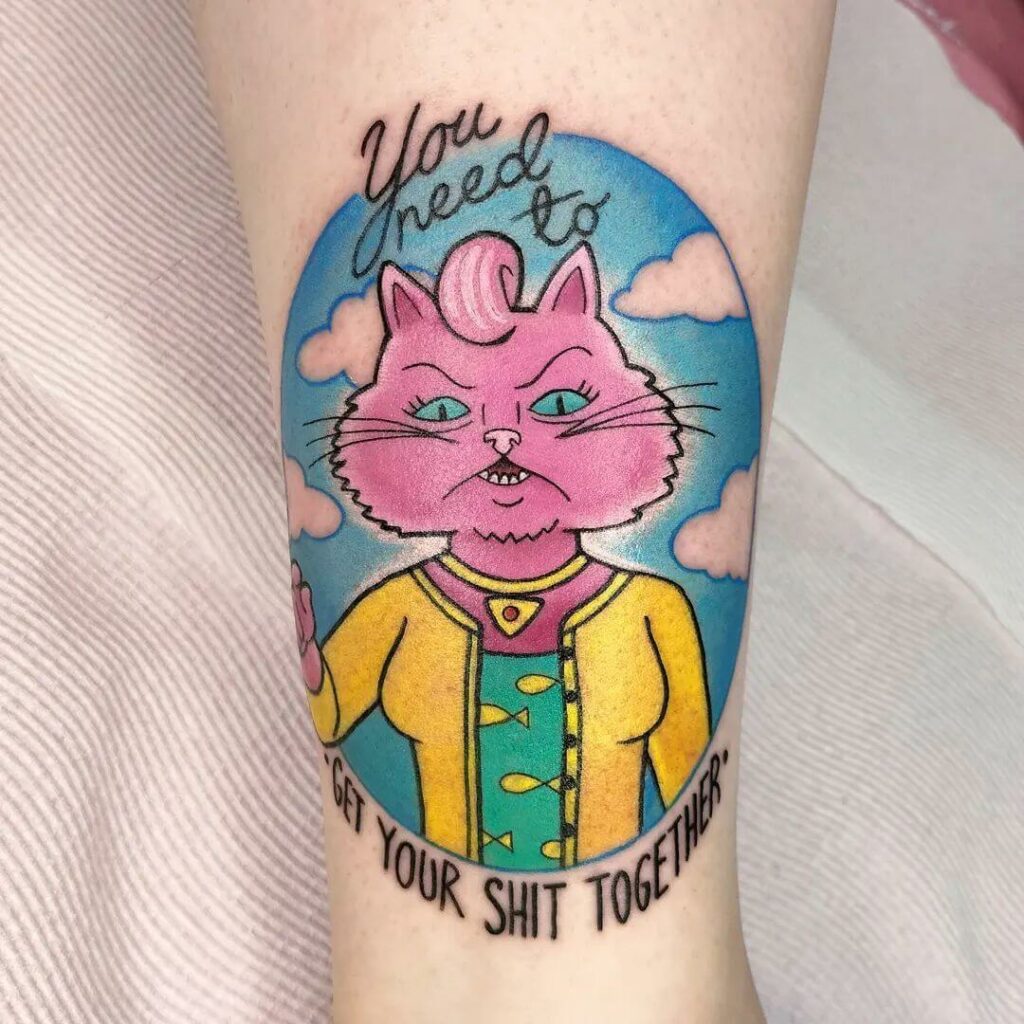 Remember Princess Carolyn from Bojack Horseman? Well, she is back to get you back on your feet! With the most profound yet banal saying, this meme tattoo is a good outlet to share your love for Bojack with a bit of humour. The cloudscape along with Carolyn's apt portrayal actually adds more radiance to the words she speaks. Try this one on your arm or the calves and add a pop edge to your body.
Pokemon Memes Tattoo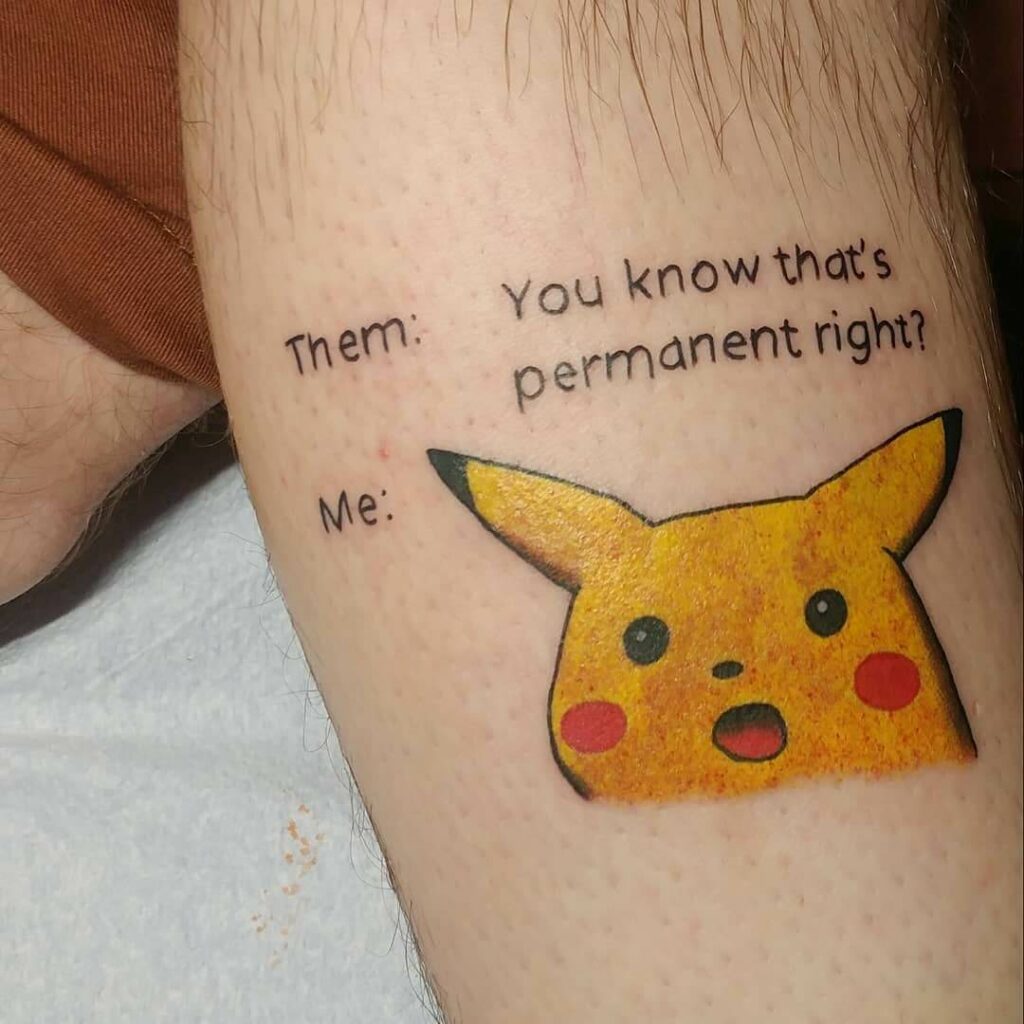 It is a sin to talk about funny tattoo memes and miss the star of meme entertainment. This amused Pikachu face has been such a trending template for so many iconic topics and we are here to honour that!
Following the exact layout of memes, the tattoo artist here incorporates the adorable Pikachu and simple font to downplay the overall look of the tattoo. The too-stunned-to-speak face and the overly used remark make an ironic pair that makes this meme tattoo worth your money. The yellow shade is subtle, sparing a showy tattoo that irks the eyes. You can try more Pokemon characters and revisit nostalgia with a modern touch.
Trippy Tattoo Meme Quotes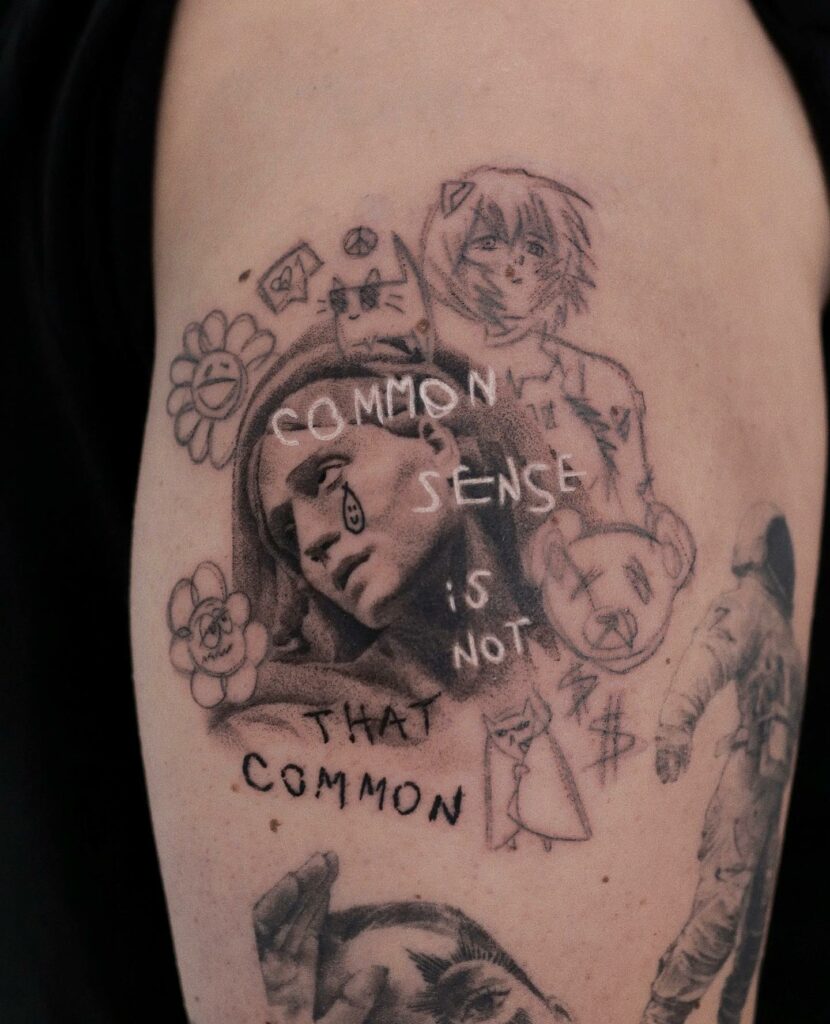 Thinking out of the box? Get a bizarre tattoo meme that will spin heads before cracking a laugh. The tattoo artist here creates a collage of many images and it almost looks like a medley of a dreamscape and graffiti art.
The dominant use of black and grey mixed gets a sketchy look to the idea, making it even more blurry. Here we have smiling flowers, a cat wearing sunglasses, a teddy head, a bat and an anime character (?) to fill in a comprehensive account of a dream. The lettering stands free of the image and this nonuniformity continues to set the idea apart. If you are a person with a high affinity for psychedelics, use funky colours to further intensify the tattoo. You might also want to place this view on the upper arm to proudly showcase your taste in memes.
Funny Tattoo Memes On Life
Existentialists will agree on how true this statement is! This funny tattoo features an amusing character from Rick and Morty who celebrates the pain of existence with open arms. The idea is clutter-free and borrows the fun element from the dynamics of human existence. The happy character even makes it a more disturbing meme tattoo with a fair share of dark humour.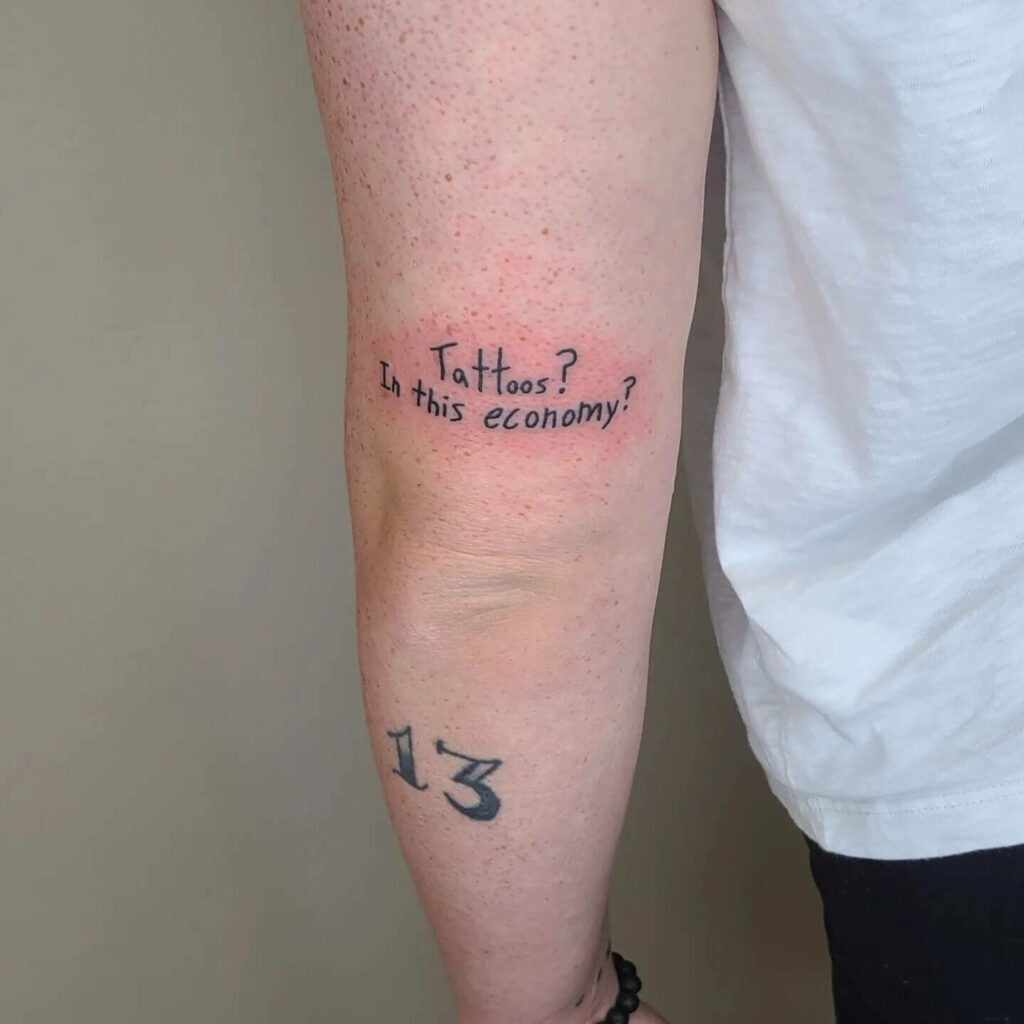 Speaking of dark humour, this tattoo meme comments on the economic conditions of the world and how spending money on getting memes inked should be the last thing in mind. But hey, isn't that the fun part? Simple, crisp, and absolutely hilarious, this tattoo is fit to be etched on your arms.
Now that you are armed with the many ways you can utilize your love for memes on your body, get yourself an experience of a lifetime that will continue to amuse you every day! A funny tattoo meme is perfectly tailored for Gen Z and makes a grand exit from the norm of meaningful tattoo designs.
Feature Image from Pinterest – Want your tattoo to look brighter? Try "Tattoo Balm"