Sometimes you aren't sure what you really want from a tattoo, and that's perfectly ok! Especially if you're coming for your first tattoo, the entire process can be intimidating. But carefully figuring out the design and placement before permanently tattooing it is a very important step! If you're interested in the tattoo process, as well as looking for some cool stencils for a tattoo, stick around!
Do Tattoo Artists Use Stencils?
Most tattoo artists do work with stencils. As they should, for your sake! Not only does making a tattoo stencil help the artist, but it ensures you're happy with the final product as well! A professional tattoo shop should have a thermal-fax for accurate and fast creation of tattoo art stencils. Where to buy stencil paper for tattoos you ask? If you're trying out homemade tattoo stencil design, try Amazon!
What Is The Best Stencil Paper For Tattooing?
With current tattoo technology, yes it's a technologically advanced process now, there are three basic kinds of papers for stenciling. However the best ones are probably thermal papers! They come with four sheets. The top layer is tracing paper, then a removable protective layer between the most important part – medical grade pigment player. The final sheet is there temporarily, also for a kind of protection. The downside is it is a one-time only use.
How Do You Transfer Ink From Paper To Skin?
Transferring the design onto the skin isn't a complicated step. However, it is a delicate one. Whether it's a temporary or a forever one, the skin area must be softened first. Then the ink stencil is applied, leaving a purplish-blue trace of the design. The ink must be left for at least 10 minutes to try before permanently tattooing it.
Realistic Rose Tattoo Stenciling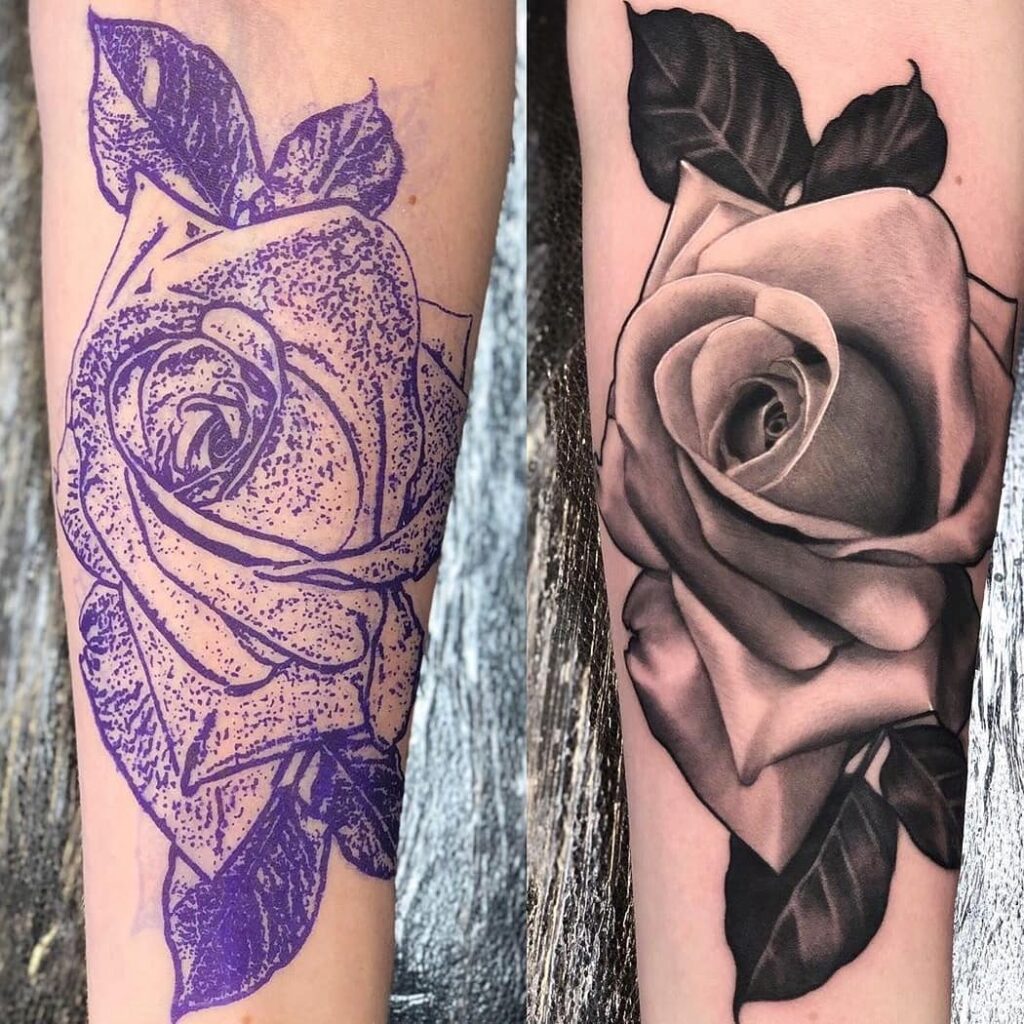 Looking for beautiful flower tattoos stencil? Then how about this realistic rose tattoo? Roses are traditionally all about love! But they have a hidden meaning – sworn secrecy! A rose has been used in meetings to promise no secrets will be shared. Ain't nothing secretive about tattoo stencil how to, as we explained everything above! From ink splotches to beauty, blossom with this tattoo!
Lifelike Dog Stencil for Tattoo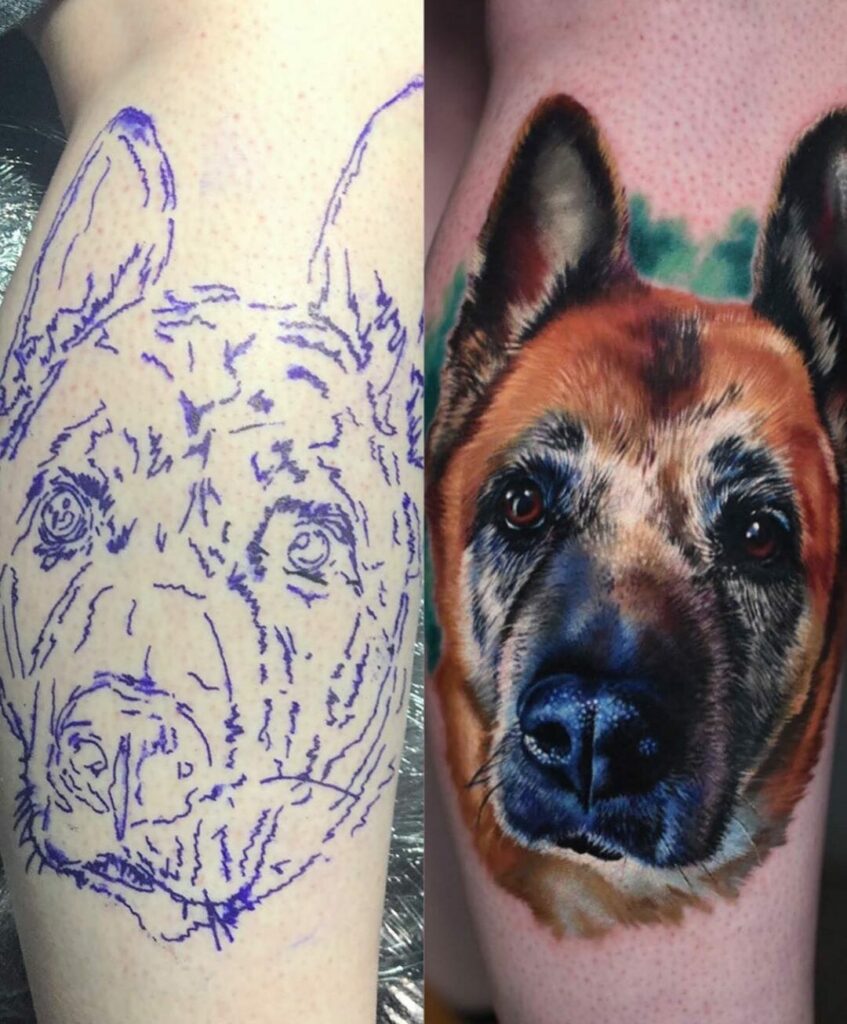 If you have a pet you adore that much, we suggest tattooing him or her to keep the memories forever! If you're new to the tattoo world, before a stunning finished product like this one, there is a not so good looking stencil phase! Think of it as doing just the rough outlines before a masterpiece of a design is born!
Mandala Crab Art
Sometimes covering up an ugly site where once was a tattoo is the smartest choice! To ensure every tattoo art is brought to life, it is necessary for a transfer and pigment paper to be used. In this example you can see the beginning stages of the process! Can you guess what the final design will look like?
Dove and Watch Stencil Tattoo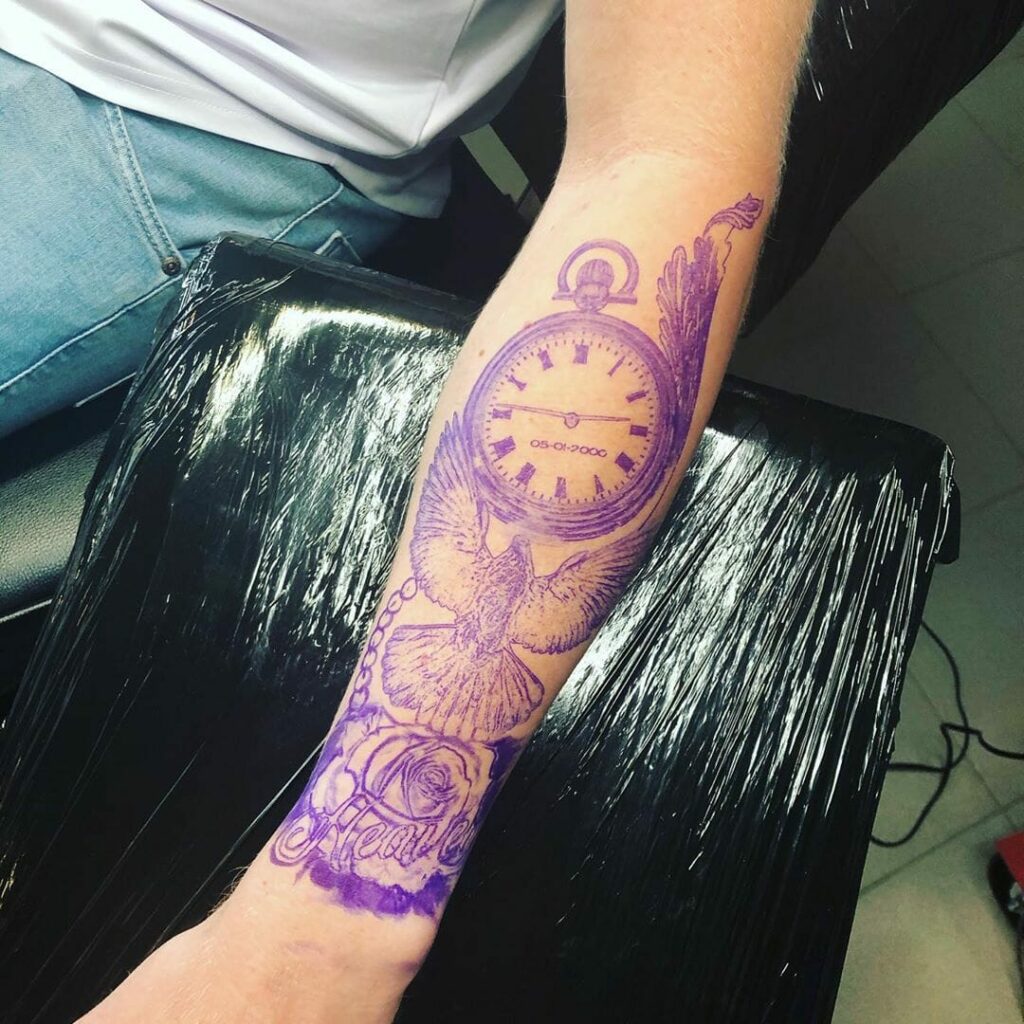 If you have several items or symbolic ideas you wish to tattoo, we say combine them all in a single design! Such detailed artwork uses a lot of the artist's time, but the final result is worth it! If you're interested in how to stencil a tattoo, you're reading the right site! Doves in general are a symbol of peace, while a represents a significant moment in your life. Consider getting this idea tattooed to commemorate a lovely event such as a wedding!
Awesome Train Tattoo Stencil Transfer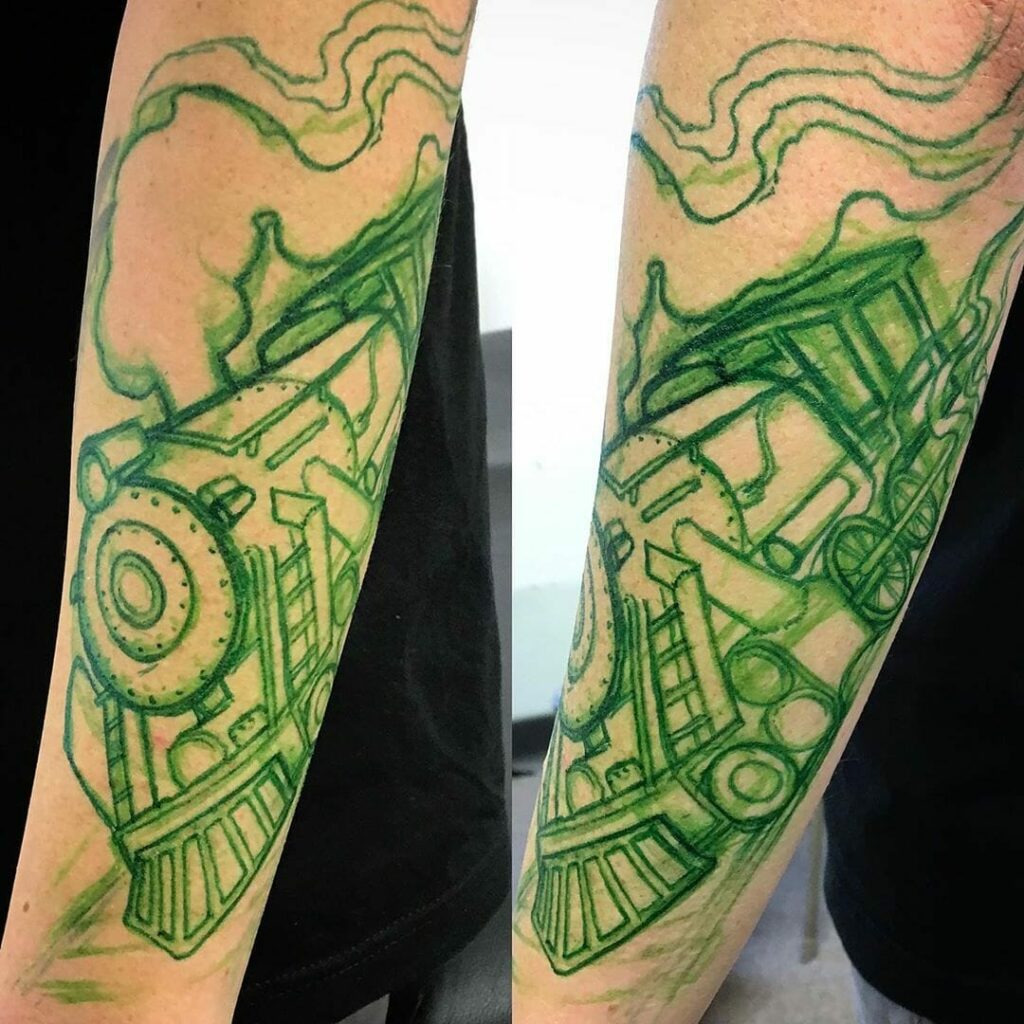 Even a work in progress can look amazing when it comes to tattoos! Take a look at this old-school steam operated train design! While indigo blue ink is the most common color when you need to make a tattoo stencil, it's not the only one! We can't wait to see how this tattoo design will turn out!
How To Make Stencils For Tattoos Floral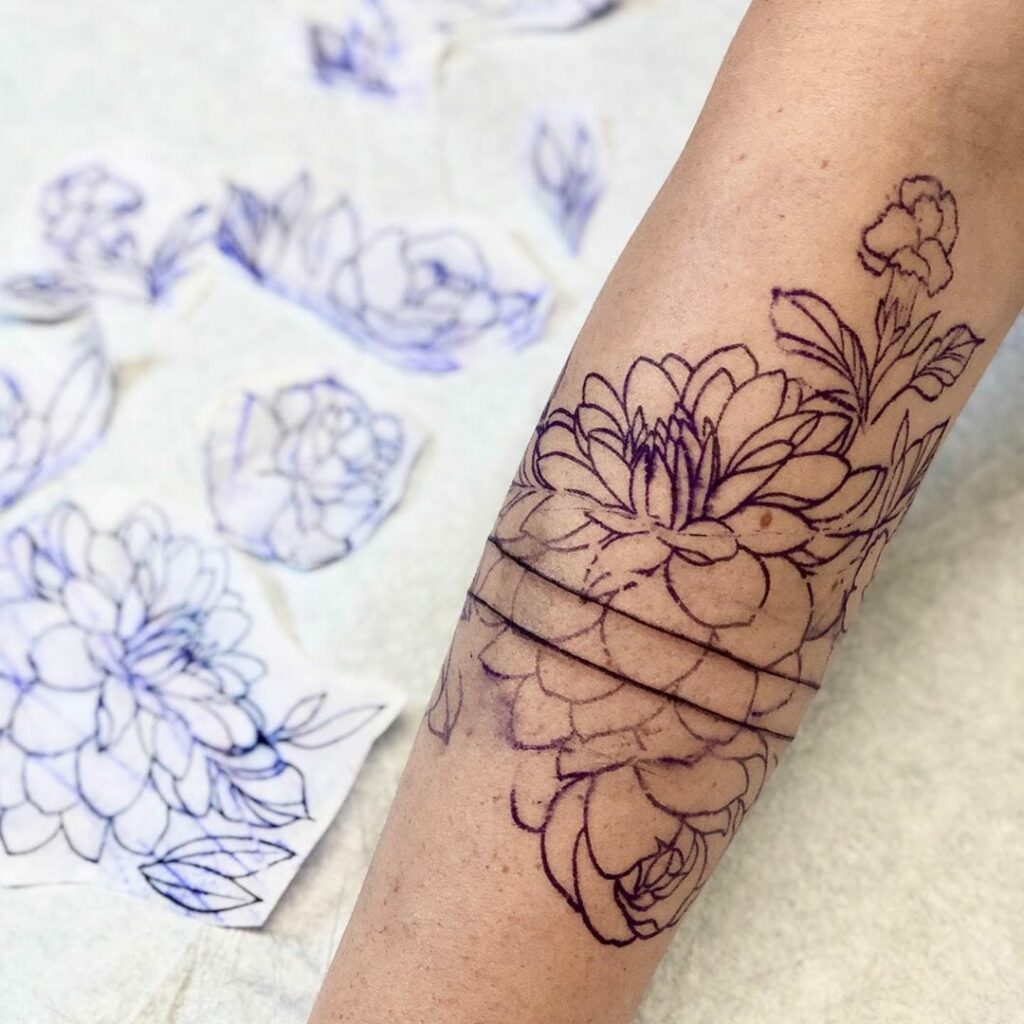 Tattoo artists don't just go for it when you take a seat in their shop! There are steps before the stunning art appears on your delicate skin. An image is first drawn on a transfer paper, then copied onto a carbon-like paper rich in pigment. That sheet is pressed onto your softened skin area and left to dry. You can see all the pieces that went into this beautiful floral image in the example!
Tribal Flower Cover Up
For the final tattoo to be a true piece of art, the stencil itself has to be perfect! Always make sure to have all the information before committing to the final tattoo. How to stencil tattoo might not be a complicated step, but it is important! Even if you're doing a different tattoo cover up, find the best stencil for you! Maybe even try this beautiful tribal flower image shaded in dots!
Pirate Lizard Tattoo
Does a pirate captain lizard stealing a crate of grapes sound alright to you? Apparently so! When it comes to tattoos, imagination has no boundaries! Every tattoo begins as an idea in someone's head – either yours or the artist's. After that, the professional must create a stencil of the designs. Find a placement you prefer and begin the process. If you're out of inspiration, have a go at this crazy tattoo idea from the example!
Centipede Lady Stencil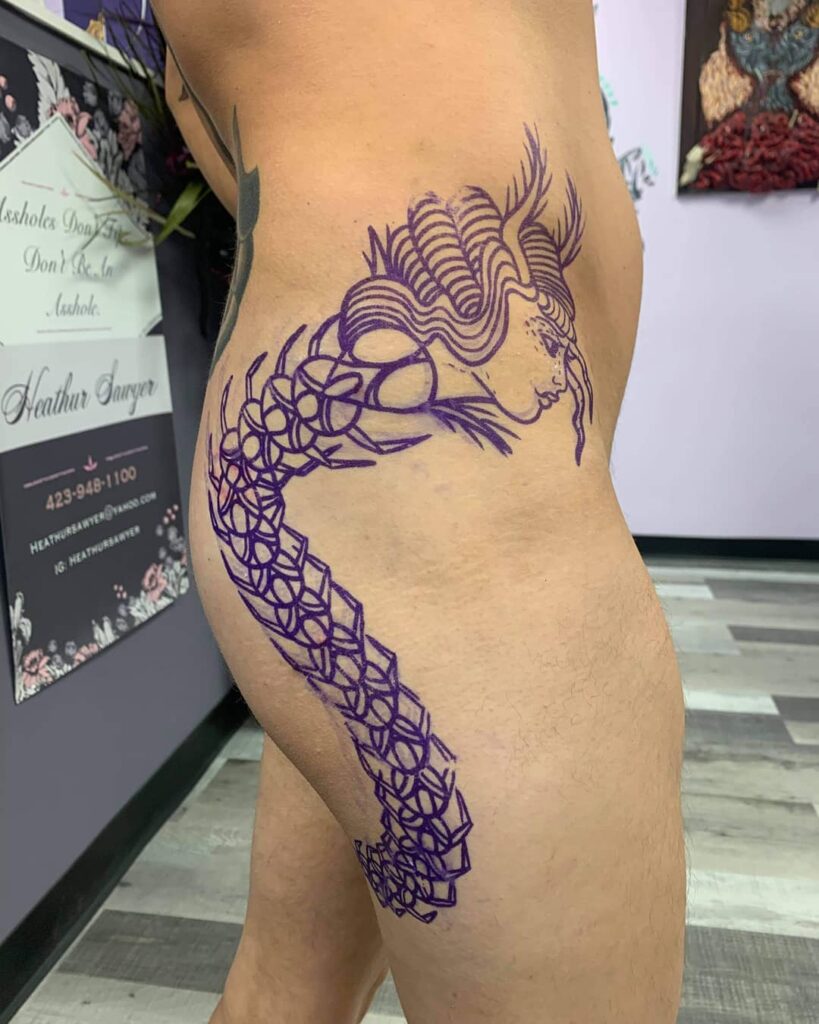 Only in the world of art can you find unsettling yet amazing designs like this one! This just proves that tattoos are art, and no one can deny that! Looking for unique stencil ideas? Well, we think you definitely found it! Female centipedes are simply a part of nature. A centipede with a female human head is a part of our nightmares! Just be a hundred percent certain this is what you want before transferring the stencil!
English Knight Tattoo In Progress
Every epic tattoo has a beginning among stencils! And so does this one of a Medieval English knight! The Dark Ages were not a fun period to live in! As we would know, right? But those textbook images of brave knights in shiny armor sure look cool as a tattoo. Check out these humble beginnings of a knight tattoo to be! This is the image before all that chainmail has been added.
Mandala Flower On Leg
The Mandala Flower on the leg is a captivating tattoo choice that symbolizes unity and wholeness. Placed on the leg, it represents a journey—physical, emotional, or spiritual—that the wearer is either planning or has already undertaken. The intricate patterns within the mandala suggest a complex inner world, hinting at a deep self-awareness or spiritual richness. It's a piece of art that turns the body into a canvas for personal storytelling, while its visibility offers a striking, public declaration of the wearer's values or beliefs.
Man Fishing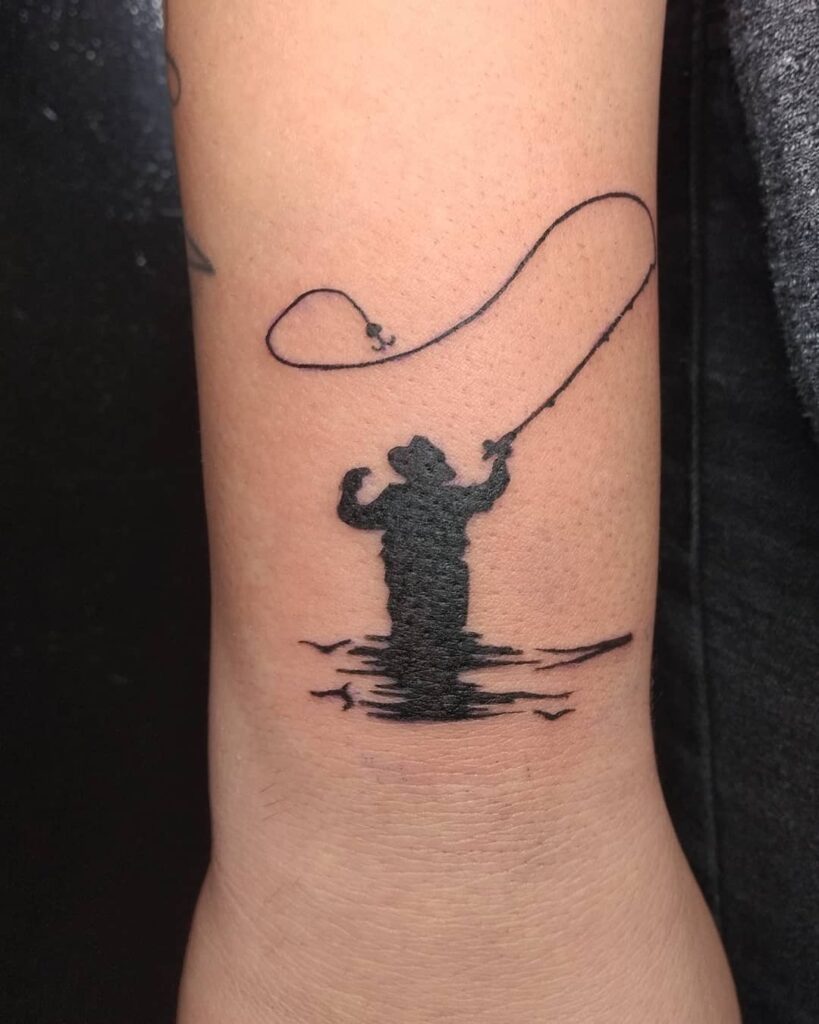 The Man Fishing tattoo is a tribute to the timeless nature of this leisurely pastime, embodying the quiet yet profound joys of solitude and communion with nature. Placed on the skin, this design resonates deeply with those who find peace, or perhaps even their own identity, while casting a line into the water. It encapsulates not just the act of fishing itself, but also the contemplative moments that come with it—a snapshot of simplicity and serenity.
Mandala Flower On Rib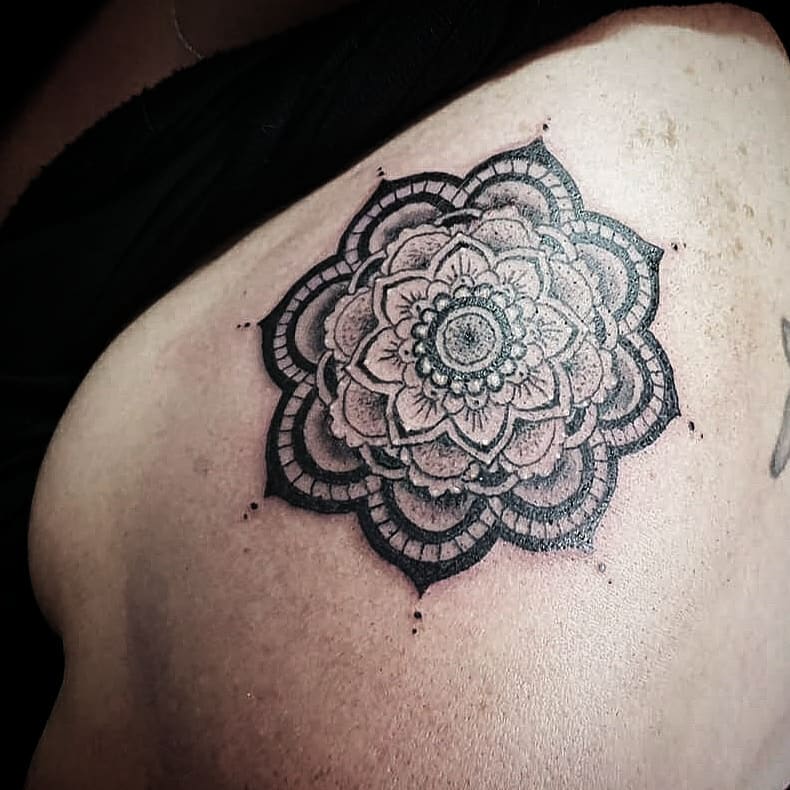 A Mandala Flower tattoo on the ribcage is a dramatic statement of both aesthetic beauty and personal philosophy. Because of the intimate location, this tattoo is often something deeply personal, only to be shared in select moments. The ribcage's close proximity to the heart and lungs—organs essential for life—can signify the central importance of the mandala's balancing and centering influence in the wearer's existence.
Mandala Design On Leg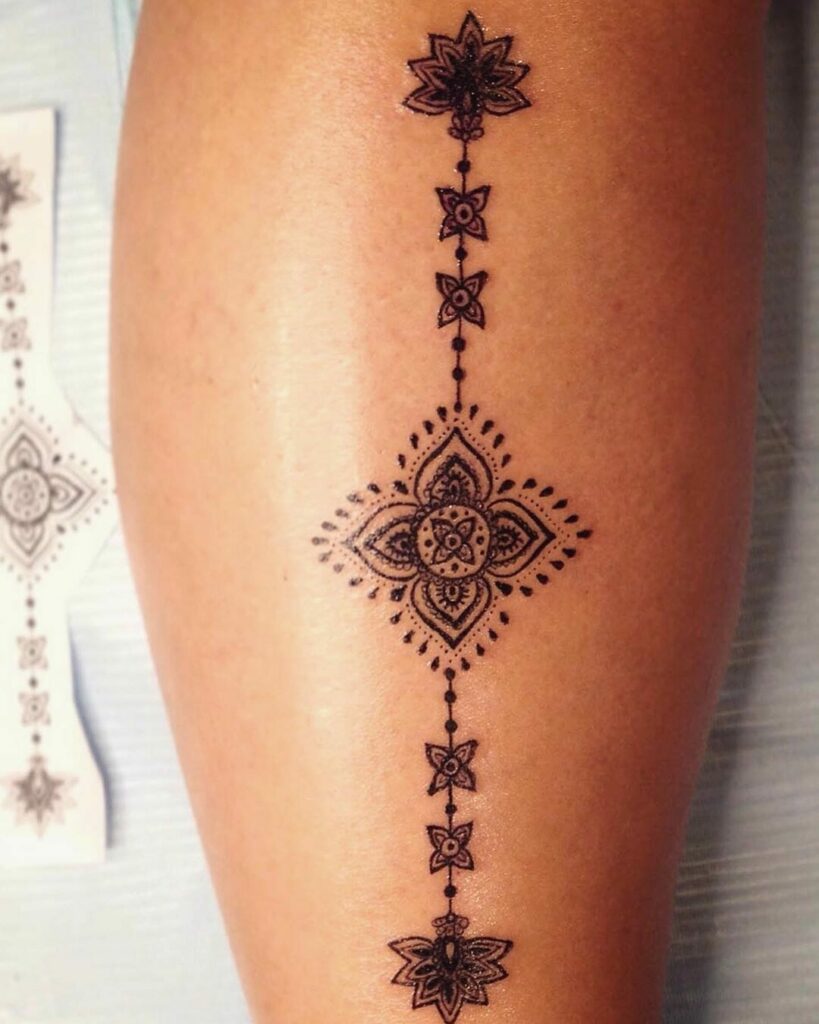 Similar to the Mandala Flower, a Mandala Design on the leg blends spiritual symbolism with artistic flair. The tattoo speaks volumes about the wearer's fascination with symmetry, complexity, and the endless cycles of life and death. The leg placement allows for a larger canvas, often leading to more intricate patterns that capture attention and inspire wonder.
All Might From My Hero Academia
This tattoo immortalizes All Might, the symbol of peace and justice from the popular anime series My Hero Academia. Positioned prominently on the body, this tattoo celebrates the virtues of heroism, leadership, and the ceaseless fight against evil. For fans of the series, it serves as both a badge of fandom and a constant reminder of All Might's unyielding positivity and strength.
Multicolored Paw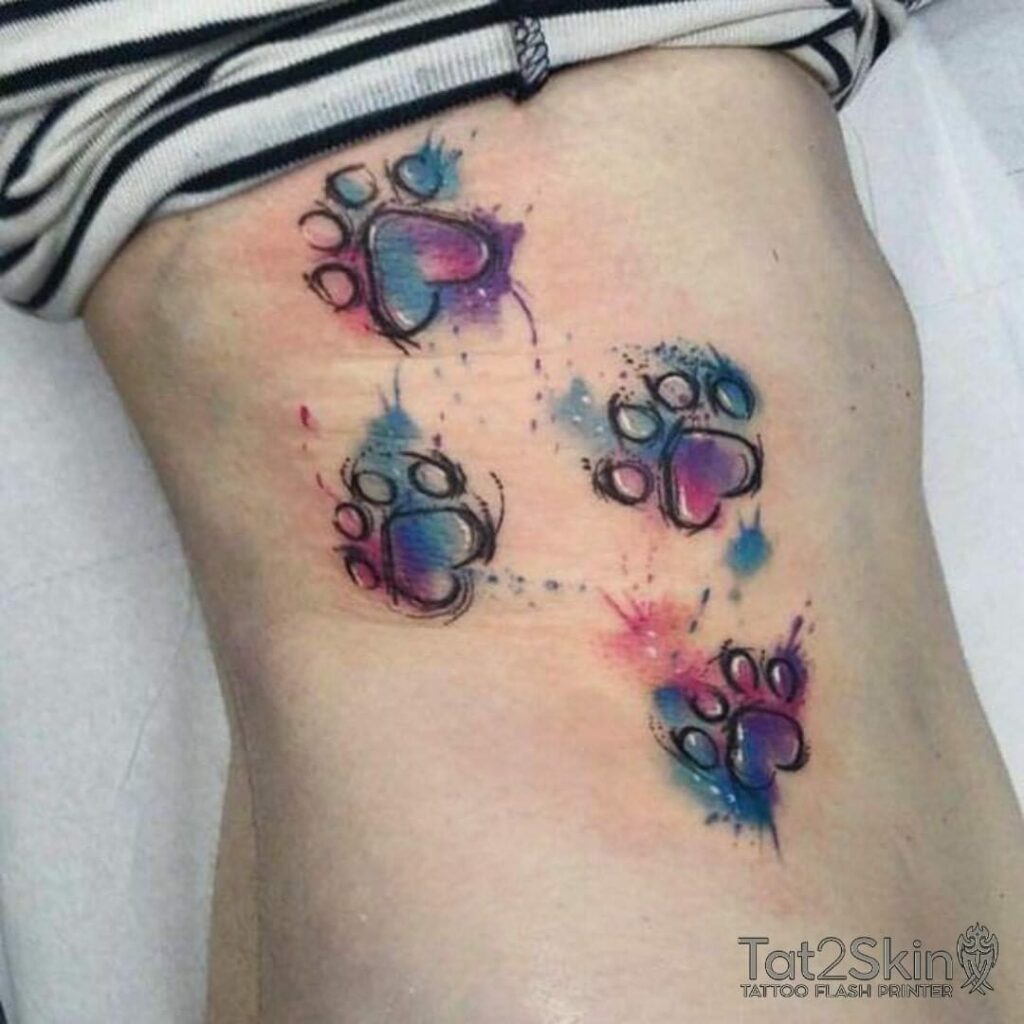 A Multicolored Paw tattoo is a playful and vibrant expression of one's love for animals, showcasing a burst of colors within the familiar outline of a paw print. It may indicate not just an affinity for pets but also an open, joyful approach to life. Each color could also represent a different facet of the wearer's personality, making it a multifaceted symbol that's deeply personal.
Light House On Arm
The Lighthouse on the arm serves as a beacon of hope, guidance, or inspiration. Positioned on the arm, it is easily visible and can serve as a frequent reminder to the wearer and those around them that no matter how stormy life gets, guidance is always within reach. The tattoo often appeals to those who see themselves as either a guiding light for others or someone who values the lights that guide them.
Flower Design
The Flower Design tattoo is a timeless choice that can embody a range of meanings from love and beauty to growth and transformation. Its simplicity allows it to be versatile—suitable for people of all ages and walks of life. Depending on its type, color, and placement, the flower can signify a myriad of personal experiences or aspirations.
Wizard On Arm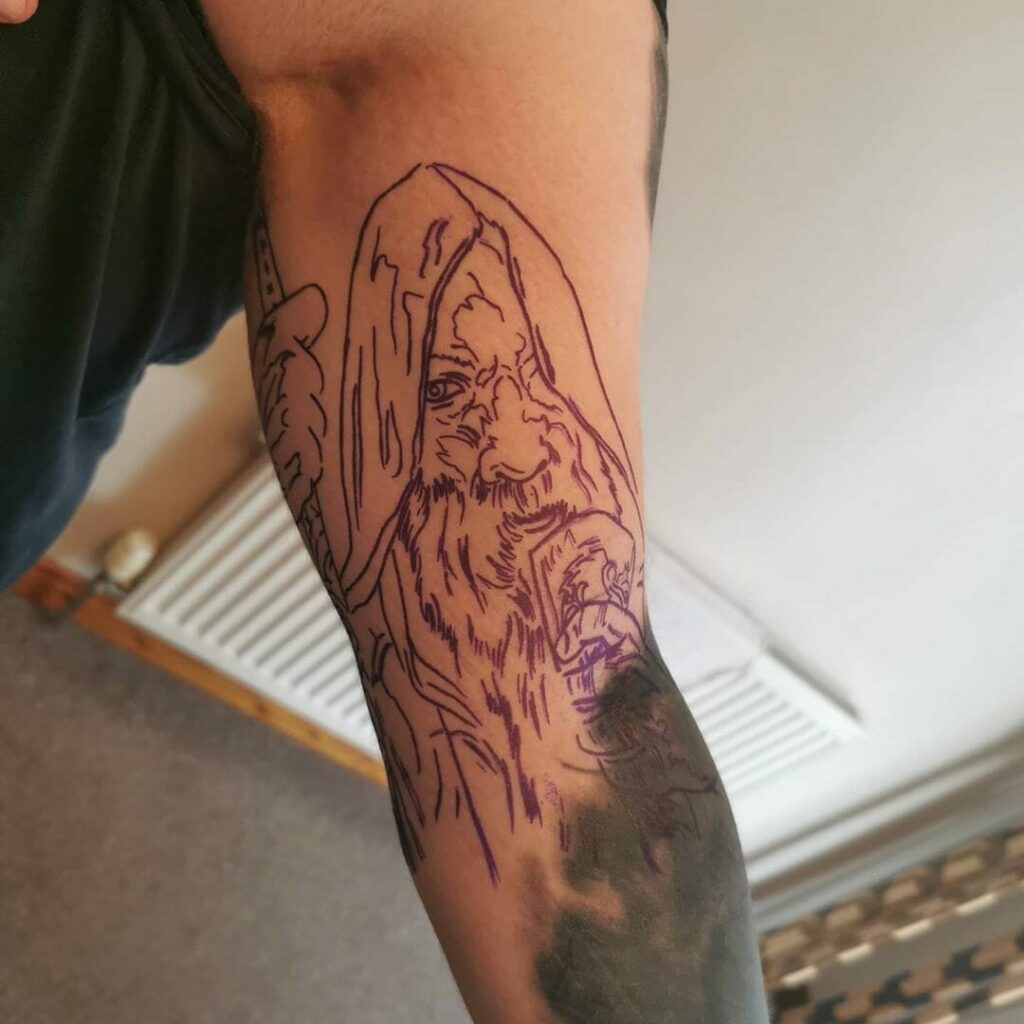 The Wizard tattoo on the arm signifies a fascination with the mystical and the arcane. Wizards are often seen as wise and powerful beings, and their representation on the arm may indicate the wearer's pursuit of knowledge, mastery, or spiritual enlightenment. It's a bold tattoo that conjures a sense of wonder and invites inquiry into the wearer's own mysterious depths.
Octopus On Leg
An Octopus tattoo on the leg is a striking choice that combines aesthetic appeal with rich symbolism. The octopus is renowned for its intelligence and adaptability, making this tattoo a fitting choice for someone who prides themselves on their resourcefulness and flexibility. The multiple limbs can signify complexity and the ability to navigate life's challenges from multiple angles.
Incredible Hulk On Chest
Sporting the Incredible Hulk on the chest is a powerful statement that embodies raw strength, resilience, and the complexities of human emotion. The chest placement amplifies the impact, turning the wearer's body into a canvas that shouts boldness and ferocity. This tattoo could be an external representation of the wearer's own struggle with their emotions or a homage to their inner strength.
Anchor On Arm
An Anchor tattoo on the arm is a classic design that speaks of stability, security, and strong foundations. It's often favored by those who have a solid support system or who aim to provide that support to others. The arm placement makes it readily visible, allowing it to serve as a constant reminder to stay grounded and true to one's principles.
Mandala Design All Back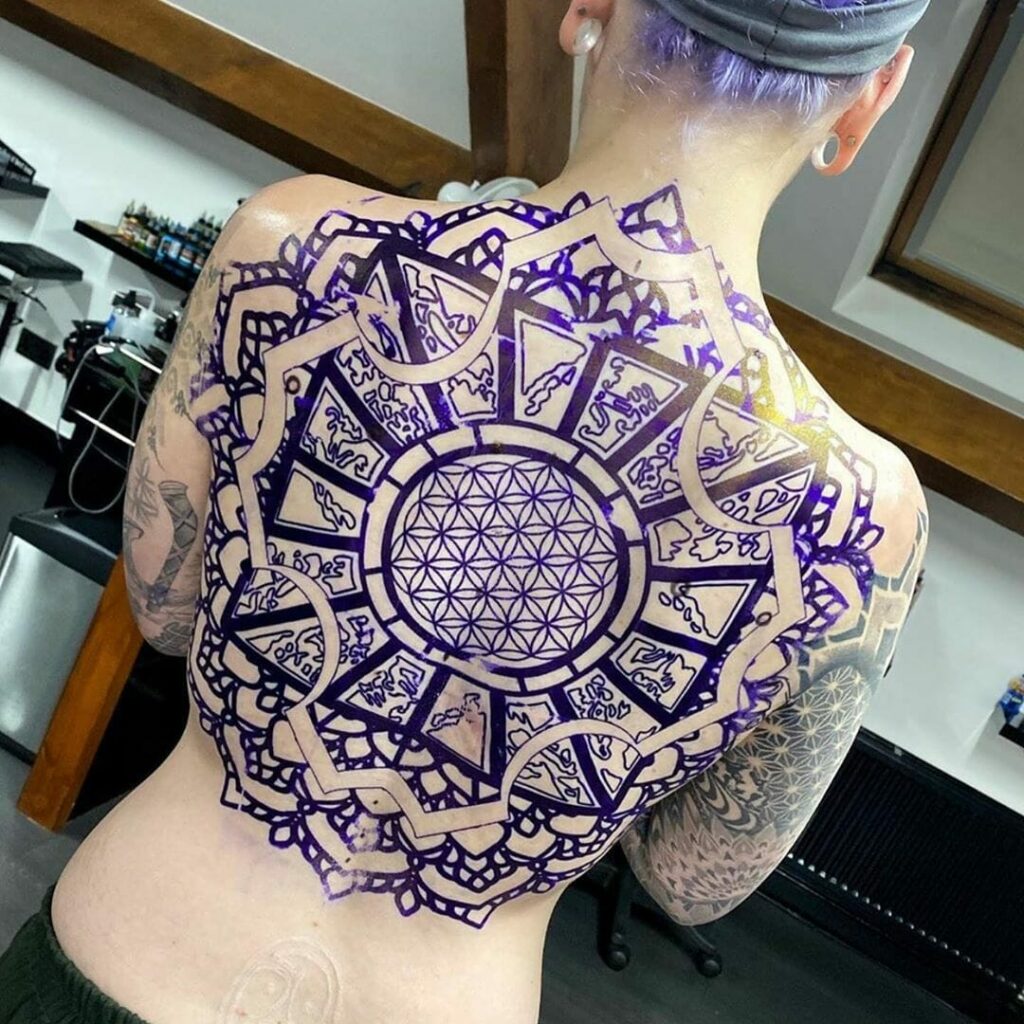 A Mandala Design covering the entire back is a daring and dramatic choice. The vast canvas allows for a highly intricate pattern that can represent the universe, the self, or the intricate connections between the two. This tattoo can often take multiple sessions to complete, symbolizing a long-term commitment to the journey of self-discovery or spiritual growth.
Dove On Arm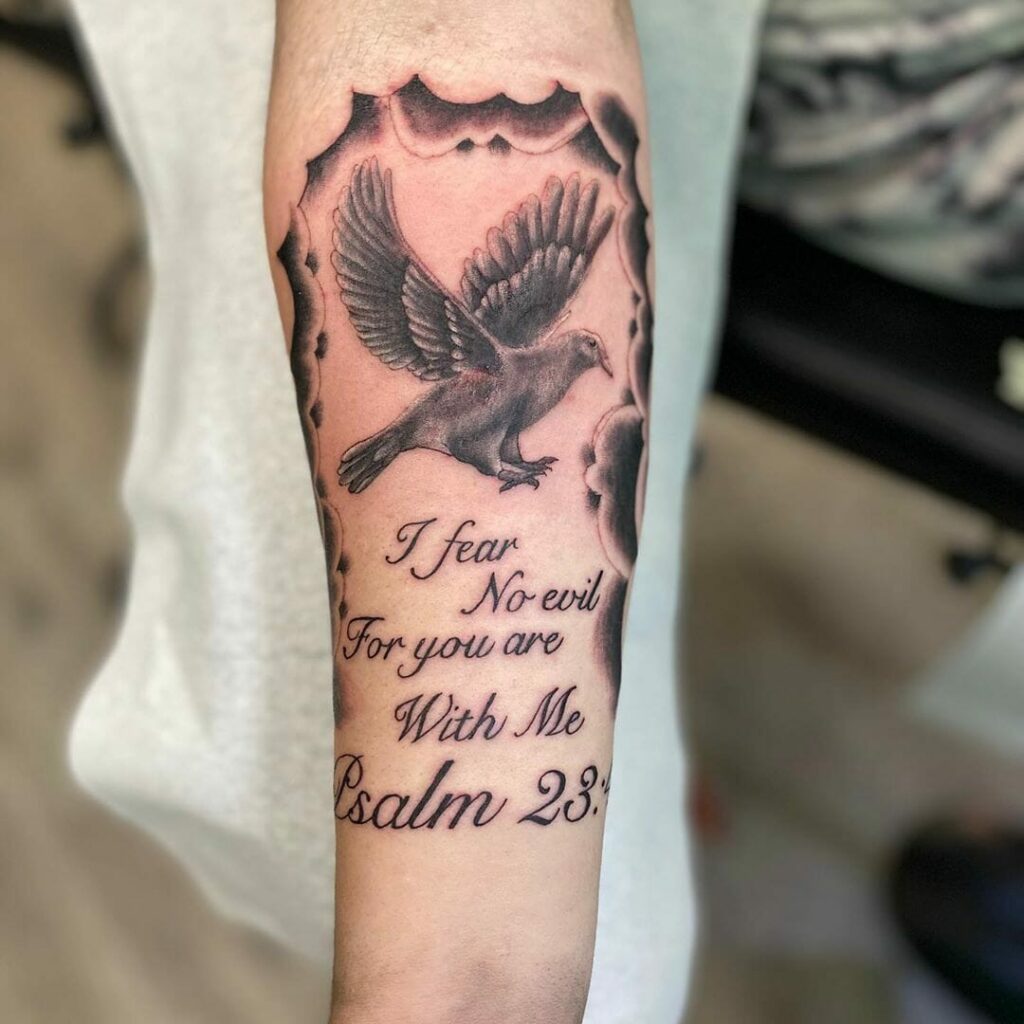 A Dove tattoo on the arm is a universal symbol of peace, love, and freedom. The arm placement allows the wearer to keep these values close, serving as a constant reminder of what is most important in life. For some, the dove may also symbolize a specific moment or person that brought peace and happiness into their life, making it a deeply personal choice.
'Nothing Last Forever' Words On Foot
The phrase 'Nothing Lasts Forever' tattooed on the foot serves as a poignant reminder of life's impermanence. Situated on a part of the body that's constantly in motion, it underscores the fluid, ever-changing nature of circumstances, relationships, and feelings. It resonates with those who embrace the fleeting beauty of the present moment, and also suggests a certain resilience, acknowledging that bad times too shall pass.
Girl With Bandana
A tattoo of a Girl With a Bandana is both enigmatic and evocative, often implying a sense of rebellion or unconventional beauty. The bandana can signify defiance, freedom, or cultural ties, depending on the wearer's personal experiences. This design likely appeals to those who identify with strong, independent characters who are not afraid to buck social norms.
Ship On Arm
Featuring a Ship on the arm is a bold design often associated with adventure, exploration, and a free spirit. The arm placement makes it a focal point that catches the eye and sparks conversations about journeys—either literal travels across oceans or metaphorical voyages through life's challenges.
Woman And Tiger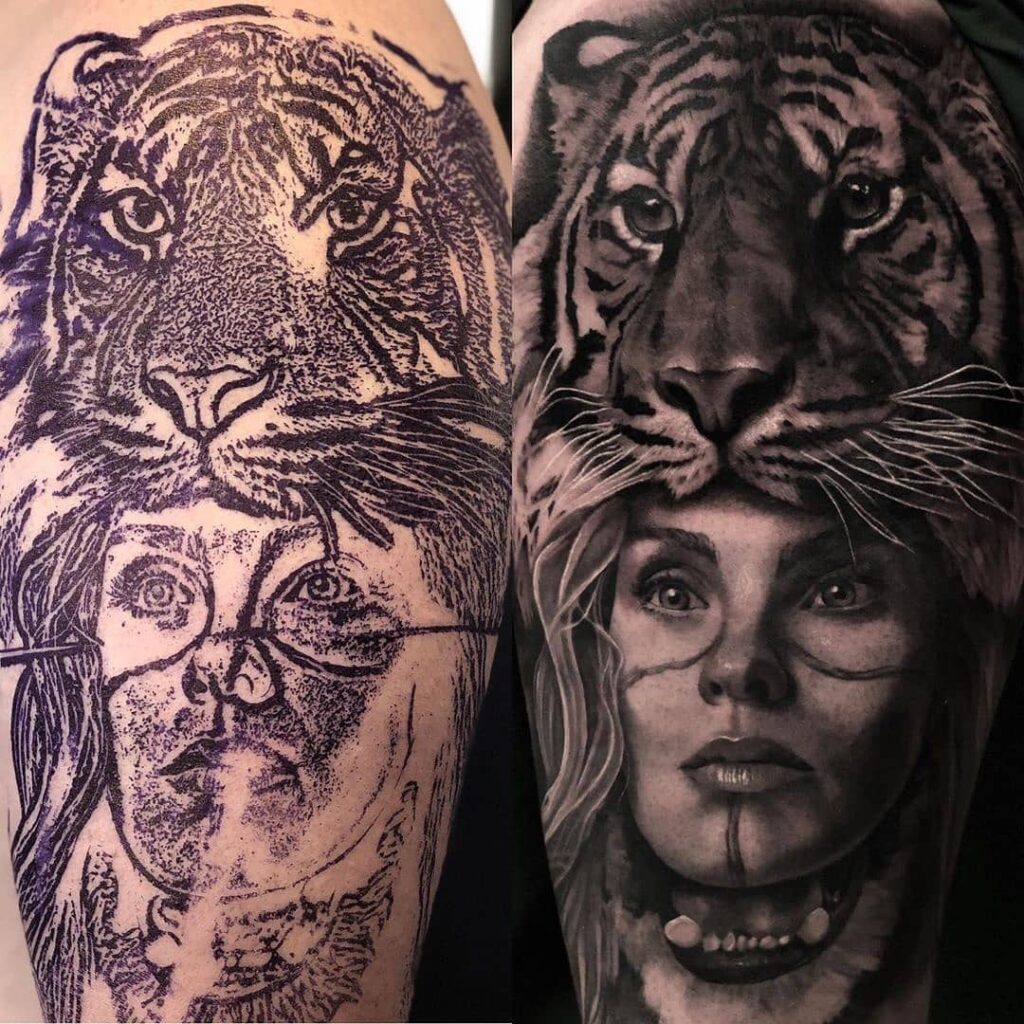 The combination of a Woman and a Tiger in a tattoo represents a powerful fusion of femininity and wild strength. The tattoo encapsulates the dual forces of beauty and ferocity, making it a compelling choice for those who feel a deep sense of empowerment or a connection to their primal instincts.
Woman And Glass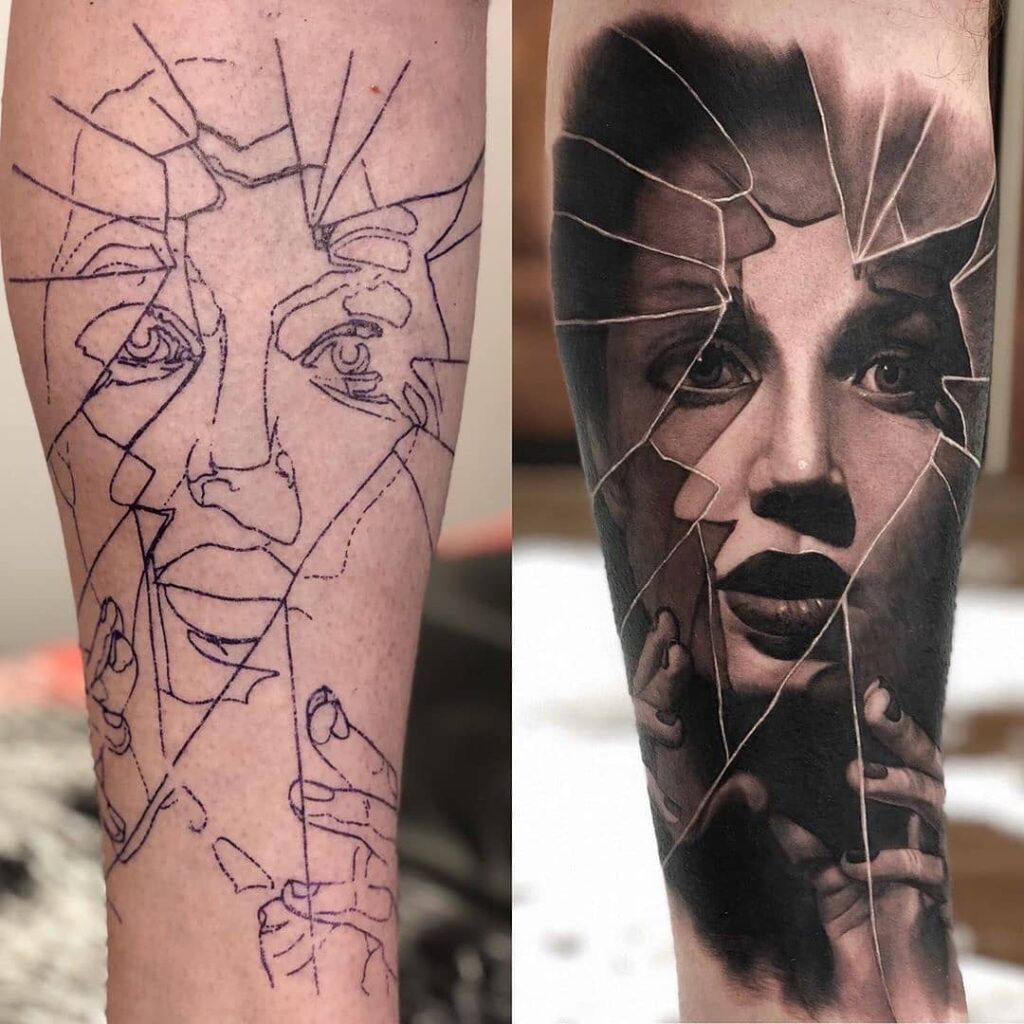 A tattoo of a Woman and Glass evokes themes of reflection, transparency, or perhaps even vulnerability. This intriguing design might symbolize the multi-faceted nature of identity or the complexities of seeing oneself clearly. It captivates onlookers, inviting them to delve deeper into its potential meanings.
White Rose On The Back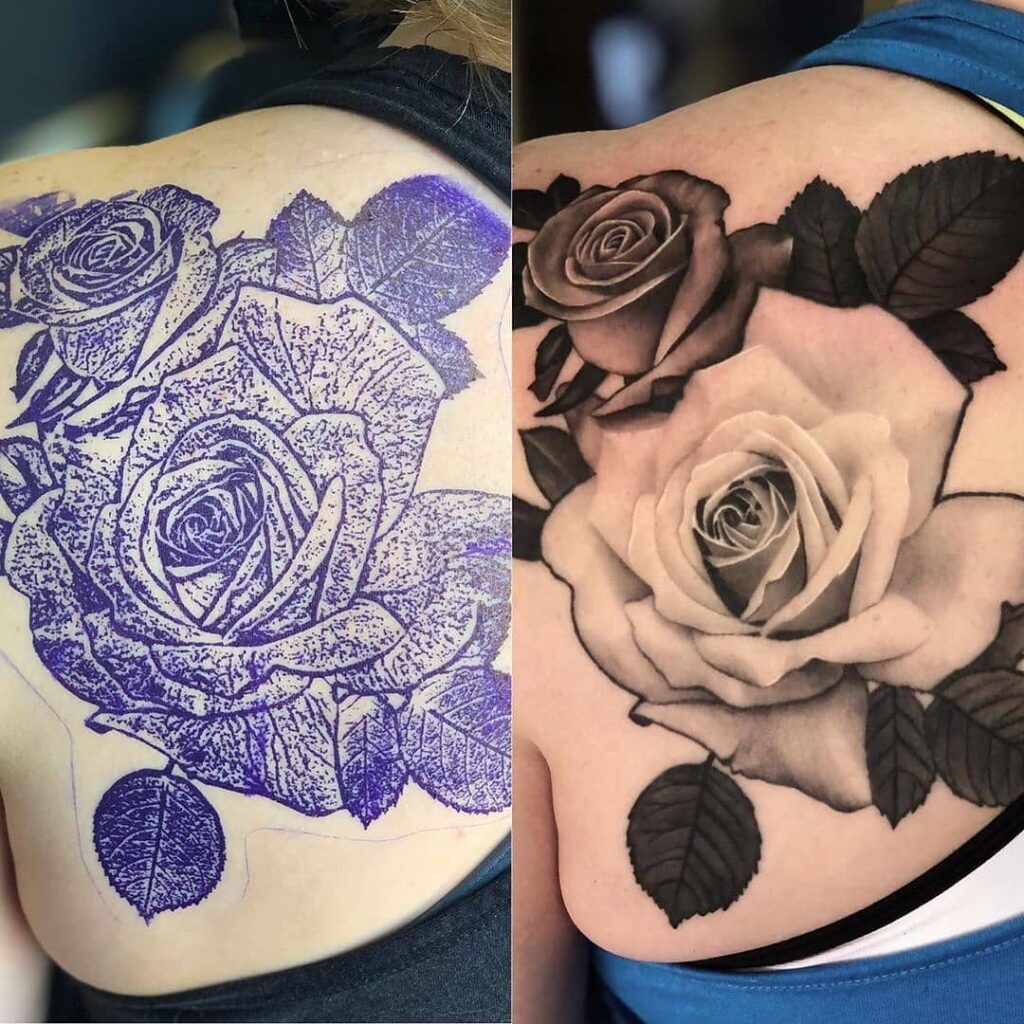 A White Rose tattooed on the back is an elegant expression of purity, innocence, and new beginnings. Positioned on the back, it adds an element of surprise and intimacy, only fully revealed when the wearer chooses to show it. Its delicate, monochrome palette often stands in contrast to more colorful designs, adding a touch of grace.
Money Design
A Money Design tattoo often speaks to ambition, the pursuit of wealth, or the importance of financial independence. Whether it's currency symbols, a stack of bills, or coins, this tattoo is eye-catching and provocative, triggering discussions about materialism, success, or the role of money in our lives.
Human Portrait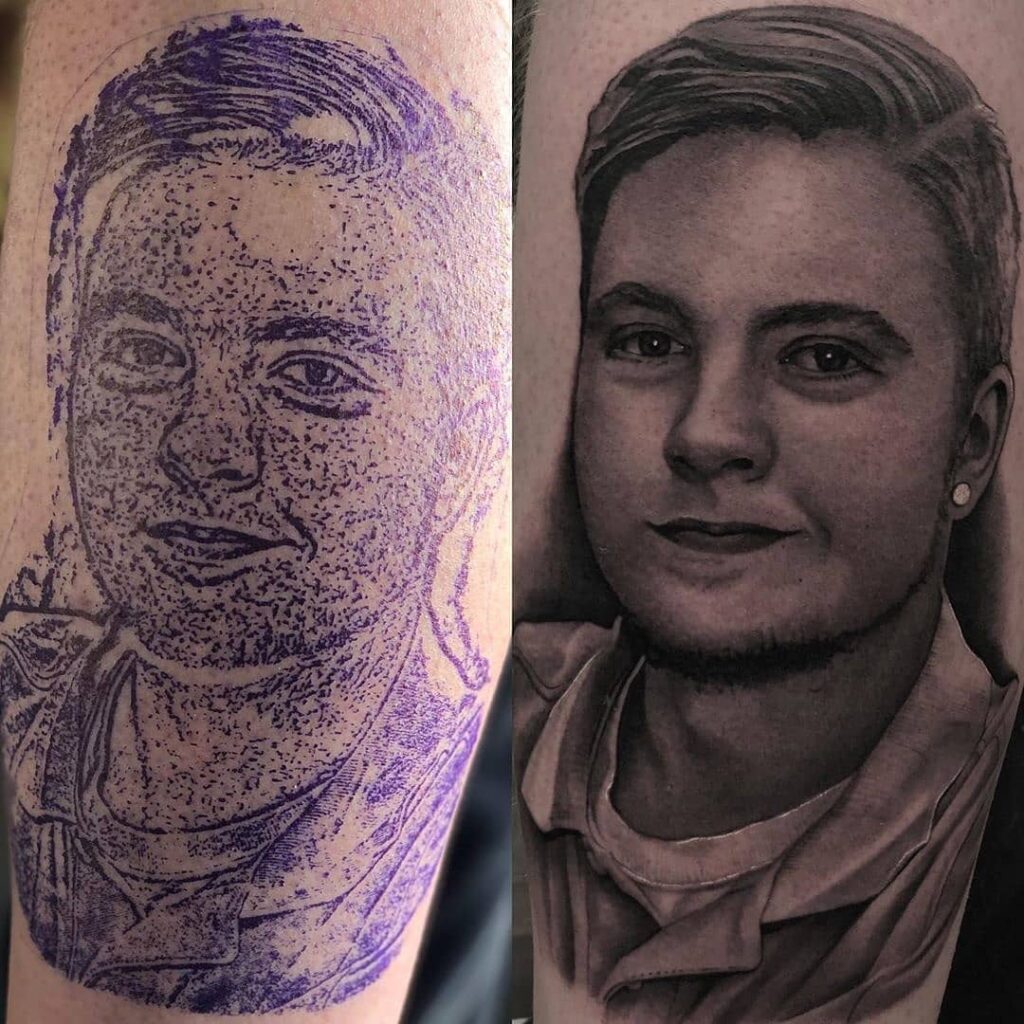 A Human Portrait tattoo is one of the most personal and challenging designs to execute. Whether it's the likeness of a loved one, a historical figure, or even oneself, this tattoo serves as a lasting tribute or a constant reminder of deep emotional bonds or personal ideals.
Alien Desing On Shoulder
Featuring an Alien Design on the shoulder brings an element of whimsy, fascination with the unknown, or a love for sci-fi into the mix. This offbeat design signals an open mind, and perhaps a desire to question the conventional wisdom about life and what lies beyond our planet.
Tiger On Thigh
A Tiger tattoo on the thigh captures attention with its raw energy and sensuality. The thigh's ample space allows for a detailed portrayal of this majestic beast, symbolizing power, passion, and a fierce independence. It's a design that roars without making a sound.
Lion And Cub On Leg
The touching scene of a Lion and Cub tattooed on the leg is a powerful emblem of familial bonds, strength, and legacy. This tattoo resonates deeply with those who see themselves as protectors or mentors, providing a symbol of both nurturing love and guiding strength.
Dagger And Blue Rose
The fusion of a Dagger and a Blue Rose in a tattoo encapsulates a range of contrasting themes—danger and beauty, love and betrayal, or pain and healing. This complex design is often chosen by those who appreciate the duality of life's experiences and are not afraid to confront them head-on.
Name On Wrist
Tattooing a Name on the wrist is a direct and intimate way to honor or remember someone significant. The wrist's visibility ensures frequent reminders of this individual, making it an emotionally charged design that speaks to strong connections or lasting influences.
Skull With Crown On Back
A Skull with a Crown tattooed on the back serves as a bold expression of sovereignty over one's life, juxtaposed with the stark reality of mortality. This striking design often appeals to those who confront life's challenges with courage and an unyielding sense of self.
Dotted Tiger On Arm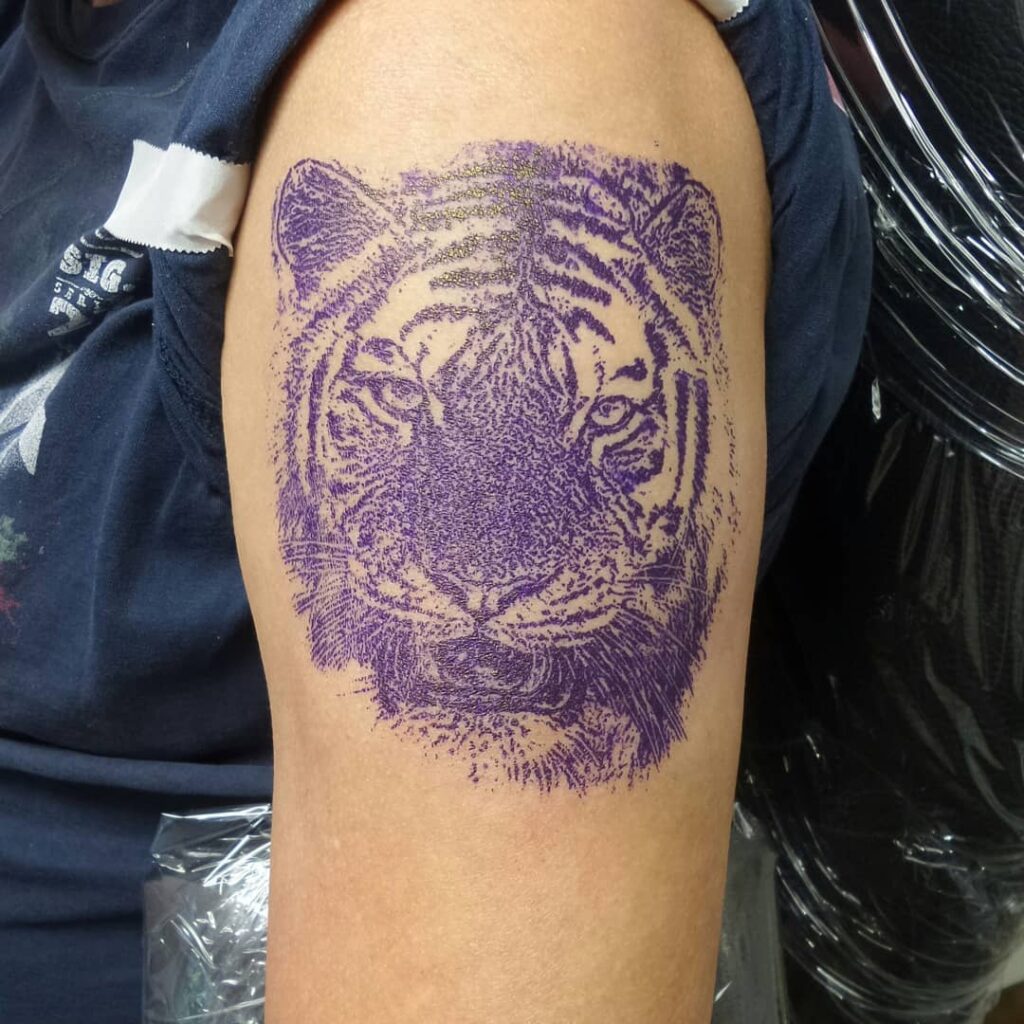 A Dotted Tiger on the arm brings a modern twist to the classic tiger tattoo, using pointillism or dotted techniques to create the illusion of texture and depth. The arm's prominence ensures the design is easily seen, making a strong statement about innovation while respecting tradition.
Warrion On Arm
A Warrior tattoo on the arm represents valor, courage, and resilience. Whether it depicts a historical figure or a symbolic warrior archetype, this tattoo serves as a talisman of strength, reminding the wearer of their own fighting spirit and the battles they've overcome.
Woman Sentepede On Hip
A Woman Centipede tattoo on the hip is a striking and unconventional choice that merges feminine allure with elements of the grotesque or the surreal. This design is likely to be deeply personal, reflecting complex feelings or experiences that defy simple categorization. It's a tattoo for those who embrace the enigmatic and the unexpected.
Compass On Arm
A Compass tattoo on the arm serves as a guiding symbol, pointing the way towards one's aspirations and ideals. Located on a prominent part of the body, it's a readily visible reminder to stay true to one's course in life. The arm's mobile nature also complements the tattoo's theme, underscoring the idea of movement and progress.
Geometric Arrow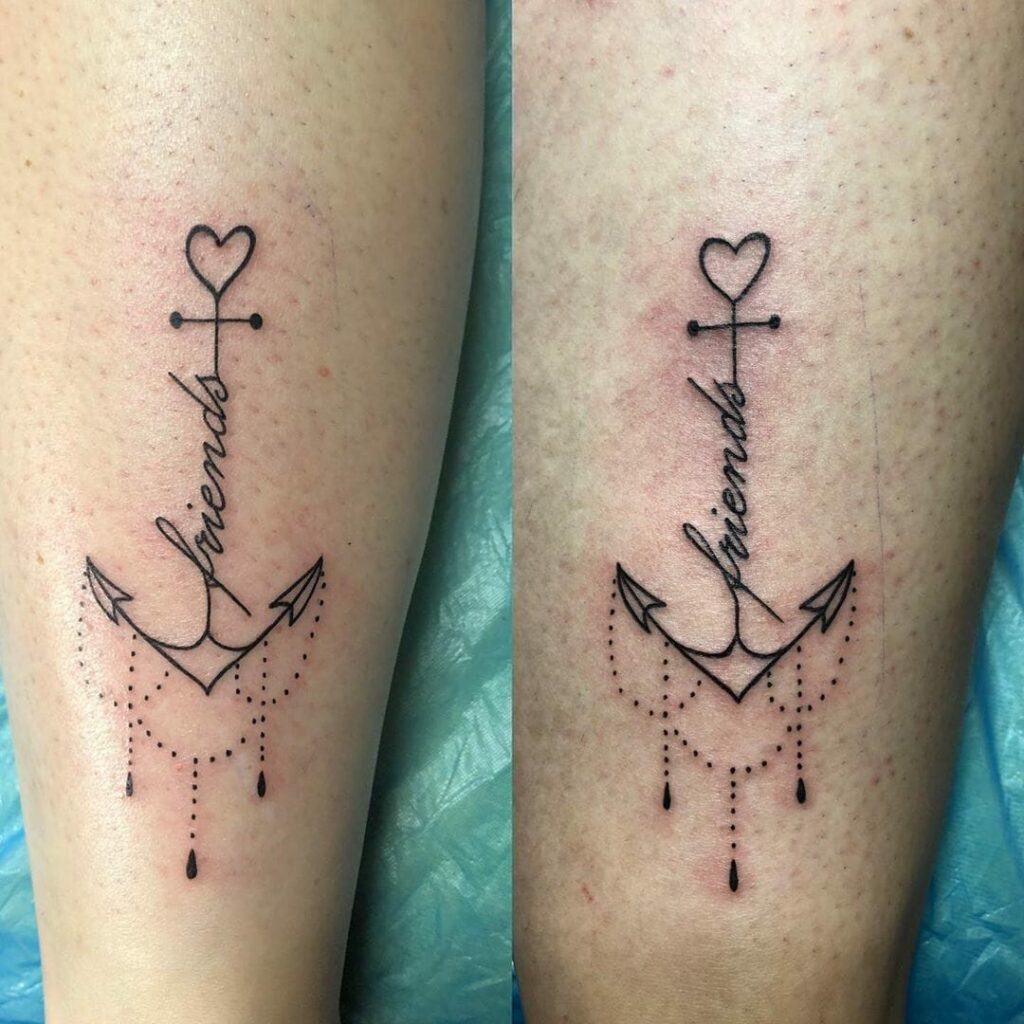 A tattoo featuring a Geometric Arrow blends traditional symbolism with contemporary design. Arrows often signify direction, force, or a path chosen, and when encapsulated in geometric patterns, they also invite contemplation on structure, balance, and symmetry. This tattoo may appeal to those who appreciate both the journey and the intricate details that comprise it.
Colorful Bird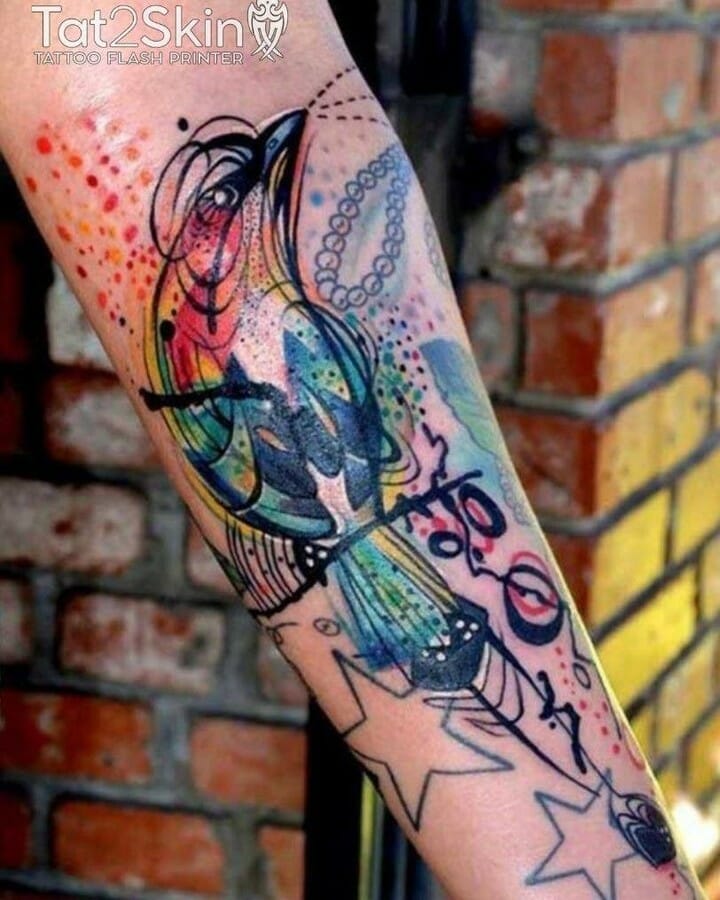 The Colorful Bird tattoo is an eye-catching celebration of freedom, vivacity, and individuality. The vibrant hues serve to magnify the innate beauty and unique features of the bird, adding an extra layer of meaning—whether it's a tribute to a particular species or a metaphor for the wearer's own colorful personality.
Name On Arm
Tattooing a Name on the arm is a bold declaration of personal significance, be it love, family, or friendship. The arm's visibility ensures that the name remains at the forefront, a constant reminder of the connection or inspiration it represents. This design is straightforward, yet emotionally potent.
Bottle Glass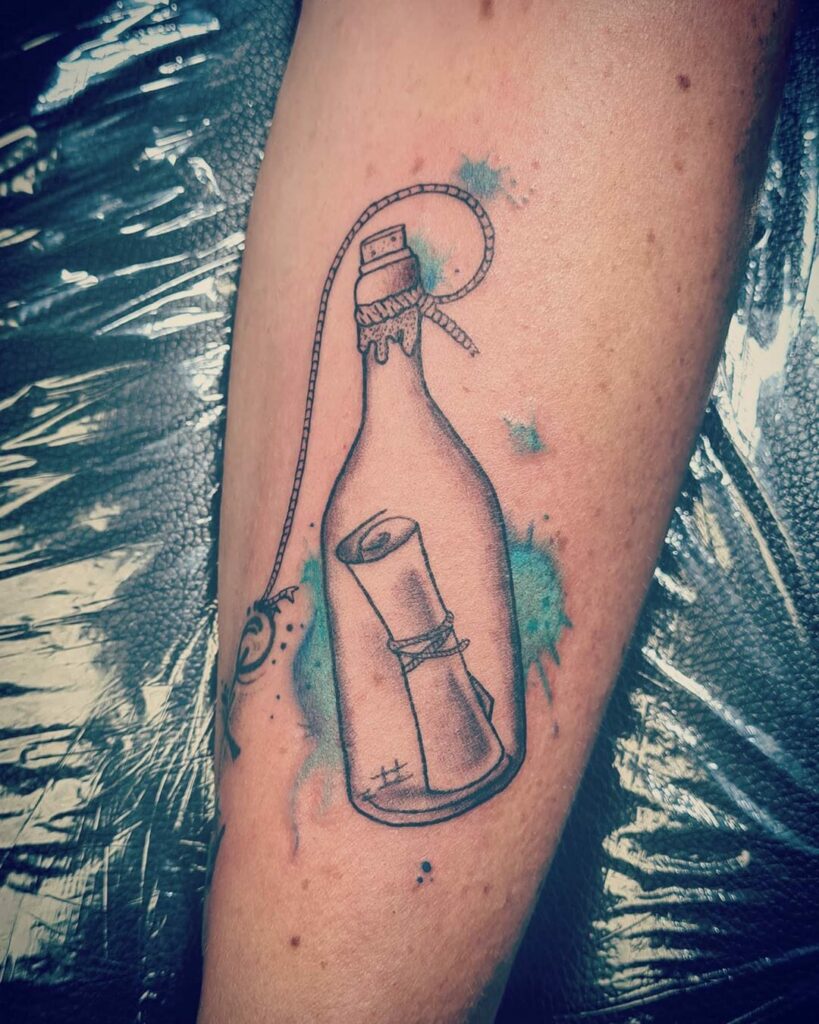 A Bottle Glass tattoo could signify a variety of things, from a love for vintage objects to the importance of celebration and togetherness. The design has a nostalgic aura, perhaps reminiscing about past gatherings or future celebrations. It may also evoke the proverbial "message in a bottle," a symbol of distant communication or unfulfilled wishes.
Chinese Letters
Tattooing Chinese Letters generally indicates a fascination or respect for Eastern philosophy or culture. Each character holds significant meaning, often encapsulating complex concepts in a single symbol. For those who understand their intricacies, these tattoos can serve as a condensed expression of personal philosophy or aspirations.
Cactus On Arm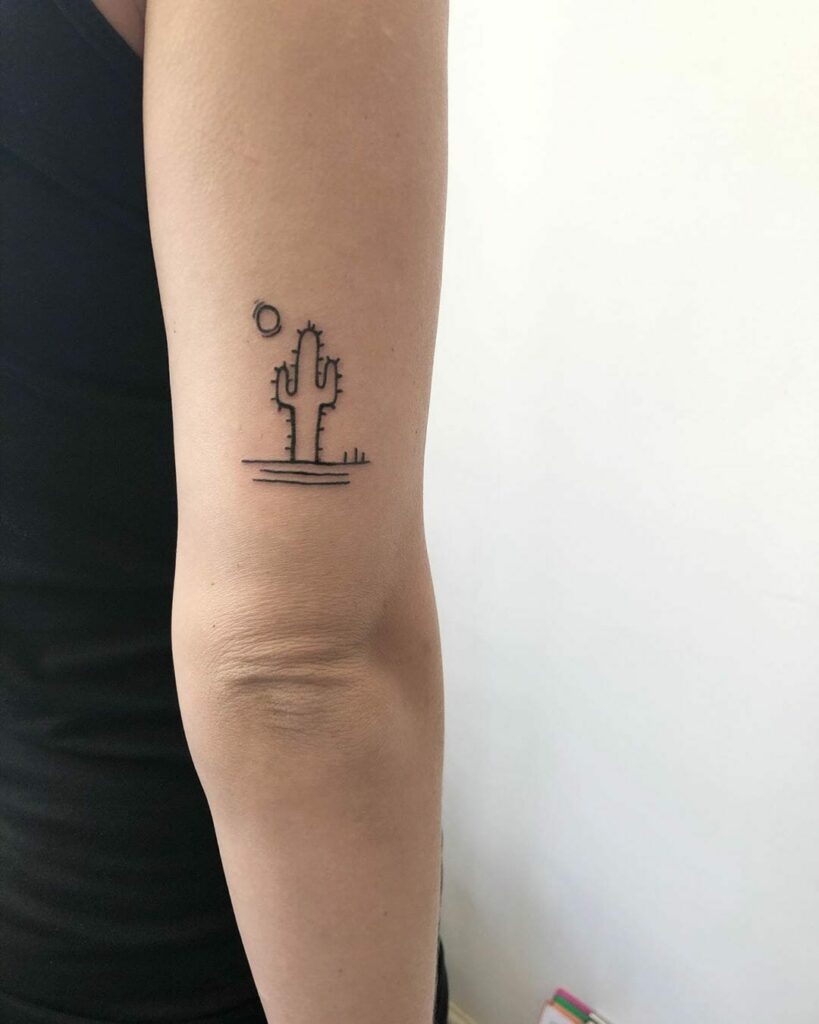 A Cactus tattoo on the arm evokes images of resilience and independence. It's a hardy plant that thrives in challenging conditions, symbolizing the wearer's ability to endure and flourish despite life's difficulties. Located on the arm, this tattoo makes a bold statement about toughness and tenacity.
Rose On Arm With Cross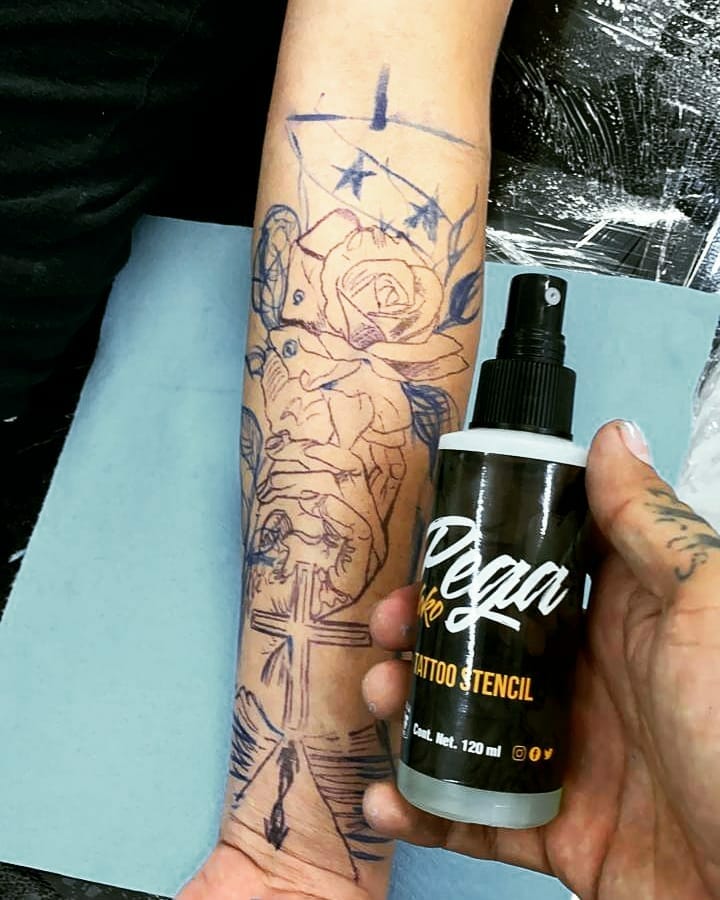 A Rose and Cross tattoo on the arm combines two powerful symbols. The rose often signifies love, beauty, or transformation, while the cross is a universal emblem of faith, sacrifice, and spiritual intersection. Together, they create a multifaceted design that can represent the sanctity of love, the beauty of faith, or the complexities of personal belief.
Bird On Arm
A Bird tattoo on the arm is generally a symbol of freedom, elevation, and spiritual transcendence. Placed on the arm, it captures the essence of flight and movement, suggesting that the wearer values their liberty and the ability to chart their own course through life.
Sun And Moon On The Back
A tattoo featuring the Sun and Moon on the back represents the dualities of life—day and night, male and female, strength and vulnerability. Located on the back, it remains a somewhat private design, allowing the wearer to choose when to reveal this intimate exploration of balance and harmony.
Michael Jackson Portrait
A portrait tattoo of Michael Jackson is a tribute to the King of Pop, encapsulating the admiration for his artistic genius and cultural impact. For fans, this design is both a homage to his work and a piece of wearable art that celebrates his enduring legacy.
Colorful Skull On Arm
A Colorful Skull tattoo on the arm infuses the classic symbol of mortality with vibrant hues, reflecting a celebration of life even in the face of death. This juxtaposition creates a compelling visual statement, suggesting a complex relationship with life's biggest questions.
Crab With Mandala Design
A Crab tattoo integrated with a Mandala design offers a unique blend of naturalistic and spiritual themes. The crab symbolizes adaptability and protection, while the mandala brings in elements of unity and wholeness. Together, they form a complex tapestry of meaning that speaks to a harmonious coexistence of diverse elements.
Deer Design
A Deer tattoo could symbolize grace, gentleness, or a deep connection with nature. Often depicted in a serene pose or natural setting, this design appeals to those who have a love for wildlife or who identify with the deer's qualities of peace and majesty.
Dog Portrait
A Dog Portrait tattoo is a heartfelt way to honor a beloved pet or signify the qualities commonly associated with dogs—loyalty, friendship, and unconditional love. The emotional depth of this design makes it a lasting tribute that keeps the bond alive in a tactile way.
Skull With Candle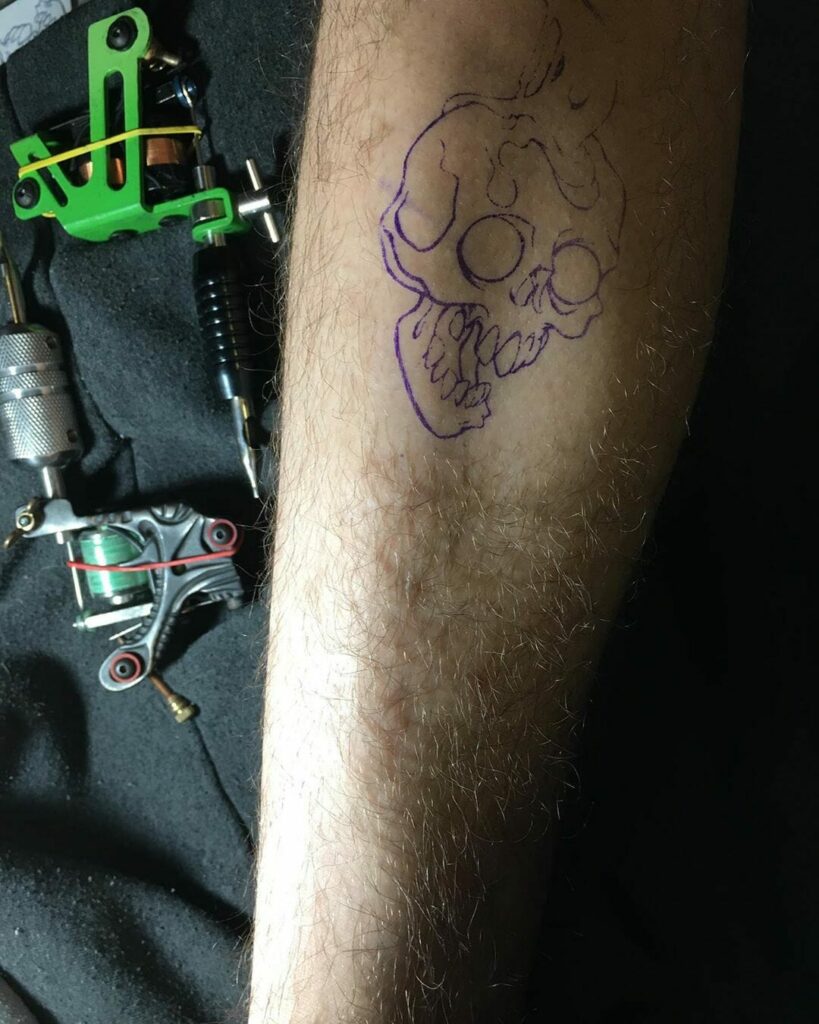 A tattoo featuring a Skull with a Candle juxtaposes the ideas of life and death in a single design. The candle's flame can signify hope, knowledge, or life itself, burning brightly against the skull's stark reminder of mortality. This duality makes for a thought-provoking design with layers of meaning.
Compass With Plane
Combining a Compass with a Plane in a tattoo captures the spirit of adventure and discovery. This design speaks to wanderlust, exploration, and the exciting intersections of journey and destination. It serves as a constant reminder for the wearer to embrace new experiences and never stop exploring.
Realistic Eye
A tattoo of a Realistic Eye is a captivating piece that often symbolizes perception, insight, or vigilance. The eye's lifelike appearance adds an element of intrigue, inviting viewers to ponder the depth of its gaze. It's a versatile design that can be deeply personal, whether it represents a watchful guardian, an open mind, or the quest for truth.
Portrait Of Two Dogs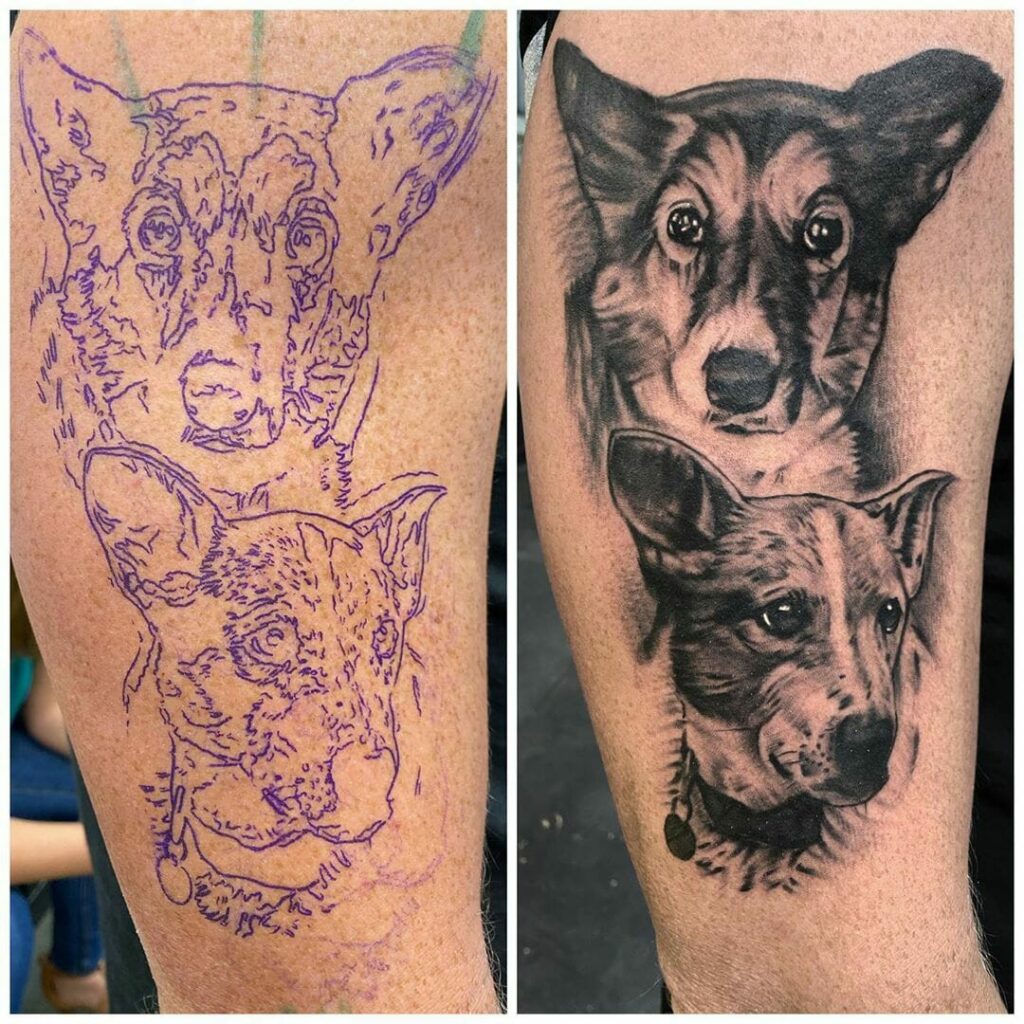 Featuring a Portrait of Two Dogs in a tattoo captures the unique bond between pets or symbolizes a dual-natured relationship. This design serves as a lasting keepsake for pet owners who want to immortalize their four-legged companions. It's more than just a visual representation; it's a heartfelt tribute to friendship and loyalty.
Sexy Girl
A tattoo of a Sexy Girl often portrays ideals of femininity, allure, and empowerment. Whether she's an iconic figure or a fictional character, this design reflects a celebration of beauty and individuality. It can also imply a sense of liberation, expressing the wearer's own definitions of attractiveness and confidence.
Funny Dog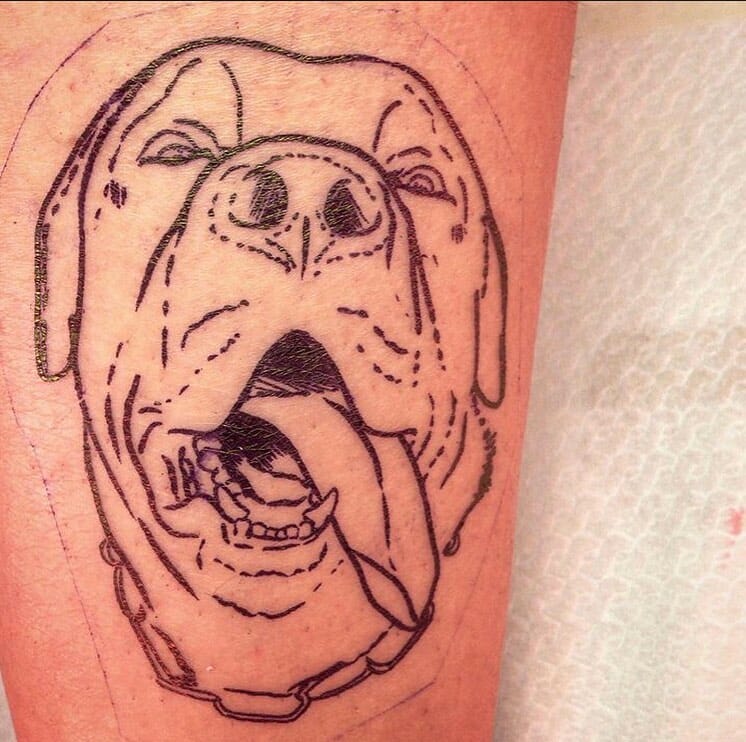 A Funny Dog tattoo brings a smile to the face and lightens the mood, serving as a constant source of amusement and joy. Whether the dog is caught in a goofy pose or doing something comical, this tattoo resonates with those who appreciate humor and the lighter side of life. It's a choice that celebrates the happiness pets bring into our lives.
Cute Dog
A Cute Dog tattoo is an endearing choice that encapsulates the sweetness and innocence of man's best friend. This design usually features a dog in an adorable pose, capturing its charm in a permanent form. For those who want a daily dose of cuteness or a reminder of a cherished pet, this tattoo is an ideal pick.
Half Angel And Half Demon Holding A Scale
A tattoo featuring a Half Angel and Half Demon holding a scale is a complex design full of symbolic depth. It represents the eternal struggle between good and evil, balanced by the scale which could signify justice, karma, or personal choices. This tattoo is often chosen by those who appreciate the complexities of morality and the human condition.
Realistic Girl Face
A tattoo of a Realistic Girl Face can be a striking and emotional piece. Whether the face represents someone specific or is an idealized form, the realistic details add layers of complexity. This design serves as an enduring tribute or a representation of feminine ideals, capturing the subtleties of human emotion and beauty in a permanent form.
Tiger On Chest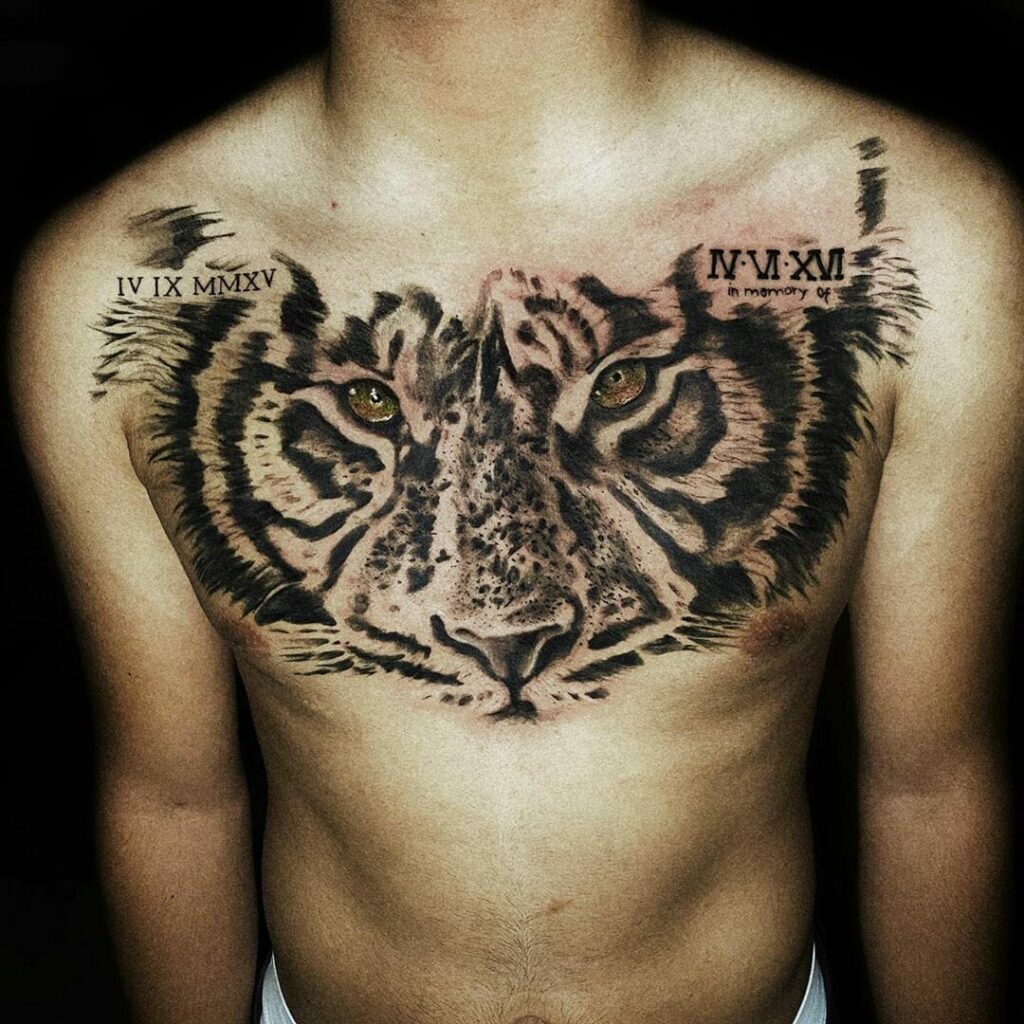 A Tiger tattoo on the chest is a bold, dominating choice that often signifies power, bravery, and primal instincts. The chest's ample space allows for intricate details, capturing the tiger's ferociousness in lifelike accuracy. This tattoo can serve as a protective emblem or a reflection of one's own untamed spirit, making it a compelling design that commands attention.
What Is The Meaning Of A Tattoo Stencil?
A tattoo stencil is like the blueprint for your future ink. It's a pre-drawn design that guides the tattoo artist during the actual tattooing process. Think of it as the "rough draft" that ensures the design ends up exactly where and how you want it. Made from special paper or plastic, it's applied to your skin using a transfer solution. This leaves a temporary outline that your artist traces over, making sure your tattoo turns out just perfect. It's the first step to ensuring you and your tattoo artist are on the same page—literally!
Conclusion
So there you have it, a tattoo stencil is your roadmap to getting the tattoo you've been dreaming of. Just remember to double-check the stencil before the tattooing starts; it's your last chance to tweak placement or design. And don't forget, the quality of the stencil can make a big difference in how well your tattoo turns out, so make sure you're going to a reputable artist. There's always some risk of infection or allergic reaction when getting a tattoo, so follow your artist's aftercare instructions to the letter. Trust the process and speak up if you have any concerns. A tattoo is permanent, after all, and you want to get it right the first time. Happy tattooing!
Feature Image Photo By sarahrose_tattoo on Instagram
Last reviewed and updated on September 29, 2023