In search of cool sleeve tattoo ideas that will make you the center of attention? Continue reading to know all about full and half-arm sleeve tattoos!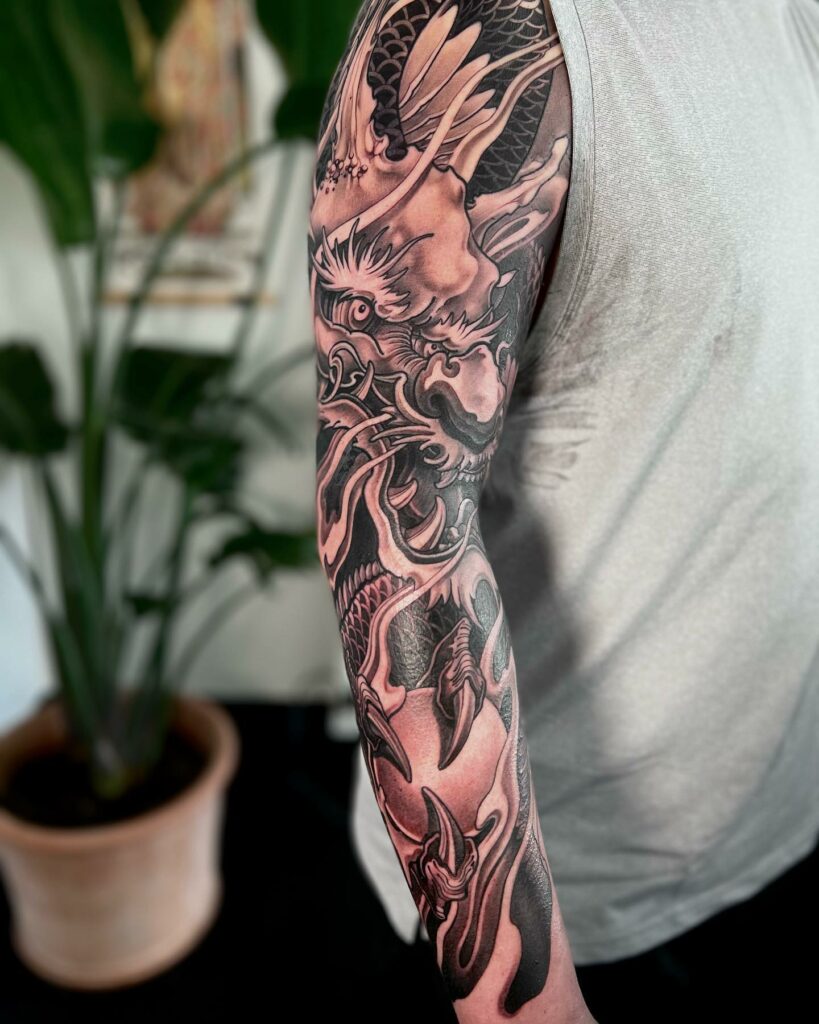 Sleeve tattoo designs have been around for ages and continue to be one of the most popular styles of tattoos.
Usually, a sleeve tattoo covers the full arm, however, half sleeve tattoos are made to cover only the upper arm or the forearm. One of the best parts about tattoo sleeve ideas is that these pieces can contain any kind of design or symbol, and can be done using any style of tattooing.
While most tattoos contain a theme, arm sleeve tattoos can be created without any theme as well. Furthermore, random designs, like geometric tattoos, can also be recreated to cover the arm sleeves. From different styles, like a tribal sleeve tattoo, to a vibrant or black and white sleeve tattoo, the options are literally endless.
So, if you are looking for the perfect half or full arm tattoo design for yourself, make sure to check out these sleeve designs given below!
Realistic Sleeve Tattoo
One of the best parts about sleeve tattoos is that they cover the entire arm and hence, are visible from miles away. So, if you are looking for a realistic sleeve tattoo that will make all heads turn, this idea can be implemented by you. In this full arm sleeve tattoo, a portrait of a lady has been inked covering the entire upper arm of the person. The magnetic expression captured in the eyes of the lady speaks more than words ever could. Such a form of self-expression is certainly rare. You can choose to get someone's portrait inked on your arm in this manner to convey your love and admiration.
Floral Sketch Sleeve Tattoo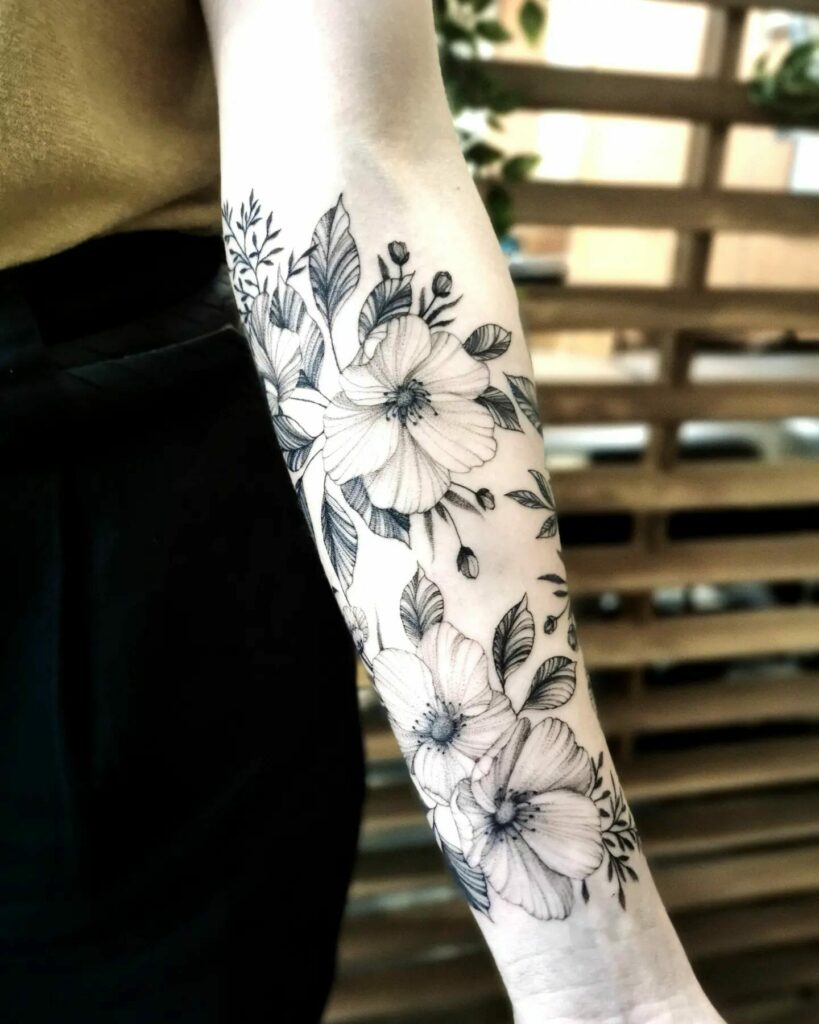 When it comes to tattoos, floral designs are here to stay. Check out this floral half sleeve tattoo pictured above! The outlines of the flowers have been inked with utmost grace and precision. To add to the depth of the design, the tattoo artist has added fine lines, giving the tattoo a sketch-like effect. If you treat your body like a large canvas, then this sleeve idea would be the perfect way to justify that. Sketch tattoos are gaining popularity these days for both men and women. So, with this tattoo design, not only will your arm be the focal point, but you will also stay in style. Additionally, if you want to personalise this tattoo, you can choose flowers which are meaningful to you in some way or the other.
Anime Sleeve Tattoo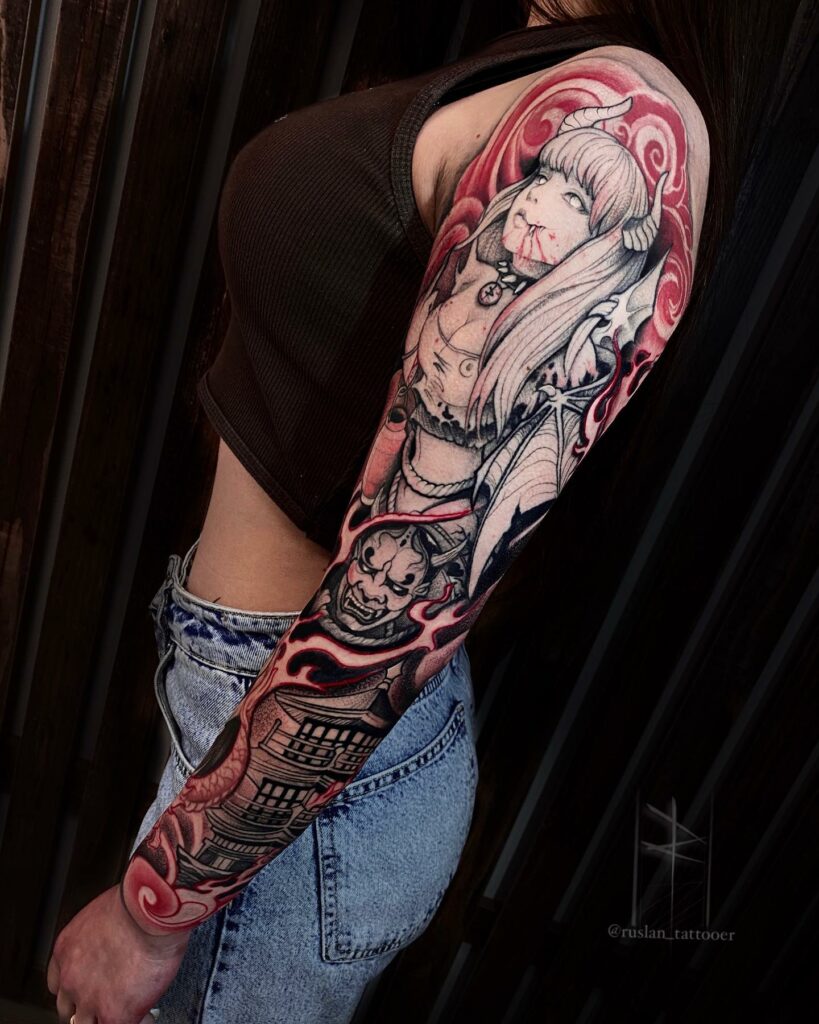 If you are an anime fan, this sleeve tattoo will surely take your breath away! Inked in an anime style, this design makes the perfect use of the entire arm to fully bring out the vibrance often encountered in animes. Though the colour scheme is mainly relying on red and black ink, the presence and absence of colours in this design have created a fantastic effect throughout the entire length of the arm. You can modify this tattoo in your own way and incorporate your favourite anime characters. Furthermore, you can add other elements to the design or even Japanese calligraphy and turn this into a timeless piece containing various cool designs.
Blackwork Half Sleeve Tattoo
Blackwork tattoos are one of the most popular styles of tattooing, mainly because of the intensity these pieces carry. So, out of the various types of tattoo sleeve styles, if you are searching for an idea that will convey the strength and power you hold inside, then you must go for this option. Here, a skeleton wearing a crown, with its head covered in a cloth has been inked. Though the tattoo is a half sleeve design covering the forearm and inner elbow, the dark black colouration is giving it quite a mysterious effect. Such a sleeve tattoo design can be given any kind of meaning. While skulls are usually representative of death or even new beginnings, a tattoo done in this style can be used to covey the mysteries you carry within yourself.
Vibrant Sleeve Tattoo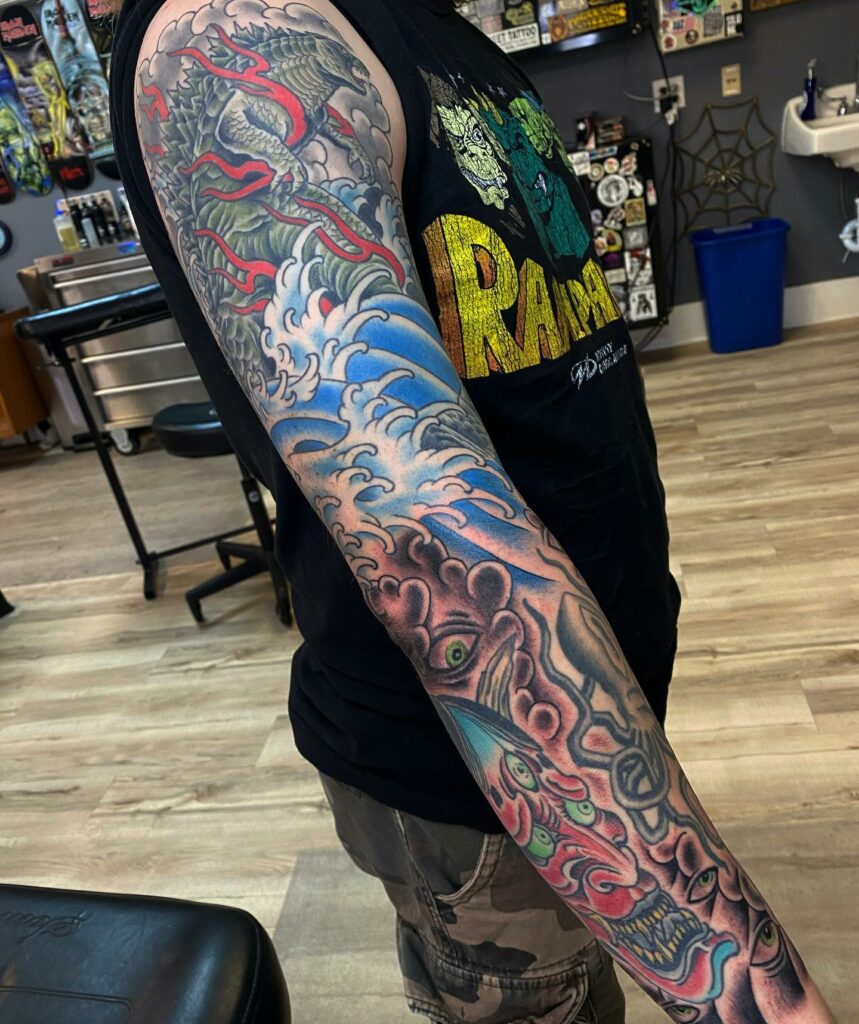 Needless to say, a full arm tattoo is nothing short of body art. So, if you are looking for a vibrant full arm sleeve tattoo done using new styles of tattooing, this full sleeve tattoo created using the Japanese style can be the right option for you. Any Japanese tattoo is often considered to be a timeless design, due to its unique colourations. Here, the upper arm seems to have a dinosaur inked on it, looking as vibrant as ever. The forearm section is displaying a neo-traditional mask-like face with a terrified expression. In between these two elements, several colourful motifs consisting of clouds, waves, and geometric patterns have been added. Overall, this abstract design is looking like a masterpiece, that can be the perfect body accessory for both men and women.
Egyptian Sleeve Tattoo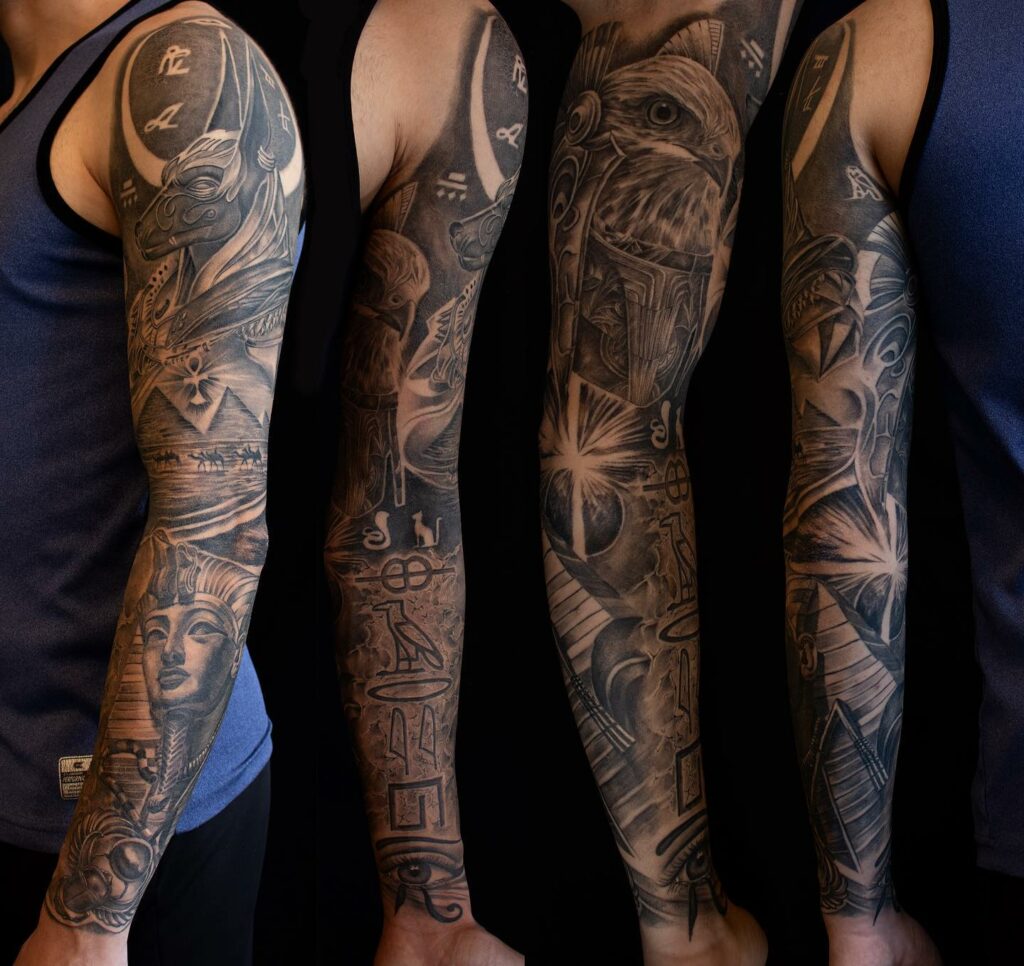 Egyptian tattoos have been popular for quite some time now, with new designs cropping up every other day. So, if you are looking to stand out with your Egyptian full sleeve tattoo, this design pictured above can be the perfect solution for you. Although the tattoo here is done in a monochromatic style, the several Egyptian Gods depicted here, along with Egyptian symbols are fully adding to give the complete Egyptian effect. You can also get another full sleeve tattoo on your other arm complementing this design or convert this into a forearm tattoo.
Snake And Skull Sleeve Tattoo
While snakes are symbolic of transformation and rebirth, skulls are often inked to symbolise the ending of something. Hence, this full sleeve tattoo conveys quite a meaningful message. If you are undergoing some form of major change in your life, or are eager to bring about something new, this tattoo on your arm can be the perfect reminder. Such tattoo sleeve ideas are not only unique but exceptionally symbolic. To add to the skull and snake, this tattoo sleeve has also incorporated a dark background and some bright motifs, like a pink flower, to go with it. Such a tattoo sleeve with multiple styles is bound to get you tons of praises!
Underwater Sleeve Tattoo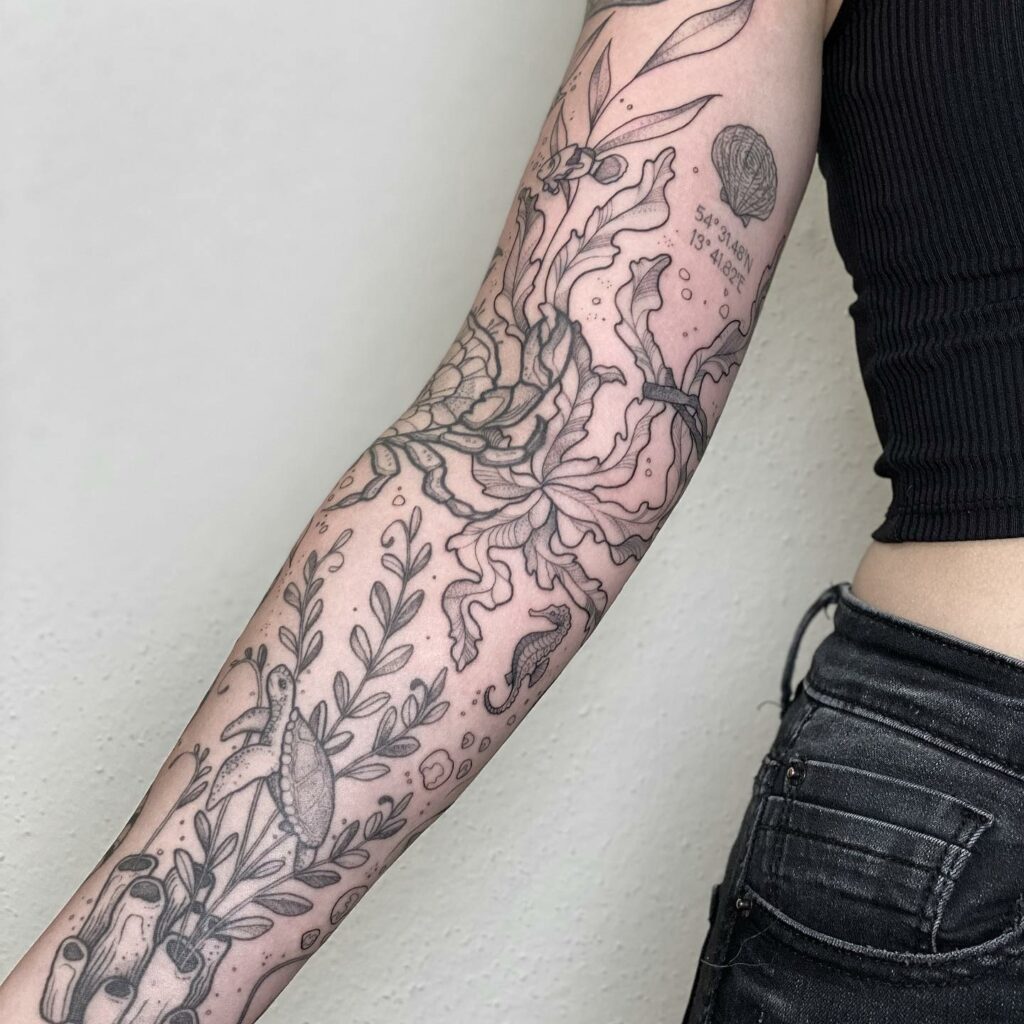 Are you a fan of the underwater where everything seems to seamlessly flow peacefully? Then why not get inked with this design? The underwater scene here consists of tons of aquatic vegetation, in addition to a turtle, fish, seahorse, and oyster. This sleeve tattoo is also perfect for those who prefer minimalist designs. While this sleeve is covering more than half the arm with several motifs, it does not look crowded or congested. In fact, each element in the tattoo seems to have its own platform to shine on. Both women and men sleeve tattoos can use this as an inspiration!
Painting Sleeve Tattoo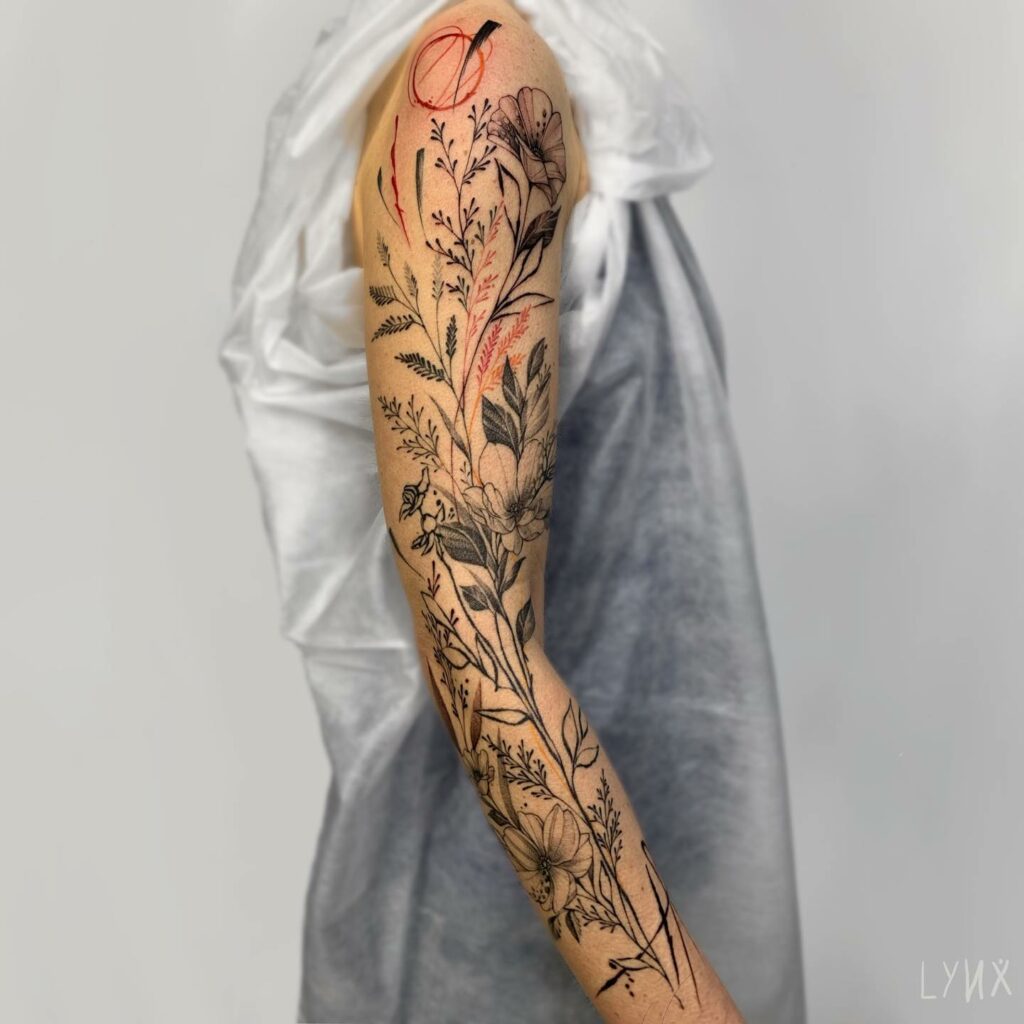 In this digital age, with different tattoo sleeve styles dominating the internet, classic watercolour sleeve designs remain an ideal choice. As pictured here above, this full arm sleeve tattoo has been inked in such a way, that it looks like a painting. The stroke of black ink mixed in with some red is an ode to the neo-traditional style of tattooing that makes use of these two colours. Furthermore, the flowers here are looking exceptionally graceful and minimalistic at the same time. If you are in search of not just cool sleeve tattoo ideas, but also elegant ones, this tattoo sleeve can be the right fit for you.
Outline And Dotwork Sleeve Tattoo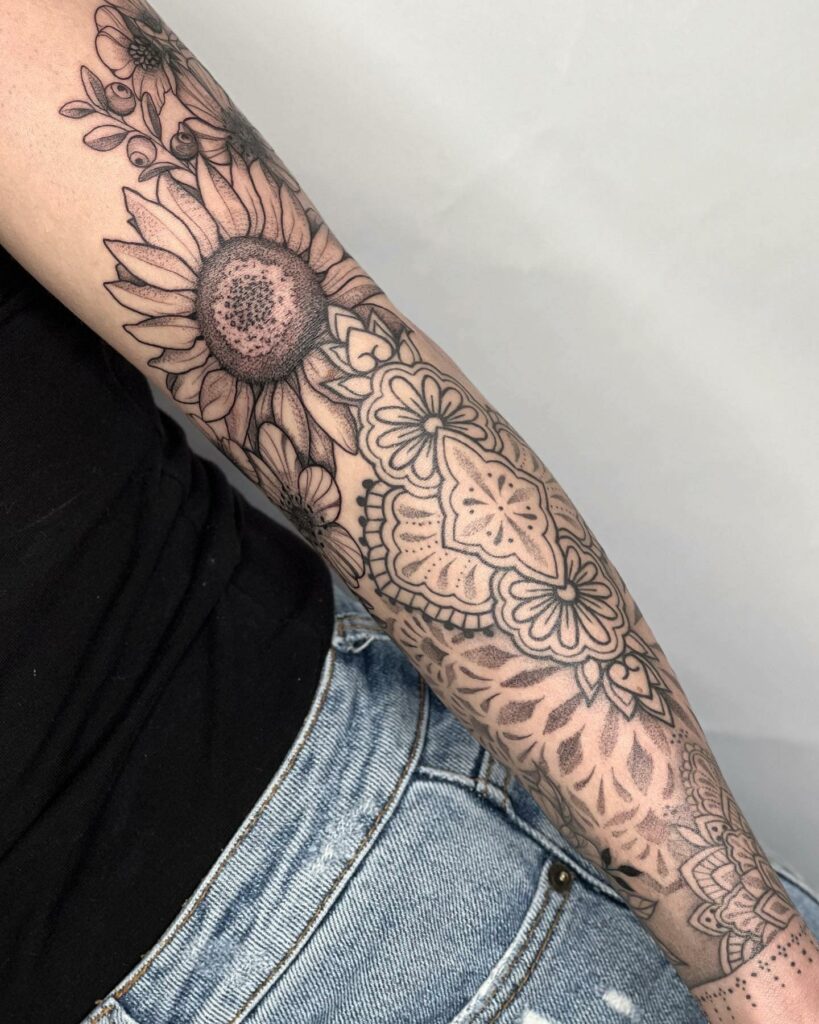 Out of the different sleeve tattoo styles, outline full sleeve and half sleeve tattoos have remained popular throughout. So, if you are interested in finding a unique design, here is a good option for you. This tattoo combines both the beauty of dotwork and outline tattoo designs. The upper half of the tattoo is displaying prominent sunflowers, symbolic of good luck, while the lower half is resembling tribal tattoos done in dotwork style. The main focus and attraction of this tattoo is the unique contrast that is existing between the prominent black outline of the motifs and the dotwork done within. You can also convert this idea into a half sleeve tattoo, or even add colours to it.
Now that you know about the different sleeve tattoo designs, it must be quite easy for you to pick a full sleeve tattoo or half sleeve tattoo for yourself! The best part about sleeve tattoos is that any kind of design or motif can be added to it; from a tribal sleeve tattoo to a traditional floral sleeve tattoo, the world is your oyster with this style of tattoo!
Sleeve temporary tattoo
Tattoo Half Sleeve
Pine Tree Tattoo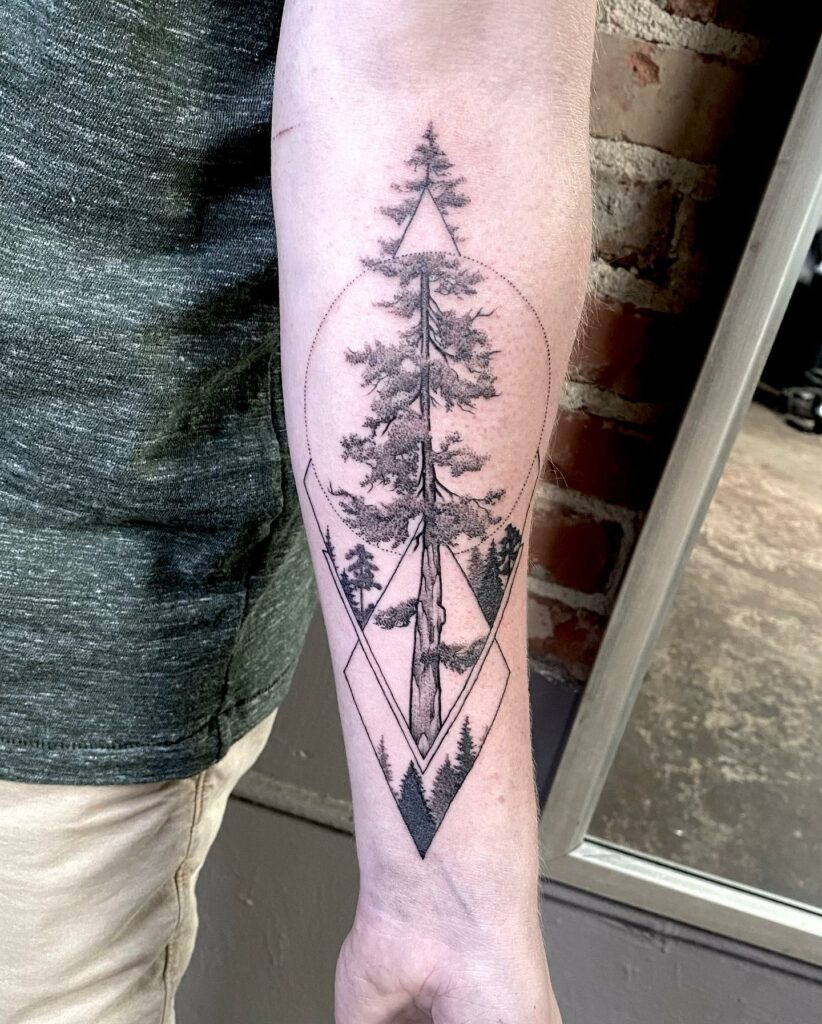 feature image from Pinterest – Want your tattoo to look brighter? Try "Tattoo Balm"