April-born folks, are you seeking the perfect Taurus tattoo to celebrate your Zodiac sign? You're in luck – this list is tailor-made for you!
Deciding on a first tattoo can be daunting, with countless ideas and designs to consider. But when it comes to Zodiac-inspired tattoos, there's a world of options, from constellation patterns to inventive astrological symbols.
As an April baby, you're a proud Taurus, the second astrological sign. Your ideal ink could be a striking Taurus Zodiac tattoo, inspired by the position of the sun and moon at your birth. As an Earth sign, you might also gravitate toward a Taurus constellation or minimalist Taurus design, or opt for a symbol representing your sign.
Ruled by Venus, the Roman goddess of love's namesake planet, Taureans are known for their kindness, eloquence, and allure. Female Taureans might be drawn to colorful constellation tattoos or feminine Taurus designs. Taurus tattoos for men and women can vary while still celebrating the same Zodiac sign, with each design bearing deep symbolism and personal meaning.
Like fellow Earth signs Virgo and Capricorn, Taurus tattoo ideas might include a Taurus bull design, as the bull is the sign's representative animal. There are plenty of Taurus tattoo styles to choose from, such as geometric Taurus designs, tribal Taurus tattoos, or classic bull images. These tattoos can range from colorful to blackwork, large forearm pieces to small back tattoos. And just as air signs like Aquarius incorporate elements of their element, Taurus tattoos showcase the Earth's essence.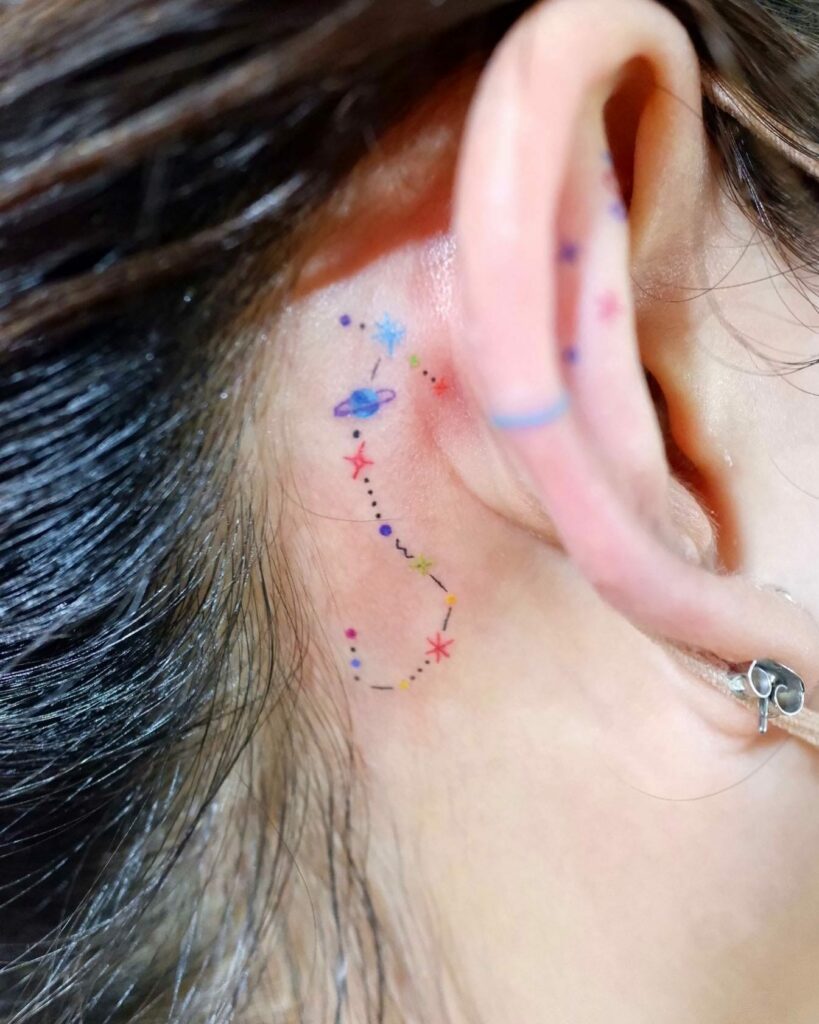 A Geometric Taurus Arrow Tattoo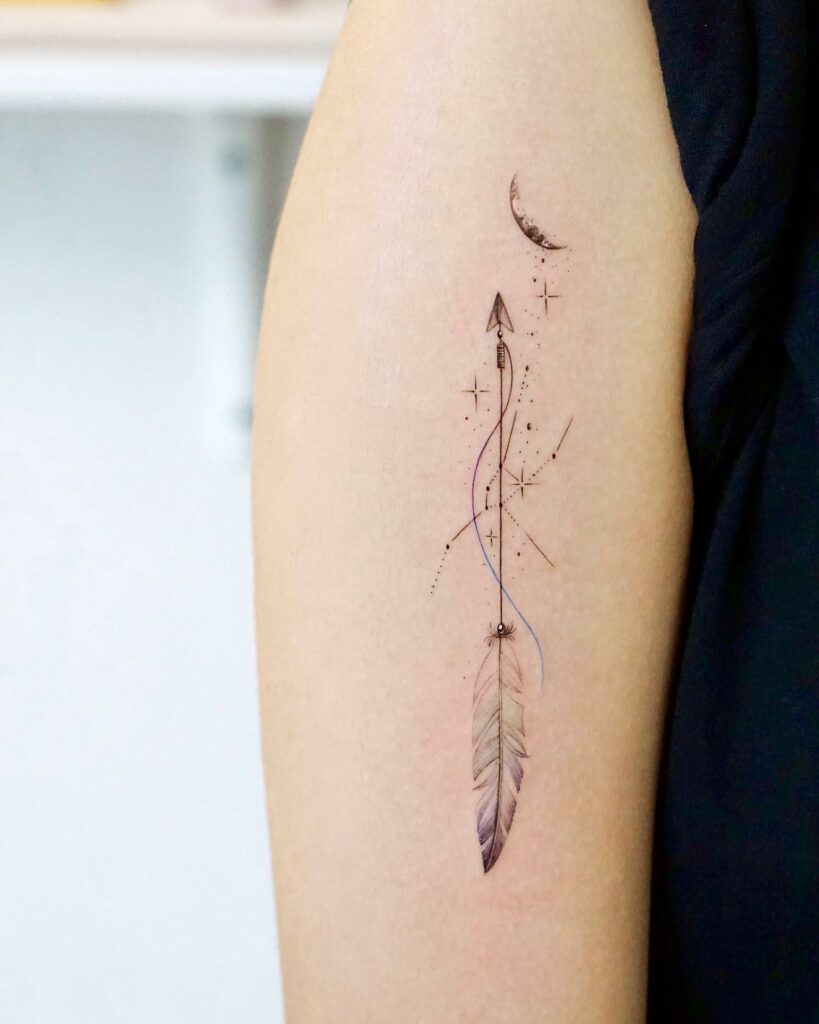 This simple Taurus constellation tattoo design is the perfect combination of elegance and symbolism. The feathered arrow adds a touch of creativity to the classic constellation tattoo. The artist has used fine blackwork and gradient shading to create an intricate design that is both striking and subtle. The addition of faint green and dark purple colouring on the feather adds a unique charm to this Taurus tattoo. This design is versatile and can be placed on your wrist or arm for a trendy look. Women looking for their first tattoo will appreciate the minimalistic appeal of this Taurus constellation tattoo.
A Baby Taurus Bull Tattoo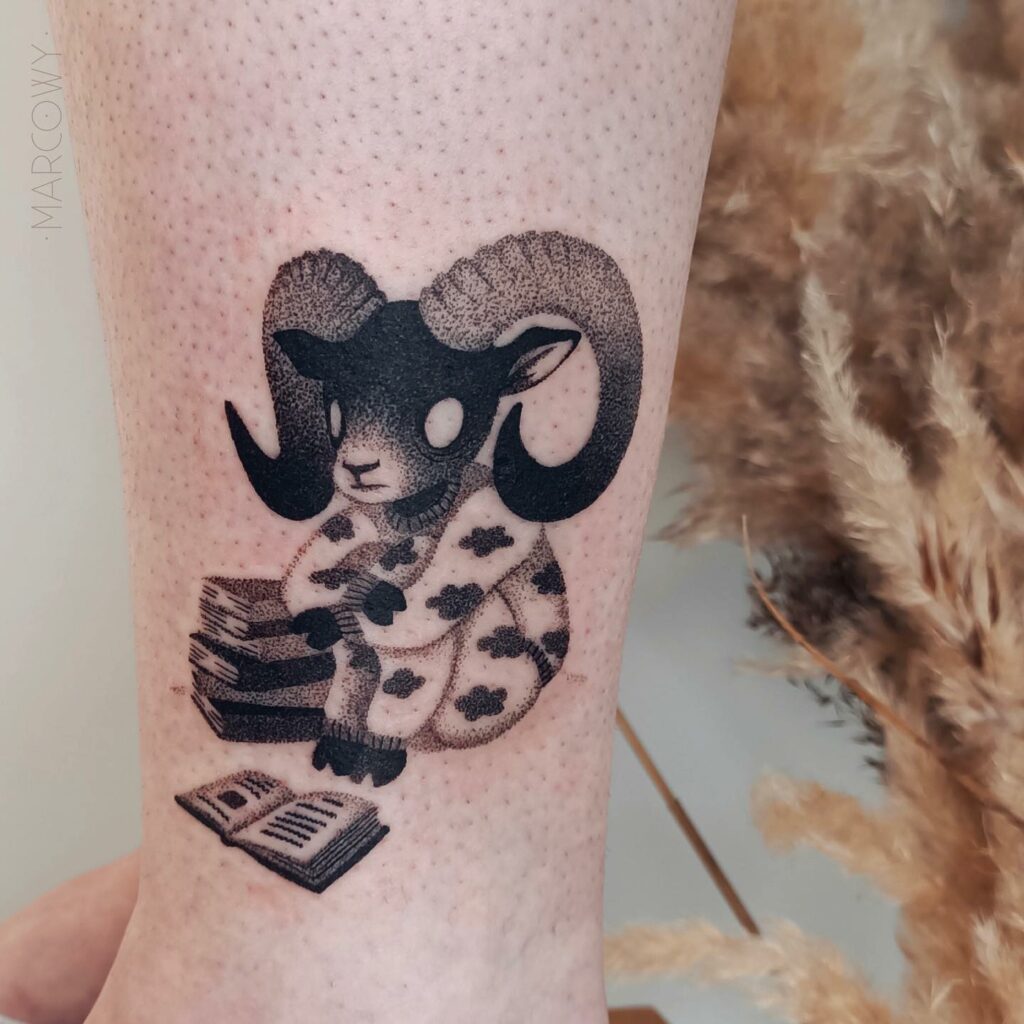 Taurus tattoos are known for incorporating the bull, but this blackwork Taurus tattoo is a unique take on the traditional design. In this piece, a baby bull is depicted in nightwear reading books, making it an endearing choice for anyone looking for a Taurus tattoo. The horns of the bull have been meticulously shaded with gradient dotted blackwork, adding depth and detail to the design. This Taurus tattoo will definitely require patience, but the end result will be worth it. The placement of this tattoo is flexible, and it will look great on your arm, shoulder, or back.
A Blackwork Forearm Taurus Bull Tattoo
Taurus bull tattoos are becoming increasingly popular, and this design is a perfect example of why. The tattoo features a stunningly realistic portrayal of a bull, complete with blooming flowers at the base. Unlike the typical bull skull or half-bull designs, this Taurus tattoo showcases intricate blackwork detailing on the bull's skin and on the flowers and leaves. The use of gradient shading further adds to the depth and dimensionality of the design. At the top of the bull, a globe with a perched bird highlights the Taurus symbol. While this design may be too large for a first tattoo, it's an excellent choice for those looking for a Taurus bull tattoo that truly stands out.
Line Art Blackwork Taurus Bull Tattoo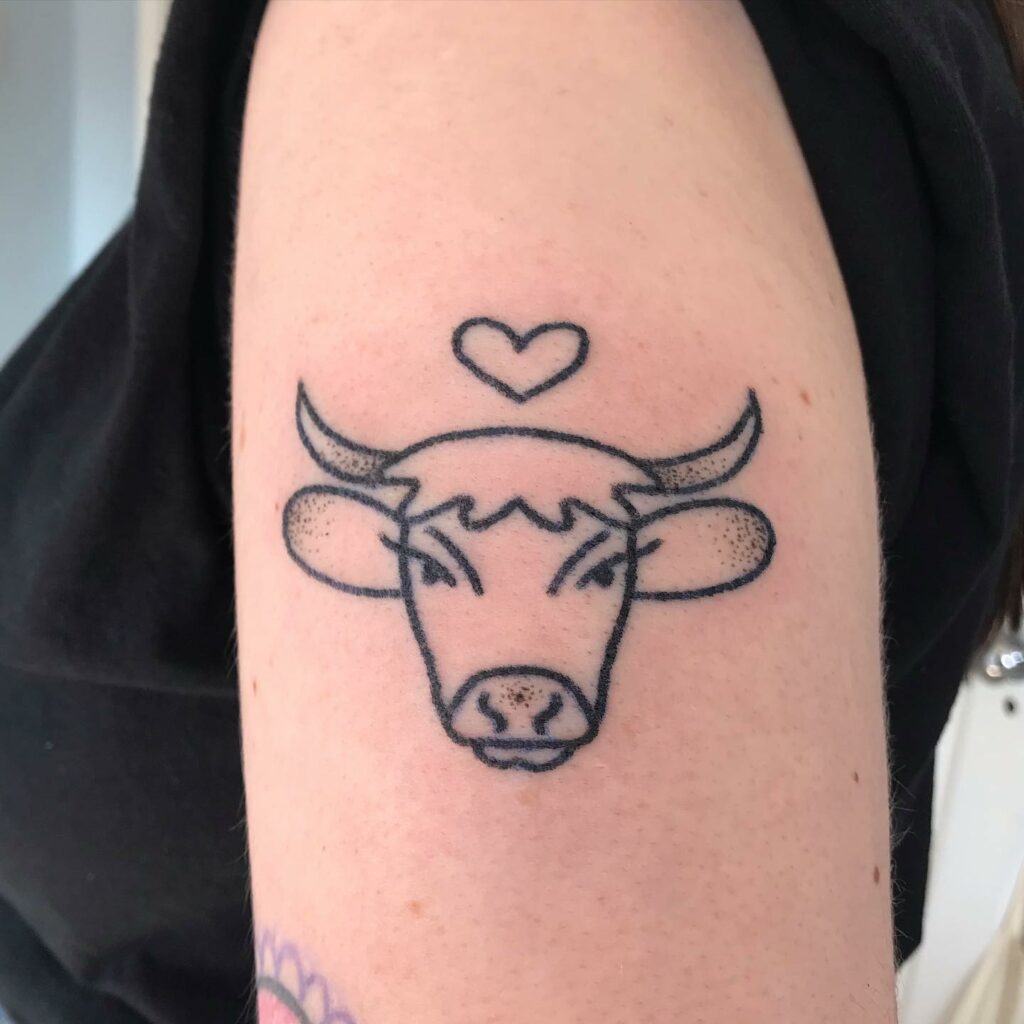 Bull tattoos are popular, and this cute and feminine Taurus tattoo is sure to be loved by women everywhere. Simple bull tattoos are often the way to go, especially for a first tattoo. This line-art zodiac tattoo features scattered dotted ink work on the edges of the horns, nose, and ears, giving it a charming look. The blackwork Taurus tattoo is accompanied by a lovely heart on top, making it an extremely simple design that can be placed anywhere on your body, from the upper arm to the forearm. If you're looking for something different, pairing a bull with the Taurus symbol or constellation can also create a great design.
A Geometric Taurus Females Tattoo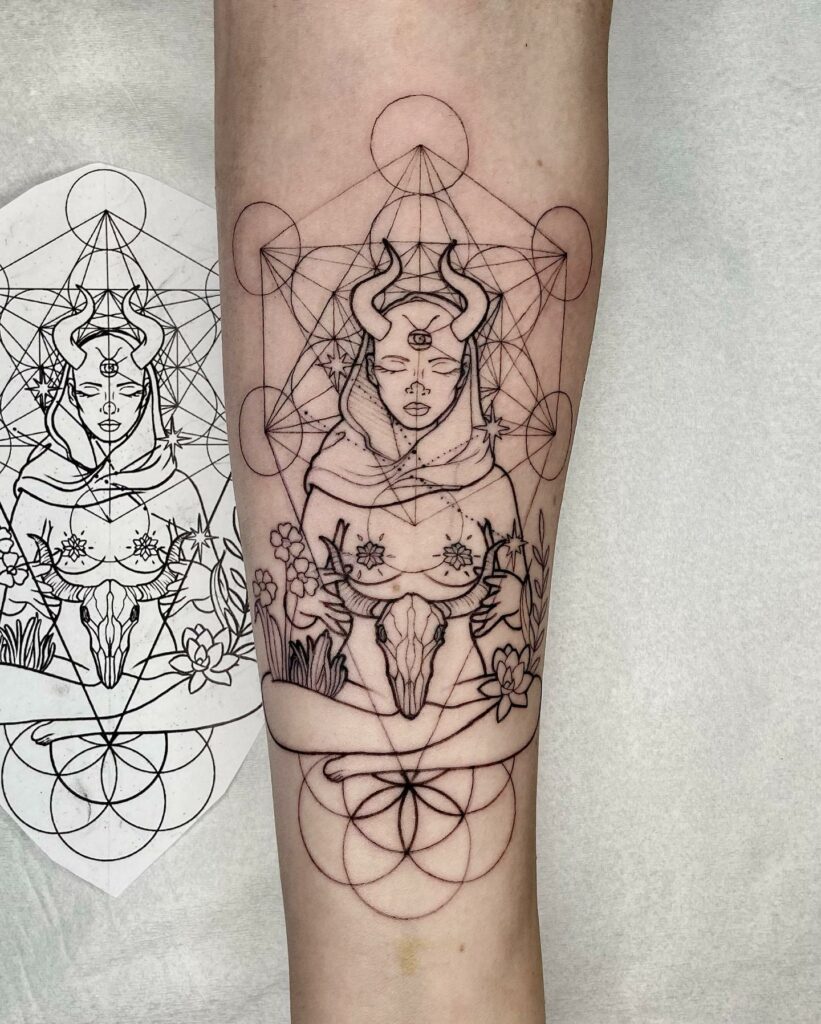 This Taurus tattoo design celebrates the earth sign in a unique and feminine way that is sure to appeal to many women. While the complex design may not be recommended for first-timers, the intricate blackwork and fine line art create a stunning visual that is worth the effort. The tattoo features a woman with horns meditating, with a bull at the bottom and the Taurus symbol on her head. The background includes Metatron cubes and the Flower of Life overlapping circles grid, adding to the overall celestial theme. The addition of flowers and shrubs at the bottom further enhances the design. This extensive tattoo is a beautiful representation of Taurus and women/females alike.
A Blackwork Bull and Stars Tattoo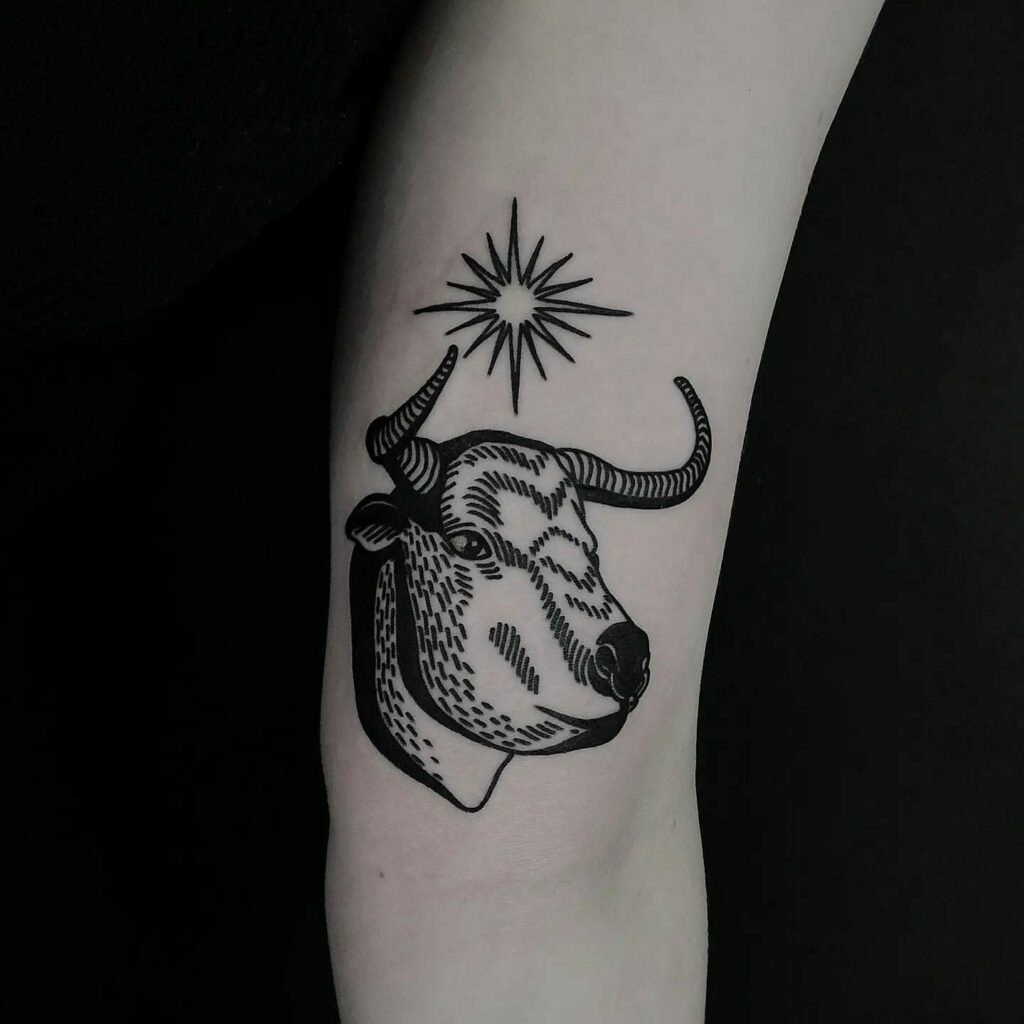 Bull tattoos have always been a popular choice for Taurus tattoos, and this blackwork bull tattoo is sure to impress you. Whether you want it on your wrist or anywhere else on your body, this tattoo will look stunning. It's an excellent choice for those who are getting their first tattoo, and it's done entirely in fine blackwork. The bull is shaded with vertical lines that add depth to the design, while the snout and striped horns are intricately detailed. The addition of a star on the top gives this Taurus tattoo a special touch. You can place this tattoo anywhere, whether it's on your back, upper arm, or forearm. To make it even more unique, you can add the Taurus symbol alongside the star.
A Minimal Floral Taurus Symbol Tattoo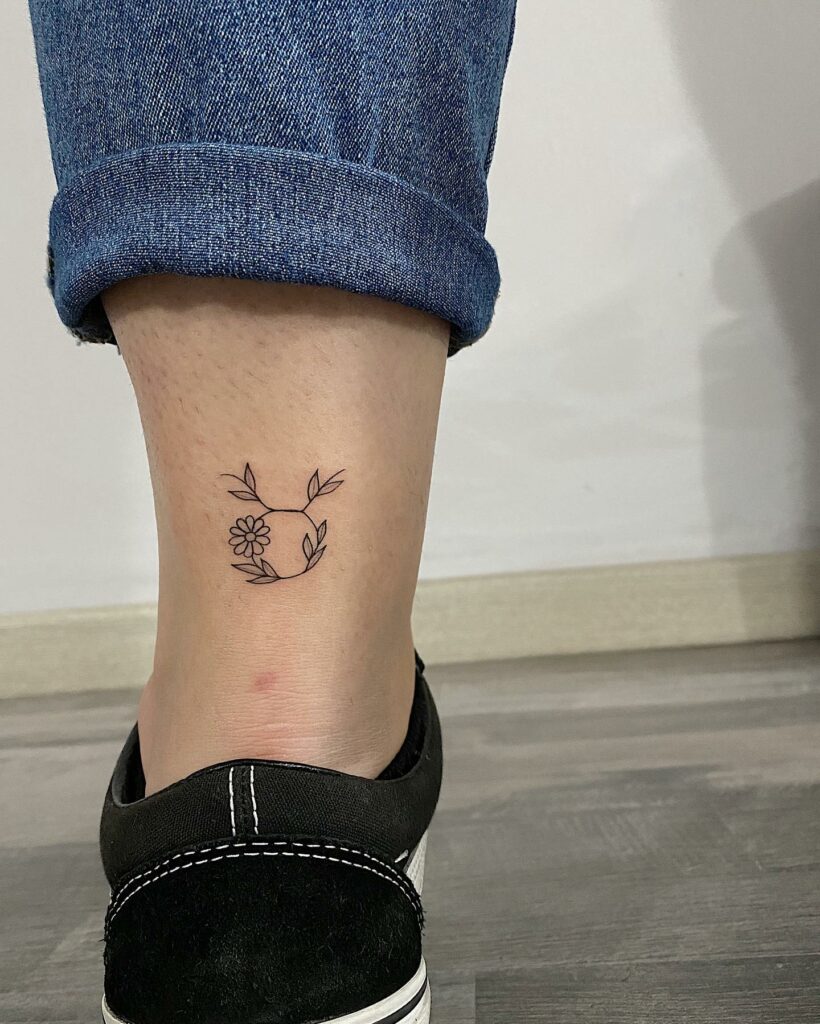 Minimalistic tattoos are gaining popularity, and this flowery Taurus symbol tattoo is a great choice for anyone looking for a subtle Taurus zodiac tattoo. The circular sign is decorated with leaves, while the end has a cute daisy in the center. The gradient shading on the leaves adds depth and dimension to the design. Taurus tribal tattoos or a Taurus constellation tattoo are also great options for those seeking minimalistic Taurus designs. Women tend to prefer these designs, so if you're looking for a tattoo that's both minimal and eye-catching, this is the one for you.
A Woman Taurus Tattoo
Tattoos depicting women as earth signs have always been a popular choice, and this female Taurus zodiac tattoo is a prime example of that. The intricately detailed design features a woman with a third eye wearing a bull's nose ring, reimagining the zodiac sign as a female. Dark borders and light shading on the hair, brows, and neck highlight the woman's features, and the stars scattered like freckles pay tribute to the Taurus constellation. The use of white highlights on the nose ring, braid clips, and stars adds depth to the design. This tattoo is perfect for those looking for a big yet simple Taurus tattoo design that's sure to charm anyone who sees it.
A Minimal Bull Skull Tattoo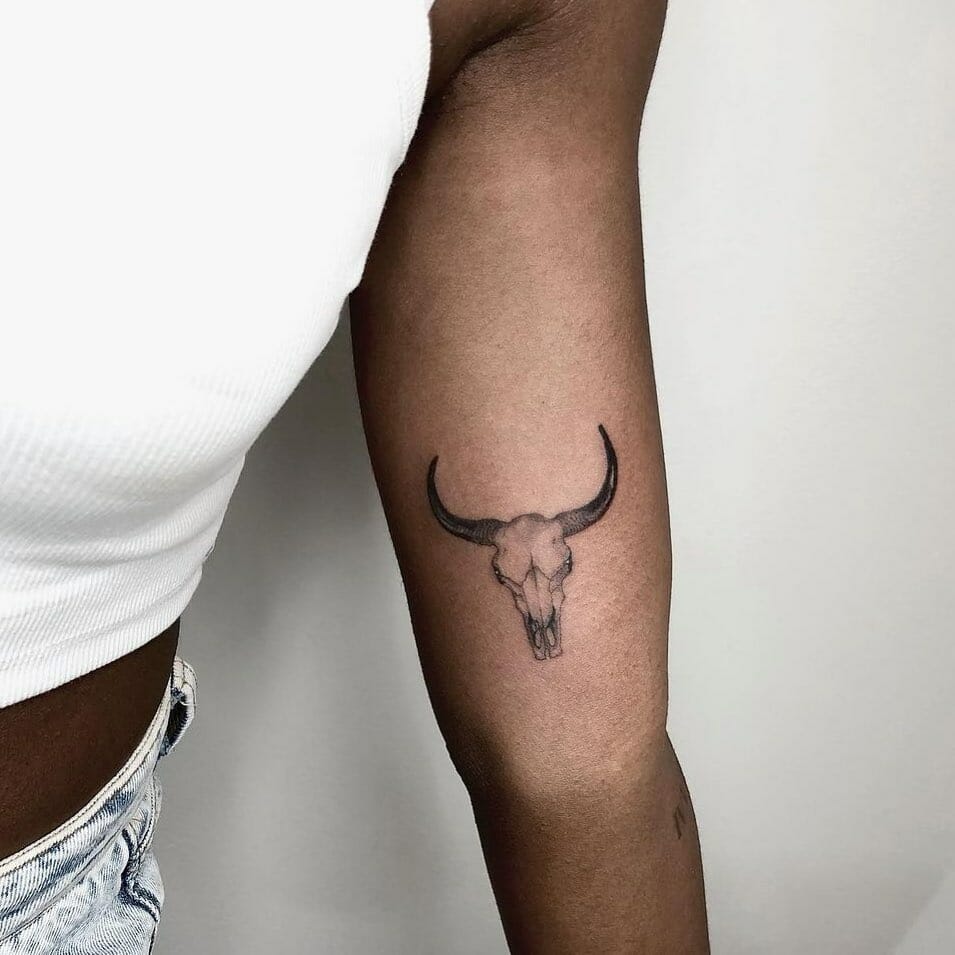 Looking for a minimalistic Taurus tattoo design? Look no further than this intricately crafted bull tattoo! From gradient shading on the horns to intricate detailing on the head, eye socket, and snout, this tattoo is a stunning representation of the Taurus zodiac sign. Perfect for those looking to get their zodiac tattooed for the first time, this tattoo showcases delicate shaded lines on the skull, adding depth and dimension to the overall design. Additionally, this Taurus tattoo can be customized to include tribal elements or paired with a constellation tattoo to create a truly unique piece of body art. Whether you're a man or a woman, this Taurus tattoo is sure to look amazing on you, and adding the Taurus symbol is a great way to make it even more personal.
A Simple Taurus Glyph Tattoo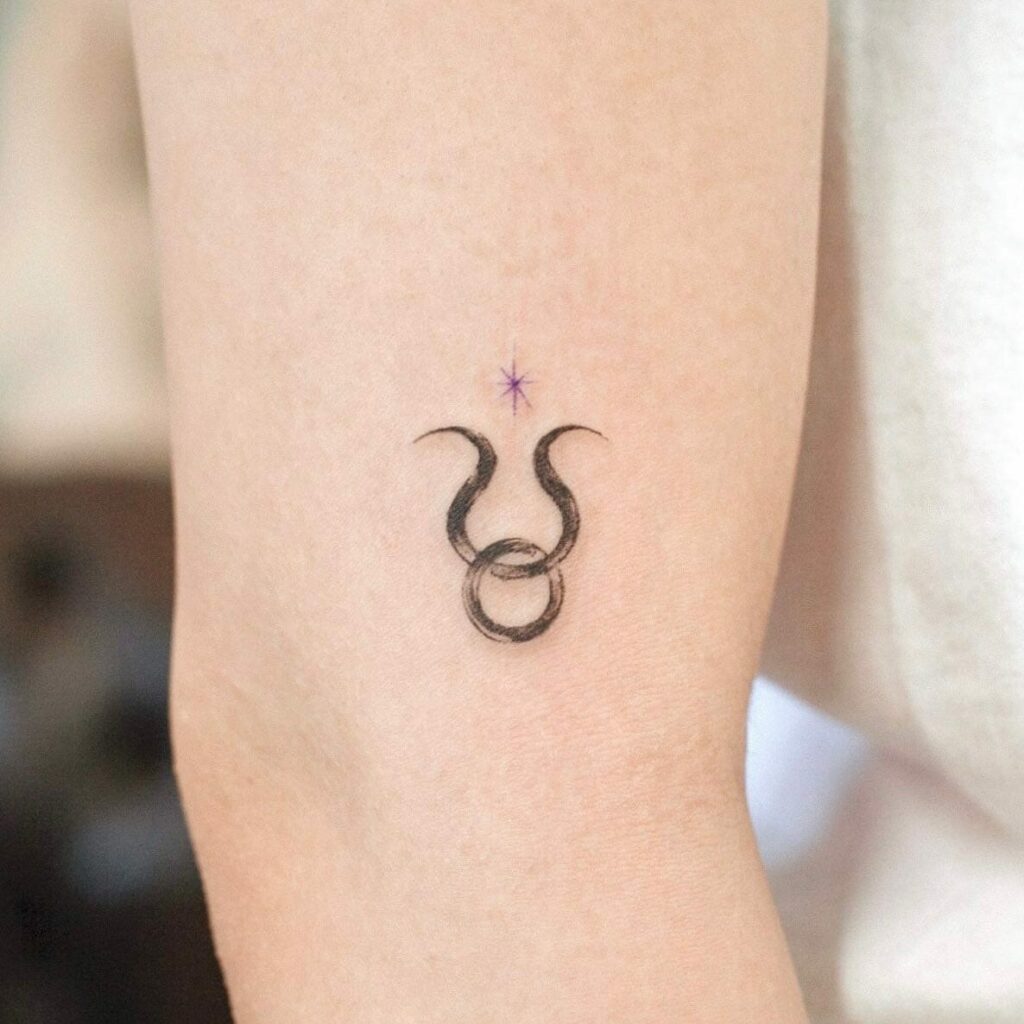 Are you a Taurus looking for a minimalist tattoo? Look no further than the Taurus symbol! This tattoo is perfect for first-timers, as it is small and simple. In this design, the Taurus symbol is beautifully done in gradient blackwork, creating the illusion of a ring hanging from the snout of the bull. A small purple star above the symbol adds a touch of personality, but it can also be swapped for the Taurus constellation. Whether you want it on your wrist or behind your ear, this Taurus symbol tattoo will be a great way to showcase your astrological sign.
Tattoo Taurus Constellation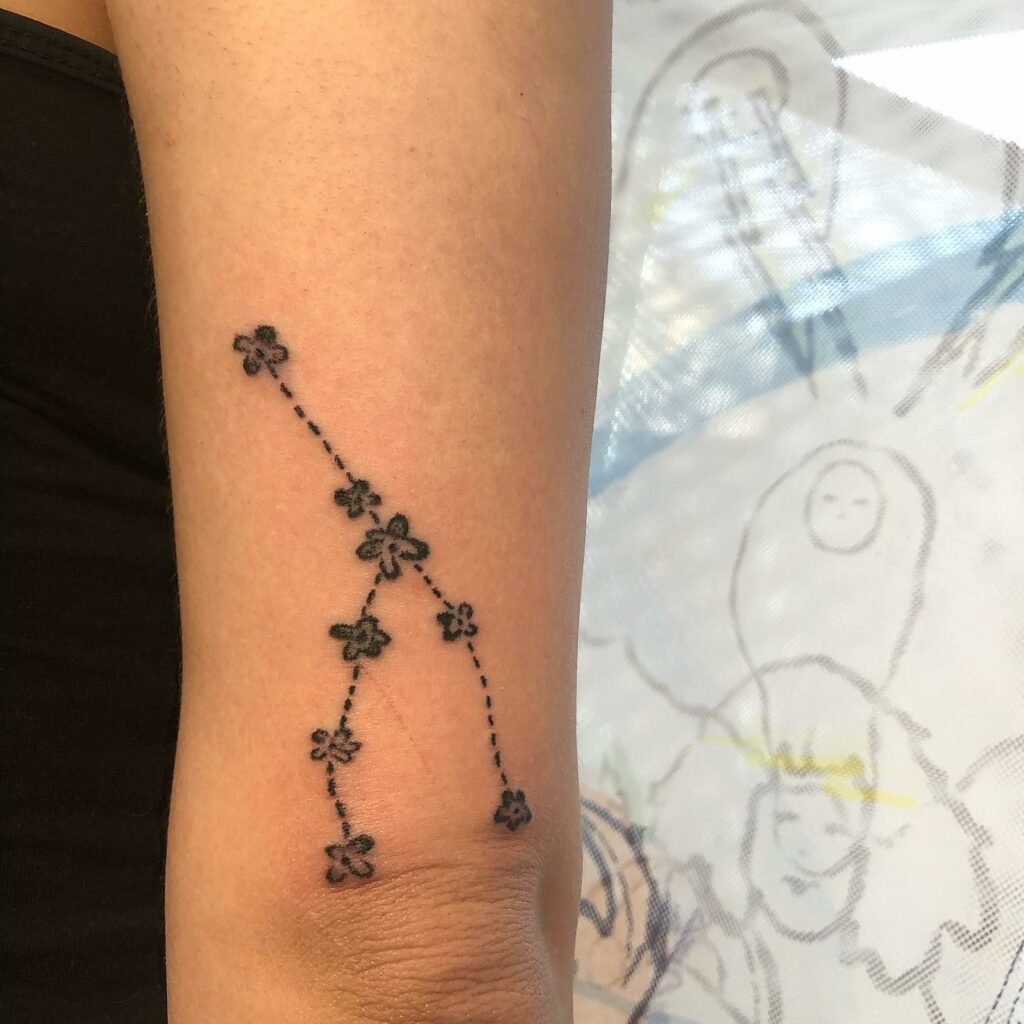 Tattoos inspired by the Taurus zodiac are incredibly diverse, ranging from constellation designs to tribal motifs. As an earth sign, those born under Taurus are often viewed as grounded, practical, and stable. On the other hand, air signs, such as Aquarius, are known for their success and idealism. When it comes to selecting a Taurus tattoo, it's important to choose the best design that represents your unique personality and traits. Additionally, consulting with a professional tattoo artist is crucial to ensure that you have all the necessary information before getting inked.
Wrist Tattoo Taurus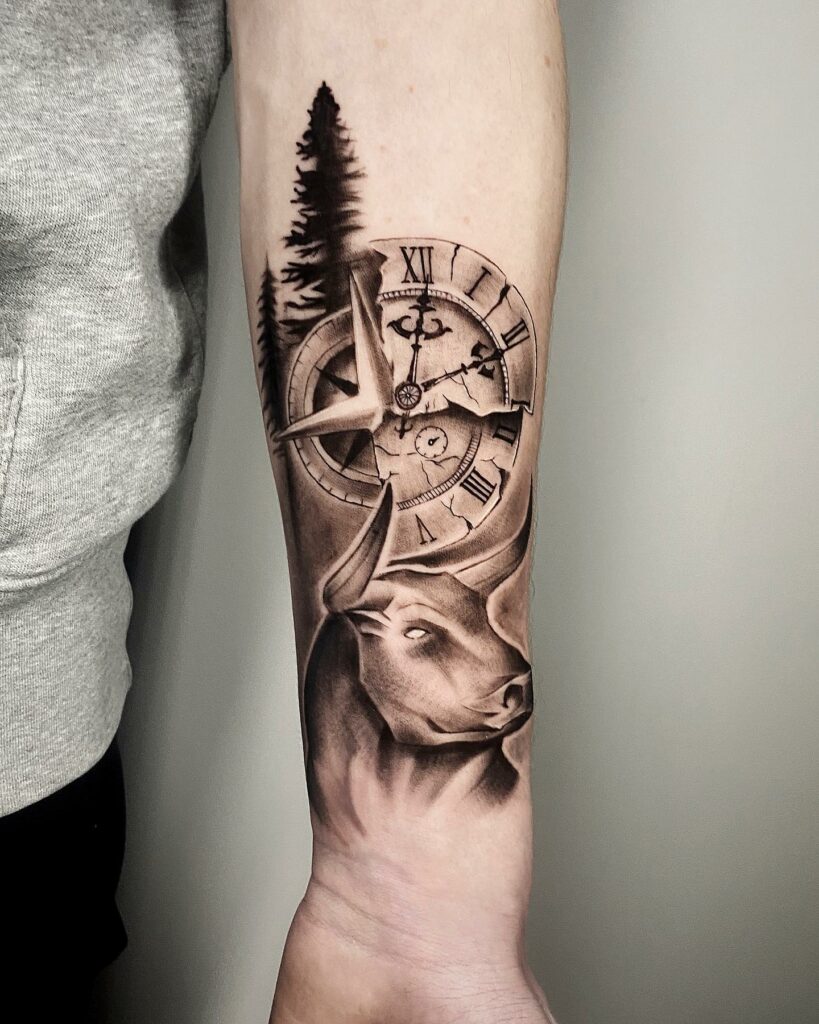 When it comes to Taurus tattoo designs, there are several popular options to choose from, such as Taurus tattoos of bulls, female Taurus tattoos, and the Taurus constellation. You can also take inspiration from celebrities like Megan Fox and get a moon and star that corresponds to your zodiac sign. Other great ideas for Taurus tattoos include Roman numerals associated with the sign, its symbol, or getting all the earth signs together. A Taurus tattoo symbolizes vitality and individuality, making it a unique and personal choice for body art. Your tattoo artist can guide you in selecting the best design for you and ensure that you are well-informed before making a permanent commitment.
feature image from Pinterest – Want your tattoo to look brighter? Try "Tattoo Balm"
Last reviewed and updated on June 7, 2023