Discover a series of flamboyant and vivid-looking Thanos Tattoos that are sure to satisfy and appeal to your villain-loving self!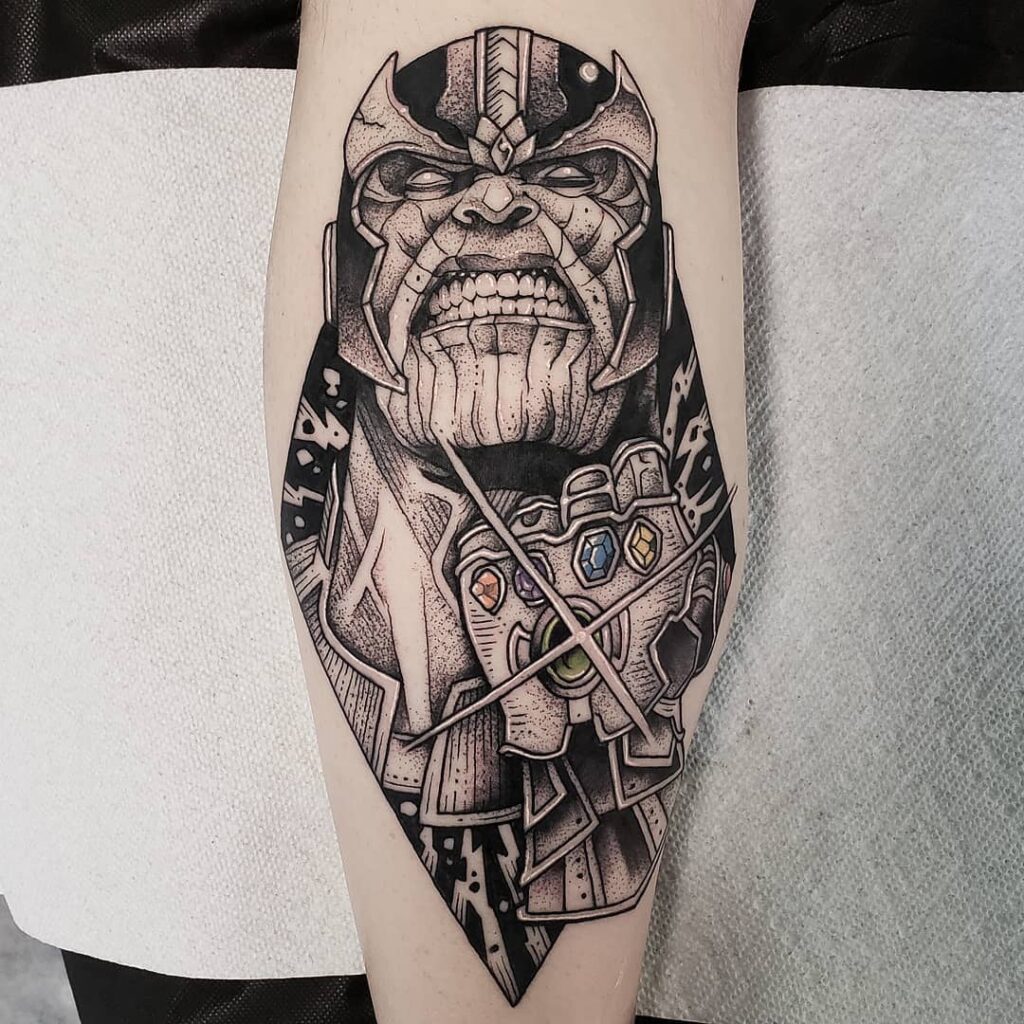 A five-year-old might not remember their alphabets but he or she is sure to remember one of Marvel's Cinematic Universe ultimate villains and nemesis to Planet Earth, the Mad Titan Thanos.
The fan-following gathered by the Marvel Cinematic Universe has been absolutely monumental and rather overwhelming. While each one of the Marvel movies was a sensational box-office hit, the series of Avenger movies has its own dedicated fandom that is exceptional and incomparable to any other franchises that ever existed.
So it is rather obvious that the tattoo community pays homage to their ultimate favourite characters, the very ones people scream their lungs out for. However, while these fans share their love for their favourite avengers including Captain America, Iron Man, Black Widow, Hawkeye, and that big green guy. There are fans who are absolutely devoted to the maddest of them all, Thanos.
He has garnered his own share of a fan-following that is almost elephantine in nature and these men and women are passionate about having their favourite villain etched as body art. There is no shortage of inspiration seeing as men love his deviant syndrome face enough to get it tattooed on themselves. This controversial figure features a series of ink designs that speak of his notoriety and the havoc he created with various scenes that showcase his power, etched on a body.
So if you are a little on the edgier side, if you believe that Thanos' plans were almost noble-like never mind half the people he eradicated, then read on to explore our curation of tattoos dedicated to the ultimate bad guy with a questionable motive.
The Marvel-ous Infinity Gauntlet With A Floral Touch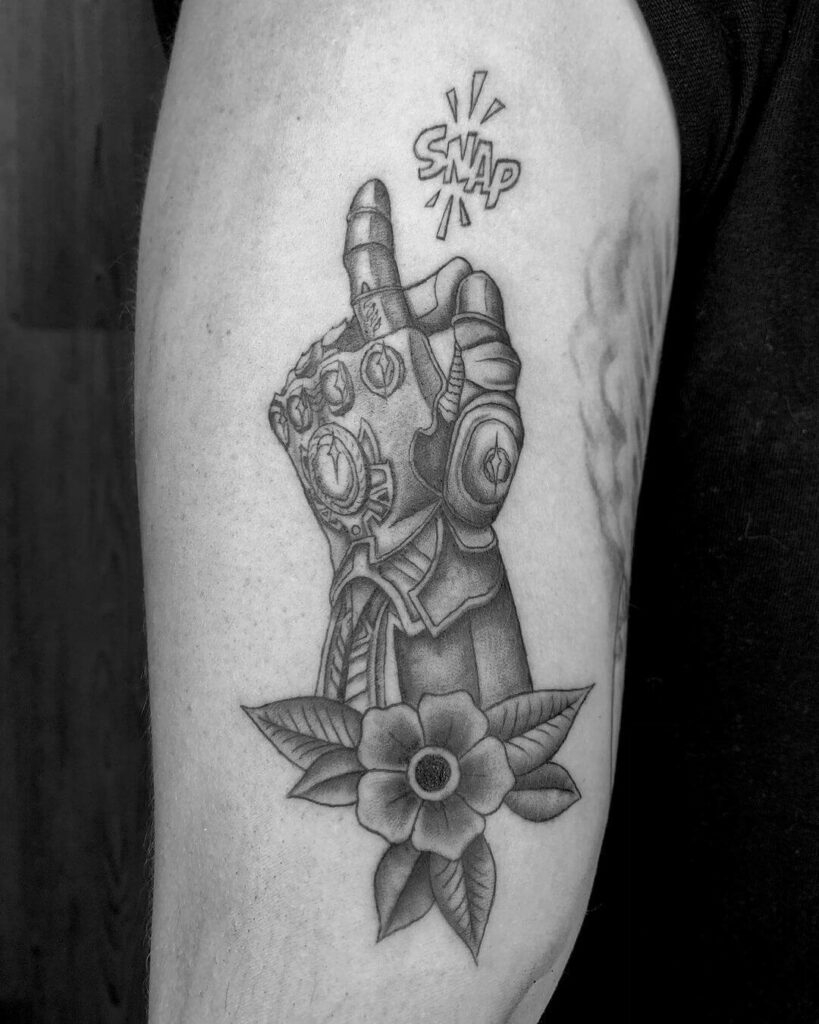 Since there is no Thanos without his Gauntlet, there are no Thanos Tattoos with an Infinity Gauntlet Tattoo, and if you are as mesmerized by the beautiful and enormous infinity gauntlet, as we are then this piece of black and white tattoo is just perfect for you. It is small, it is cute, and it even has a touch of floral design to quirk up an otherwise daunting weapon tattoo. The ink used to etch this piece of work was simply a charcoaled version of black that gives the tattoo a purely sketched look. The tattoo artist had singled out every line and detail meticulously and it is sure to end your search for your next tattoo or at least get you interested enough to consider a Thanos Tattoo with actually having Thanos on it.
The artist also added little details to enhance the work, like the "Snap" that makes reference to the scene in the Avengers: Infinity Wars movie when Thanos acquires the power stone and goes on to snap half the population of Earth into oblivion and bring change that men and women were never intending to ever enjoy. So cruelly honest with his intentions.
Thanos Infinity Gauntlet Tattoo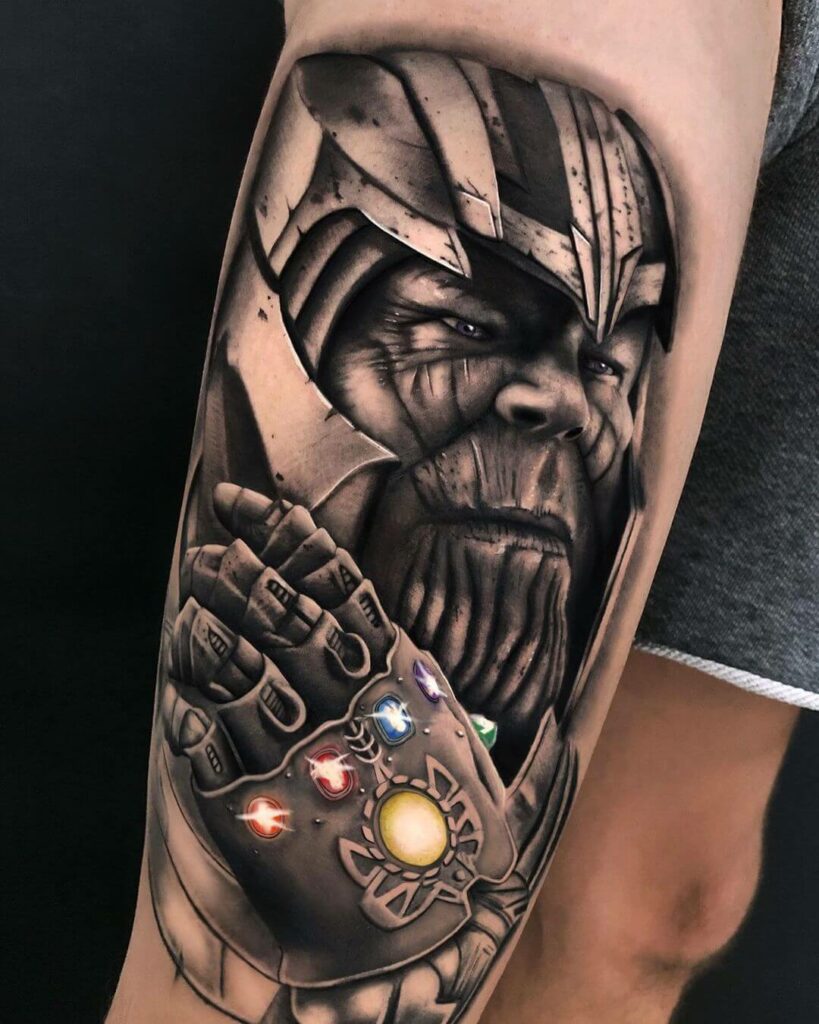 The world and its demands never cease to end, and as we have established Thanos Tattoos are high in demand, and his unwanted services to this world were apparently appealing to more than a few guys. So, a design of Infinity Gauntlet without Thanos just does not sit right, does it?
Here is a masterpiece that will surely pique your interest. Such tattoos are often referred to as realism tattoos or realistic tattoos. The tattoo artist has captured every little detail of the tattoo, right down to the determined glitter in Thanos' eyes. The colour used in the infinity stones and black and white tone of the rest of the tattoo gives the stones a vibrant and bright look.
The Portrait of Thanos Tattoo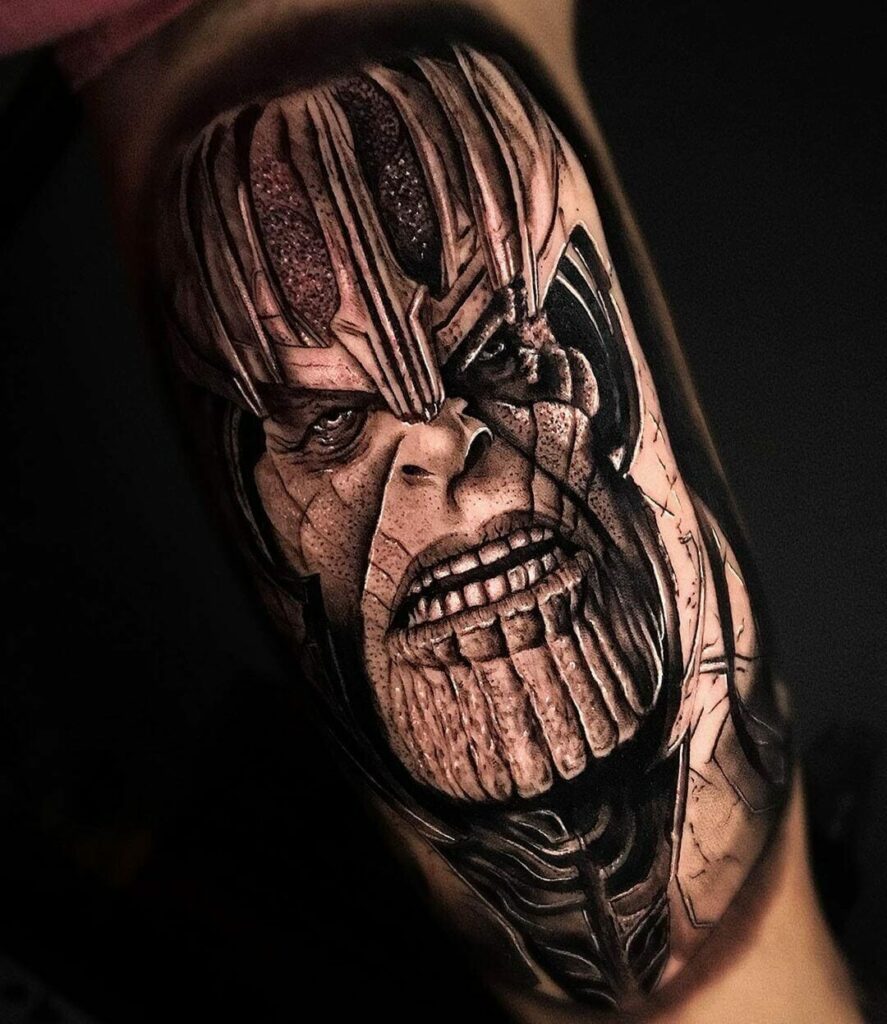 This portrait style of ink can be considered one of the most common and popular among the tattoo community. So it makes sense that a Thanos tattoo is inspired by this style. The artist created a close-up picture of Thanos, giving it the signature intimidating face that our bad guy seems to always sport. It is perfect for guys who prefer leg tattoos or bicep tattoos. It provides a large coverage that men will love and enjoy.
Some other things that make this Thanos tattoo design, quality content are the details captured based on every little fit of the character. His headgear, his look, and even his textured skin, gave it a realistic look.
If you like your Thanos tattoo to look as real and life-like as possible, then this one is for you.
The Death And Thanos Tattoo
Name a more iconic duo than Thanos and the Grim Reaper himself. We shall wait. In this gorgeous piece of dark art, the bad guy and the Master of Death are inked together that create a quality of design that is enough of an inspiration for those looking for something that is noticeable and stands out. While a simple Thanos tattoo could have been interesting enough, something as relevant as Death holding the Infinity Gauntlet is much more pleasurable and unique.
The portrait has a sketched look to it, which adds to the eerieness of the tattoo and further heightens its purpose of intimidation. Not only that, the design is etched in such a way that it gives the dual perspective of Thanos and Death holding the Gauntlet, making it all the more fascinating.
"I Am Inevitable" Thanos Sleeve Tattoo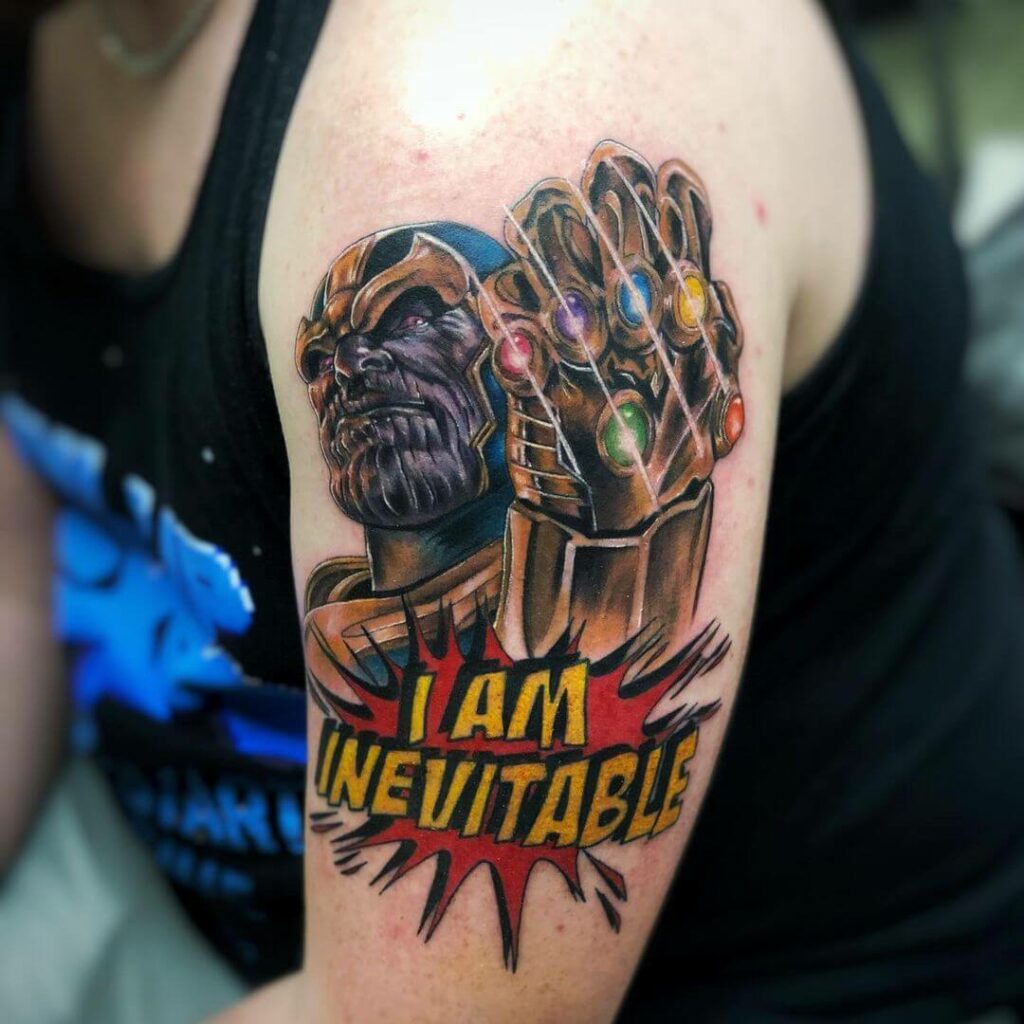 There is a variation of Thanos tattoo designs that are inevitably becoming popular among the Marvel fandom and each fan with their love for the Avengers is quick to tattoo their favourites on their skin, inspired by Iron Man or Thor. This sort of devotion to the Mad Titan has inspired many to search for tattoo designs that are not only focused on Thanos and his purple face but also some other aspects that can be incorporated with Thanos. This piece comes in to end your search for the one you have been looking for all along.
This piece is colourful, and bright, and even has an infinity gauntlet. The words "I Am Inevitable", one of the most iconic lines from the movies, are incorporated here. This version of Thanos is inspired by comics, giving it an animated look which is another popular way to design Thanos tattoos.
Poseidon Vs. Thanos Tattoo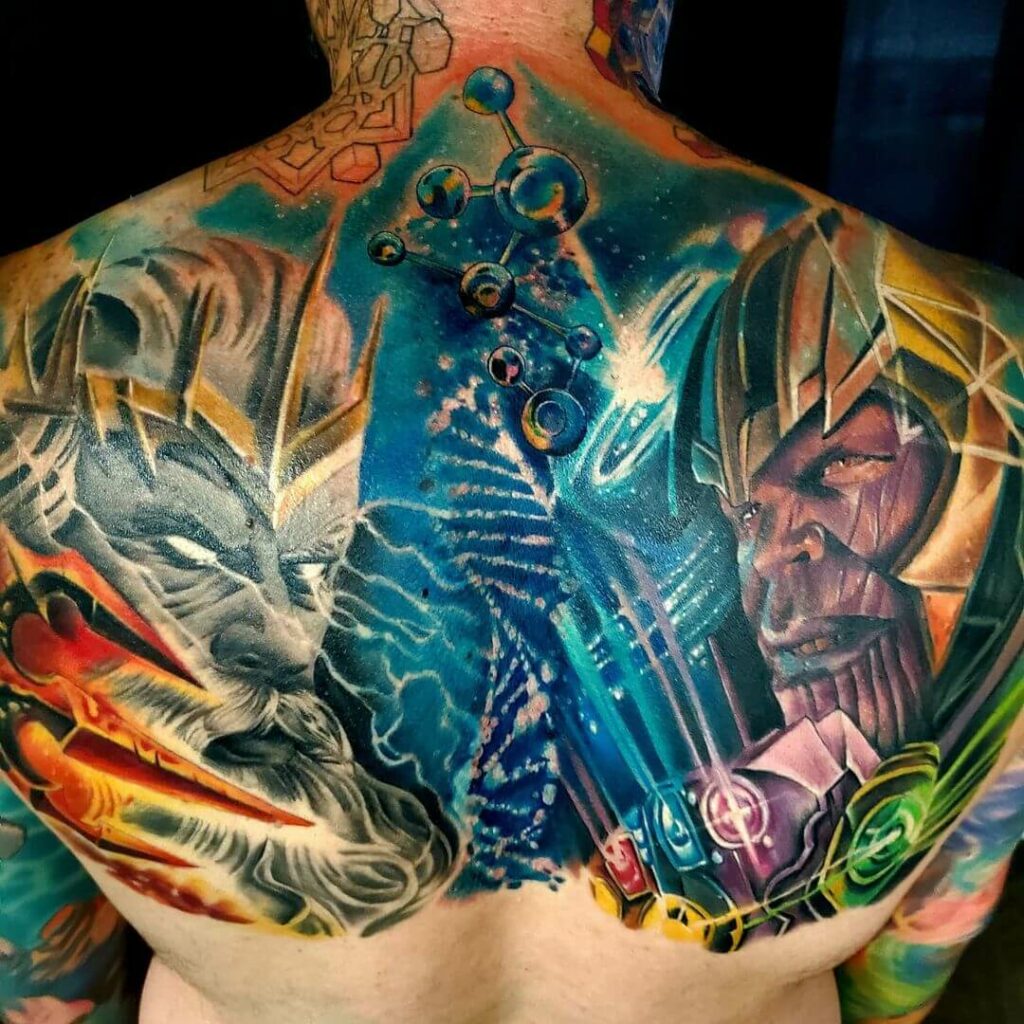 Now, this is an intriguing twist for a tattoo. Two of the most powerful Titans in one picture. Unexpected but works beautifully when it comes to a tattoo. Covering the whole back, this huge masterpiece is intricate, vibrant, and absolutely gorgeous. The artist creates a face-off between Poseidon and Thanos. While Poseidon holds his Trident, Thanos has his ultimate weapon, the infinity gauntlet. The bright colours used in the tattoo include a darker shade of robin egg blue, purple, and hues of reds and yellows. The artist also creates an illusion of gloss, giving it an almost realistic portrait look.
If you are up for committing to a huge tattoo that flatters your entire back then we are sure you will fancy this particular piece.
Thanos Tattoo For The Legs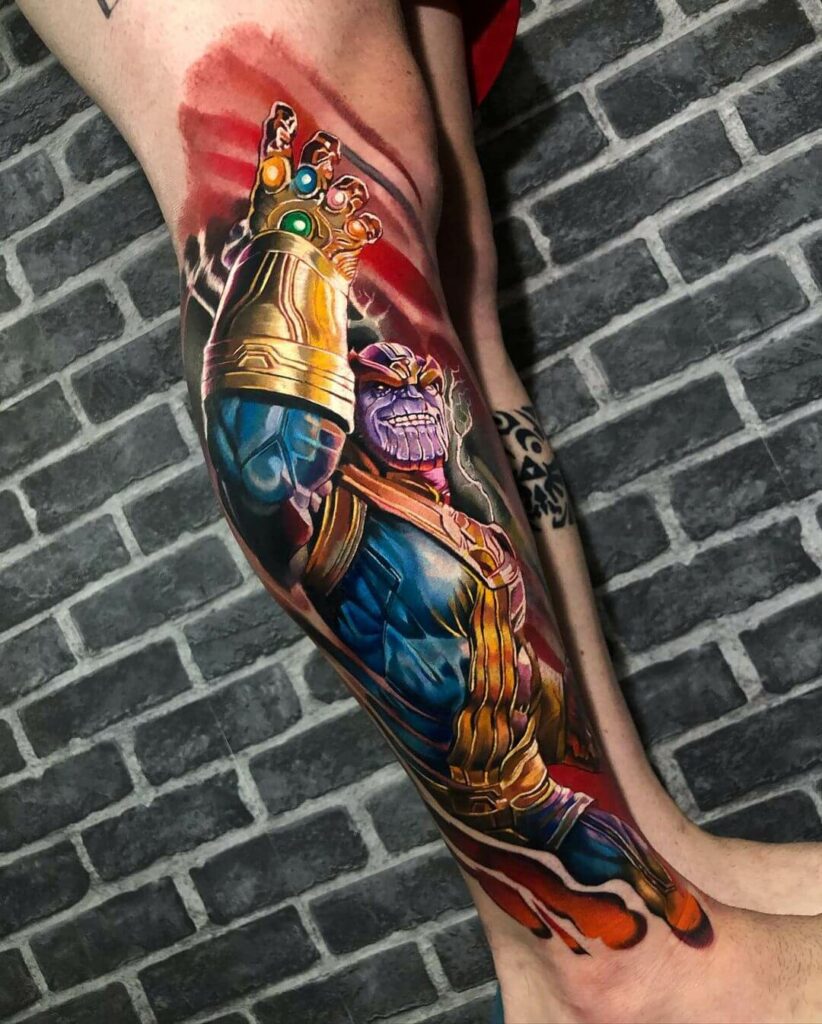 You just cannot miss out on this beautiful masterpiece. It is exuberant and eye-catching and you will love and enjoy every second of having this tattoo inked on you. Every aspect of this leg piece is bright, jazzy, and sparkling. The tones of gold, red, blue, and purple have been blended smoothly and offer a glossy look that makes the tattoo immensely appealing and brings in enough attention to the design.
While most Thanos tattoos are black and white with some greyish tones incorporated into them, such beautiful artwork is enough to make even the Thanos "haters" consider getting one.
Quirky Thanos Tattoo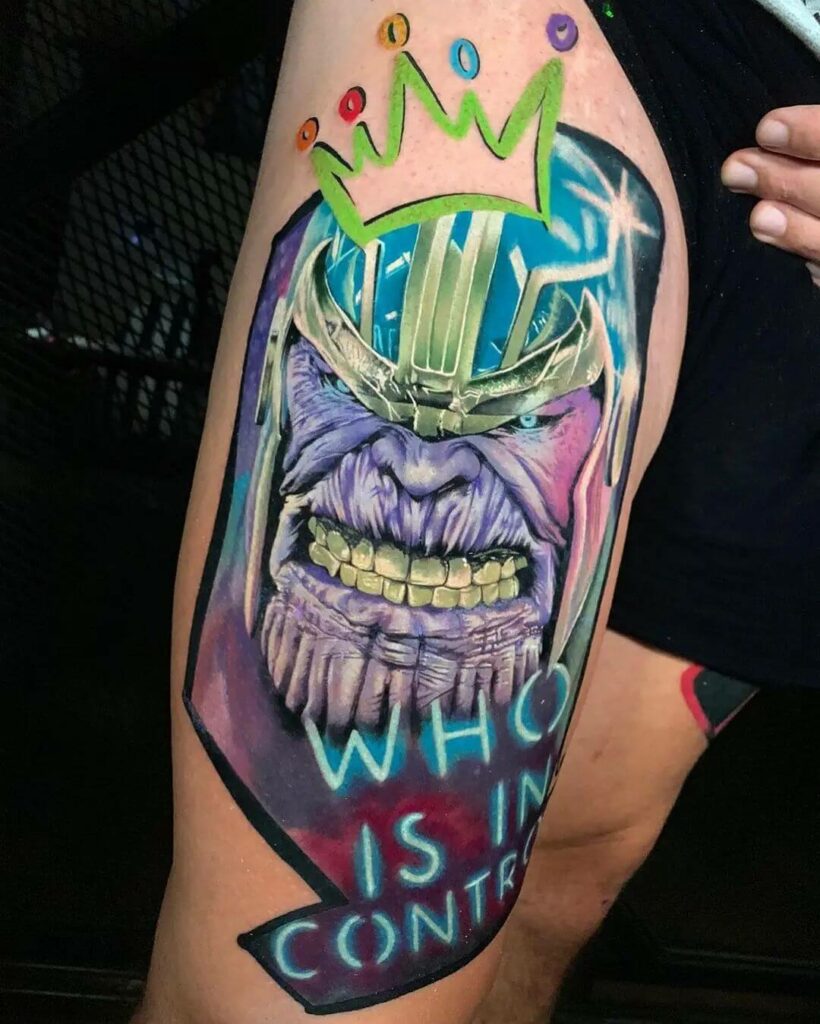 This Thanos tattoo is a little on the quirkier side. While most Thanos tattoos are aggressively broody or intimidating, this huge workpiece on the thigh has a little fun side to it. Despite Thanos' angry stare, the little crown on his head steals the show, giving it a fun little twist while the words "Who Is In Control?" are etched on the bottom portion of the tattoo.
Well, we are all aware of the answers to that question, are we not?
If you like tattoos with references to the movies or particular scenes that you connect with or have a sentimental attachment to, then this Thanos tattoo will definitely float your boat.
Iron Man And Thanos Tattoo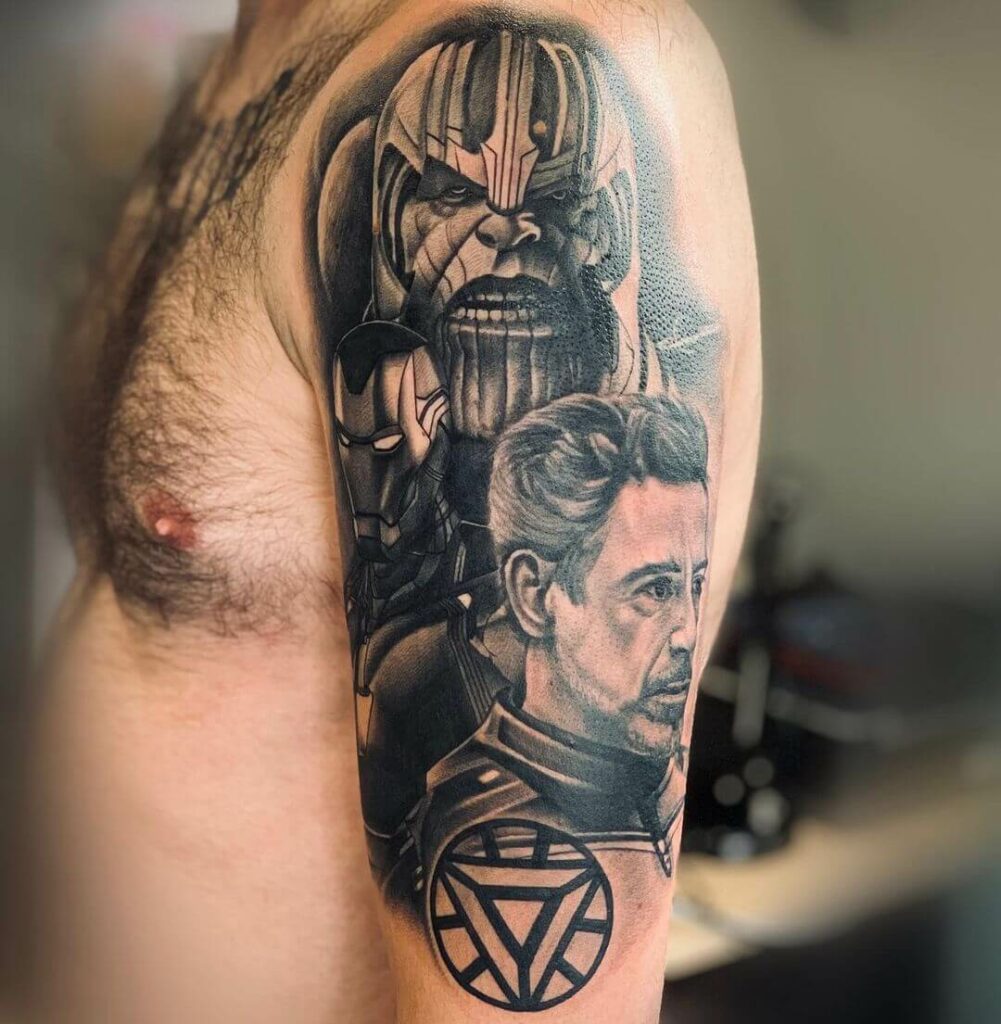 Iron Man is undoubtedly one of the most loved characters of the MCU movies. Fans all over the world enjoy his eccentric and unconventional character. Plus, considering the ending of Avengers: End Game, it is only fitting to incorporate Iron Man and Thanos in a tragically beautiful tattoo, commemorating the sacrifice made by the superhero. This large tattoo is capturing a very realistic artwork in black and white tones. Along with the characters, the artist also incorporated Iron Man's arc reactor, a key part of the superhero.
If you are a little on the sentimental side, we assure you that you will enjoy having this ink and definitely bring in a major amount of compliments.
Cute Little Thanos Tattoo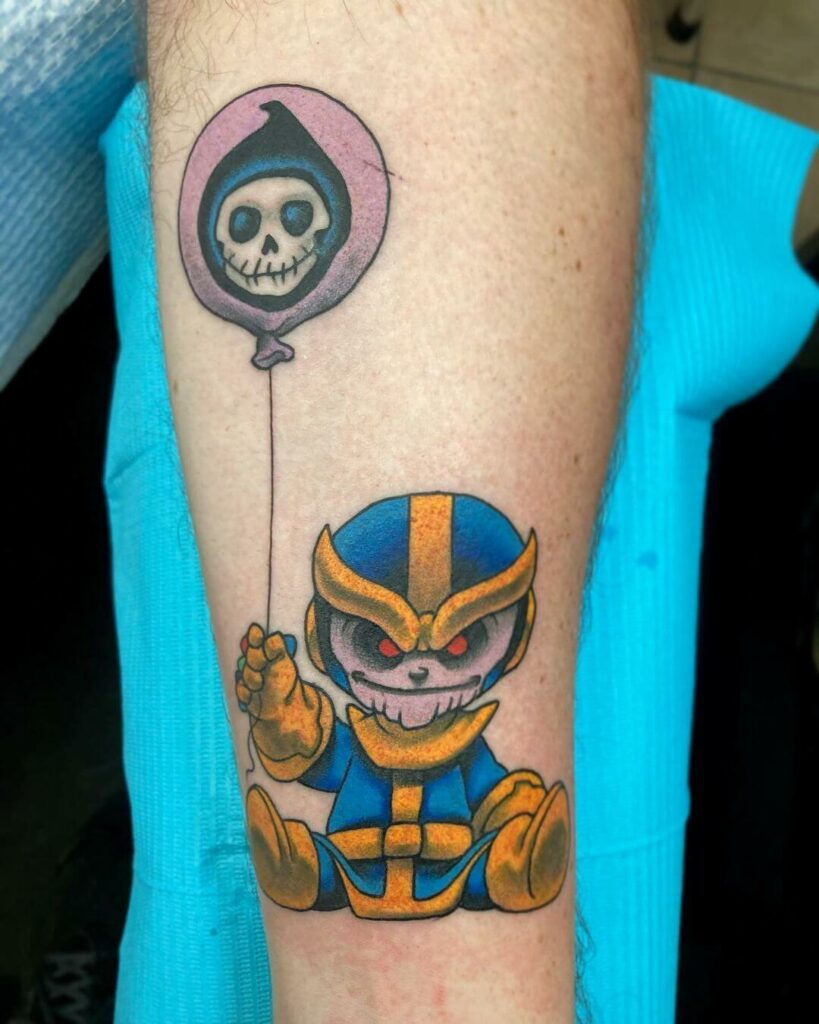 Comics-inspired tattoos are always a hit especially when it comes to a fandom that arises from a franchise depending on comics and movies. This cute little piece is just what one needs to end their search for a cherubic Thanos tattoo. We are ending this list with a baby Thanos tattoo, his signature "I am up to no good" look. Holding a balloon featuring the Grim Reaper, this ink work uses colour pigments of robin egg blue, bright navy blue, light brown, India yellow, and silver-grey. A unique combination and a blend of colours give life to an animated version of baby Thanos.
Such cute tattoos are favourable among people looking for a tattoo that is more on the fun side rather than being large and intimidating. So, if you prefer such tattoo designs then this will fit right for you.
Together, we have explored some of the most sought-after Thanos tattoos and we are hoping that your next visit or your first visit to a tattoo studio will depend on the choice you made after reading this article and exploring the curation. Fandom tattoos have always been massively popular in the tattoo community as people enjoy having their favourite characters from their favourite movies tattooed on them.
While tattoos are fun to have, we will also bring you a piece of advice. It is safer to find resources or links to studios that have high reviews. You can even consider recommendations from your friends. It is essential to ensure that a professional works on your tattoo, especially if it is your first. The end game of a workpiece is largely dependant on hygiene and expertise.
Feature image from Pinterest – Want your tattoo to look brighter? Try "Tattoo Balm"