Are you considering making a bold statement with a striking thigh tattoo? Look no further! We've curated a top-notch list of thigh tattoo designs for men that will undoubtedly help you find the perfect one to express your style. Let's dive in!
Thigh tattoos are gaining immense popularity among body art aficionados, and it's no wonder why. The upper thigh and leg offer a generous canvas for tattoo artists to work their magic, and as an added bonus, this area is known for having a higher pain tolerance compared to other parts of the body. With the ability to easily conceal or reveal your ink, thigh tattoos strike the perfect balance of personal expression and discretion.
Men and women alike are embracing hip and thigh tattoos in all their forms, from intimate and sensual designs to bold and eye-catching statements. No matter the size or style, the thigh is an ideal location for both tattoo newbies and seasoned collectors. Plus, if discretion is a concern, simply don a pair of jeans or slacks to keep your ink under wraps at the office.
When it comes to thigh tattoos, the possibilities are endless: skulls, angels, dragons, quotes, roses, wolves, and tribal designs are just the tip of the iceberg. The key is choosing the right artist to bring your vision to life, so do your research and find someone who excels at the style you're after.
So, without further ado, explore our carefully crafted selection of the best thigh and leg sleeve tattoos out there, and let these inspiring designs spark your imagination. It's time to embark on your journey to discovering the ultimate thigh tattoo that truly speaks to you. Dive in and get ready to be inspired!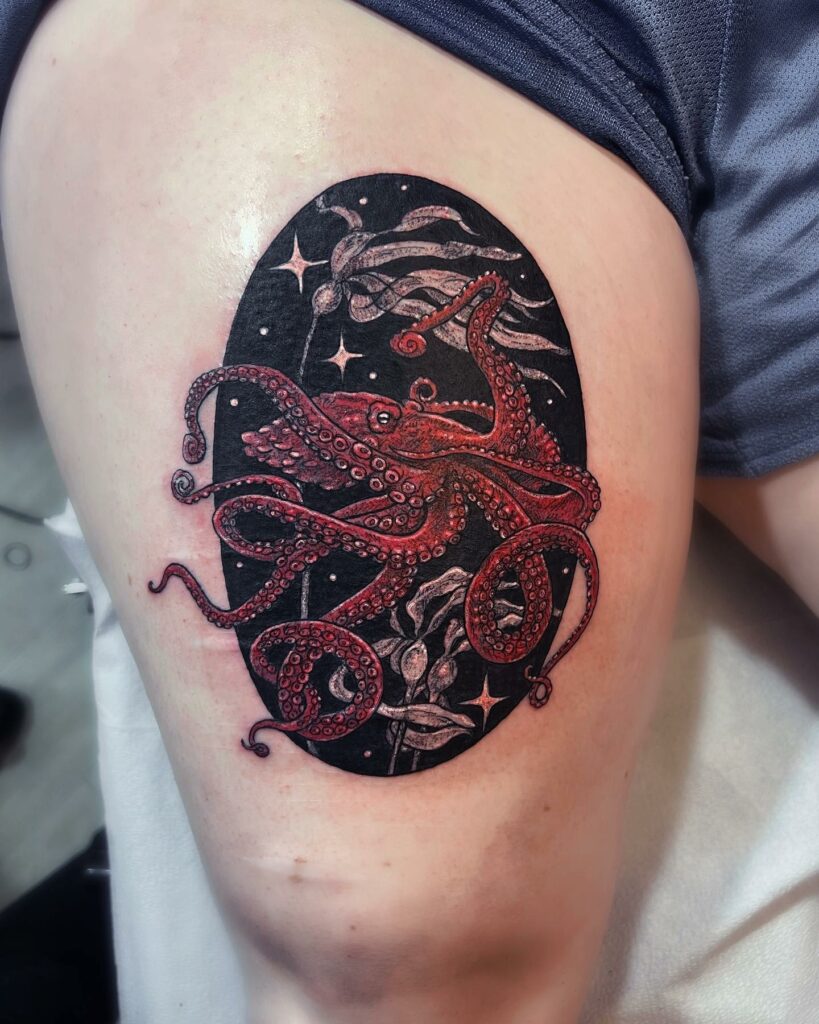 Alchemical Thigh Tattoo For Men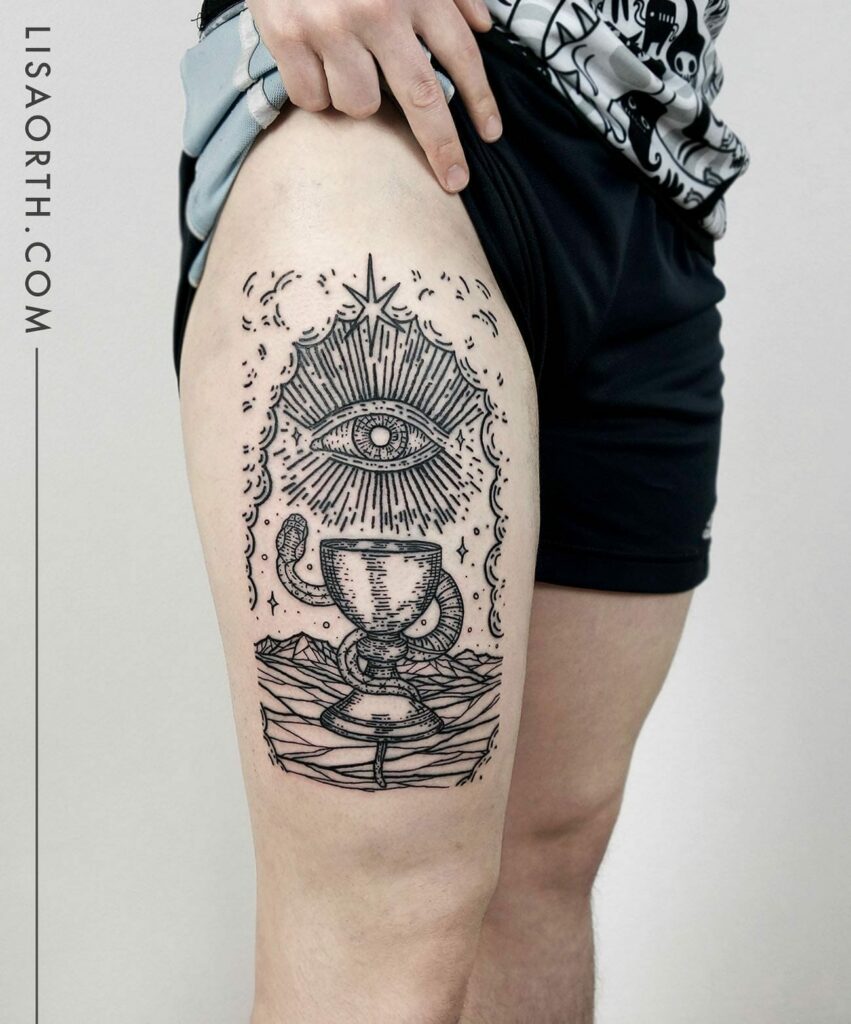 In the world of leg tattoos, there's an array of captivating designs that hold deep meaning and symbolism. One such design is the all-seeing eye, often thought to represent the ever-watchful gaze of a higher power or a guiding force from the heavens. The light source typically depicted behind the eye symbolizes wisdom or enlightenment, bringing an air of mystique to the tattoo.
The leg and inner thigh also provide a canvas for various occult and alchemical images, adding depth and intrigue to the design. One popular element is the snake, a powerful emblem of rebirth, strength, fertility, and temptation. By blending different tattoo styles, artists can create a stunning and unique thigh tattoo that truly stands out.
Black ink is often the medium of choice for these visible and eye-catching tattoos, making it easy to showcase your ink with pride. However, the beauty of leg and thigh tattoos is that they can be discreetly hidden when wearing shorts or other clothing, allowing for a more personal and private connection to the art.
If you're considering a striking and extraordinary thigh tattoo, there's no shortage of inspiration out there. Browse through various designs and consult with a skilled tattoo artist to find the perfect piece that resonates with you. Whether you're looking for tattoos specifically for men or versatile ideas that suit everyone, the world of thigh tattoos offers endless possibilities to express yourself and elevate your style. Dive into the realm of thigh tattoo placements and uncover the design that will make your legs truly remarkable.
Hawk Thigh Tattoo For Men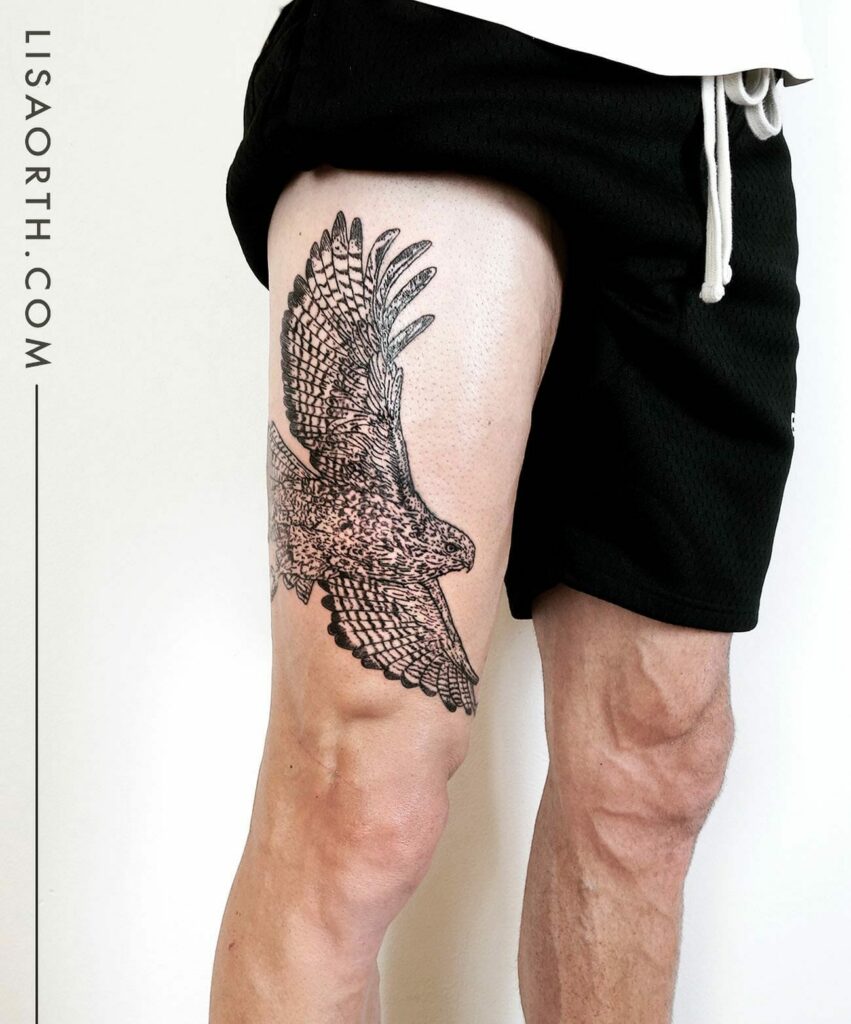 If you're on the hunt for an extraordinary thigh tattoo idea for men, consider the majestic and powerful hawk. A symbol of honor, cunning, valor, intellect, war, and communication, the hawk tattoo embodies an array of potent attributes that can inspire and energize you.
Inking a hawk on your body not only results in a visually striking image but also connects you to a deeper level of consciousness, invoking a sense of mindfulness and spiritual awakening. The hawk's keen observation skills and expansive perspective can serve as a reminder to stay open-minded and embrace new possibilities in life.
Expertly crafted with black ink, a skilled tattoo artist can bring the intricate details of this magnificent creature to life on your upper thigh. The placement allows for flexibility—you can choose to conceal or reveal your tattoo as the situation dictates.
So, if you're ready to soar with a remarkable tattoo that truly embodies your personality, delve into the world of side thigh and leg tattoo designs for men. Explore various options and consult with an experienced tattoo artist to find the perfect embodiment of the hawk's spirit. Your journey to self-expression and empowerment awaits!
Landscape Thigh Tattoo For Men
For travelers and nature enthusiasts, landscape tattoos offer a unique and deeply personal way to carry a piece of their heart and home with them, wherever they go. These exquisite designs spark the imagination, invoking scenes of relaxation, adventure, and romance.
A beautiful landscape tattoo might feature elements like mountains, a sunrise, pine trees, and a babbling brook meandering through the terrain. Rendered in classic black ink, these tattoos possess a mesmerizing quality that captures the essence of the great outdoors. If you're dreaming of visiting such breathtaking locations, a landscape tattoo can help you envision and cherish those future experiences.
The creativity and experimentation behind landscape tattoos know no bounds. You can customize your design to reflect your unique style and preferences, creating a visual escape to enjoy after a long, stressful day at work. So, why not consider an incredible landscape piece for your thigh?
One of the advantages of thigh tattoos, especially for men, is their versatility. A full leg-sleeve tattoo can be easily concealed when wearing long pants, giving you the freedom to choose when to reveal your stunning ink. Embrace the beauty of nature and make a statement with a landscape tattoo that truly speaks to your wanderlust spirit.
Skull N Flora Thigh Tattoo For Men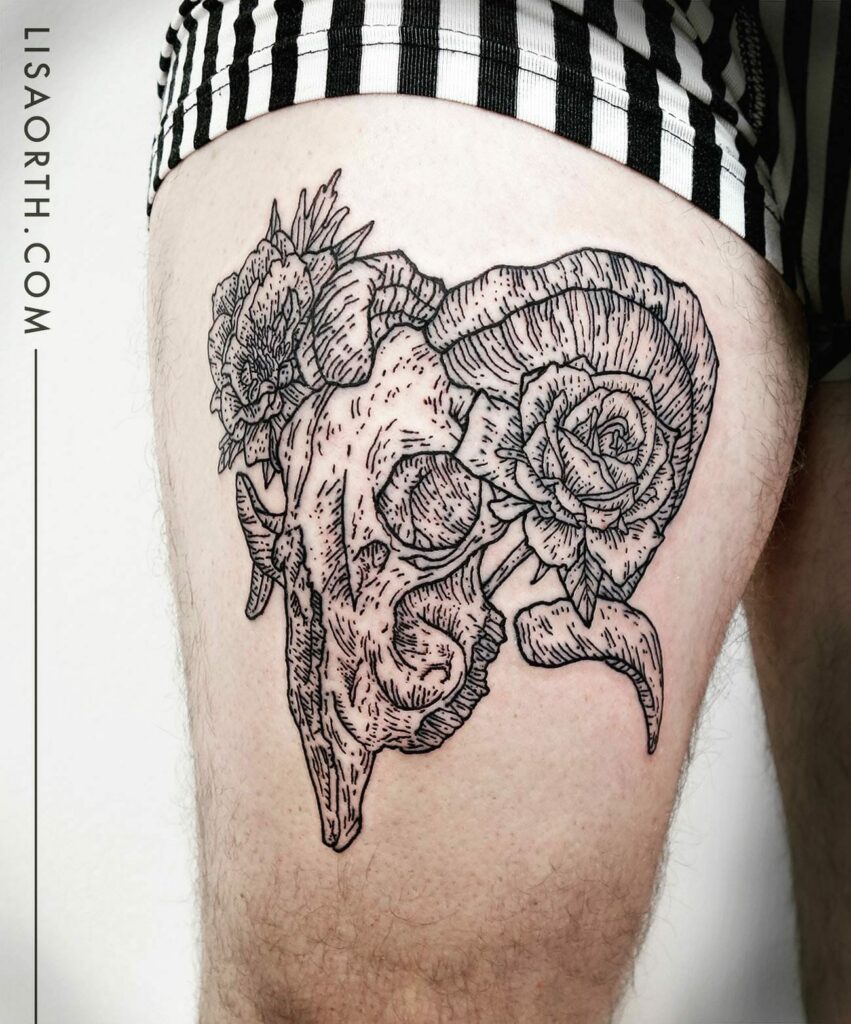 Though tattooing on the thighs can be a more painful experience, some stunning upper leg sleeve designs are well worth the discomfort. The intriguing combination of skulls and flowers, for example, blends contrasting elements that create a striking visual impact.
Roses symbolize love, passion, and beauty, while skulls often represent death, impermanence, and mortality. However, skulls can also embody intellect, as the brain is the last part of the body to decompose. This juxtaposition of beauty and decay makes for an exceptionally captivating leg sleeve tattoo design.
Created with expert technique and black ink, this alluring piece can be easily customized to suit your personal style. As the tattoo is concentrated on the upper thigh, you have the option to conceal or reveal it as circumstances dictate, giving you complete control over when to showcase your artistic ink.
If you're ready to make a bold statement with a thigh tattoo that embraces the duality of life and death, take the plunge and explore a variety of thigh tattoo options for men. Consult with a skilled tattoo artist to find the perfect design that truly resonates with you and captures the essence of this extraordinary artistic concept.
Sisyphus Thigh Tattoo For Men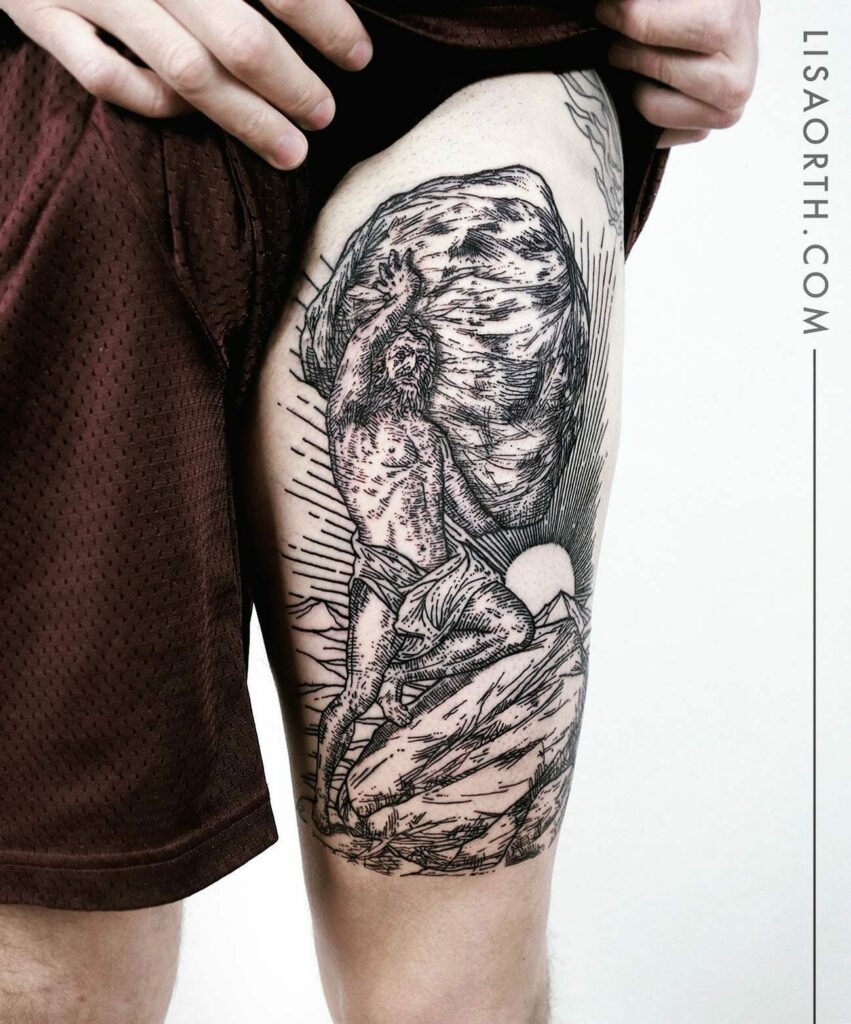 Sisyphus tattoos offer a powerful and evocative choice for those looking to adorn their lower leg, thigh, upper legs, or even the entire leg with meaningful ink. These designs often depict the mythological figure of Sisyphus tirelessly pushing a massive boulder up a hill, symbolizing the relentless struggles and burdens we all face in life.
An elaborate Sisyphus tattoo might showcase the figure against a stunning backdrop of a rising sun and majestic mountains, creating a visually striking scene. This design serves as a reminder of our individual journeys and the strength we possess to persevere through life's challenges.
Rendered in classic black ink, a Sisyphus tattoo can be an incredible addition to your body art collection, especially for those who appreciate precise and thought-provoking designs. It's a bold and philosophical statement piece that will surely spark conversations and inspire introspection.
If you're considering a Sisyphus tattoo for your thigh, rest assured it's a wise choice. Explore a variety of thigh tattoo options for men and consult with a talented tattoo artist to find the perfect design that aligns with your personality and body shape. Embrace the symbolism of struggle and resilience with a captivating Sisyphus tattoo that truly speaks to the human experience.
Priest Lake Thigh Tattoo For Men
Nestled within the world's most enchanting and diverse landscapes, Priest Lake is a haven for nature lovers and outdoor enthusiasts alike. With a wealth of activities to explore, it's no wonder that many hold this idyllic destination close to their hearts. To cherish your memories of this picturesque lake, consider capturing its essence in a tattoo on your thigh.
Rendered in timeless black ink, a design featuring four pine trees, majestic mountains, and a rising sun creates a serene and invigorating scene. This tattoo not only embodies the beauty of nature but also allows you to showcase your love for the great outdoors and the memories you've made there.
Flexible in nature, thigh tattoos can be revealed or concealed as you please, making them an ideal choice for a personal tribute to Priest Lake. If you're contemplating this blissful design, don't hesitate to explore more captivating thigh tattoo options for men. Discover the perfect ink to represent your personality and experiences, and dive into the world of body art that truly speaks to your soul.
Esoteric Thigh Tattoo For Men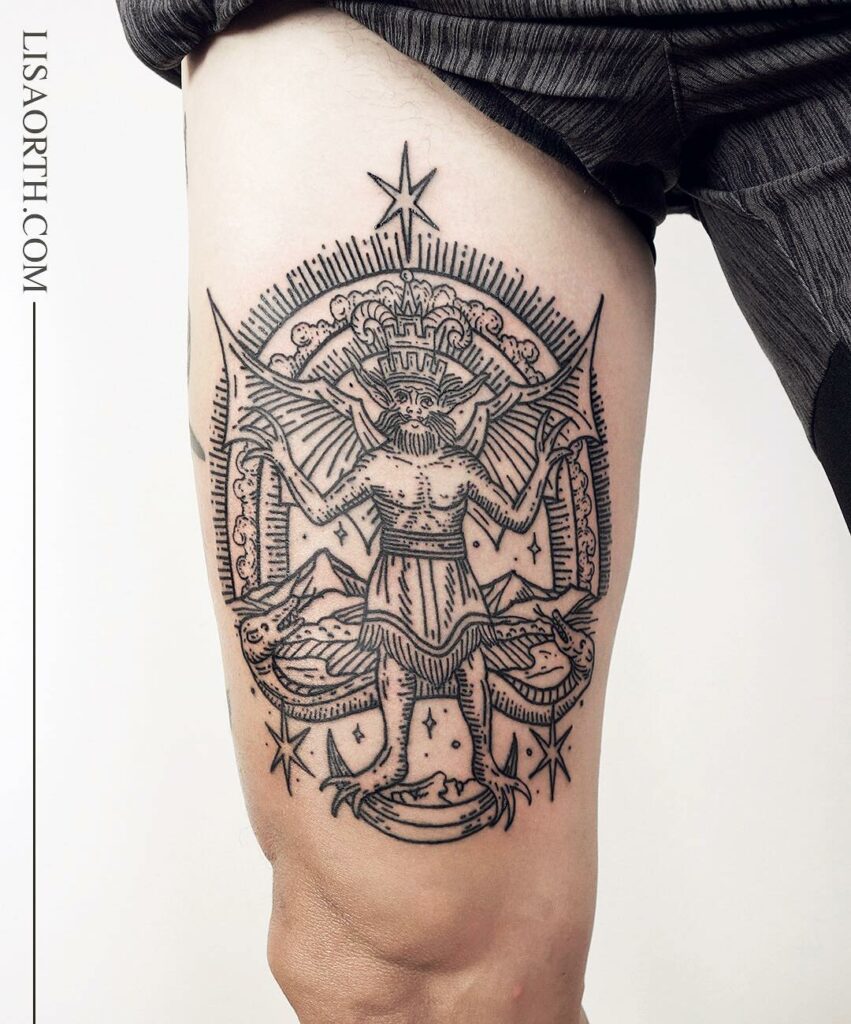 Dive into the realm of mystique with this esoteric-themed tattoo, perfect for those who appreciate the allure of the unknown. Featuring a bat-winged figure standing atop a crescent moon, with two snakes flanking his knees, the design creates an air of mystery and intrigue. Set against a backdrop of rugged mountains and a solitary star, this captivating scene is skillfully etched in classic black ink.
Ideal for those drawn to enigmatic designs, this striking tattoo will undoubtedly make a statement when placed on the upper thigh. With the flexibility to conceal or reveal your ink as you desire, this piece is a fantastic addition to your body art collection.
As you ponder this uniquely beautiful thigh tattoo, explore more such options to find the one that truly resonates with your spirit. Remember, when selecting a tattoo artist, it's essential to choose someone with exceptional skill and experience to bring your vision to life. After all, your body is a canvas that deserves nothing but the best. So go ahead, delve into the world of esoteric thigh tattoos for men, and embark on a journey of self-expression that knows no bounds.
Kraken Thigh Tattoo For Men
The Kraken tattoo is a powerful emblem that often represents fear and strength. If you feel your personality exudes a fierce, intimidating, or potent presence, this mythical sea creature may be the perfect design to ink on your thigh.
Crafted in bold black ink, the Kraken tattoo incorporates a scene of antique ships cresting waves, with clouds and birds soaring above. Enclosed within an elegant oval-shaped frame, the overall design is both captivating and mysterious, adding a touch of enigma to your unique persona.
Considering this awe-inspiring design for your blank thigh canvas? Feel free to explore additional thigh tattoo options for men to find the perfect fit. Remember, tattooing on the thigh can be a painful experience, but the level of discomfort varies from person to person, depending on individual pain thresholds.
Whether you're drawn to sophisticated, intricate, or other distinctive tattoo designs, there's a wealth of artistic possibilities waiting for you. Embrace the world of body art, and let your personality shine through with a striking Kraken tattoo or any other design that speaks to your soul.
Sword Thigh Tattoo For Men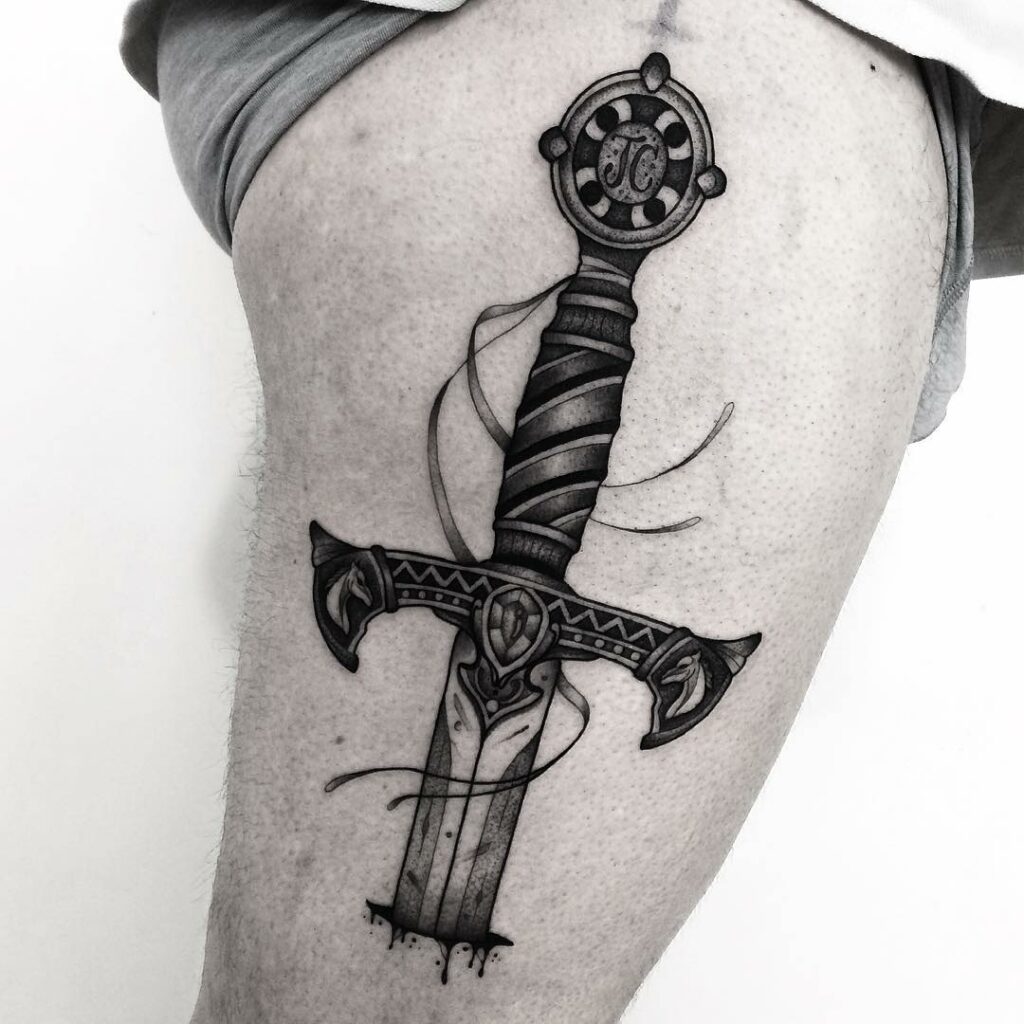 The noble sword, a timeless symbol of chivalry, peace, and justice, makes for an exquisite tattoo design. Intricately inked on the thigh using a rich black hue, this stunning piece showcases the artist's impeccable attention to detail, creating a remarkable three-dimensional effect. Two finely crafted horses adorn the sword's handle, enhancing the design's elegance.
A sword tattoo is an exceptional way to express your commitment to fairness and your justice-loving personality. Located on the upper thigh, this striking design can easily be concealed from public view or revealed with pride, depending on your preference.
Are you considering this artistically captivating and unique design? Immerse yourself in the world of tattoo art and explore a variety of smaller thigh tattoo designs to find the one that truly resonates with you. Dive into the fascinating realm of body art and let your inner spirit shine through.
Skull N Geometry Thigh Tattoo For Men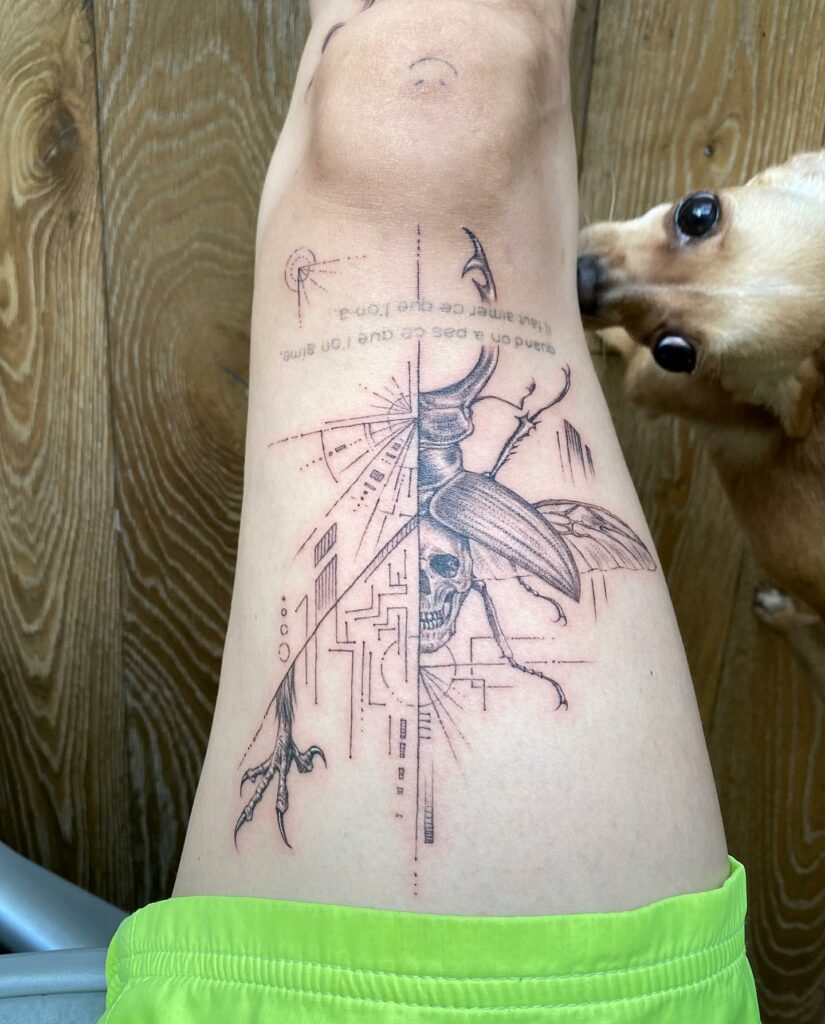 Skull tattoos have long been a favorite choice for men seeking thigh, upper leg, and lower leg ink. With various meanings, such as the afterlife, death, and rebellion, skull tattoos carry a unique sense of depth and intrigue. The particular design featured here combines an intricate skull with geometric elements, a menacing claw, and an eye-catching three-dimensional moth.
The moth symbolizes metamorphosis and transformation, sharing a close connection with butterflies, while the claw represents ferocity and courage. When brought to life by a skilled tattoo artist, this remarkable design will undoubtedly attract admiration from all who catch a glimpse.
Considering this mesmerizing thigh tattoo for yourself? Positioned on the upper thigh, you'll have the option to conceal or reveal your tattoo as you please. Embrace the allure of this captivating skull design and let it become a part of your personal body art collection.
feature image from Pinterest – Want your tattoo to look brighter? Try "Tattoo Balm"
Last reviewed and updated on September 15, 2023