If you want to embellish your thigh muscles with some artwork, what else can be better than getting a thigh tattoo sleeve! Check out the tattoo designs here.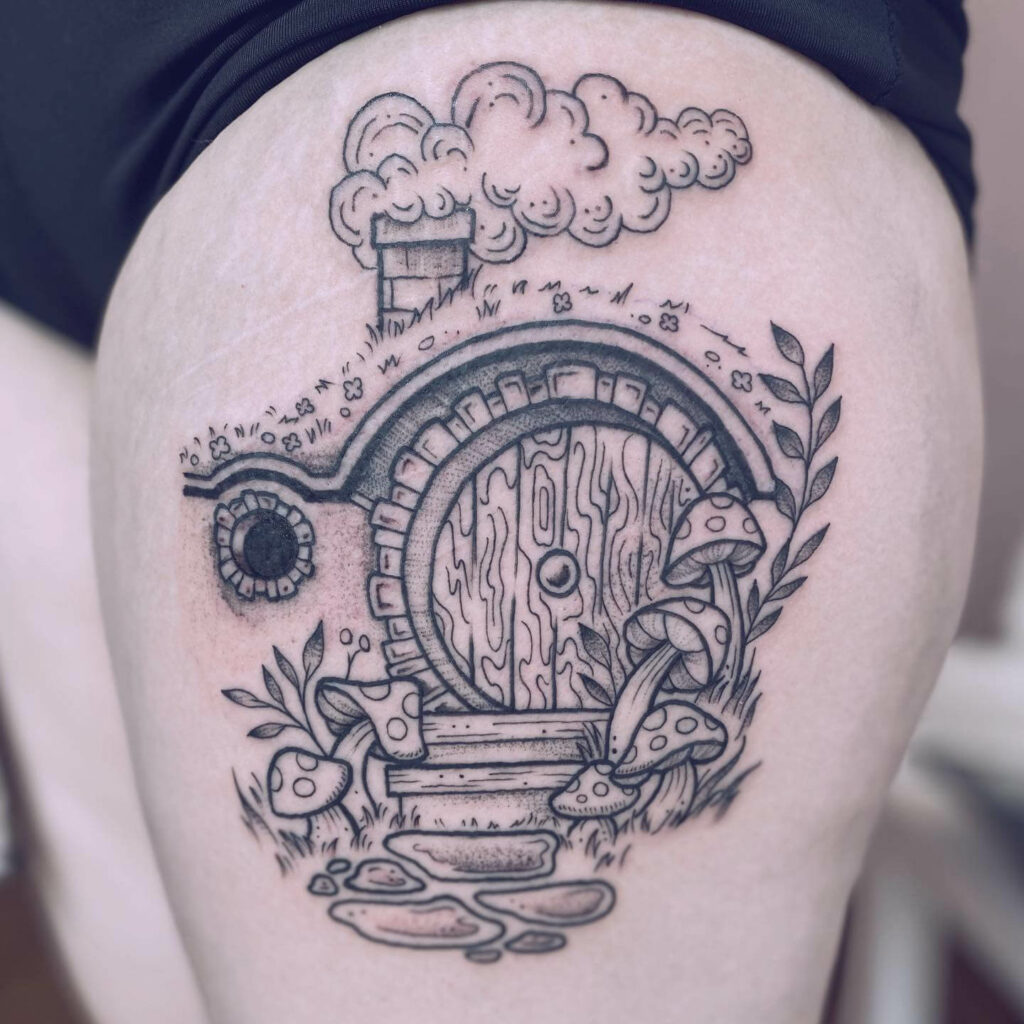 You can get a tattoo on any part of your body.
However, if the tattoo design is not visible to the public, taking the pain of getting inked does not make sense. Of all tattoos, leg tattoos, especially those on the thighs appear attractive.
Many people prefer getting their entire legs tattooed. Choosing the size of your tattoo and the tattoo designs is entirely your discretion. If a tattoo artist can do a thigh sleeve tattoo properly, it looks more like an ornament than a tattoo. When it comes to thigh tattoos, one can choose to do side thigh tattoos, leg sleeve tattoo designs, full leg tattoos, calf tattoo designs and tattoos on the upper thigh, and many more.
Before you land up in the tattoo parlor to get a full leg sleeve tattoo, there are certain things that you should be aware of. First and foremost, you must understand that all leg sleeve tattoos are not full leg sleeve tattoos. Whether the leg tattoo will cover the entire leg or only a part of the leg depends entirely on your chosen tattoo designs. If it is a simple leg tattoo, it can be inked only on the calf muscles or on the thighs. However, if you are just a beginner in the tattooing world, it is suggested, to begin with, small leg sleeve tattoos and then proceed to larger tattoo designs.
Now, coming to the time taken to do a full leg sleeve tattoo, it depends on the design. The more complicated leg tattoo ideas you choose, the more time will it take. Generally, a full leg sleeve tattoo requires a minimum of two to three days to get completed. When getting a tattoo, people normally bother most by the pain level. When you are choosing from the various leg tattoo ideas, make sure to get it done on a fatty region of the leg. In that cases, the thighs appear to be the safest position for tattoo placement. In short, you will experience less pain in areas that have fat deposition.
Given below is a list of the top ten leg sleeve tattoo designs that will fascinate you. So, without further delay, let's get started with the process.
Thigh Sleeve Tattoo Female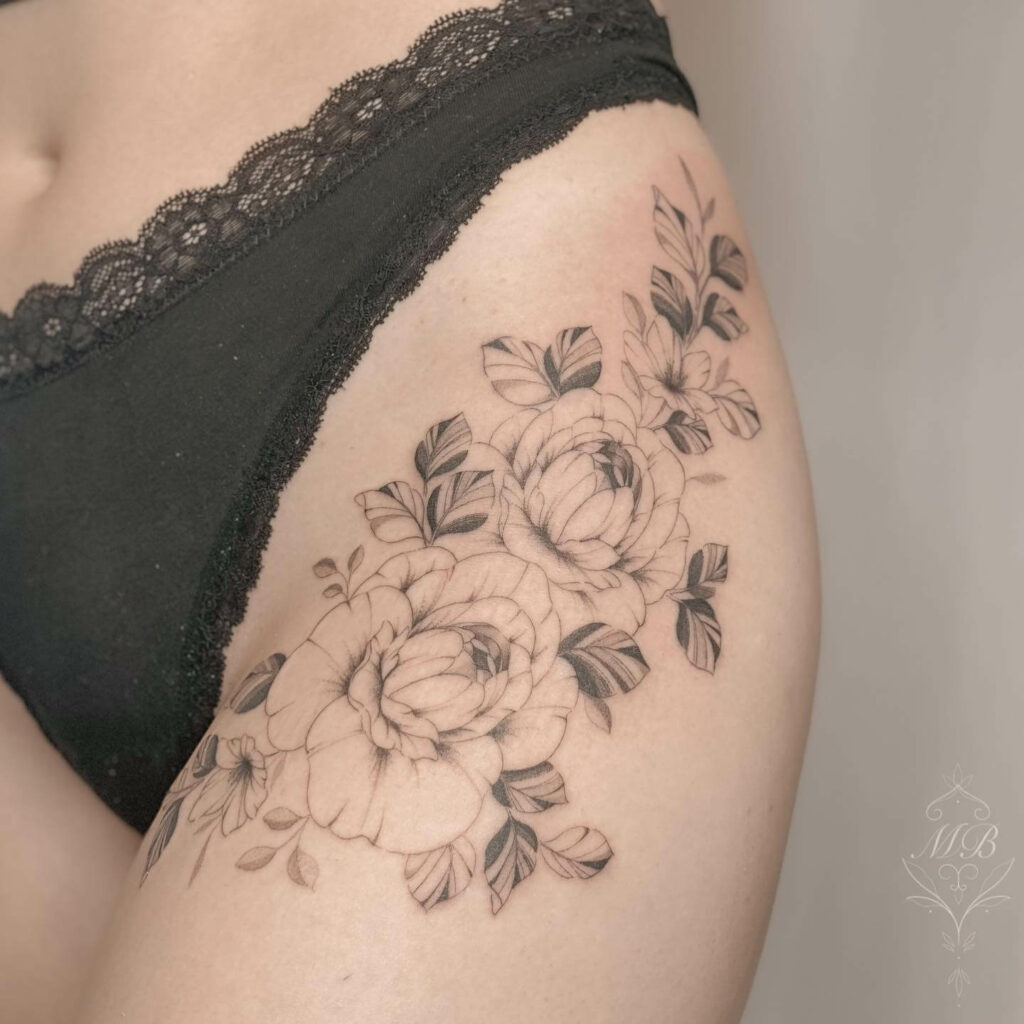 Do you want to flaunt your leg tattoos, especially when you hit the beach? If so, then here is a leg tattoo that will not only mesmerize you but also make you go gaga over it. This is a fine line floral tattoo with simple black ink that is denoted for women. As a female classy half sleeve tattoo, the body art has curved lines to fill in the entire space.
Tattoo artists suggest getting some fanciful flowers when choosing a large tattoo. This flower tattoo can be made into a colorful design by adding vibrant colors to it. Along with the peony flowers different designs can be added to make the tattoo more feminine. A peony tattoo is attached to the ideals of positivity, beauty, nobility, love, and honor.
Bold Black Tribal Leg Tattoo
When it comes to exploring leg tattoo ideas, the tribal leg tattoo ideas never fail to amaze you. The tribal tattoo designs are vast and versatile. Hence, one can get several leg tattoos out of tribal designs. Of all tribal tattoos. this upper thigh tattoo is something that will grab the attention of many.
Tribal designs being a popular choice, often, men and women want to get tattooed with tribal designs. Not only on the thighs, but the tribal tattoo also suits the calf, ankle, and even lower leg tattoo. Although this tattoo design is done only on the upper thigh, one can get expand the design to the whole leg.
Simple Sleeve Tattoo With Quotes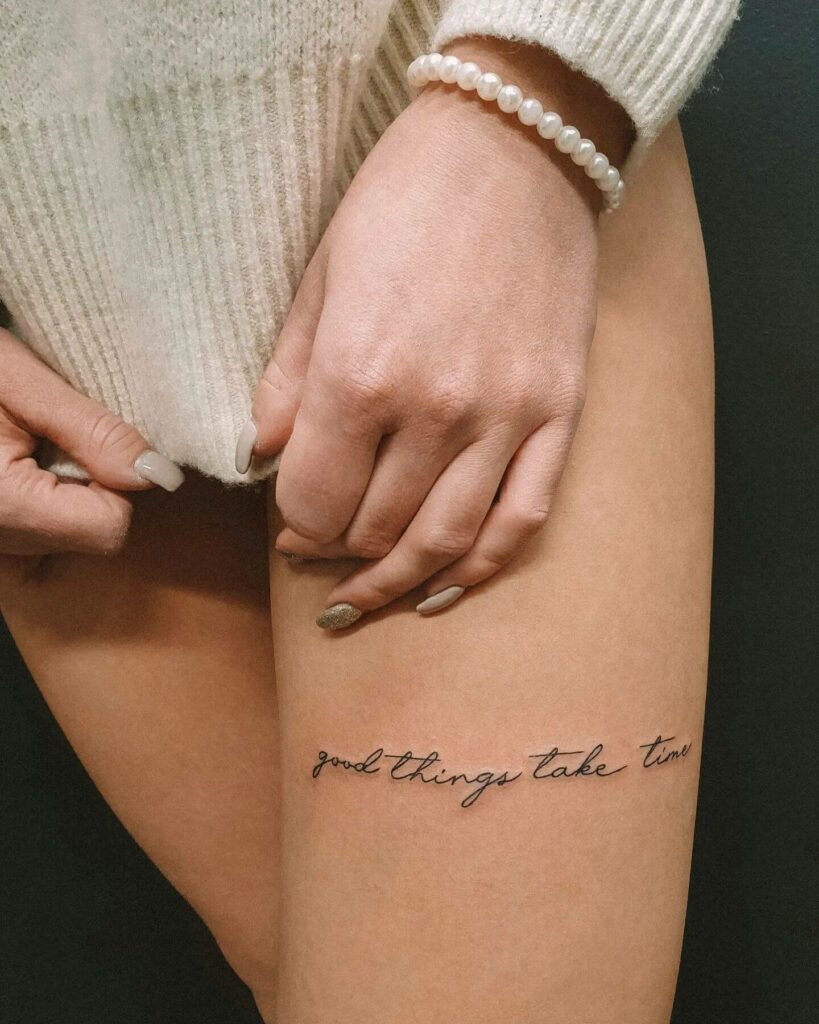 Not many prefer to get a full leg tattoo. There are some that believe that the best leg tattoos can be created when it has an impactful and strong message conveyed by them. If you have some preferred quote or some words that have etched a deep impact in your heart, you can get it tattooed on your leg.
Here is one of the best leg tattoos that is simple yet elegant. The power that this full leg tattoo has makes it more eye-catching. In this tattoo, these words are inked in black – 'Good things take time.' Indeed, the quote inked here is true in every sense. To add more femininity to the tattoo, one can add some butterflies or some flower designs as a lower leg tattoo to this quote tattoo.
Black Monarch Butterfly Shaded Tattoo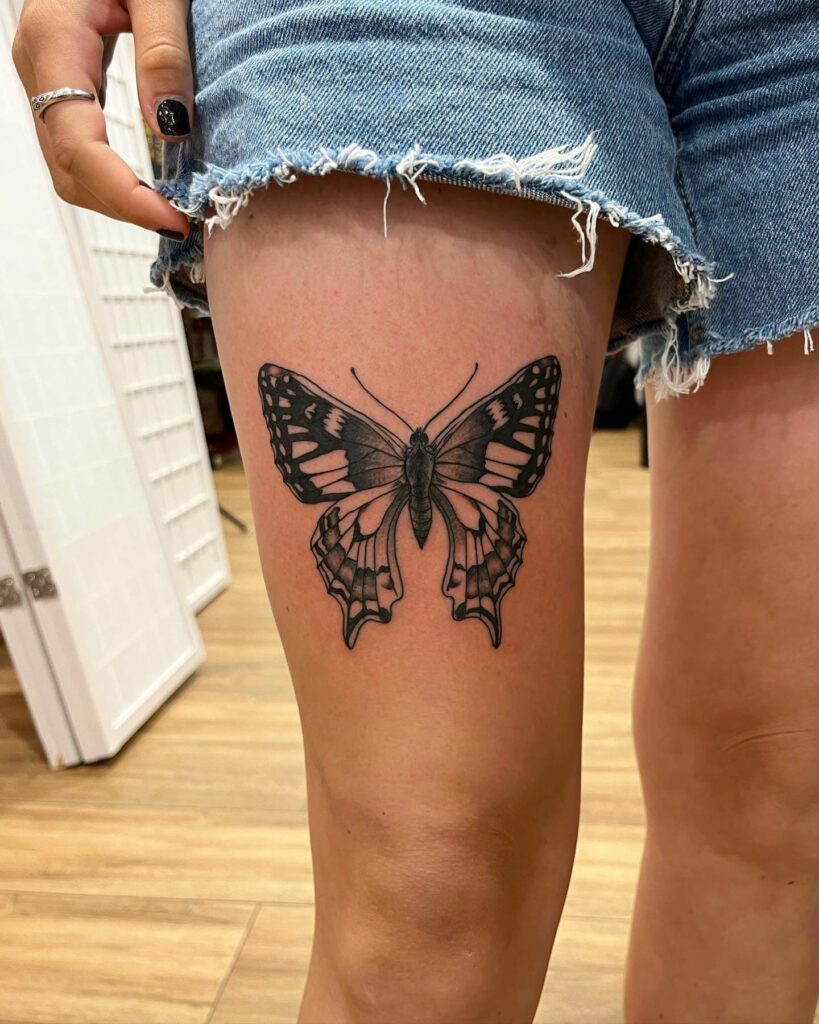 Often, people choose to get tattoos to commemorate an event that has completely changed their lives or has greatly impacted their lives. If you are looking for a simple tattoo that will grab the attention of many, here is one for you. This is a butterfly tattoo with a monarch butterfly designed on it.
In the tattooing industry, the monarch butterfly stands as a symbol of hope, good luck, transformation, and new beginnings. If you have undergone a drastic change in your life that has impacted you positively or something which has allowed you to rediscover yourself and begin a fresh, this monarch butterfly tattoo is apt for you. The interesting part of this tattoo is you can get it done on any part of your leg. If you want a miniature version of this tattoo, ink it on the lower leg.
Sacred Heart Leg Tattoos With Lady's Face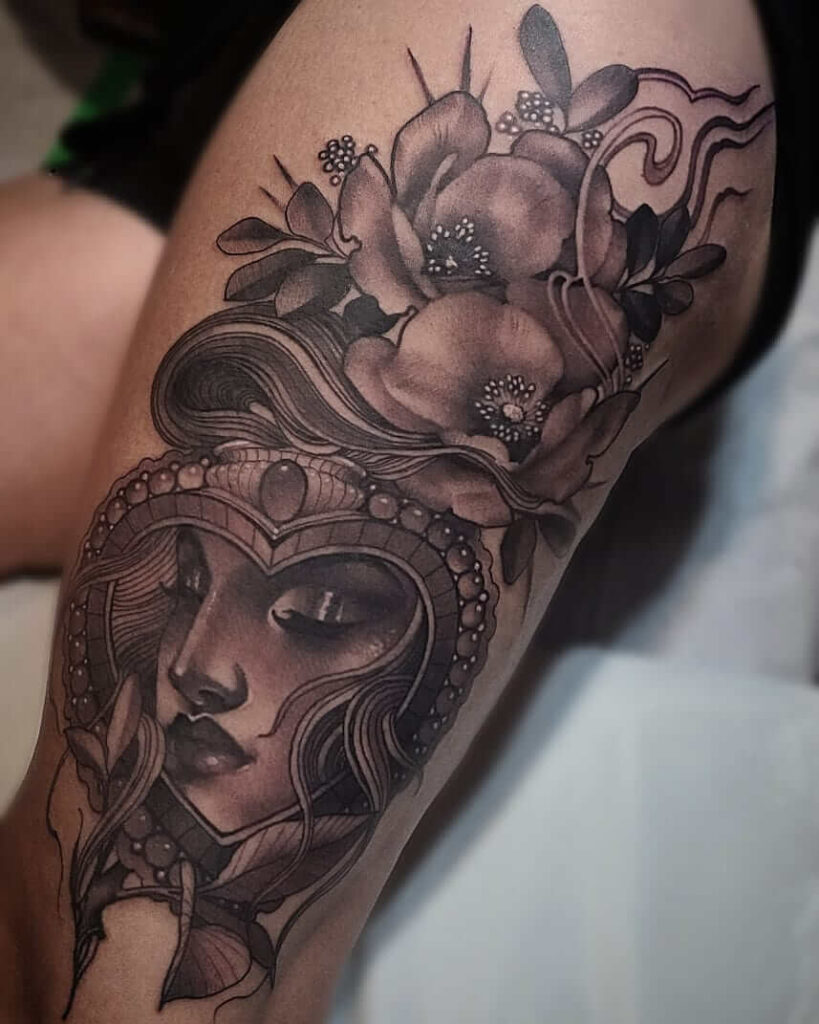 Feature Image from Pinterest – Want your tattoo to look brighter? Try "Tattoo Balm"