Are you a believer in the power of dream catchers and want to add some meaningful body art to your collection? Look no further! Dream catchers are traditionally handmade hoops woven with webs, beads, and feathers. They have long been used by Native American tribes to symbolize protection against negativity and bad dreams. In fact, dream catchers were hung above the cradles of newborn babies to protect them from evil spirits. Today, dream catchers have become a popular tattoo design, with each element holding its own special meaning. The hoop represents the cycle of life, while the web symbolizes protection and self-defense. The beads add aesthetic value, and the feathers represent freedom and strength. Discover the top ten dream catcher tattoo designs that are sure to catch your eye!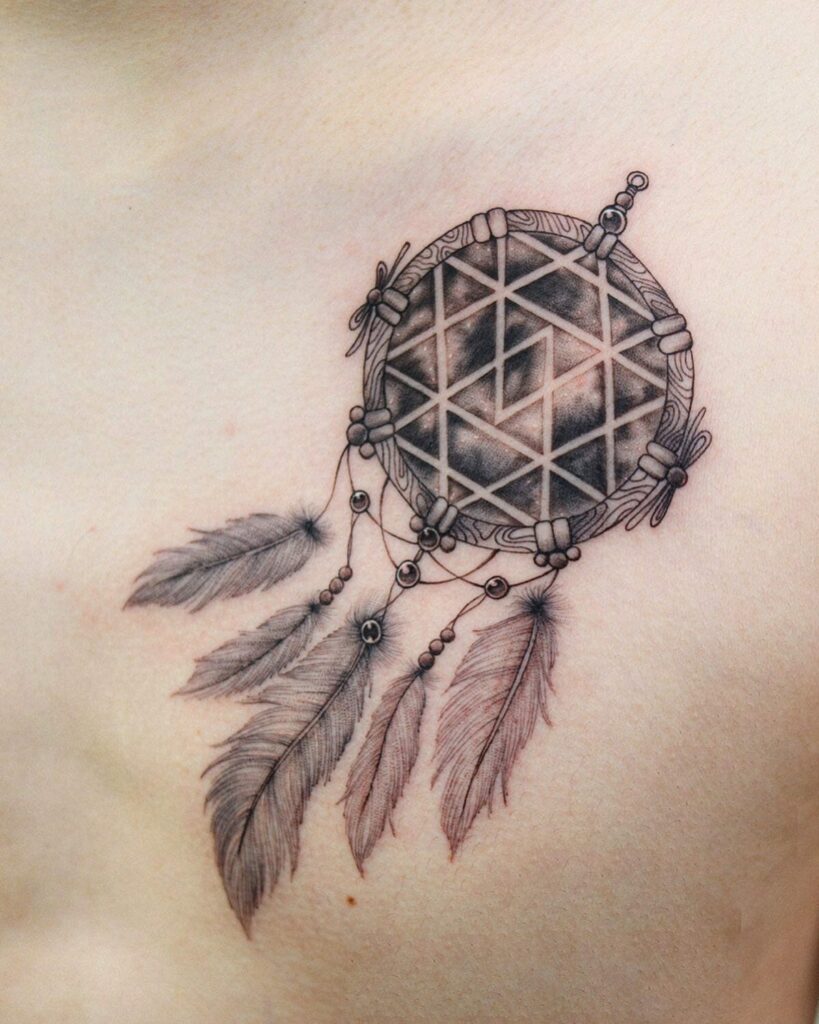 Colorful Dream Catcher Tattoo Design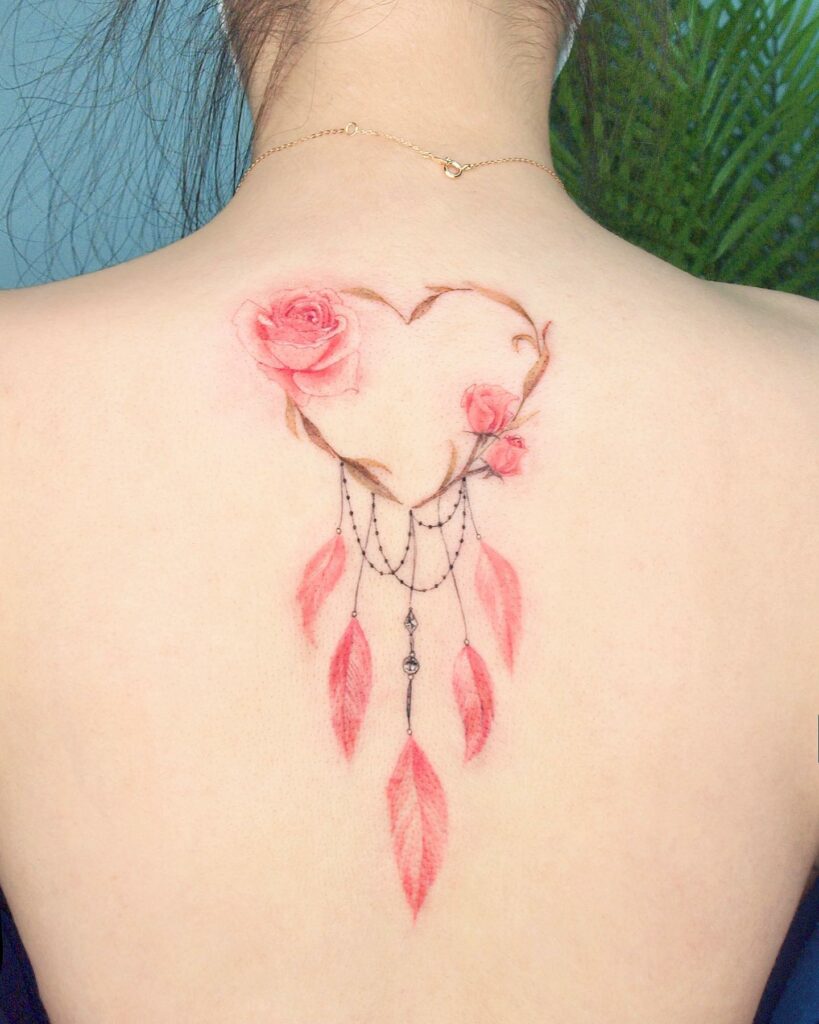 Dreamcatcher tattoos have become increasingly popular over the years. These beautiful designs have deep spiritual roots and are believed to protect the wearer from negative energies. If you're thinking of getting a dreamcatcher tattoo, consider placing it on your thigh! This area offers ample space for intricate and detailed designs. Check out this colorful dreamcatcher tattoo, with a beautiful blend of pink and purple shades that give it a watercolor effect. It's sure to add a touch of femininity and whimsy to your tattoo collection.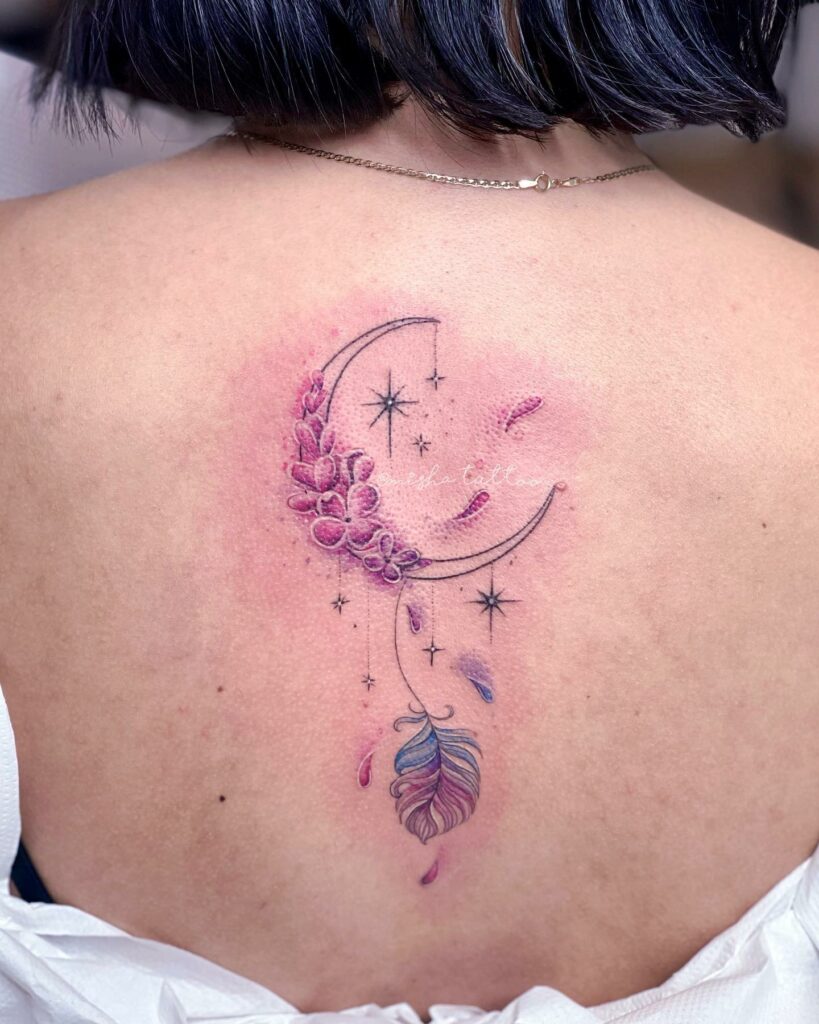 Dreamcatcher tattoos have always been popular among tattoo enthusiasts. If you're looking for a unique and symbolic design, you might want to consider a crescent moon dreamcatcher tattoo. This particular design is truly special as it incorporates a crescent moon instead of the traditional hoop. The crescent moon, symbolizing growth and creativity, adds a touch of mystery to the tattoo. The placement on the thigh is perfect as it provides ample space for the artist to add intricate details and shades of color, making the design truly stunning.
Simple Dream Catcher Tattoo In Black Ink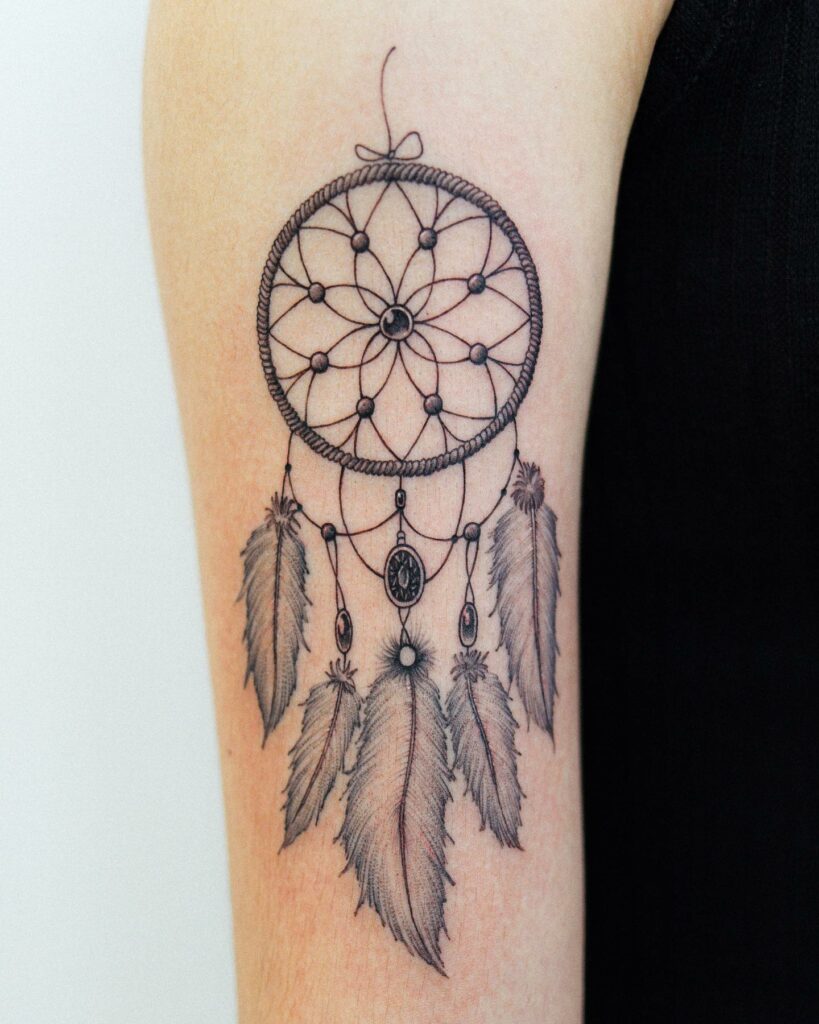 If you're in search of a beautiful and classy side thigh tattoo design, we've got just the thing for you! Feast your eyes on this stunning dream catcher tattoo, guaranteed to turn heads. The design is executed with precision and accuracy, using only black ink and a combination of a single needle and a rounded needle. With the ability to ward off bad dreams, this dream catcher tattoo is more than just a beautiful piece of art, it's a symbol of protection and positive energy. So why wait? Head to your nearest tattoo studio and get yourself inked!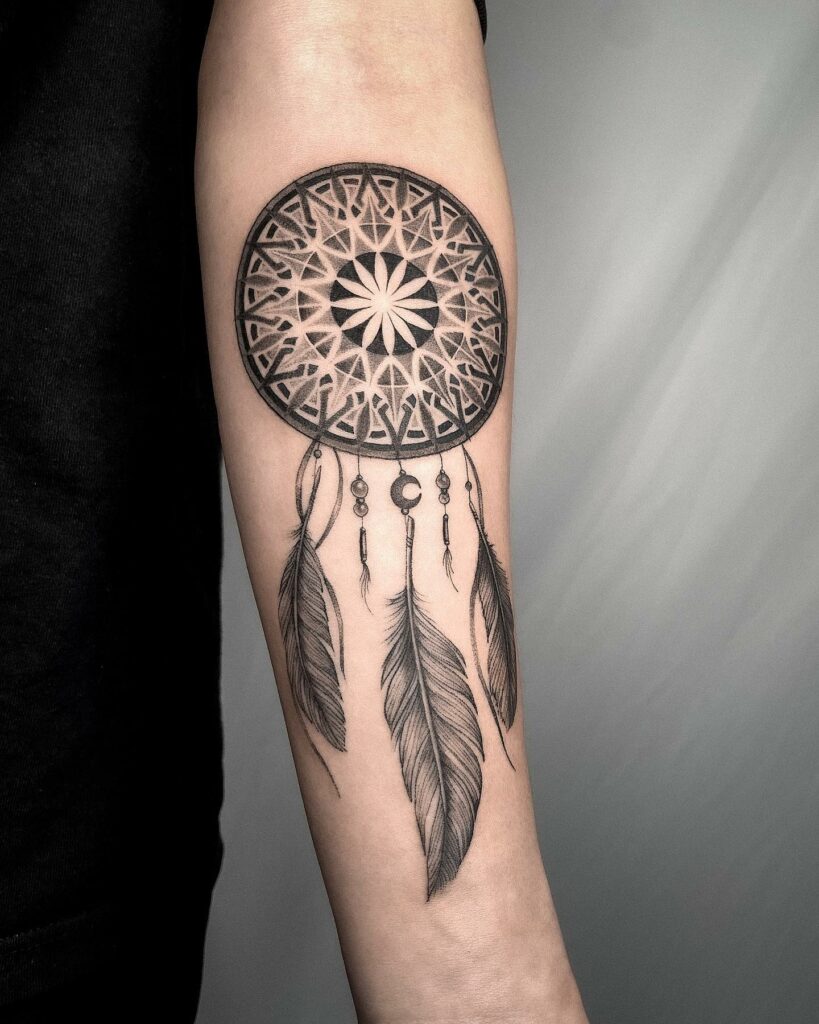 Dreamcatcher tattoos are one of the most popular choices among tattoo enthusiasts, and this simple black ink design is a classic. It's perfect for those who want a minimalist yet meaningful tattoo. Unlike colorful dreamcatcher tattoos, the simple black design is versatile and can go with any outfit. The tattoo artist's skillful use of a single and rounded needle has created a beautiful and detailed dreamcatcher. To show off this stunning tattoo, wear shorts or anything that exposes your thighs.
Small Dream Catcher Tattoo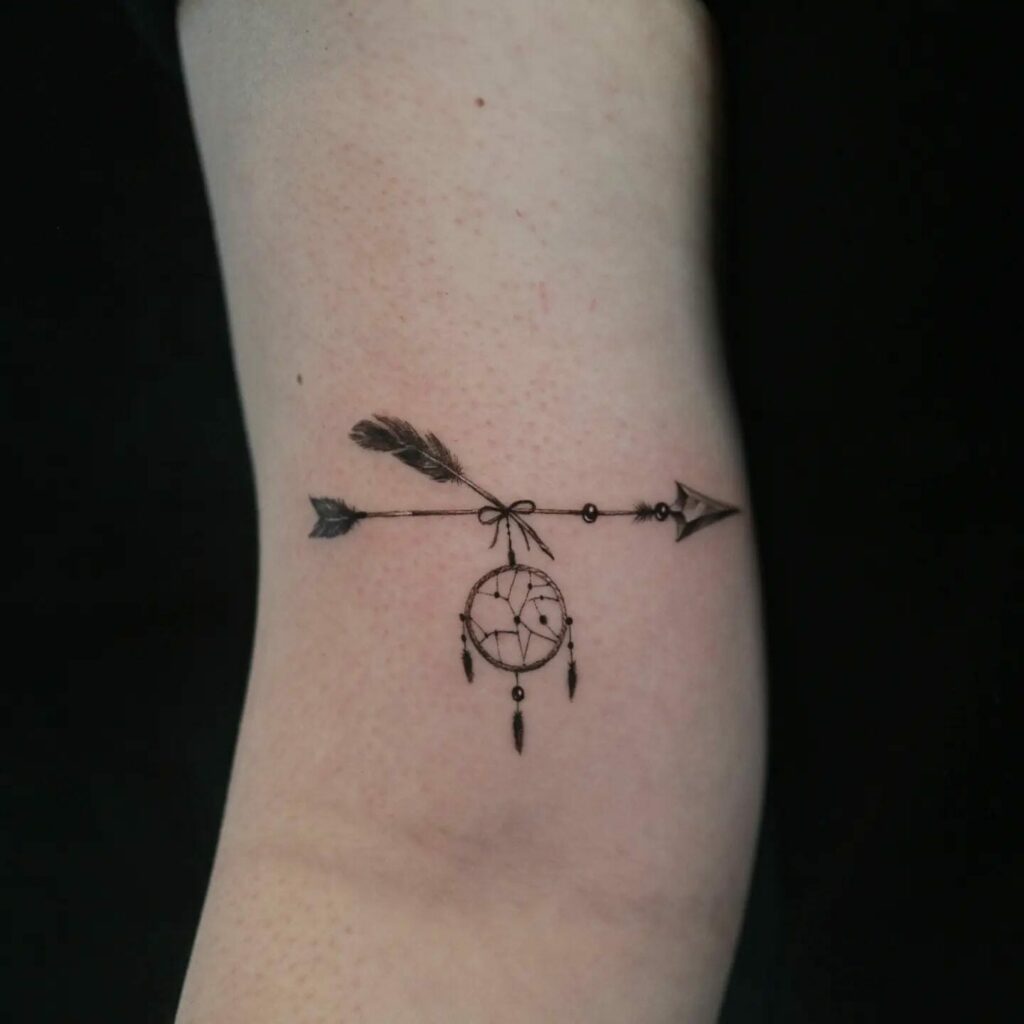 If you're searching for a subtle and small dreamcatcher tattoo design, we have a great suggestion for you! This particular design features a dreamcatcher hanging from an arrow, which is a symbol of being guided towards the right direction. The tattoo artist has paid close attention to detail, making sure that the dreamcatcher and arrow are intricately designed. This is a perfect tattoo for those who want a minimalistic yet meaningful design.
Dreamcatcher tattoos have been popular for their beauty and spiritual symbolism. If you're looking for a small and delicate design, this dream catcher tattoo could be the perfect choice for you. The fine lines and subtle details in this tattoo make it simple yet stunning. The dream catcher's symbolic significance is to ward off bad dreams and protect the wearer. So, if you're in search of a meaningful tattoo, this dream catcher design may be just what you need to give you a sense of comfort and protection.
Floral Dream Catcher Tattoos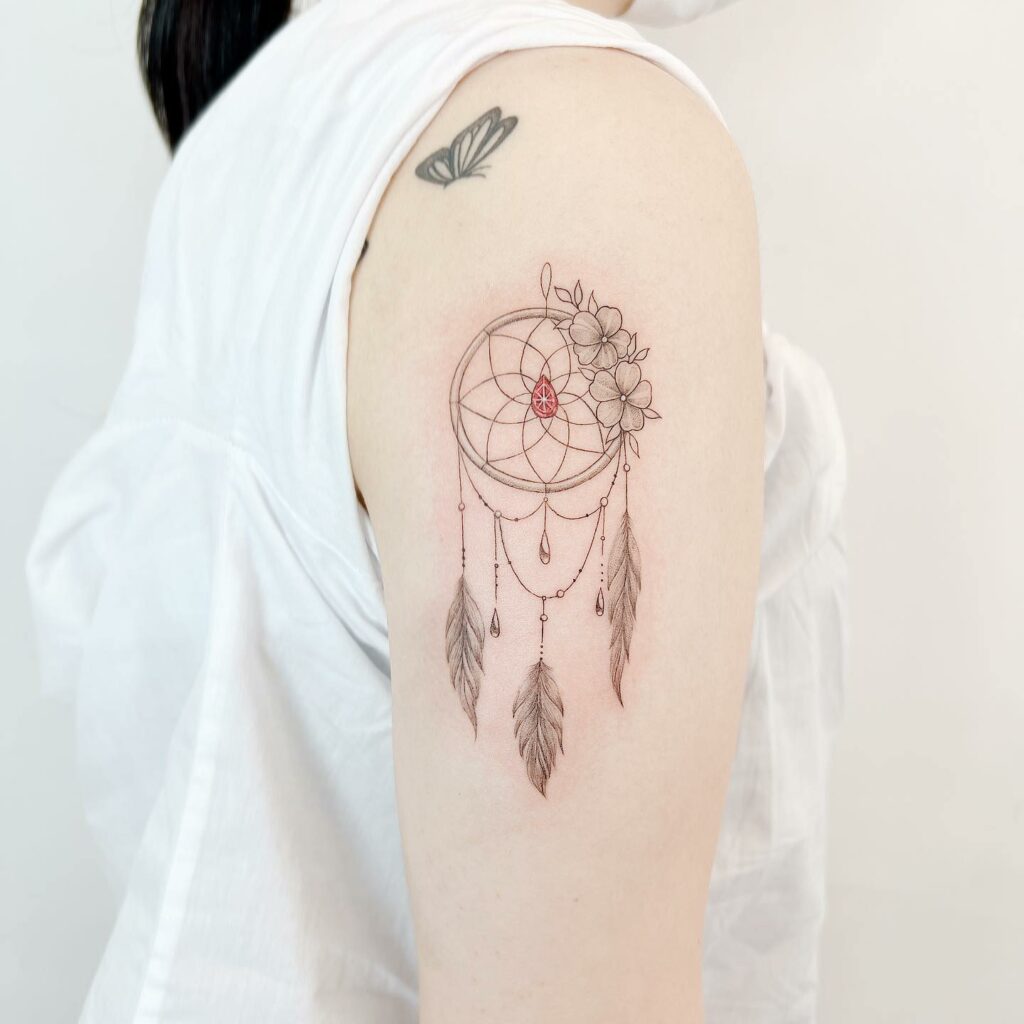 Dream catcher tattoos are a popular choice for those who are looking for a simple yet effective design to keep bad dreams at bay. If you're a fan of fine line tattoos, then this black dream catcher tattoo is perfect for you! The intricate fine lines used in this design add to the overall elegance of the tattoo. This dream catcher tattoo is not only visually stunning but also has the added benefit of keeping negative dreams away.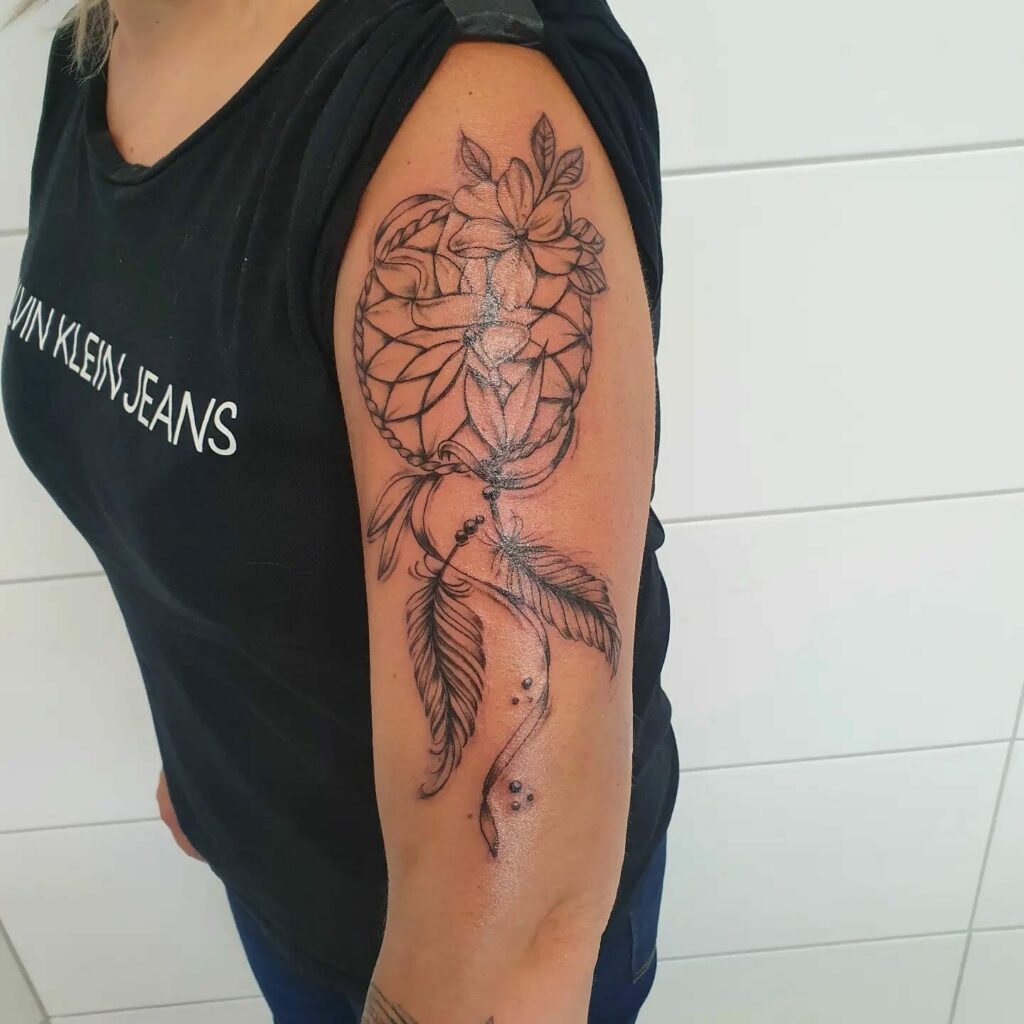 Dreamcatcher tattoos are all the rage right now, and we have another amazing design for you. This particular tattoo is a stunning combination of a dream catcher and a flower tattoo, both inked in bold black. The flower adds a touch of femininity to the overall design, while the dream catcher brings in the symbolic aspect. For those looking for a more colorful option, adding some bright hues can easily turn this design into a stunning watercolor dreamcatcher tattoo.
Dream Catcher Tattoo With Blue Butterfly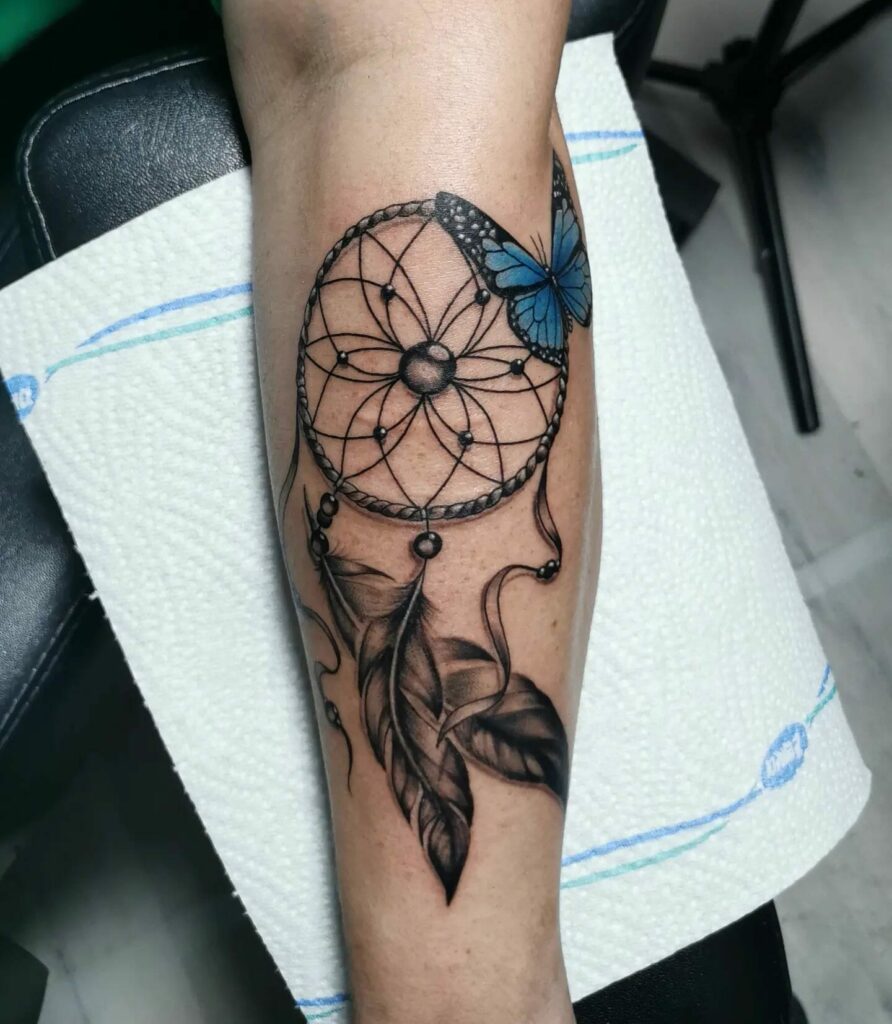 Butterfly tattoos have been a popular choice for a long time, and when you combine it with a dream catcher tattoo, the result is simply stunning. In this particular design, the blue butterfly adds a touch of good luck to the dream catcher tattoo. Keep in mind that the color of a butterfly tattoo can signify different things, and in this case, blue is often associated with positivity and optimism. This tattoo would be a great choice for those looking for a smaller design and would look fantastic on the ankle or thigh.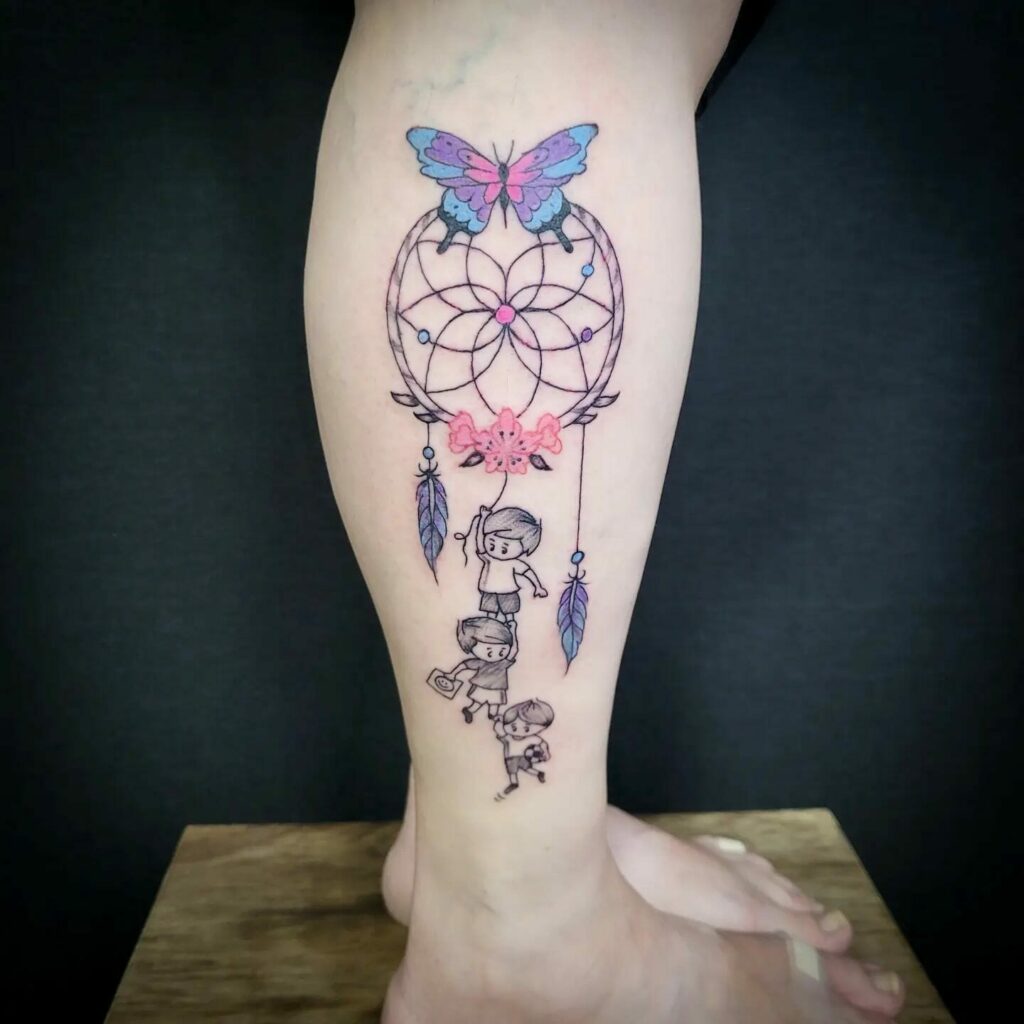 Welcome to the world of beautiful dream catcher tattoos! If you love butterflies and dream catchers, this tattoo design is perfect for you. This stunning tattoo features a blue butterfly, symbolizing good luck, combined with a dream catcher. What makes this design even more special are the little children hanging from the feathers of the dream catcher. The tattoo represents the elimination of evil and the acceptance of good. This beautiful design is perfect for a thigh tattoo and is sure to make a statement. The addition of the children adds a touch of innocence and makes it even more gorgeous.
Dreamcatcher Tattoos with Birds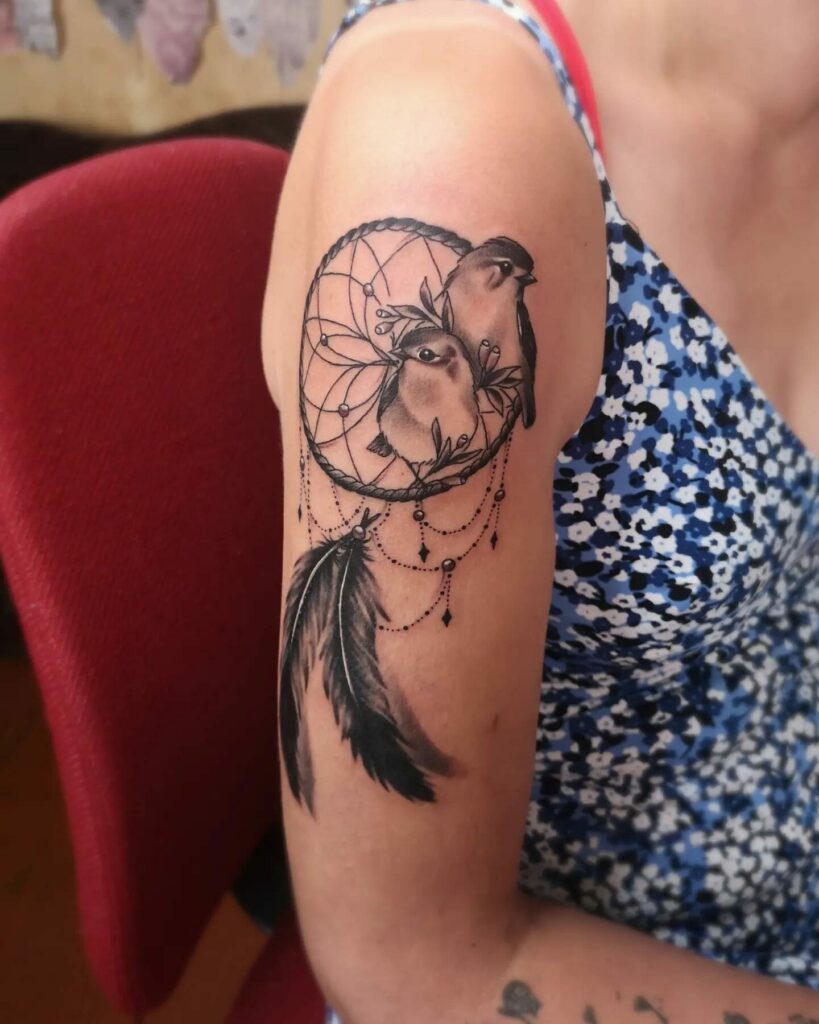 If you're someone who cherishes independence and freedom, you may want to consider a dream catcher tattoo design featuring two birds sitting atop the hoop. The birds themselves represent a free spirit and the combination of the two with the dreamcatcher signifies a deeper meaning of reincarnation. This tattoo design is perfect for those looking to express their free-spirited nature while still keeping a deep-rooted meaning close to their hearts.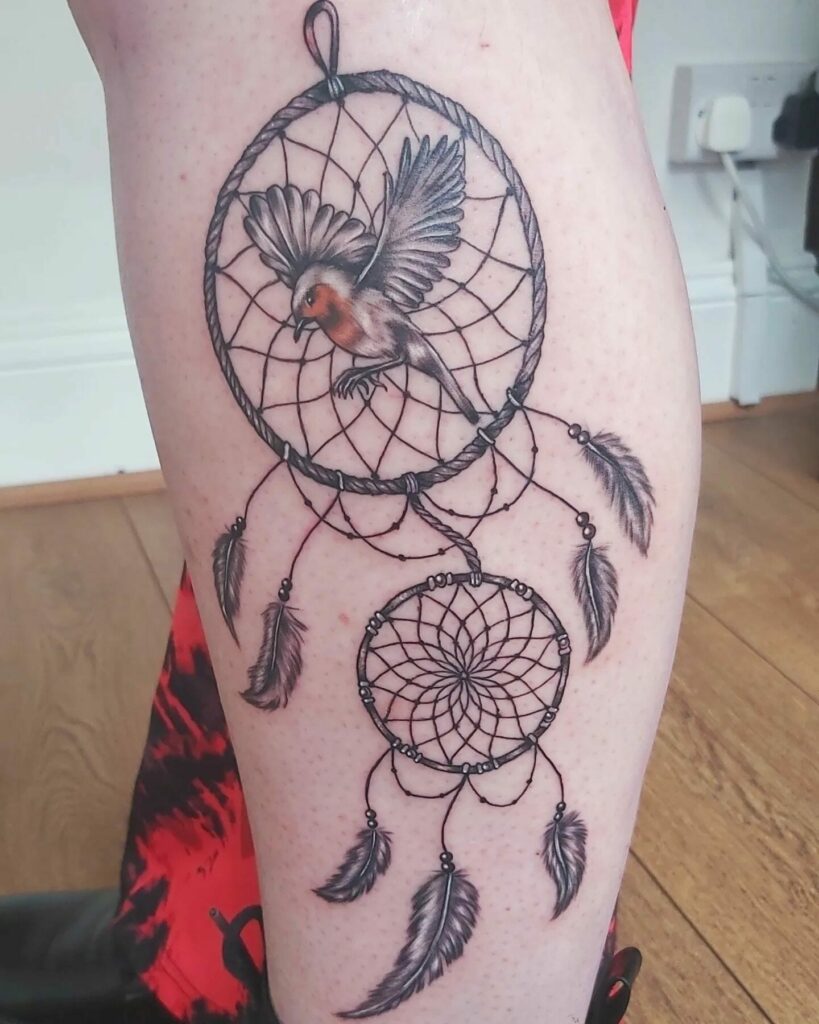 Are you a fan of robin birds and dreamcatcher tattoo designs? Why not combine them and create a stunning piece of body art? This dream catcher tattoo design features a robin bird in mid-flight, symbolizing freedom and a new beginning. The intricate details of the dreamcatcher tattoo design, including its delicate feathers and beads, make it a truly unique and eye-catching design. As you wear this tattoo, it will serve as a reminder to embrace freedom and to take flight towards your dreams.
feature image from Pinterest – Want your tattoo to look brighter? Try "Tattoo Balm"