Welcome, fellow tattoo lovers! Are you searching for some amazing female neck tattoo ideas? You've come to the right place. Throat tattoos have been making waves since the year 2000, and it's easy to see why. They represent a bold mix of fearlessness and art, making them an alluring choice for many. However, it's important to keep in mind that getting a throat tattoo comes with some unique considerations. While body parts like the ankle, finger, and inner arm are common choices for tattoos, the neck has become increasingly popular thanks to famous figures like Chris Brown, Sean Combs, and Lil Wayne. A throat tattoo can say a lot about your personality and style, so it's essential to choose the right design for you. Check out some of the cool ideas we've put together below to find your perfect throat tattoo look!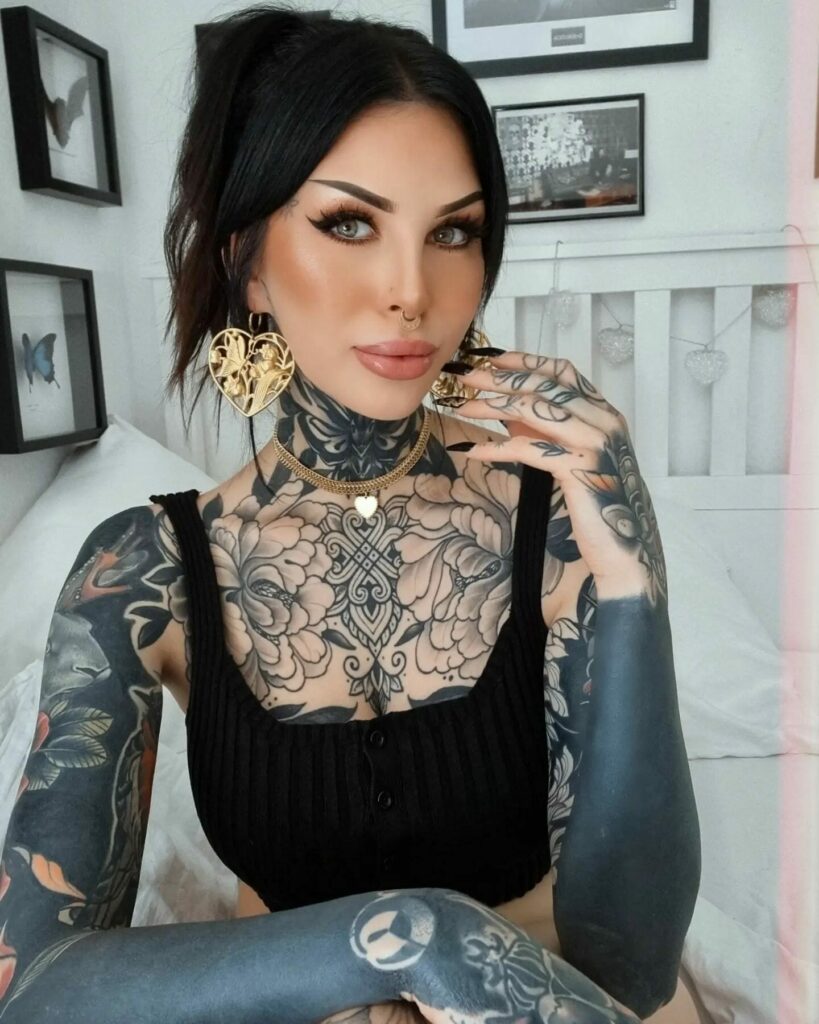 Throat Female Neck Tattoo Of Roses
As a popular flower with an intricate design, roses are a common choice for tattoos. Roses come in a variety of colors, each representing different emotions. For instance, yellow roses signify joy and happiness, while pink roses are a symbol of love and innocence. When it comes to getting a rose tattoo, the color you choose can reflect your personality and emotions. This stunning tattoo showcases a black rose, which represents hope and rebirth. If you're considering getting a rose tattoo on your neck, keep in mind that this area is more sensitive than other body parts. Take the time to discuss your options with friends and family before proceeding with the procedure.
Throat Female Neck Tattoo Of Butterfly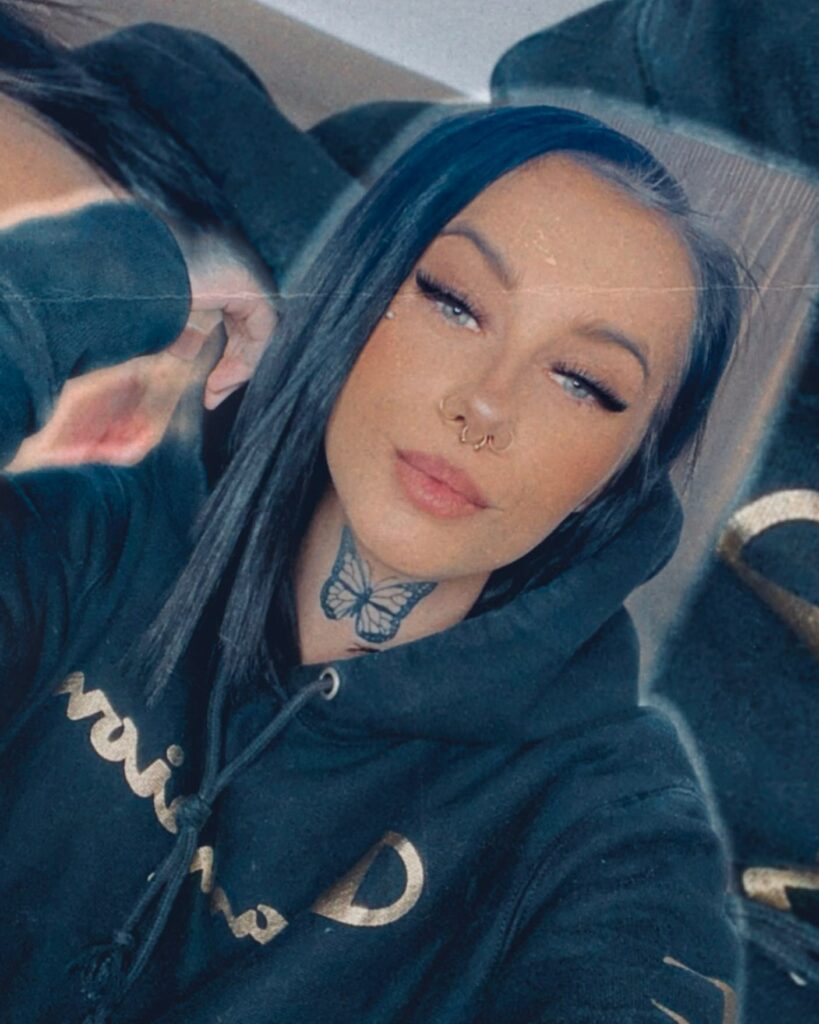 Butterfly tattoos have long been popular among women due to their beauty and symbolism. In many cultures, butterflies represent love, marriage, joy, and freedom. This delicate creature is a perfect choice for a throat tattoo because of its versatility in design and placement. The butterfly tattoo in the picture is a prime example of the intricate detail and beauty that can be achieved. You can choose to add your own personal touch to the design by incorporating your favorite colors or even initials of your loved ones. Keep in mind, however, that neck tattoos are often more painful than tattoos on other parts of the body. Be sure to discuss your decision with family and friends before proceeding with the procedure.
Throat Female Neck Tattoo Of Sunflower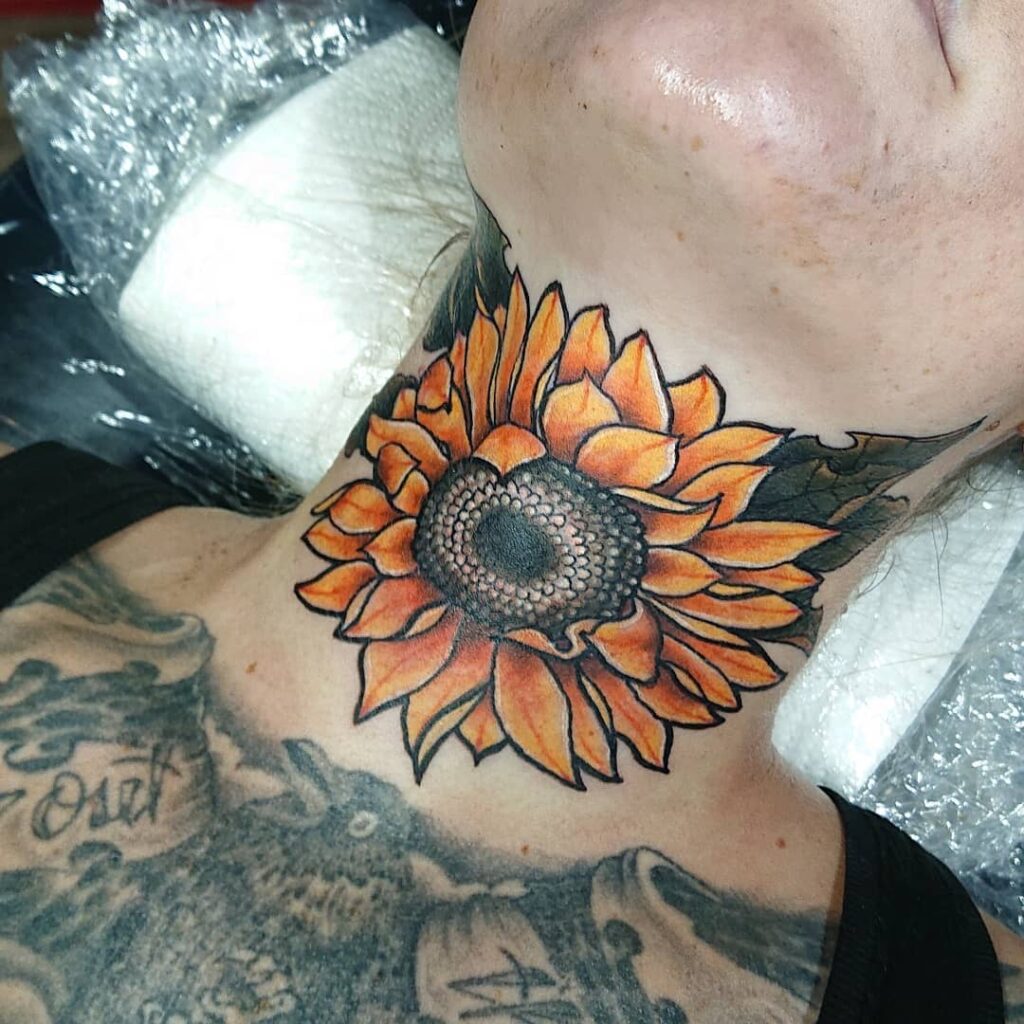 Sunflowers are a beloved flower, known for their vibrant yellow petals that bring joy and positivity wherever they grow. Their sunny color symbolizes good luck, beauty, and patience, making them a popular choice for tattoo designs. This particular design is more commonly seen on women, and can be interpreted in a variety of ways – from hope and faith to happiness and growth. The size and color of the tattoo can be customized to fit your personal preferences, and you can choose to go with a simple, minimalistic design or something more intricate and eye-catching, like the one in the photo above. Remember, tattoos are a deeply personal expression of who you are and what you stand for, so take your time in choosing the perfect design that truly speaks to you.
Neck Tattoos For Women With Ornamental Design
Ornamental designs have become increasingly popular in the world of tattooing. By utilizing fine lines and black ink, artists are able to create beautiful, intricate designs that can range from circles and squares to images of nature, such as the ocean and moon. If you're considering a neck tattoo, you might want to try out an ornamental design. You can create your own unique design, which may include line work, dot work, or even geometrical or Indian patterns.
In the picture above, we can see a woman with an eye-catching tattoo that features a mixture of tribal and floral designs. The centerpiece of the tattoo is a bee, shown drinking nectar from the center of a flower. Bees are often associated with loyalty, which could be one of the ideas behind this intriguing design. This tattoo is a great example of how you can incorporate different elements into your own ornamental design, making it truly personalized and meaningful.
Neck Tattoos For Women With Skull Design
Despite common beliefs, skulls are not just a symbol of death, but also represent rebirth, consciousness, and intellect. This makes it a great choice for those who want to showcase their unique personality through their tattoo. There are various types of skull tattoos, including the grim reaper, serpent, and longhorn skull tattoos.
In the picture above, we can see a skull design with a twist – it's combined with an insect to create a unique and eye-catching design. The wings give it a sense of movement and freedom, while the skull represents mortality and internal growth. It's a great option for both men and women, and you can add your own personal touches to make it truly unique. The skull with wings tattoo is also known to symbolize the idea of letting go of bad habits. So, why not let go of your fears and embrace this bold and meaningful design for your next neck tattoo?
Insect Throat Tattoos Idea
Insects can evoke a wide range of emotions, from delight to disdain, but they also carry powerful symbolic meaning. For example, spiders are often associated with creativity and hard work, while beetles symbolize immortality and renewal. The stunning tattoo featured in the above picture represents the latter. The intricate design of the beetle spans from the throat to the chest, representing the pursuit and attainment of a higher goal. This type of tattoo requires an immense amount of skill and patience, as seen in the fine lines and details of the insect's wings and body. The artist responsible for this work has truly done an exceptional job without causing any irritation to the skin. You can customize the size of the tattoo according to your preference, and make it a unique representation of your personal values and aspirations.
Animal Throat Tattoo Design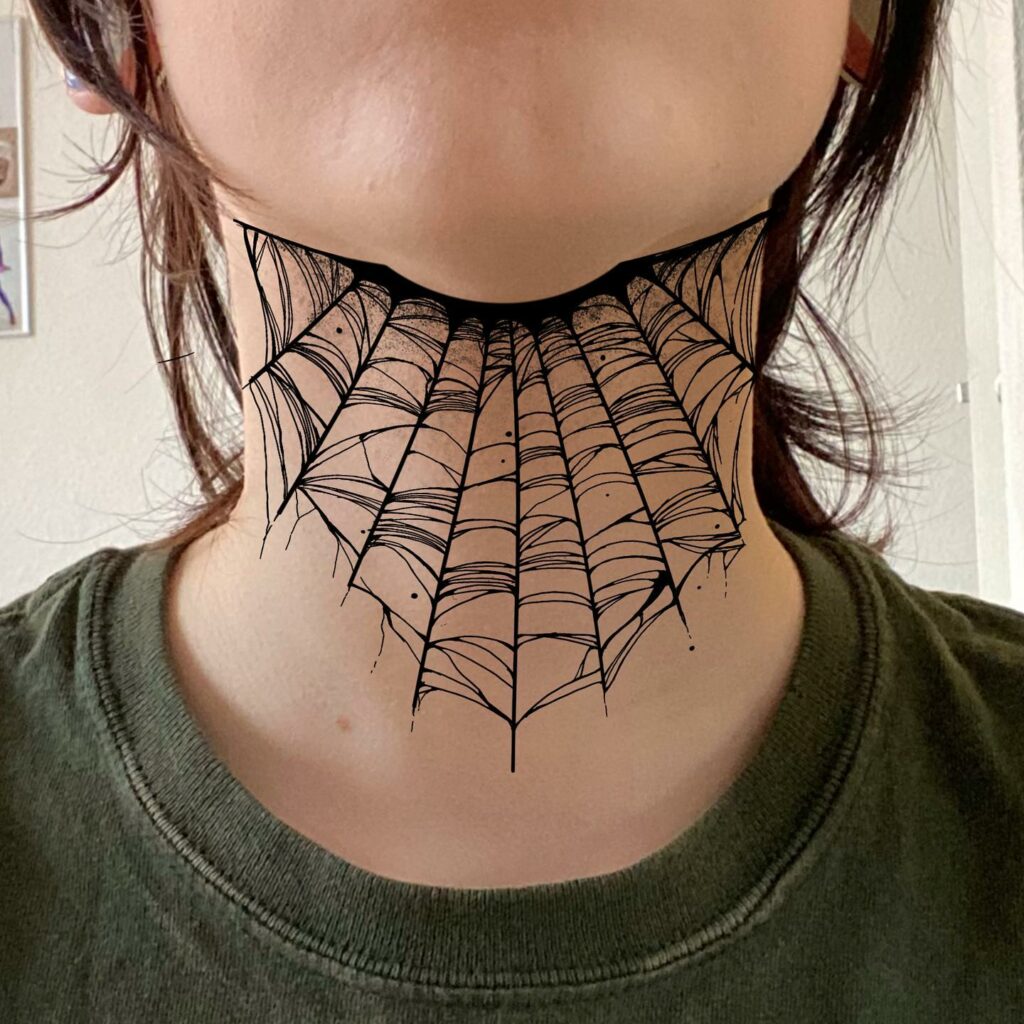 For many people, animals hold a deep spiritual significance, making them a popular choice for tattoo designs. Each animal represents a unique set of traits and meanings, from the grace and freedom of a soaring eagle to the wisdom and strength of an elephant. In this particular design, the use of a majestic lion conveys a sense of fearlessness and courage, traits that many individuals may strive to embody. If you're considering a throat tattoo, incorporating an animal into the design can add a powerful and meaningful touch. With endless possibilities to choose from, you can select the animal that best represents your personal values and aspirations, whether it's a fierce predator or a gentle woodland creature. Let your imagination run wild and create a tattoo that is uniquely you.
Geometric Throat Tattoos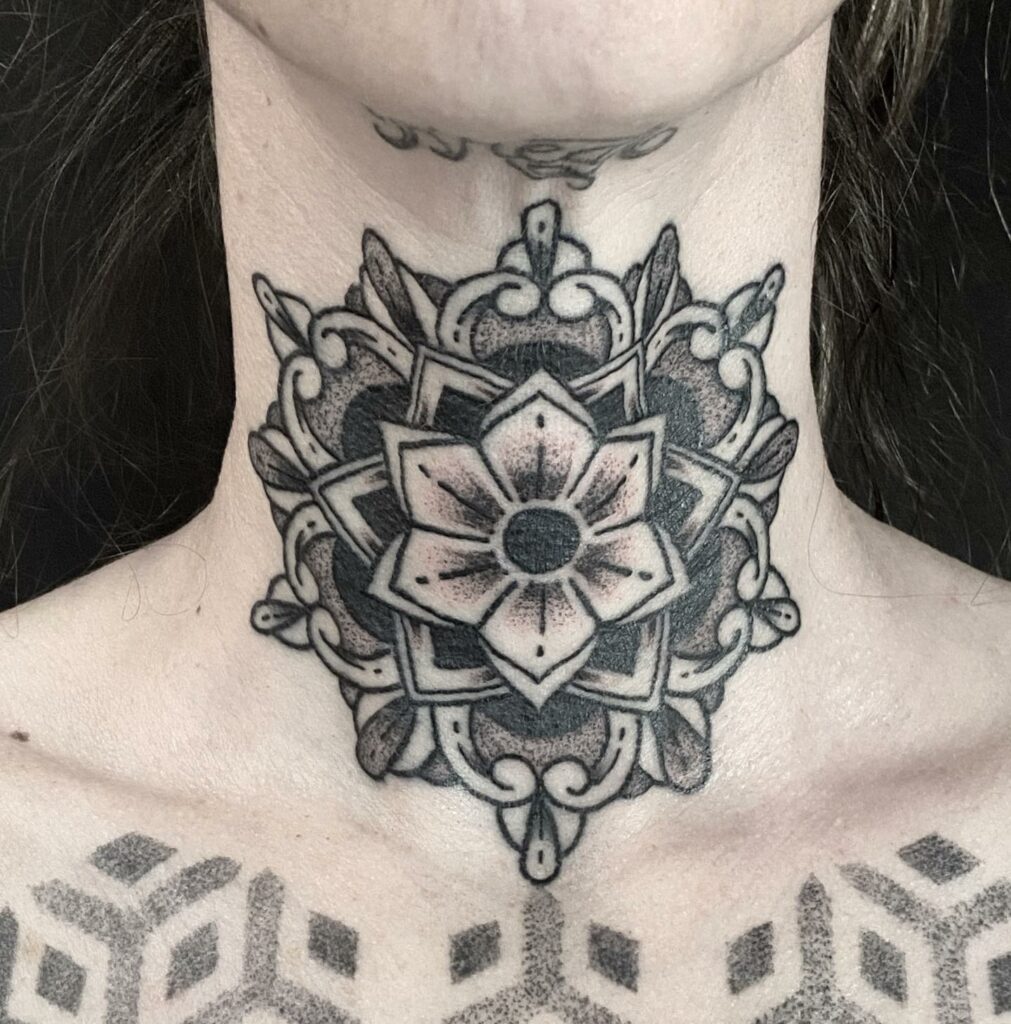 Geometric tattoos are an excellent way to symbolize balance and structure. However, the beauty of this design is that you can make it your own by customizing it to your liking. The geometric throat tattoo shown here is a stunning example of how you can create a unique design. The intricate lines and various shades of black combine to create a sophisticated and eye-catching design. This design is just one of many possible options to consider if you're interested in getting a geometric throat tattoo.
Heart-Shaped Throat Tattoo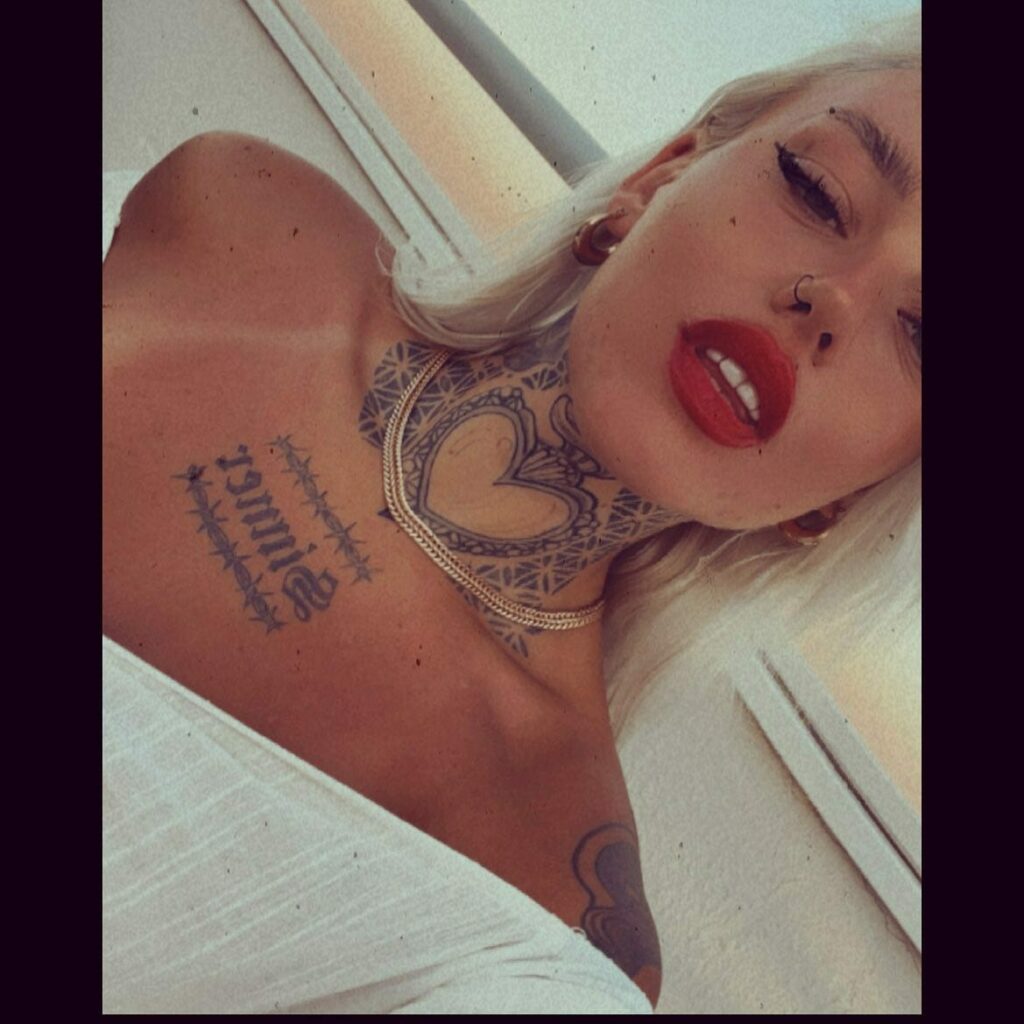 Geometric tattoos are known for their sleek and intricate designs, and this throat tattoo is no exception. The artist has carefully crafted the bold lines and sharp angles, resulting in a stunning and eye-catching design. The use of negative space adds an extra layer of complexity to the tattoo. It's a great example of how geometric tattoos can be both beautiful and bold. If you're looking to get a throat tattoo, this design is definitely worth considering. You could even personalize it by adding some vibrant colors that reflect your personality.
Third Eye Throat Tattoos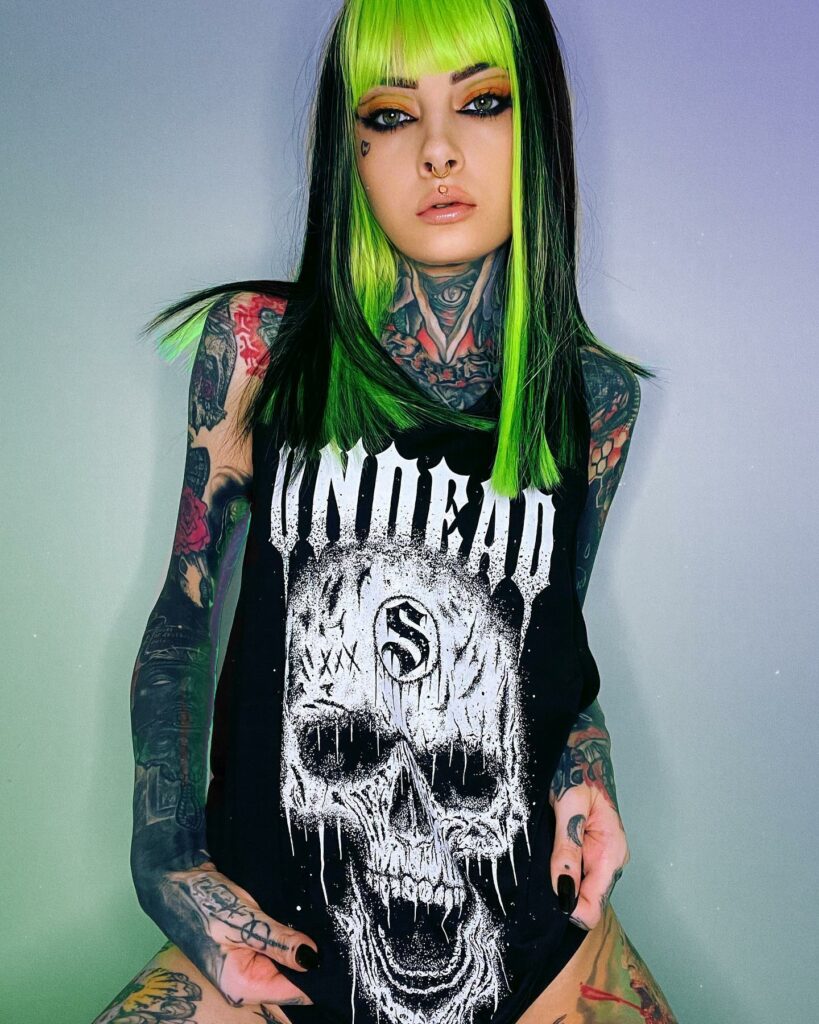 Throat tattoos are a daring and bold statement, but with the right design, they can truly be a work of art. The third eye is a popular choice, symbolizing the all-seeing presence of a higher power. This particular tattoo stands out with its incredible use of colors that not only catches the eye but also exudes a sense of fearlessness. If you're looking for a daring throat tattoo, this one might be the perfect fit for you.
However, getting a throat tattoo requires proper care and consideration. Since the skin on our necks can be sensitive, it's important to follow a balanced diet and take care of the area after the tattoo is done. Moreover, choosing the right design is crucial. A skilled and experienced tattoo artist is essential to ensure the best results.
feature image from Pinterest – Want your tattoo to look brighter? Try "Tattoo Balm"