Let's talk about a delightful trend in the world of ink—small, adorable frog tattoos. Sure, they're incredibly cute, but did you know they also carry rich symbolism of fertility and longevity?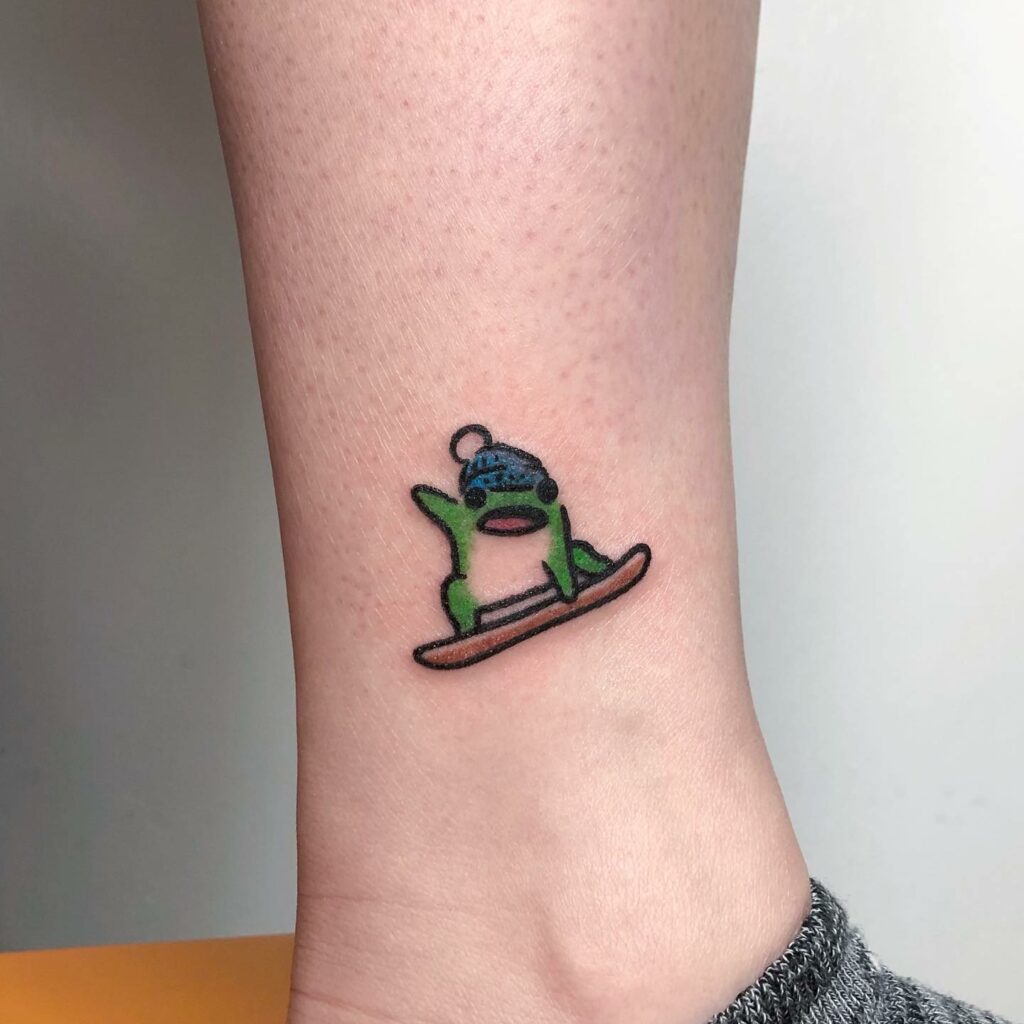 Frog tattoos, transcending boundaries of time and geography, have been embedded in various cultures throughout history, transforming not just the skin they're inked on, but the souls they touch. There's something magical in embracing the remarkable traits of these humble amphibians — qualities that make them unique and influential in human spirituality.
From lively greens to vibrant reds, from tiny, delicate designs to larger-than-life depictions, frog tattoos can morph to your liking, making for a unique statement piece on your skin canvas. Whether you're drawn to the inherent charm of these little creatures or captivated by their deep symbolic meanings, a frog tattoo might just be the perfect way to leap into your next ink adventure. Ready to hop on? Here are some popular frog tattoo designs to inspire your journey.
Frog Tattoo Designs With Vibrant Colors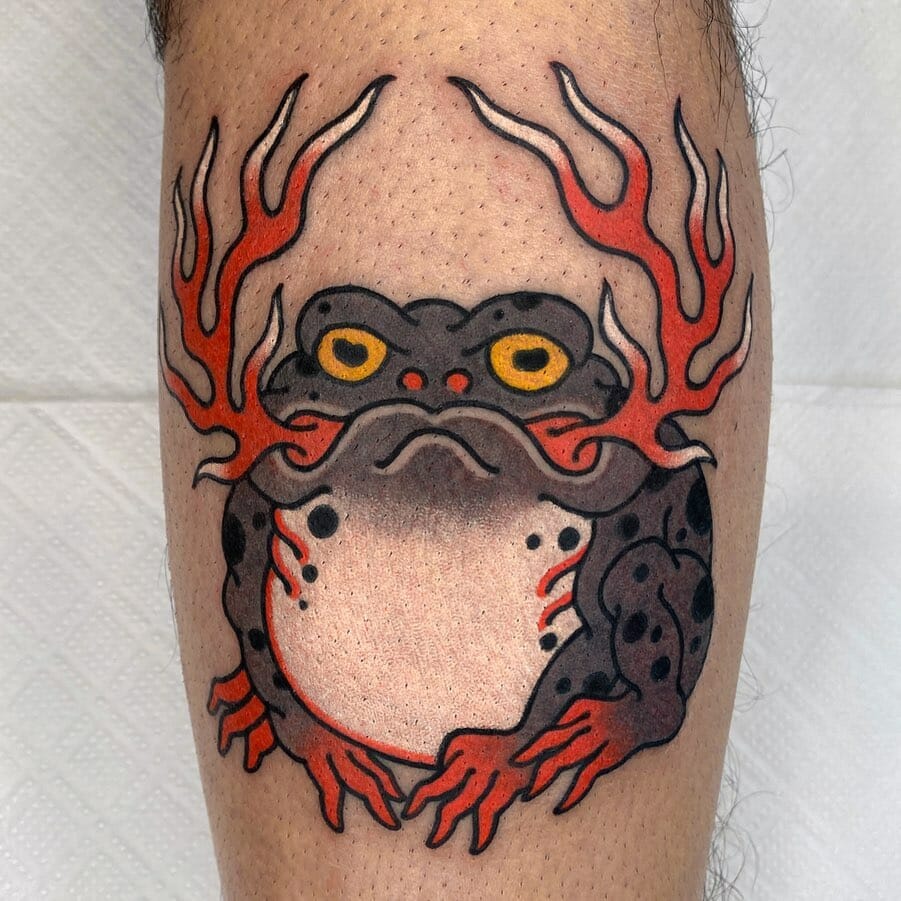 Journeying into the world of color-rich frog tattoos, let's start with designs that celebrate their fascinating life cycle. A frog's metamorphosis from a tiny tadpole to a mature adult is a powerful emblem of personal growth, a journey worth imprinting on your skin. These inked amphibians, often vibrant in color, could bring symbolic abundance and fertility into your life, and are particularly striking when placed in visible locations such as the chest.
Tiny Frog On A Leaf Tattoo Designs For Everybody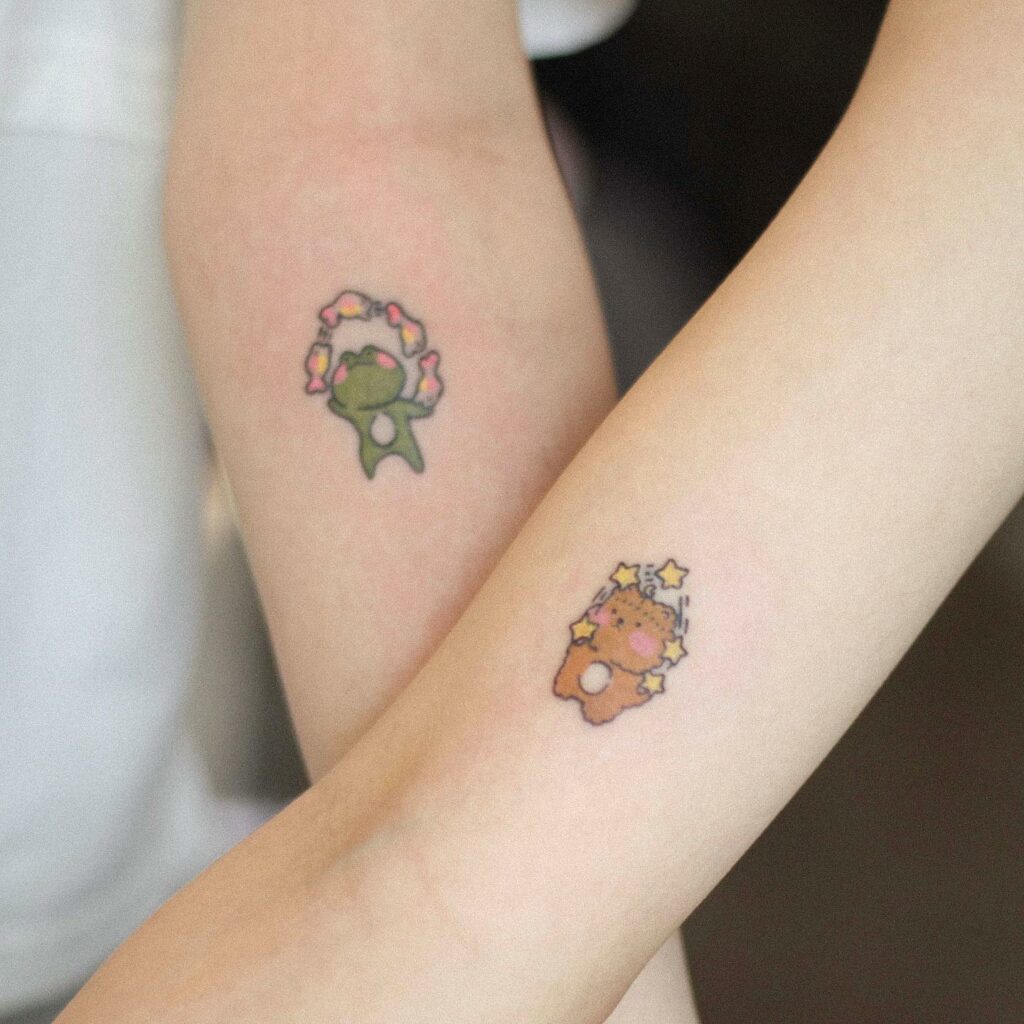 Consider the quaint charm of a tiny frog perched on a leaf. A perfect choice for those who prefer subtlety, this design can effortlessly nestle on your arm, foot, or wrist. Often, this minimalist marvel – a small green or blue frog with bright, captivating red eyes – is seen as a symbol of adaptation and perseverance, much like how a tree frog seamlessly blends into its environment.
Small Frog Tattoo Design Inspired By A Great Character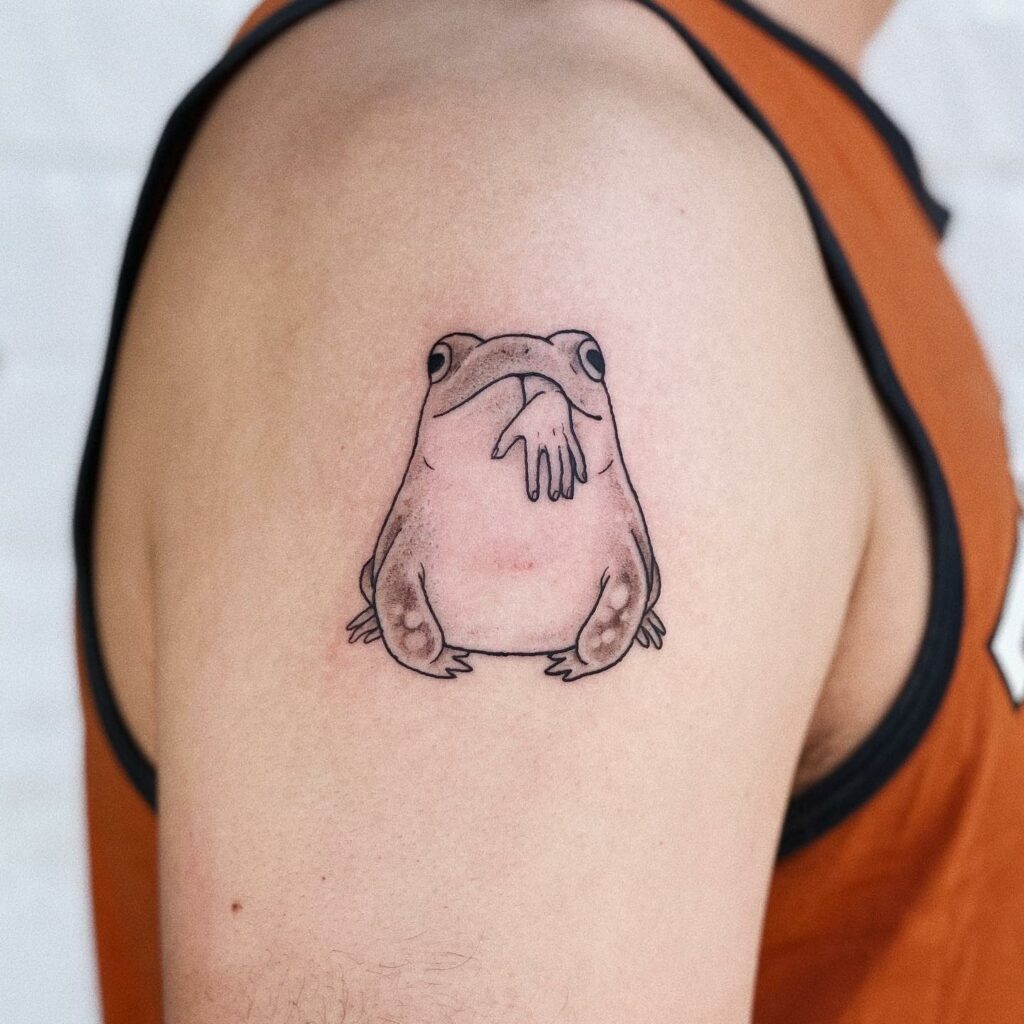 Draw inspiration from popular culture, such as classic films like "Frogs", and let your tattoo tell a captivating story. As you walk among the crowd, a detailed tattoo featuring iconic characters like Kermit the Frog could turn heads and spark interesting conversations. Adding realistic elements and vibrant colors can make the design even more remarkable.
Appealing Frog Tattoos To Suit Your Sense Of Style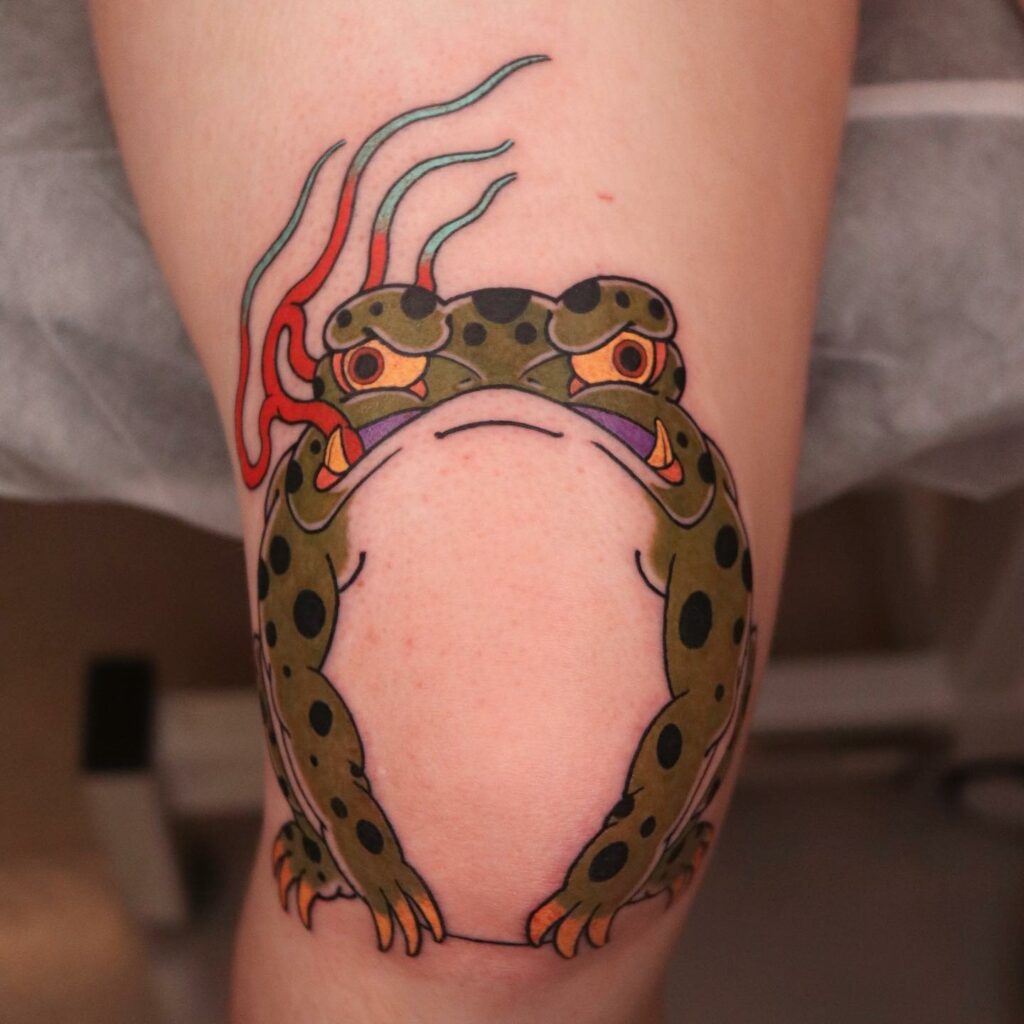 If you crave a design that reflects your unique style, consider the charismatic bullfrog or the diminutive Puerto Rican frog. These tattoos, often inked in a strikingly realistic style, can symbolize unique attributes and narrate your personal story. Don't shy away from making it truly your own by adding customized details to these frog tattoos.
Tiny Japanese Frog tattoo Designs That Look Adorable On Your Skin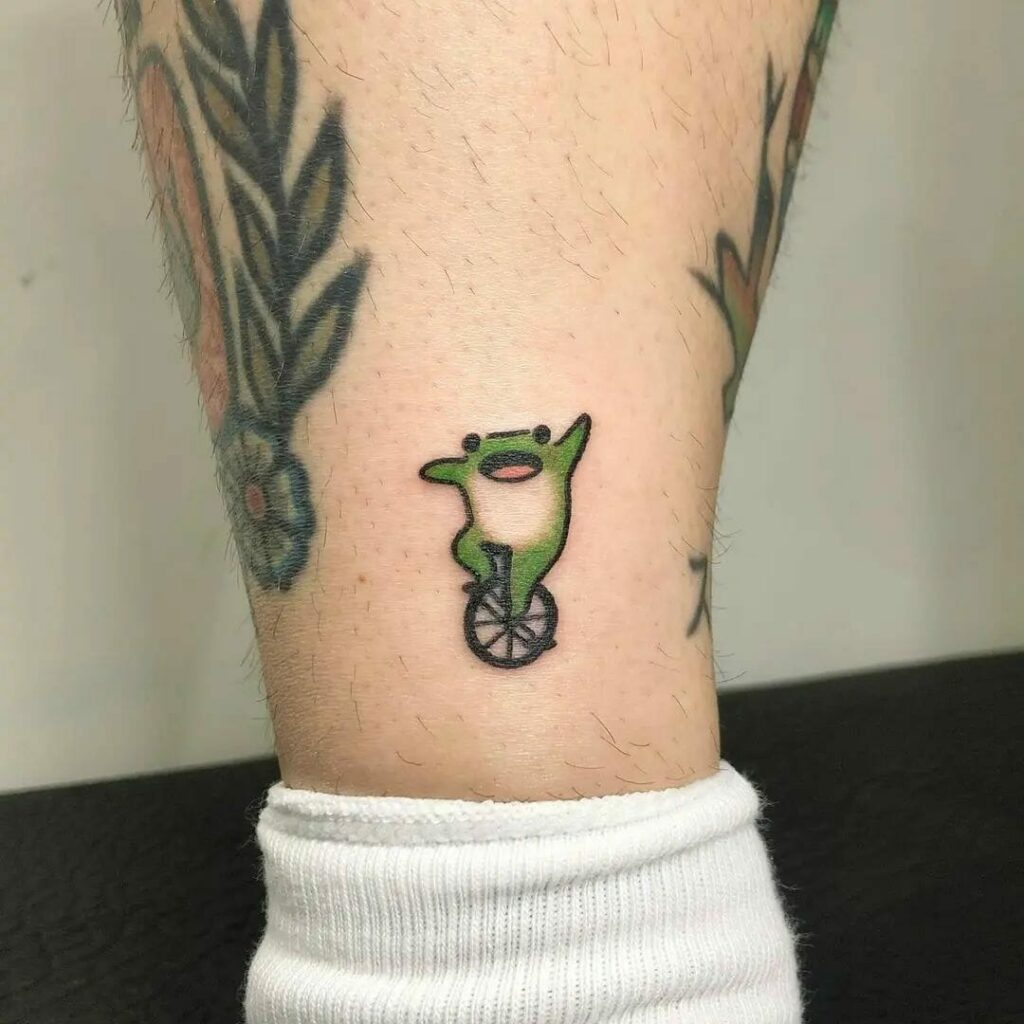 For those who admire the blend of cuteness and class, Japanese frog tattoos could be a great choice. Though they carry no specific meanings, their subtle charm and hidden significances add an intriguing layer to your skin art. Coupling this with the cultural significance of frogs as a symbol of fertility and rainfall in Japan, it becomes an elegant tattoo idea, particularly for women.
Traditional Frog tattoo Ideas For Tree Frog Lovers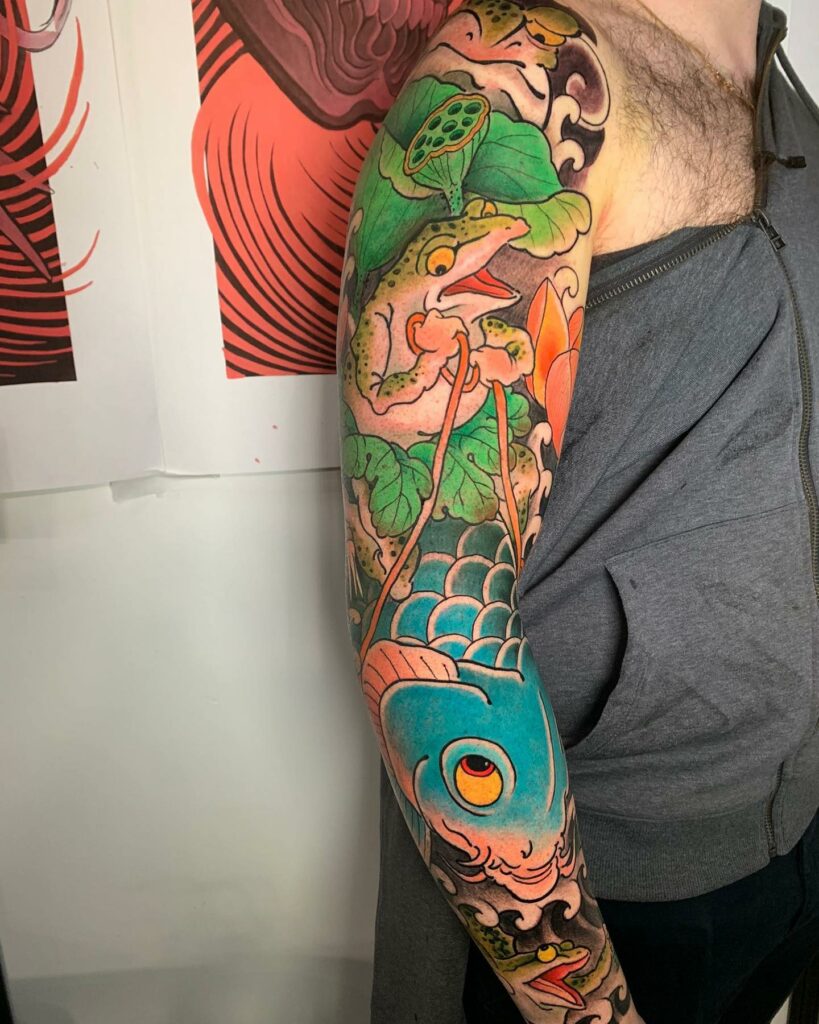 Frog tattoos also offer a route into the realm of the traditional. Known for their supposed healing powers and association with good luck, prosperity, and fertility, tribal frog designs could be your talisman. For those adept at balancing life's trials and tribulations, these tattoos can be personalized by adding color, diversity, and unique grading techniques.
Mushroom Tattoo Idea With Frogs In It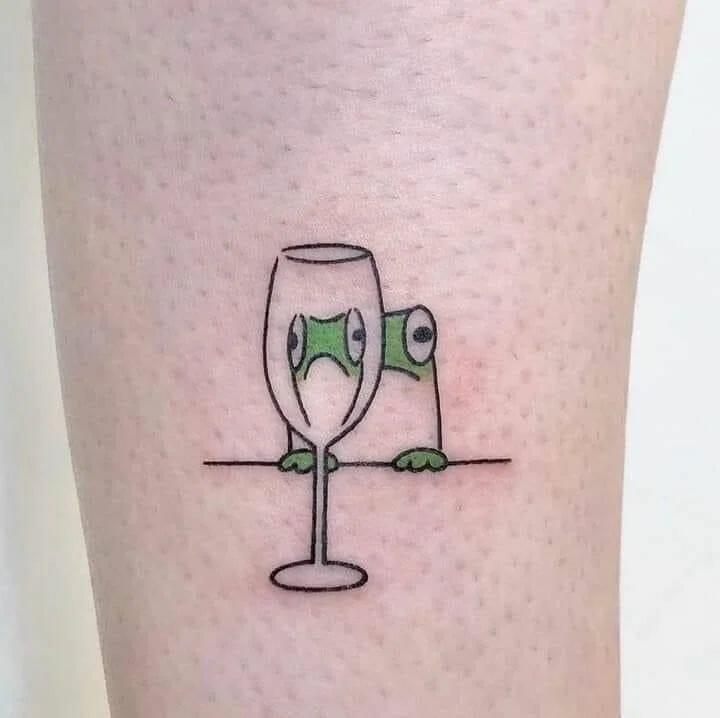 Add a touch of whimsy to your ink with a frog and mushroom tattoo. While the playful mushroom design lightens the mood, it carries an undercurrent of sexual symbolism. Perfect for an ankle or foot placement, this tattoo represents poise, a strong relationship, and a healthy sexual connection. It's a playful and intimate way of sharing your story with your partner.
Small Frog Tattoo Emphasizing On The Yakuza Artwork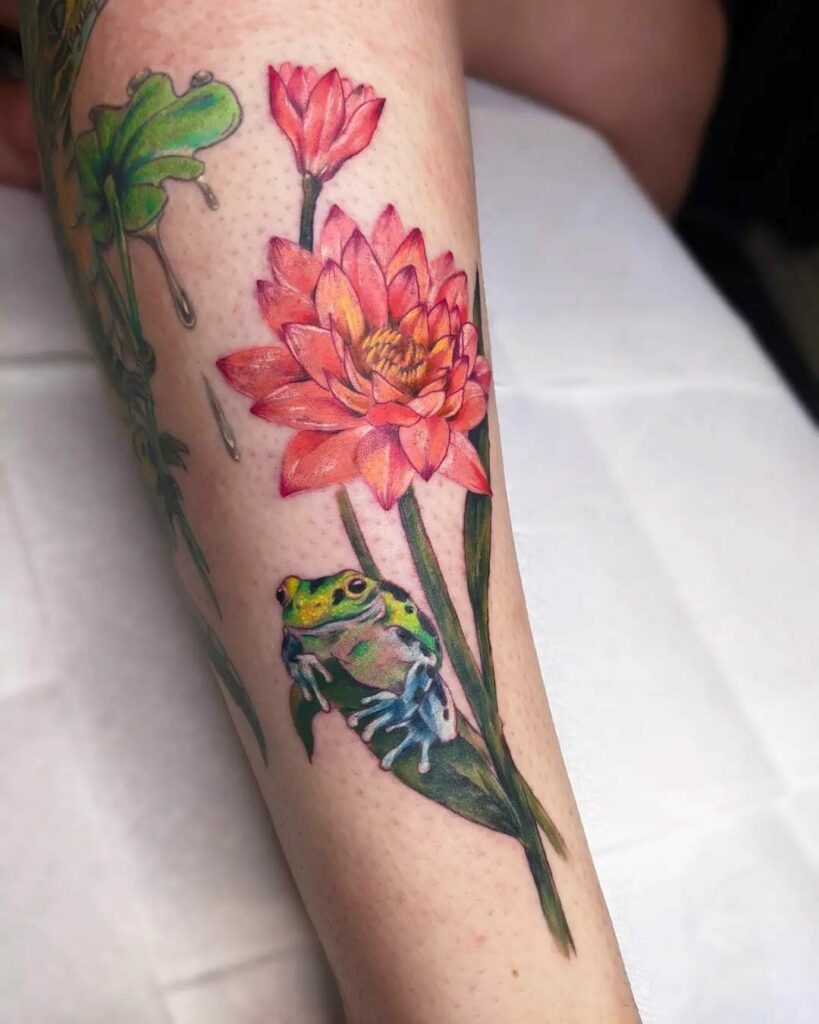 Embrace boldness with a frog tattoo inspired by Samurai Yakuza artwork. Known for their black outlines and complex color palettes, these tattoos can cover the entire body, often featuring diverse species, varied floral elements, and color-changing inks. Whether you choose a traditional or contemporary approach, be prepared for admiration and curiosity once you step out with your new tattoo.
Charming Minimal Frog Tattoos For Women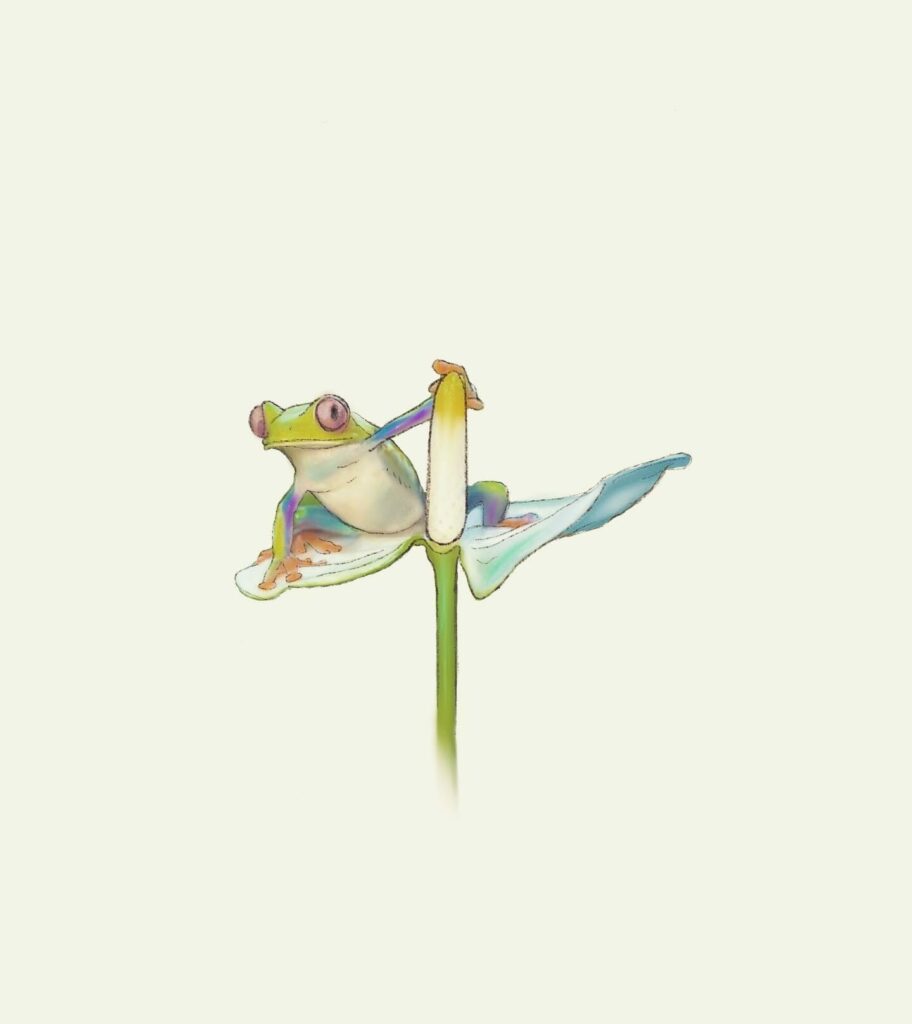 Finally, for women who prefer understated elegance, minimalist frog tattoos are a delightful choice. These designs, while small and cute, can be rich in personal symbolism – your favorite flower, a zodiac sign, or a comic character transformed into a frog. They offer a gentle tattoo experience with a slow healing process, and with less intricate details, are open to your creative interpretation. In the end, a delicate frog tattoo could be a beautiful accessory to your everyday look.
Artistic Frog Tattoos to Represent Your Thoughts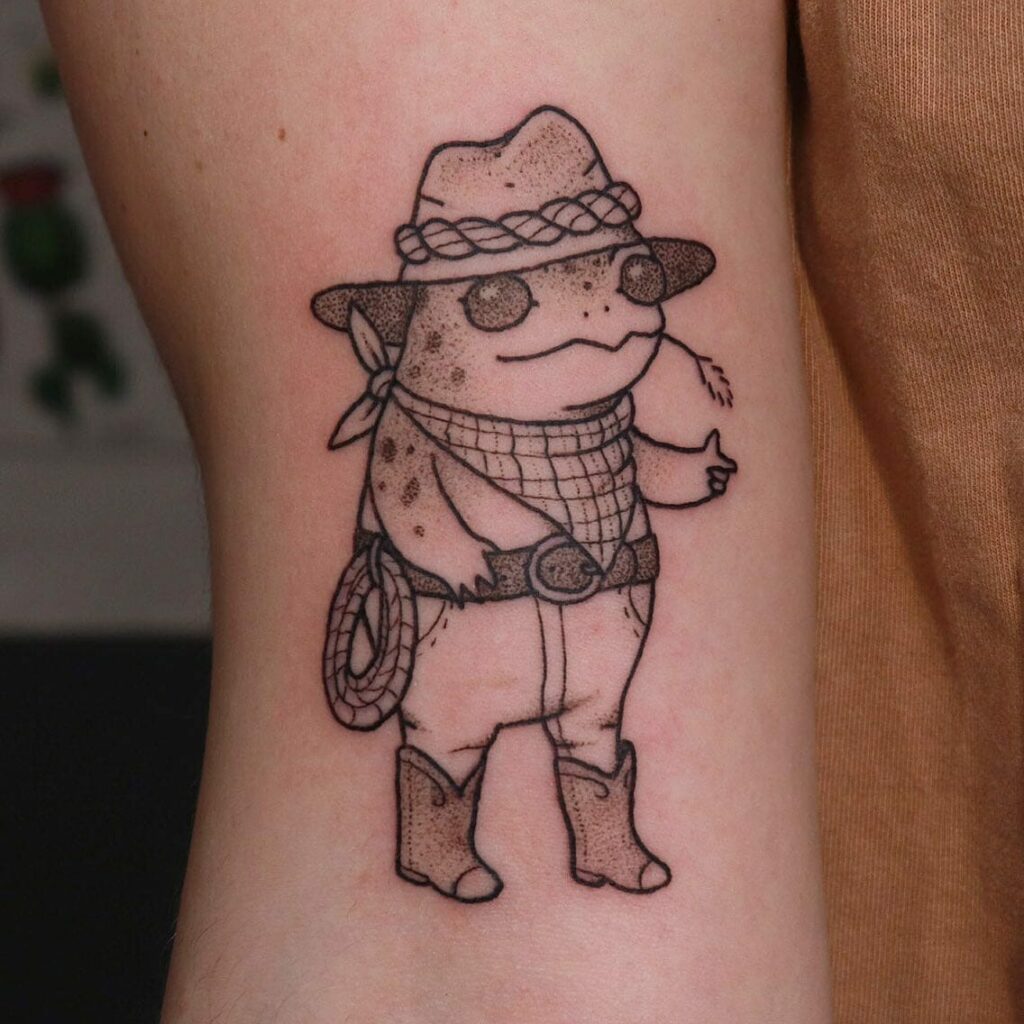 Conclusion
Whether you choose the transformative symbolism of the frog's life cycle, the minimalistic charm of a tiny frog on a leaf, or the audacious spirit of a Yakuza-style frog tattoo, there's a design that will resonate with your personal journey and style. Location is largely a matter of personal preference, although visibility and the ability to accommodate detail are factors to consider. Chest, arm, foot, or wrist are popular choices, and don't forget that certain placements can have symbolic value. The cost can vary greatly based on size, complexity, and the experience of the artist, so it's wise to budget between $50 to $300, although larger, intricate designs can run even higher. Keep in mind that while tattoos have become remarkably safe, potential risks include allergic reactions, skin infections, and unsatisfactory results. Always opt for a professional, reputable tattoo artist, and follow aftercare instructions to ensure your frog tattoo is a leap towards self-expression you won't regret.
feature image from Pinterest
Last reviewed and updated on July 19, 2023