Ahoy, lovers of all things ink and imagination! Welcome to a novel exploration in the vast cosmos of tattoo design where we dissect the unexpected allure of the ghost tattoo – a mini apparition that's been creating quite the stir in the tattoo parlance.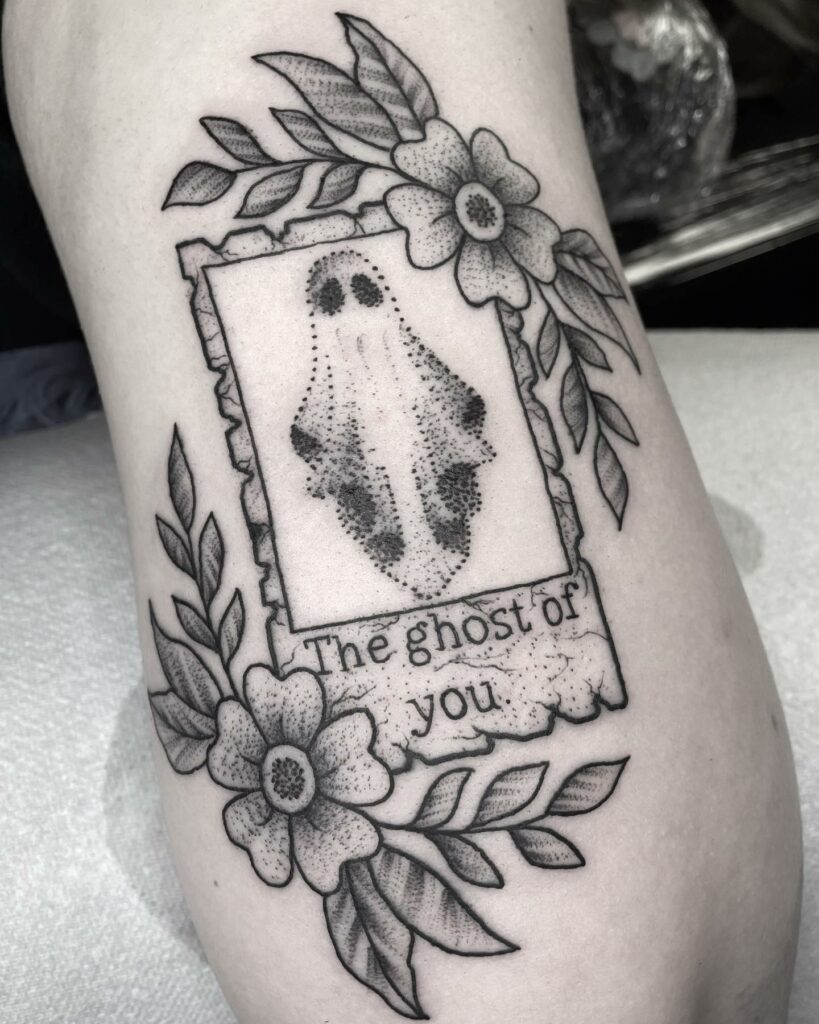 The small spectral tattoo, though unassuming in size, has come to represent an intriguing blend of beliefs and symbolism. It's like an enigmatic charm, whispering tales of protection, resilience, and foresight into the ears of those brave enough to listen. The idea of a ghost, conventionally an emblem of fear, is reimagined through the artful needle, shedding its spooky skin to offer an array of nuanced narratives.
An age-old adage tells us that 'good things come in small packages,' and this rings true in the world of tattoo design. Though minuscule, these micro masterpieces can convey powerful messages – symbols of eternal love, tales of personal evolution, expressions of valor, or tokens of inspiration. They're charming, affordable, and possess an irresistible cuteness that can't be overlooked.
Crafting these mini marvels requires a certain finesse. The tattooist, as an artist, must have the prowess to translate grand narratives into a tiny canvas, while adhering to the specific wishes of the client. In the context of the ghost design, this dexterity becomes crucial, given the spectrum of interpretations – from benign spirits to playful ghouls, each iteration carries its unique commentary.
Interestingly, our friendly specters have been making a distinct impression in the world of feminine body art, with women showing a predilection for these tiny tattoo ideas. If you're curious about the origins of such designs, rest assured that the mystery can be traced back to dedicated tattoo parlors, where artists and enthusiasts alike breathe life into the vivid world of inked symbology.
Tiny Ghost With Little Hearts Tattoo
Take, for instance, the design of a tiny ghost ensconced in hearts, its spectral form decorated with bright flowers, lending an artistic vibrance to this emblem of love. A charming representation of enduring affection, this piece gives a nod to the idea that love transcends the barriers of life and death. Typically emblazoned on the shoulder or arm, this piece is a visible testament to unyielding love.
Cute Ghosts With A Happy Family Tattoo
Another heartwarming ghost tattoo concept features a ghost family nestled under a toadstool. A symbol of familial bonds, unity, and resilience, this piece is highly favored by folks, particularly in the 35-40 age bracket in the UK.
Ghost in A Mirror Tattoo Ideas
The spectral mirror tattoo is another popular pick, a compelling blend of the morbid and the glorious. Inspired by scenes from haunted tales, it encapsulates the notion of introspection or perhaps a spectral reflection on one's past life. This design can be a striking addition to anyone who enjoys an intriguing narrative.
Cute Tiny Ghost Tattoo Designs
A pair of playful ghost figures, whether representing a couple, siblings, or friends, exudes an air of light-hearted fun. The tattoo, often seen on the shoulders and arms, captures the essence of interconnected souls. It's a symbol of a bond that is profound and enduring, making it a fun and lovable choice for many.
Tattoo Of A Tiny Ghost Haunting Forests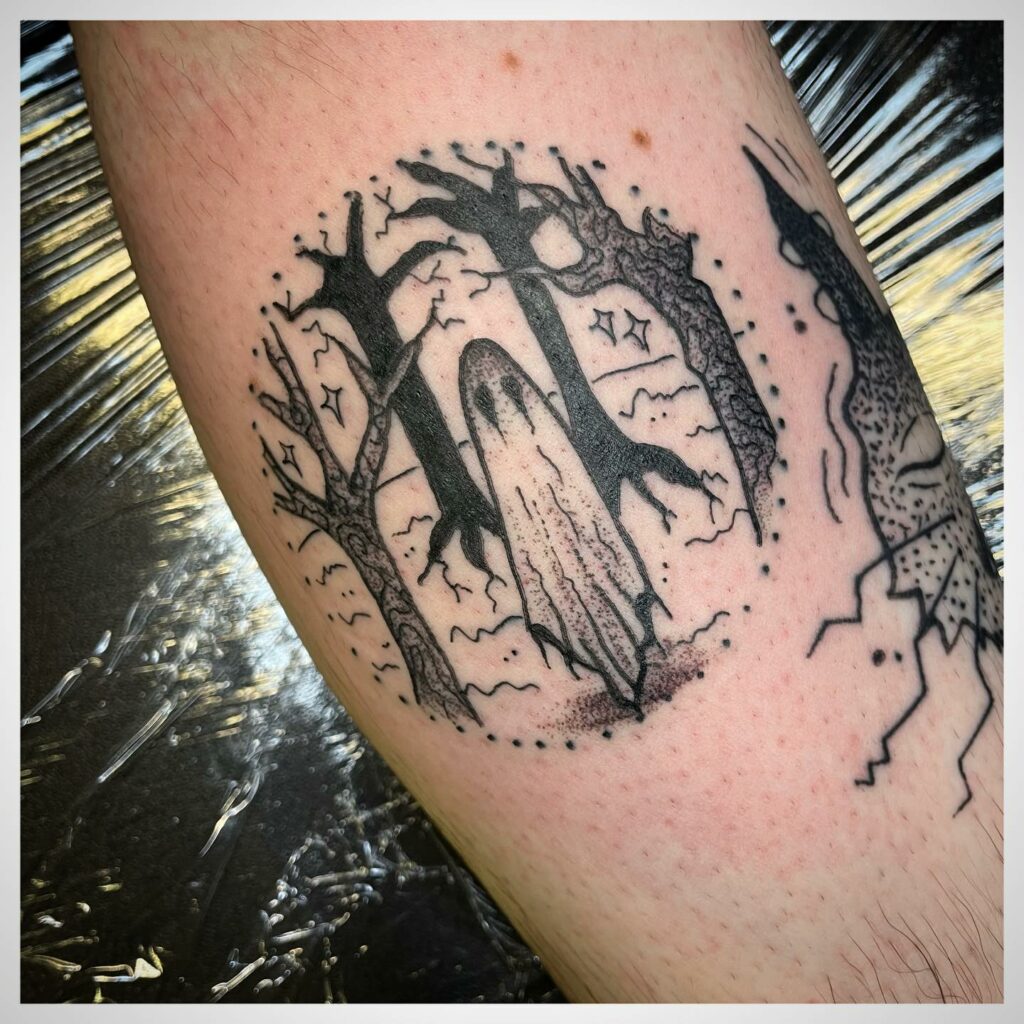 On the slightly more eerie end of the spectrum, we find the ghost haunting a forest. This ominous figure serves as a poignant reminder of the devastating effects of deforestation. A symbol of ecological resistance, it appeals to those keen on safeguarding the environment.
Cute Tiny Ghost Tattoo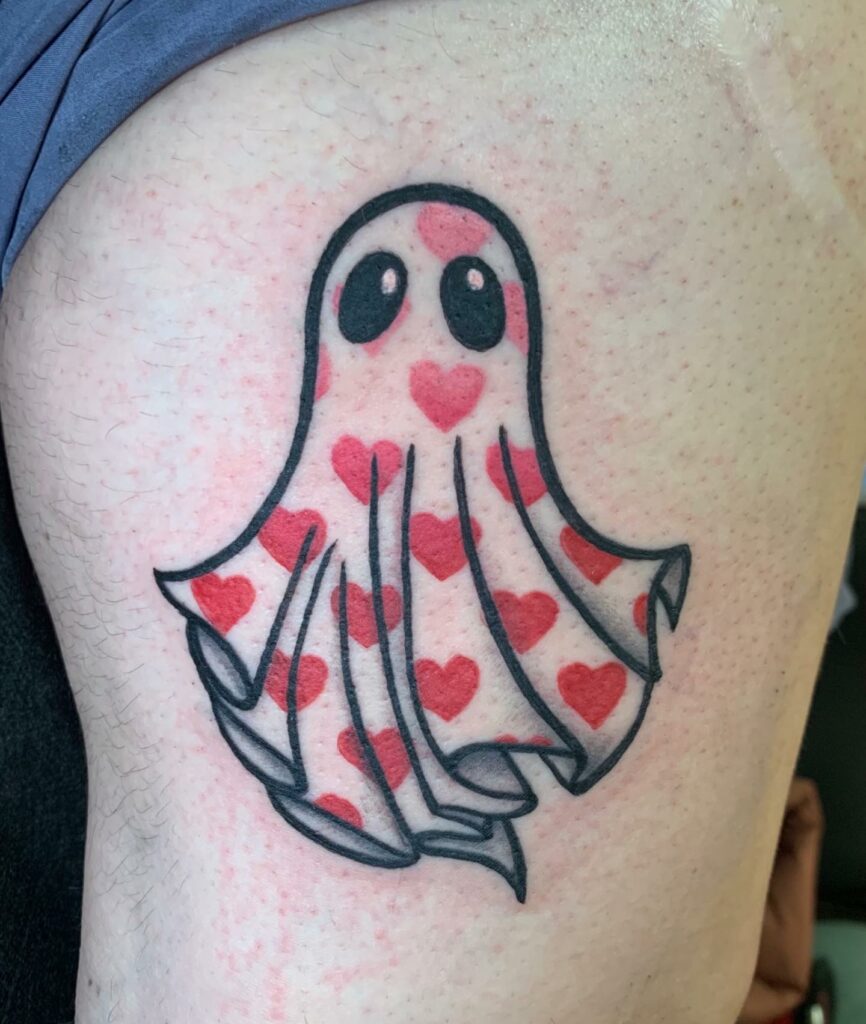 In the realm of cute ghost designs, you'll find a cheerful spirit adorned with hearts. This pocket-sized figure signifies a perpetually happy soul, spreading love and positivity. It's a popular choice for those seeking an affordable yet charming addition to their ink collection.
Tattoo Of A Ghost Reading Books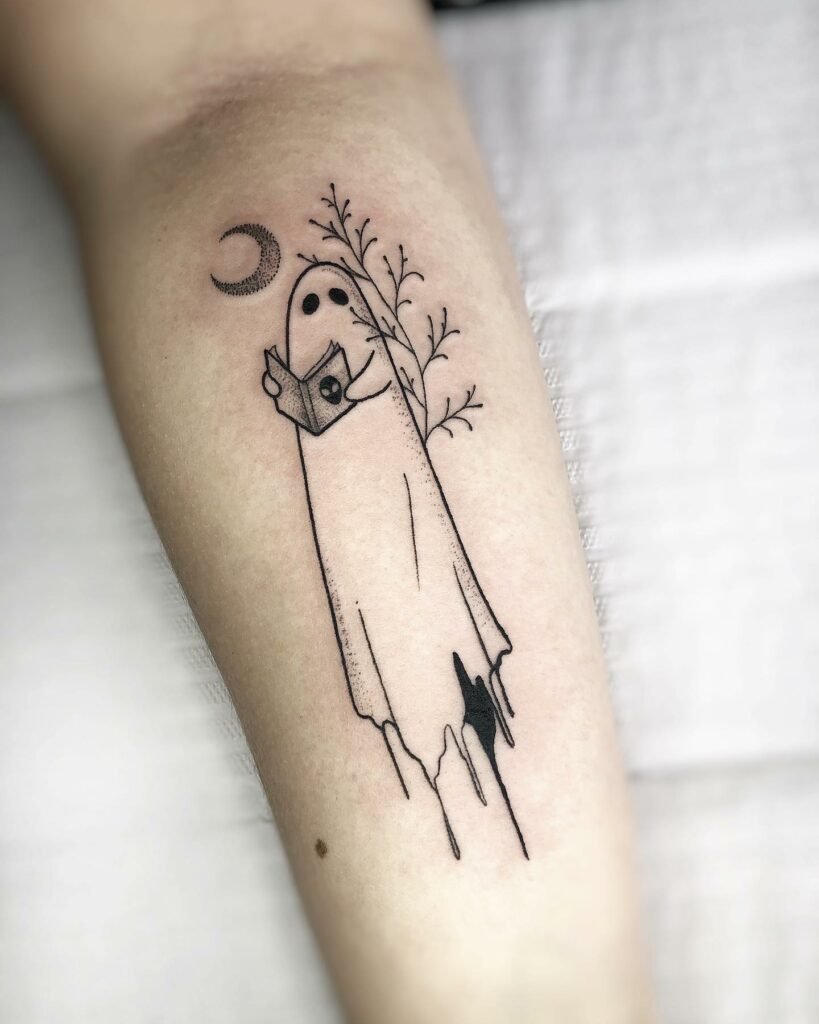 The reading ghost tattoo, perfect for bibliophiles, showcases a spectral figure engrossed in a book. This sophisticated and somewhat eerie design could represent a spiritual guide or echo the wearer's fondness for haunting tales.
Two Tiny Ghost Tattoos in Lovely Environment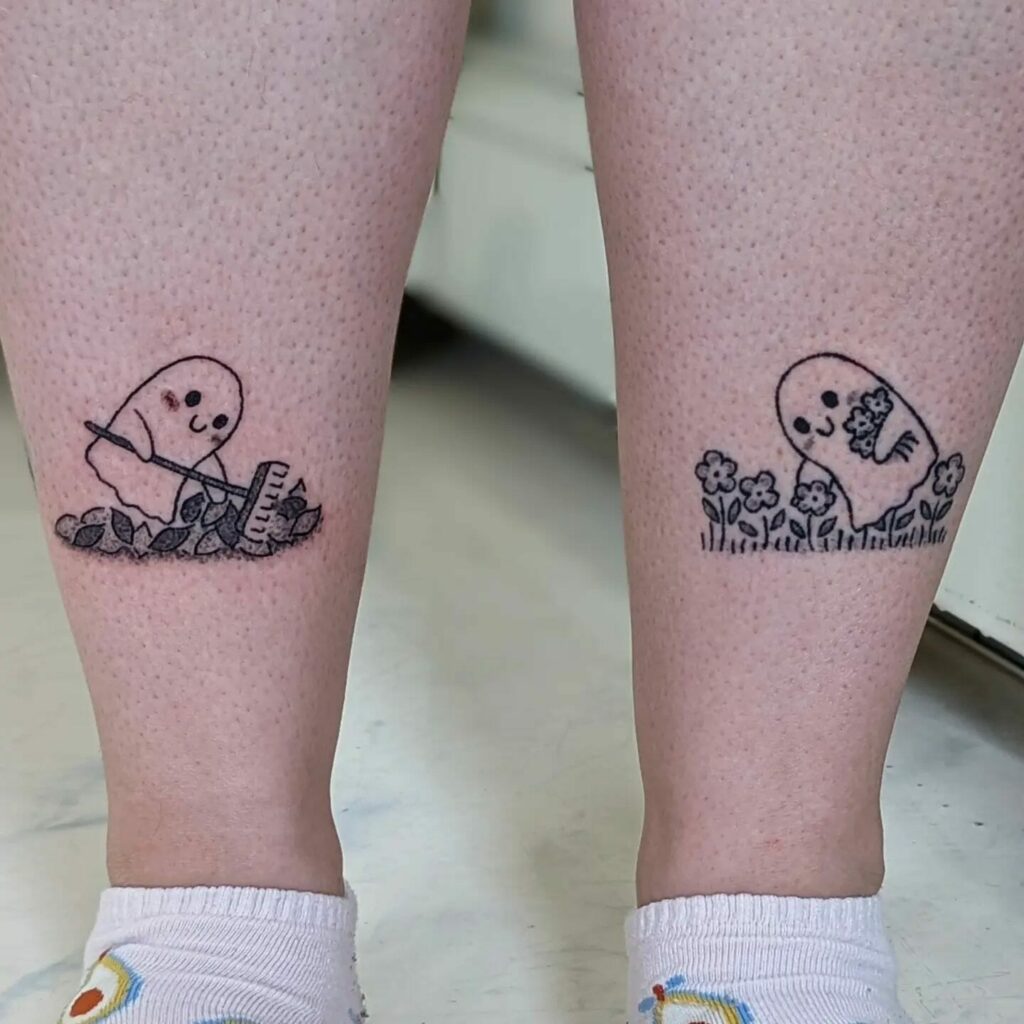 The two tiny ghost tattoo design illustrates a serene interaction with the environment, as one ghost tidies up while the other admires flowers. This design sends a potent message about environmental preservation, making it a meaningful choice for those passionate about nature.
Tiny Ghost Eating Tattoo
Our friendly ghost partaking in a feast of snacks is a delightful representation of indulgence and the joy of life's simple pleasures. Personalizable with a choice of snacks, this tattoo resonates with the foodie in all of us.
Ghost Tattoos Showing An Entire Journey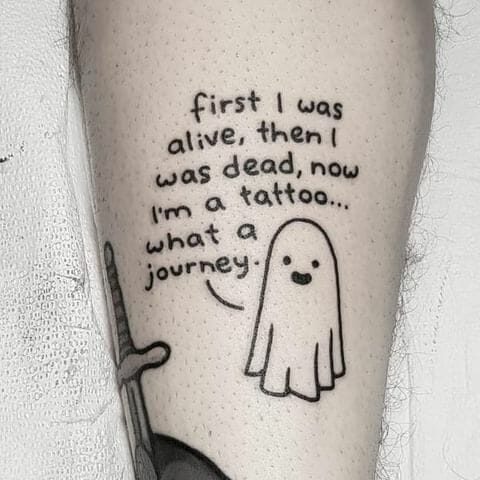 A unique ghost tattoo design incorporates a narrative of life's journey. Offering a chance to express deeply personal sentiments, this tattoo is a hit with men in their 30s. Its monochrome palette underscores the tattoo's poignant narrative.
From the whimsical to the profound, ghost tattoos transcend the conventions of traditional Halloween symbolism. They embody diverse themes from joy to introspection, to personal beliefs, to social issues. They encapsulate the beauty of tattoos – bold, sophisticated body art that echoes your individuality.
Conclusion
So there we have it, folks. The once spine-chilling specter has morphed into a playful, poignant, and deeply personal tattoo trend. Ghost tattoos, whether worn on the shoulder, arms, or legs, have a transformative charm that makes them a hit among tattoo enthusiasts. The cost of such a tattoo can range widely, from affordable miniatures to pricier, larger designs. Keep in mind that pricing is typically influenced by factors such as the size of the tattoo, the complexity of the design, and the expertise of the tattoo artist.
However, before you dash off to book your next tattoo session, remember that every ink story comes with a set of considerations. It's essential to understand the possible risks associated with tattoos, such as skin infections or allergic reactions to the ink. Ensure that your tattoo artist maintains strict hygiene standards and always ask about the ingredients in the tattoo ink, particularly if you have sensitive skin or specific allergies.
In conclusion, ghost tattoos offer a delightful blend of symbolic depth and aesthetic appeal. But as with any form of body art, the decision to get inked should be accompanied by research and consideration. So when you're ready to join the spectral scene, arm yourself with the right knowledge, choose a skilled artist, and step into the enchanting realm of ghost tattoos. With the right care, you'll end up with a tattoo that's more than just a pretty picture—it's a piece of your personal narrative, immortalized in ink.
feature image from Pinterest
Last reviewed and updated on May 23, 2023