Dragon tattoos have long captivated the hearts of tattoo enthusiasts, and if you're a fan of traditional tattoo styles, you're in for a treat! We've gathered a remarkable collection of traditional dragon tattoos just for you.
Across the globe, traditional tattoos have made their mark, from American to Japanese and Chinese styles. The mythical dragon has become a popular subject in the world of tattoo art, with unique interpretations in various cultures. In the West, dragons are often depicted as winged, scaly creatures breathing fire, while Eastern depictions present serpentine, wingless water deities. Despite these differences, one thing remains consistent: dragons symbolize immense power.
So, if you're ready to embrace the fierce imagery of traditional dragon tattoos, this collection of inspired designs is perfect for you. Let's explore and find the perfect dragon tattoo to express your strength and passion!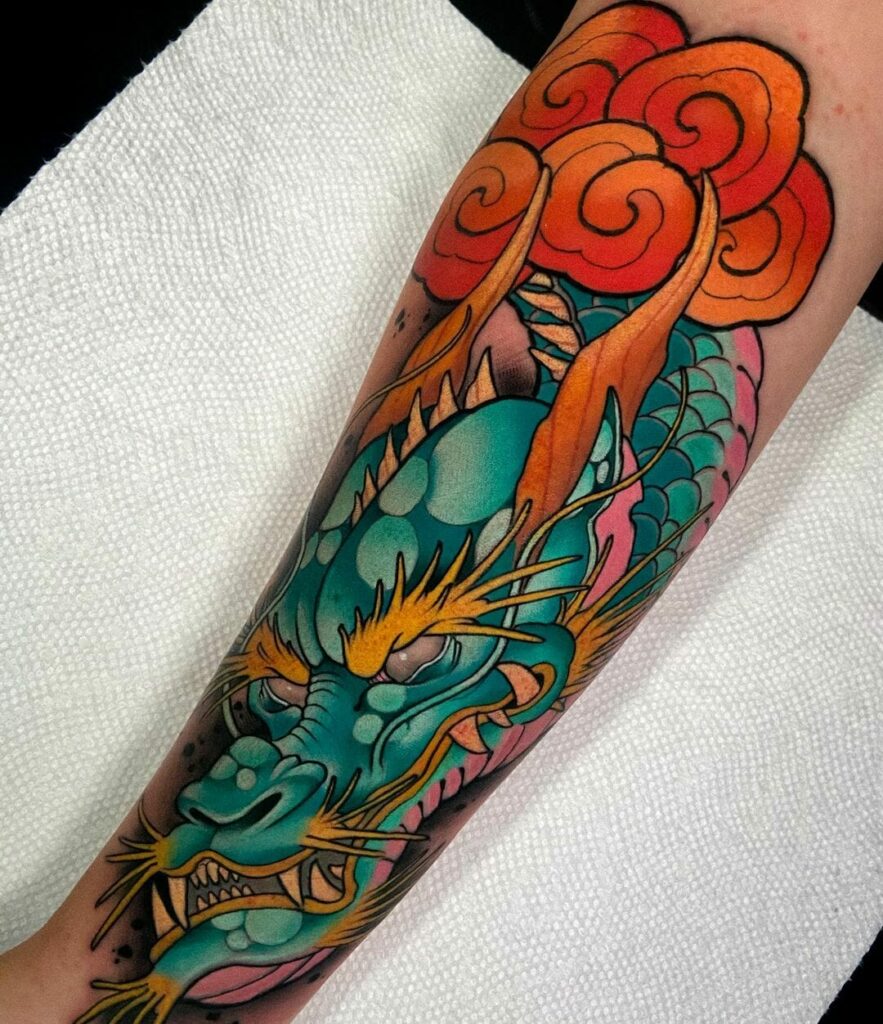 American Traditional Dragon Tattoo Ideas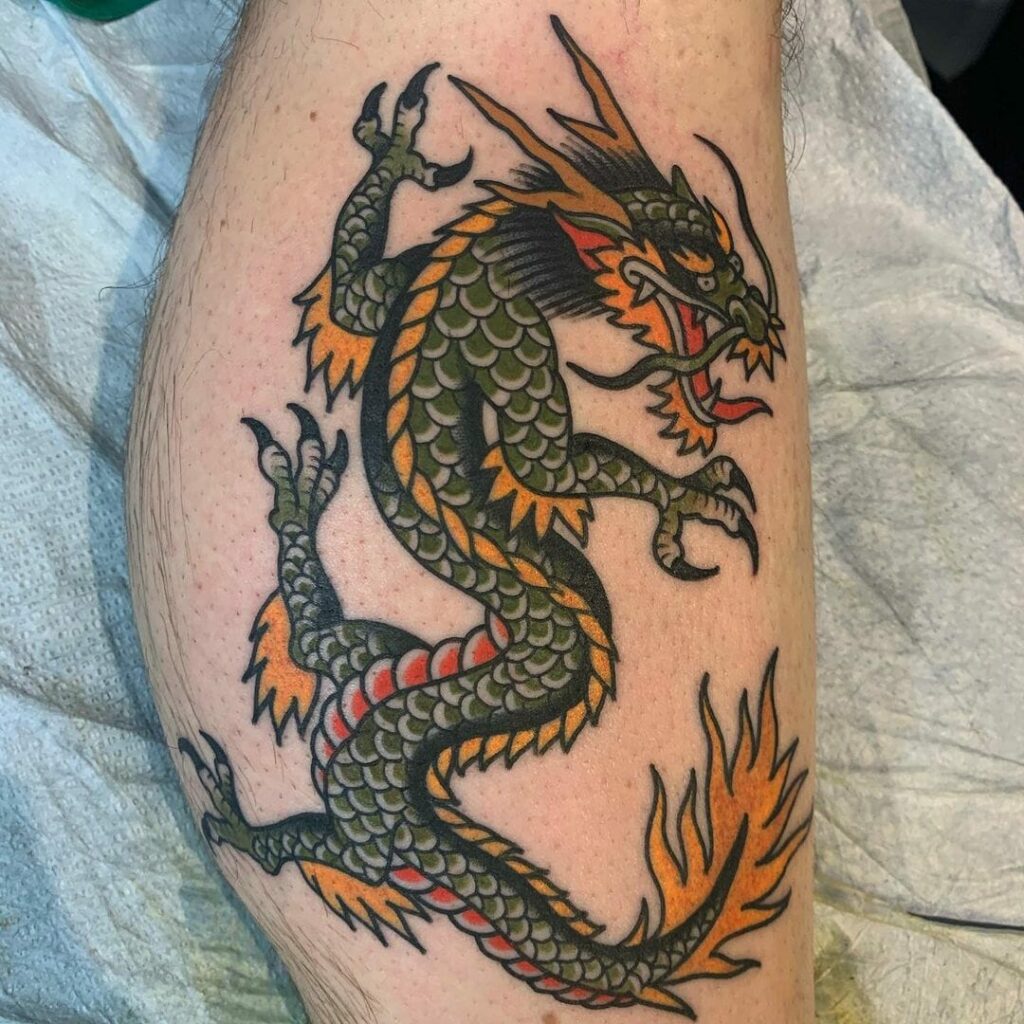 Dragons have been fascinating creatures in both Eastern and Western cultures for centuries, and getting a dragon tattoo is an excellent way to incorporate this mythical beast into your body art. If you prefer traditional tattoo designs, this dragon tattoo idea is perfect for you. It features bold black lines and bright colours, creating a powerful image of the dragon. This tattoo is a great choice for anyone who loves dragons, and it can be customized to suit your style and preferences. Whether you want to place it on your arm, chest, or back, this tattoo is sure to impress.
Amazing Japanese Traditional Dragon Tattoo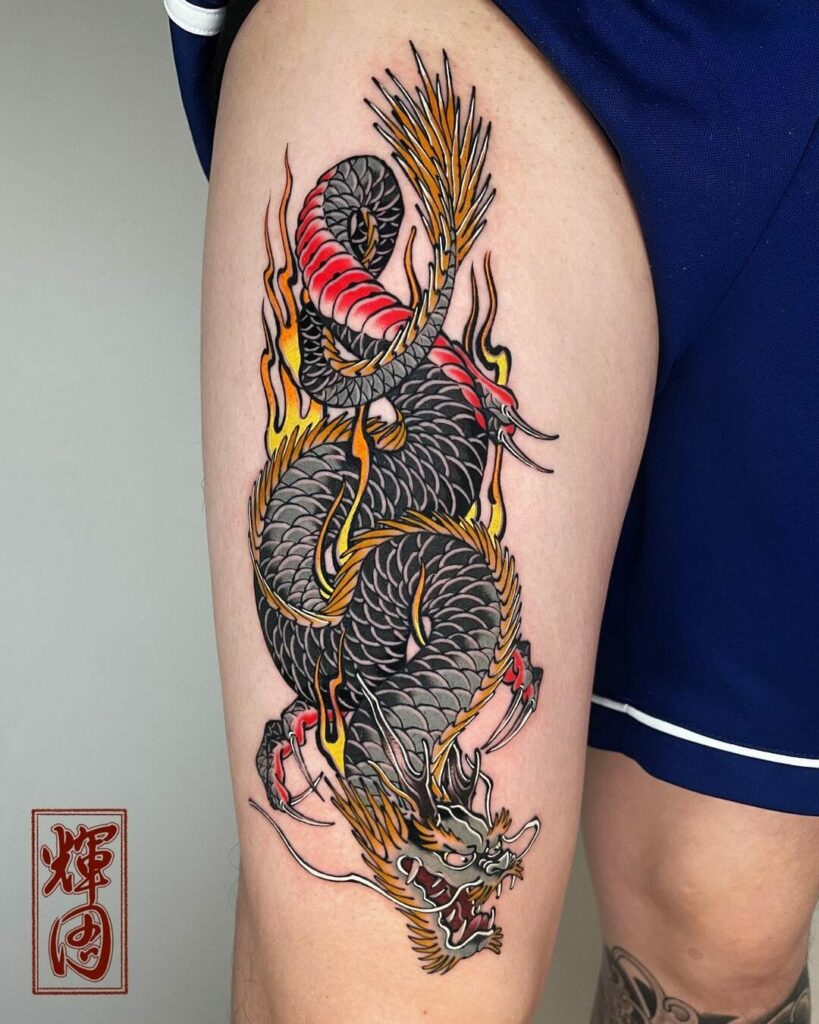 The Japanese traditional tattoo style is renowned for its stunning artistry, and the depiction of the dragon in Japan is steeped in rich cultural legend. Unlike Western dragons, those in the East are often portrayed as water deities possessing magical powers, and are typically serpent-like with no wings. Japanese dragon tattoos are renowned for their intricate details and bold use of colors that bring the image to life. If you're seeking a dragon tattoo in the Japanese style, this tattoo idea is perfect for you.
Black and Grey Traditional Chinese Dragon Tattoo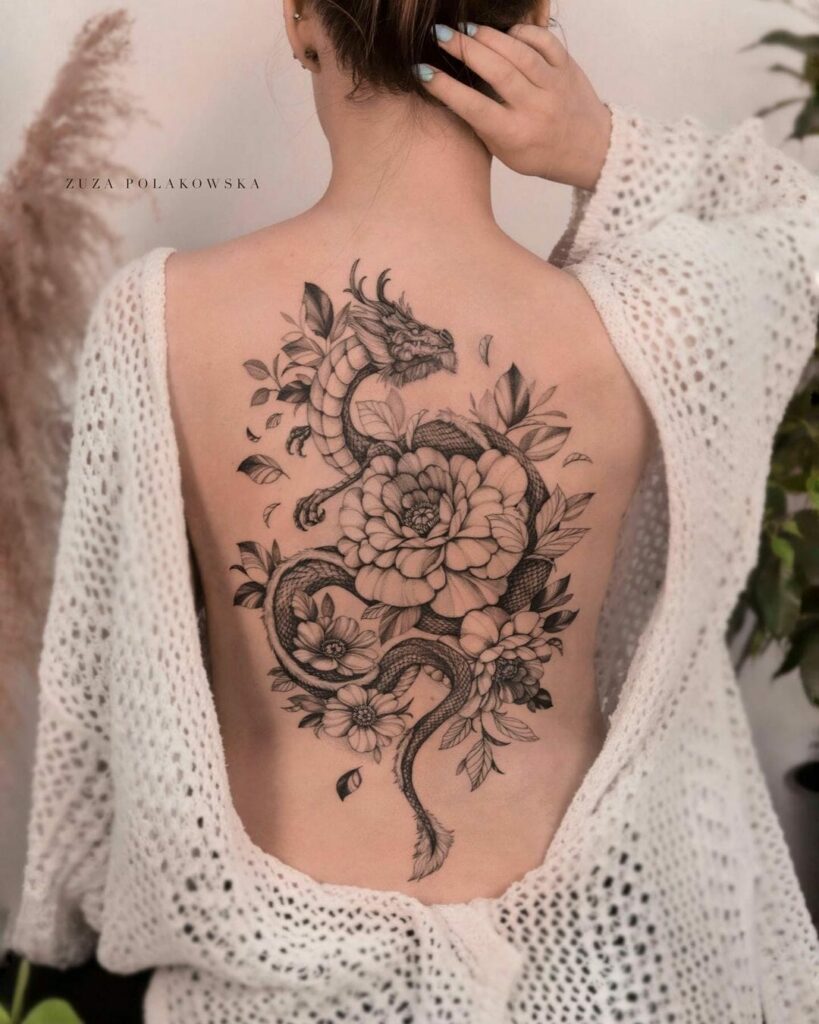 The Chinese culture has a rich tradition of dragon symbolism, much like their Japanese counterparts. In Chinese culture, dragons represent power and control over water and rivers. If you're looking for a detailed and stunning Chinese dragon tattoo in black and grey, this tattoo idea is perfect for you. The tattoo combines traditional and modern art styles to create a work of art that is sure to impress. The addition of flowers to the background adds a beautiful touch to the overall design. To bring this vision to life, you'll need to find a skilled tattoo artist. The back is an ideal location for this type of tattoo.
American Traditional Dragon Head Tattoo Ideas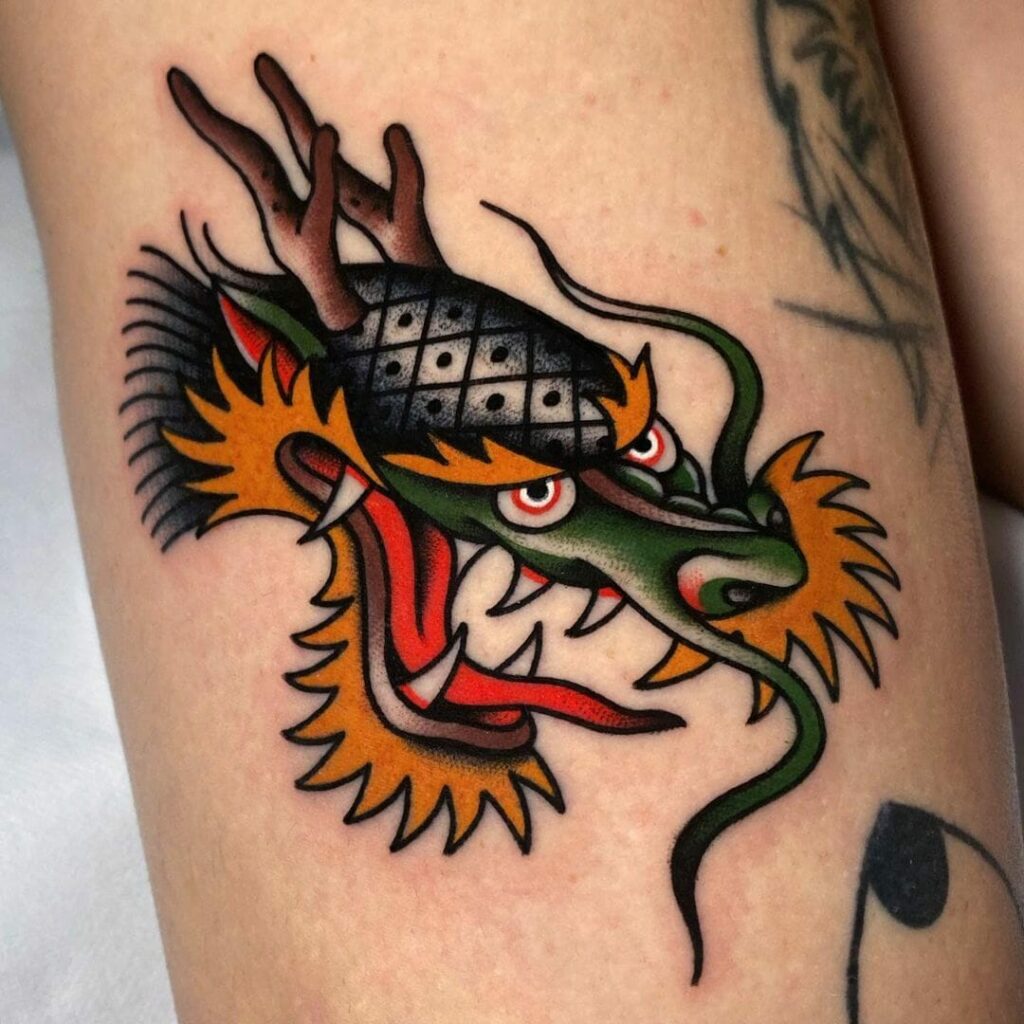 Are you looking for a traditional American style tattoo, but don't want something too big? Look no further than this dragon head tattoo design! While still packing a punch with its powerful symbolism, the smaller size makes it perfect for placement on your arm or forearm. The use of bright colours and bold outlines bring the dragon to life in a way that is both eye-catching and classic.
Traditional Japanese Dragon Tattoo Sleeve
The Japanese dragon tattoo has been a popular choice for those who wish to create a sleeve tattoo, combining the dragon with other design elements to create a beautiful and meaningful masterpiece. This particular tattoo completely covers the arm, with intricate details that make the dragon appear alive. Japanese tattoos are renowned for their intricate designs, making it essential to find an experienced tattoo artist who can bring this vision to life. Since this tattoo is quite large, it is recommended for people who are comfortable with getting tattoos and have experience with the process.
Fantastic Neo Traditional Dragon Tattoo Ideas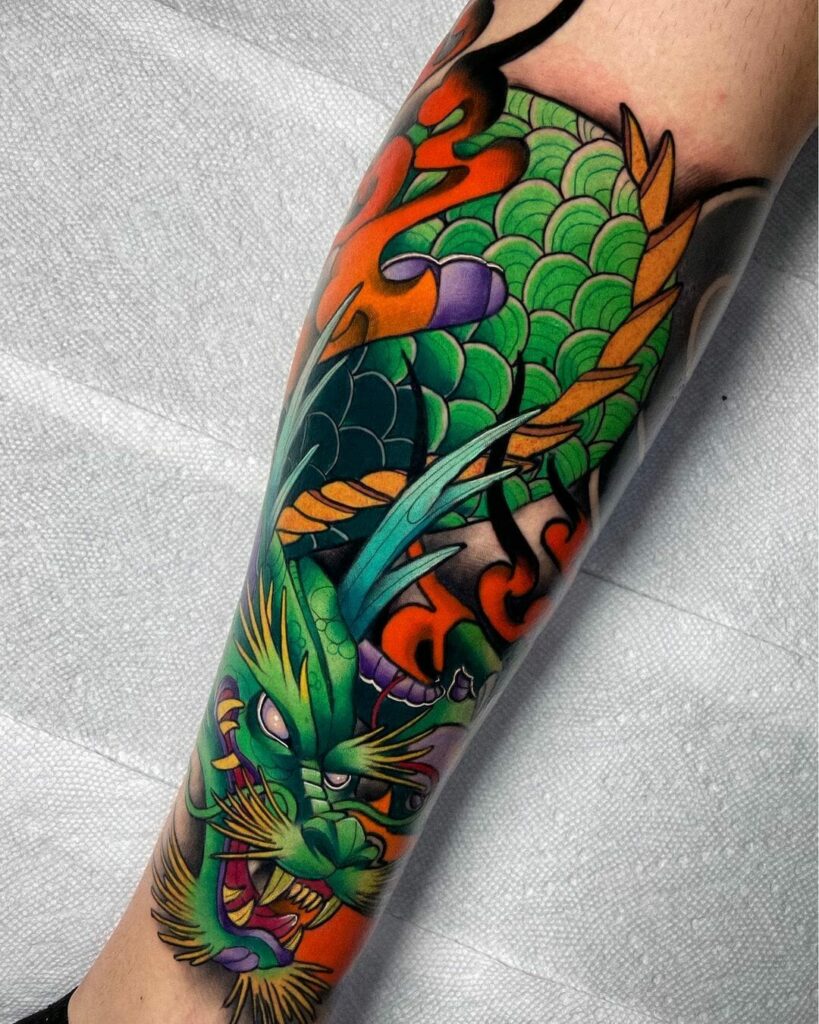 Neo-Traditional style is a modern and bold version of traditional tattoos, incorporating vibrant colors to create a more varied and dynamic look. Dragon tattoos done in this style are simply breathtaking. This tattoo, for instance, boasts a wide range of colors used throughout the design without taking away from the intricate details of the dragon's face. The forearm is the best location for this tattoo, but it can also look great in other areas of the body that provide enough room for the design. Get your hands on a skilled tattoo artist to bring your vision to life!
Traditional Chinese Red Dragon Tattoo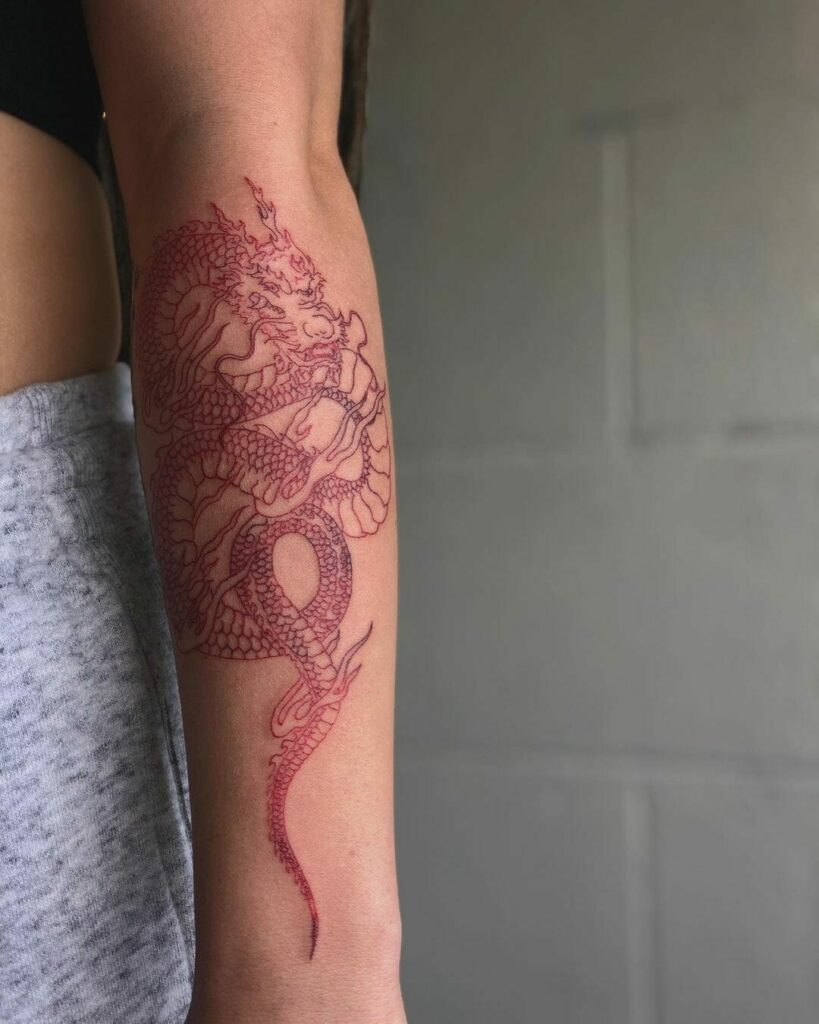 Dragons have always been a fascinating and mythical creature with a lot of power associated with them, including the ability to breathe fire. The recent trend of red dragon tattoos has become quite popular, with even some celebrities opting for this style. This tattoo style typically uses only red ink for the linework, which gives it a unique and bold look. This traditional Chinese dragon tattoo is also done in this style, adding to the rich history and tradition behind this image. While using only one color for a tattoo can be challenging, finding an artist with the right skills and experience is key to bringing out the details and beauty of this art style. Red dragon tattoos are particularly popular among women and can be placed on the back or forearm for a striking and eye-catching effect.
Colourful Traditional Japanese Dragon Tattoos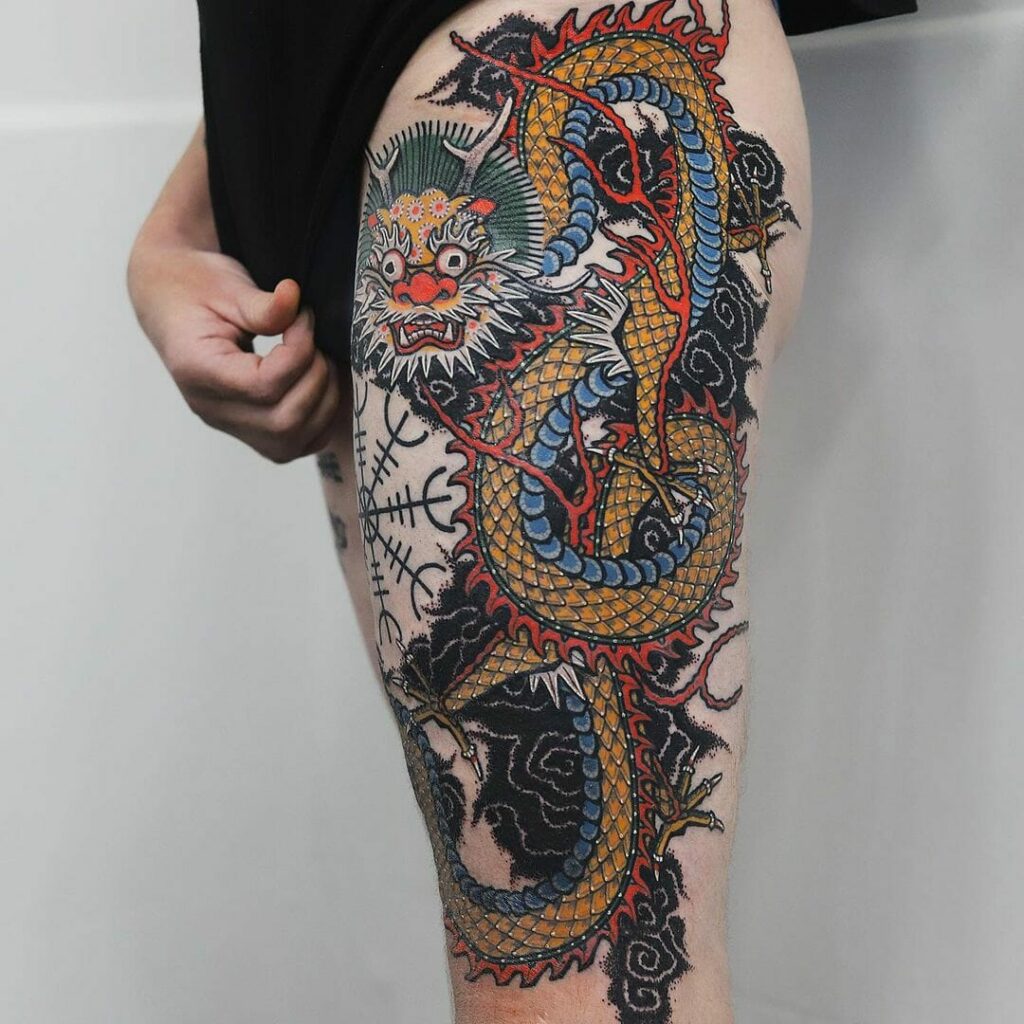 Traditional Japanese tattoos are known for their intricate details and vibrant colors. This art form is popular but challenging to execute. This tattoo showcases the incredible detailing that is inherent in this style. Even the background of the tattoo has been meticulously crafted, elevating the overall quality of the piece. It is a large tattoo that would look stunning on the thigh. However, it's important to note that it requires multiple sessions and can be quite painful, so it's recommended for those who have previous tattooing experience.
Beautiful Black and Grey Dragon Tattoos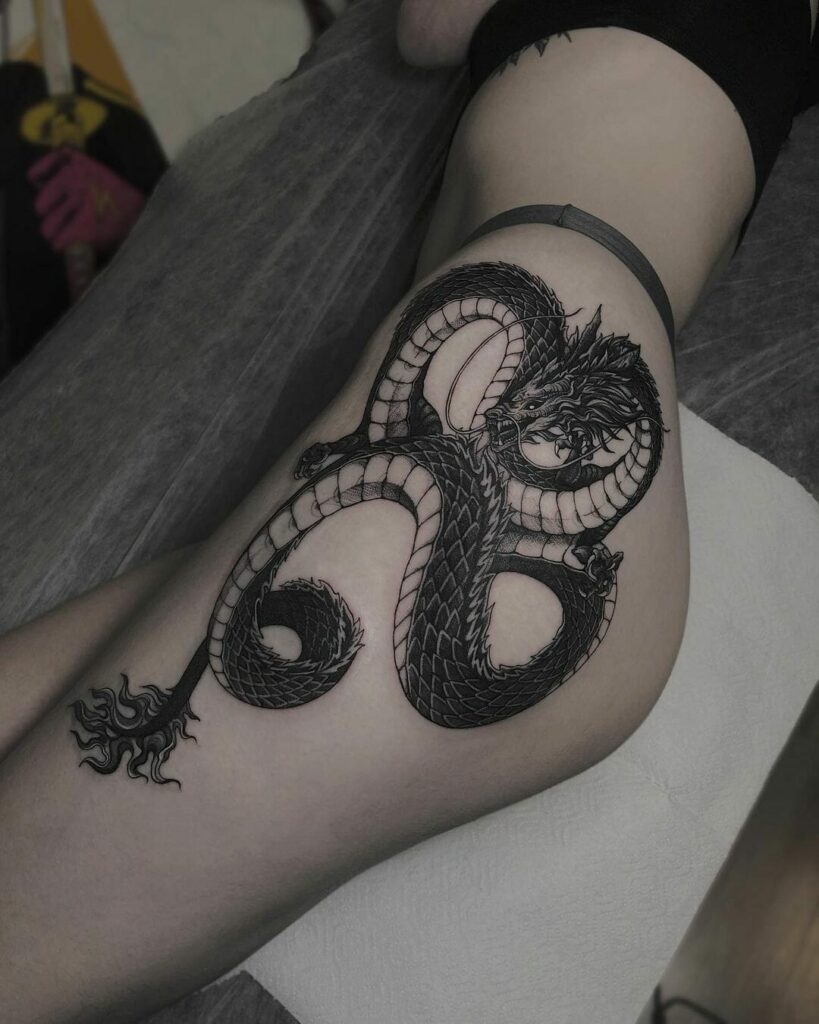 Black and grey tattoos are a classic choice for people who love the traditional style of tattoos. These tattoos are famous for their longevity and ability to age gracefully. If you are a fan of this art style, then this dragon tattoo is a great option. Despite using only black ink, this tattoo is incredibly detailed and well-executed. It is an excellent choice for those who prefer a more subdued and timeless look for their tattoo. The best location for this tattoo is the thigh or back, where it can be showcased to its fullest potential.
Amazing Neo-Traditional Dragon Head Tattoo Ideas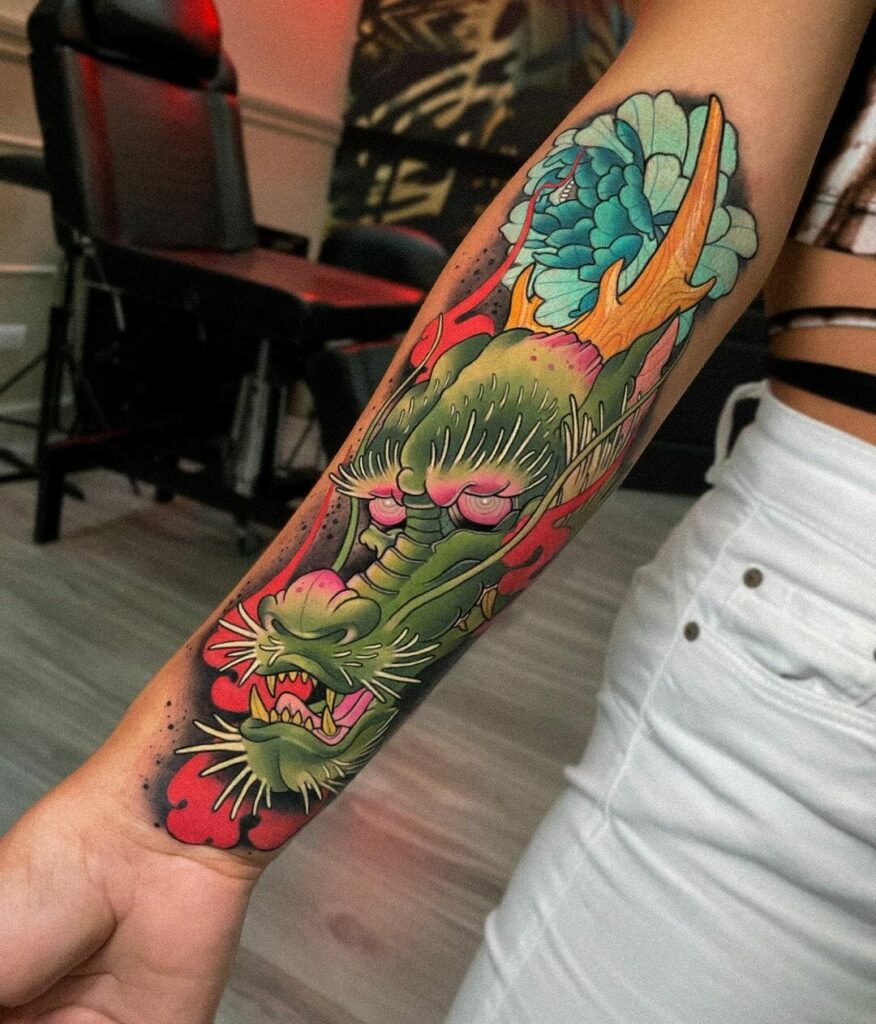 The neo-traditional art style has been captivating tattoo enthusiasts with its vivid and imaginative designs. If you want a dragon head tattoo, but with a modern twist, we have just the perfect idea for you. This design is an intricate blend of colours, with the dragon head as the centerpiece. The bold lines and bright colours, typical of the traditional style, are very much present in this stunning tattoo. The background is also detailed with bright colours that will make your tattoo stand out. If you want a dragon head tattoo that stands out, this neo-traditional style tattoo is a fantastic option.
Feature image from Pinterest