Lion tattoos have been popular for ages. Representing strength, agility, and power. Look through these traditional lion tattoo ideas to find the one for you.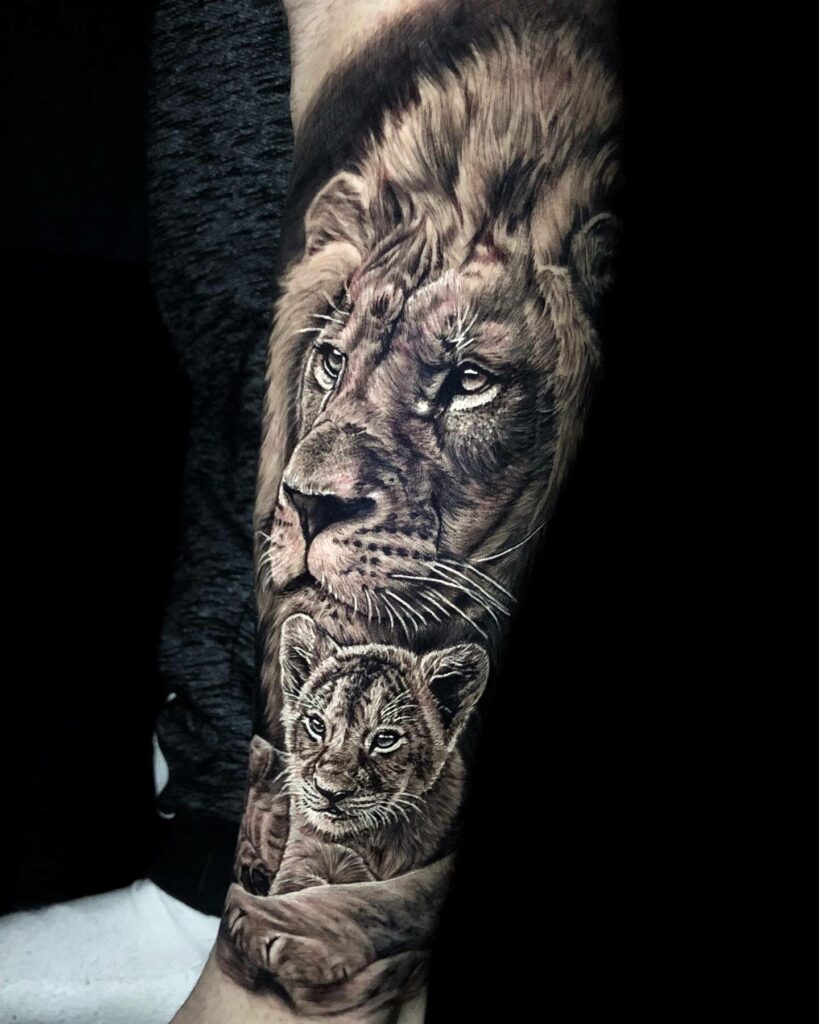 Traditional lion tattoos are a major favorite among all tattoo enthusiasts across the globe.
The lion is a majestic creature of the natural world that comes from the family of big cats representing courage, ferocity, protection, and strength. In many cultures, they also hold religious values and are of great significance.
People with lion tattoos want to assert their dominance over others. They are not afraid to speak their mind or face the consequences of their actions. Lions live with their head held high in the animal kingdom, and so does the person with a lion tattoo. They are one of the most feared animals in the jungle, which surely creates a sense of terror yet mysticism in those who see them. The kings of the jungle: lions are known for their bravery, intelligence, and quick thinking. People who manifest the lion as their soul animal tend not to give up and jump back twice as powerful after defeat. Let us look at the most popular lion tattoo ideas, American traditional lion tattoos, and neo-traditional lion tattoo ideas that might inspire you to get inked with the same.
Traditional Lion King Tattoo Design
The Lion King holds a special place in our hearts and makes us cry every time we see it. The Lion King's tattoo symbolizes innocence and the power of being good. The lion king tattoos are for the powerful yet playful ones. The tattoo features Mufasa with Simba(cub tattoo) in a very affectionate style. The design is on the forearm in bold black ink on the outlines and minimal airy black shading. The design looks very cute and powerful at the same time.
This tattoo is a powerful symbol of how you should never underestimate a small cub because it will be back with the determination and the power to reclaim his throne. This would look great with some vibrant colors to highlight your playful nature in your lion tattoo. This could also be a popular design for a lion thigh tattoo.
Roaring Lion Chest Tattoo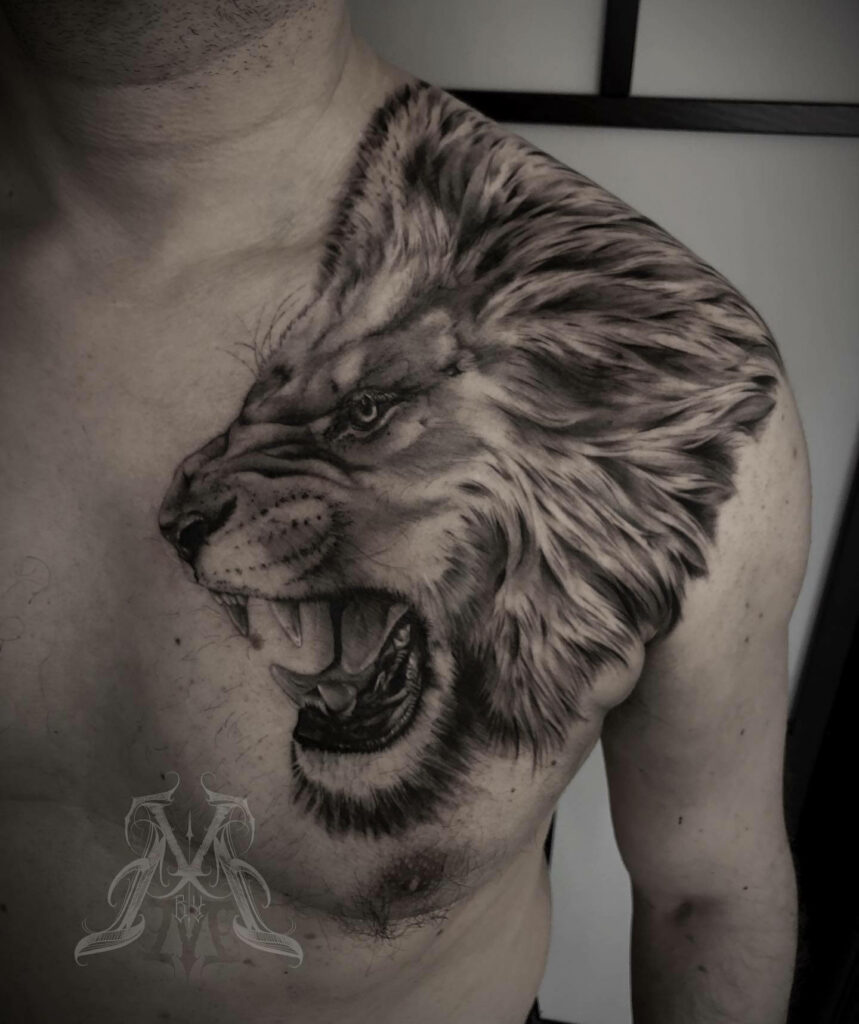 Roaring lion tattoos show ferocity and dominance. The lion tattoo is inked from the back of the shoulder to almost the center of the chest. The deadly roar is inked in such an intrinsic detailed design that you can almost hear the image.
You do not want to mess with people having this tattoo. It is the first and the last warning for their enemy to back down otherwise, they will have to show their full power. A large lion tattoo will look good on a bigger area, such as the chest showing the masculine power of the lion tattoo. The tattoo uses heavy shading and brings out the jungle king in all his magnanimity.
Lion Head Tattoo With A Crown
Lions are kings of the jungle, and to honor their royalty and nobility, what could be better than a crown? They are at the top of the hierarchy, just like a king, and would like to be treated so. This traditional lion tattoo features a very tribal idea of the king of the jungle. The lion is inked in black, cream, and grey and heavily shaded in his mane. The crown tattoo on his head is bejeweled, and the wearer's skin tone has really brought forth the dazzling effect of this powerful body art.
The face of the lion, in all its somber and wise look, bears the symbolism of strength, honor, and solidarity in the face of hurdles. A tattoo of a lion with a crown represents the responsibility that comes with great power. Therefore, lion head tattoos are best suitable for those who hold a high responsible authority.
Lion Family Tattoo With Quote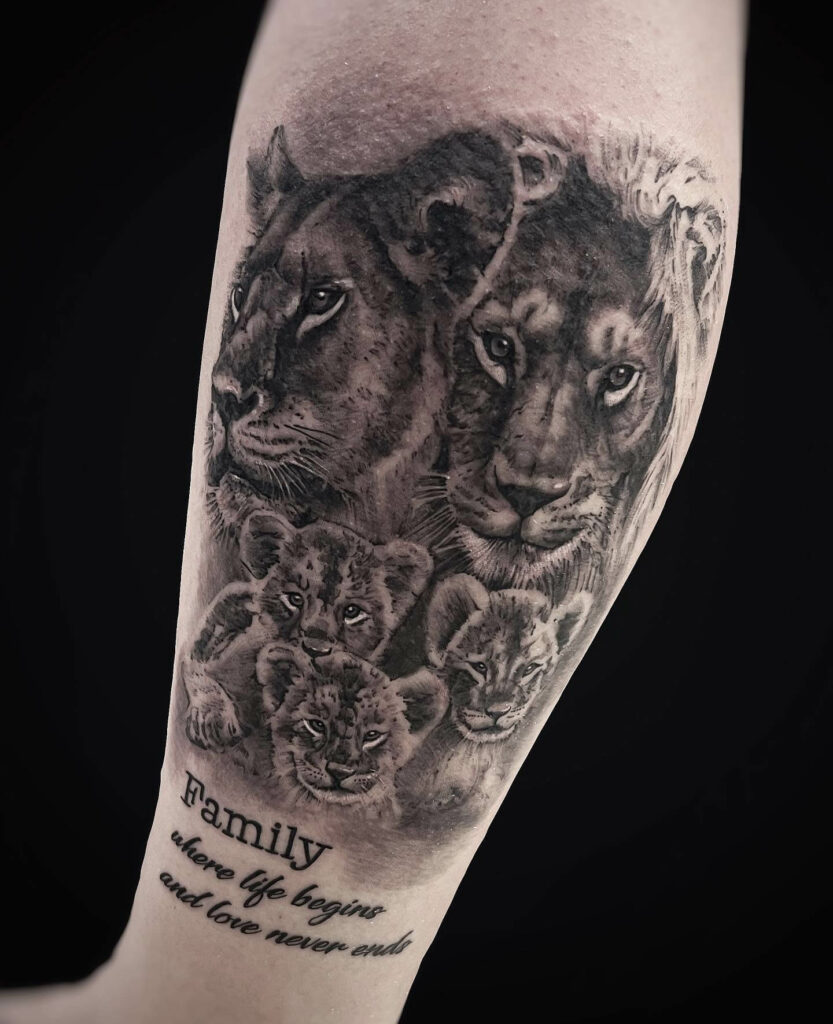 Lions are very protective of their family and their territory. They can go to a huge extent just to protect the people they love. This tattoo features a lion family in all its terrifying aura. The father and mother protect their cubs and look out for them. The unity in a lion's pack and especially within their family, has been exemplary for ages and this tattoo is great for people who value their family above everything else in life.
This lion forearm tattoo is in black, heavily shaded, yet the outlines have been so beautifully maintained to make the eyes of the lions shine. To make it more meaningful, you can add a quote as it has been done in this case. Every time you look at the tattoo, you can be reminded of the immense love flowing through you for your family.
Lioness Tattoo With Flowers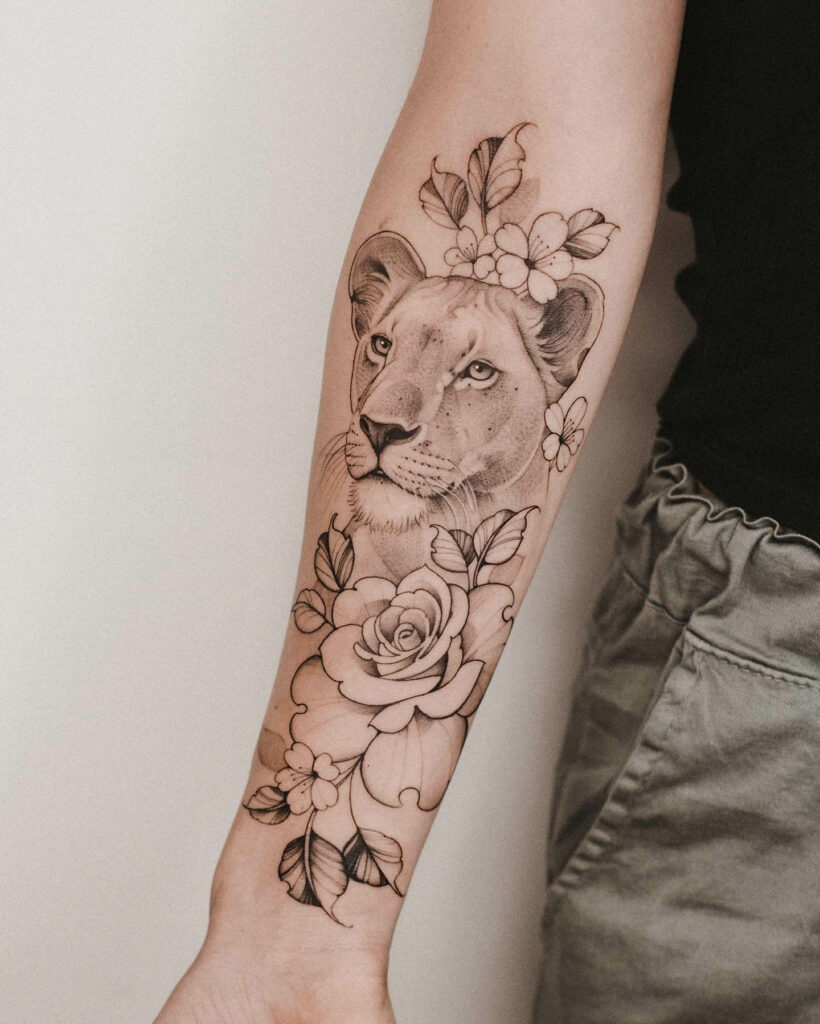 One could go with a lioness with a flower tattoo to represent and empower their feminine side. The tattoo represents grace, fearlessness, and wisdom. One of our favorite lion tattoo ideas, a female lion tattoo, reminds us constantly of the actual power held by the lioness. From going out to hunting or embracing her motherhood, the real queen does it with great agility and sacrifice.
Lionesses have always inspired awe, and getting this beautiful minimalistic design not just amps up your aesthetic but also brings out your valorous personality. The flowers act as a cherry on the top, representing the lioness tattoo's feminine beauty. Alternatively, instead of flowers, you can also opt for rose tattoos with lioness tattoos to hand out a warning that if you try to pluck them, their thorns can bleed you out.
Smaller Lion Tattoo on Ribs
This tattoo is a powerful representation of how just a lion's eyes tattoo is enough to invoke fear. The tattoo is extremely simple with the two small hooded eyes of the lion. The design catches the eye of the looker instantly, owing to the neatness of the body art and the complexion of the wearer, which it complements perfectly.
People with this tattoo know their standards but do not want others to be threatened by them. To add to the design's cuteness, the lion's nose has been given a small white patch such that it appears to be shining. Make sure you do your research and go to the best tattoo artist, as the ribs are one of the most painful places in our body to ink, and you certainly do not want a mishappening.
Upside Down Japanese Lion Tattoo on Knee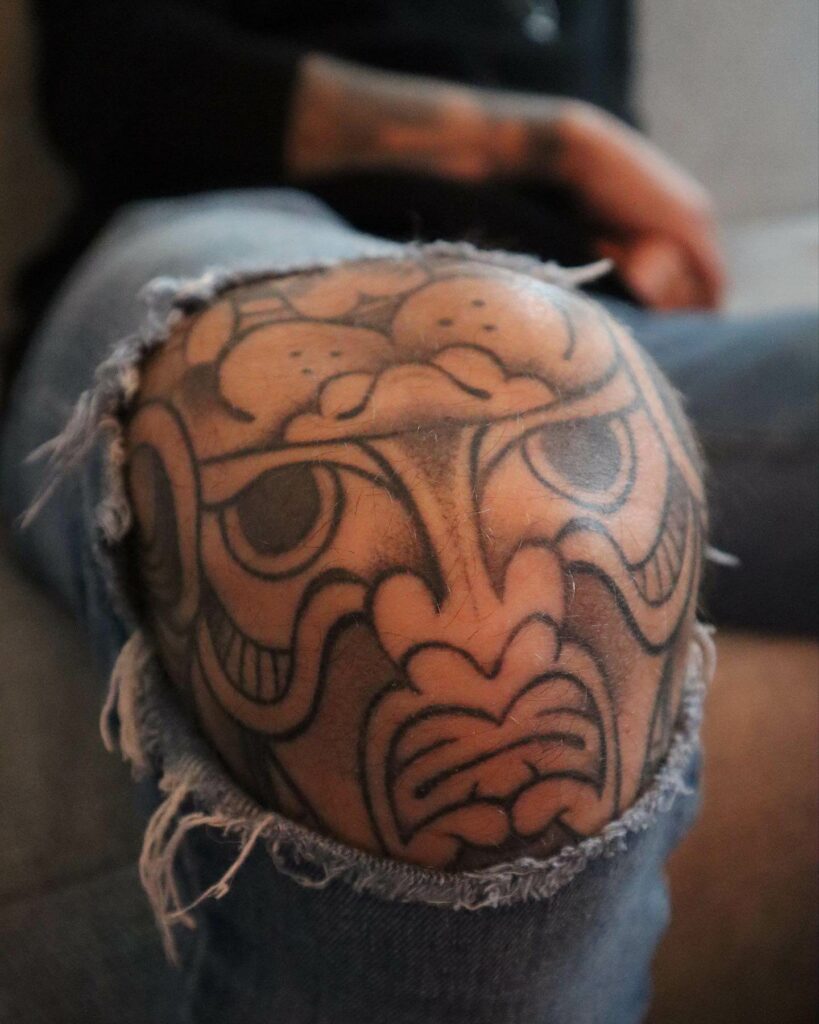 According to Japanese beliefs, Lions hold a religious value and are considered to be the guardians of Buddhism, protecting the people, temples, and shrines. Traditionally, it is known as shishi or komainu. This tattoo looks like the design of a tribal lion tattoo, but it comes with a quirky side to it.
The design is that of two lion faces. Once you turn the picture upside down, the second lion comes into view. Both faces are of traditional Asian mythological lions. The design covers the entire knee and looks super trendy. This traditional lion tattoo is known to represent bravery and courage and protects you from evil eyes.
Half Lion Tattoo For Couples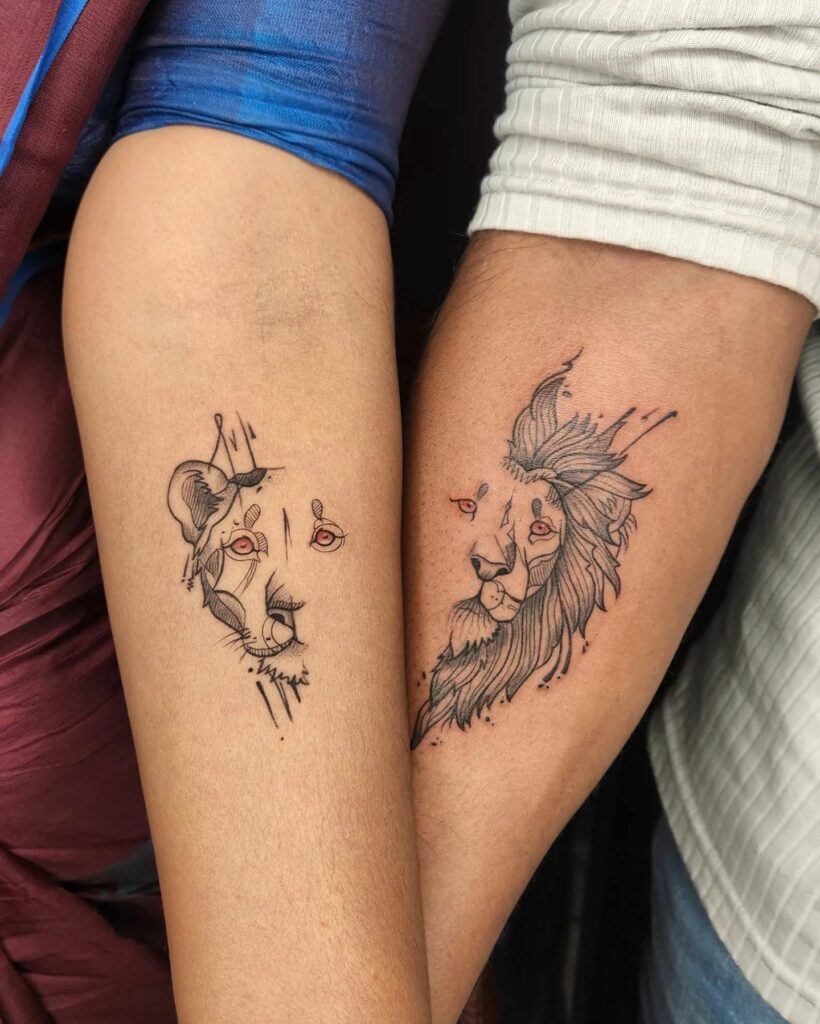 The ultimate step you could take to represent your love which is as strong as the power couple of the jungle. Be instantly recognizable as couples in public with this simple lion tattoo design. Two half faces of the lion and his lioness are inked on the couple's arms in black ink. This fine line tattoo is a great representation of lion couples' love and protective nature.
The tattoo also depicts how the lion and the lioness are incomplete without each other. One of the most sought lion tattoo designs for couples, it shows how you both are strong individually, but when together, no one else can take you down. The piercing eyes of both male and female lion show loyalty and possessiveness towards each other.
Full Sleeve Tribal Lion Tattoos
A traditional lion tattoo of the tribal or mountain groups gives a sense of ethnicity and a feeling of belonging to our true roots. Every group holds its importance and symbolism of the tiger. You are not afraid to stand alone but always be there to fight for people close to you. A lion tattoo might also signify your aspirations towards wanting to be one, to be as royal, assertive, and powerful as them.
Mountain lions do not want to be part of the mainstream but are rather happy with their solitary lives. They do not want others to rupture their peace. African tribal art is more connected to the spiritual side and demands respect. A lion sleeve tattoo covers your full arm and looks extremely masculine and powerful. It can be covered with a long-sleeved shirt in case you have to go for a formal meeting. You can also get a mountain lion tattoo in this style.
Winged Lion Tattoo On Forearm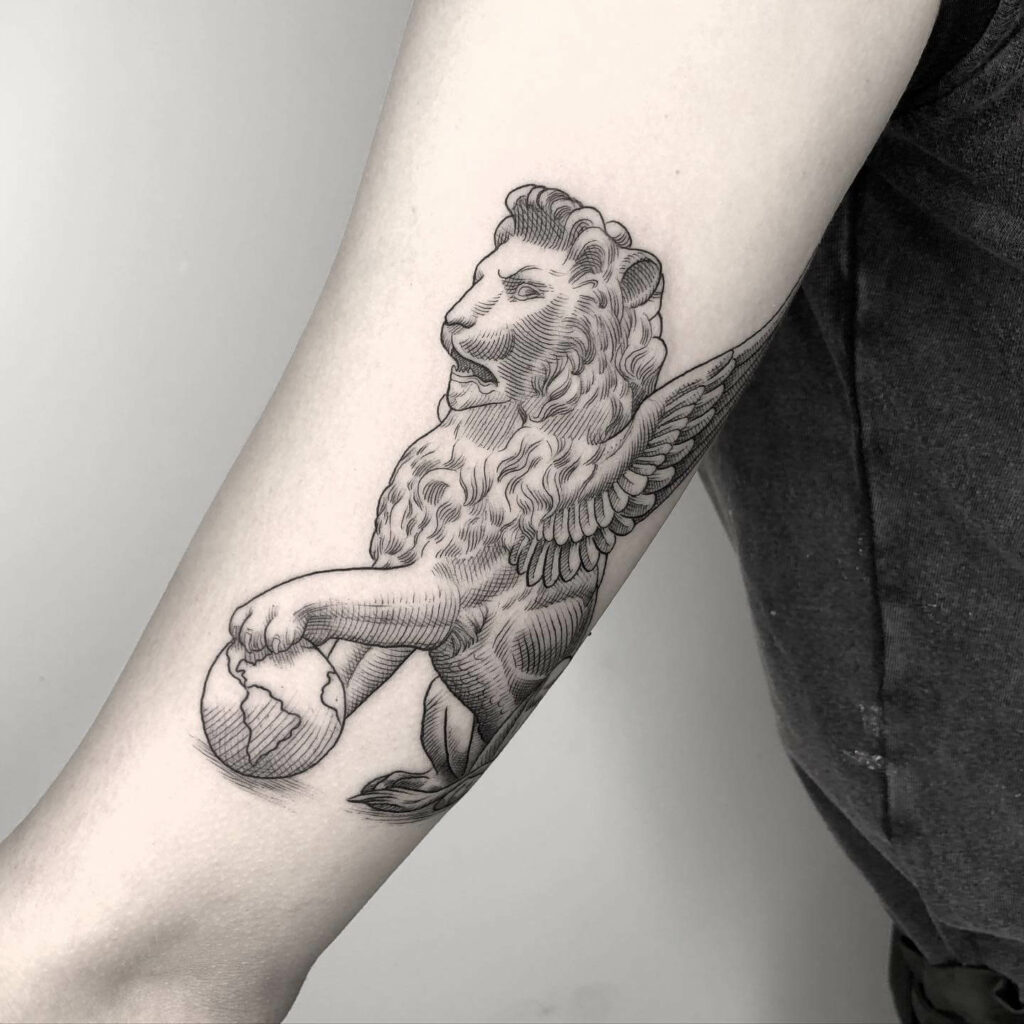 In this lion's forearm tattoo, you can see a lion with wings on either side and earth below him. In Venice, the winged lion is recognized as St. Mark, a patron saint. In different mythologies and cultures, this depiction is observed as either Griffin or Lamassu. The beauty of this tattoo will be enhanced if you know your winged lion tattoo's meaning and history fully before committing to it.
Lion tattoos have different meanings and intricate detail. The cost of the lion tattoo may vary according to your preferences and length. So, what are you waiting for? Get up and go to your nearest tattoo parlor right now, and do not forget to show it to your friends.
Still looking for inspiration, then checkout this blog post about tattoo ideas
Feature image from Pinterest – Want your tattoo to look brighter? Try "tattoo balm"