Are you a history buff looking for traditional tattoos to adorn yourself with? Good for you, we have just the right tattoo flash set celebrating America's past!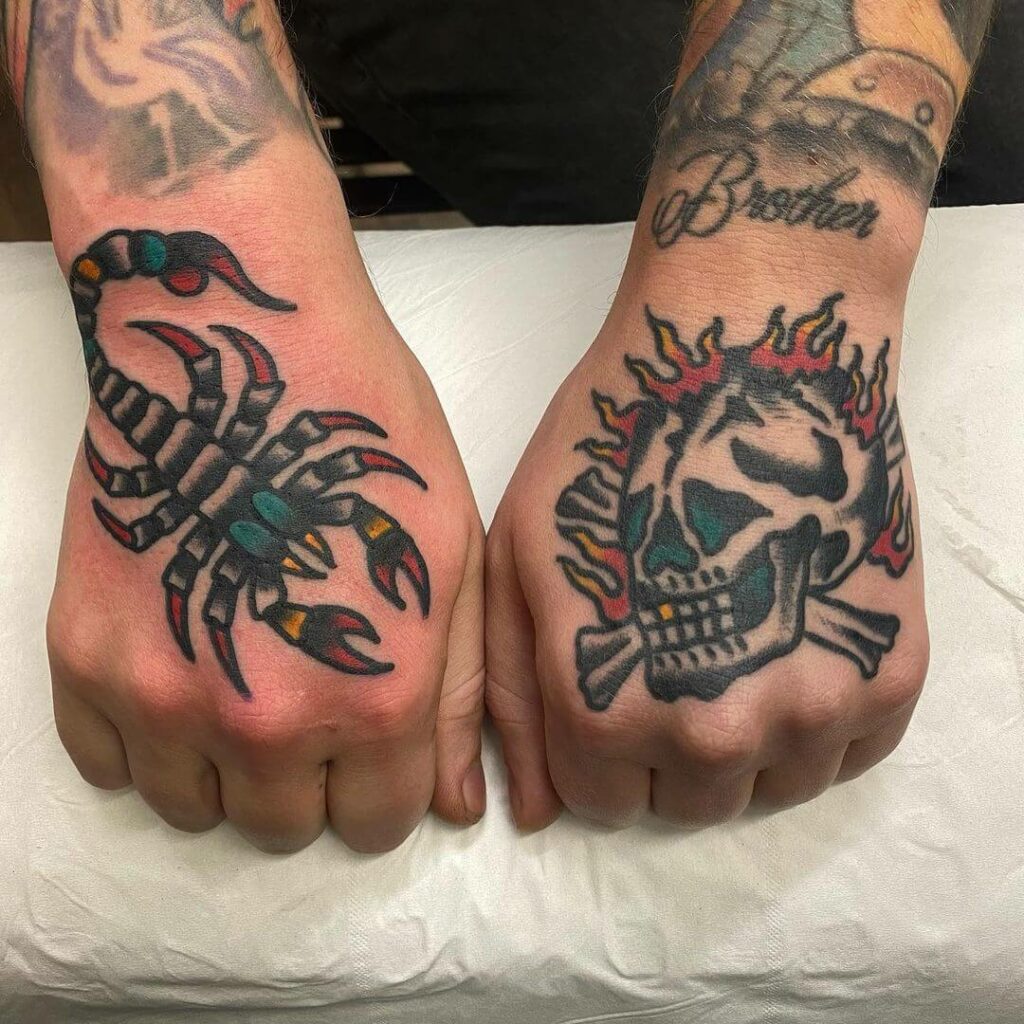 The term traditional tattoo flash refers to the classic tattoo designs that are put up on display in tattoo shops to help customers select their pick.
Traditional tattoo style is a separate art form that one can readily recognise. Unlike contemporary tattoos, flash designs are easy to use and the process is comparatively way faster.
Back in the day, American tattooing was not widely accepted like it is today. Artists would sneak behind the back of a pub and hope for someone, particularly a drunken sailor to jump right in and get inked. Being a secretive affair, tattoo artists would often have the designs painted on paper for reference and outlines locked in their cases. If things got nasty with police raids, they would pack up and be gone in a flash. But what is fascinating is that many artists during this time developed their own interesting style that would appeal to many sailors and other men in general. Prominent inkers of this time include Sailor Jerry, Bert Grimm, among many others who have set their individual style that lives on even now. However, we must warn you that chances are there exists another person with the same traditional tattoo. But you can always revamp your design with some custom elements that will make your tattoo stand out from the crowd. Now that you have covered the basics, scroll further to find our curated styles to draw inspiration from!
Traditional Skull Tattoo Flash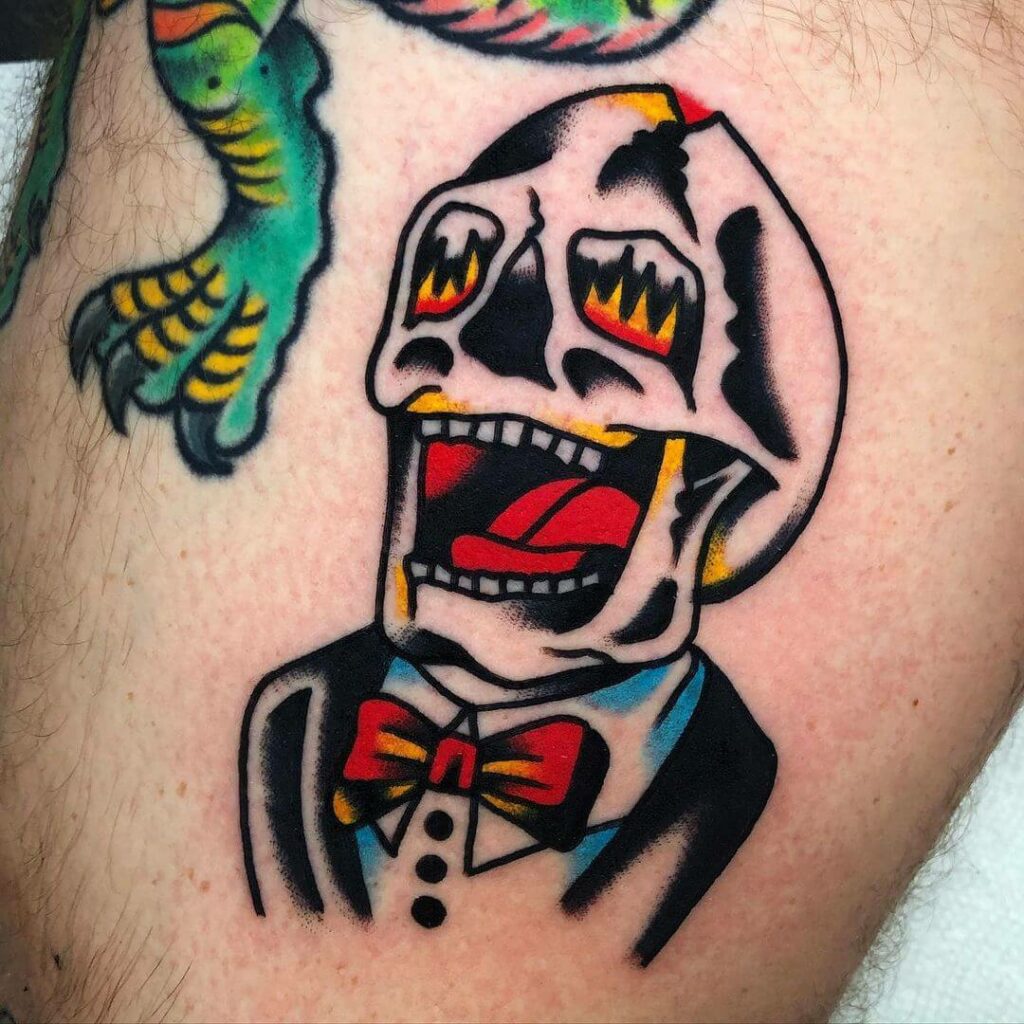 You have almost surely walked into a tattoo shop and found skulls painted on at least one part of the traditional tattoo flash sheets. Skulls are a staple for those who are unafraid, free-spirited, and adventure-loving and make a rad addition when placed on the skin. Here the tattoo artist amps up the skull while keeping the outline plain but with heavy detailing in the heart of it. Traces of red, blue, and yellow with black makes a stark contrast and results in a traditional skull tattoo with contemporary additions.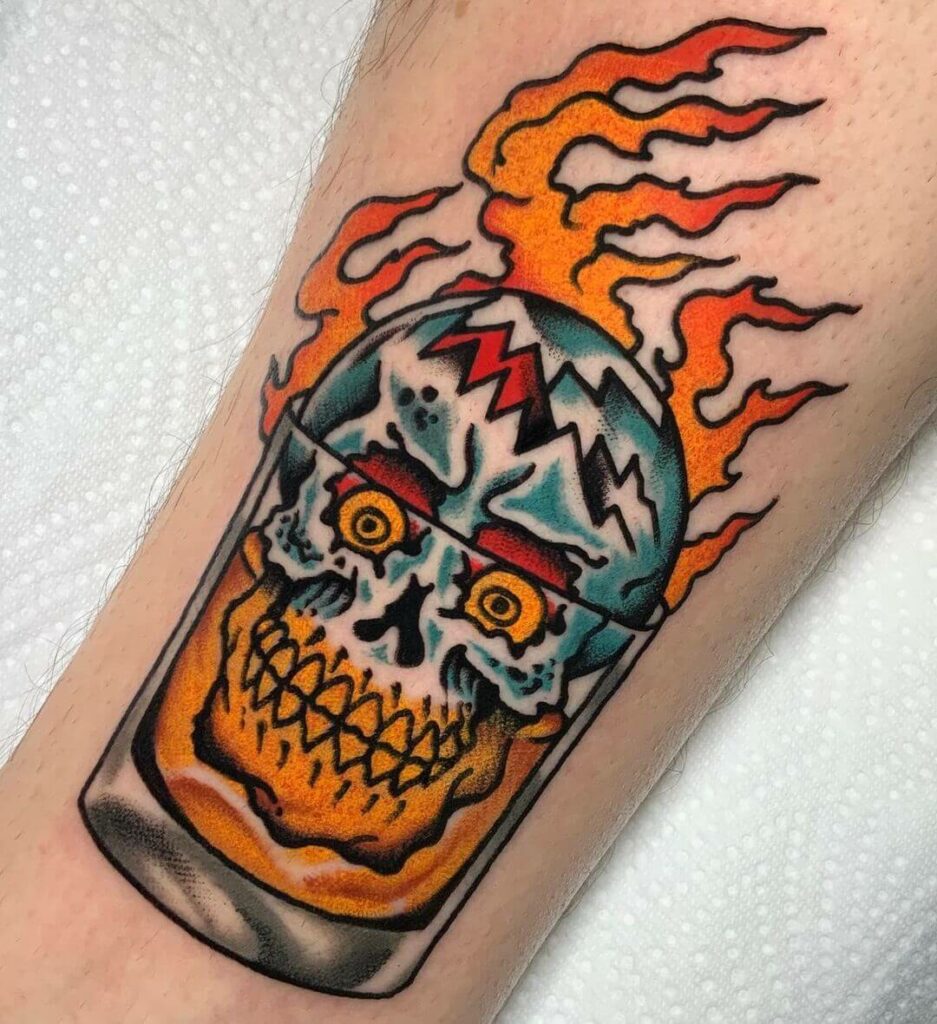 Reimagine the skull in a number of ways to produce a different take on the traditional tattoo trope. Here, the skull camouflages in the shape of an ice cube and takes a dip in the fiery whiskey glass. The idea along with the fire and ice symbolism makes this awesome tattoo a prized piece in your collection. Site these traditional tattoos on your arm to exhibit proudly your taste in body art.
Grim Reaper Traditional Tattoo Flash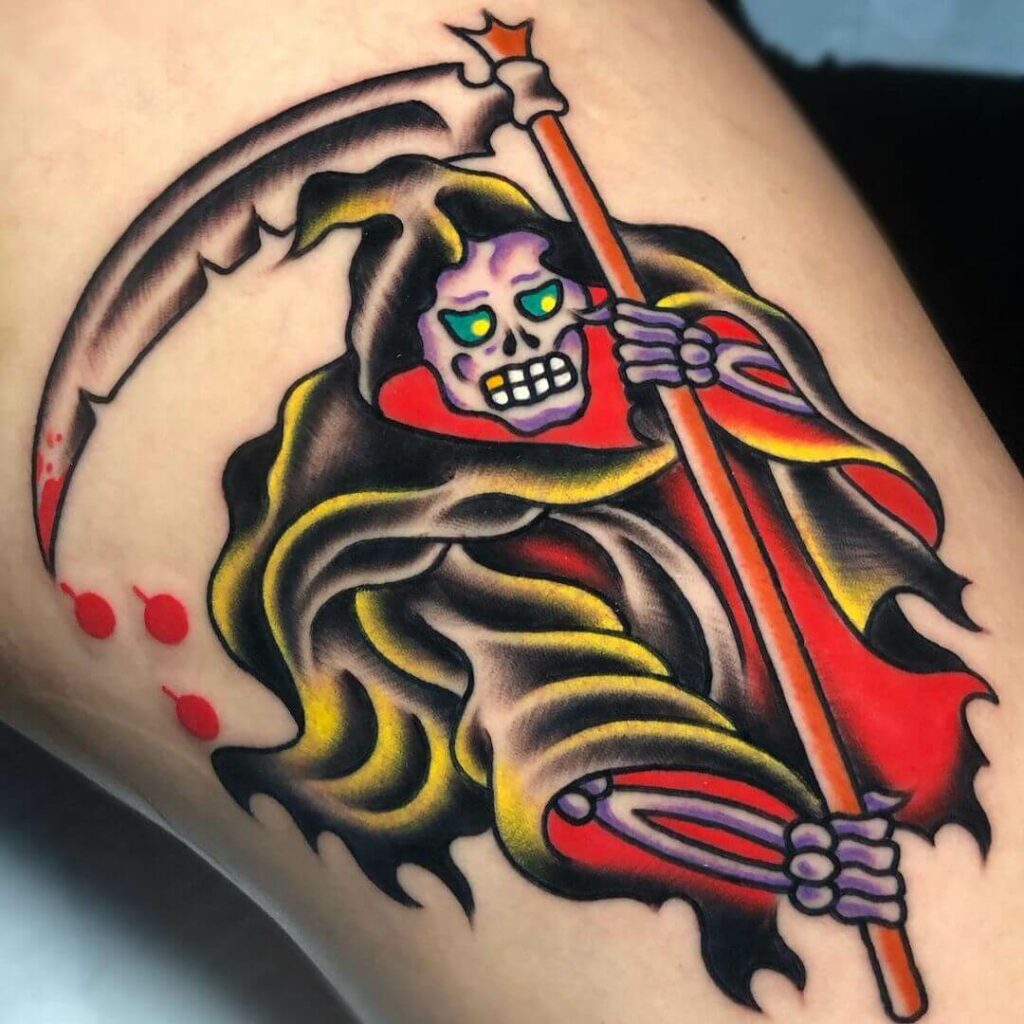 Take your fascination with the skull a step forward by adopting a reaper into the frame. The glimpses of a skeleton body along with a bloody scythe warn of death but in style. To top this violent affair, there is a lot of intricate shading with a uniform colour spread so that the design comes alive doing justice to traditional tattooing.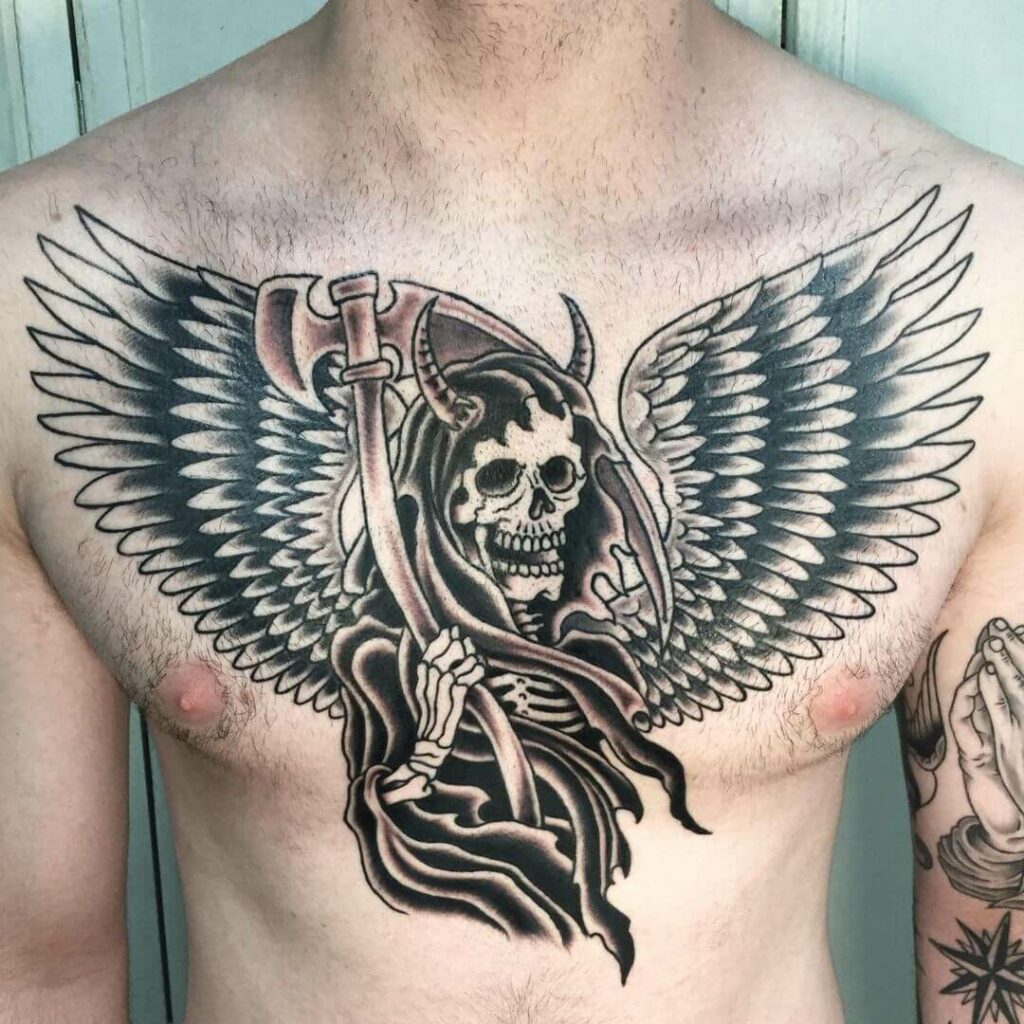 The reaper is almost never seen with wings clipped on its back but damn it looks so good in here! If you are into experimenting with style and classic images, look up to this beauty in black here. The reaper is constructed in the quintessential American manner and the wings stand as a symbol of death lingering around. As grim as they may seem when placed on your chest, these reapers will make a huge impact in highlighting your bold and daunting persona while keeping up with tradition.
Traditional Eagle Tattoo Flash
Red and black contrast looks spectacular no matter the subject of the design. But the implication is magnified almost doubly when the point of interest is an eagle. The bird is known to be a symbol of power, honour, freedom, and faith from the pages of history, but in traditional tattooing, it became a symbol for America. Sailor Jerry was a true patriot who saw the conditions of his nation and channeled his image of an ideal America with the eagle and the starred flag. You may or may not add the flag but the symbols remain intact with a traditional eagle, simultaneously complementing your free and focused persona.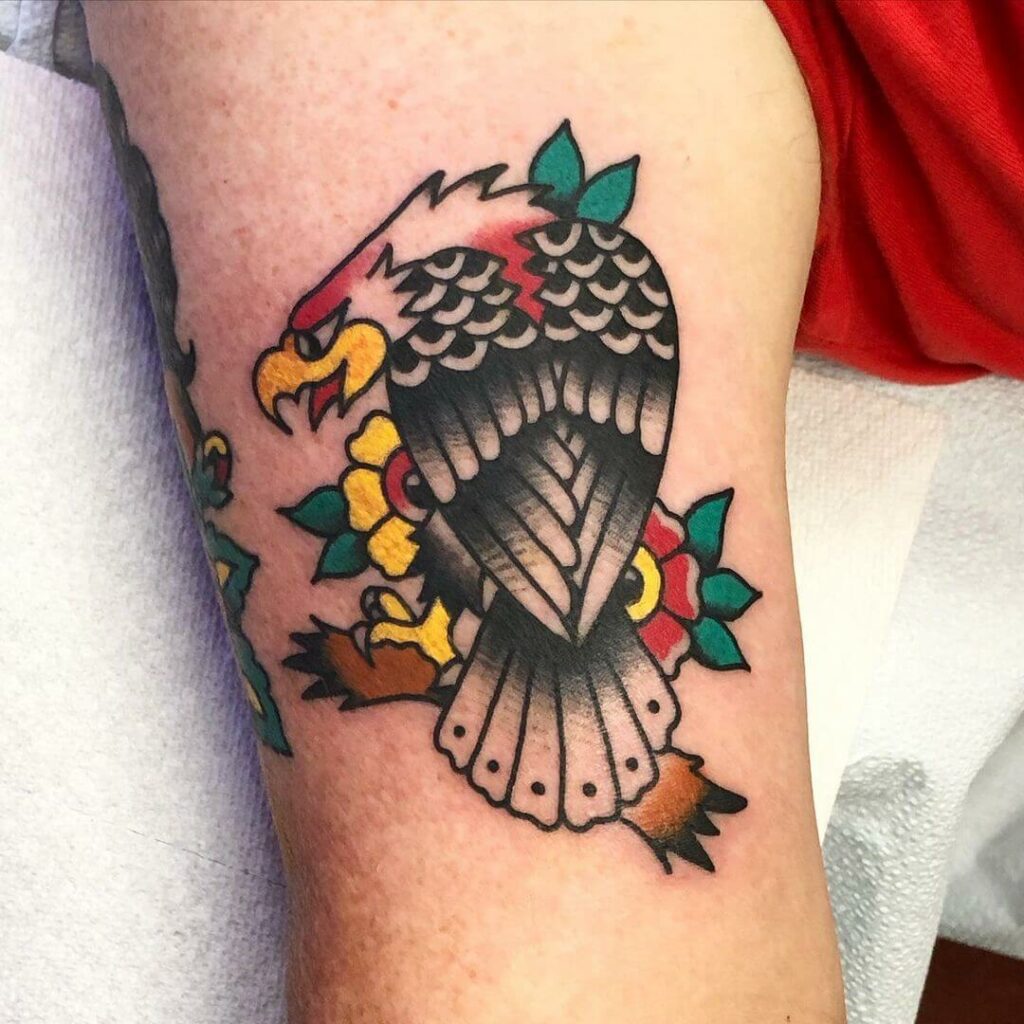 If the eagle above seems too huge for your fancy, opt for a smaller style that reverberates the same fury. The design here showcases the bird with its posterior angle flaunting the careful shading done on its wings. The colourful flowers and leaves bind with the colours of the bird, producing a comprehensive traditional image.
Traditional Flash Tattoo With Flowers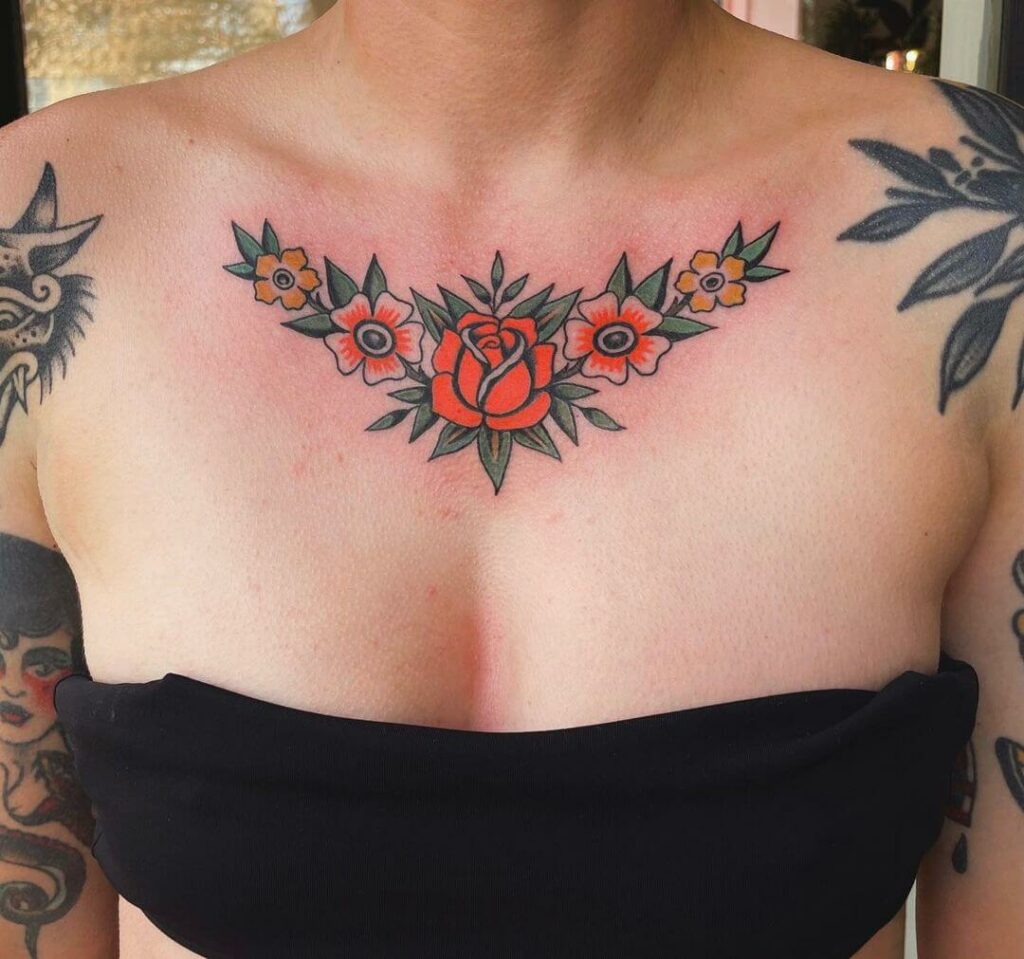 The rose surrounded by vibrant flowers makes up for an amazing clavicle tattoo that will leave your friends and loved ones in wonder. The florals in their traditional garb make a classic statement of beauty and will please anyone interested in a subtle and dainty style.
Couple the rose with lethal snake tattoos and watch the overall quality of your tattoo collection reach the sky. The rose is a symbol of beauty and feminine style but when a venomous serpent erupts from the centre of it the meaning changes entirely. Here the rose stands to be as a facade for the snake to cover up and a sign of deception. You can site this piece on your arm for a bold show of edgy style.
Black Traditional Tattoo Flash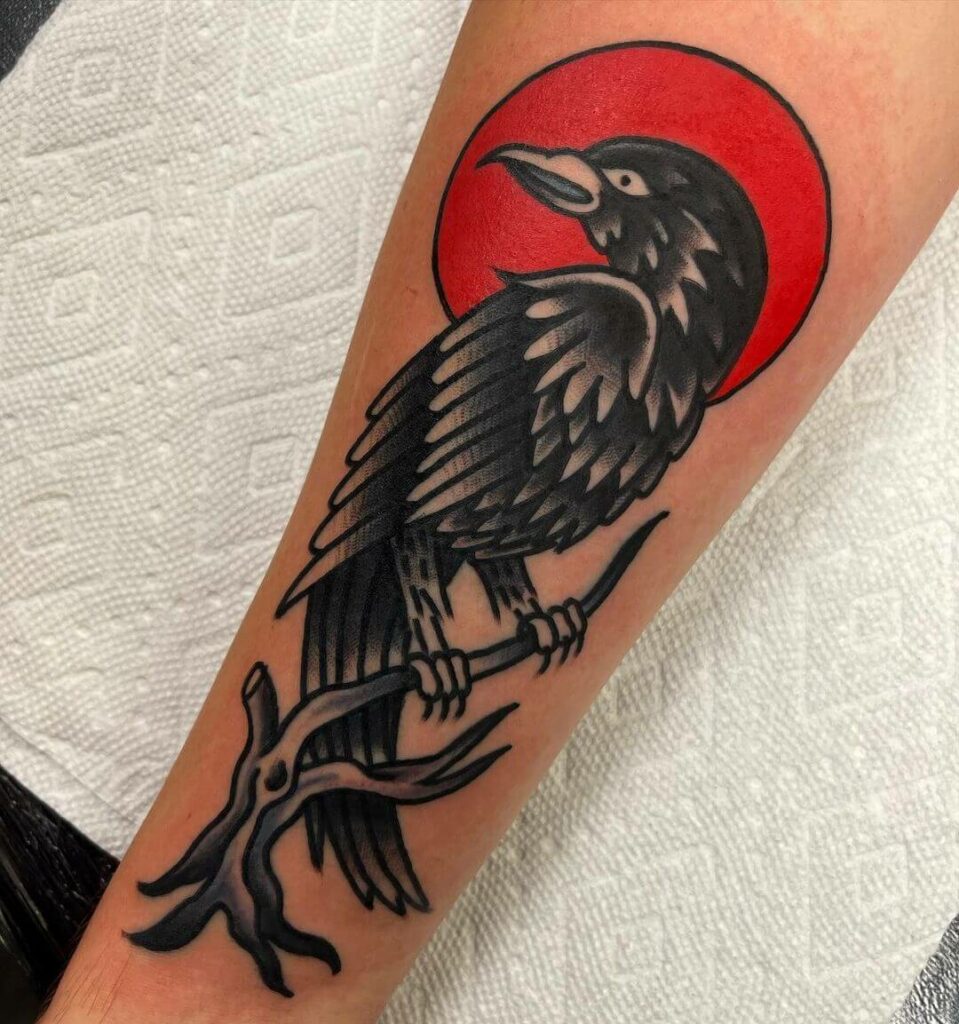 Traditional tattoo designs in black will never fail to amaze you if done right, of course. The crow ranks the lowest among the birds that we know, but it is often a popular choice for people looking for a black and grey design. This neat piece of art comes alive with intricate shading that goes into shaping up the feathers and the branches. The bright red halo definitely increases the visibility of the tattoo but the style will look equally appealing without it. Employ other objects and symbols from nature to get inked within this classic fashion.
Illusory Traditional Tattoo Flash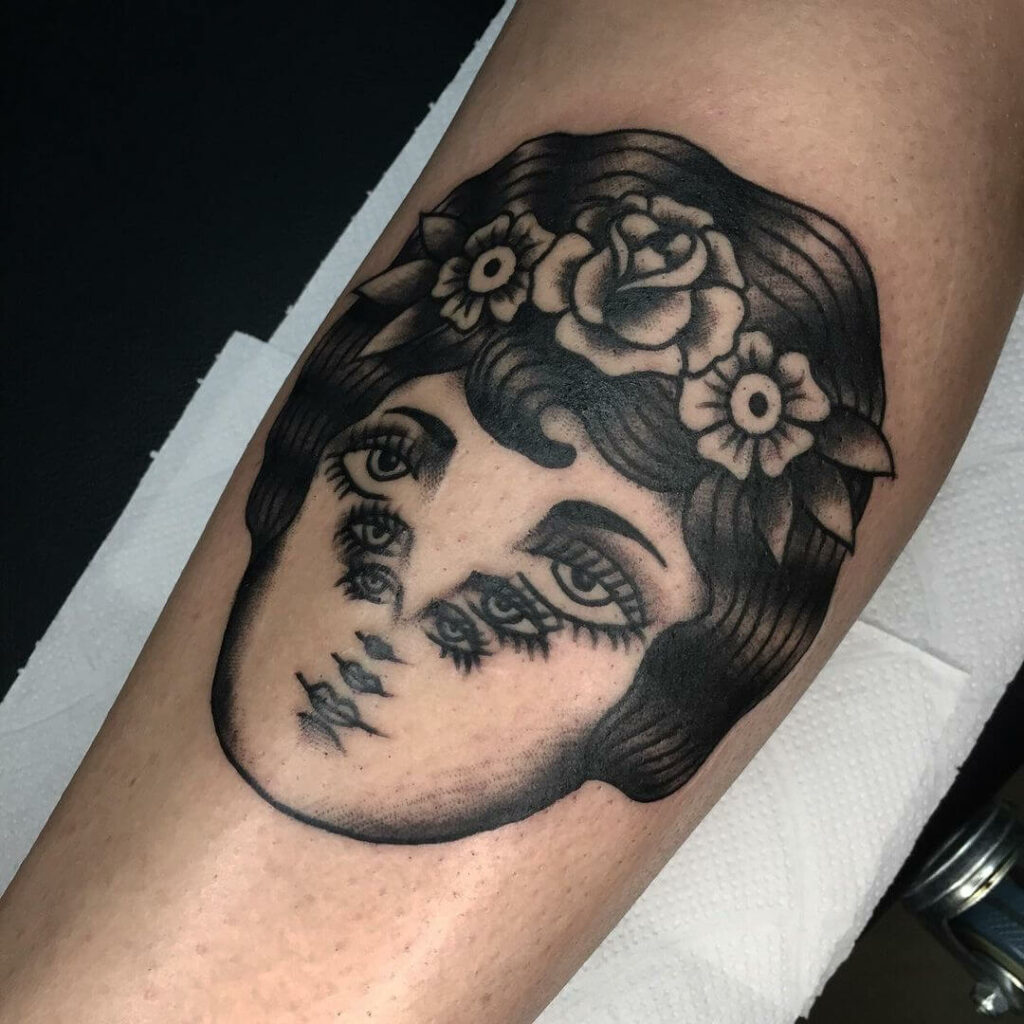 Mind-boggling traditional tattoos will now be on your list if you are looking to venture into other styles. This vintage tattoo is a remnant of the pin-up heads that crazed the tattoo industry in the '50s. But the additional two pairs of eyes and lips disrupt our understanding of these classic women.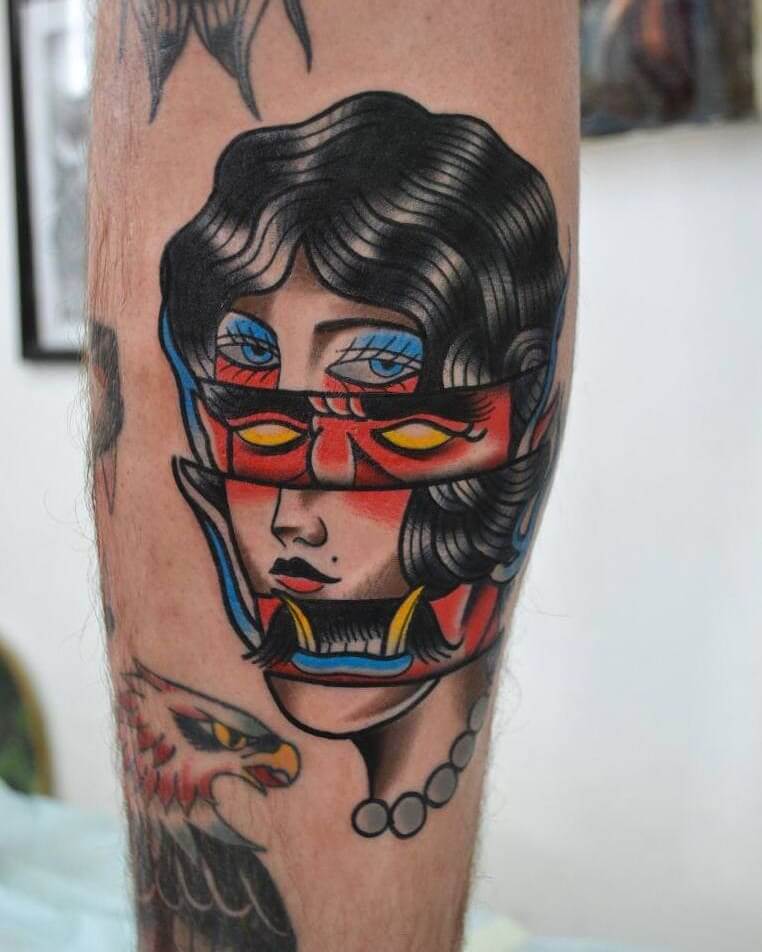 Similarly, you can portray layers of meaning to your tattoos as is shown in this design. The pin-up girl is horizontally sliced to reveal a rather hideous monster tracing back to oriental history. The red being that peeks through the beautiful woman is inspired by the Hanya mask- a trope vehemently used in traditional Japanese dramas. This mask is used to showcase the negative feelings of sadness, anxiety, jealousy, and all the like on stage. The image is often considered to portray the vicious, more demonic side of women but also has positive implications engrained in Asian cultures.
Small Traditional Tattoo Flash
If you fancy small, dainty symbols from nature refer back to this delicate piece of art that will beat roses and butterflies behind. The crescent moon coupled with a moth produces an ethereal tattoo design, and when done on a smaller surface area, it is bound to shower you with praises. Intricate patterns and shading are primal to the grace of this piece and would need a pro hand to get inked.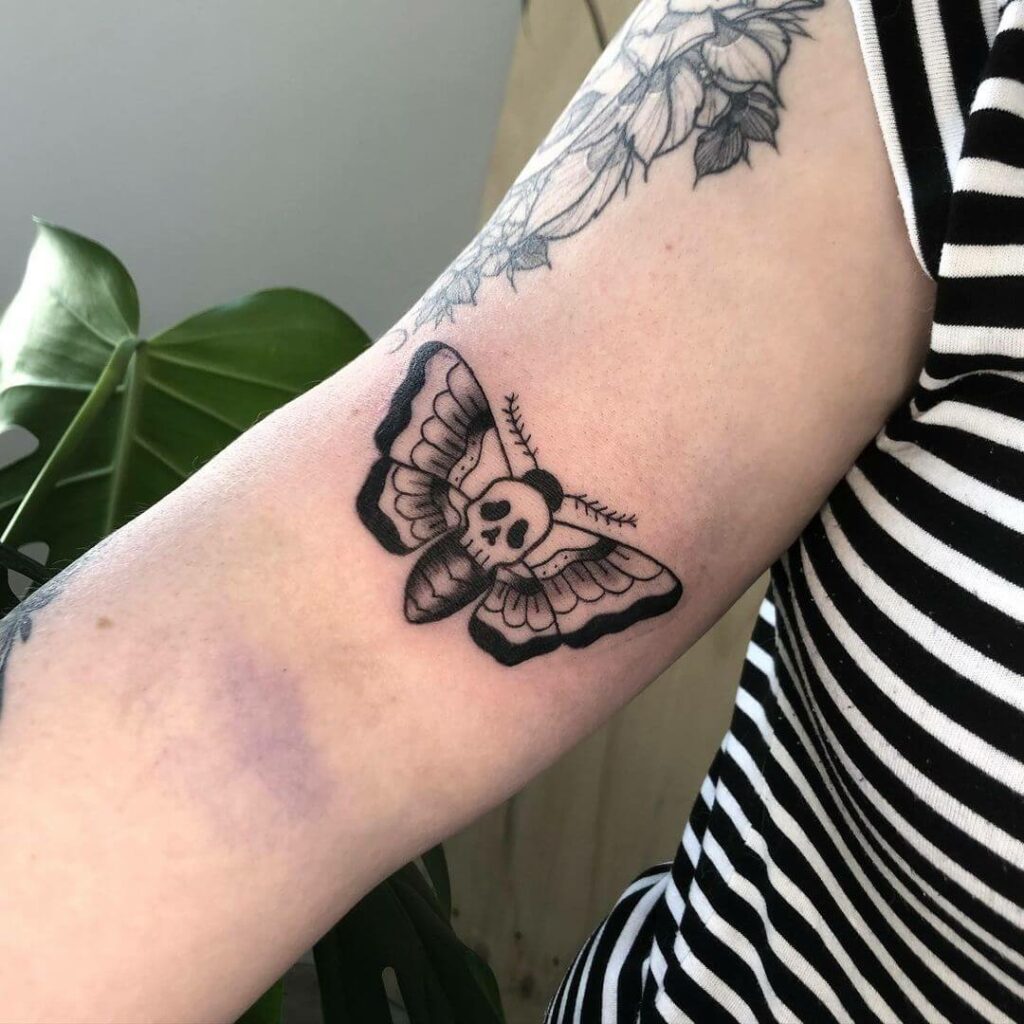 Death moth tattoo is the go-to motif for a gothic soul and this tattoo is the best possible reference to use. With bold outlines, fancy detailing, the skull sits smugly and sets an example to site for a petite tattoo. Place these tattoos on your forearms or the nape of your neck for appropriate exhibitionism.
American Traditional Tattoo Flash With Asian Motifs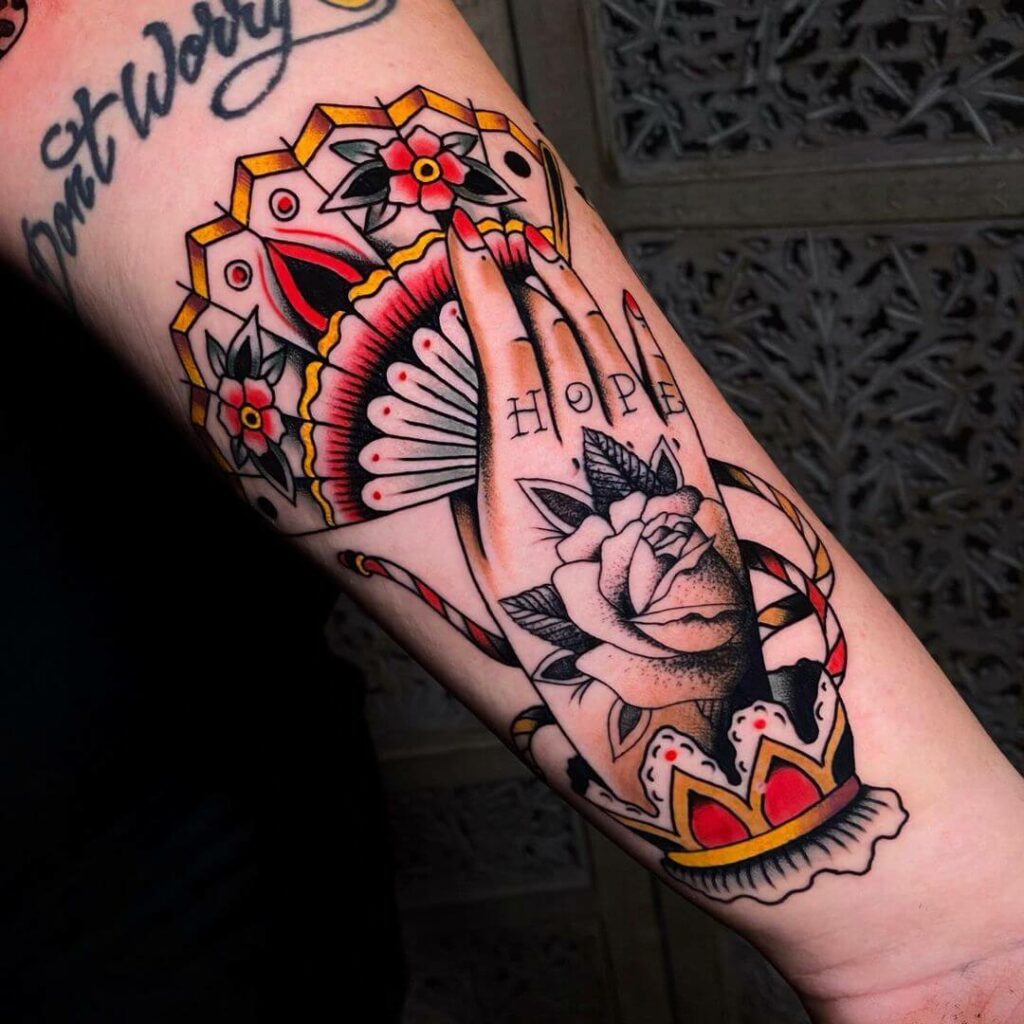 Remember how we said mixing tradition with the contemporary? This tattoo is here to show you how it is done. The Chinese fan is straight out of a tattoo flash set with its golden flamboyance being waved at the customer. But the hand that holds it and the ornamentations attached to the hand makes this old-school tattoo a unique piece of art. The tattoo-within-a-tattoo is a fun idea that you can also implement in other tattoos. Keep the tattoo flash set in mind and try mixing a number of elements together to form your individual style.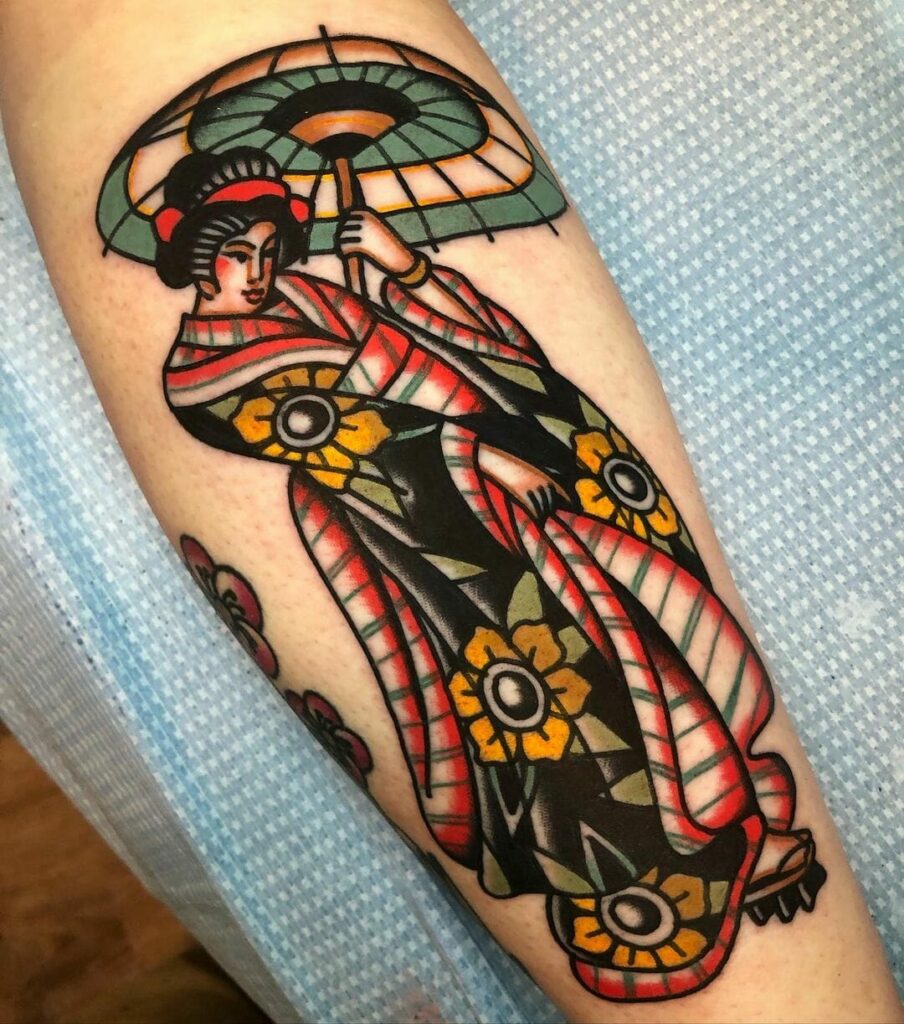 This full-length Geisha is shaped in the mold of the pin-up girls, except being free of the showy garb. Dressed in a graceful Kimono, the woman oozes out of the culture and history of traditional Japan. The use of colours and blending adds to the attraction of this tattoo that cannot be compromised no matter what!
Unique Traditional Tattoo Flash
Traditionally, a heart tattoo is represented alongside roses or is often seen being pierced with a sword. We say unique for this heart tattoo is nothing like what you have ever imagined! A rather creepy portrayal of the organ, this tattoo seemingly appears to be in the fashion of the traditional American tattoos but there is a lot going on within its periphery. The tattoo metamorphoses the heart with an elongated jaw with bluish pellets forming the eyes- producing a symbolic yet badass tattoo design. Although the concept is enough to earn praises, the artist achieves perfection with the colour gradient and blending.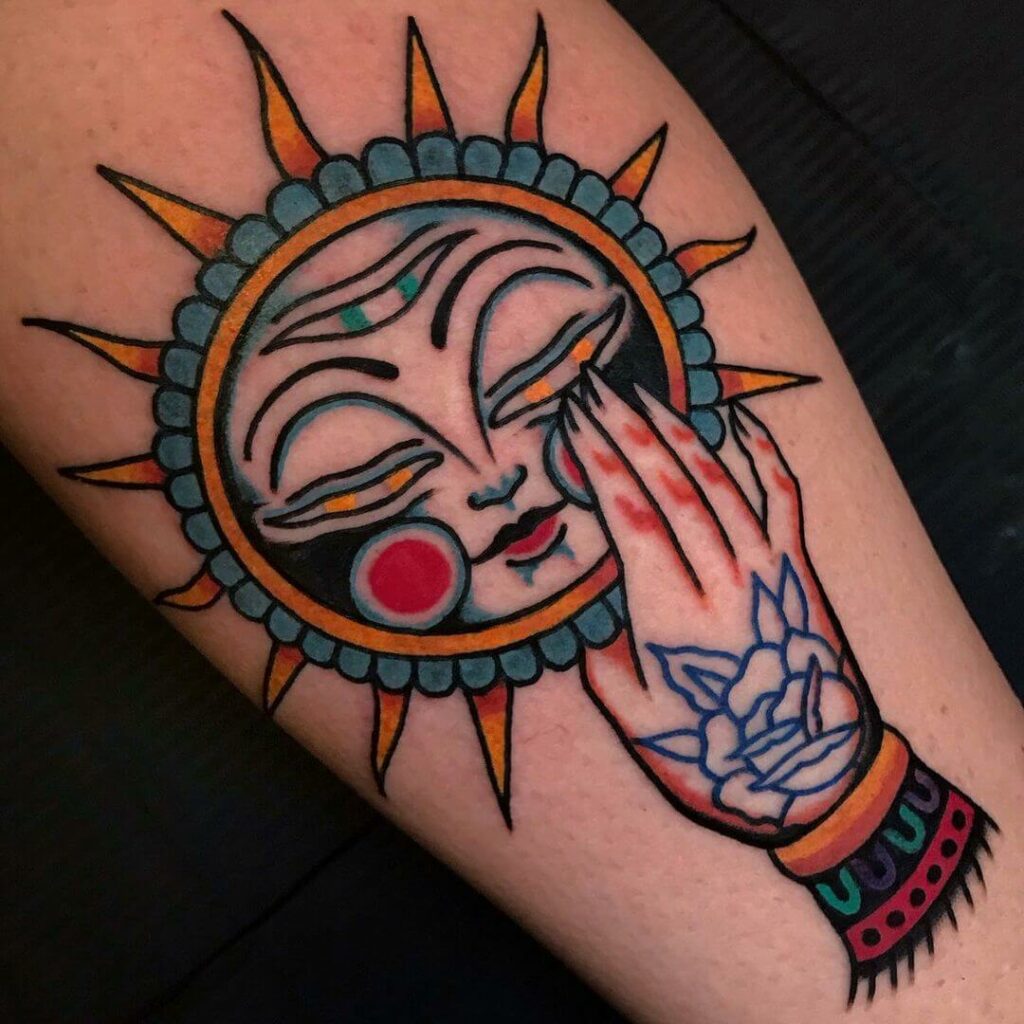 The tattooed hand is back but in an indigenous style to represent duality. The spherical sign represents an amalgamation of the sun and moon taken together in the same picture- a solar eclipse if you will. But what draws attention is the curious play of warm and cool tones that strike a balance while keeping the symbols intact. The opposing energies of the two celestial beings are well-represented with the reddish flares and the blue petals, adding a sort of divine implication to this tattoo. Site this tattoo anywhere with adequate exposure to appreciate its glory.
Vintage Tattoo Flash Ideas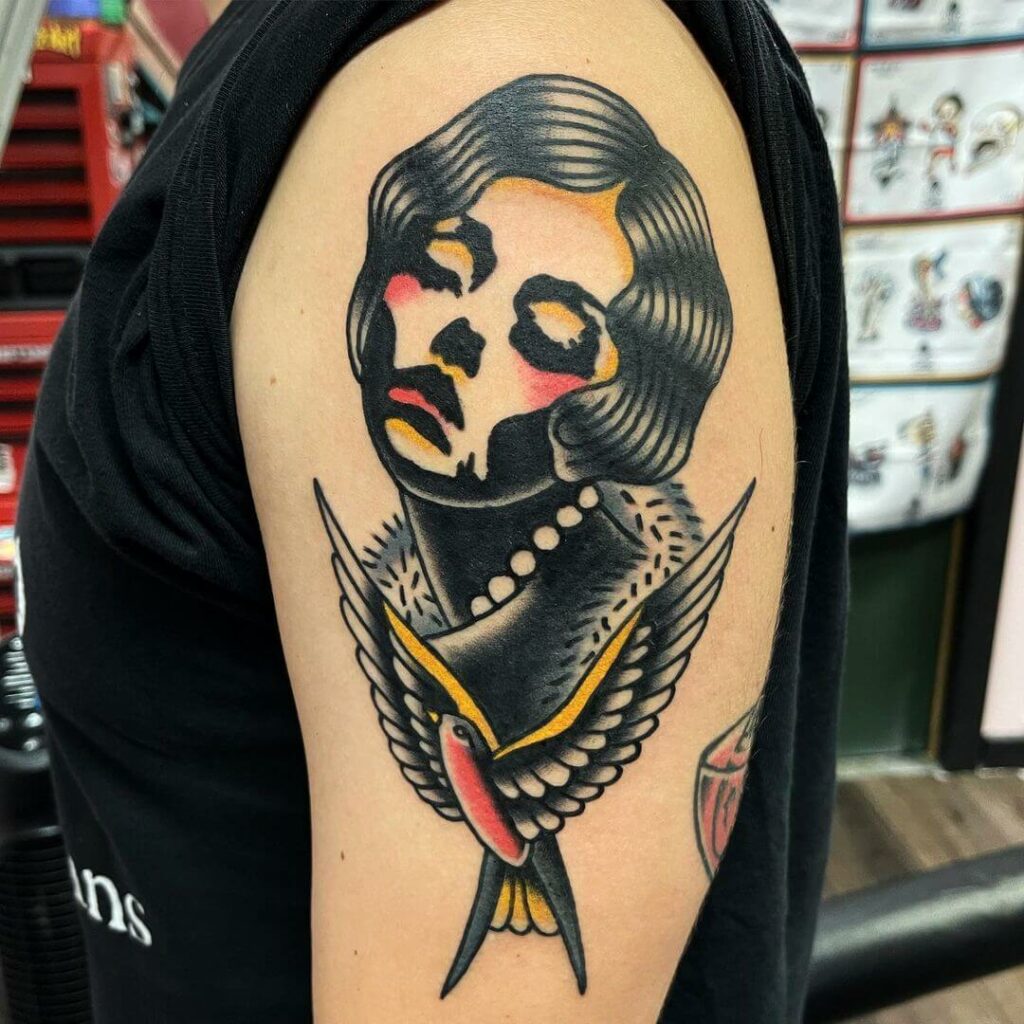 This vintage tattoo flash features an alluring Jane Doe with her pearl necklace and furry coat complimenting her sultry mood. The woman's bright face becomes the focal point owing to the overall black and grey play of shades. However, a swallow is used to portray a miniature version of the woman inked with the same colours. Interestingly enough, a swallow tattoo is mostly associated with a sailor's life for the bird parallels the lonely sailor in the middle of the sea. Sailors would thus often sign up for a swallow tattoo and of course, pin-ups. This tattoo can be interpreted as a conjugation of the two tattoo ideas displaying both the woman and the bird attempting to inject hope during the lonely days. You can place this tattoo on your arm or chest and cherish it forever! For more fun pieces, go for light-hearted symbols or popular cartoon characters and bag that applause that you deserve.
Traditional Japanese Tattoo flash
Electric tattooing brought us the tattoo flash set and a myriad of designs popping up every day. What makes these tattoos even more attractive to customers is that they are royalty-free and would take a lot lesser time and money to get inked. You can easily walk into a tattoo parlour and select your pick from the tattoo flash set and voila! But the downside of these royalty-free ideas would include you twinning with a random stranger, which is not at all a thing to frown upon if you ask us. Although we strongly suggest getting your mind down to the job for a tattoo is an emblem of self-expression and it is here to stay for long. Anyway, by now we are sure that you have figured out how to draw traditional tattoo flash and beaming with tattoo designs, and to ease you a bit more in the process, here are some suggestions that you can brainstorm with:
Vintage Traditional Tattoo Flash
Traditional Bear Tattoo Flash
Feature Image from Pinterest – Want your tattoo to look brighter? Try "Tattoo Balm"