Looking for beautiful traditional tattoos of flowers but can't find the right designs? Check out this list of stunning flower tattoo ideas to add to your list!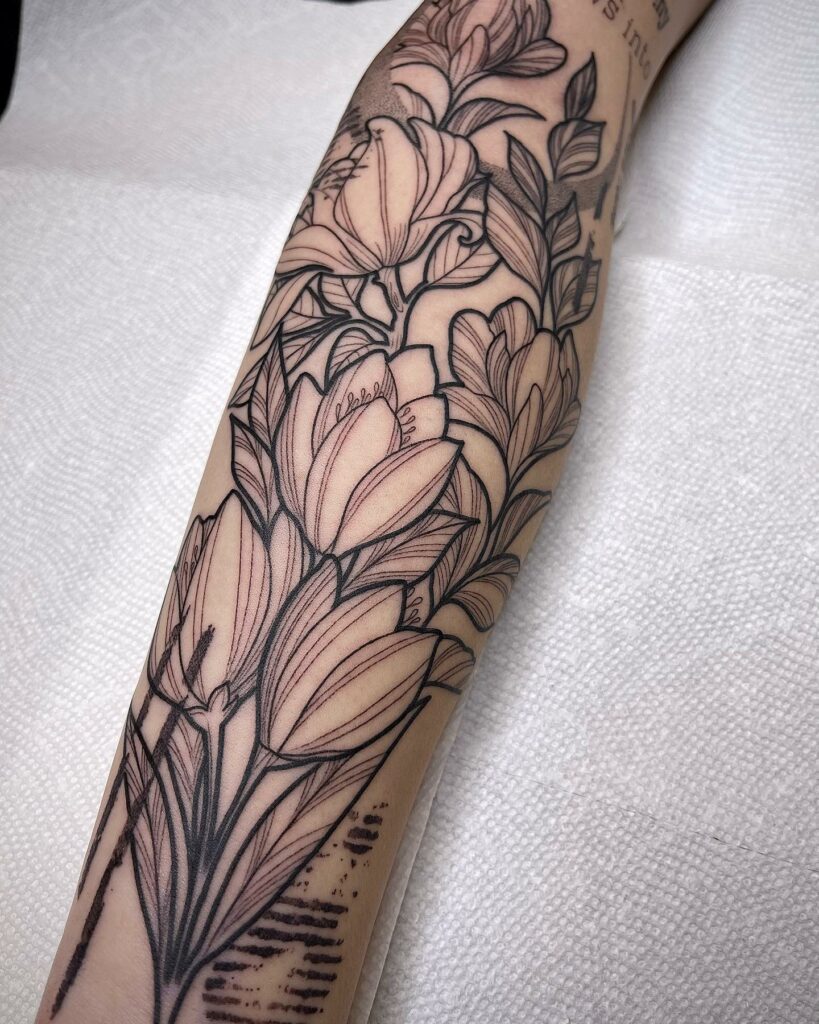 In the tattooing world, flower tattoos have always been trendy and relevant.
Flowers make everything look beautiful. Traditional flower tattoos add elegance and beauty to the wearer.
Flowers have long been associated with natural beauty. Traditional floral tattoos are delicate and colourful or black & white. They are oftentimes used in representing life, love, spirituality, beauty and hope.
To various types of individuals, different types of flowers represent different things. It is entirely up to the individuals to decide what they want to convey to others through their flower tattoo. Traditional flower tattoo designs include lily, daisies, sunflowers, lotus, cherry blossom, and rose tattoos among many other flower tattoos. You can also go for a gladiolus flower, which indicates power, or a red rose, which symbolizes love and passion, or even a white roses tattoo which represents life.
Simple Yet Majestic Hibiscus Tattoo
Hibiscus is a tropical flower with 200 different flowers types to it. Each hibiscus flower is unique and different from the other with all its colours and petals. Traditional flowers tattoos like a hibiscus tattoo generally represent happiness, good luck and good fortune.
The tattoo artist has used wonderful black and white shading to create this stunning tattoo. With a lot of attention to detail, this tattoo has been beautifully shaded and drawn. You can put this tattoo anywhere on your body, your arms, legs, shoulders or backsides. You can also choose to do this hibiscus flower tattoo in beautiful and bright colours.
Lovely Birth Flower Tattoos
The concept of birth flowers has been known for over 200 years. Birth flower tattoos are a natural result of people seeking to give their ink a deeper significance. As a result, it is not a surprise that flowers have come to be associated with certain months to represent them. Birth flowers, similar to Zodiac signs, are given to months and associated with specific attributes and personality traits.
Flowers might have a variety of meanings depending on the flower, the plant, the colour, and so on. The June birthday flower rose, in particular, has a lot of symbolism, with red roses being one of the finest expressions of real love and yellow roses representing true friendship. You can choose your own birth flower tattoo according to your birth month.
Aesthetic Yellow Roses Tattoo With A Monochromatic Butterfly On Top
Traditional rose tattoos are recognised for their long-lasting, colourful tones and powerful lines. This design is also known as old school, classic, or Western traditional tattoos. It is one of the most well-known and popular tattoo types.
A typical yellow rose tattoo is a timeless, vividly coloured tattoo that makes a bold statement and spreads positive sentiments wherever it is worn. A little yellow rose tattoo is excellent for the wrist, ankle, or even behind the ear, and will be a vibrant little splash of colour no matter where you choose to put it.
The tattoo artist has also added a monochromatic butterfly to the tattoo to give it a beautiful look.
Sweet Cherry Blossom Tattoo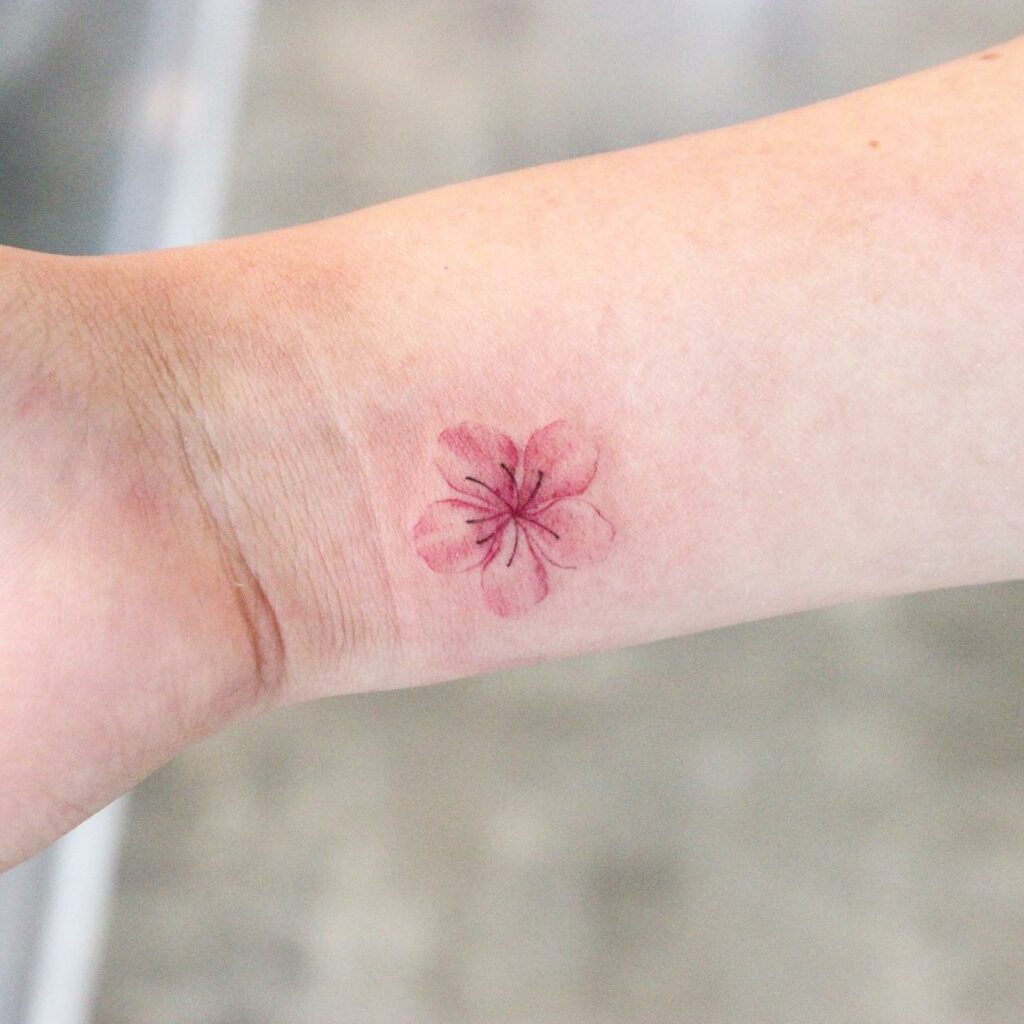 A cherry tree is connected with respectability and fruitfulness in Japanese culture. There was a time in the country's distant past when people who held important positions in society were invited to events where they may observe cherry trees in full bloom and appreciate their beauty. It is also associated with the Japanese warriors known as Samurai, who were known for their bravery and respectability.
Cherry blossoms signify temporariness in Japanese culture, because as wonderful as they are, these blooms don't last long. Their beauty should be appreciated while they are in bloom because they are fleeting.
Multicoloured Unique Tattoo With Ruffled Petals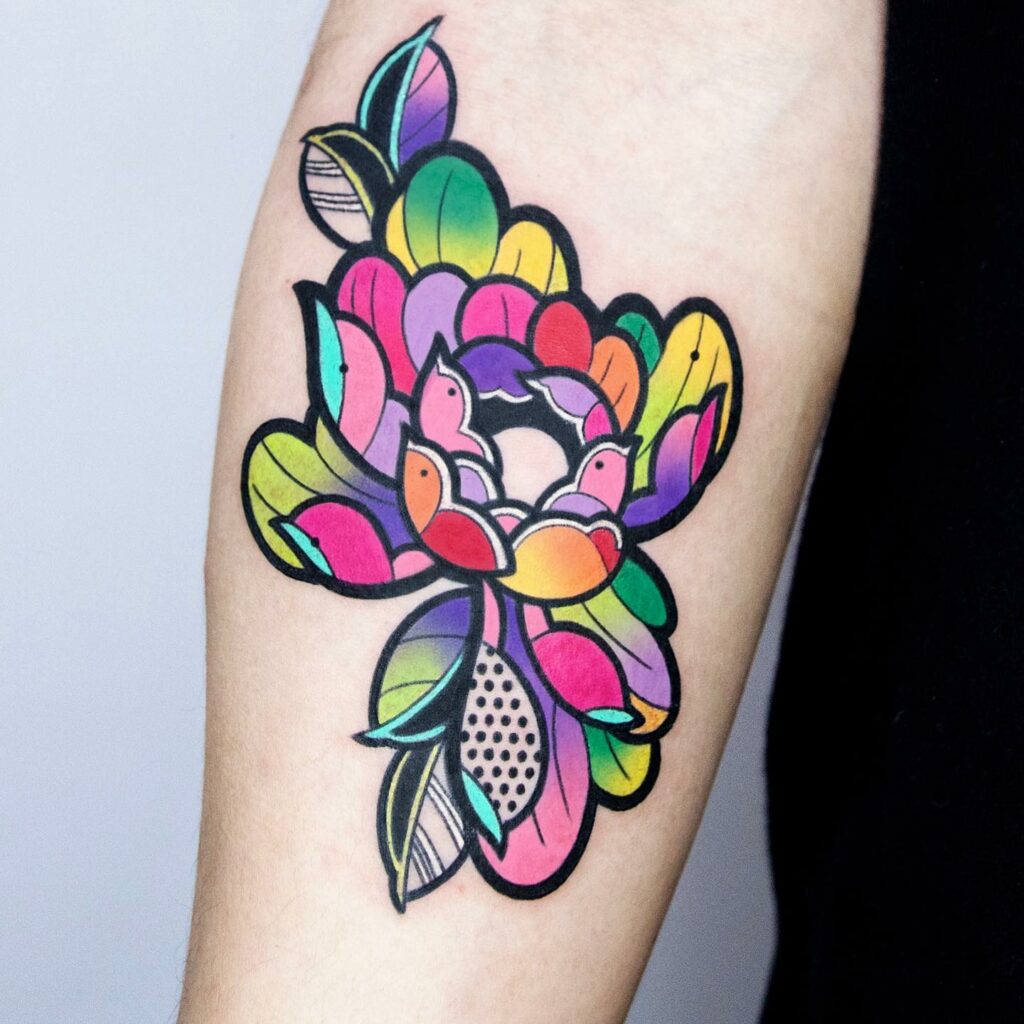 Check out this eye-catching tattoo if you want to tattoo your flowers in brilliant and bright colours. If you want to give more of a neo-traditional tattoo flower look to your ink, then this tattoo is for you.
The tattoo artist has chosen several bright colours to give this tattoo its unique and vivid look, which will look gorgeous on the arm, shoulders or back of anyone. You can choose to do this design in your favourite colours as well. Everybody is different, and that's why the meanings behind certain colours, shapes, or flowers also vary from individual to individual. Select your favourites colours, flowers and size of the tattoo to suit your preferences.
Lovely American Traditional Flower Tattoos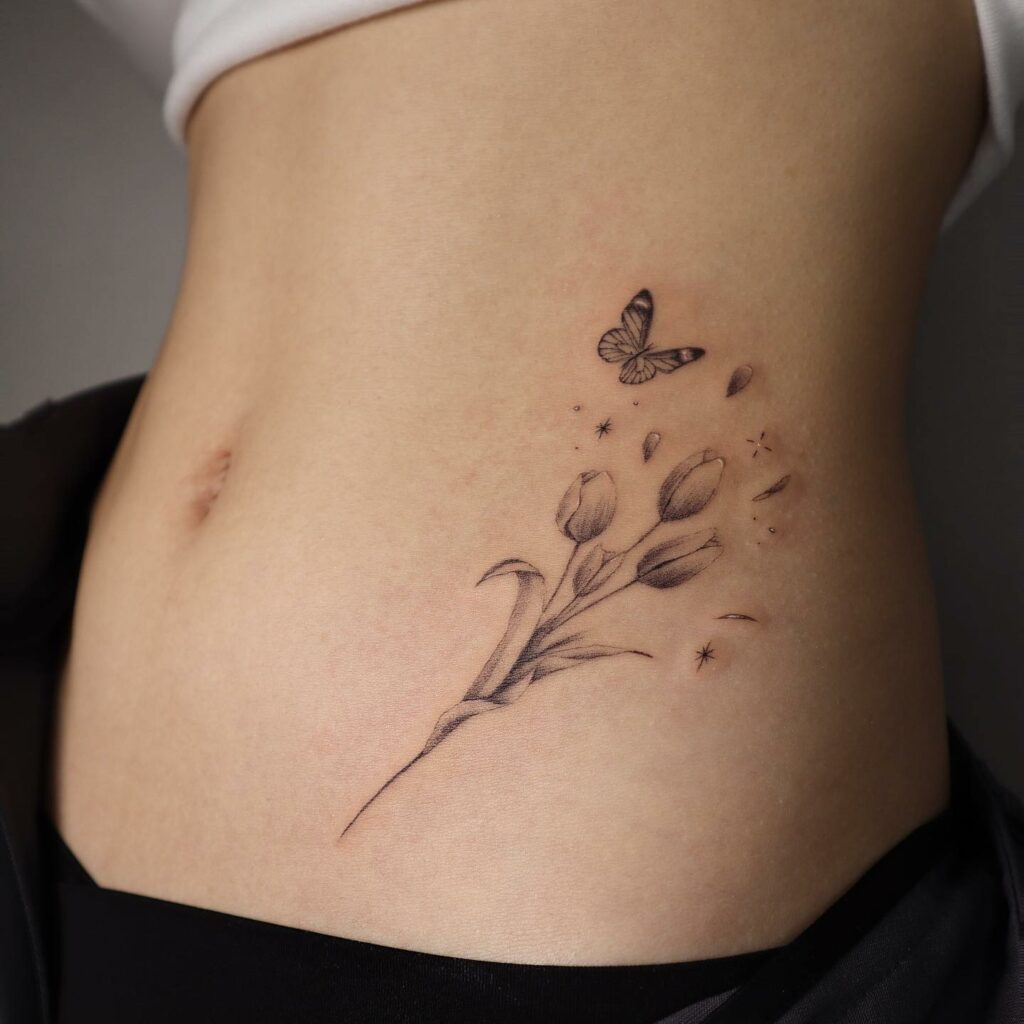 Flowers were generally one of the first elements to become popular in modern Western culture as tattoos began to spread. The American Traditional flower is one of the most well-known tattoo designs, and it has been imitated numerous times.
Its origins can be paved all the way back to the beginnings of tattooing. The style has only grown in popularity since it was adopted by the modern West. It's become so popular that, despite the fact that it's not a style per se (but rather a collection of common features that can be expressed in a variety of styles), it merits its own category.
The tattoo depicts two flowers and two buds with their stem and all their leaves intertwined with each other standing up. You can also re-design this tattoo as a couple of tattoos as well, where you do one flower tattoo on your body and your partner does one on theirs. It'll add more depth and meaning to the tattoo traditional overall. You can also choose any flowers of your liking to do this.
A Full Sleeve Unique Floral Tattoo
There are many people who are interested in getting a full sleeve traditional flower tattoo designs. This tattoo design is one of the greatest if you're looking for attractive floral tattoos for your next ink. A full sleeve tattoo can feature any type of flowers of your liking.
This tattoo is all about extreme correctness and paying attention to the smallest of details. The tattoo artist has done a great job of outlining and shading with a lot of details going in the mix to really capture the essence of this beautiful full sleeve traditional flower tattoo.
Combination Of Books And Flower Tattoos
The most important human innovation of all time is undoubtedly books. Without them, half of our culture would be lost, as would most certainly half of our language. Books have a remarkable and underappreciated ability to spread knowledge, wisdom and empathy to anybody who reads them. They are a never-ending source of new ideas and inspiration, so it's no surprise that they've influenced innumerable pieces of art, including tattoos.
In this rendition of the book and flower tattoo, the artist has created a simple yet elegant style which showcases a row of 3 books, 2 closed and the top one opened, and from the upper and lower sides of it, flowers sprouting. To give it a more balanced look and structure, the artist has also drawn a triangle that beautifully encapsulates the book and flower tattoo.
Intricate Chrysanthemum Flower Tattoo
The Chrysanthemum is one of Japan's most symbolic flowers, but it originated in Chinese culture and was later introduced to them. The Chrysanthemum, sometimes known as the "16-petal daisy," is a very prominent flower in Japan. It is oftentimes associated with the Imperial Family, making it a symbol of monarchy. Because of so much popularity of the Chrysanthemum flower in Japan, it even has a feminine name after it.
This flower receives its name from the Greek words chrysos, which means gold, and anthemon, which means flower, therefore making it a golden flower. This flower is offered as a symbol of rebirth, joy, happiness, peace, vigour, and love for the family and their children during festivities and parties such as weddings, births, baptisms, and birthdays. Chrysanthemums come in at least 200 different species, each with its own set of meanings based on colour. Because of its many varieties and the fact that it is a perennial plant, it is one of the most popular flowers for decorations. It is one of the most widely portrayed flowers in art, appearing in paintings, embroideries, and literary works.
Like roses, red or pink chrysanthemum symbolises love and passion, whereas the yellow chrysanthemum symbolises unrequited love. The truth and the anguish of a broken heart are symbolised by the white chrysanthemum. The meaning of Chrysanthemum is tied to the concept of death in several Western cultures, particularly those of the Christian faith. On the contrary, it is given to congratulate a birth in Anglo-Saxon countries, and it is the flower offered on Mother's Day.
Shoulder Floral Tattoo
The shoulder alone does not take up a lot of room. It does, however, link the neck, chest, and arm. As a result, shoulder tattoos have a lot of room to grow. One advantage of shoulder tattoos is that they can be hidden or displayed. Unlike finger tattoos, which are visible the majority of the time, clothing with sleeves will conceal them, no matter how large or little they are. On the other, if you want to show them off, a vest or tank top will suffice. That is why, especially for ladies, there are so many options for shoulder tattoos. The shoulder is a blank canvas for your imagination to go wild. It can be big, small, colourful, black and grey, detailed or minimalist. You can also ink on the front shoulder, shoulder blade, outside the shoulder, or upper shoulder, depending on the design. Your body will benefit from a decent design and proper placement.
Still looking for inspiration, then checkout this blog traditional tattoo flowers.
Feature image from Pinterest – Want your tattoo to look brighter? Try "Tattoo Balm"