Do traditional tattoo designs pique your interest? Here is some amazing traditional tattoo for women that will blow your mind!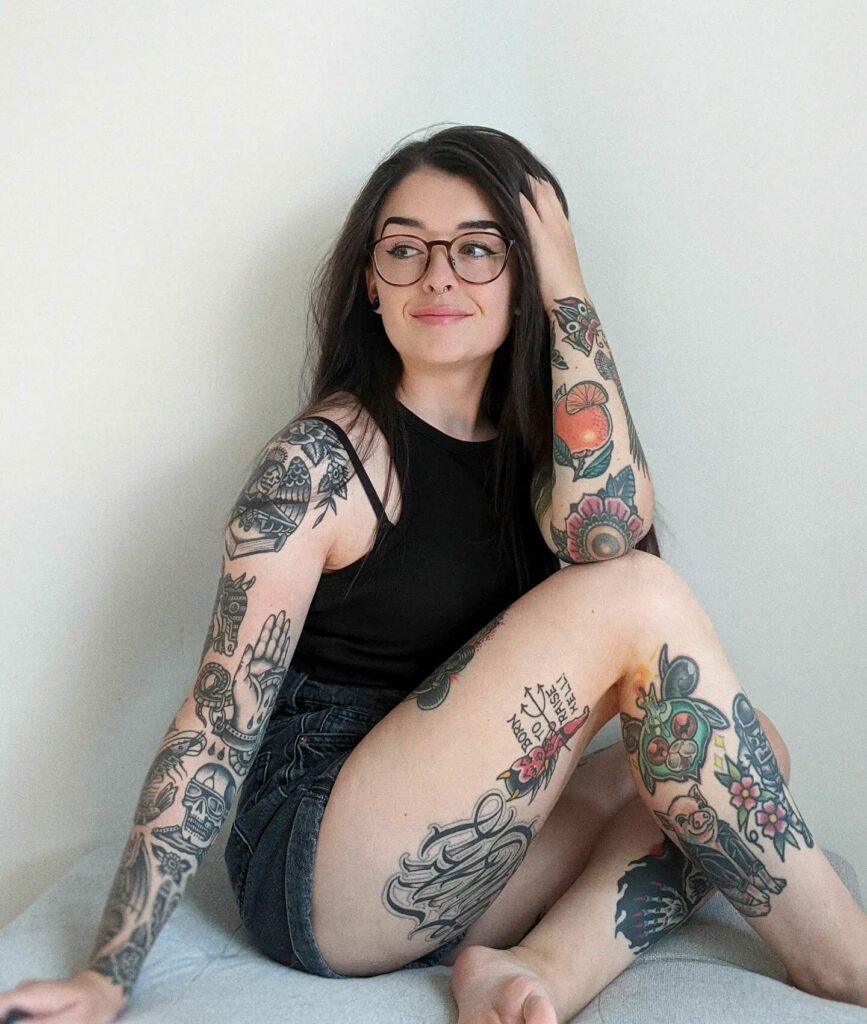 Traditional tattoos are generally based on flash designs of the legends in the field.
Traditional tattoos are also known as old-school tattoos per American or western tradition. These tattoos behold bold black outlines with a limited color palette which depicts simple imagery of different American traditions.
Traditional tattoos often depict one's influence and love towards traditional art forms and pay homage to that art by making them into beautiful body art, thus keeping them alive. Traditional tattoos often pose similarities to tribal tattoos as well because of their vibrant colors. Even though the color palette is very limited, the vibrant hues make the tattoo one of a kind. They have developed naturally and vividly over time and stuck to their roots to not lose their originality.
The women's most common traditional tattoo designs are a palm tree tattoo or a gypsy girl tattoo. You can get this tattoo done in any traditional tattoo shop and make your style statement to be one of a kind. There is no specific classification for traditional tattoos among men and women. Anyone can get it depending on if the tattoos are culturally appropriate and do not offend any race or caste.
The most common form of traditional tattoos is flash designs that depict a particular scene from the past and how they are vividly etched in the memory of the wearer. These tattoos can be made on any body part. Keep reading to know its significance and meaning and dive deep into honoring these ancient cultures.
Traditional Tattoos Eagle Tattoo For Women On Full Body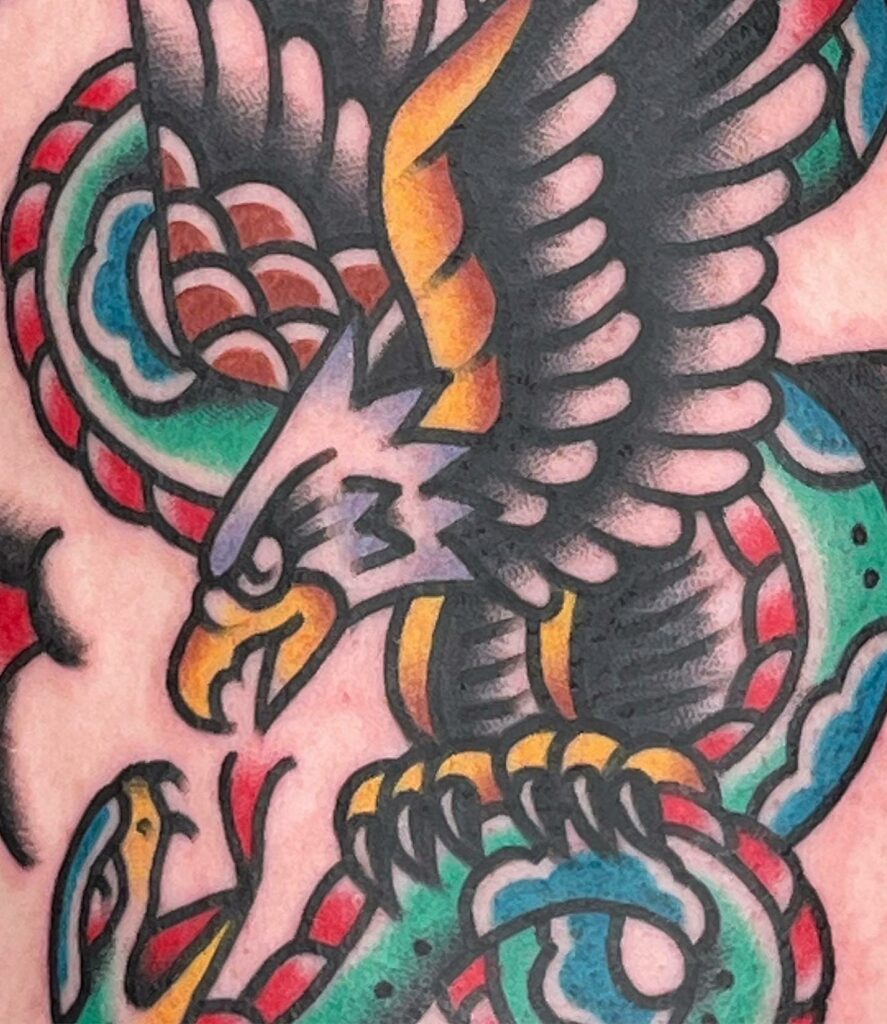 Full-body tattoos or patchwork tattoos are very common in fashion nowadays. Women like to get their hands on this distinctive body art to perk up their style. This tattoo is made with fillers of a medley of different traditional designs of various cultures, making the wearer look outstanding.
It means that the wearer has a strong affinity towards traditions and does not want those traditions to die. The various tattoo placements do not send any particular message. However, it can be understood that the wearer loves traditional tattoos to their core. The tattoo designs are of an eagle. The gorgeous plumages perk up the look and make the tattoo look outstanding. Overall, this is a very colorful tattoo, which vogues the style of the wearer.
Skull Tattoo With Cobweb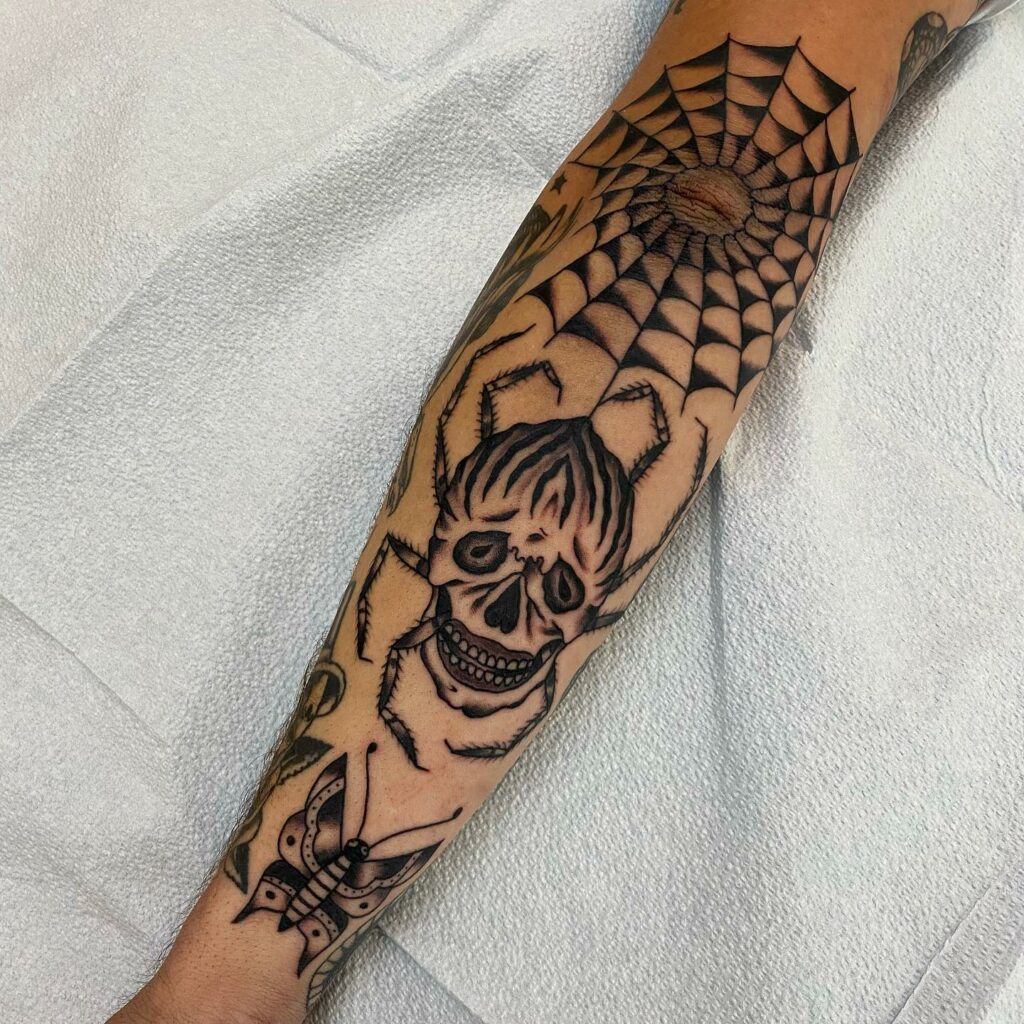 Skull tattoos are generally a tradition in Mexico. Mexicans often are inclined towards getting a skull tattoo which depicts prosperity at times. In this context, the skull has been used as a spider, and a cobweb can be seen right above the spider.
The tattoo looks exceptional and one of a kind. Normally, traditional tattoos are very colorful with a limited color palette. However, in this context, the tattoo looks stunning with just simple black and grey hues. The tattoo talks about simple skull designs of rebirth and death cycle where they are not afraid of anything and can confront any obstacle that comes their way. Skulls are generally associated with life and death situations, and this tattoo is no different.
Scorpion Traditional Tattoos For Women
Scorpions are generally associated with the gothic culture. It has a very fierce vibe and looks one of a kind. This tattoo is of a colorful scorpion. The colors used in this are orange, yellow, and black. The hues of this color palette are beautiful and intense.
The shading and the mix of colors give it a stunning look. This is one of the biggest advantages of getting a traditional tattoo. These tattoos are extremely colorful, even though a minimum hint of color is used. Near the tail, a face has been made which has been stung by the scorpion. This means that the wearer is in immense pain and is recovering from it. The plumage consists of an old-school traditional American tattoo which makes it look one of a kind. You can customize the tattoo your way and add a flower tattoo to it even.
Vintage American Traditional Tattoo For Women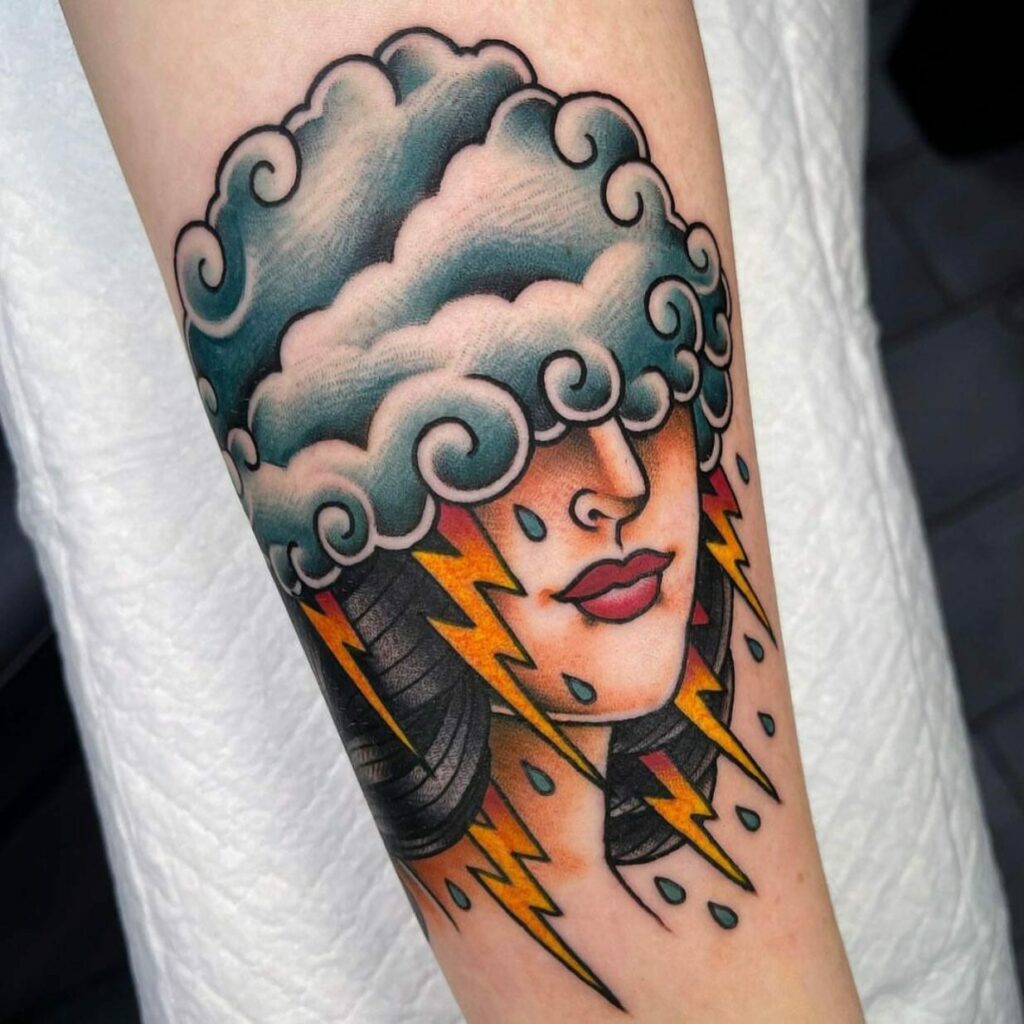 This is a classic Neo traditional tattoo for women with a vivid color palette and ideology. This is a girl tattoo with a cloud on her head with thunder. This is a classic American traditional style tattoo that is one of a kind.
The color palette used in this is simply red, blue, and yellow, along with nude colors to give the skin a definition. Cloud tattoos are known to bring peace to the soul and make the hearts calm. This symbolizes that the wearer is looking for a bit of peace in their life and calming themselves down.
Traditional Style Tattoos Of Dragon For Women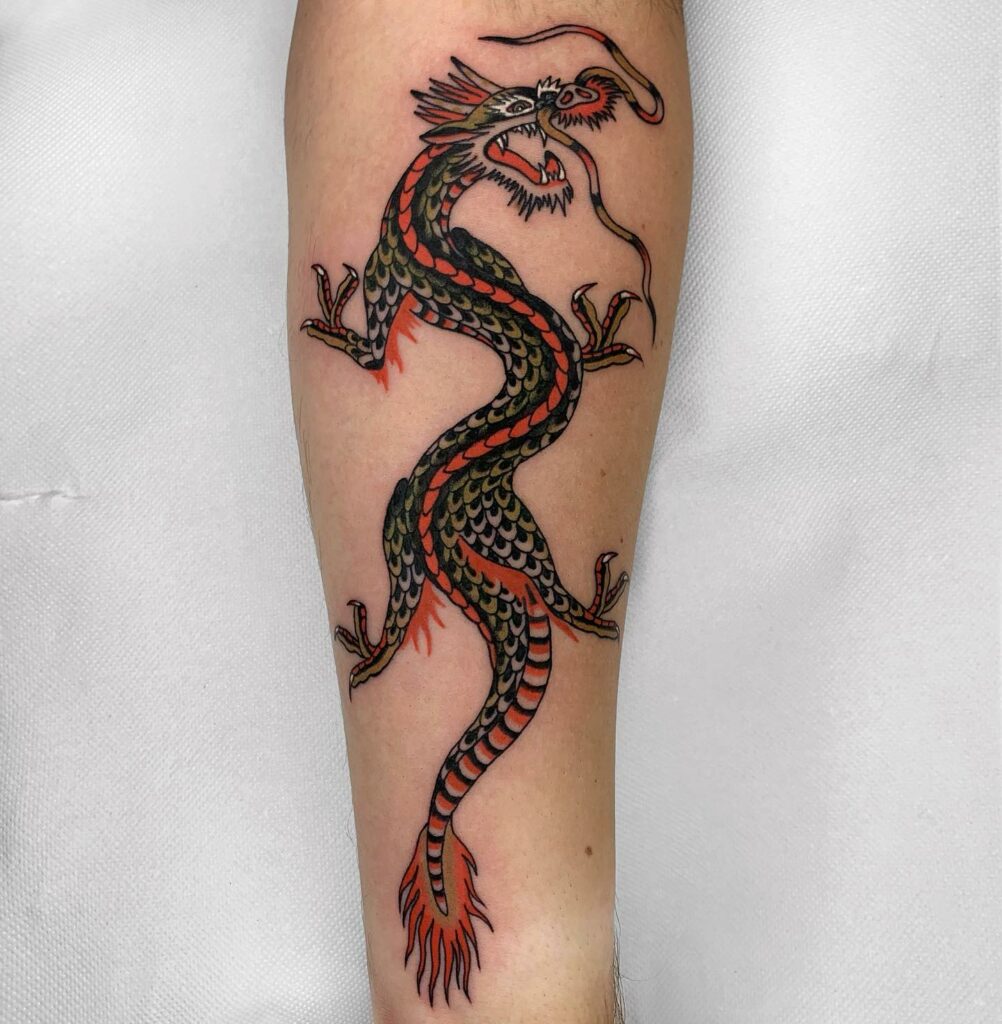 Dragon tattoos are very common in Japanese tradition, emphasizing wealth and power. Both men and women make it, and the tattoos are one of a kind. The colors used in this are orange and black.
The plumage has been detailed with intricate designs of scaly textures, which are very common in a dragon. It depicts that the wearer wants to channel a source of wealth and power with this particular tattoo. The tattoo is extremely fierce and beautiful.
Knee Tattoo Style In Neo Traditional Tattoo For Women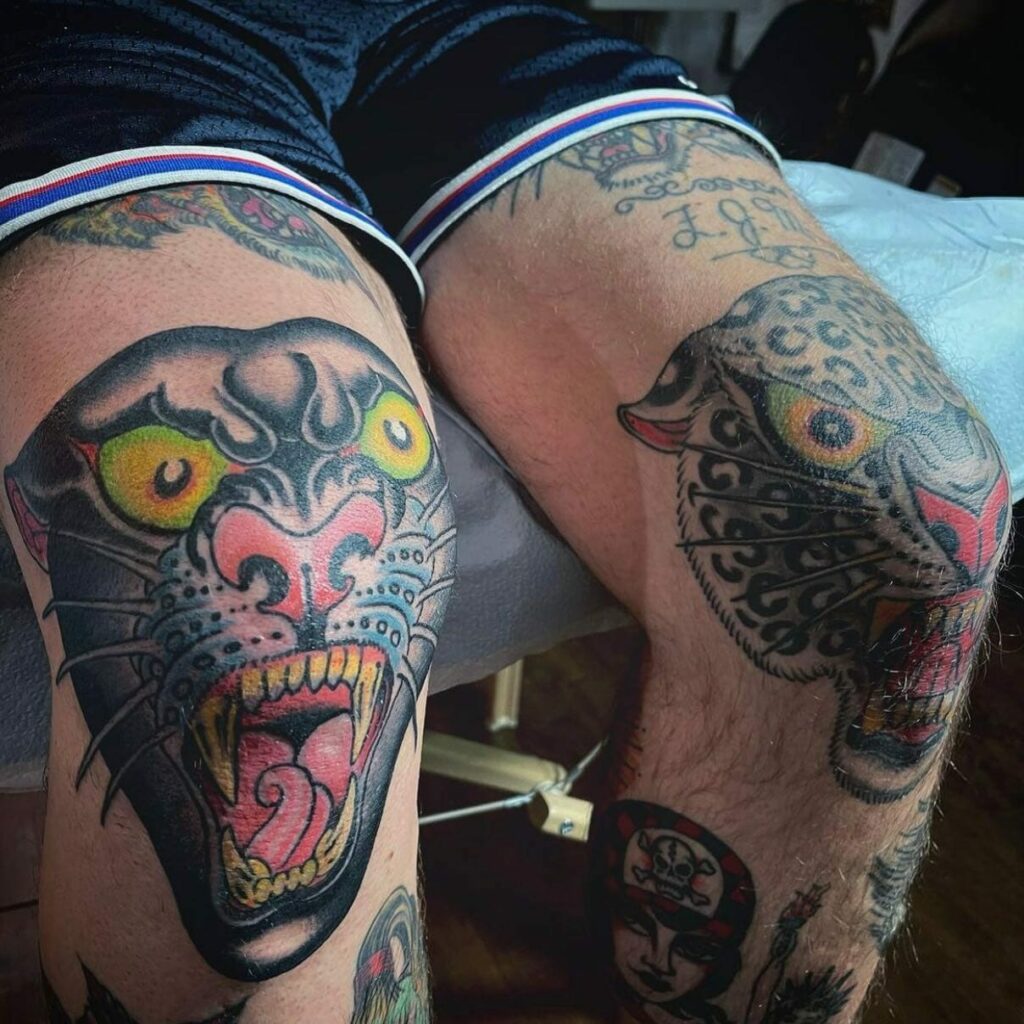 Knee tattoos often come in pairs. This tattoo is not exceptional. The tattoo knee consists of a leopard and a tiger tattoo. The colors that are used are lemon yellow, red, green, and yellow ochre. With minimal usage of color, this tattoo is outstanding and one of a kind.
Tiger and leopard tattoos often depict quotients of power and fear. This tattoo symbolizes the wearer trying to look powerful by manifesting these two tattoos on their knees. The work is immaculate and can be done by both men as well as women. The tattoo is one of a kind. On a scale of 10, this tattoo is an 8 for its simplicity and poise.
Heisenberg Traditional Style Tattoo For Women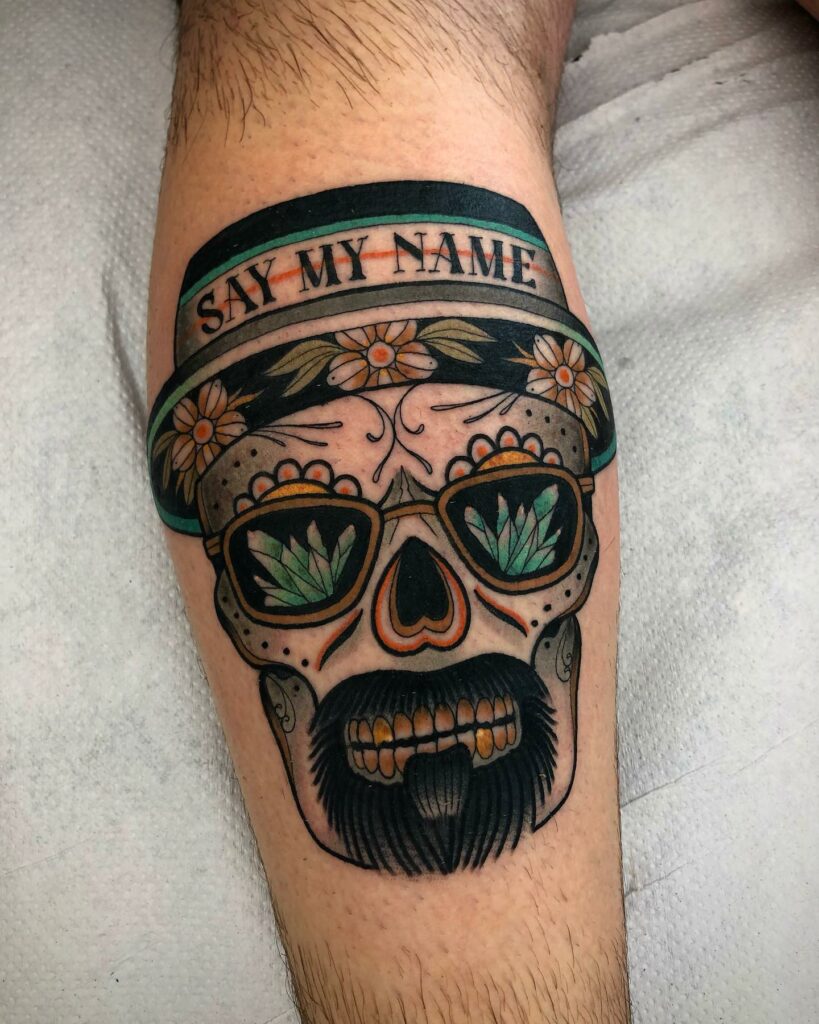 Are you a huge fan of Breaking Bad? Then this tattoo is perfect for you. If you are looking for a tattoo blended in Mexican culture with your favorite series at bay, this tattoo is ideal. The tattoo is an absolute grab for you.
The hat of the tattoo is made with vivid colors and flowers, which make the tattoo one of a kind. The sunglasses worn by Heisenberg or Walter White have crystal meth drawn on them. The color palettes used in this are green, black, turquoise, and yellow. It is the natural color palette that is used in these tattoos. The tattoo is made on a skull which demarcates that the wearer is not afraid of death or any other obstacle that might come to their life.
Traditional Colorful Butterfly Tattoo Style For Women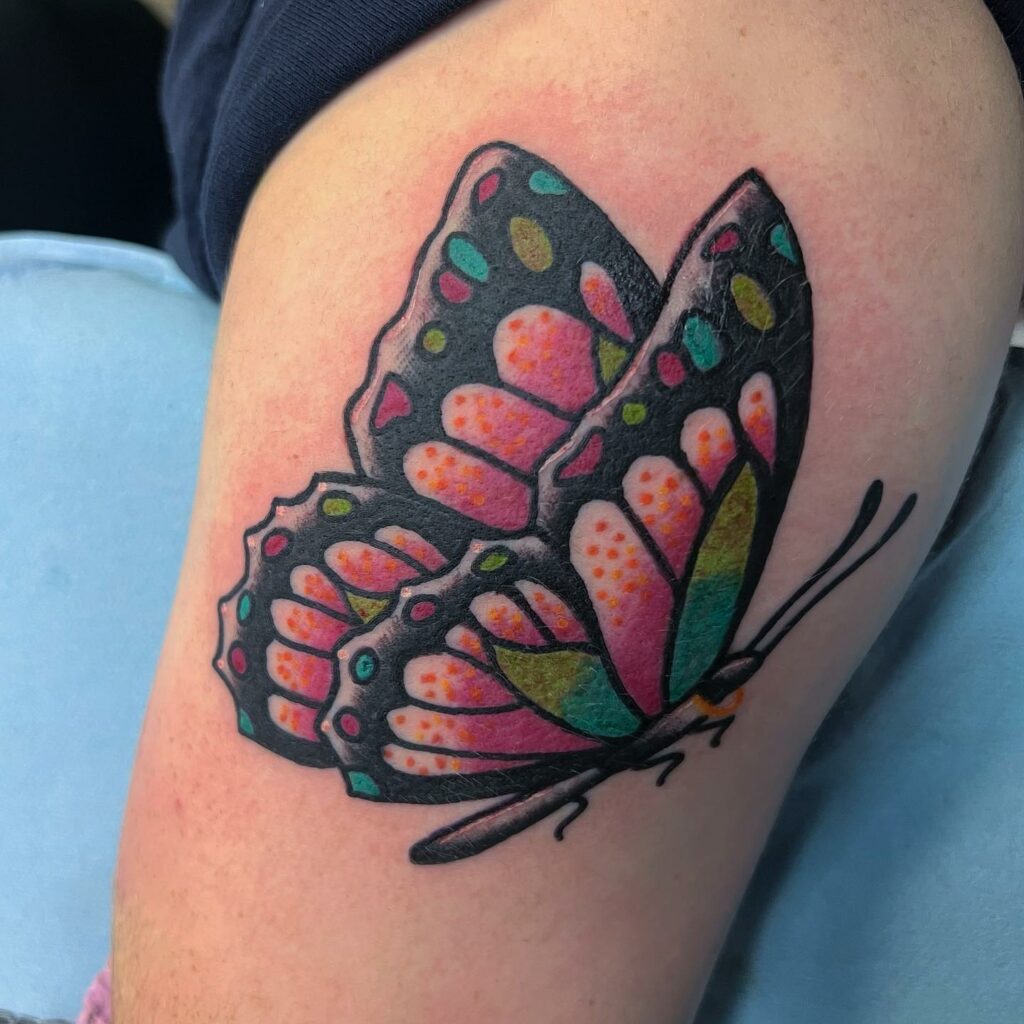 Butterflies are a huge symbol of rebirth and transformation. It is a tattoo that inhibits feminine traits and can help the wearer to have a positive approach to life. This tattoo is one of a kind. The designs on the wings are basic geometric motifs of different shapes and designs.
The plumage is simple with grey and black hues. The wings consist of colors of turquoise, lemon yellow, pink, olive green, and hues of orange. The color palette is intense and vivid and is one of a kind. There is also a gold chain on the neck of the insect. The wearer symbolizes and emits feminine energy to win in life and emerge victorious.
Mexican Traditional Tattoo Style For Women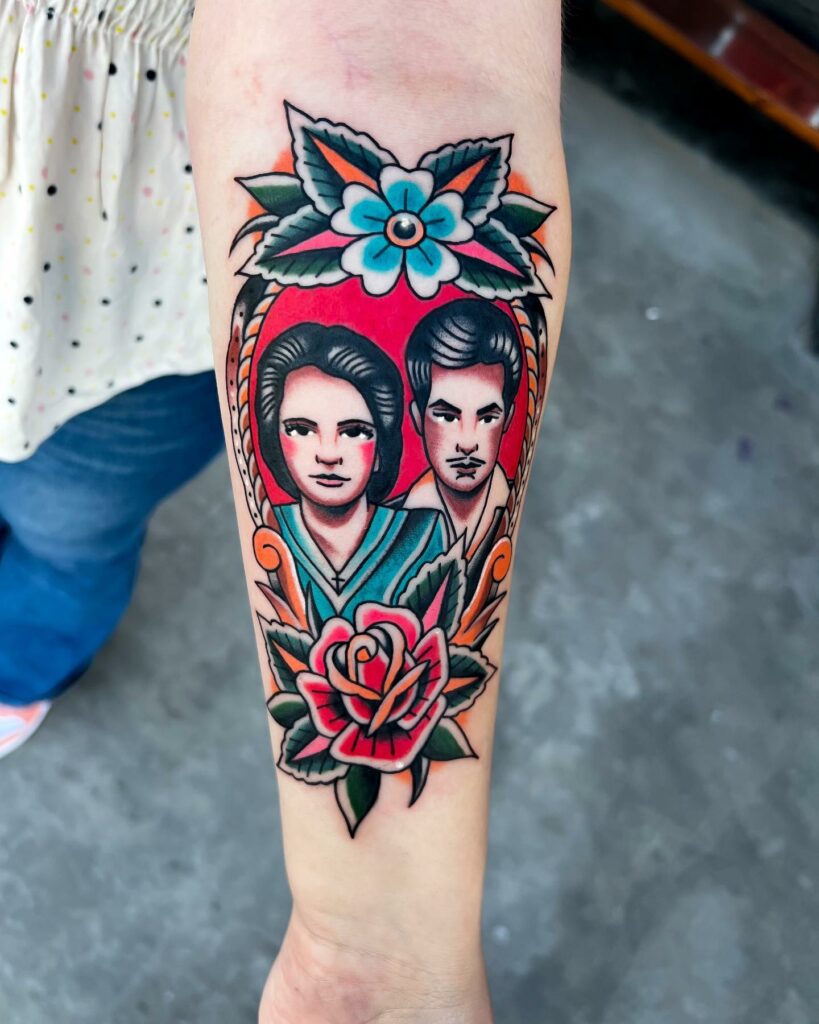 This falls under the category of American traditional tattoos. This tattoo is a fine piece of art for Mexican culture and is one of a kind. If you like an American traditional tattoo style, this is an ideal option for you. The tattoo consists of flowers and portraits of two people.
It probably is a symbol of how these two people are important to the wearer, and the wearer wants to cherish the memories of these two people in their lives forever. The color palette is vivid, and the flowers used in this are chrysanthemum and rose. This talk is about the wearer's unquenchable love and thirst for the people featured in the tattoo.
Japanese Traditional Tattoos On Wrists
This tattoo is simple and made with blue ink only. The tattoo depicts a Japanese traditional style painting with a dragon. The immaculate work makes the tattoo look one of a kind.
The blue color depicts how beautiful and serene the scene is. The tattoo symbolizes that the wearer wants to show off their power and strength with the help of this tattoo.
feature image from Pinterest – Want your tattoo to look brighter? Try "Tattoo Balm"