So you're thinking about getting inked, huh? Tree tattoos are all the rage these days and for good reason. They're not just cool to look at; they've got a ton of meaning, from showing off your love for nature to symbolizing growth or even diving into some deep spiritual stuff. In this article, we're laying down a whole bunch of designs that'll get your imagination going. Want to know the best part? You can totally customize these designs to make them truly yours. If you're eyeing a sleeve, know that it can take up to a full day, but hey, good things take time, right? Leg tats are easier to hide, but if you're going for visibility, chest or arm placements are bold moves. Whatever you choose, just remember it's going to be with you for the long haul, so make it count. Let's dive in and find that perfect tree design for you!
Pine Trees Sleeve Tattoos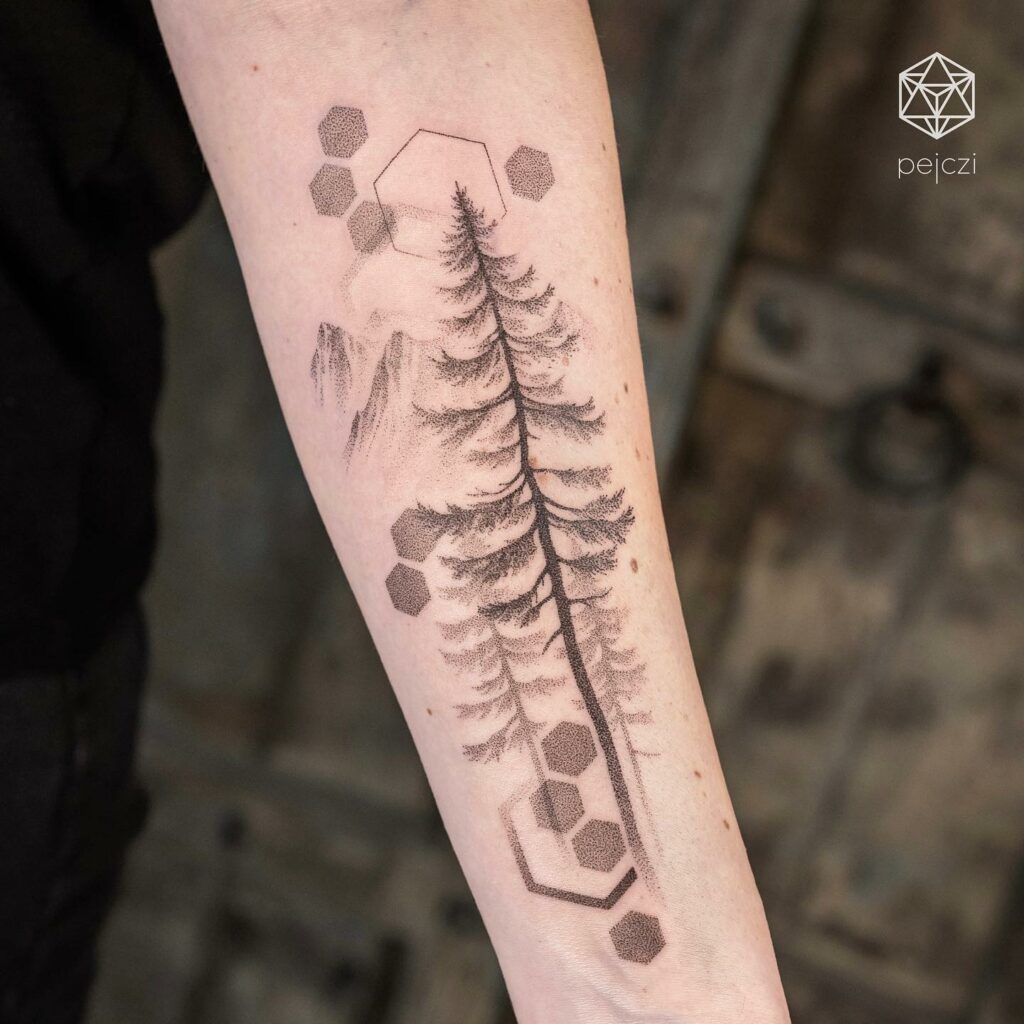 The concept of long life and the desire to change and evolve is shown in the unique form of a tree tattoo known as the pine tree tattoo. The wearer can reflect all the connotations of tree tattoos while concentrating on the tranquil message of the pine tree tattoos. Pine tree tattoos are especially considered a sign of serenity among all of the other tree tattoos.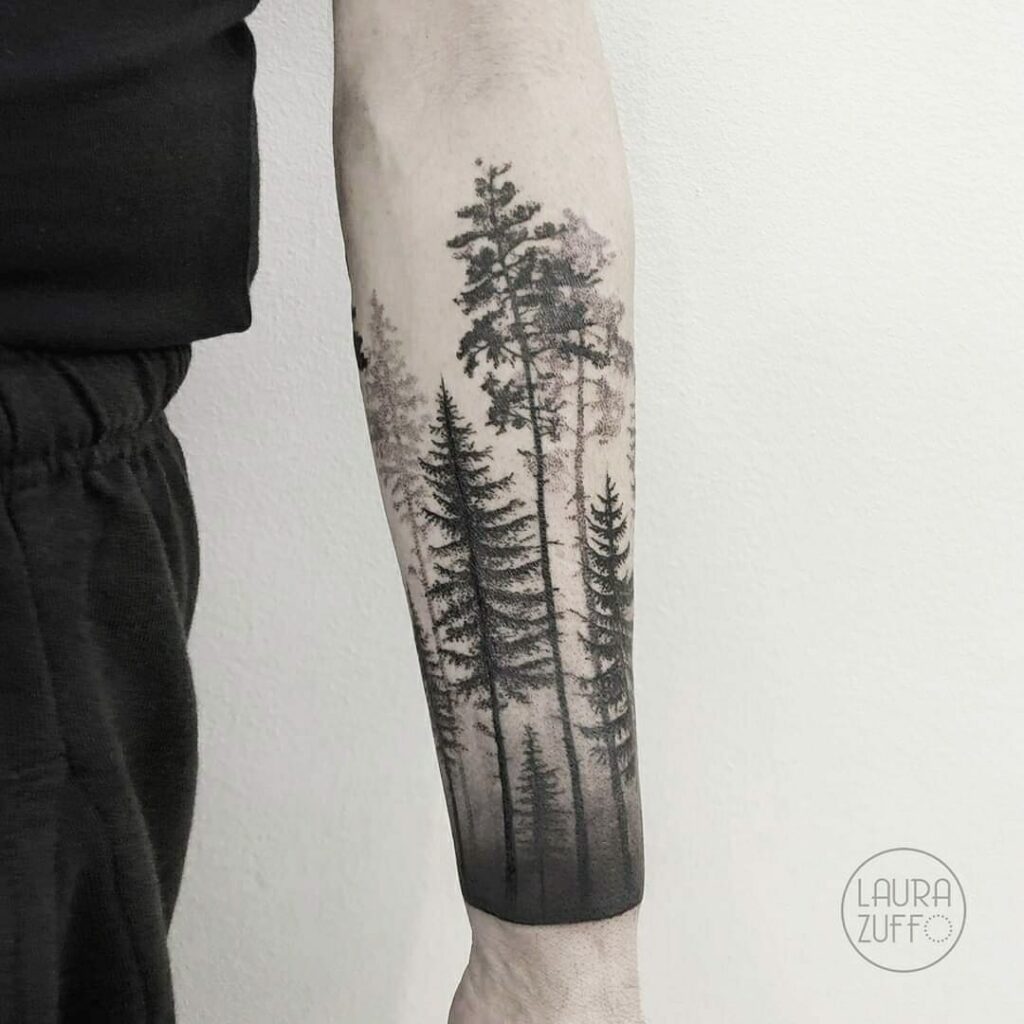 Pine trees are renowned for being incredibly sturdy, withstanding violent storms, and constantly surviving in tough environments. It's seen as a symbol of tenacity and toughness. Pine tree tattoo designs are adaptable and may be inked in many different ways. Your next tattoo may be a pine tree if that's what you choose.
Half Sleeve Birch Tree Sleeve Tattoo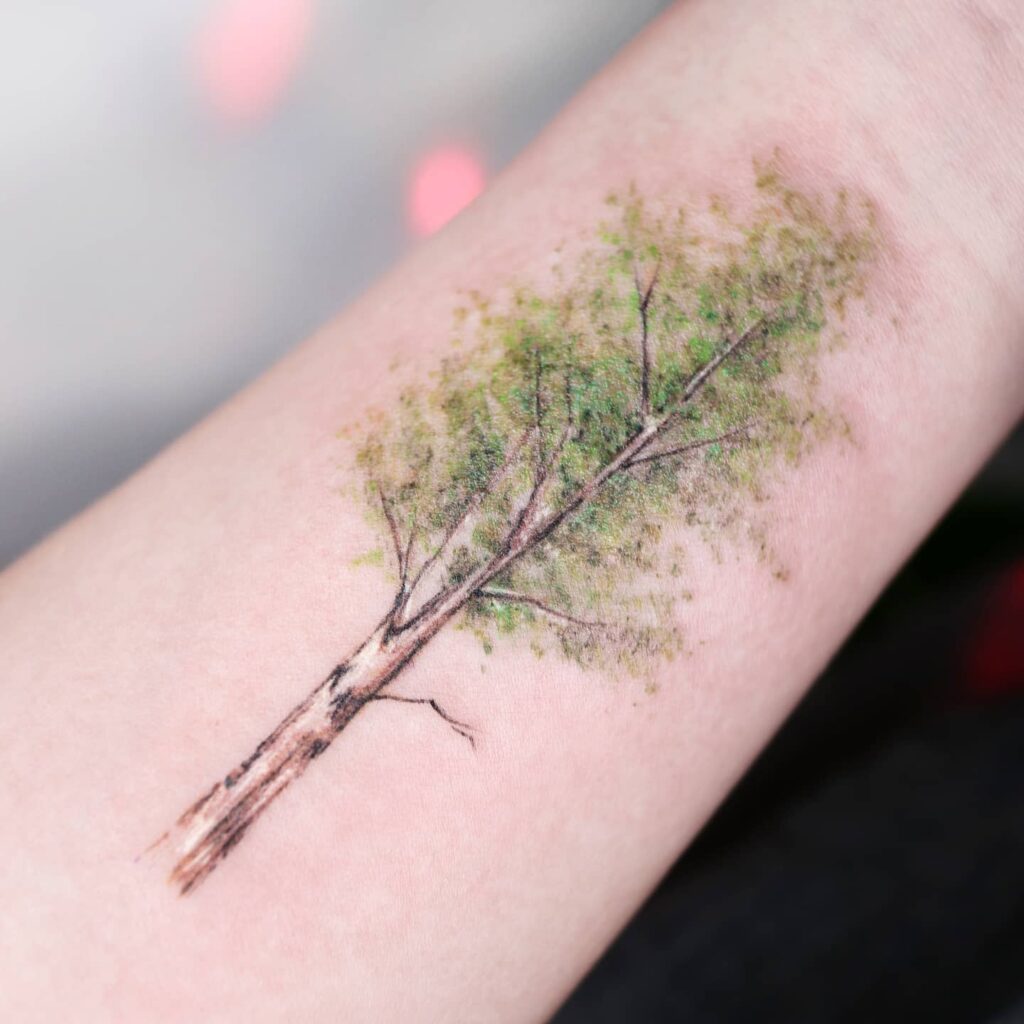 The ice-covered, rocky area is thought to have been one of the first to be colonized by birch trees following the previous ice age. The birch tree is regarded as the pioneer plant because of this. As a result, the birch tree tattoos symbolize the wearer's fortitude and resiliency. Its inclusion among the first trees to reappear demonstrates the tenacity and adaptability of this tree and, resultingly, the wearer's will to change their life as well.
The tattoo of a birch tree also represents fertility. The reason behind this is that the birch tree is a symbol of fresh growth and new life because it is one of the very first trees to show leaves in the spring. The birch tree is worshipped and honored in the warmer months of the Celtic year. From Beltane to the spring equinox, the birch tree was used to worship the Anglo-Saxon goddess Eostre. According to Scottish mythology, barren cows will supposedly become pregnant again if you herd them with a branch from a birch.
Oak Tree Sleeve Tattoo
The oak tree, which has a long lifespan, is a symbol of endurance. The oak tree tattoo can represent growth, just like most other tree tattoos. An oak tree design can be the ideal tattoo for you if you have moved through some difficult circumstances and have overcome them. You want to portray the oak tree in its finest light with these designs, with sturdy branches and a profusion of vibrant and brilliant leaves flowing from it.
The tattoo in the image depicts a beautiful oak tree done in charcoal black and shades of grey. The tattoo spans from below the elbow to the back of the hand of the wearer. The tattoo also encompasses the thick and sturdy bark of the tree, alongside branches and leaves, with its roots at the bottom interconnected with each other to create an amazing pattern that looks soothing to the eye. The tattoo artist has put a lot of effort into maintaining attention to detail while inking the tattoo.
Small And Beautiful Celtic Tree Tattoo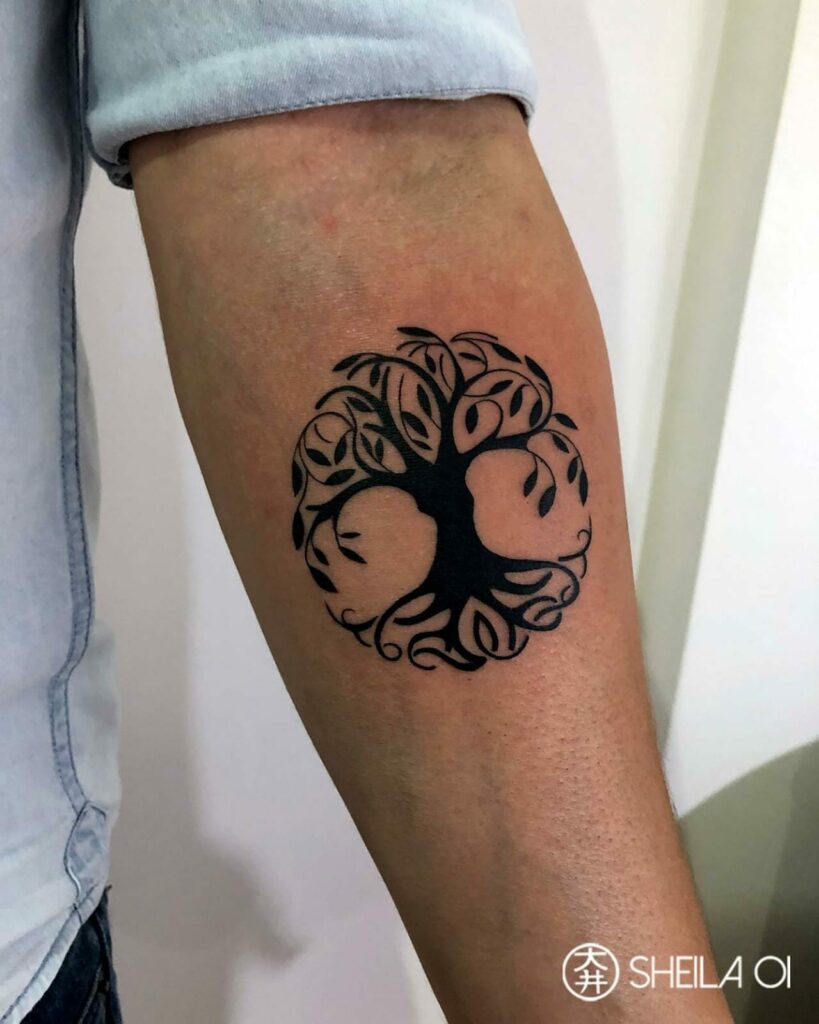 Numerous global faiths highly value the Celtic Tree of Life as a symbol. With branches rising to the sky and roots going far down into the Ground, it symbolizes the link between heaven and earth. Given that many trees shed their leaves every year and appear to be born again in the spring, it is also a sign of resurrection and rebirth.
The small tree tattoo inspired by Celtic mythology in the image is done on the place right below the elbow, on the front of the hand. This simple tree tattoo design has the artistic rendition of a tree with its bark, branches, leaves, and obviously roots it has perfect symmetry from all sides to create a round look in which the tree tattoo is being encapsulated. This is a fairly simple and minimalist tattoo to have, great for first-time tree tattoos.
Joshua Tree Half-Sleeve Tattoo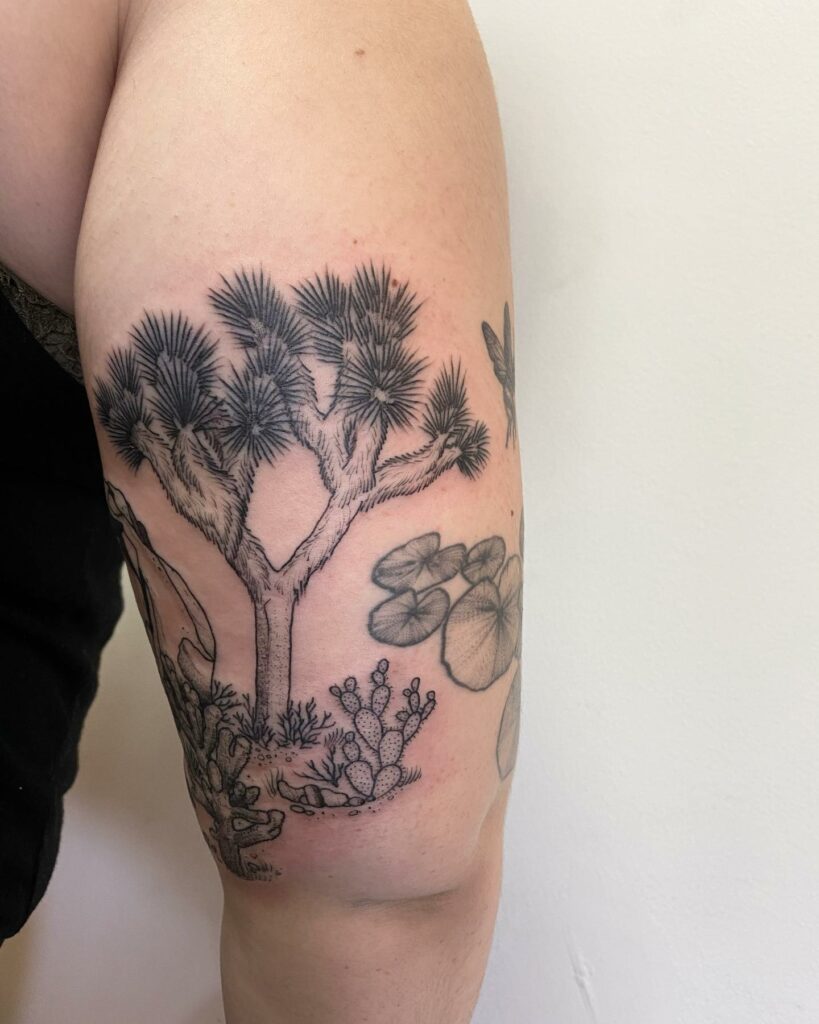 Joshua tree grows in the southwest North American desert area with its pointed knife-like leaves. It has been speculated that they can survive over 300 years. Joshua tree tattoos are used to signify mysticism and power.
The tattoo in the image depicts the Joshua tree with its divided barks and its thorny leaves. There are also some designs of cactus on the bottom of the tattoo. The tattoo has been shaded painstakingly well, with a lot of amazing black ink.
Pine Forest Half Sleeve Tattoo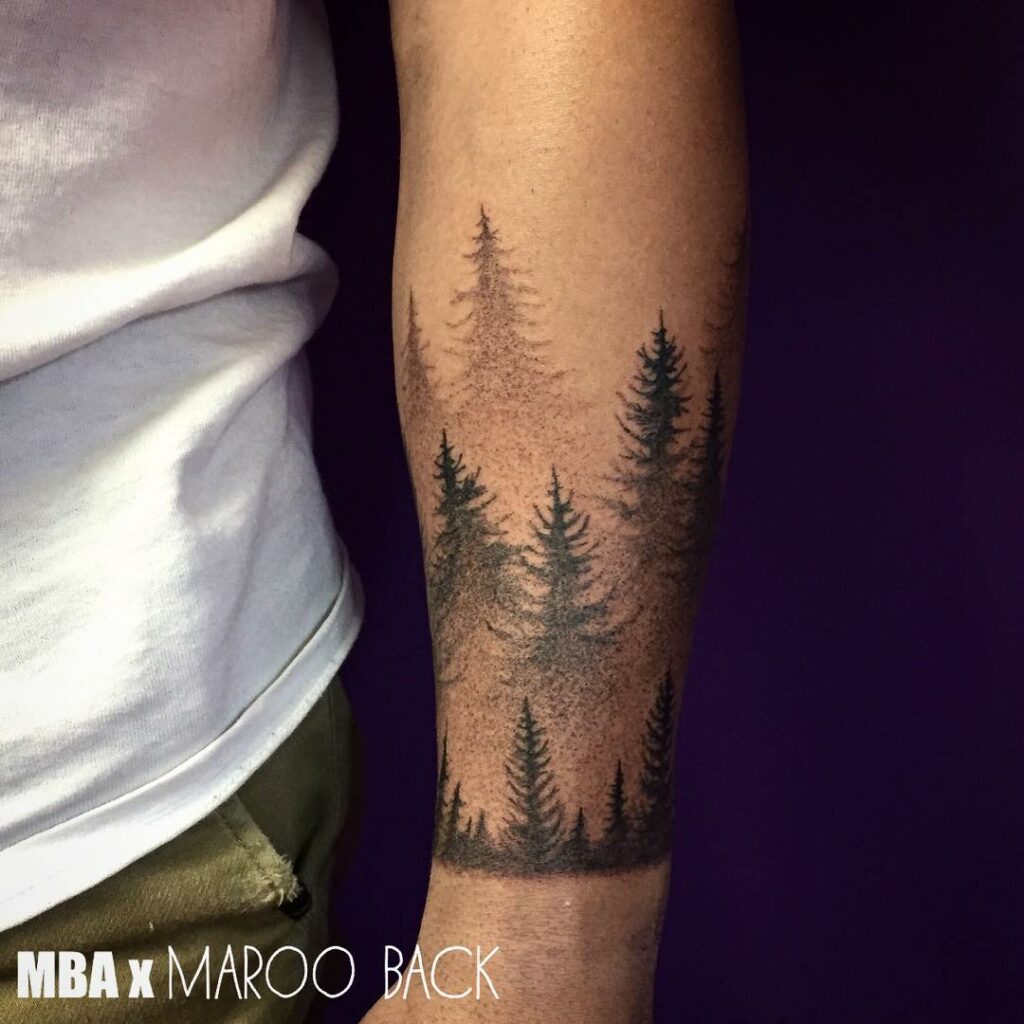 A clump of pine trees signifies endurance, strength, and fertility, whereas a solitary pine tree might signify long life and strength amid difficult times. The significance of surrounding oneself with individuals who inspire confidence in you is also connected to its symbolism. A single pine tree can withstand high temperatures and adverse weather conditions, but a cluster of pine trees may share resources through their root systems and promote mutual growth.
This is a tattoo of a pine forest instead of a lonesome pine tree. The tattoo depicts lots of pine trees, one behind the other. The tattoo artist has also used their skills to portray the fading effects of the tattoo. This tree silhouette tattoo can also look nice on your arms if you choose to ink this.
Ravens, Mountains, River, And Trees Half Sleeve Tattoo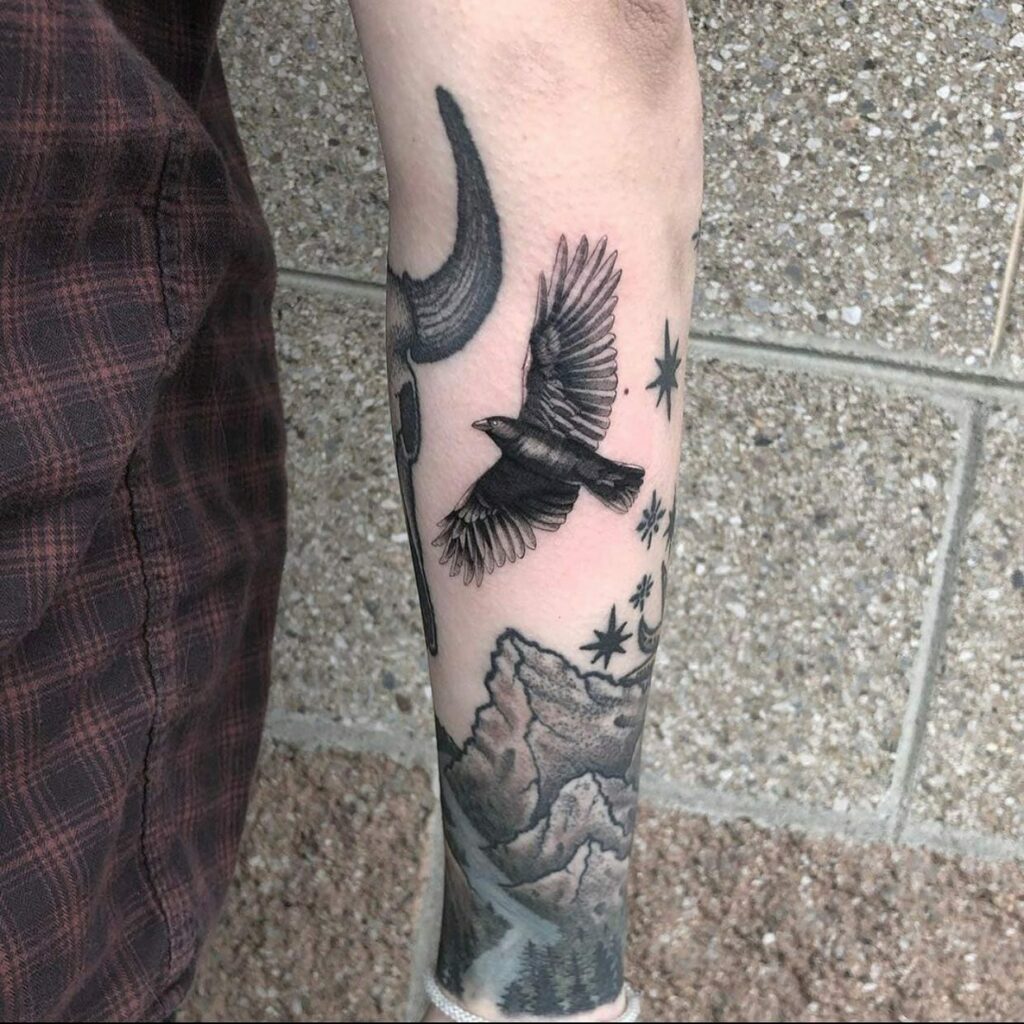 The raven is a stoic, graceful creature that looks great in ink. Like other animal patterns, the raven is typically quite meaningful to the user. It may be made in a variety of ways to express your own meaning and go well with your personality. Both classical and contemporary literature frequently features ravens. In most literature, the raven was a sinister figure frequently associated with death. Many prehistoric societies thought the mythical raven held great mysteries. This bird is described as a creature who can't keep secrets in several legends.
The beautiful tattoo design in the image showcases a raven soaring high up in the sky with spread wings. The tattoo artist has used charcoal black for the shading and color of the raven. There is also a mountain range with a river flowing in between under the raven tattoo. This highly packed tattoo can take the tattoo artist up to more than 1 sitting to finish up.
Aspen Tree Sleeve Tattoo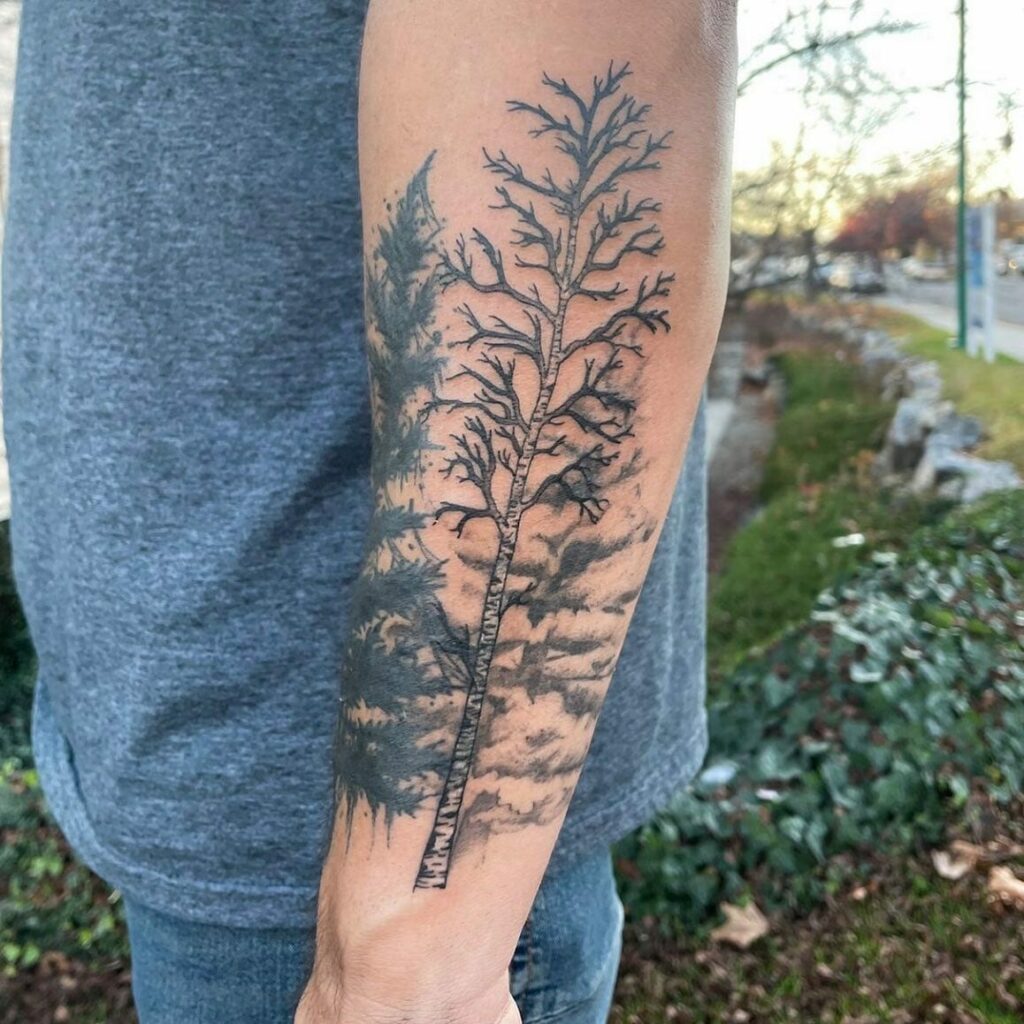 Many references to quivering aspen leaves may be found in literature, folklore, and tradition. This tree is well known; everyone has seen it sway in the wind. Druids visited aspen forests to see nature in motion and then used aspens as omens. Aspens may also indicate grief or weeping. Aspens signal a happy ending of anything (overcoming fear or uncertainty, overcoming suffering).
The tattoo in the image depicts one barren and one leaved aspen tree half sleeve tattoo on the side and the front of the hand. Both the tree tattoos are done with utmost attention and precision. The shade works in the tattoo are out of this world, which gives it more of a 3d look.
Realistic Longhorn Tattoo With The Head Adorned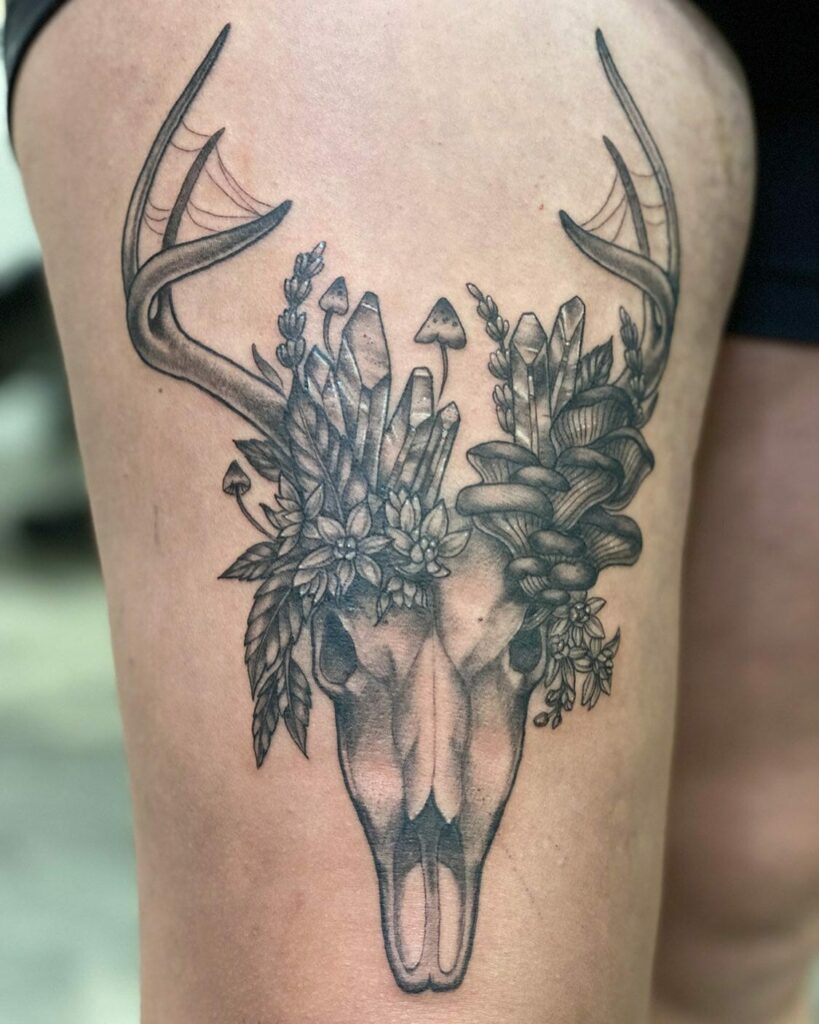 The longhorn skull is seen by certain Native American tribes as a representation of lifetime defense against all forms of nature. The longhorn tattoo continues to symbolize the qualities of the bull, like bravery, tenacity, and agility, in contemporary culture. Other connotations and characteristics connected to depictions of bull skulls include fearlessness, wild beauty, death, etc.
The tattoo idea in the picture showcases a longhorn head with trees, leaves, fungi, and flowers growing out of it. The horn of the animal also has some web-like designs incorporated into them, and they look symmetrical as well, giving this tattoo a pleasing look. The entire tattoo is done in black ink alongside some blue and grey hues and shades. However, you can choose to color the flowers and fungi if you really want to.
Half Sleeve Forest With Mountain Line Tattoo
This tattoo captures the serene elegance of nature on your arm, blending the forest and mountain scenery into a half-sleeve design. The incorporation of both elements allows for intricate detailing, with pine trees giving way to majestic mountain lines. This style provides a sense of depth and dimension, making your arm look like a living canvas for natural beauty.
Cool Tree Leg Tattoo Design
This article delves into the increasingly popular trend of tree leg tattoos. Unlike traditional tree tattoos, the designs highlighted here add a modern twist to the concept. Using shades and color gradients, the design brings a sense of life and fluidity, making your leg a walking piece of art.
Forest Moon & Tree Tattoo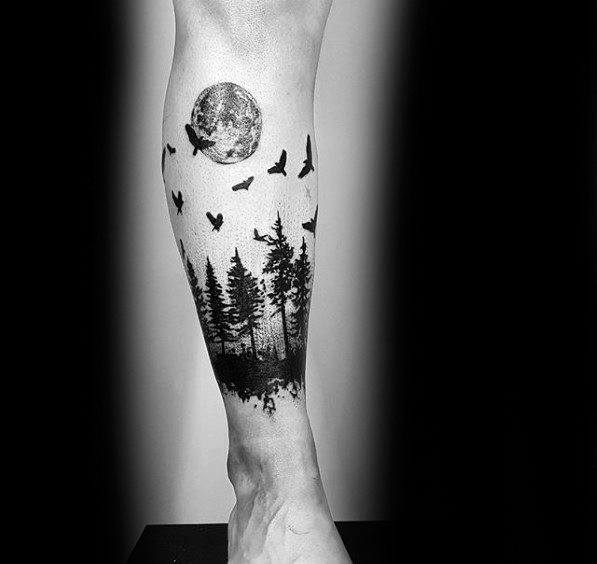 This tattoo perfectly combines lunar mysticism with the grounded energy of a forest. The moon, typically depicted in its full glory, offers a radiant backdrop to a detailed tree, creating a surreal yet harmonious blend. It's an encapsulation of nature's quiet yet complex beauty on your skin.
Cool Tree Leg Design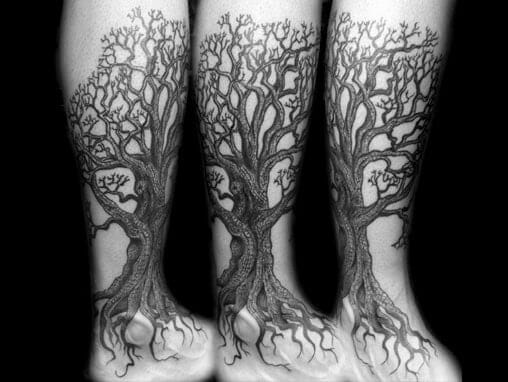 Moving beyond the conventional, this article explores unconventional tree designs that truly stand out. Think abstract forms and stylized shapes rather than lifelike representations. It's for those who appreciate the essence of trees but want something distinct on their leg.
Skull Palm Tree Tattoo
This tattoo fuses the beachy vibes of a palm tree with the edginess of a skull. It's an unexpected combination that works surprisingly well, offering a tattoo that's both captivating and conversation-starting. It appeals to those who love the unconventional and have a touch of rebel in them.
Windy Road Tree Leg Tattoo
This tattoo design takes inspiration from a journey through a windy road flanked by trees. It's not just about the destination, but the path taken. The trees in the design seem to sway or move, capturing the sense of motion and life's unpredictability on your leg.
Geometric Tree Pattern Leg Tattoo
For those who appreciate mathematical precision along with natural aesthetics, this tattoo merges geometric shapes with tree designs. The result is a perfect balance of order and organic beauty, providing an optical allure that's hard to ignore.
Great Tree Leg Design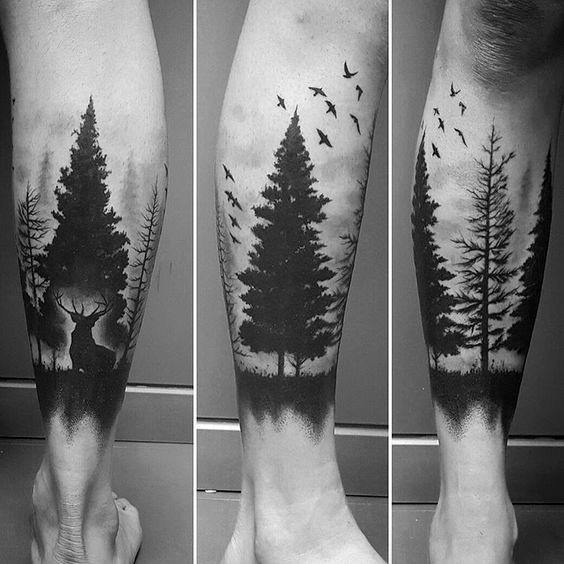 This article showcases designs that are simply extraordinary, often incorporating different elements such as birds or seasonal foliage. It's all about making a statement and letting your leg tattoo speak volumes about your personal connection to nature.
Guys Tree Leg Tattoo
Targeted specifically at men, this article features robust and bold tree designs that capture masculine energy. The designs often incorporate elements like strong, gnarled branches and deep shades to give a sense of gravitas.
Incredible Tree Leg Tattoo
Taking artistic license to the next level, this topic explores designs that push the boundaries of what's possible with ink. From hyper-realistic to fantastically surreal, these are the tattoos that you won't stop staring at.
Tree Leg Design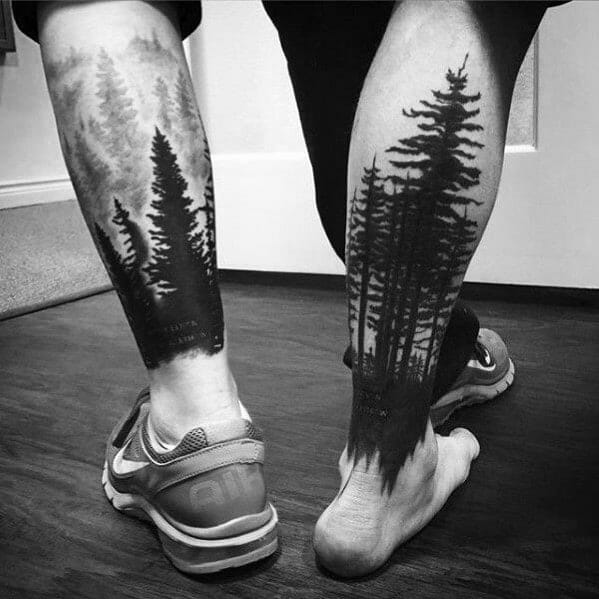 This is an overview of the basic yet timeless tree designs for the leg. Whether you're a fan of simplistic outlines or slightly more detailed renditions, this article covers the foundations of a well-executed tree tattoo.
Masculine Tree Leg Tattoo
Focusing on strong lines and dark shading, this type of tattoo emphasizes a raw, masculine vibe. Elements like thick trunks and heavy branches are often featured to deliver a tattoo that's as grounded as the trees it portrays.
Tree Roots Foot & Leg Tattoo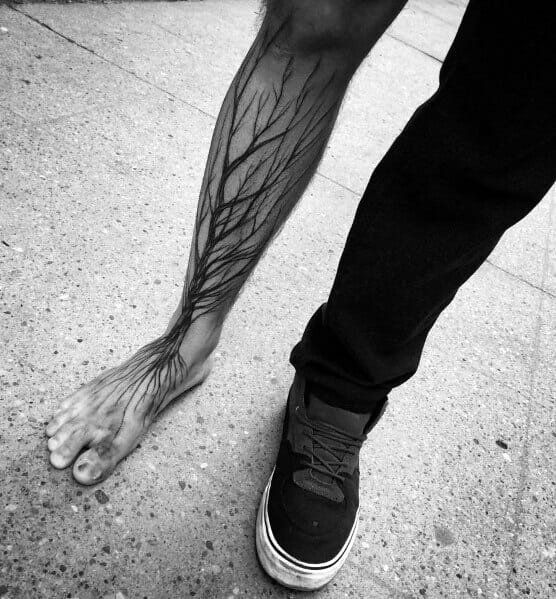 This tattoo design explores the idea of roots, extending from the foot and sprawling up the leg. It's a compelling representation of growth, grounding, and personal evolution, seamlessly merging two body parts into a unified theme.
Mens Tree Leg Tattoo Idea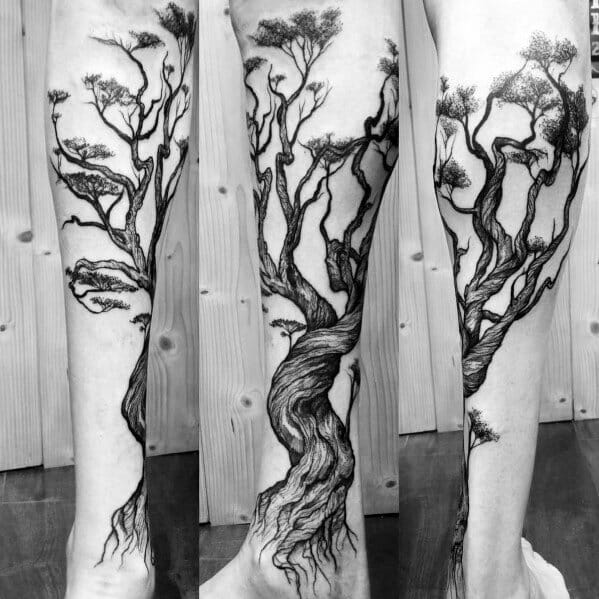 Targeted at men, this article showcases a variety of tree leg tattoo designs that encapsulate a sense of masculine vigor. These tattoos often incorporate rugged elements such as bark textures, sprawling branches, and dark, earthy tones, making it a perfect choice for those who connect with nature's raw, untamed aspect.
Skull & Tree Leg Tattoo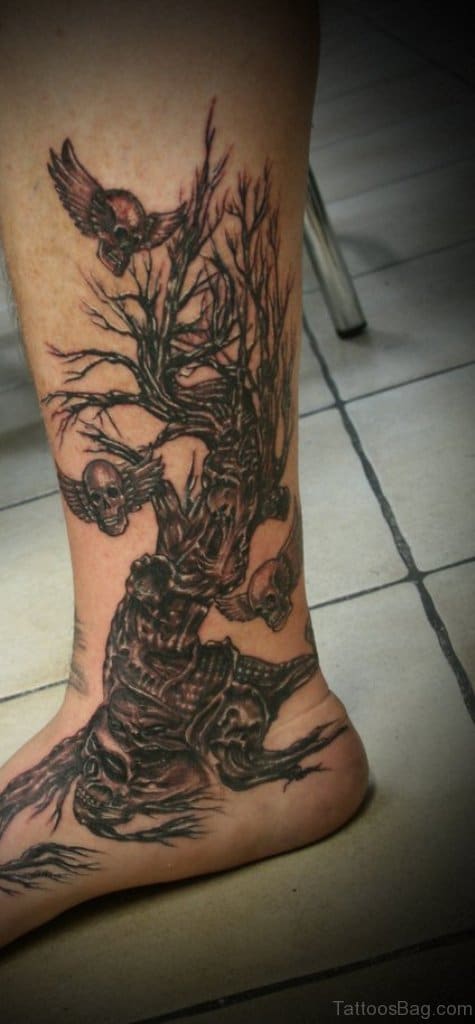 Merging the symbol of life and death, the skull and tree leg tattoo offers an enigmatic yet harmonious visual. This style captures a balance between the eerie allure of the skull and the vital essence of the tree, making for a truly intriguing tattoo concept.
Stylish Men's Tree Leg Tattoo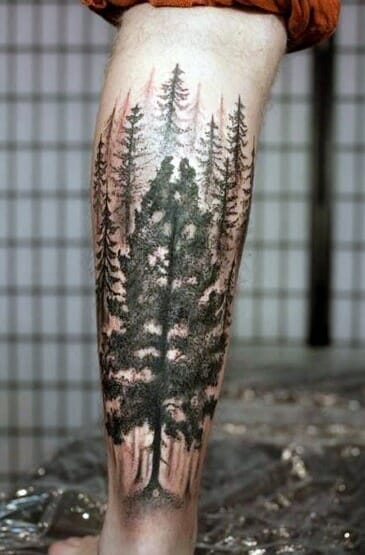 This article focuses on designs that blend sophistication with masculinity. Incorporating modern styles, such as geometric shapes or art-deco elements, these tattoos transcend the basic tree concept into a fashionable statement suitable for the style-conscious man.
Tree & Moon Mens Leg Tattoo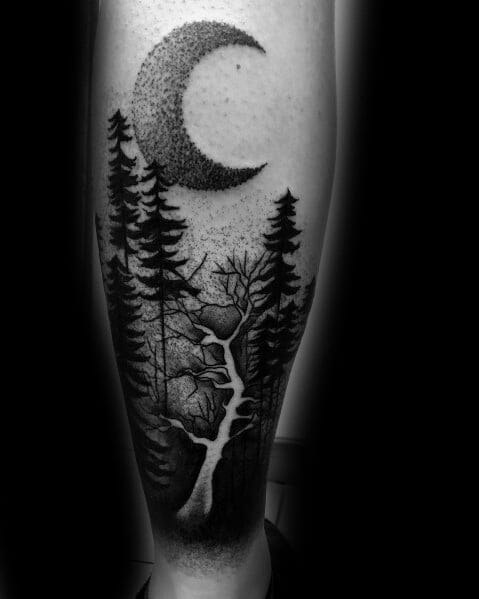 Specifically designed for men, this tattoo concept brings together lunar magic and earthly wisdom. The moon and tree elements are portrayed in strong, bold lines and shadowing, which resonates well with a masculine aesthetic, making it an ideal option for those who want something both profound and visually appealing.
Tree Leg Tattoo Idea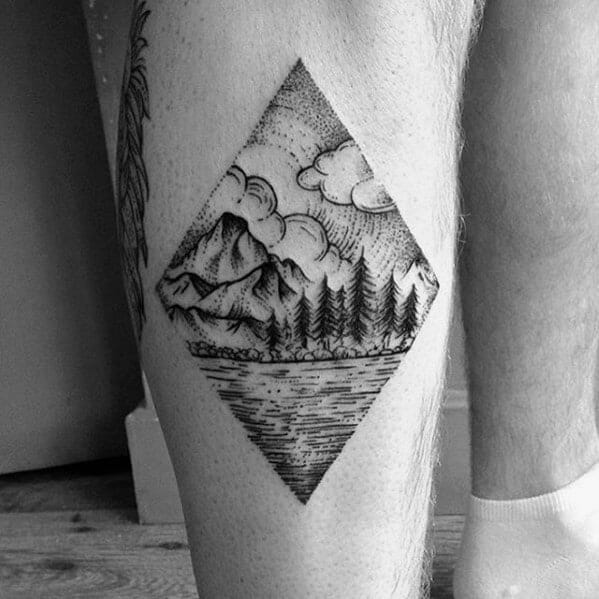 A general overview of tree leg tattoo concepts, this article is perfect for those who are considering their first tree tattoo. It explores different tree types and styles, offering a comprehensive guide to what can be a simple yet deeply meaningful body art choice.
Tree Leg Tattoo Designs
This article delves into the diversity of designs available for tree leg tattoos. From abstract renditions to highly detailed, lifelike versions, it covers a broad spectrum of artistic possibilities, giving readers ample inspiration for their own ink.
Traditional Tree Leg Tattoo
Going back to the roots, literally and figuratively, this article focuses on traditional tree designs. Think classic tattoo styles like Old School or even tribal, offering a nostalgic touch to an ever-popular subject matter.
Treetops Leg Tattoo Idea
This unique concept zooms in on the upper part of the trees, focusing on the foliage, branches, and perhaps even some resident wildlife. It offers a different perspective, capturing the loftiness and intricacy of treetops right on your leg.
Long Black Tree Tattoo Design On Leg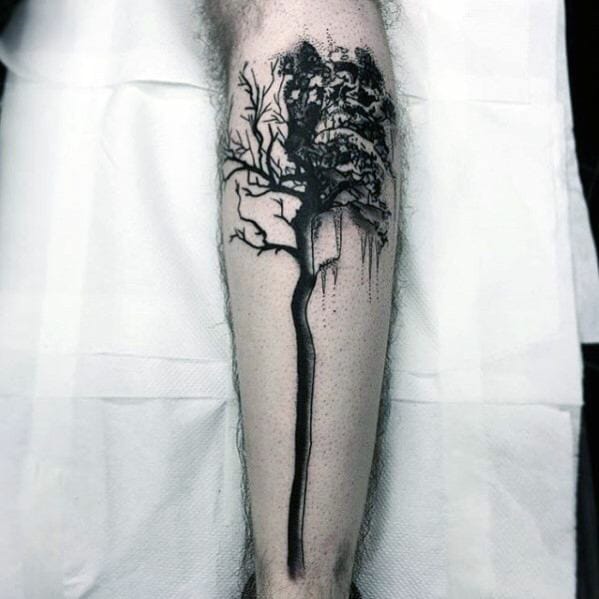 Highlighting the aesthetic power of monochrome, this tattoo design stretches longitudinally along the leg. It offers a captivating visual, emphasizing the height and grandeur of a tree in stark black ink.
Tree Skull Leg Tattoo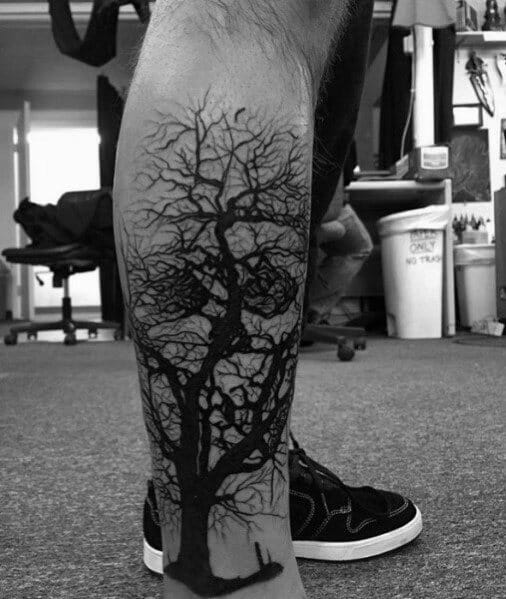 Similar to the "Skull & Tree Leg Tattoo," this concept also explores the juxtaposition of life and mortality. However, here, the focus is on seamlessly integrating the tree and skull into one unified design, often using the tree to form part of the skull's shape or vice versa.
Watercolour Tree Leg Tattoo
Incorporating the delicate and vibrant aesthetic of watercolor painting, these tattoos offer a splash of color to the conventional tree design. The watercolor technique brings the tree to life in a whirl of hues, making it an artistic masterpiece on your leg.
3D Watercolour Tree Leg Tattoo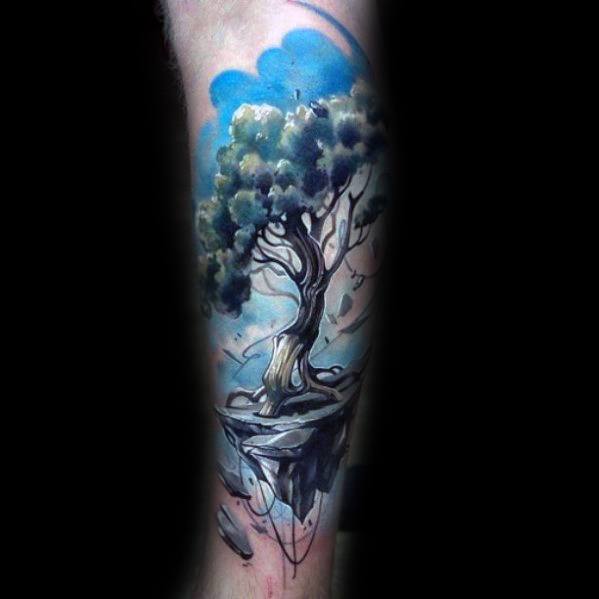 Taking watercolor tattoos to the next level, this style incorporates 3D elements that make the tree seem as though it's popping off the skin. This is a high-impact tattoo that combines two popular styles into one astonishing visual.
Tree Forearm Tattoo Ideas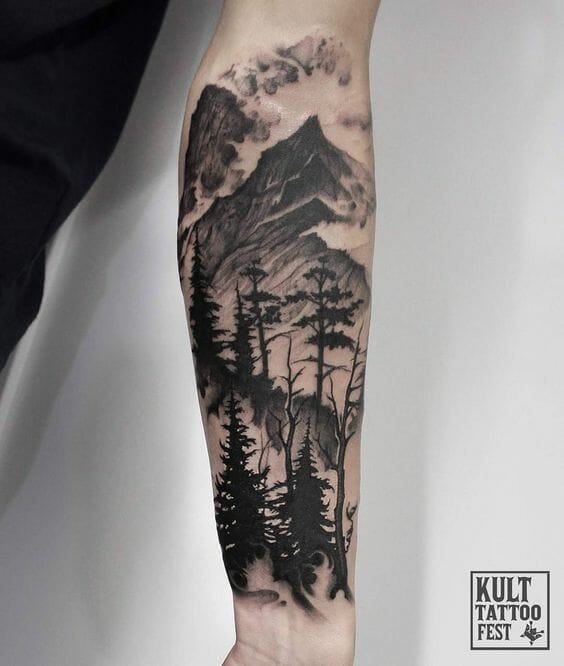 This article focuses on tree designs specifically suited for the forearm. Whether you're looking for a small, simple tree or a more detailed, sprawling design, this guide offers a range of options that particularly complement the forearm's natural contours.
Full Arm Tree Root Tattoo
Tracing the roots from your wrist to your shoulder, this design makes a bold statement about growth and foundational strength. It's a full-arm commitment, encapsulating your connection to the earth in a visually striking manner.
Full Arm Forest Sleeve Tattoo
This all-encompassing design covers your arm in an intricate forest scene, complete with trees, foliage, and sometimes even wildlife. It's an immersive piece that turns your arm into a natural landscape, capturing the essence of a forest in breathtaking detail.
Forearm Tree & Birds Tattoo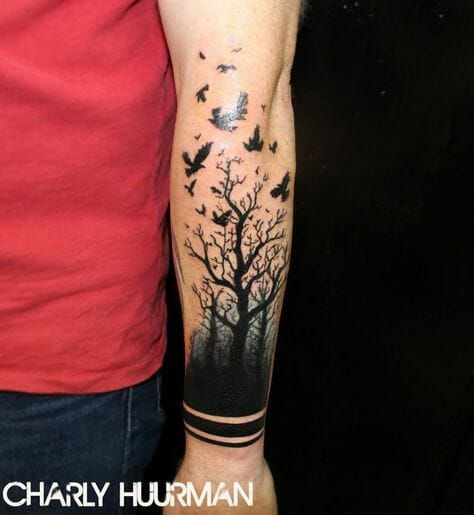 Incorporating the freedom symbolized by birds, this design merges them with the grounded nature of a tree. The tattoo often portrays birds flying out of or around the tree, symbolizing the harmony between stability and freedom.
Tree Arm Tattoo
A broad look at various tree designs that can be inked on your arm, this article offers a wide range of inspiration. From simplistic line art to highly detailed realistic trees, it provides ample ideas for those considering a tree as their next arm tattoo.
Forearm Sleeve Trees Tattoo
Focused on forearm placements, this article explores the artistic beauty of tree sleeve tattoos that wrap around the arm. The tattoos often include intricate details like textured bark and individual leaves, offering a sense of depth and realism that turns your forearm into a natural canvas.
3D Tree Tattoo On Arm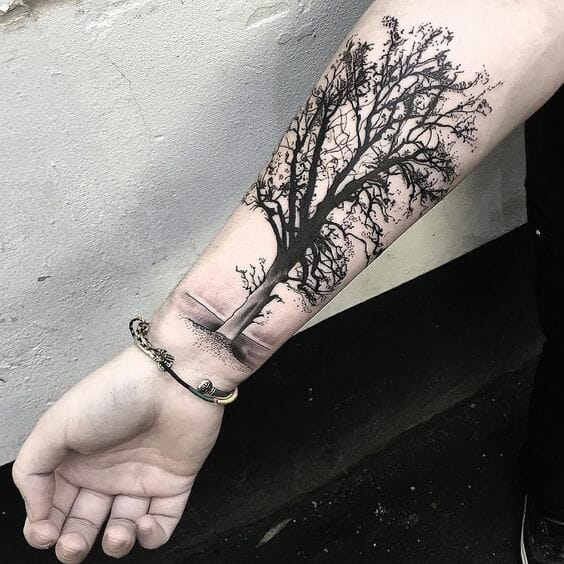 A true feast for the eyes, 3D tree tattoos on the arm give the illusion of depth and reality. These tattoos utilize advanced shading techniques to make the tree appear almost lifelike, as though it's actually growing from your skin, offering a stunning visual impact.
Fantasy Inspired Tree Tattoo On Leg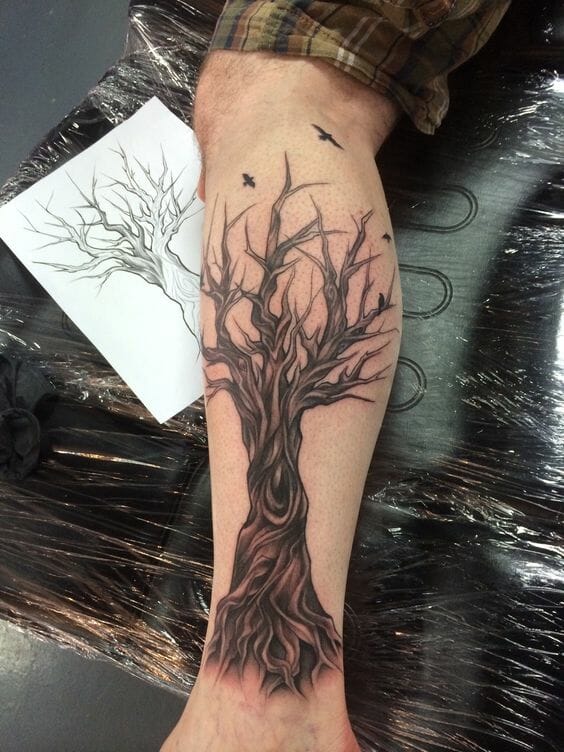 Venturing into the realm of the imaginative, these tree tattoos draw inspiration from fantasy worlds. Think ethereal landscapes, magical glows, and otherworldly shapes that make your leg look like a scene from a high-fantasy novel.
Forest Sleeve Tattoo On Arm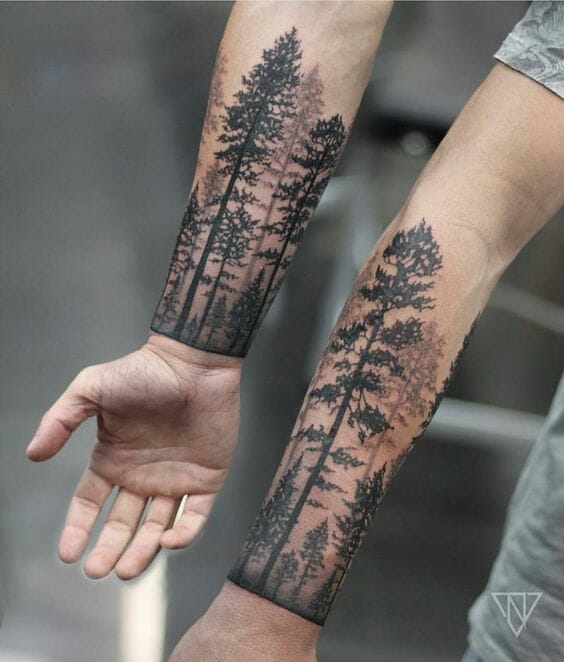 Emulating the tranquility of a forest on your arm, this tattoo style includes various trees, foliage, and perhaps even small animals. It's like having a piece of the forest with you at all times, beautifully displayed as a sleeve tattoo.
Amazing Dark Tree Tattoo Design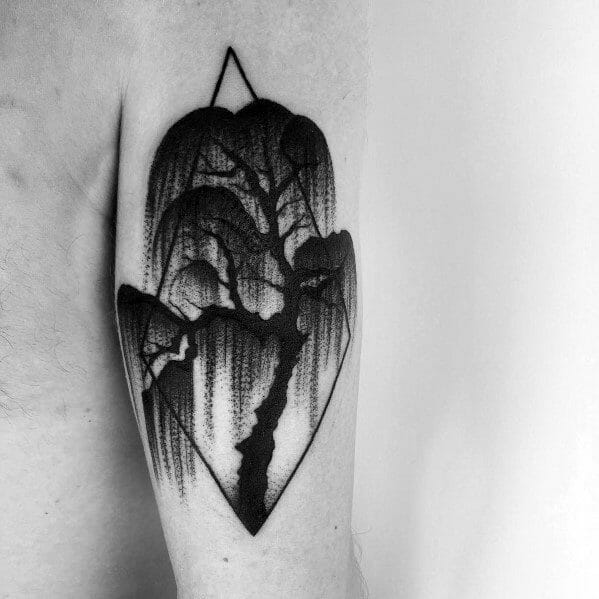 Focused on moodier, darker designs, this style captures the enigmatic side of nature. The ink is typically black or deep gray, featuring shadowy trees that evoke a sense of mystery and awe, making it a visually striking choice.
Dark Forest Tattoo Sleeve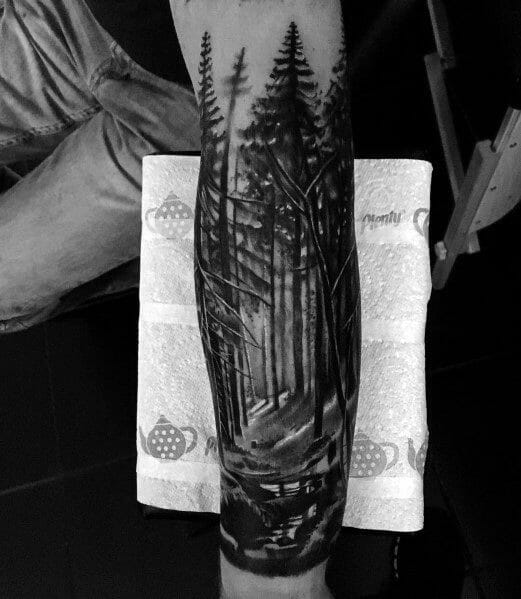 Building upon the concept of dark tree tattoos, this sleeve version plunges your entire arm into a brooding woodland scene. Thick canopies, hidden eyes, and shadowy figures might make an appearance, transforming your arm into a dark fairy tale setting.
Dotted Tree Design
Utilizing a stippling technique, this tattoo consists of thousands of tiny dots to form the shape and texture of a tree. It's a delicate and time-consuming style that offers an intriguing alternative to more conventional line work.
Geometric Tree Design On Arm
For those who appreciate a blend of organic and mathematical, this design fuses the natural form of a tree with geometric shapes like triangles and circles, creating a harmonious and contemporary look on the arm.
Forest With Sky Tattoo Design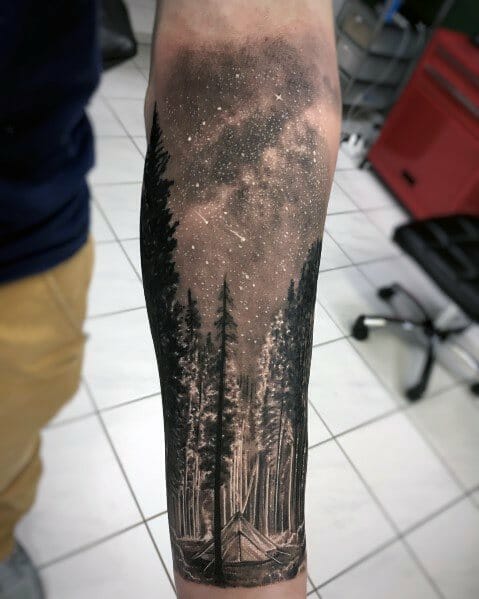 Expanding on the traditional forest tattoo, this design incorporates the sky, often featuring elements like clouds, sunsets, or a moonlit night. It's a full panorama of nature's beauty, making your skin look like a landscape painting.
Coloured Forearm Tree Tattoo
Breaking away from the monochromatic norm, this tattoo utilizes vibrant colors to bring the tree to life. Whether it's the green of the leaves or the hues of a sunset background, the color adds a dynamic layer to the tree tattoo.
Full Tree Arm Sleeve with Moon & Mountains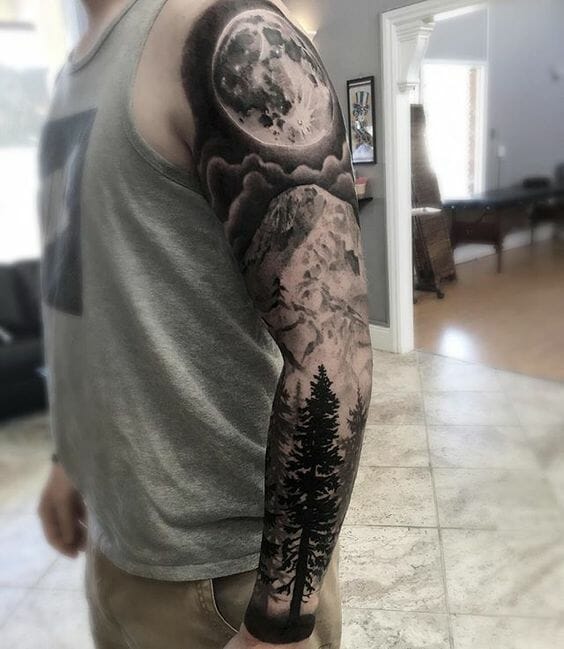 This tattoo offers a full-scale nature panorama, incorporating not just trees but also the moon and mountain landscapes. It's a comprehensive vision of the great outdoors, beautifully mapped onto your arm.
Skull & Tree Arm Tattoo
This design marries the symbol of life—the tree—with that of death—the skull. It creates a compelling narrative about the cycle of life and mortality, etched permanently onto your arm.
Red Tree Tattoo
Singular in its color choice, the red tree tattoo offers a bold and emotional take on the traditional tree design. The color red could signify a variety of meanings, from passion to danger, making this a particularly evocative choice.
Wrist Tree Tattoo
Ideal for those who prefer subtlety, wrist tree tattoos are typically smaller and simpler. Despite their size, they carry a significant meaning, often symbolizing growth or grounding, and serve as a daily reminder right at your wrist.
Tree Back Tattoos
Explored in a larger canvas, tree back tattoos offer an extensive area to showcase the complexity and beauty of a tree, from its roots to its leaves. The back becomes a mural, with the spine often serving as the tree's trunk.
Oak Tree Back Tattoo
With its sturdy trunk and expansive branches, an oak tree tattoo on the back symbolizes strength and endurance. It's a meaningful choice for those who identify with the resilience and longevity that the oak tree represents.
Pine Tree Back Tattoo
Known for its evergreen quality, a pine tree tattoo on the back captures themes of eternal life and resilience. Whether it's a single pine or a forest, the tattoo resonates with those who find solace and inspiration in the great outdoors.
Helix Strand Tree Back Tattoo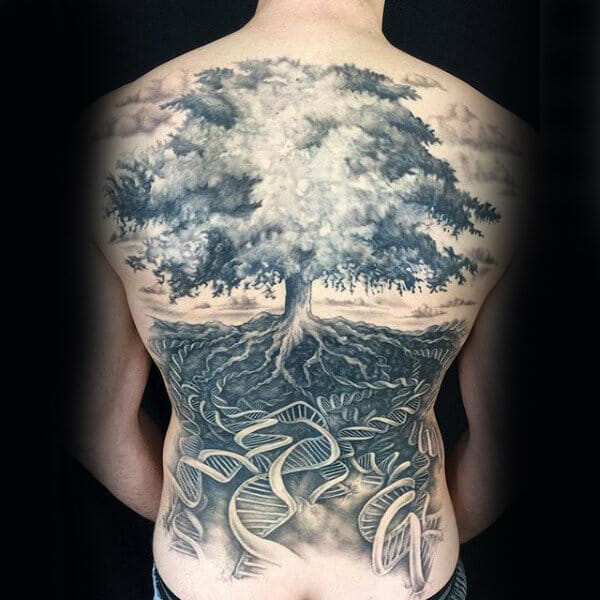 This unconventional design takes inspiration from the structure of DNA strands, intertwining them with the form of a tree. Positioned on the back, this tattoo merges the concept of life's building blocks with the enduring symbol of a tree, making it a visually and conceptually captivating piece.
Japanese Bamboo Tree Tattoo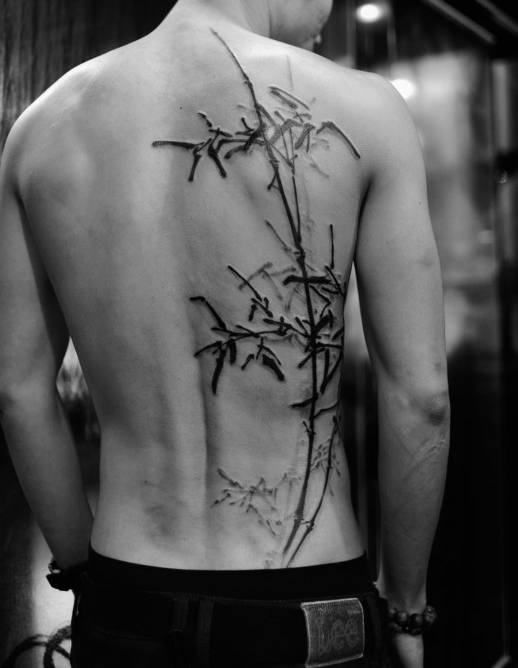 Incorporating elements of Japanese art and philosophy, this tattoo showcases the elegance and resilience of bamboo trees. Known for their flexibility and strength, these bamboo designs often include traditional Japanese motifs and can carry a variety of meanings related to balance and endurance.
Crow, Skull & Tree Tattoo
This design fuses elements of darkness and mysticism, featuring crows, skulls, and trees in one composition. The synergy of these elements creates a tattoo rich with symbolic depth, potentially exploring themes of life, death, and the mysterious forces that govern them.
Tree Tattoo Design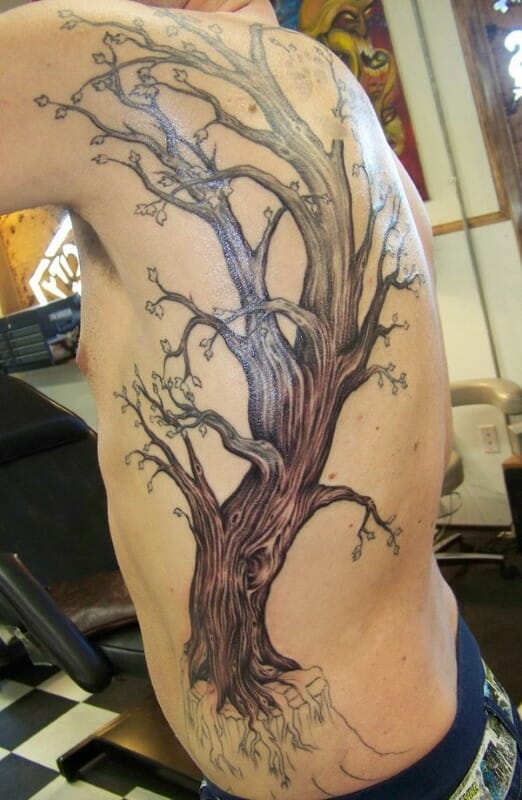 Serving as a general guide, this article could cover a wide array of tree designs—from simple to complex, traditional to modern. This is a go-to resource for anyone interested in tree tattoos but uncertain about style or placement.
Skull Tree Back Tattoo
A full-back tattoo that merges the imagery of a skull and a tree, this design speaks volumes about the duality of life and death. The back serves as a large canvas, allowing for intricate detailing and a powerful visual impact.
Abstract Tree Design
Stepping away from realism, these tattoos employ abstract forms and shapes to represent a tree. Perfect for those who appreciate a more conceptual or modern art approach, these designs can be both visually stimulating and symbolically profound.
Falling Leaves Tattoo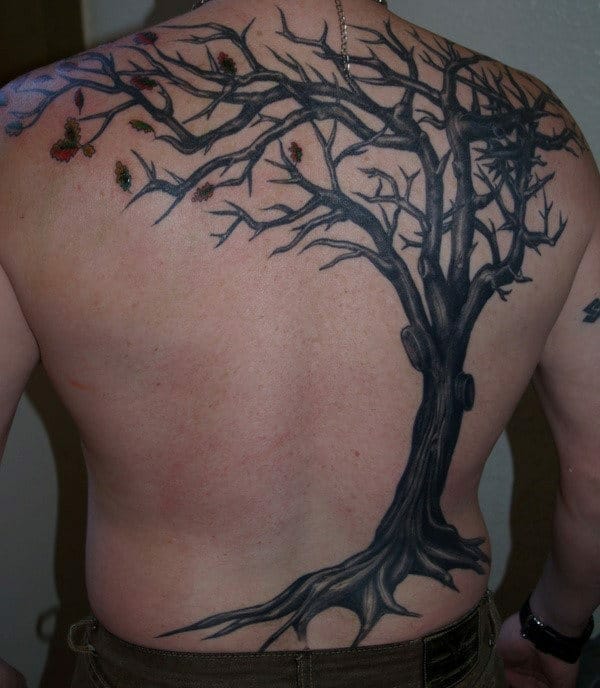 Evoking the fleeting nature of life, a falling leaves tattoo captures the beauty of transience. Whether it's leaves falling from a tree or a standalone leaf design, this tattoo resonates with anyone attuned to the cycles of life and change.
Ying & Yang Tree Design
Incorporating the ancient symbol of Yin and Yang, this tattoo explores the balance of opposites. Trees in this design could be shown in various states—perhaps one flourishing and the other decaying—to represent the harmony of life's dualities.
Realistic Oak Tree
With a focus on lifelike details, from bark texture to individual leaves, this tattoo showcases the majestic oak tree in all its glory. Suitable for those who appreciate a classic, realistic approach to body art.
Twisted Tree Tattoo
Emphasizing the gnarled and twisted branches of a tree, this design can symbolize the complexities and struggles of life. It captures the essence of resilience, as the tree continues to stand tall despite its twisted form.
Pine Needle Tree Back Tattoo
Singular in its focus on the pine's distinctive needles, this back tattoo offers a unique take on the traditional tree design. It could evoke a sense of evergreen resilience and serve as a constant reminder of one's own enduring strength.
Full Back Forest Tattoo Design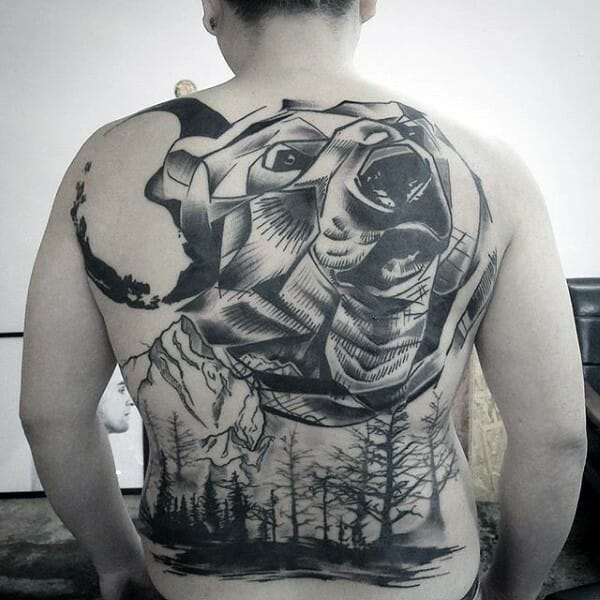 Transforming the entire back into a lush forest scene, this tattoo design is for those who want to make a grand statement. With potential for intricate detailing and elements like wildlife or changing seasons, it's a vivid homage to the natural world.
Dry Tree & Raven Chest Tattoo
With stark, barren branches and the haunting presence of a raven, this chest tattoo delves into themes of desolation and solitude. It can be a powerful emblem of life's darker moments, but also a tribute to resilience and survival.
Cool Tree Chest Tattoo
Aimed at those seeking an edgier design, this tree tattoo could incorporate modern or unconventional elements to stand out. From unique coloring to abstract form, the focus is on pushing the artistic boundaries of a traditional tree tattoo.
Bird & Tree Chest Tattoo
Combining avian freedom with grounded stability, this tattoo juxtaposes a bird perched or flying near a tree. Positioned on the chest, it serves as a constant reminder of the delicate balance between freedom and rootedness in life.
Blue Watercolour Tree Tattoo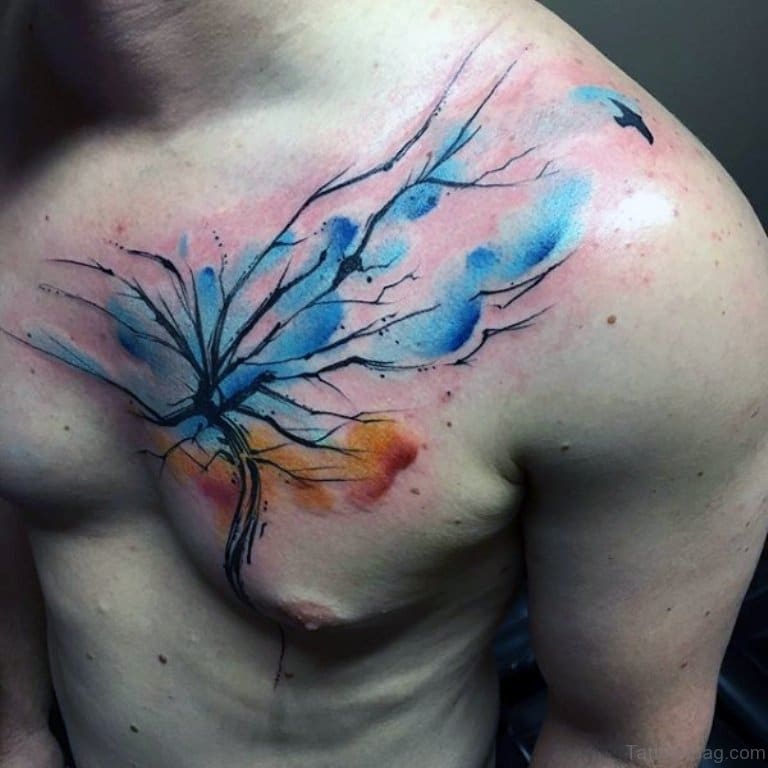 Using the fluid, organic shapes of watercolor art, this tattoo brings a splash of blue to the traditional tree design. It's a fusion of natural form with artistic flair, resulting in a vibrant and emotional representation of a tree.
Classic Tree Tattoo
Paying homage to traditional styles, this tattoo focuses on classic design elements. Whether it's a simple, black-ink outline or a more detailed rendition complete with shading, this is the ultimate choice for those seeking a timeless tree tattoo.
Abstract Tree Tattoo
This article delves into tree tattoos that defy traditional design norms by utilizing abstract shapes and patterns. Ideal for those who appreciate the avant-garde, these tattoos often blend the tree's natural form with more artistic and unconventional elements to create a wholly unique piece.
Cool Tree Chest Tattoo
Geared towards those looking for a unique twist on a classic design, this article explores variations of tree tattoos specifically for the chest area. From contemporary line work to intricate details, the focus is on making the tree design stand out as both artistic and meaningful.
Globe Tree Tattoo
This piece discusses tattoos that incorporate the image of a tree growing out of a globe or Earth. Symbolizing the interconnectedness of life and nature, this tattoo serves as a reminder of one's role in the broader ecosystem and could appeal to those concerned about environmental issues.
Tree Rib Tattoo
Located on the ribcage, these tattoos offer a more discreet option for tree imagery. Whether it's a single tree or a full forest scene, the vertical alignment along the ribcage lends a unique aspect to the tattoo's overall appearance.
Pine Tree Tattoo On Rib
Specializing in the pine tree, this article explores how the ribcage area is particularly well-suited for this slender, evergreen tree. The design often runs vertically, emphasizing the pine's height and bringing a sense of tranquility and resilience to the wearer.
Good Looking Tree Chest Tattoo
This article is for those aiming for aesthetics along with symbolism. Showcasing designs that are particularly eye-catching, the emphasis here is on artistic execution, making sure your tree tattoo is not just meaningful but also visually stunning.
Tree & Deer Skull Tattoo
Combining the vitality of a tree with the haunting image of a deer skull, this tattoo captures the cycle of life and death. Often rich in detail and symbolism, it provides a poignant exploration of nature's duality.
Palm Tree Chest Tattoo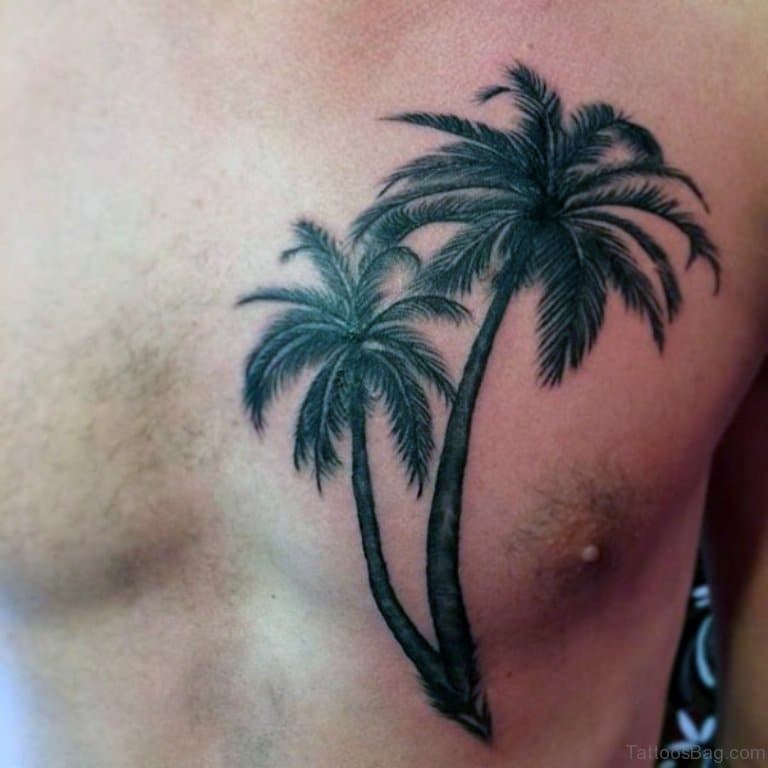 Shifting away from temperate forestry, this article focuses on the palm tree as a symbol of relaxation, summer, or even home for those from tropical regions. Positioned on the chest, it serves as a year-round reminder of sunnier days.
Heart Tree Tattoo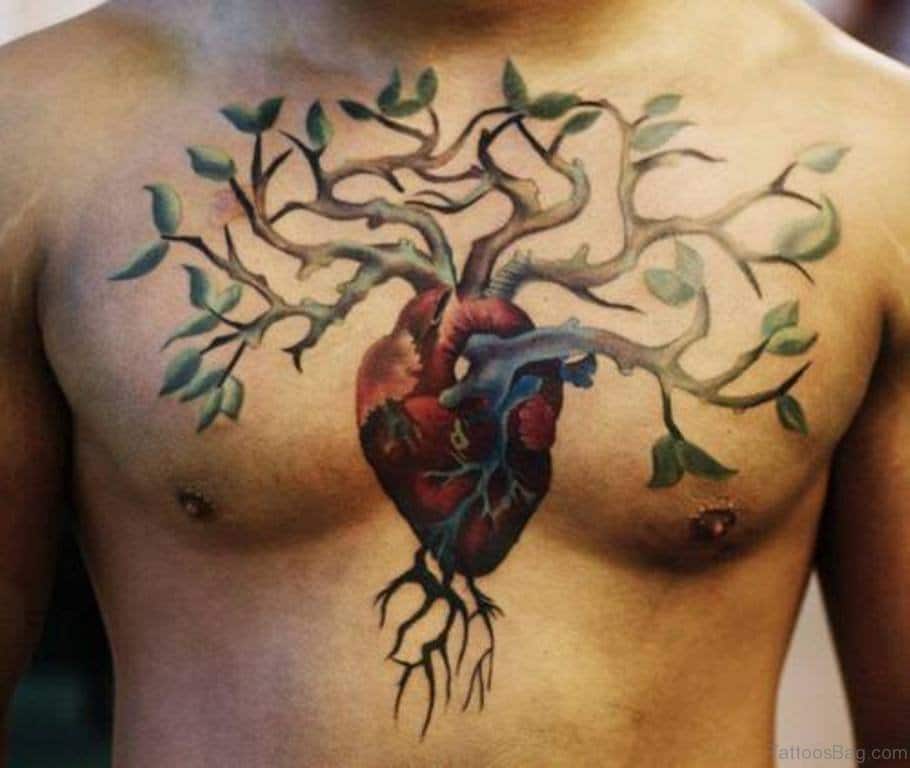 Incorporating heart imagery with a tree, this tattoo is rich in symbolism, representing love, life, and connection. The design can vary, from a tree growing out of a heart to heart-shaped leaves, making it a versatile and meaningful option.
Outline Tree Tattoo
Simplistic yet impactful, this article covers tree tattoos that are reduced to their most basic form—an outline. This minimalistic approach emphasizes the tree's essential shape, making for a clean and modern look.
Coloured Tree Chest Tattoo
Breaking away from monochrome designs, this tattoo uses color to bring added depth and dynamism to the chest area. Whether it's autumnal hues or the vibrant greens of spring, the added color imbues the design with extra layers of meaning.
Red Ink Tree Tattoo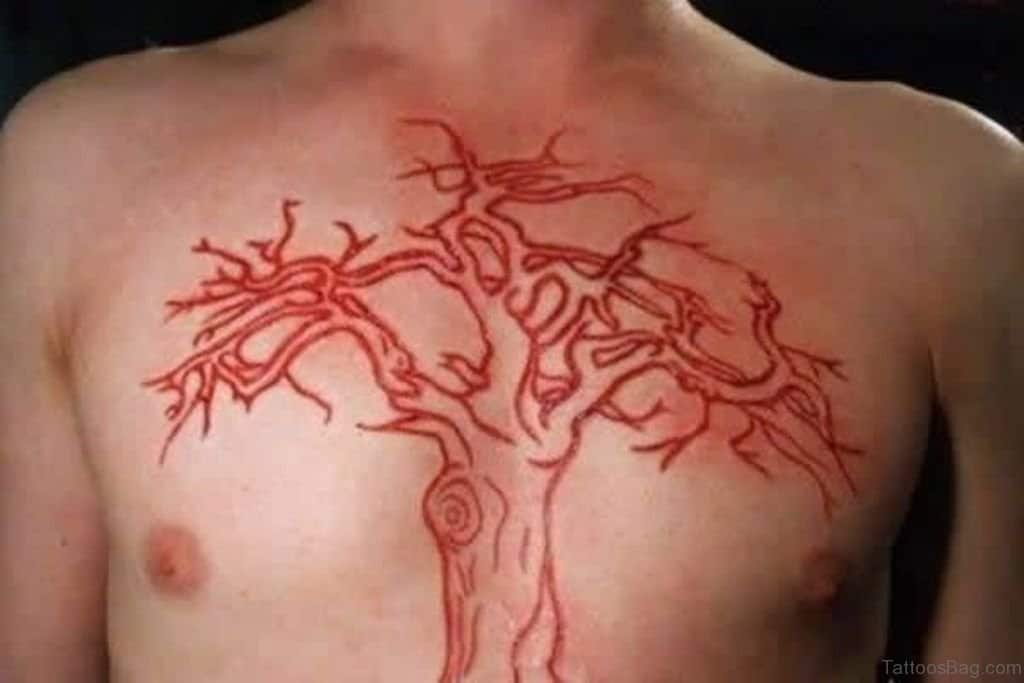 Singularly focused on the use of red ink, this tattoo can signify various things, from passion and love to danger and pain. The monochromatic red scheme offers a striking visual difference from more traditional black ink tattoos.
Hand Tree Tattoos
Despite the limited space, hand tree tattoos offer a bold statement. Whether located on the back of the hand or inside the palm, these tattoos are always visible, serving as a constant reminder of whatever the tree symbolizes for the individual.
Tree Neck Tattoos
For a less conventional placement, tree tattoos on the neck offer a blend of visibility and the option for concealment. Whether peaking out from behind a collar or fully displayed, these tattoos are a bold choice, often symbolizing deeply personal beliefs or a strong connection to nature.
What Is The Meaning Of A Tree Tattoo?
Ah, tree tattoos! They're more than just ink on skin; they're a personal emblem of life, growth, and connection to nature. Whether you go for a towering oak or a simple pine, each tree carries its own set of meanings. Got a love for family? Trees symbolize strong roots and enduring bonds. Into philosophy? They can also represent the life cycle or personal growth. From detailed forest sleeves to minimalistic outlines, there's a tree tattoo for every vibe. So, if you're looking to make a rooted statement, this could be the ink for you!
Conclusion
Alright, you've heard all about the different kinds of tree tattoos and what they could mean. Now, what's next? First, pick a skilled artist who can bring your vision to life. Remember, you get what you pay for; this is permanent art on your body, after all. Second, think about placement. Some spots hurt more than others, and depending on where you work, visible tattoos might be a no-go. Also, take your time in finalizing the design; it should resonate with you. As for risks, just like any tattoo, there's a chance of infection or allergic reaction, so make sure you follow aftercare instructions to the letter. If you've done your homework and are ready to commit, go ahead and take the plunge. A tree tattoo isn't just a cool design; it's a meaningful symbol that you'll carry with you. So why wait? Turn that inspiration into action and make your mark!
Feature Image Photo By ptakay on Instagram
Last reviewed and updated on September 27, 2023