Is a bear your spirit animal? Do you love tribal designs? Then you have stumbled across the right place. Combine your love for both into a tribal bear tattoo.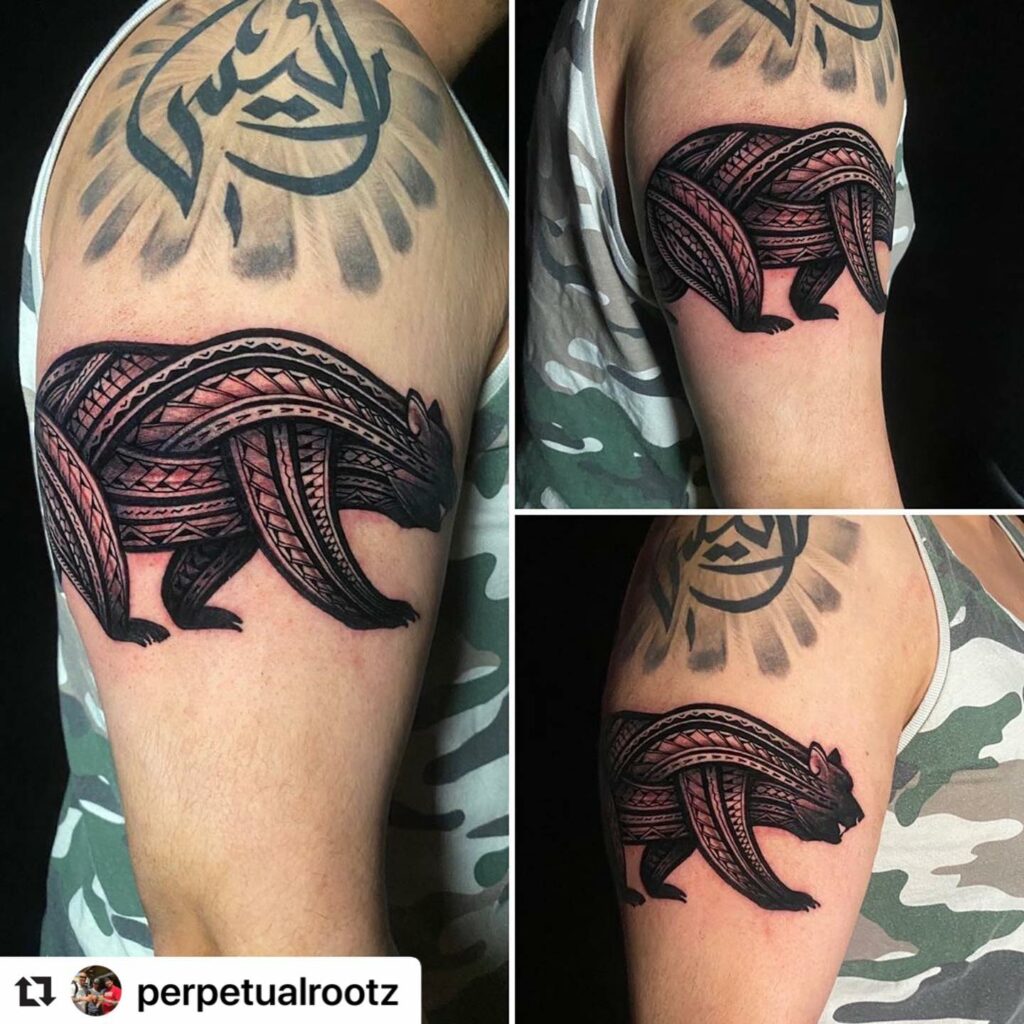 There are eight different types of bears in this world.
Bears have an excellent memory. So, even if you forget their face, they might remember yours.
Bears are extraordinary animals. Believe it or not, bears have a high intelligence quotient compared to other animals. Their navigation skills are superior to that of a human. This is why, among the many other qualities, bears are associated with wisdom as well. Because of their various qualities, bears are found as a symbol in various tribes. Native American tribes are one such example. Because of their physical strength, bears are an emblem of might for many such tribes. Depending on the tribal culture, therefore, the meaning of a tribal bear tattoo will alter. Largely, however, they symbolize courage and willpower. Besides, they are a pattern that can be rocked by men and women alike. This is why people love bear tattoos. In the complex creature that is a bear, everyone can find something that strikes a chord with them.
Bear Paw Tribal Tattoo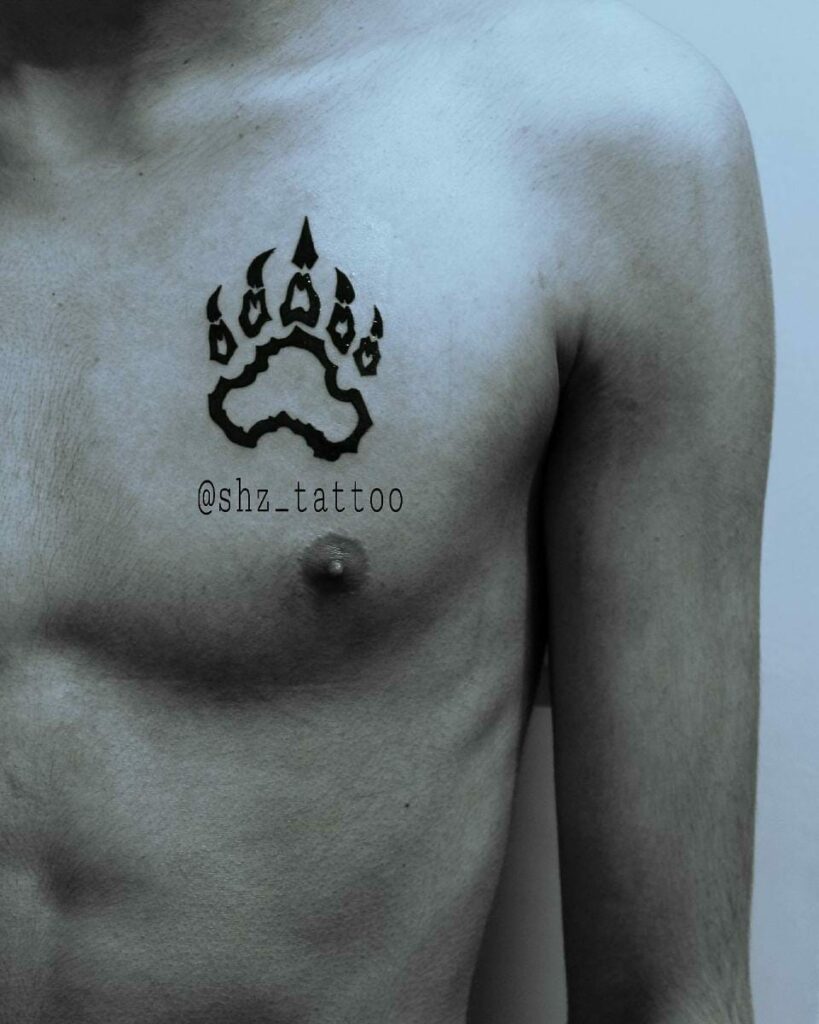 For the ones who like minimalistic tattoo designs, this tattoo is sure to steal your attention. The chest tattoo comprises the illustration of a claw. However, this claw is not painted in the traditional style. Instead, with bold and sharp strokes, it is done in the tribal pattern.
The tribal bear paw tattoo showcases the pointed and ferocious nails of the bear. It is something the bear uses to fight against enemies, being a loner. Therefore, bear paw tattoo designs are a motif for strength and fearlessness. Thus, the person with the tattoo is trying to say, how they will not be bogged down despite what hurdles life throws at them. They will claw their way out of trouble until they make it to the top. The tattoo symbolizes the resilience of the person to keep fighting despite all odds.
Viking Tribal Bear Tattoo
This is a very expressive piece. An angry bear can be seen shackled. The bear growls, its animalistic side in view. Saliva is coming out of its mouth as it appears to be in pain. The bear appears to be growing horns, in the same fashion as were part of the headgear of Vikings. While the bear is brown all over, his paw, under shackles, has turned blue. Similarly, lines of blue shade run all over the body of the bear, as was sometimes painted on the faces of Vikings. The bear has been hunted down, as indicated by the many arrows that have pierced all over its body. To make the tattoo pop more, yellow leaves have been added to the tattoo design, which reminds us of a forest.
Bears are known for their independence of spirit. Vikings being a warrior tribe, this tattoo hints how this person's spirit is getting chained by various forces, and they continue to fight against it, no matter how bruised they get. Keep in mind, that it is. not an easy piece to ink. So, you should get the best tattoo artist for your appointment.
Pride Tribal Bear Tattoo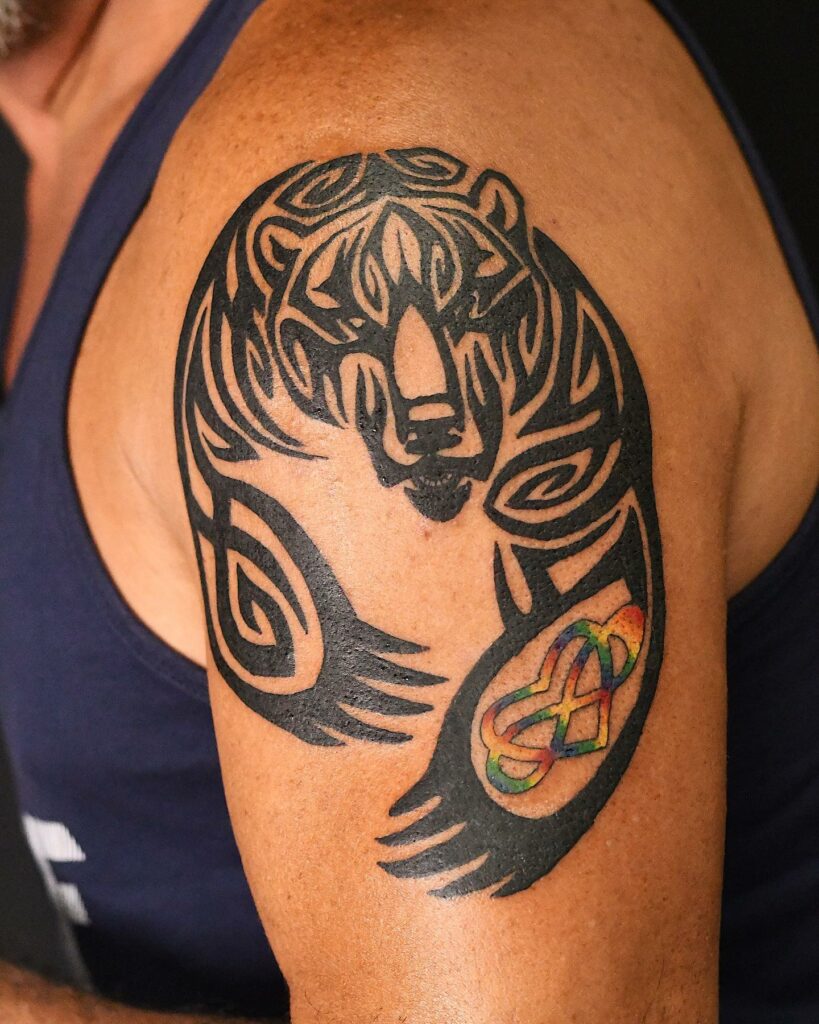 This tribal bear tattoo comes with a little hidden message nestled into the body of the bear. On the shoulder tattoo, a bear seems to be approaching closer, walking on all fours. The entire piece is completed with black ink except for one area. On one of the arms of the bear, a bright rainbow-colored sign can be seen. The symbol consists of a heart with an infinity logo interlinked to it.
The LGBTQ community had to tenaciously fight for their rights just like a bear, and that is what this illustration celebrates. It hints at how love is love, no matter in what shape or form. So, if you are loud and proud of who you are, this tattoo is created for you.
Polynesian Tribal Bear Tattoo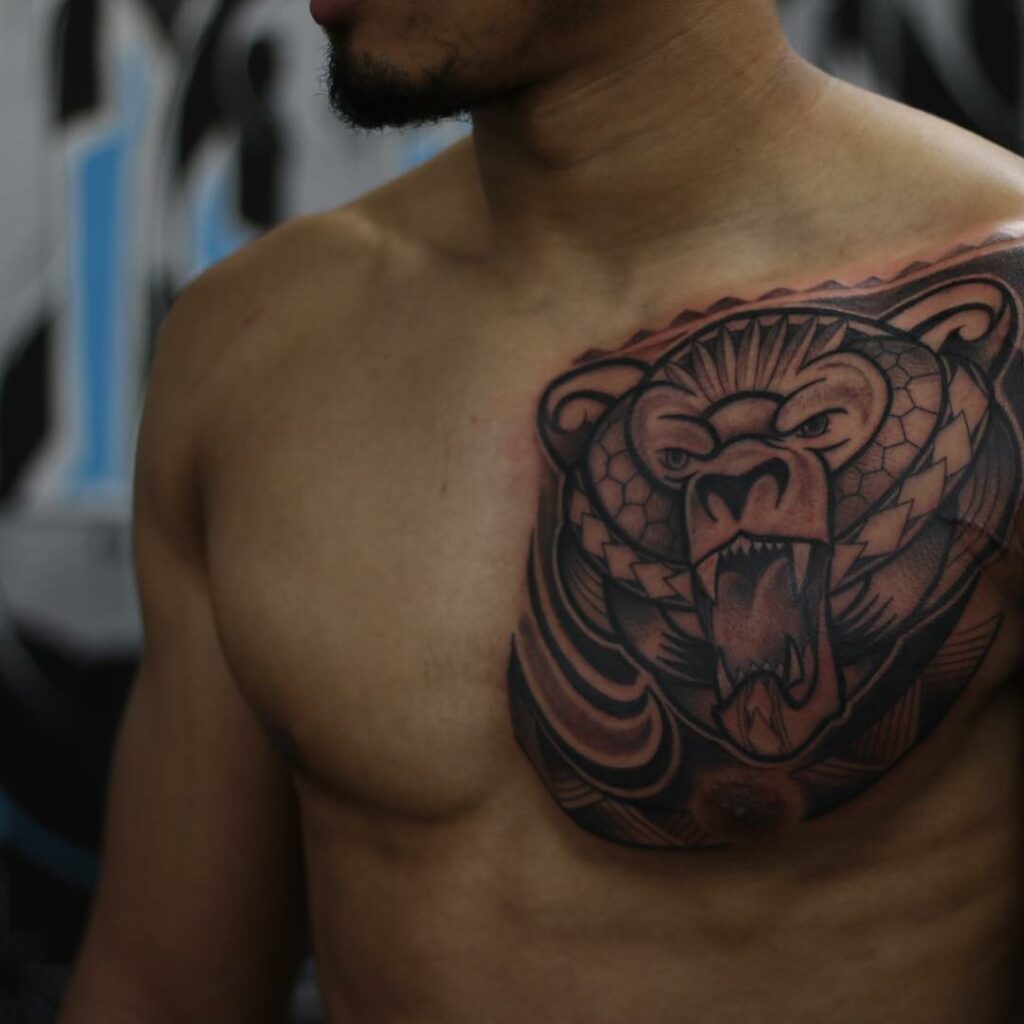 This chest tribal tattoo is that of a bear head. The bear looks fierce, with its fangs out. Instead of a typical head, the shape of the bear head is constructed with various tribal tattoo designs inspired by the Polynesian tattoo style. Among the shapes, each symbol has a separate meaning. At a glance, shark teeth and spearhead patterns are evident.
The shark teeth, a symbol of adaptability, are a sign that the person is ready to face any adversity thrown in their face. Moreover, the spearhead indicates a warrior nature, thereby perfectly aligning with the rest of the tattoo. This is a fighter who refuses to give up. A bear skull is revered as a sacred animal in Native American tribes. Hence, a bear head will be a show of respect for these gentle creatures for protection.
Tribal Panda Head Tattoo
We love how this tattoo combines a cute panda with the concept of ethereal beauty. The inspiration for this tattoo design is the Maori tattoo style. With the deft usage of shading, depth has been added to the illustration. Ocean and spearhead drawings are present on the head. Along with that, the illustration also sports flower of Life tattoo designs. This dainty design will be great for a girl.
The ocean is used to represent the ever-changing life. The brave individual sails through the tumultuous seas of life like a warrior, as symbolized by the spearhead. Ocean also points out where one voyages after death, namely, the spiritual world. The symbolism is complete with the flower of life tattoo designs, which stand for the cycle of life.
Conjugation of Tribes Bear Tattoo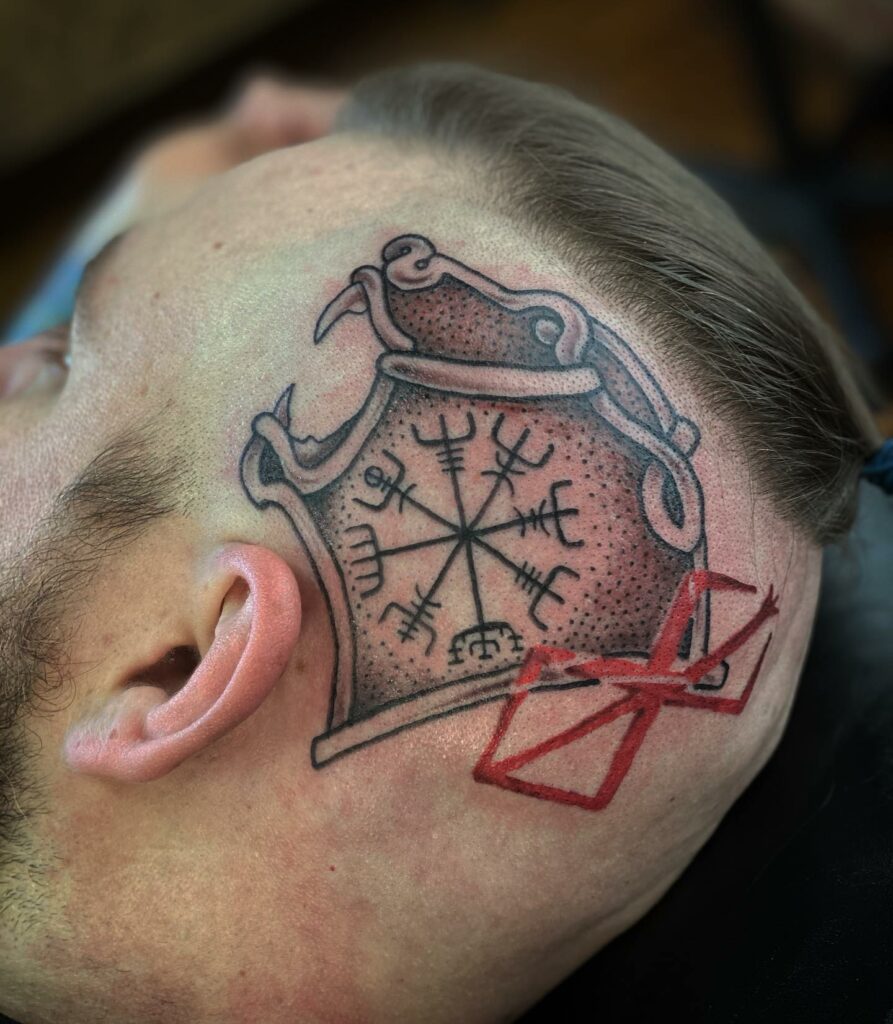 The inspiration for this grizzly bear tattoo comes from two different tribes, the Celtic and the Norse. The head looks like it is created with metal knotted together, knots being a common Celtic tattoo design. There is a Norse Vegvisir symbol on the side of the head along with a Yr symbol. Interestingly, the site for this tattoo is also someone's head.
Vegvisir is supposed to provide guidance, while Yr is a motif for peace. In the Norse culture, wearing a bear head was supposed to transfer the characteristics, or more specifically, the power of the animal, onto the wearer. So, the illustrations together hint at a person who is still in search of their path in life.
Spirit of Nature Tribal Bear Tattoo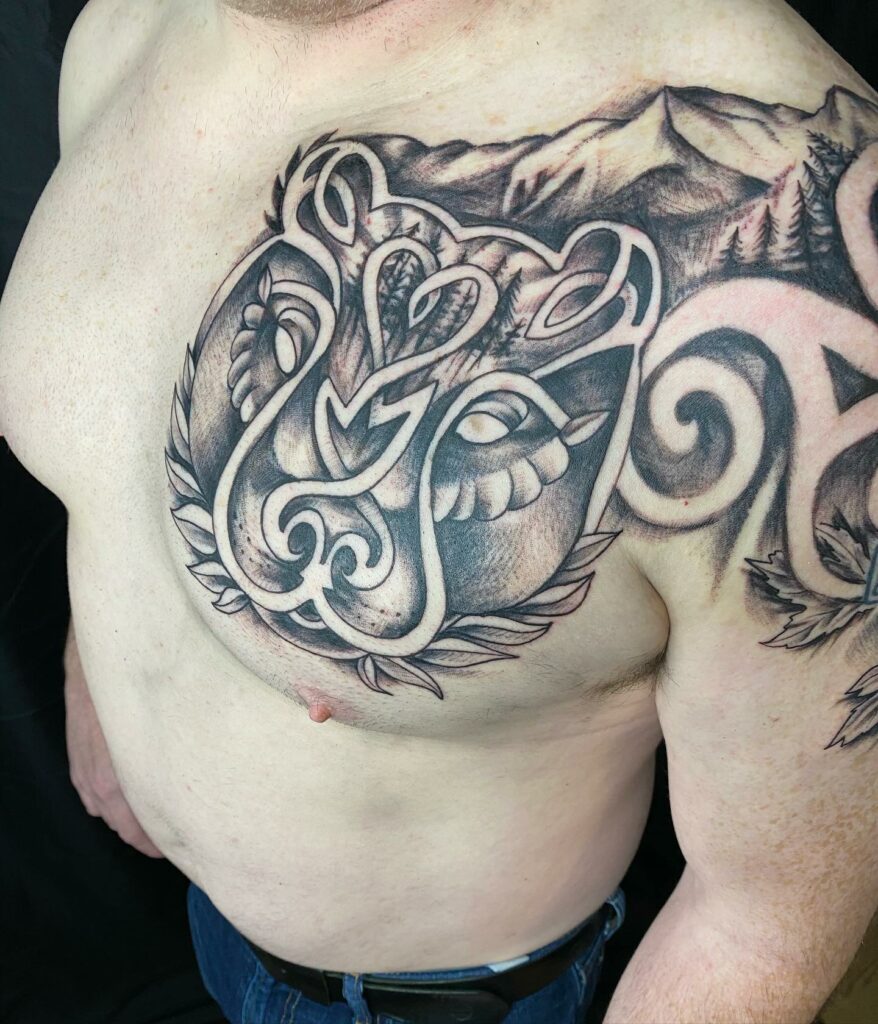 This cool chest illustration has enamored us with its layered drawing and symbolism. The face of a bear can be identified, which is given shape with Celtic symbols. Inside the bear, there is an illustration of an entire landscape. In the background of the tattoo design, mountain peaks can be seen, with conifer trees spread over the land. Not only does it make for an eye treat, but the tribal bear tattoo also sends a meaningful message.
For the Celts, a bear was like a mother spirit who could get like a wild animal to protect her young ones. Here, that spirit is Mother Nature herself. The wearer indicates how we all should try to protect the earth since we only have one planet, so as not to poke the bear, if you know what we mean.
Brown Bear Tattoo Tribal
The shape is of a brown bear, but it is a black bear tattoo as far as ink goes. The Polynesian style illustration is filled with native symbols. Apart from the common shark teeth, tiki eyes can also be found in this tattoo.
The wearer of this tattoo got this inked as a celebration of his Native American roots, as well as the love for his Aina, which is the land which they are deeply connected with. Tiki eyes represent someone who is a semi-god. Here, the person is taking pride in their heritage, filled with ancestors of great courage and power similar to the gods.
Shoulder Grizzly Bear Tribal Tattoo
The site for this tattoo spreads from the shoulder to the chest. Polynesian tattoo shapes can be interpreted into many ideas leading to their popularity. In this illustration, we can see all the typical symbols from Enata, ocean waves, Tiki eyes, shark teeth, and spearhead.
The tattoo shows the philosophy of life the person believes in. Grizzly bears in Native American tribes were believed to be spirits that guide souls to the afterlife. With bravery and wisdom indicated by the shark teeth and spearhead, the person is wading through the waves of life, one step at a time. The Enata symbolizes the relationships they make along the way as they find their definition of life.
Viking Bear Claw Tattoo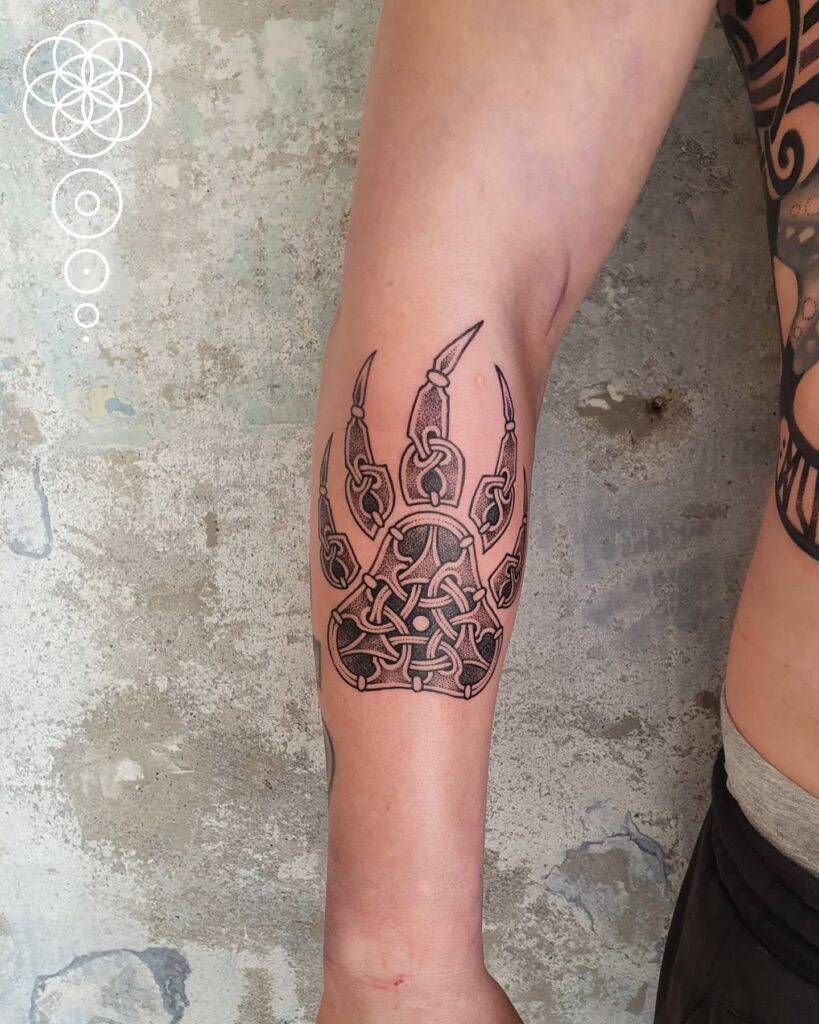 If you were looking for inconspicuous tribal bear tattoo ideas, this one might be for you. Instead of the animal, the tattoo just consists of a claw. Viking symbols were used to designate certain qualities, the bear claw being one of the most dangerous. The claw looks as if it is made of metallic knots decorated in an eye-catching design.
Bear claws were given to warriors who would be ready to fight even in the face of death, speaking of their unpredictability and fierce determination to win a battle. Hence, the person with this tattoo wishes to have the same spirit as they face every hardship in life.
In many tribes, tattoos could be inked only as a badge of honor after being a participant in a battle. However, you are free to get as many as you like. Whether it is a grizzly bear or a teddy bear, you are sure to find one that speaks to your soul.
Still looking for inspiration, then checkout this blog post about bear tattoo ideas
feature image from Pinterest – Want your tattoo to look brighter? Try "Tattoo Balm"
Last reviewed and updated on November 20, 2023