Are you interested to see some unique collections of tribal butterfly tattoo design? Then please search here and get unique types of butterfly tattoos.
Generally, tribal tattoos symbolize the meaning of the roots of life.
A tribal butterfly tattoo is one of the most interesting and attractive tribal tattoos. Nowadays, the young generation, both men and women, demand to get different types of tribal butterfly tattoos.
Through a tattoo on your body, you can express your feelings and thoughts. A tattoo may be a sign of your personality. It represents a situation that you are spending or have spent. Butterfly tattoo design is very popular, especially among girls. Getting a butterfly tattoo means being full of happiness that you want to show to others. A butterfly tattoo represents a fresh day or a new journey, and no war is there. Butterfly tattoo designs always give a great feeling and make your mind happy. The first question that arises in people's minds is, "what does the tribal tattoo butterfly mean?" A tribal butterfly tattoo looks slightly different from a normal butterfly tattoo art. A tribal butterfly tattoo design creates a sign of significant change that happens as your life moves forward. On the other hand, a tribal butterfly tattoo is also related to hope, love and femininity.
Polynesian Tribal Butterfly Tattoo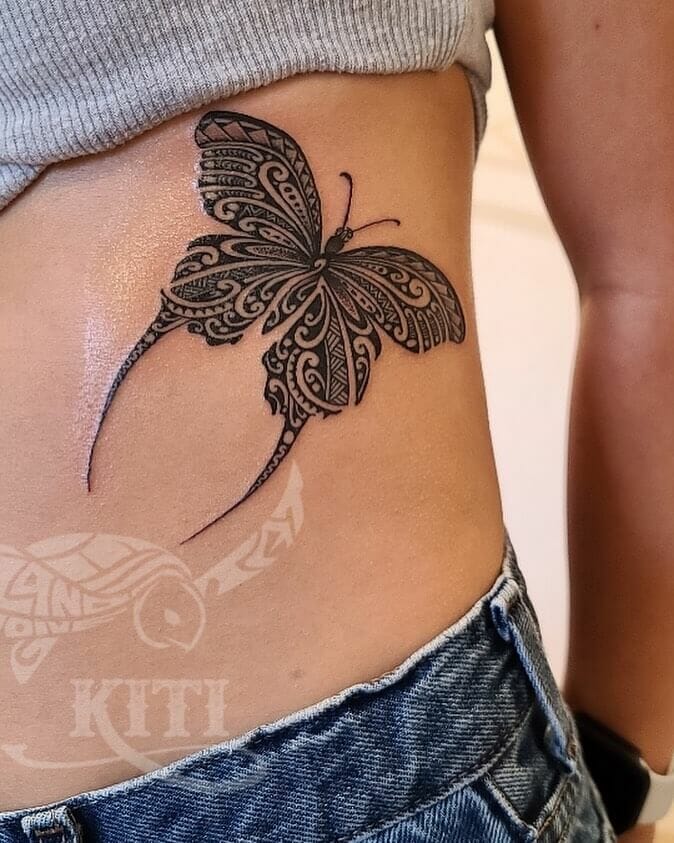 Getting a Polynesian tribal butterfly tattoo is one of the greatest ideas for women.
This tattoo art looks amazing and will definitely snatch everyone's attraction once made properly. A Polynesian butterfly tattoo symbolizes strength. This type of tribal butterfly tattoo meaning is connected with all cultures. It looks dark and gorgeous and can express your power and strength to protect yourself and your family. A Polynesian tribal butterfly tattoo seems to describe your own story, your struggle to save your people and make your career.
Pink Tribal Butterfly Tattoo Design
This is one of the most beautiful pink-colored butterfly tattoo designs for girls.
We all know that butterfly tattoos symbolize love and beauty. This cute art of butterfly tattoo looks stunning on the body. This art is designed with stars and looks like a cyber tribal tattoo design. It also represents your strength to work hard. It is a sign of your power to fight against any evil situation. On the other hand, a tribal butterfly tattoo design like this art is also connected with femininity that defines a woman's power.
Simple Black Butterfly Hand Tattoo
This is a very simple and sober butterfly tattoo that is very suitable for a sleeve tattoo as well as a forearm tattoo.
These types of tribal tattoos simply mean a peaceful life and a beauty that fluctuates as your life moves forward. This simple art can be a sign of both your happiness and unhappiness. This is one of the most common butterfly hand tattoos in this new era. These types of tribal tattoos can also be drawn in small sizes on the neck and will look equally attractive.
Cute Black Feminine Tribal Butterfly Tattoo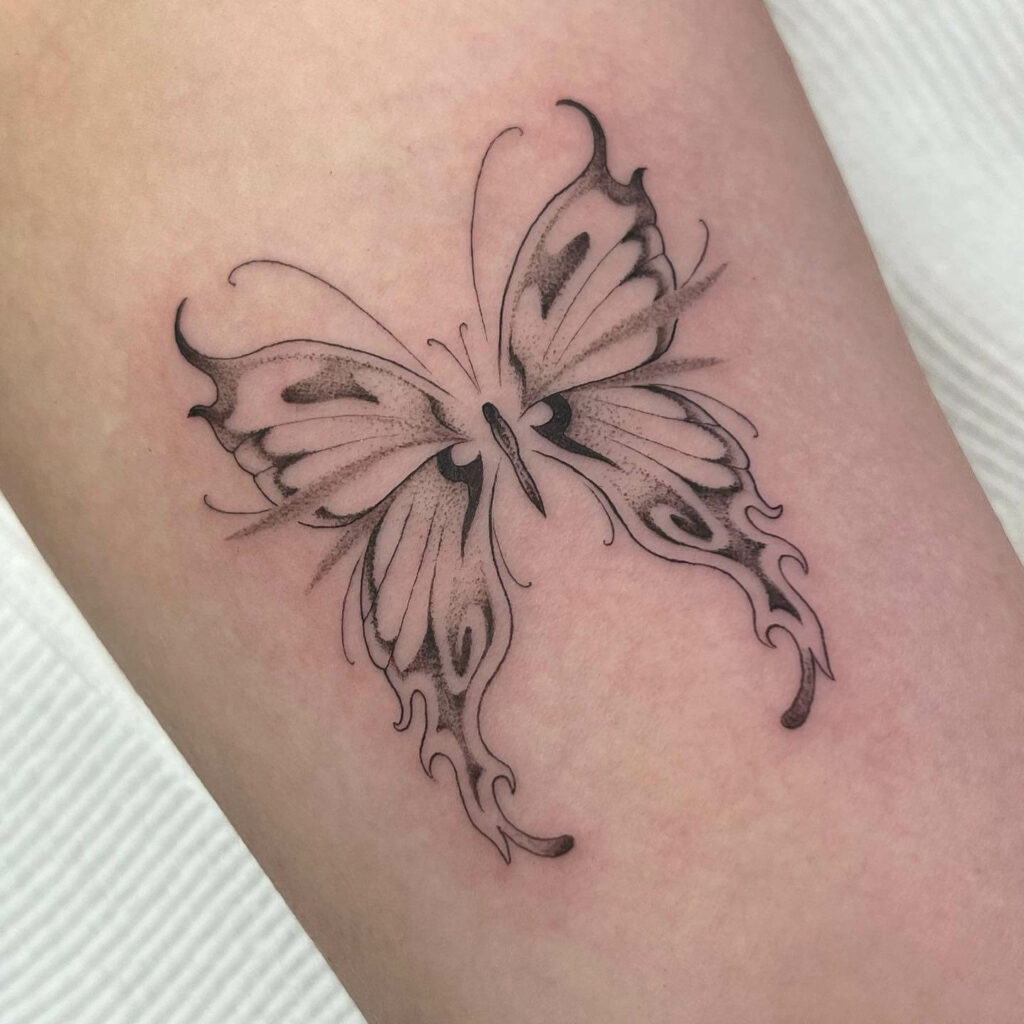 Look at the art of this butterfly tattoo. It is an amazing design that will definitely give you a great feeling after inking this tattoo properly.
These types of beautiful tribal tattoos carry the symbol of a new life or a new beginning with hope and happiness. You can get these types of cute butterfly tattoos on the occasion of your birthday or your baby's birthday.
Fine Line Tribal Tattoo Of A Butterfly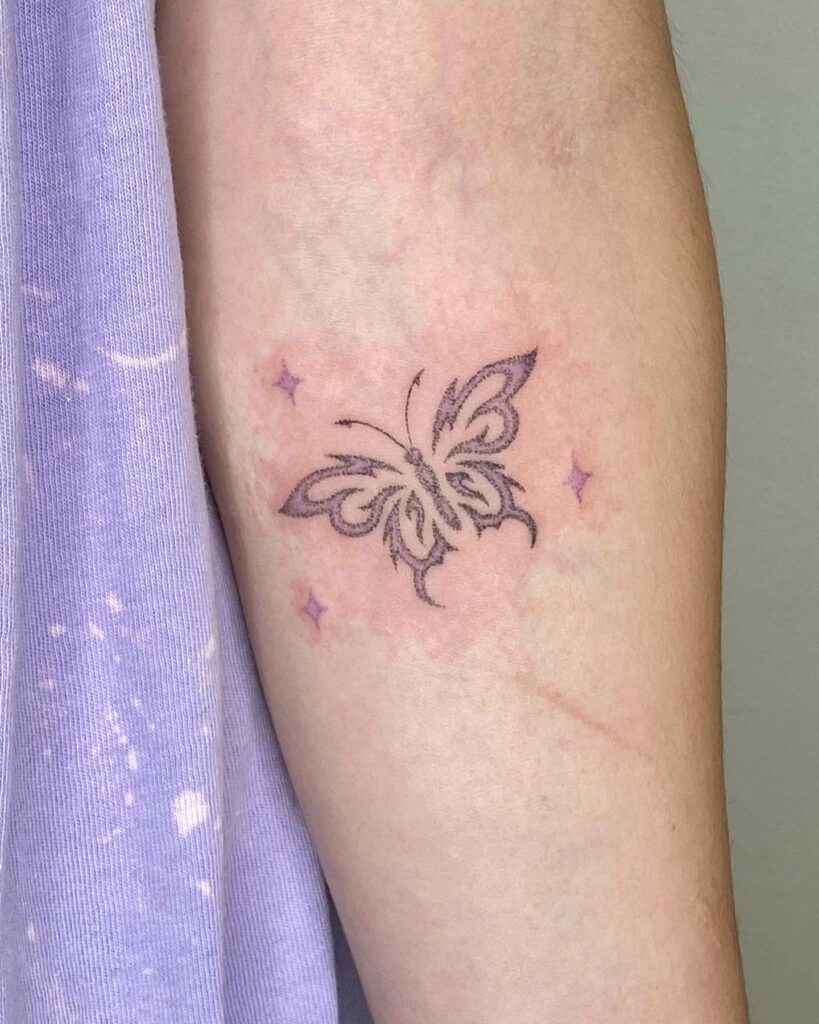 Look at the color of this beautiful tattoo. This style is one of the most unique tribal tattoos in the tattoo world.
The color of this butterfly tattoo is light purple, and the light purple color looks really amazing, especially in the case of a butterfly tattoo. After drawing this tattoo art, it will remind you of any beautiful memory or time you spent. You can also get these types of colorful tribal butterfly tattoos on any special occasion like your birthday or anniversary. This wonderful design expresses your love for your people. These types of cute butterfly tattoos can represent your personality and your gentle behavior.
Ornamental Butterfly Tattoo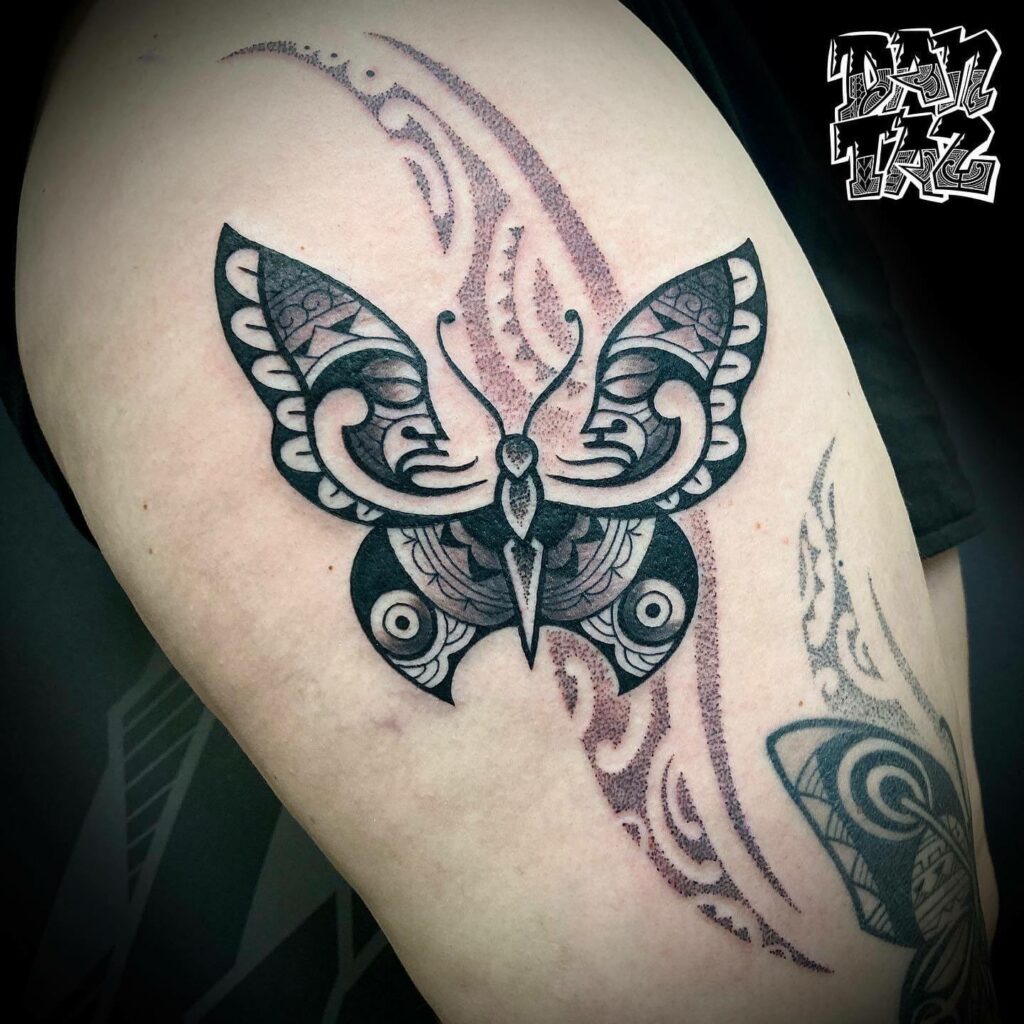 This unique style of tribal tattoo is rarely seen because it is tough to draw a butterfly like this.
These types of tribal butterfly tattoos are drawn in ornamental art. Having a tattoo like these types of butterfly tattoos connects with your mentality. This art represents the good things that you think for your people. Having this butterfly tattoo will make you feel that you are carrying a piece of art that can speak your mind. You can get these types of tribal butterfly tattoos on the shoulder blade or on the sleeve where it looks gorgeous.
Cyber Tribal Butterfly Tattoo
This is also a unique design of a butterfly tattoo in the art of two people.
Looking at the art, it can be understood that this wonderful design of tribal butterfly tattoo symbolizes the never-ending love and relation between two people or between two lovers. We all know that butterflies are a sign of love and happiness in life. In addition, these types of tribal butterfly tattoos represent the strong relationship between two people or a couple that cannot be broken whether they are alive or after death. It is one of the best tribal butterfly tattoos for celebrating a marriage anniversary.
Organic Tattoo Of Tribal Butterfly
This tribal butterfly tattoo design is drawn in an organic way that looks like an organic tattoo.
These types of amazing butterfly designs are always a notable sign of struggle in life. This design can be connected with both good times and bad times that you face as your life moves forward. After making this tattoo art, it will remind you of the hard work you have done. Not only hard work but also this amazing butterfly tattoo design will remind you of your achievement or success in your life. So, you can get this tattoo to celebrate your success. On the other hand, you can get this tattoo to express your pain and your struggle. It will be more real if you ask the artist to write a few lines that express your feelings.
Small Vector Butterfly Tattoo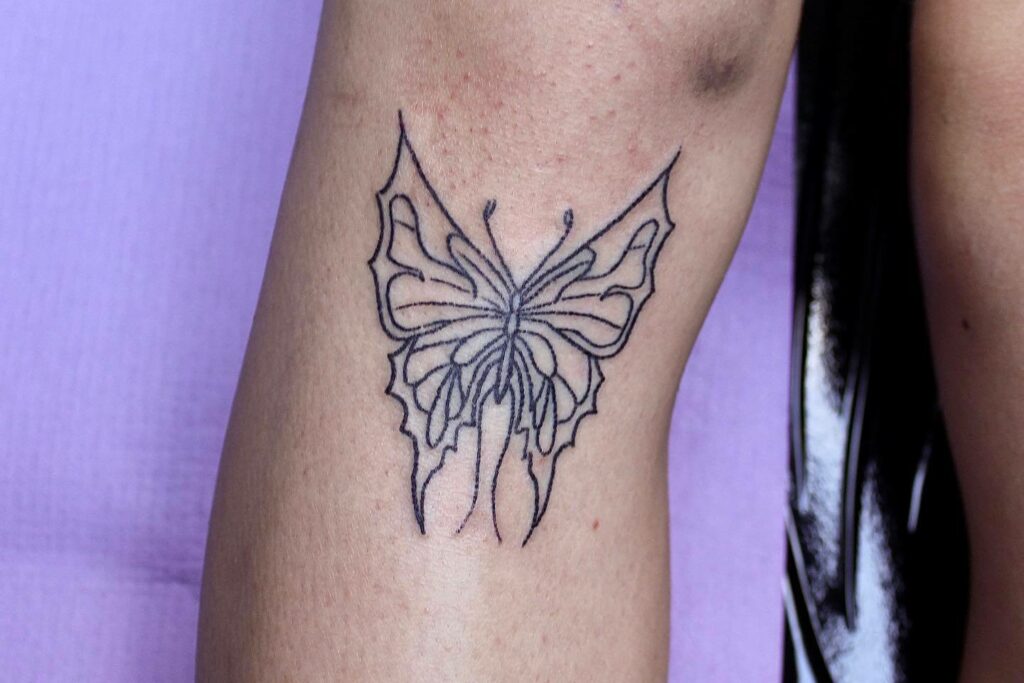 This design of butterfly tribal tattoo is very common and very easy to draw.
This tribal butterfly tattoo sign also expresses the changes in your life. This art is connected with your current situation. This tribal art symbolizes how you think about the future. These types of small tribal butterfly tattoos can be connected with your thoughts for your people. This art is in demand among young girls. If you want to get a neck tattoo, you can ask the tattoo artist to draw this wonderful art of tribal tattoo. Moreover, this design is also perfect for a wrist tattoo.
Big Dark Tribal Butterfly Tattoo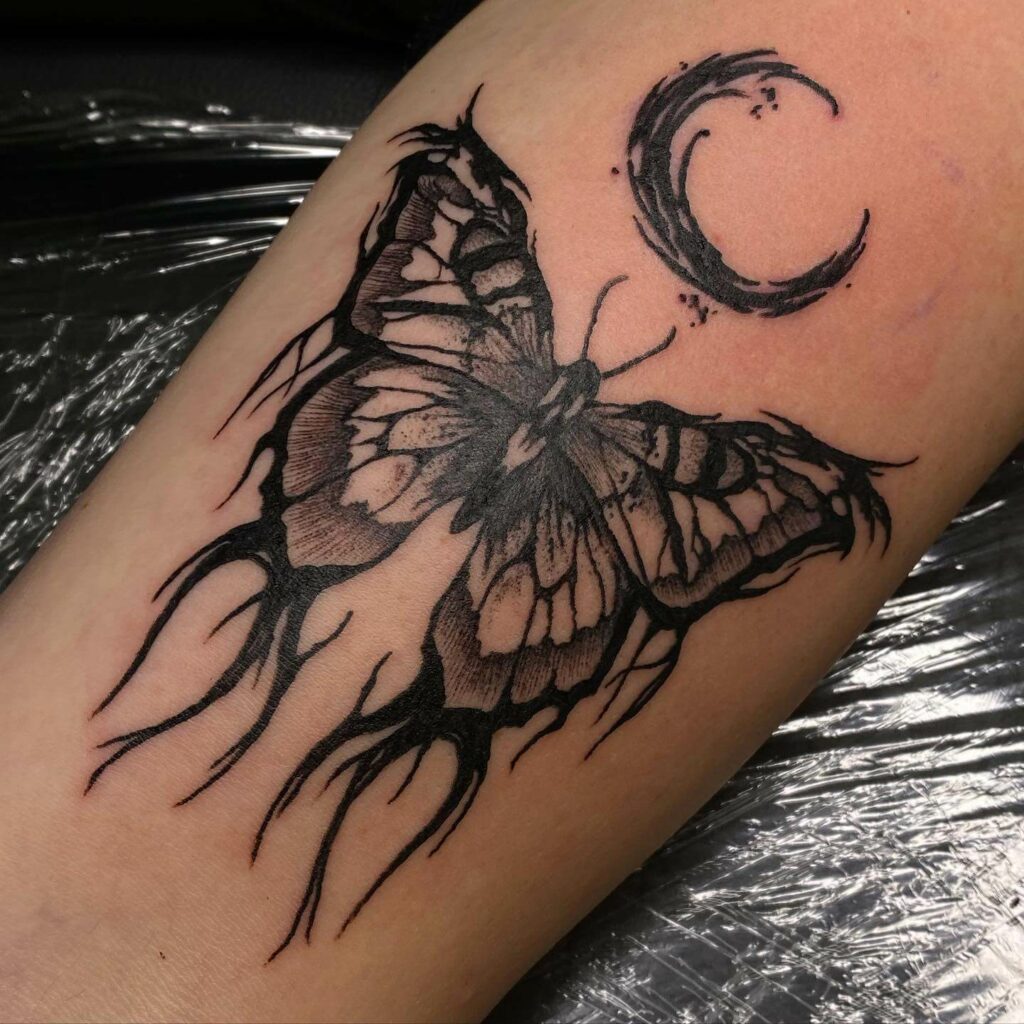 This butterfly tattoo is dark and very attractive. Looking at the design, it seems that this art is a mix of butterflies and moths.
This is a very uniquely styled butterfly tattoo with a dark moon that represents the night. It looks like a horror atmosphere. As the size of these types of tribal butterfly tattoos is large, that's why it looks suitable on the forearm and on the shoulder blade. The major thing about this art is its black shade that can be made perfectly by the tattoo artist. The person who loves to watch horror movies and who loves to read horror stories can get this designed butterfly tattoo in vibe with their liking for the genre. In addition, you can get this tattoo on the occasion of Halloween. Moreover, you can ask the tattoo artist to write some lines of your favorite from the horror story with this tribal butterfly tattoo that will make this tattoo more attractive.
Tribal butterfly tattoo designs are very popular and look stunning if the art can be made in a perfect way.
Making a butterfly tattoo or tribal butterfly tattoo is not so easy. Hence, you must be sure that the tattoo artist will be able to draw the art as per your demand. The cost of making tribal butterfly tattoo designs depends on the art that you choose. Having a tribal butterfly tattoo can be connected with all factors that are interrelated with each moment of your life. A tribal butterfly tattoo really looks beautiful and very cute. It is a very sober design for girls.
Feature Image from Pinterest – Want your tattoo to look brighter? Try "Tattoo Balm"