Are you looking to get yourself inked with a tribal dragon tattoo? Check out these tribal dragon tattoo ideas and designs below!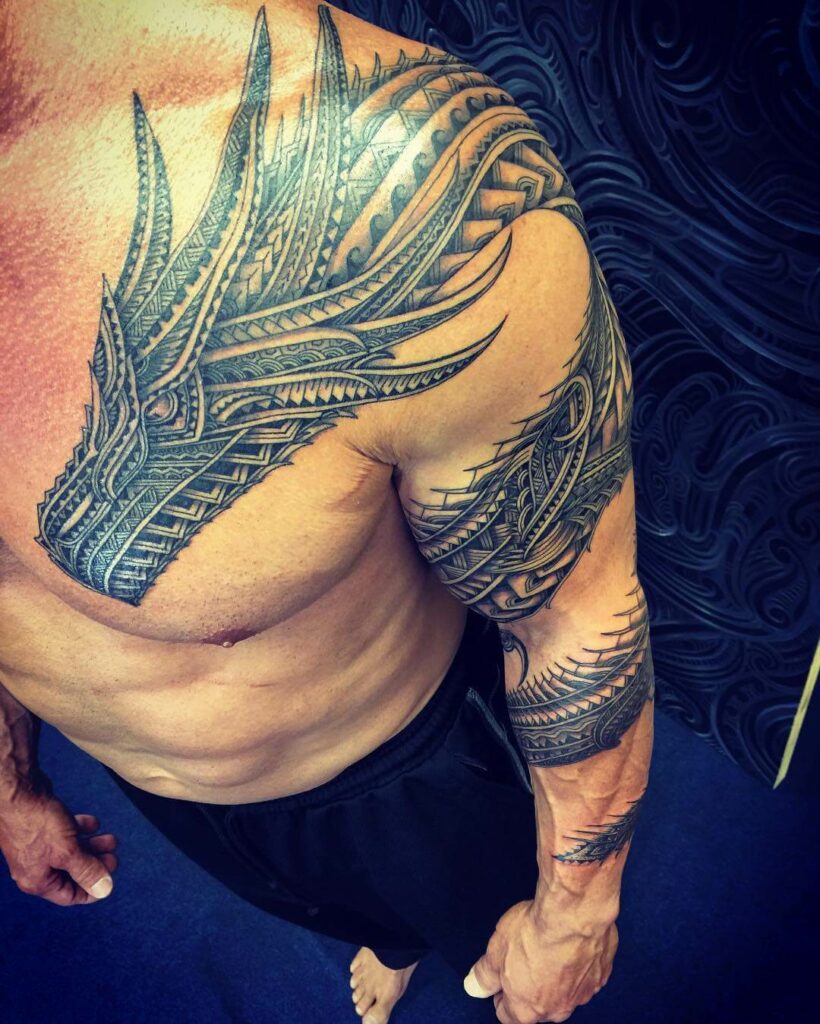 Tribal tattoo designs are one of the most popular tattoos in today's times.
Dragon tattoos symbols strength, intelligence and courage.
Tribal tattoos hold great importance among tribes. They represent the tribal culture and heritage. They tell us about the essential elements of the specific tribe. When we look at dragons, they are considered legendary creatures that have marked their presence in multiple civilizations throughout the world in literature and culture. The meaning or mythology of dragons changes from culture to culture. Dragons represent strength, courage, intelligence, and grace. Combine a dragon tattoo with tribal ideas, and you will have a one-eye-catching tattoo. A simple tribal dragon tattoo stands as a symbol for strength and balance, and these tribal dragon tattoos can feature incredible designs with the addition of multiple elements from nature. You might wonder, can getting these tribal dragon tattoos cost you a lot of money? They are not that expensive but will require an experienced tattoo artist because of the complicated designs.
If you want a tribal dragon tattoo sleeve, tribal dragon chest tattoo, or other tribal dragon tattoos, check out these designs below and choose a plan that suits your taste!
Tribal Dragon Tattoo On Arm
This dragon tribal tattoo offers a lot of patterns with the addition of the eternal glory of the legendary creature, the dragon. The tribal customs are one of the essential parts of the tribal culture. In this tattoo, we can see the entire body of the dragon inked as an arm tattoo sleeve. In Celtic cultures, dragons are seen as the creatures that will hold the secrets and knowledge of the entire universe. Thus they are regarded as the all-knowing creature. The dragon in this culture is also seen as a creature that will hold power over all the animals and will stand as a symbol of peace not danger and will travel through the universe to maintain the same. Those interested in this tribal dragon tattoo design can take the help of a tattoo artist who has enough ink experience with this kind of dragon tribal tattoo according to their preferences.
The Dragon King Tattoo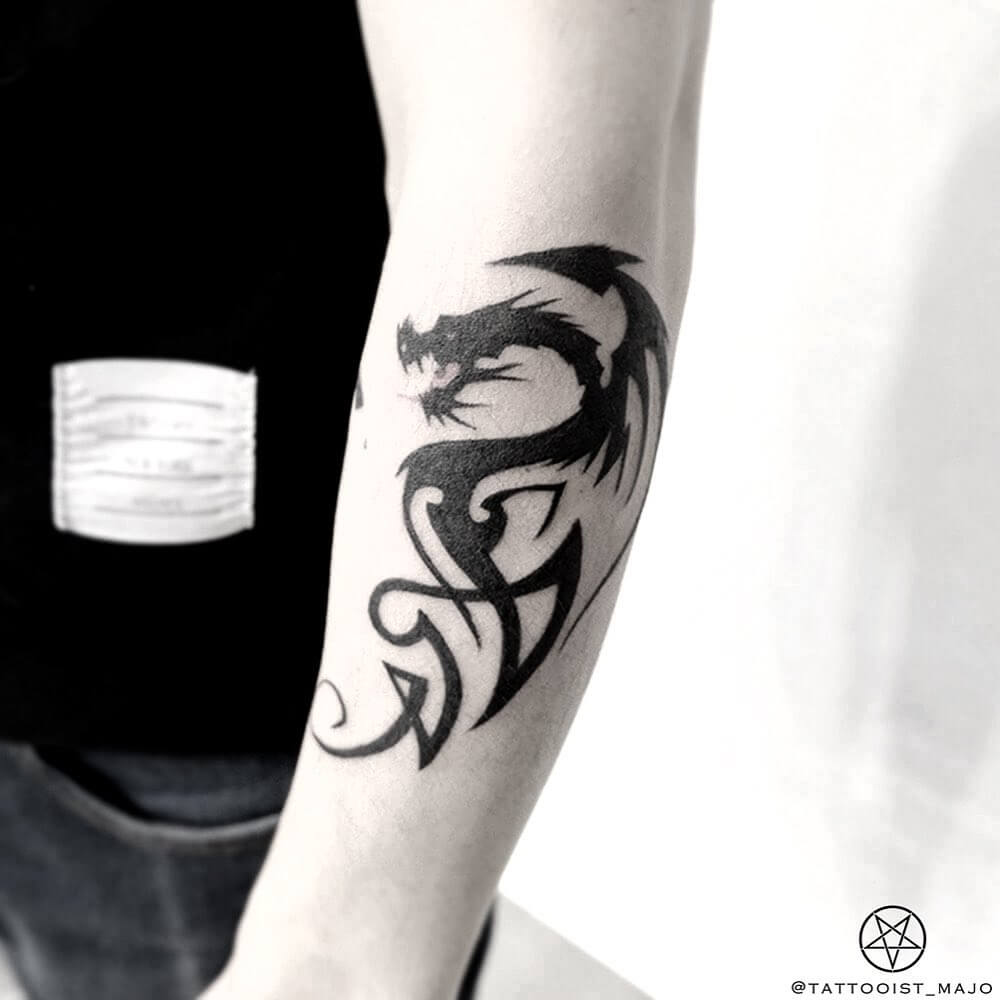 This is another popular dragon tattoo that you may have seen at your local gym, shopping places, or someone at your home might have this exact tribal dragon tattoo. Dragons are given a lot of importance in a Chinese home; they are symbolic creatures of their culture. They take care while maintaining the image of their cultural symbol. Unlike western dragons, Chinese cultures depict dragons with the add-on of 4 legs and a serpent-like body. Those interested in this tribal dragon tattoo design can take the help of a tattoo artist who has a lot of experience working with tribal dragon tattoos. You can carry this dragon tattoo on the forearm, upper arm or back as well.
Yin Yang Tattoo With Dragons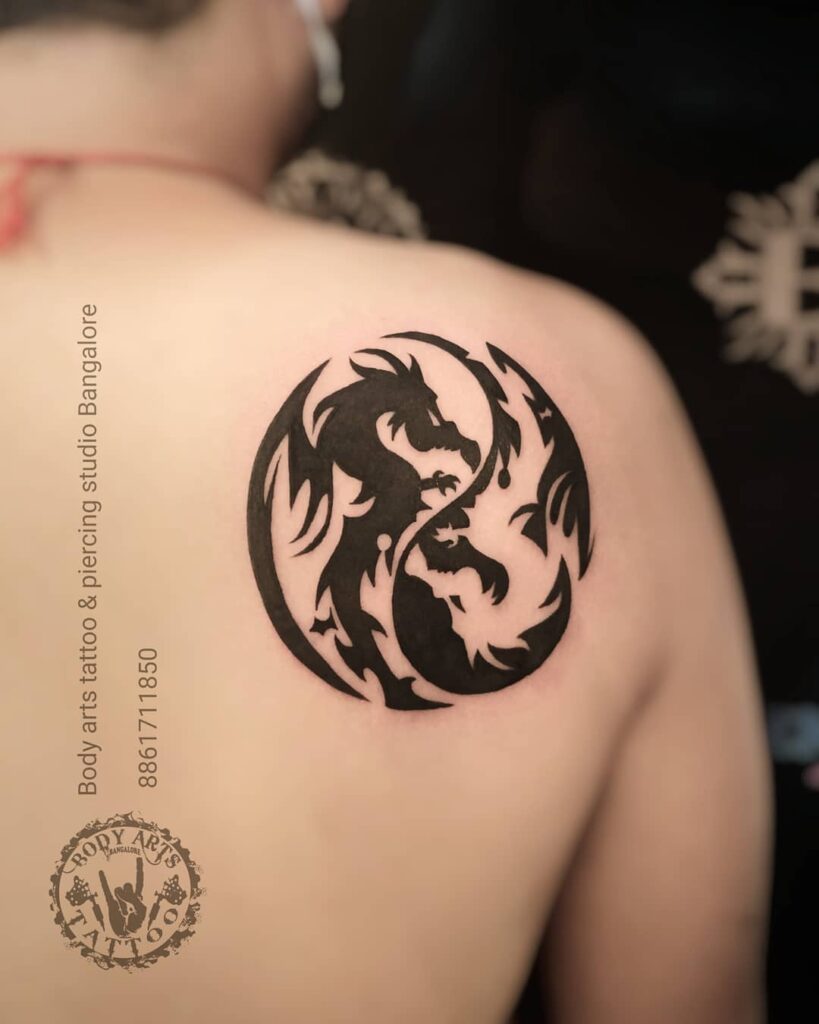 This tribal dragon tattoo bases itself on the concept of yin and yang, which is an essential element of Chinese culture. According to the idea of yin and yang, the entire universe is made up of two forces dark and light, sun and moon, male and female. In this tattoo design, the artist takes the help of a dark swirl to feature shadows and femininity. The yang part, with the swirl, sets the idea of brightness, growth, and passion. The way the concept of yin and yang has been added with the tribal dragon tattoo talks about the level of experience the tattoo artist has. If you want to add more elements from Chinese culture, you find more Chinese culture icons and symbols online, which you can add to this tribal tattoo design. The perfect site for this type of dragon tattoo on your body will be on your arms, legs, back, or chest.
Fusion Tribal Dragon Tattoo
You will find this tribal dragon tattoo design quite different from other kinds of dragon tattoo designs you are used to seeing at your gym, shops, and other public places. The play behind this dragon tribal tattoo is combining an average tribal dragon tattoo with a trash polka tattoo style, creating a dragon tribal tattoo with color and clashing elements. In the tattoo world of today's time, polka trash tattoos are being hyped by everyone. A unique thing about polka trash tattoos is that people do not know what has been created on the skin. These tattoos are made with just red and black ink, just like the one shown in the image above. Creating this kind of tattoo is for an experienced tattoo artist, and the ideal site on your body for this dragon tribal tattoo is on your arms or legs. It is not a small tattoo like others.
Dragon Tattoo In Celtic Cultures
One will never find themselves going wrong while getting inked with a powerful and dangerous-looking tribal dragon tattoo. According to Celtic mythology, dragons are viewed on the same level as the gods. They stand by the gods and share the same great power held by them. You can see the traces of dragons in the Celtic culture's architecture, logos, flag, artwork, and other items. It was only after the coming of Christianity that dragons were started to be looked upon as a threat, creatures that are in real danger bringing death and only living to ruin the future of other beings of this world. There are multiple ways to make changes to this tribal dragon tattoo and add more of your twist. You can search more categories of a dragon tattoo, tribal or modern or abstract and more designs of eternal creatures as per your preference.
The Majestic Beast Tribal Tattoo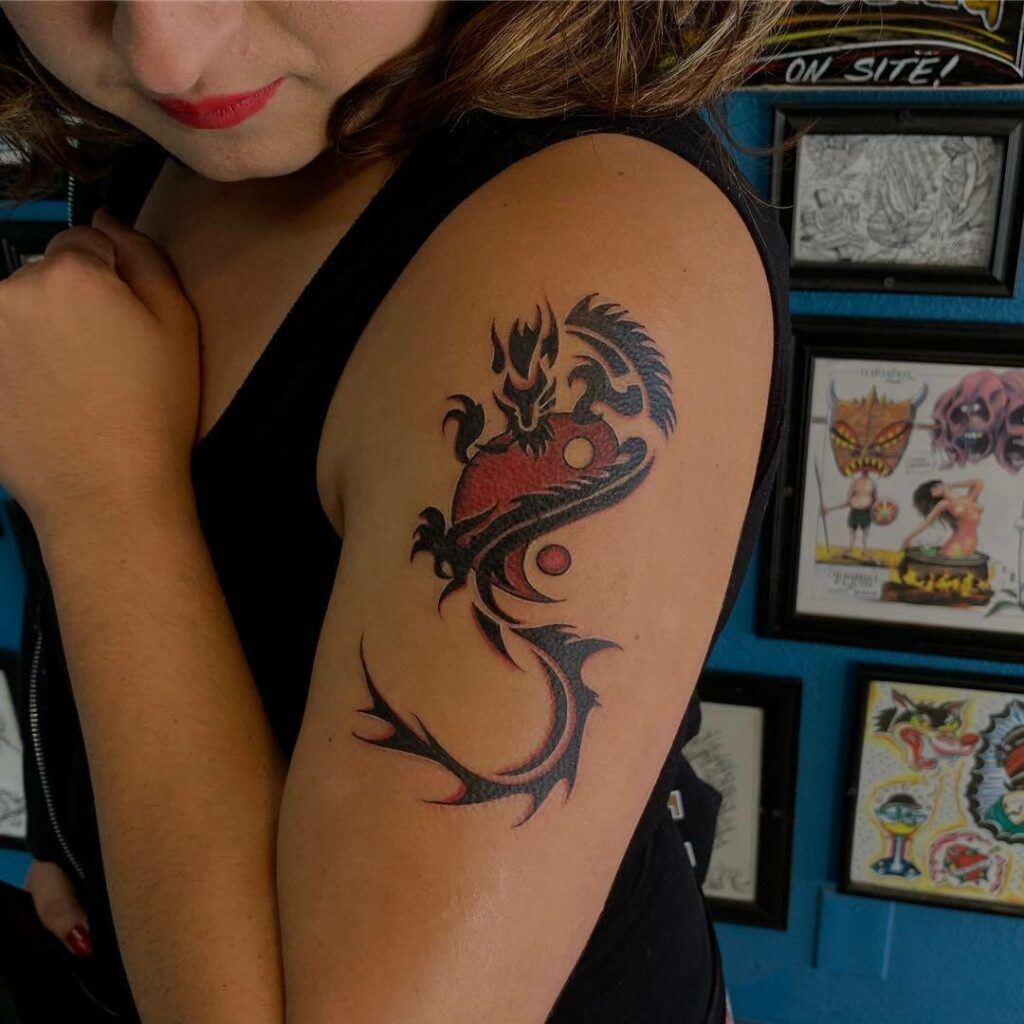 This tattoo design is quite different. Unlike the full dragon tattoos merged with tribal tattoos, the dragon design here is clean and straightforward. The yin and yang sign which is usually done in the color of black and white, has been done in red here and one part has not been inked with any color. The dragon is viewed as a cheerful spirit and a sign of life in many tribes around the world. Suppose you are looking for a dragon tattoo design to combine with your tribal designs. This tribal dragon tattoo design is a versatile design with the possibility of many changes while still maintaining the simplicity of the plan. The tattoo created by the artist here can look on body sites such as arms and legs. It would not be a time-consuming task for your artist to ink this design.
Dragon Tattoo On The Face
This is a cool-looking tribal dragon tattoo. These types of face tattoos are really popular, and people love to ink them. You can make any change you want to dragon face tattoos, such as their color, wave, and body aspects of the dragon. However, you need to take care and be cautious while getting any face tattoo that goes your close eye, such as these. Your gender does not matter. Both males and females can get this tribal dragon face tattoo representing power, danger, death, and other dragon aspects. You can take the help of your tattoo artist and shrink down the tattoo to a small size if you do not want such a huge one that goes across your eye, such as the one shown above. This style of tribal tattoo dragon on the face will never go out of style!
The Mythical Tribal Dragon Tattoo
This is another take on the tribal dragon face tattoos. The dragon is seen to be spitting fire through its mouth in this tattoo design. The tribal dragon tattoo meaning changes from tattoo to tattoo, some might use it as a sign of showing bravery, and some might use it as a sign of recovery from some bad stage of their life. The tattoo business is picking up on this, which is why you see so many tattoo shops working with these kinds of designs. People try to match the colors of their favorite shoes, clothes, and other things with these kinds of face tattoos. The only site for this tattoo is on the same spot as shown in the image to make it look amazing.
The Lighter Dragon Tattoo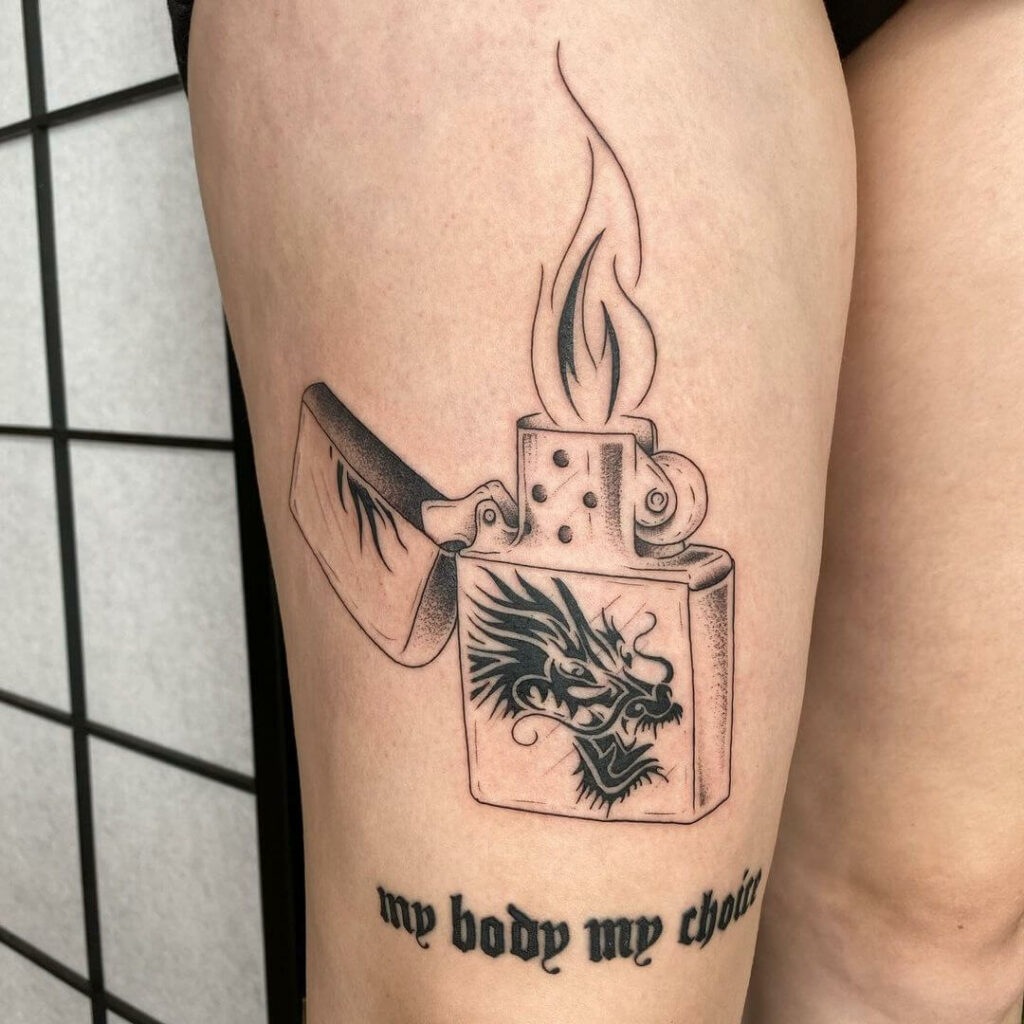 The tattoo artist has inked a tribal dragon face on the front side of a lighter tattoo design. Tattoo designs like these are unique to everyone, and you can choose to get the beginning of a dragon inked on any other thing or items of daily use you are planning to get yourself inked with. You can add colors to flames and the lighter if you plan to get this exact tattoo design inked. The perfect site for this tattoo on your body would be on your arms, legs, or wrist. It is small in size; hence it can fit anywhere on your body. There are thousands of dragon tribal tattoo designs to look online for when mixing something with a design like this.
The Classic Tribe's Dragon Tattoo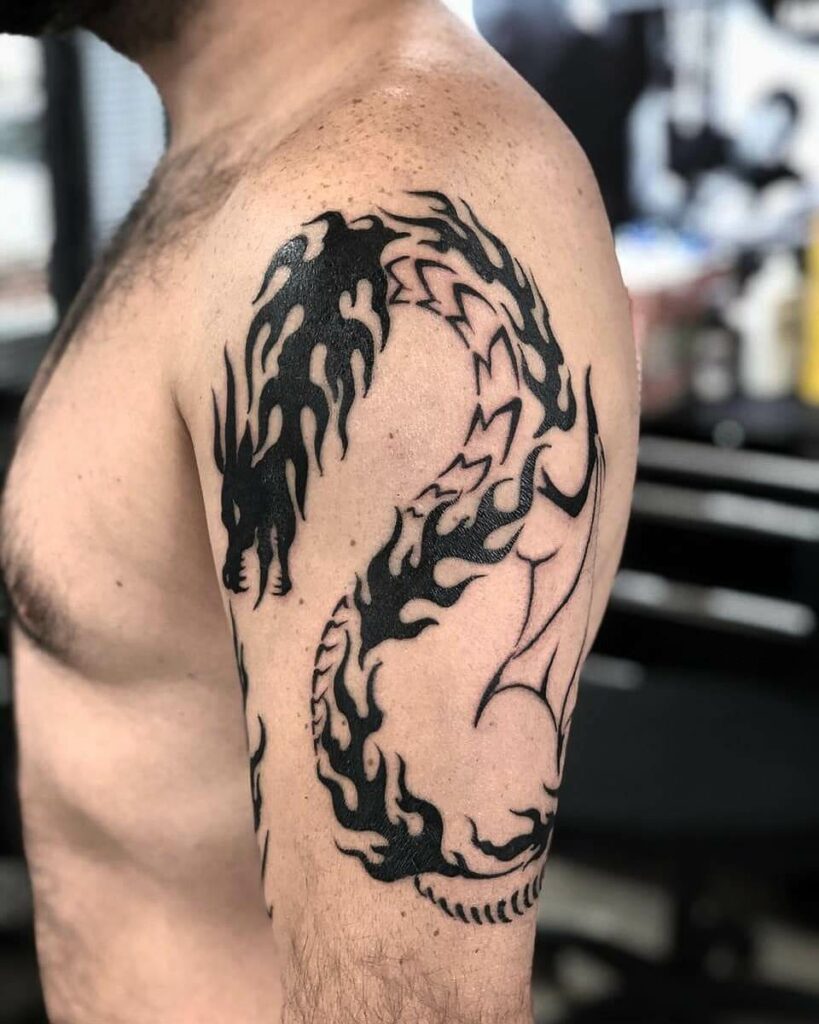 This is a classic tribal dragon tattoo. Done perfectly in black ink, the tattoo artist has done an incredible job with this tattoo design. Suppose you are looking for a tribal dragon tattoo to represent a tribe or want something which could mean a family crest. In that case, this is the tribal dragon tattoo design to go for, it's simple, and it works with almost any kind of addition you would want to make in this tattoo design. Consider getting this tattoo on your arm, chest, or leg. Tattoos can be a language of expression for your life task or sexuality and all things that help you fight on. It helps if you go with a clear idea to the artist. Selecting the correct image can be food for thought before you finalize one.
Tribal dragon tattoos are not disrespectful. Instead, they are a way to pay homage to the tribes and their cultures. If you are looking for more placement and designs, you can search online or look at these suggestions below. Tattoos have a language of their own, and sometimes they take on a life of their own.
Feature Image from Pinterest – Want your tattoo to look brighter? Try "Tattoo Balm"