Are you planning to get a tattoo? Look no further! In just a few minutes, you can find countless ideas for easy and simple V-line tattoo designs right here.
For centuries, people have been using tattoos to express their unique perspectives on life. Each tattoo design is distinct and is placed in discrete areas of the body, altering its meaning. From leg tattoos to arm tattoos, there are many spots to ink yourself.
V-line tattoo ideas have become increasingly popular lately and for good reason. These tattoos look sensuous and add an extra charm to the beauty of the wearer. There are many options for both girls and boys to choose from, ranging from small butterfly V-line designs to V-line community tattoos. Over the years, several V-line tattoo ideas have emerged that are worth inking, reflecting one's perception of life.
If you're searching for some cool and simple V-line tattoo ideas, you've come to the right place. Check out the wonderful designs featured in this article and get ready to ink your body with something truly unique!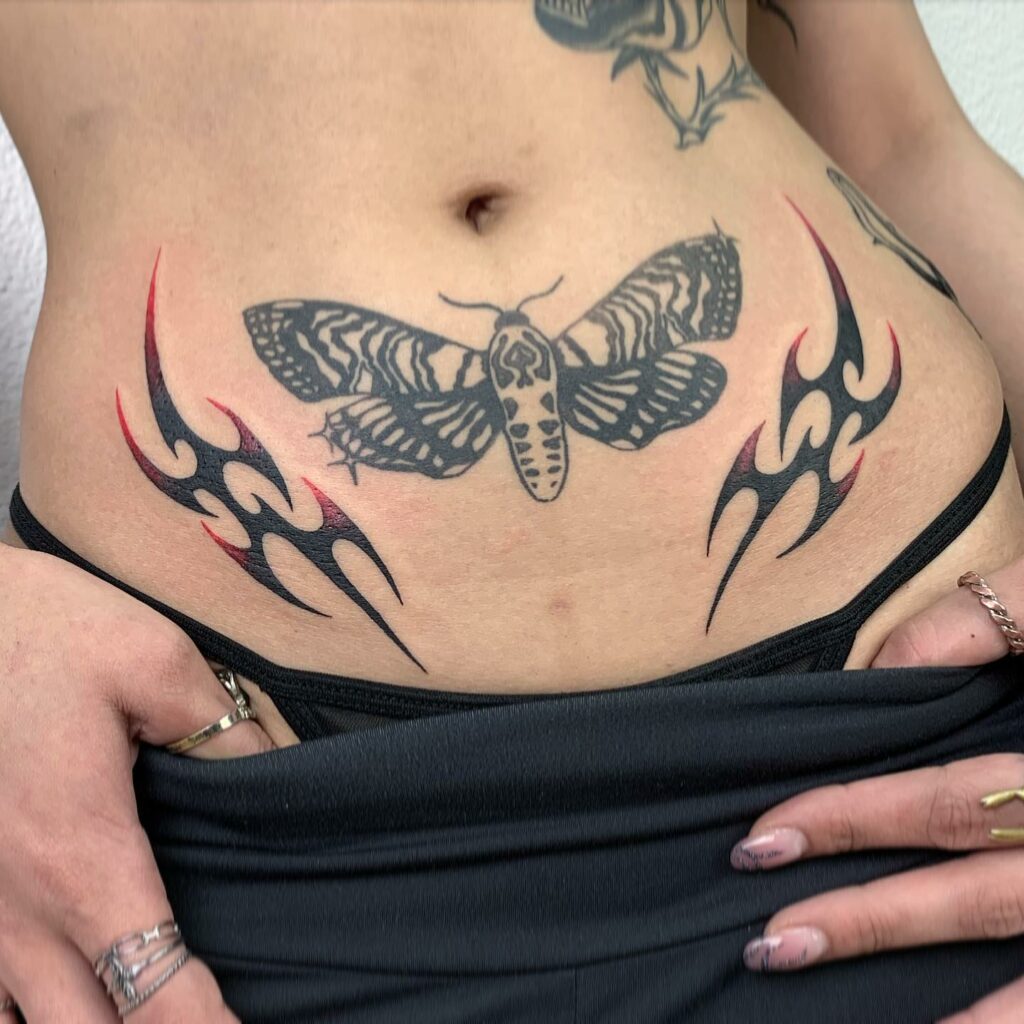 V Line Tattoo Girl
V-tattoos are a popular and edgy choice for tattoo enthusiasts. These tattoos can be paired with sexy outfits for an extra stylish look. This particular V-line tattoo, with its fine lines and detailed design, is a stunning example of the artist's skill. The addition of the skull tattoo adds extra charm to the wearer's appearance. Skull tattoos come in a variety of shapes, sizes, and designs, and carry deep symbolic meaning. They represent the idea of overcoming challenges and even death. Additionally, skull tattoos symbolize power, strength, and protection for the wearer. They can also signify the end of an old life and the start of a new chapter. If this idea resonates with you, make an appointment with a skilled tattoo artist to bring it to life.
Minimalist Tattoo Styles For Girls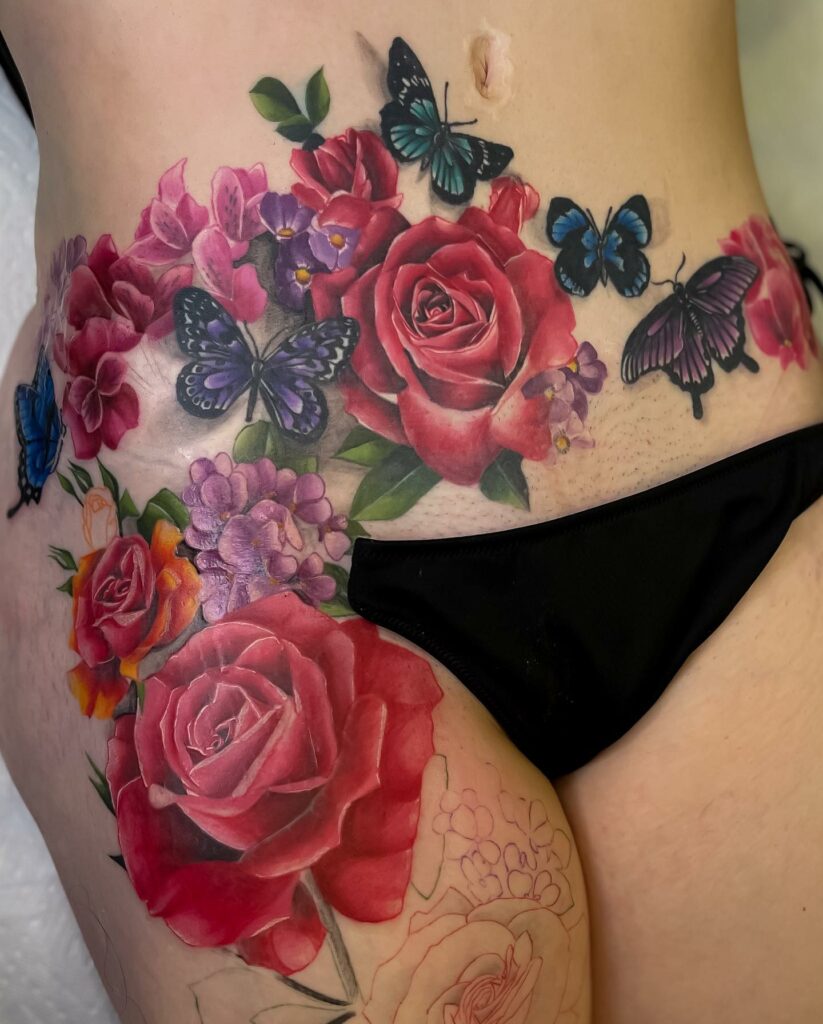 Flower designs have always been a popular choice among women, as they hold a special place in their hearts. The symbolism behind flowers can vary across cultures, with some considering them to be a representation of containment of God. Among these designs, the chain of roses inked on the woman's abdominal area is truly mesmerizing, showcasing the incredible talent of the artist. The rose, which is often associated with butterflies, is a perfect embodiment of new beginnings and romance. In fact, it can also represent an end to a toxic relationship or a transformative phase of growth. It can be seen as a symbol of freedom and emancipation from a harmful situation. If you're looking for a design that represents new beginnings, growth, and freedom, a rose with a butterfly is a perfect choice.
V Line Tattoo Ideas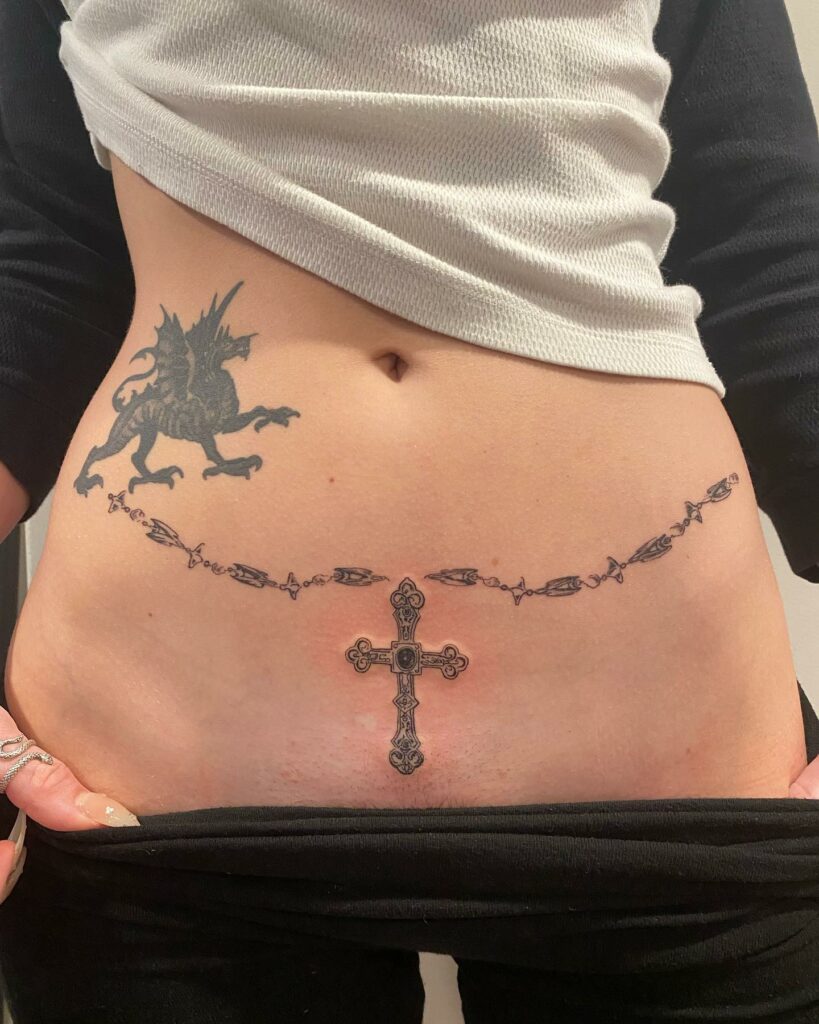 The rosary belt tattoo is a beautiful and meaningful way to showcase one's love and devotion to God, especially for those who are part of the Christian community. This particular tattoo design reflects an individual's deep reliance on God and their faith in Catholicism. The rosary beads are an important part of the Catholic faith and are often associated with the Mother Mary, a significant maternal figure in Christianity. When paired with a cross tattoo, the rosary bead tattoo symbolizes an individual's strong belief in Jesus Christ. If you are a devotional person, a rosary bead tattoo could be a great way to express your faith and devotion.
Beautiful V Line Tattoo Ideas For Women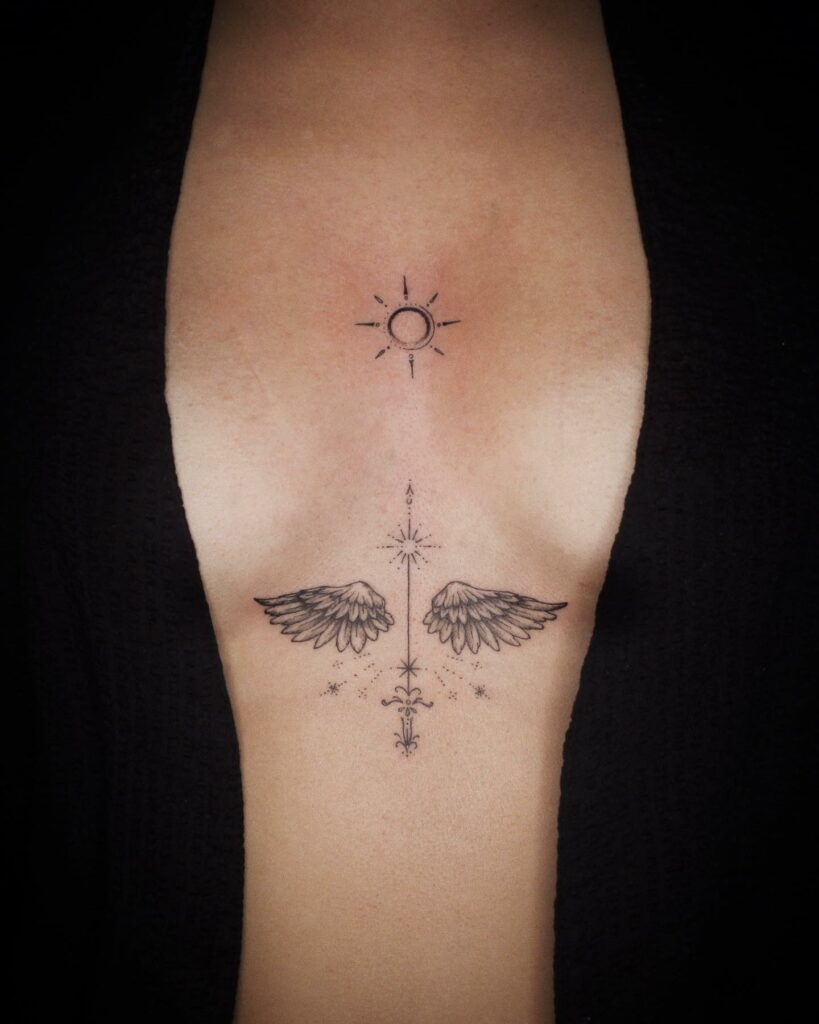 Arrow and compass tattoos are a popular choice for those seeking to symbolize moving forward in life. This elegant design not only enhances the physical appearance of the wearer but also provides a glimpse into their personal journey. The arrow and wings signify moving in a new direction, which is a common theme among arrow and wing tattoo designs. It's worth noting that these tattoos can be customized in terms of size and shape by working closely with a tattoo artist.
This V-line tattoo design is a perfect choice for women who want to represent the blossoming of a new chapter in their life. Whether you're just starting out on a new path or have already begun to make changes, an arrow and compass tattoo can be a beautiful way to express your personal growth and journey.
Devotion V Line Tattoo Designs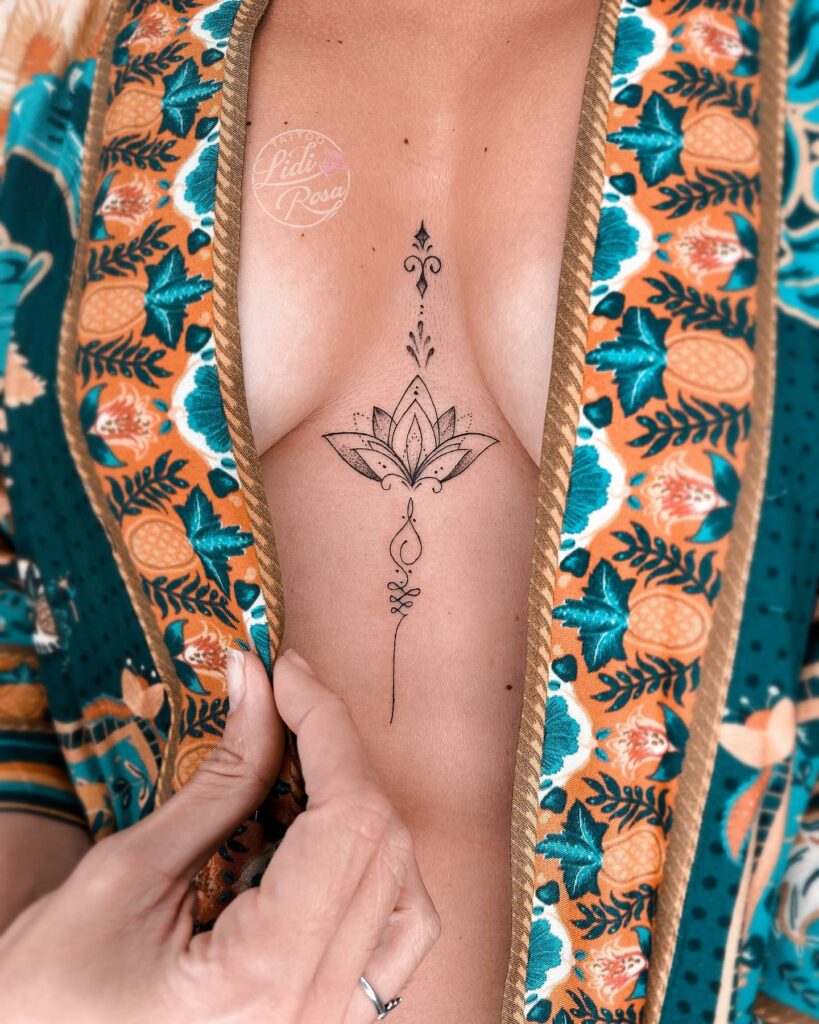 The lotus tattoo is a timeless design that holds great significance in various cultures. According to ancient Hindu beliefs, the lotus represents spiritual awakening, beauty, and purity. In Buddhism, it symbolizes the purity of the mind, speech, and body. Similarly, in Chinese culture, the lotus is associated with harmony and the heart, and when depicted with a fish, it represents a time for love.
This beautiful and captivating design is perfect for those who wish to express their devotion and showcase their spiritual beliefs. The lotus tattoo can be customized to suit both men and women, and its simplicity allows for a unique and distinguished look that is both elegant and meaningful. So, if you're looking for a tattoo design that represents purity, beauty, and spiritual awakening, the lotus tattoo is a perfect choice.
Dove V Line Tattoo Ideas
If you're seeking a unique and stunning tattoo design, look no further than the dove V-line tattoo. The dove, as seen in a beautiful watercolor ink covering the neck of a woman, symbolizes love, peace, victory, and the will of the gods. This meaningful tattoo is perfect for those who seek a fresh start or new beginning in life, as doves represent new starts and fresh beginnings in the story of Noah and the Ark. Not only is this dove tattoo visually appealing, but it also carries a powerful message. So why not consider this peaceful bird as a symbol of your victories and new beginnings? There are plenty of dove tattoo ideas to choose from, so you can find the perfect design to suit your style and personal beliefs.
Small V-line Tattoo Ideas For Girls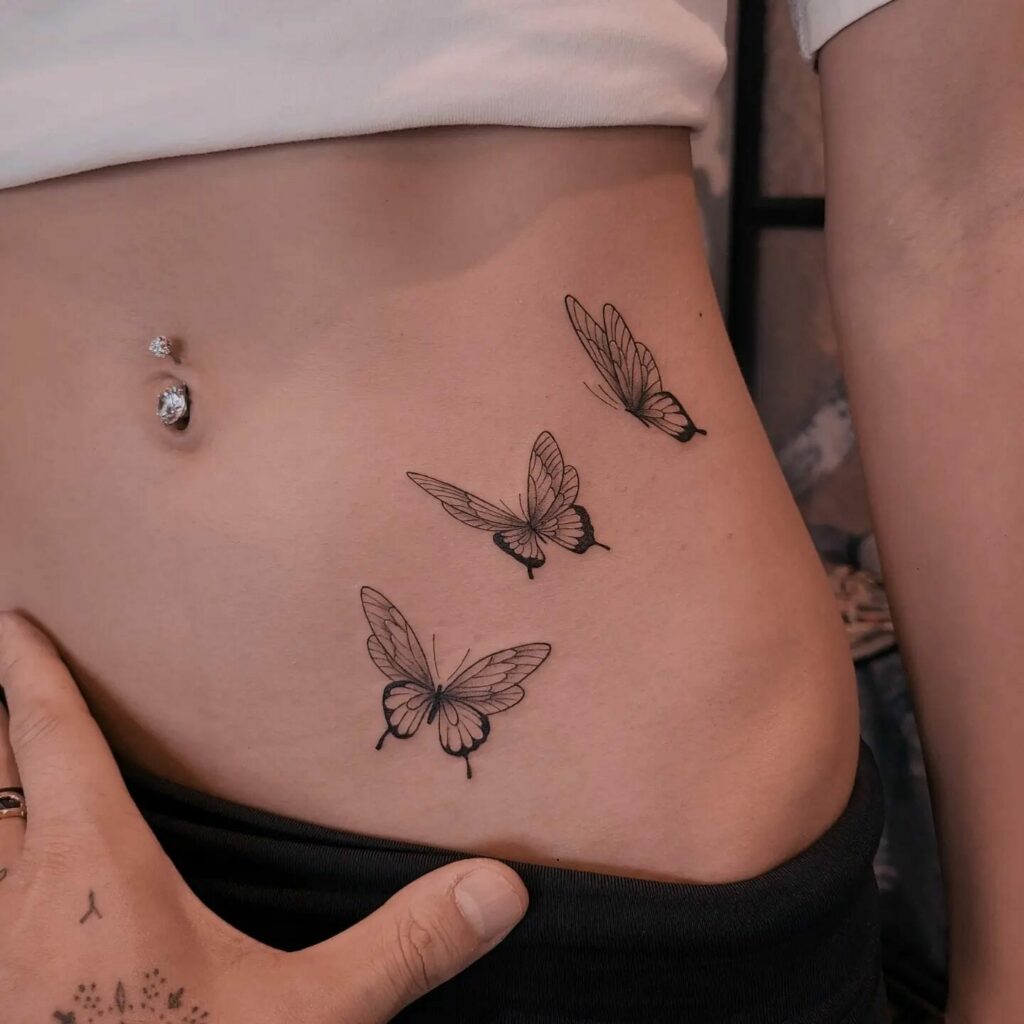 The butterfly design V-line tattoo is a timeless favorite among women for its elegance and charm. This design is not only aesthetically pleasing but also has deep symbolism. In many cultures, butterflies are associated with young love and social life. In Chinese culture, the butterfly represents grace, immortality, joy, and youthful vivacity like the summer season. The tattoo of three butterflies symbolizes rebirth, transformation, and freedom. Some cultures believe that a butterfly tattoo brings good luck while others see it as a symbol of renewal after death. Butterflies can be tattooed on any part of the body, creating a great frame with their wings. If you want a cute and meaningful tattoo, a butterfly design is a great choice.
Simple V Line Tattoo Designs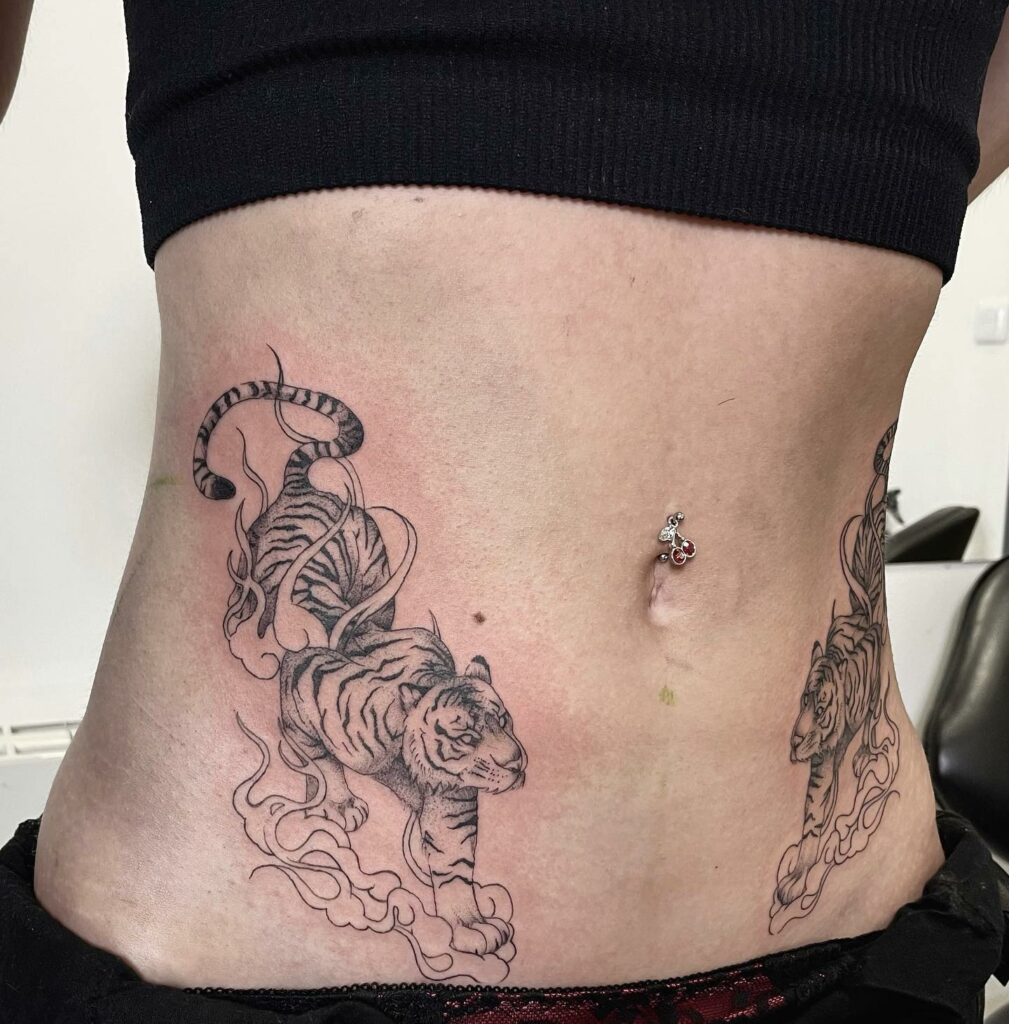 Looking for a tattoo that exudes strength and power? Look no further than the tiger tattoo. This classic design has been popular for centuries, representing the fearless and independent spirit of these majestic creatures. Whether you choose to ink your tiger tattoo on your V lines, biceps, chest, or forearms, this design is sure to turn heads and inspire awe. Not only does the tiger tattoo represent raw power, but it also symbolizes courage and beauty. So if you're ready to channel your inner tiger and embrace your wild side, consider adding a tiger tattoo to your collection.
Panther V Line Tattoo Design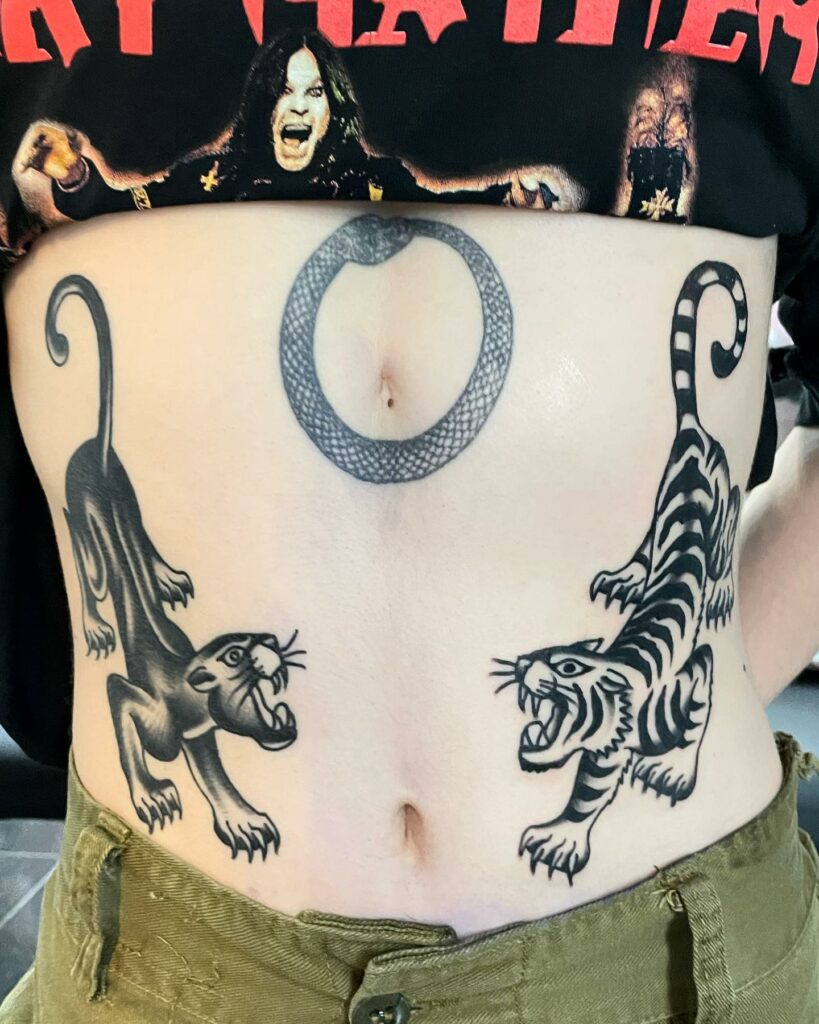 If you are considering getting a tattoo, have you ever considered a panther design? Panthers are known for their independence, strength, and bravery, making them a great tattoo choice. While crawling panther designs are not as common as other designs, they are unique and sure to stand out.
For women, a panther tattoo can showcase both their femininity and their inner strength, harnessing the power of this majestic animal. Panthers are also believed to have heightened senses, adding to their allure and symbolism.
Whether you choose to ink your panther tattoo on your V-line, bicep, or elsewhere, it is sure to make a statement and showcase your bold and daring personality.
Perfect Flowers V Line Tattoo Ideas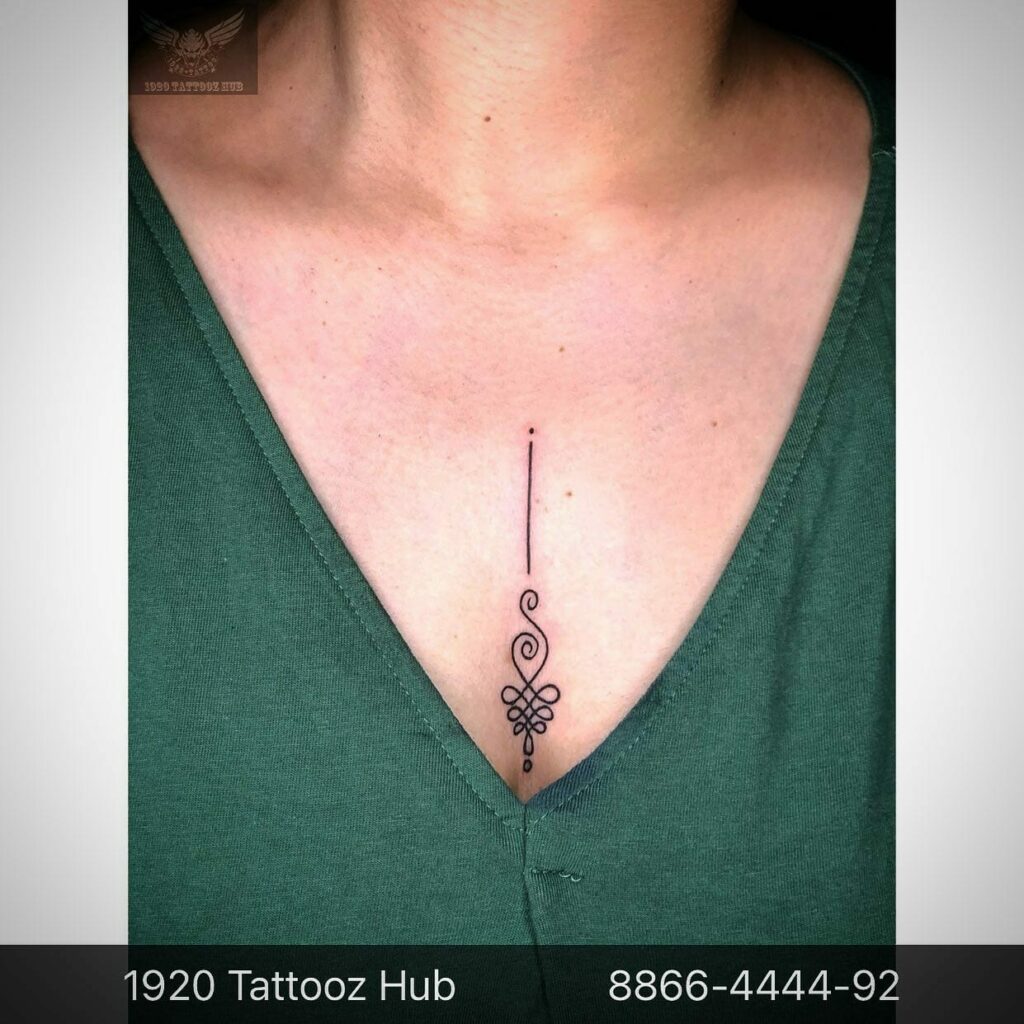 Unalome tattoos are not only unique and visually stunning, but also deeply meaningful. This particular design is rooted in Buddhist culture and represents the journey to enlightenment. The unalome symbol starts with a straight line, representing birth, and then begins to wind and twist, representing the ups and downs of life's journey. The spiral eventually leads to a straight line once again, representing the ultimate goal of enlightenment.
There are many variations of the unalome symbol, each with its own unique shape and size. The design can be placed on various areas of the body, from the wrist to the back, depending on personal preference and symbolism.
It's important to note that the meaning of a tattoo can vary depending on the culture, shape, and placement area. Tattoos often serve as a reflection of an individual's ideas and beliefs. Today, tattoo artists are creating increasingly creative and beautiful designs that leave onlookers amazed and inspired. If you're considering getting a tattoo, an unalome design may be just the perfect choice to represent your own life's journey.
feature image from Pinterest – Want your tattoo to look brighter? Try "Tattoo Balm"