Are you looking for a tattoo design that represents hard work, loyalty, and courage? A vintage bee tattoo might be just what you need. Bees are known for their loyalty to their hive and queen bee, and their hardworking nature is something we can all aspire to. Plus, let's not forget how cute they look! Vintage bee tattoos are a classic and subtle choice that can make a big impact. Not to mention, they are perfect for those who love nature and appreciate the beauty of insects. In this article, we have compiled a list of the top ten vintage bee tattoo designs for you to choose from. So, keep reading to find your perfect vintage bee tattoo idea!
Vintage Bumble Bee Tattoo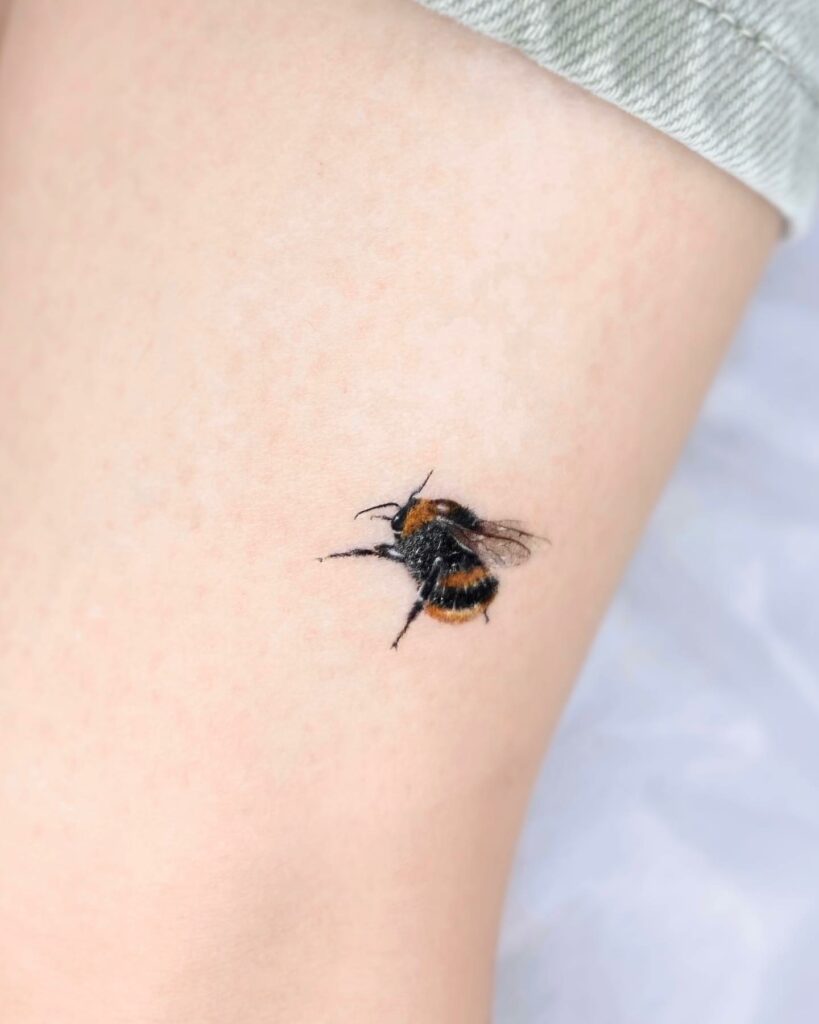 Tattoos are a perfect way to express your inner self and personal beliefs. If you're looking for a cute and detailed tattoo idea, then a vintage bee tattoo might be the perfect fit for you. This tattoo design features a beautiful 3-D realistic effect, showcasing a stunning vintage bee in bright, contrasting colors that are nicely blended. It's so detailed and delicate that it looks like a real photo image of a bee. It's essential to get this tattoo inked by a professional artist to achieve a high-definition realistic effect. This tattoo can be inked on various body parts like the leg, chest, back, or arm, depending on your preference. A vintage bee tattoo is a perfect symbol of industriousness, hard work, and community spirit.
Simple Vintage Bee Tattoo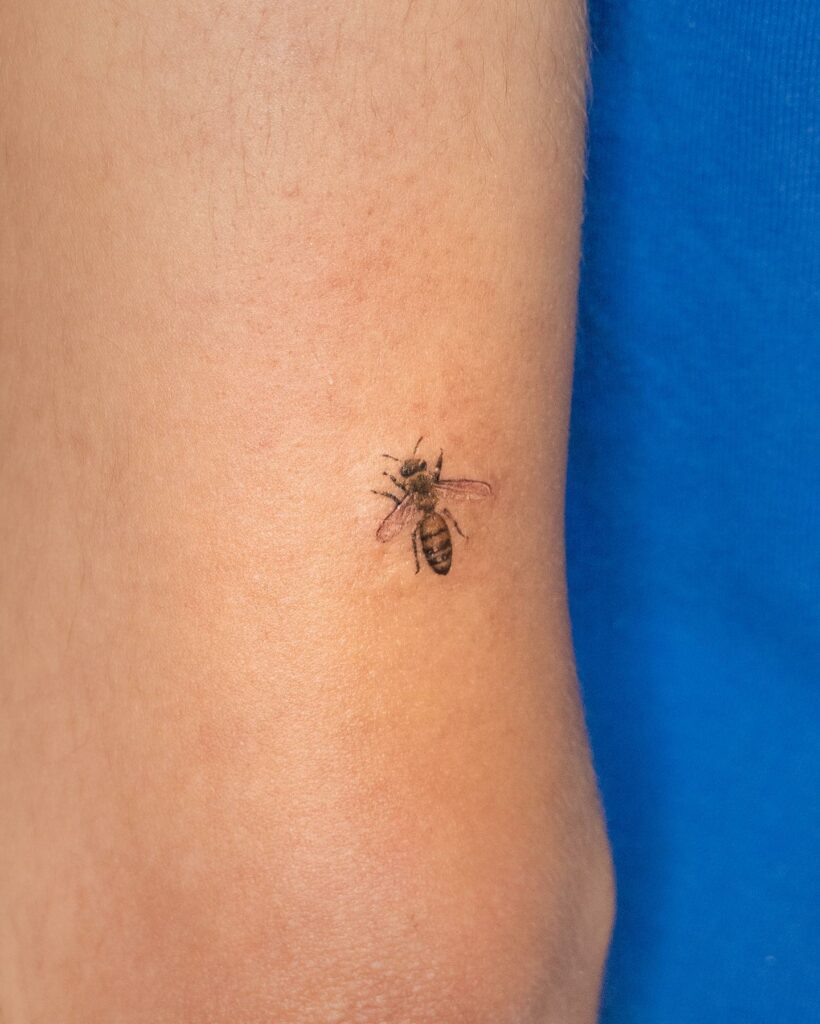 When it comes to bee tattoos, there's no shortage of creative possibilities, but sometimes simple is best. Take this vintage bee tattoo, for example. Its minimalist design showcases the inherent cuteness of bees, while also conveying deeper meanings such as hard work, commitment, and loyalty. The delicate precision of the tattoo artist's work adds to its charm, making it an ideal option for women looking to flaunt their shoulders. Of course, you're not limited to just one placement; you could get this tattoo on your finger, neck, or legs if you prefer. Whatever you choose, a bee tattoo is a meaningful and stylish way to express yourself.
Old Fashioned Vintage Bee Tattoo
Bee tattoos are a popular choice among tattoo enthusiasts, but if you're looking for something delicate and subtle, this small bee tattoo might just be the one for you. The skilled tattoo artist has intricately detailed the bee design with fine lines and sheddings, giving it a stunning and precise look.
This delicate tattoo is also versatile in terms of adding personal touches to it. You can customize it with elements like flowers, stars, or even a phrase that resonates with you. The aesthetic appeal of this tattoo is undeniable, and you can enhance it by adding a pop of color like yellow or orange.
The best part is, you can place this tattoo anywhere on your body, be it your wrist, arm, chest, neck, or back, and it will still look fantastic. Whether you prefer a minimalist or maximalist style, this bee tattoo will complement your individuality and make a statement.
Trendy Bee Neck Tattoo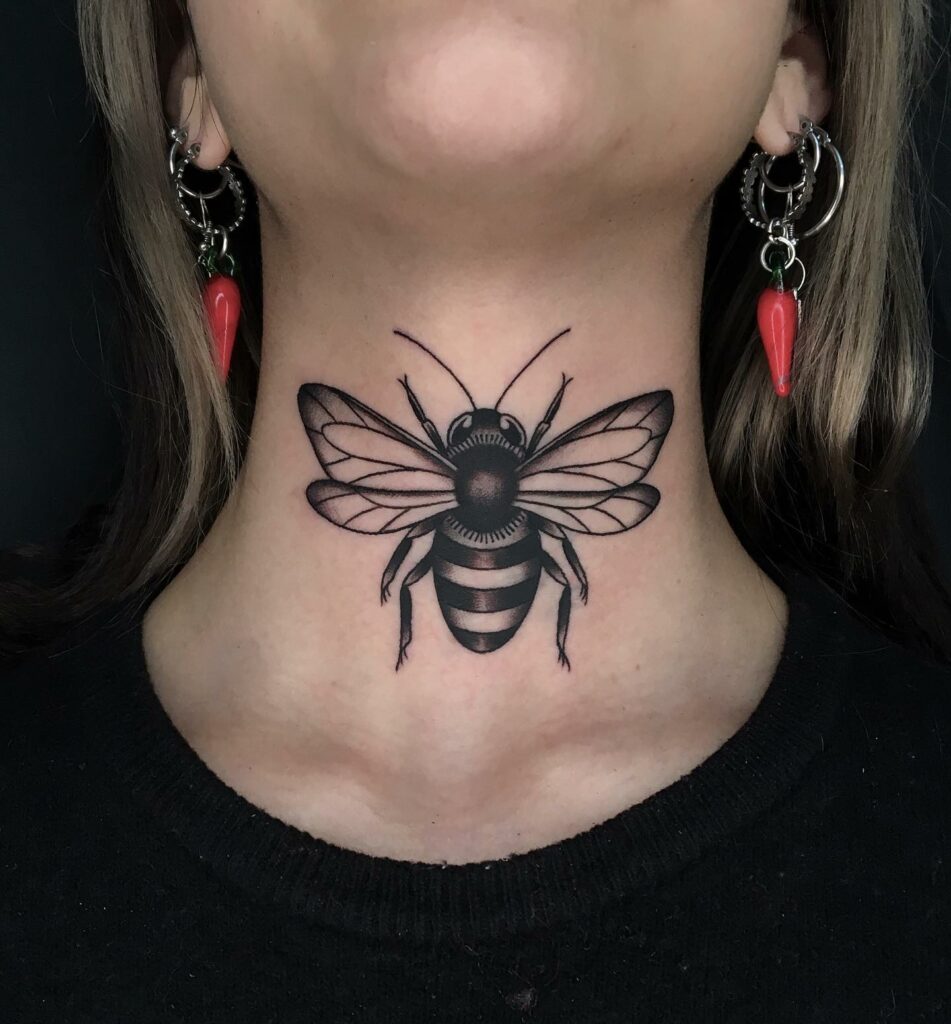 For those with a rebellious and edgy style, this bold and trendy bee neck tattoo is an excellent option. The artist creates the tattoo's black ink lines and delicate details with great precision. The placement of this tattoo on the neck adds to its boldness and makes it a statement piece that catches the attention of anyone who sees it.
However, it's worth noting that the bold appearance of this tattoo might not be suitable for more conservative workplaces. But fear not, as this tattoo can be customized and inked on other body parts such as the arm, chest, or back. To make the tattoo even more unique, you can add flowers or a pop of color that matches your style and personality.
Minimalist Vintage Bee Tattoo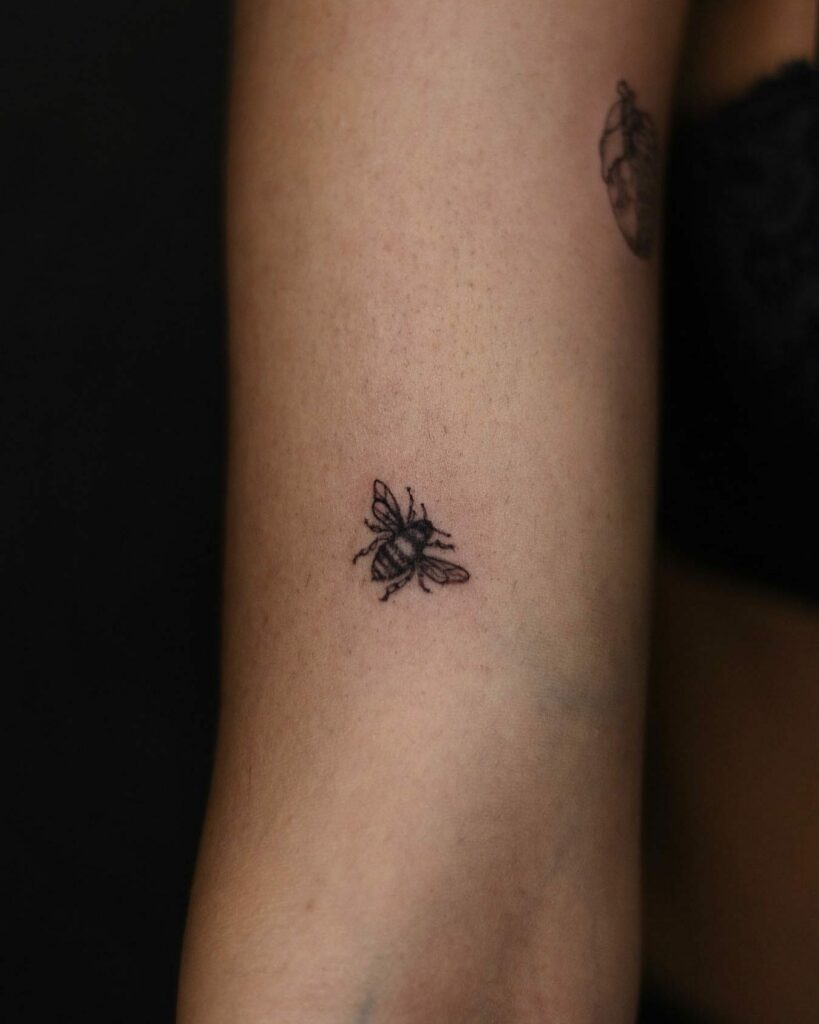 When it comes to vintage bee tattoos, the possibilities are endless! From minimalist designs to photorealistic pieces and symbolic tattoos, there's a style to suit every taste. One of the great things about bee tattoos is that they can be created in many different ways, offering versatility and customization options.
This particular bee tattoo features clean and intricate line art, without shading or too much color. If you're looking for a more casual look, focusing on the fundamental form of the tattoo might be a great choice. This can also make the process quicker, less painful, and more affordable. Whether you opt for a more elaborate or simpler design, a bee tattoo is sure to add a touch of charm to your style.
Highly Detailed Small Bee Tattoo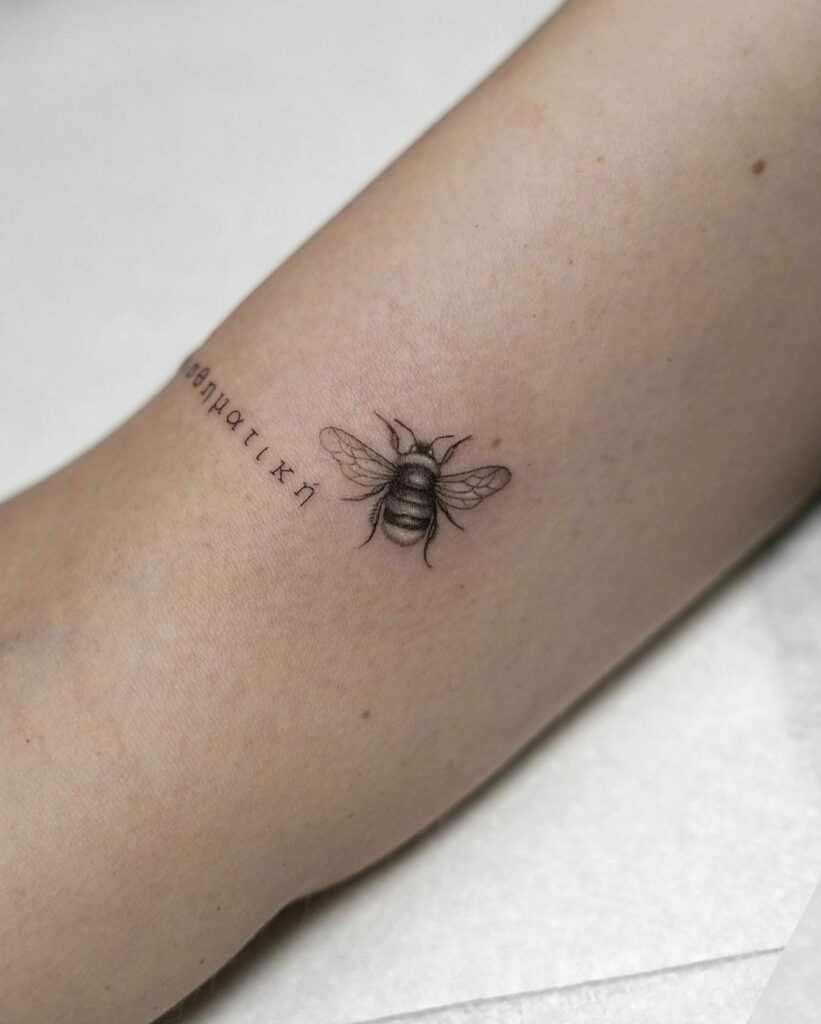 When it comes to tattoos, the arm is an ideal spot due to its versatility. You can choose to flaunt your tattoo or keep it hidden depending on your preference. If you're looking for a discreet option, these small yet precise bee tattoos are perfect for you, especially if you work in a corporate setting.
The arm is known to be one of the least painful spots to get a tattoo, and with the size of these bee tattoos, you'll have plenty of room for intricate designs. These tiny bees look adorable and won't take up your entire upper arm, making them an easy and simple tattoo option. Plus, they won't stretch or fade easily like tattoos on your fingers or hands. So, if you want a stunning and long-lasting tattoo, consider getting a tiny bee tattoo on your arm!
Very Cute Bee Tattoo Designs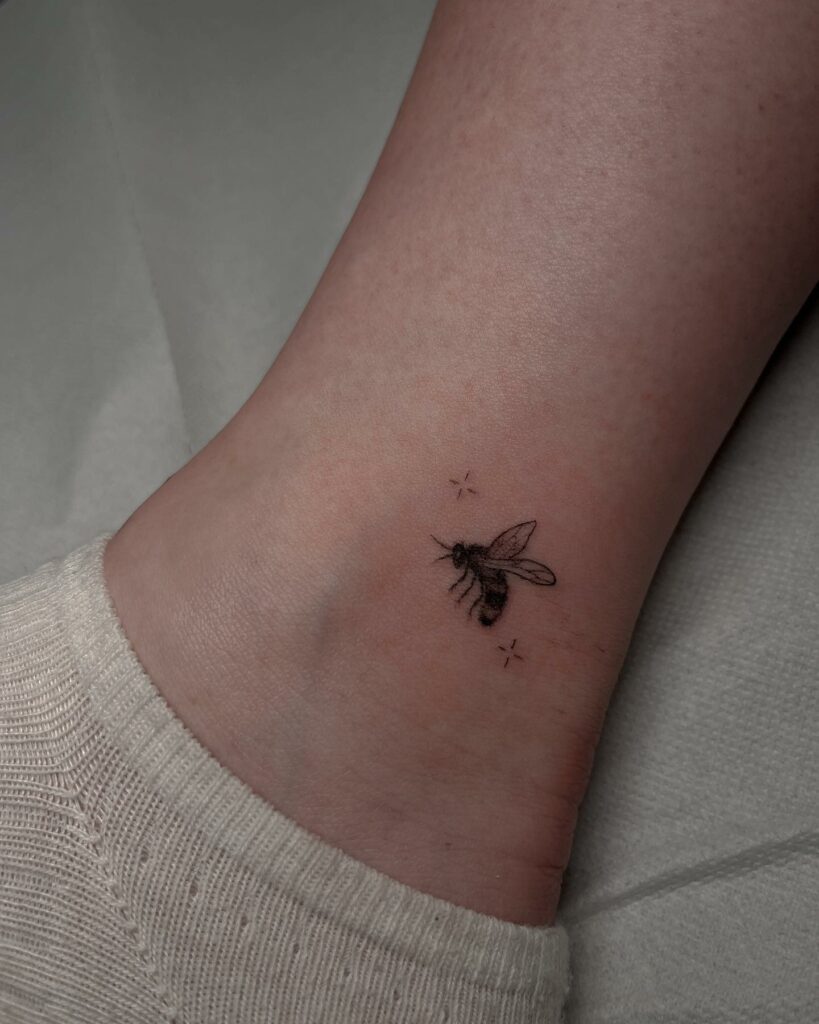 If you're looking for a discreet and charming location for your bee tattoo, have you considered an ankle tattoo? The ankle is a lovely spot that can be easily covered or flaunted. Bee tattoos don't require a large area, which makes it perfect for minimalist or simple designs using black ink. Adding tiny sparkle designs on the top and bottom of the bee gives it an even cuter look.
An ankle queen bee tattoo is a popular choice for women, as it is considered one of the more feminine areas of the body. However, this tattoo can be inked on any part of your body that you desire. The subtle and delicate nature of the tattoo makes it a lovely addition to your body art collection. Plus, it will look fabulous with any outfit that you choose to wear.
Colorful Vintage Bee Design
Vintage bee tattoos on the forearm are a charming and ideal design choice. The intricate details of these tattoos will make you smile every time you catch a glimpse of them. These tattoos are inked with vector graphics, adding a stunning 3D effect to the piece. The expert use of shades of black and yellow, along with subtle highlights of white, creates a transparent look that is truly beautiful.
To achieve this level of precision and detail, it's important to find an experienced tattoo artist who can bring your vision to life. A queen bee tattoo is a popular choice due to its beauty and symbolism of royalty. The forearm is a great location for this design as it provides enough space for detailed artwork while remaining easily concealable if needed.
Outlined Tiny Bee Tattoo
The bee tattoo is more than just a cute insect design. It represents hard work, loyalty, and devotion, making it a great choice for those who value these qualities. In addition, the honeybee is a symbol of family and altruism, as it works tirelessly to improve the colony's life. This makes it a perfect option for memorial tattoos or tattoos that represent siblings.
Bee tattoos are highly versatile, and you can choose the design that best reflects your style. From photorealistic to minimalistic, there are many styles to choose from. If you prefer a simpler look, line art can be used, which typically lacks color or shading. Alternatively, you can focus on the tattoo's basic shape, resulting in a cleaner aesthetic that can be done more quickly and cost-effectively.
Queen Bee Tattoo Idea
When it comes to tattoo designs, the queen bee is a fantastic choice that represents feminine power, growth, fertility, and parental love and duty. With its position as the most powerful member of the hive, the queen bee embodies positive energy that can be channeled into a stunning tattoo design. Some opt for a simpler design, while others go all out, adding a crown or other embellishments. One particularly striking design features a green stone in the center, with shades of white that create a shimmering effect.
Whether you want to pay homage to an important woman in your life or celebrate your own inner strength, a queen bee tattoo is a great way to do it. A lone bee queen in bright colors is a sure sign of royalty on your arm, while a larger, more powerful bee can convey a different message. Bees are renowned for their loyalty, courage, and determination, so a vintage bee tattoo is a perfect choice if you want a design that embodies these qualities. With its cute, classic, and elegant appearance, a bee tattoo can complement any aesthetic.
feature image from Pinterest – Want your tattoo to look brighter? Try "Tattoo Balm"
Last reviewed and updated on May 15, 2023