If this is your first tattoo and you're clueless about what to get, then these vintage tattoo flash ideas are here to help you!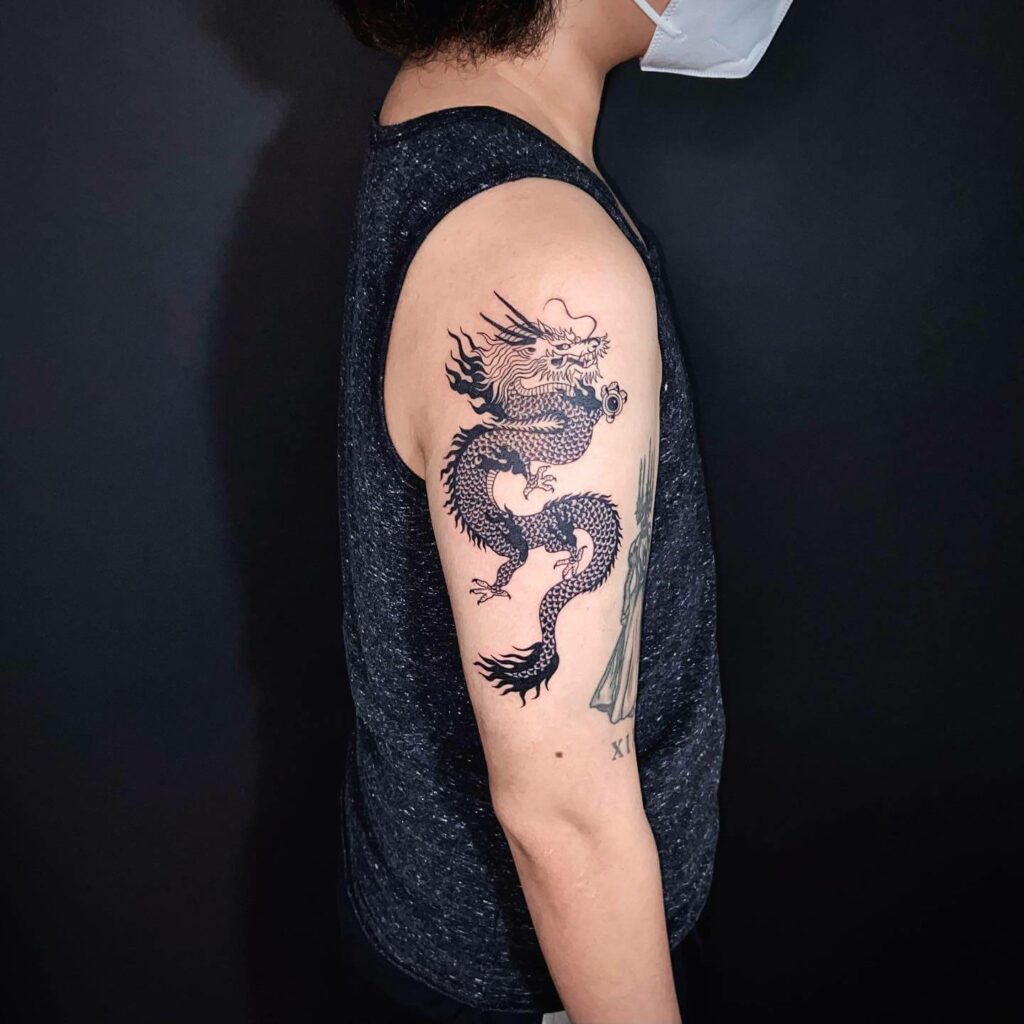 Flash tattoos help you to give an idea about the tattoo you're getting.
In the 1800s, tattoo artists used these flashes to attract people's attention by displaying the tattoo flash in front of their tattoo shops. Because of the growing demand for tattoos with electric tattooing, tattoo artists started to seek already drawn tattoo designs.
Tattoo flash could be drawn by the tattoo artists themselves or be bought from another tattooist. The vintage tattoo flash spans 11 x 14 in, and it can be in the form of line drawings with colors and shadings, enabling the tattooists to work quickly and efficiently. Moskowitz brothers Ed Smith, Ted Inman, Tex Rowe, Ace Harlyn, and Zeke Owen were some of the progenitors of tattooing. But if you're unsure about what to get, vintage tattoo flash is going to help you in your selection process. Following are the ten best vintage tattoo flashes that will make you fall in love with them instantly!
Vintage Vampire Halloween Tattoo Flash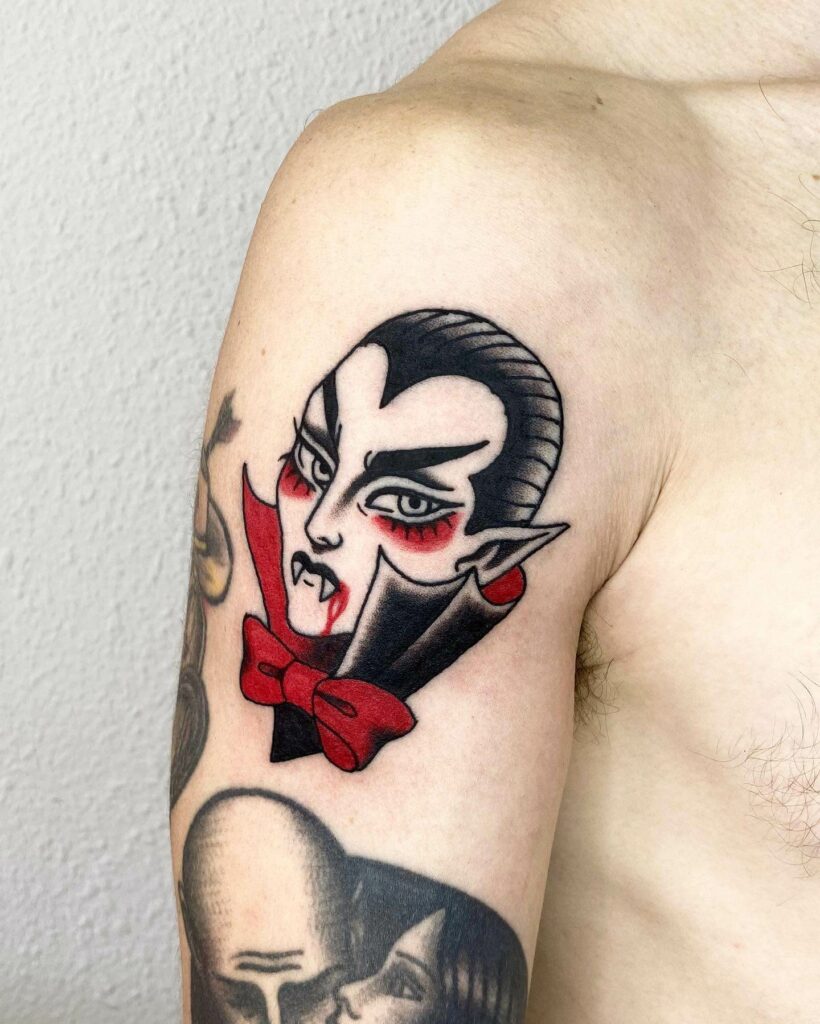 This vintage tattoo flash is going to stimulate the spooky inner spirit that can be felt all around the year. This vintage flash tattoo can be customized by adding all the elements of Halloween with ghosts, skulls, pumpkins, and black cats that give this art a very classic and traditional design and also enhance its beauty at the same time. These kinds of Halloween tattoos with a feel of antiquity are in great demand because of their boldness. You can check these vintage Halloween flash to decide which one caters to your Halloween aesthetic and inspires you to get your own Halloween tattoo.
It is also a rare vampire tattoo with a red rose to complement the red and bloodthirsty under the eyes of the vampire. This on the arm is for all the holiday lovers who want to ink these spooky Halloween tattoos permanently. Vintage or traditional tattoo flash is unique, and the history associated with them will give you the feel of watching an old movie. It will offer you an insight into the evolution of tattoos.
Vintage Bat Tattoo Flash
Bat tattoos are usually opted for by men as it has an element of ferocity and power. These winged creatures look extremely enticing and spectacular if done with proper technique. Some people perceive bats to possess psychic powers and provide an insight into the dark side of the life of a man. It usually gives a very mysterious feel to the wearer.
This vintage bat tattoo is done in bright red and black color making it look even more eye-catching. The yellow touch in the eyes and teeth mixes perfectly with the combination of colors. The facial features of the bat look very fascinating and fatally attractive.
Vintage Cherub Tattoo Flash
Cherub tattoos also known as angel tattoos are an element of Christianity and have various religious connotations. Cherubs are a symbol of innocence and purity and are identified as chubby babies with wings. The cherubs are also sometimes called guardian angels. It symbolizes the renaissance and childhood. They give the wearers hopes of love, protection, and happiness.
There are many cherub tattoos with different interpretations available. So before getting a tattoo, you must decide what kind of cherub tattoo you want to get your hands on, and this is where the vintage tattoo flash comes to the rescue. This tattooing is done on the stomach, a relatively sensitive area for a tattoo. The shading makes it hyper-realistic and the little redness around it is minimal, thanks to the tattoo artists.
Vintage Roses Tattoo Flash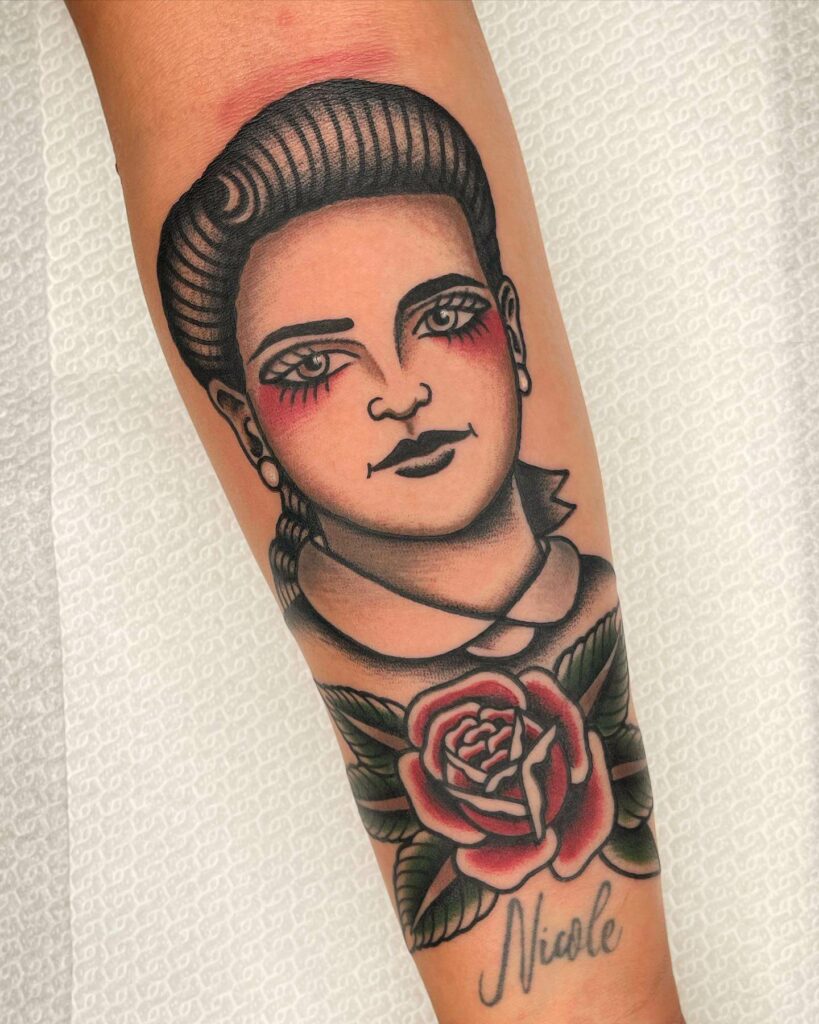 Rose is often associated with love, affection, and passion. The complex nature of the roses tells a lot about the wearer of rose tattoos. In earlier times, sailors who were mostly away from their loved ones used to ink these rose tattoos to symbolize their wives, mothers, or lovers. This floral tattoo is timeless and will never go out of style.
The rose in the flash is inked with bloody red color and has the face of the woman on top of the flower. This face could symbolize any woman who is very dear to the wearer. It could be a friend, lover, or a mother's face that further adds to the femininity associated with the rose tattoos.
Vintage Dragons Flash Tattoo Ideas
Dragon tattoos can be perceived to be both good and evil. It is among the most common tattoo designs that people desire. The magnanimous look and vibrant colors of the dragon are what make it even more fascinating. The dragon tattoo symbolizes courage, rage, passion, and wisdom. These tattoos are unisex and will suit both men and women.
This tattoo flash is of a vintage dragon tattoo that has a very mysterious demeanor with vibrant or dark colors like red, black, grey, and yellow. This tattoo will look great on the back of your body or your arms as it will give it a very bold look and accentuate your features. Dragon tattoos are prevalent among Asians and non-Asians both, and as eastern culture spread, these vintage tattoo flash ideas have become more popular.
Vintage Demon Tattoo Flash
The demon tattoos are some of the most perennial favorites that never get old. Demon tattoos usually symbolize fear, darkness, and hell and have deadly connotations. People usually opt for a demonic tattoo to channel their inner demons and also that they're strong enough to endure the difficulties thrown at them by the world. They acknowledge that they have flaws within them, but they don't shy away from accepting them.
This style of demonic tattoo flash was made popular by Ben Corday and Christian Warlick. The scary features, frightening expressions, and vibrant colors make the tattoo very intriguing and will surely incite fear in people's hearts. New school flashes, which is a type of American tattooing that incorporates a wide range of colors, shadings, and subjects, influenced artists like Bob Shaw. These new school tattoos were influenced by the old school ones, which were inspired by the members of the sailing ships.
The "Rock of Ages" Tattoo Flash
Rock of Ages is a form of classic religious imagery that represents salvation and hope. It is taken from the religion of Christianity and was attributed to a hymn written by Reverend Augustus in the year 1763. It can be seen in every tattoo shop. It also symbolizes protection and ensures the safety of the wearer in difficult times. In the Bible, Jesus Christ was depicted as a spiritual rock, and this "age of rock" was inspired by this depiction.
The techniques of single needle tattooing, which include sewing the tattoo or poking the skin with a needle, were widely used in the early days for creating art on the human body. The tattoo flash of "rock of Ages" in this image is one of the traditional, old-school style tattooings with rich colors and intricate black and grey designs.
The Antique Women Face Tattoo Flash
This female face tattoo collection printed in a flash is a very popular subject as it conveys a plethora of emotions. We can observe different profiles and poses of women in such flashes. The shades of blue, red, yellow, and black enhance the appearance of this flash. The placement of this tattoo is great as it is one of the most visible parts of the body.
One such famous women's face tattoo was done by none other than the legend of the tattoo world, Sailor Barney Sir.
The Tiger Flash Tattoo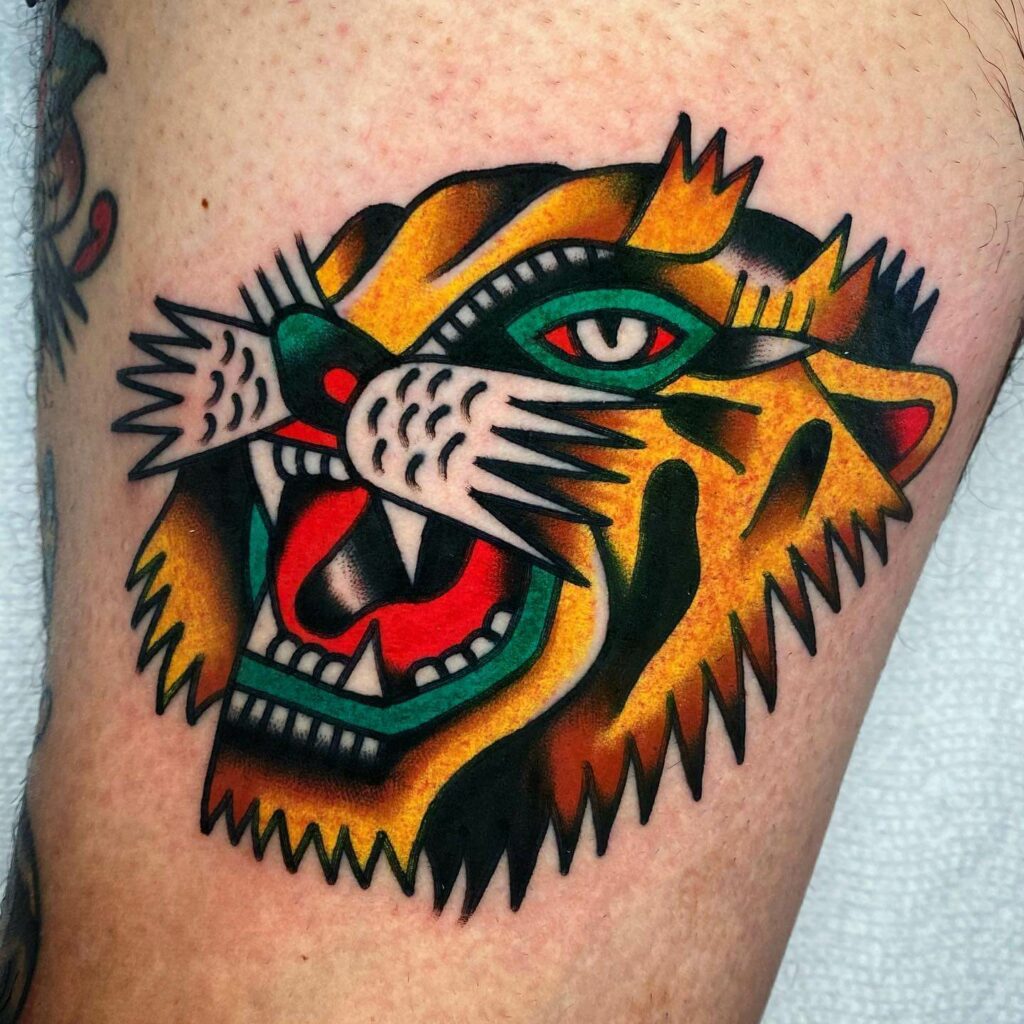 The tiger is always a great tattoo option for its numerous interpretations. It can be inked on the chest, biceps, shins, and even forearms.
The ferocious face of the tiger might be a cliche, but one with so many colors and such intricate design is a rare body art collection. This tattoo is so diverse that it can be tattooed on any part of the body. Earlier, these traditional tattoos were inked with a comb-like tool with carved needles and a conch or tortoiseshell attached to the handle.
Vintage Cartoon Flash Tattoo
Cartoon tattoos are a great way to rekindle the lost child within you. This flash has various cartoonist characters, which will give your tattoo a very cute and fun look. These tattoos will take you back to the old happy days and help you feel young at heart.
The cartoon tattoos are very versatile, and you can always add up your old favorite popular cartoon characters and have a bit of nostalgia for childhood memories. The solid color and bold lines are what make the vintage tattoo even more unique. Another reason why people are drawn towards traditional tattooing is that they offer a story and historical significance to your tattoo. It's almost like wearing something that has already seen more life than you and is meant to be passed on.
Feature Image from Pinterest – Want your tattoo to look brighter? Try "Tattoo Balm"