Watercolour tattoos are so happening right now and we have curated some of the most gorgeous works of art for you to fawn over. These watercolour rose tattoos are a hit!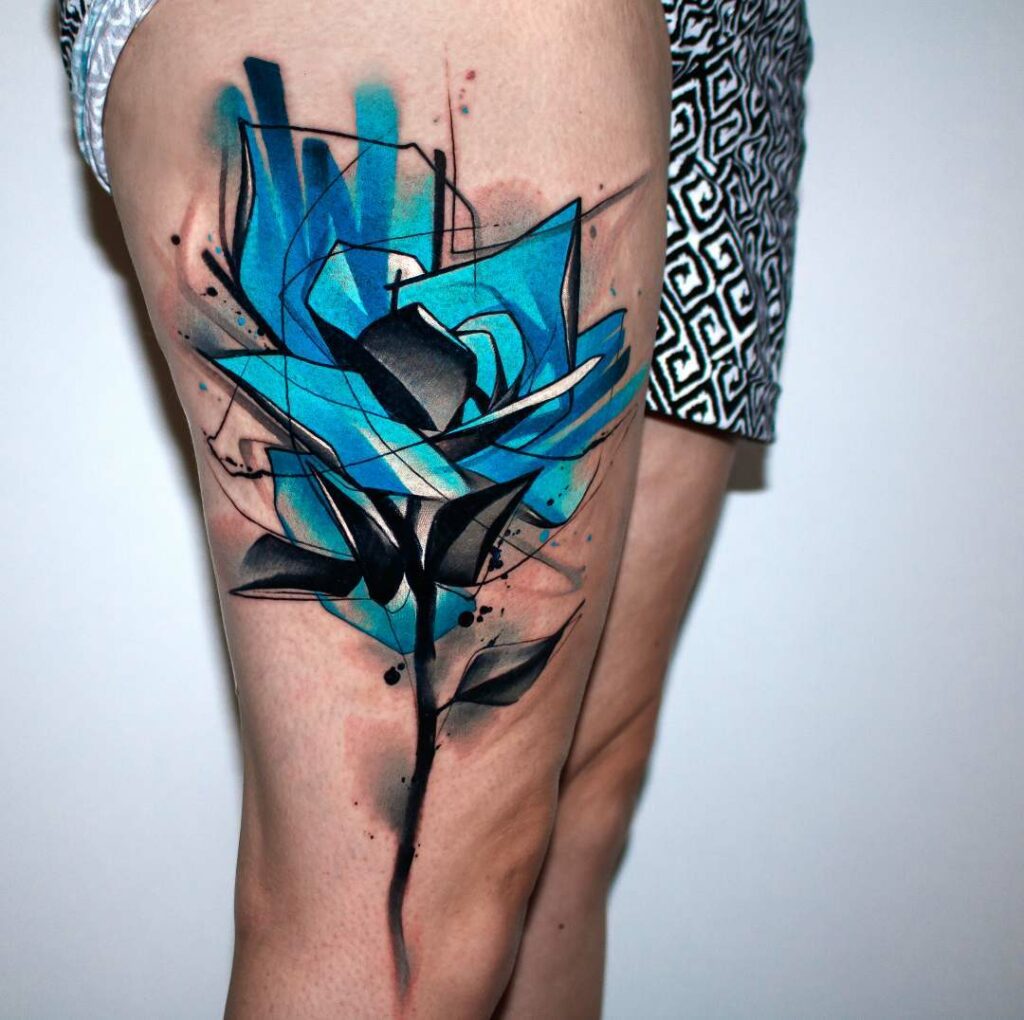 The rose is one of the most popular tattoo designs among everyone from teenagers to the elderly.
Now, add a rose tattoo design together with the watercolour aspect of a tattoo. It makes for one gorgeous combination.
We have brought some of these gorgeous collections of tattoos for you to explore and pick from for your next artwork. Watercolour tattoos have become immensely popular over the years. If one explores the watercolour tattoo hashtags on Instagram, it has over 1.4 million posts. This in itself speaks of the popularity of watercolour tattoo designs. So we have chosen a prevalent and immensely popular motif that tattoo artists around the world commonly work with.
Watercolour rose tattoos are widely popular and tattoo enthusiasts around the world are often seen getting their body arts inspired by this popular flower. While all kinds of flower tattoos have found popularity among tattoo artists and tattoo enthusiasts, rose tattoos done with watercolour work hold a high position in the tattoo world. You have undoubtedly seen tattoos like these before, with swirling patterns of vivid colours that appear to be created on a palette instead of inked in someone's skin. A watercolour tattoo features elements that resemble a watercolour or brushstroke painting.
Gorgeous And Classy Watercolor Rose Tattoo Design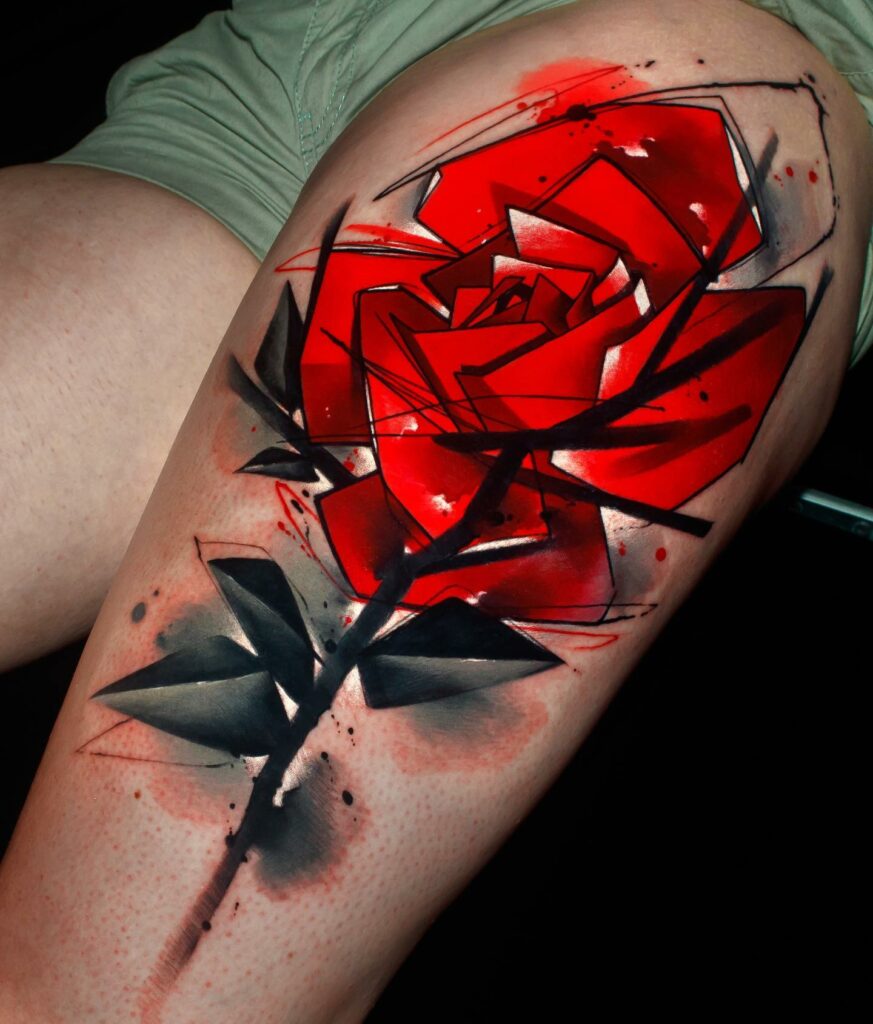 We are having a hard time taking our eyes off this beautiful piece of artwork. How stunning, chic and stunning does it look? It is probably every tattoo enthusiast′s dream work. This beautiful flower tattoo has been created with bright colours and the entire design holds an abstract look, adding to its beauty and charm.
The artist designed the petals stunningly and uniquely, highlighting the abstract style, while also emphasizing its delicate beauty. One can wear a tattoo of this size on the outer bicep or even their upper thigh or side thigh, whichever placement would give this ink work an ideal and sensual look.
Realistic Rose Watercolour Tattoo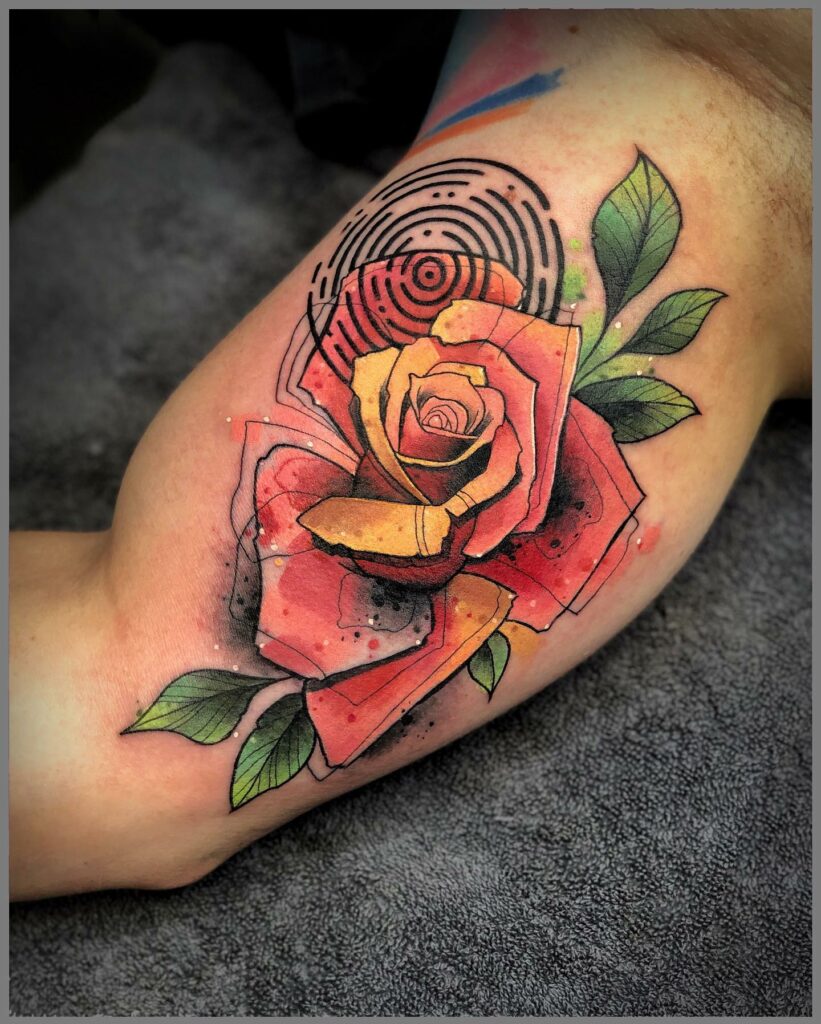 The rose blossom is the definition of beauty, a source of enticing aroma, as well as a symbol of affection, yet it comes with a disguised catch: thorns which assure that all of its allure comes at a cost. This duality of a rose tattoo is one of the many reasons people gravitate towards a rose tattoo design. Its stunning and delicate beauty is enticing while the hidden thorns speak volumes about the duality of good and evil. Women often find this style to be a cool choice and love the idea of getting it tattooed on their shoulder, chest, arm, or even their thigh.
Here the tattooist created a stunning blooming rose with watercolour work. It has a realistic look, almost as if the tattoo is popping out. The beautiful mixed colours of yellow and red created a lovely piece of art.
Whimsically Beautiful Watercolour Rose Tattoo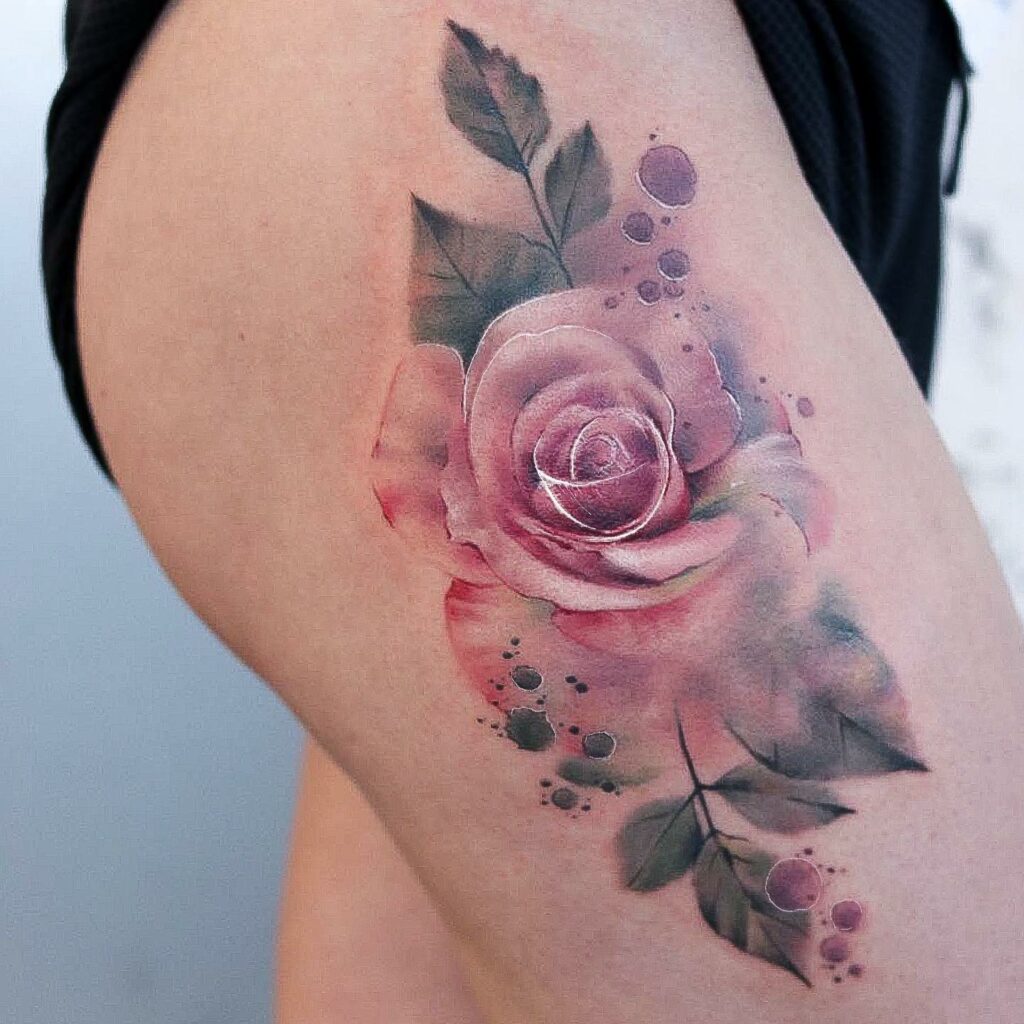 It must be acknowledged that tattooing and creating tattoo designs is tough work, as it is. Now, imagine recreating the same textures on one′s skin, that watercolour paints create on canvas. We can all accept that such a piece of artwork would need immense expertise.
With such expertise, the artist, here, created gorgeous work of art that many tattoo designs will fail to live up to in comparison to this full bloom. The faded hue and watery texture sets for an ideal watercolour rose tattoo design. It is not only whimsical looking but charmingly attractive as well. Ideal for a thigh or forearm placement.
Tattoos don't have to be big and bold all of the time. Also, many women prefer small, complex artwork, especially in unconventional locations. You'll need to see a very qualified tattooist for such great details.
Pink Rose Watercolour Tattoo Design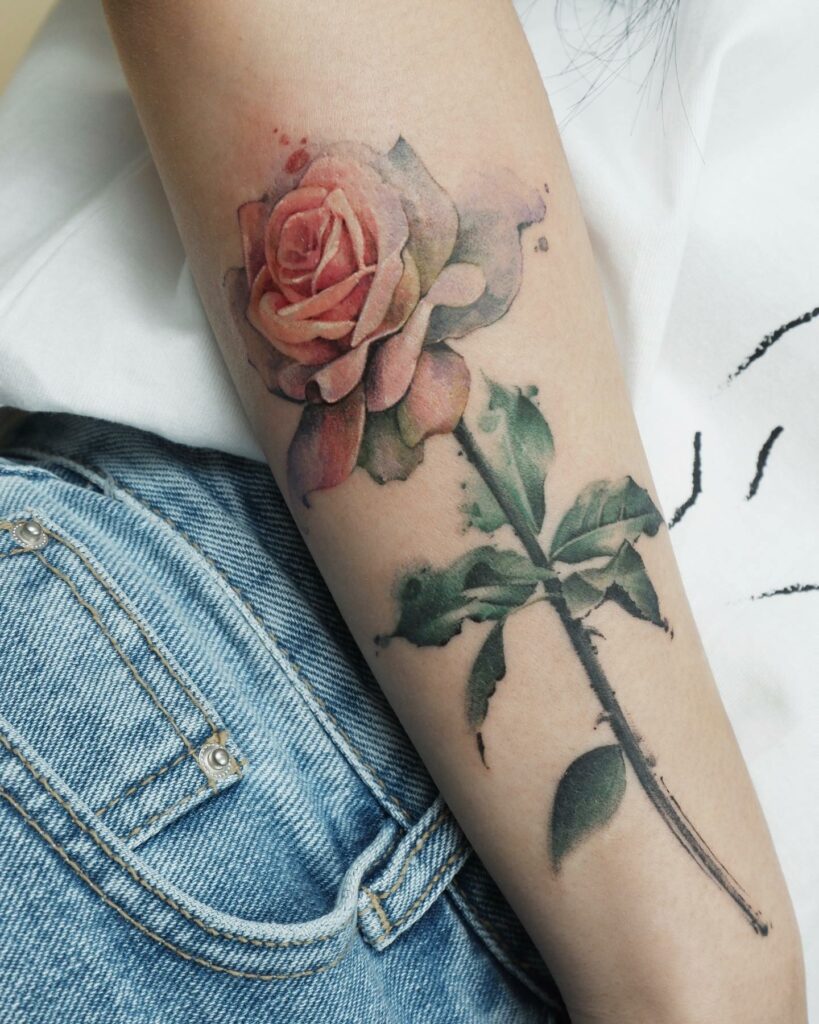 Here, the tattooist has designed a pink rose tattoo complete with its stems and leaves, including the thorns. Each detail has been precisely highlighted. The petals have a stunning pink hue and the watercolour texture of the rose, complete with the black outlines makes for a beautiful watercolour style of artwork. It looks delicate yet bold with its size.
Such a beautiful shade is hard to miss out on and we can assure you that you will love having this tattooed.
While most watercolour artwork has a messy look, which is charming in itself, this particular piece has a neat look; providing a much clearer picture of the tattoo.
Remembrance Watercolour Rose Tattoo With Script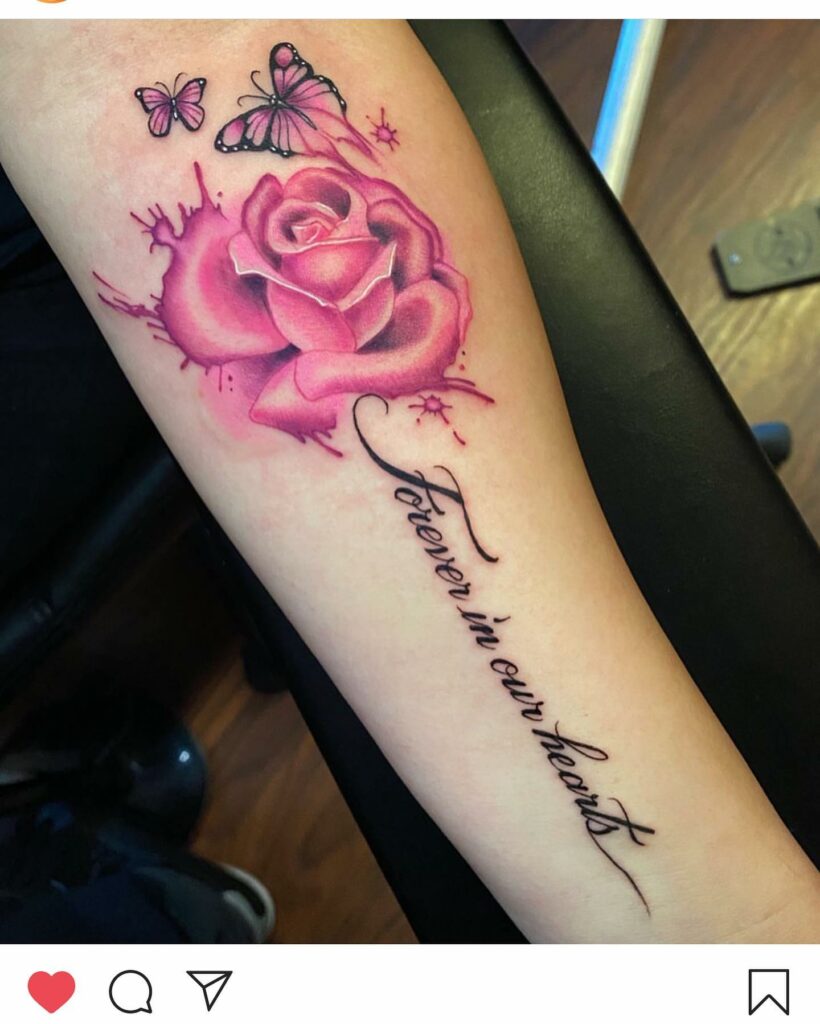 Rose tattoos make for an ideal remembrance tattoo. While red roses or any other colour of roses depict beauty, some are also a symbol of a lost loved one. Many choose to use a rose to commemorate the death of a loved one and often with a rose tattoo, we can also find scripts which are mostly phrases or names.
Here, this beautiful red rose created in watercolour work is accompanied by a script that says: "Forever in our hearts"
The tattooist created a simple rose flower and added butterflies as motifs, together with a script. If you are looking to commemorate someone you have lost, this sweet little tattoo is just for you. Such a style of artwork will never disappoint.
Stunning Red Rose Tattoo With Clock Motif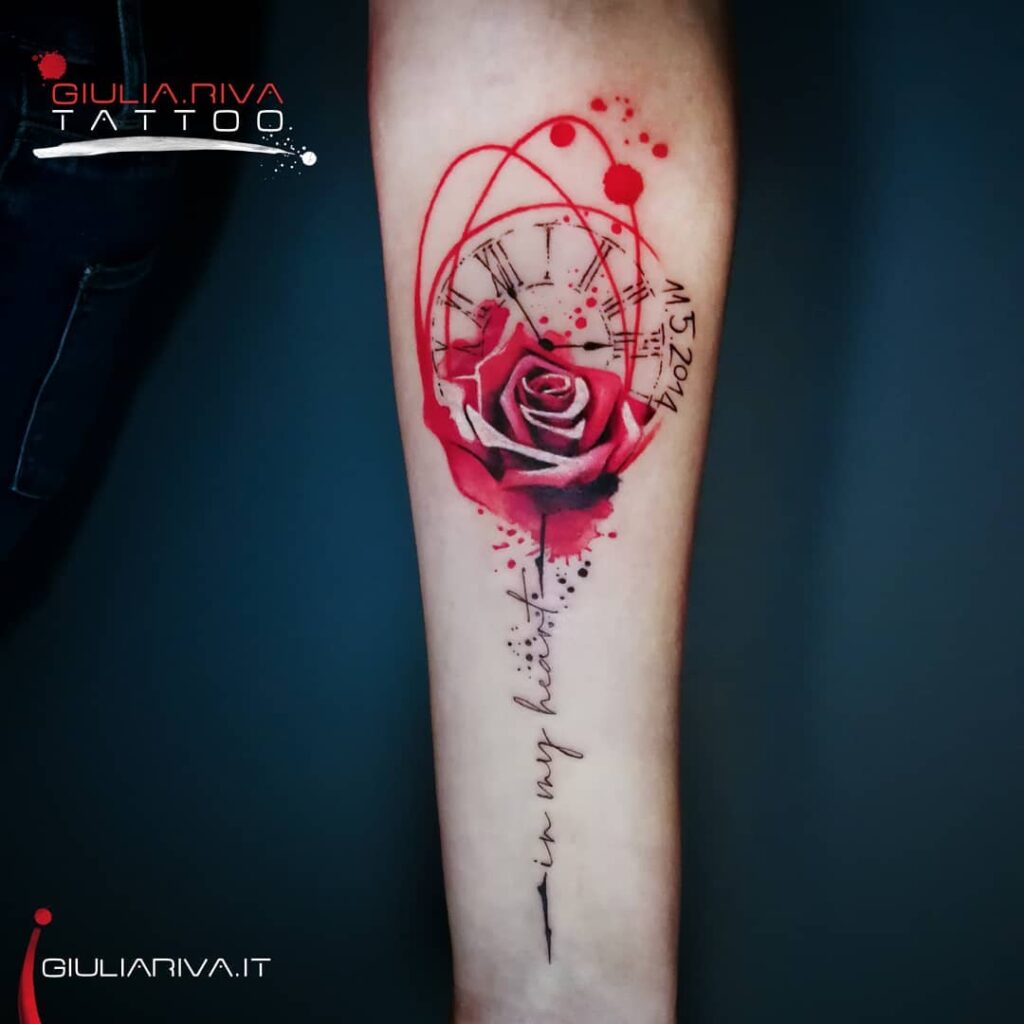 How gorgeous does this piece look? Together with the script and the blackwork done on the clock, this makes for one classy and chic piece that you just cannot miss out on. The tattooist created a unique design by using the script as the stem for the rose, the elegant font giving the whole tattoo a stunning look. The bright red colour of the rose contrasts beautifully with the clock.
It is a new twist, which you can explore further by adding some other motifs of your own, something relevant to you, after all, art is never limited.
Bright And Colourful Watercolour Rose Tattoo For Shoulder
The idea of a bright and colourful stunning rose tattoo will never be boring and this piece of art is justification enough. The tattooist created such a stunning and realistic tattoo that it will definitely be a major hit in the tattoo world.
It has been immaculately drawn and the contrasting colours of the rose petals give the overall tattoo a vibrant look. The shoulder placement of the tattoo is also an ideal spot that will not disappoint, while the lifelike and sleek look of the tattoo makes for a popular piece that one cannot miss out on, and neither should you.
Large Watercolour Rose Tattoo With Skull Motif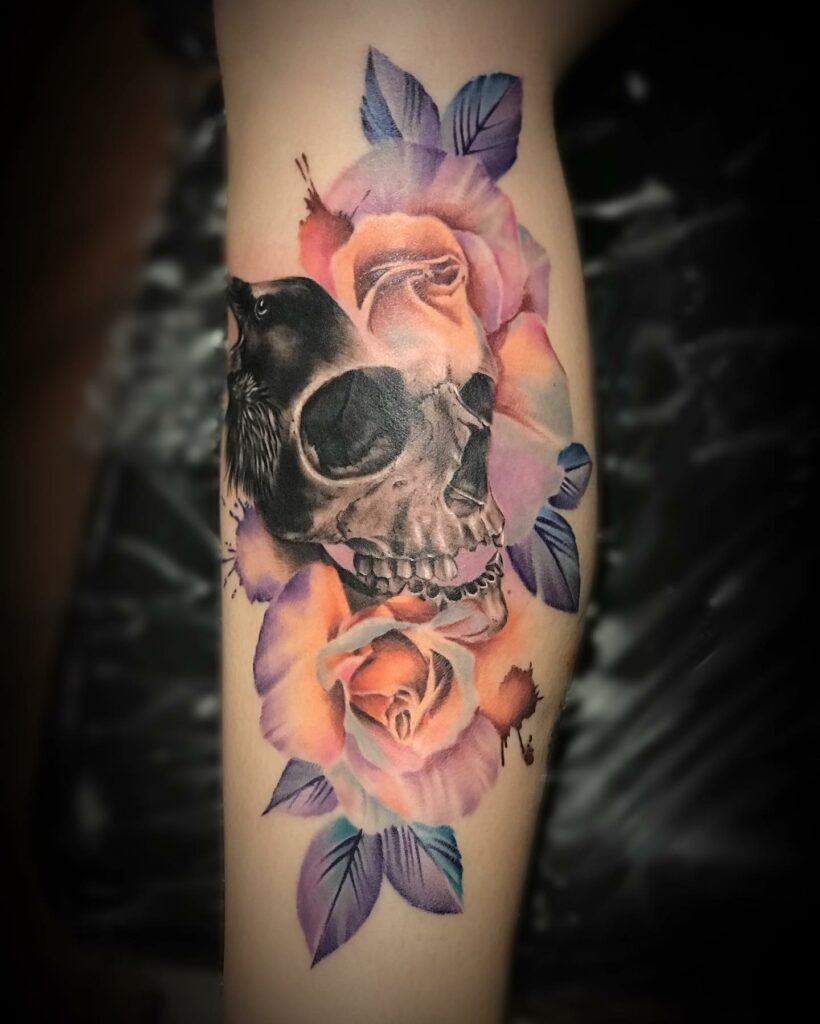 The contrasting design between a rose and a skull tattoo has always been a major hit in the tattoo world. While roses are a symbol of love and of beauty. Skulls represent death and life. Many tattoo enthusiasts are interested and find this contrast an interesting idea to tattoo. We can all acknowledge that it is in fact a unique idea that we cannot miss out on.
Here the tattooist used some of the most aesthetic looking colours that give the overall tattoo an aesthetic, gothic look. Other than the skull, the artist also incorporated a raven merged with the skull. The dark colour of the skull and the light pastel hues of the roses give the overall tattoo a chic and classy look.
Watercolour Blue Rose Tattoo
This art is probably the simplest of them all. The tattooist designed a simple full-blooming blue rose in watercolour work. The stunning and bright blue colour gives the tattoo design a life-like look that can easily catch much attention.
The texture of the watercolour look gives the tattoo a much-needed elegance and the shoulder placement is perfect for a tattoo of such size.
If you are someone who prefers simpler looking tattoos and yet the ones that easily catch attention then this piece of artwork is ideal for you.
Burning Pink Rose Watercolour Tattoo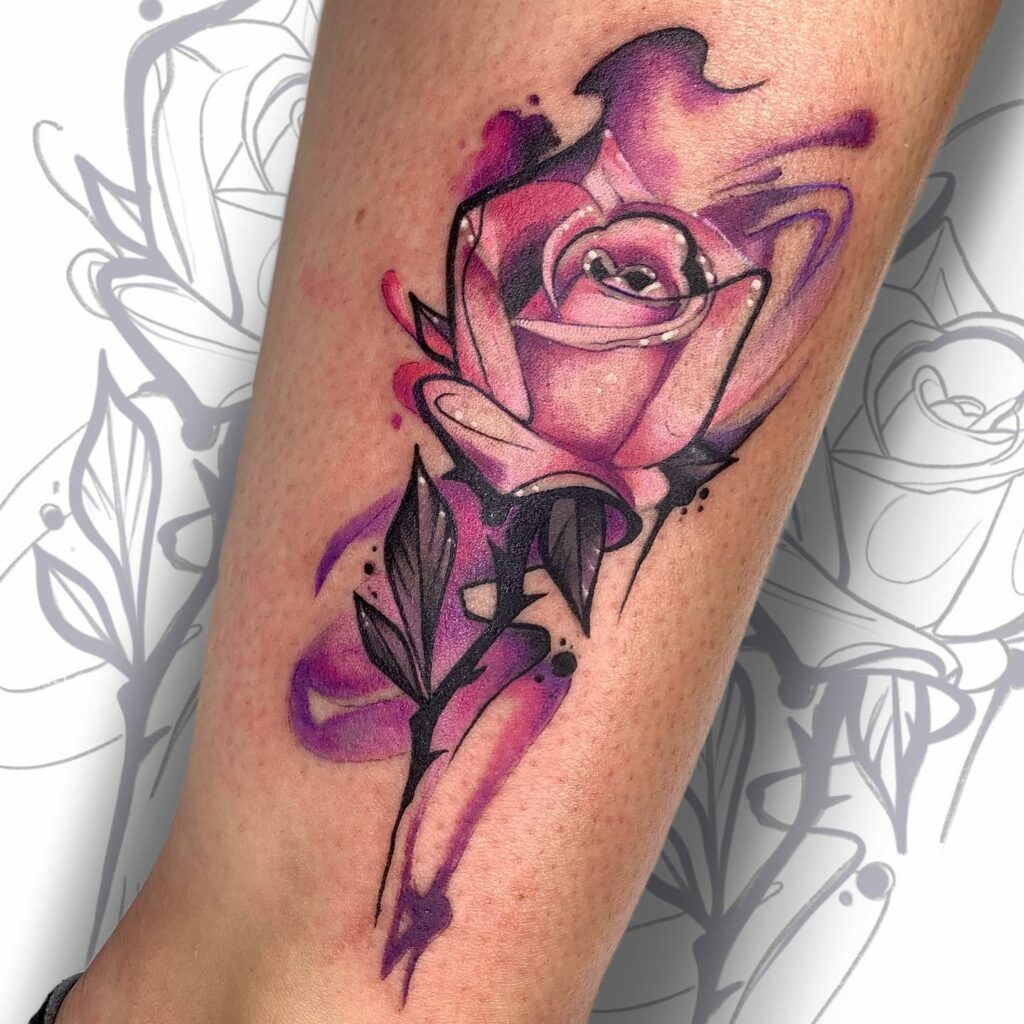 Last but not the least, this beautiful burning rose is a must-have and we assure you that you will love the magical and mythical look this tattoo will bring. Especially with the watercolour work done on the tattoo, this makes for a stunning piece of artwork, people just cannot miss out on. It is sure to bring in lots of compliments.
The tattooist created bold and beautiful outlines in black and the dark pink hue together with the purple, giving the tattoo design a classy and magical look. The tattooist also gave the overall design a burning look that adds to the charm of the tattoo.
If you are someone who prefers such cute and pretty looking designs then this tattoo is for you.
The rose's intricate nature has made it one of the most exquisite floral tattoos for tattooists to create and depict. A rose tattoo representing love lost and gained has indeed been popular as a depiction of the finest level of emotion throughout history. With this bloom, elegance and passion are in harmony, and no other bloom can match its grandeur or historic value.
Rose tattoo designs have developed over time and have usually represented the wearer's individual interests. Roses were supposed to be viewed and spoken of as any other flower, delighting at their magnificence and recounting the tale of how they came to be in full bloom, wherever you wish to put them.
feature image from Pinterest – Want your tattoo to look brighter? Try "Tattoo Balm"