Are you in search of some awesome wendigo tattoos? Keep reading to discover some of the most meaningful wendigo tattoo ideas.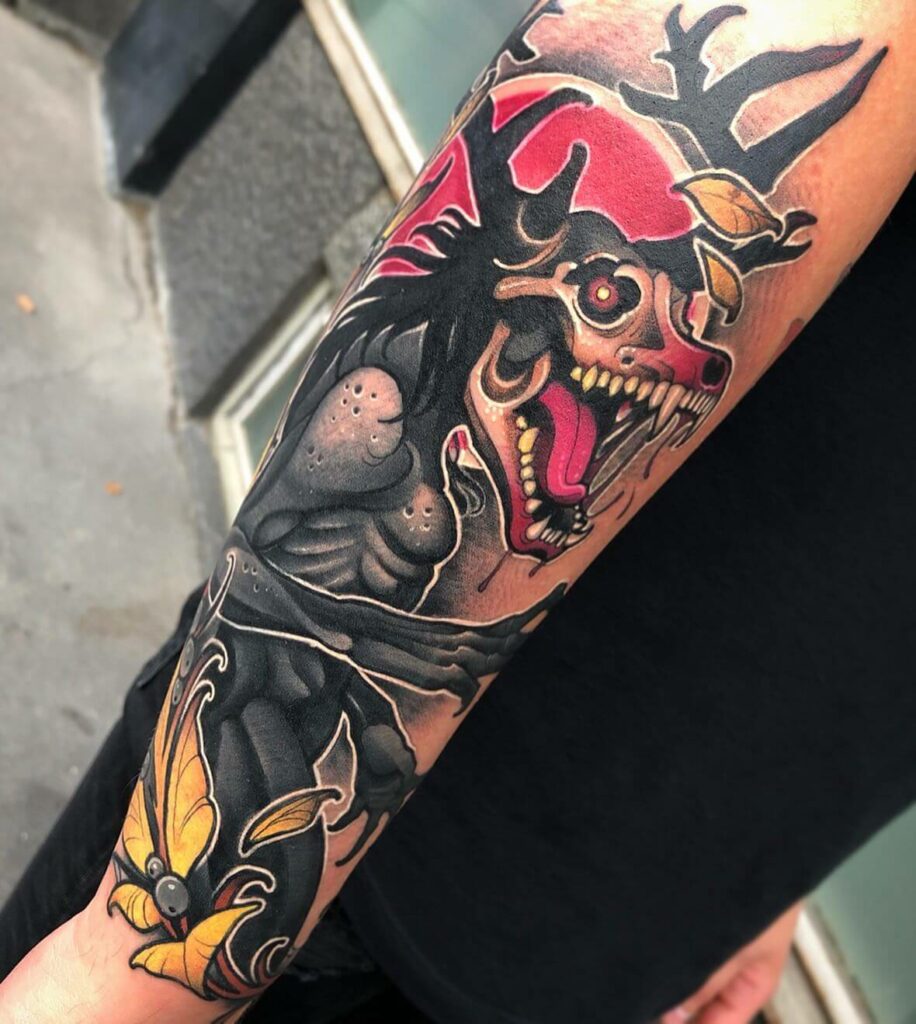 Wendigo tattoos have several meanings associated with them.
In some cultures, a wendigo tattoo means greediness. In some other cultures, wendigo ink has been associated with cannibalism.
Suppose you want a tattoo that stands for greediness. It is prevalent in Algonquian oral history, notably among the Anishinaabe, Naskapi, Cree, and Innu. Indigenous peoples often regard Wendigo stories as allegorical tales used to explain disasters. The Wendigo was necessary for one of the myths surrounding Grey Owl, who claimed to be an Englishman, a Scot, and a Canadian of aboriginal ancestry at separate points in his life. The Wendigo legend is associated with the increasing public interest in Bigfoot by accentuating the attributes of this already popularly known American folklore legend. If you are searching for some fantastic wendigo tattoo ideas, we have your back.
Spooky Wendigo Tattoo Idea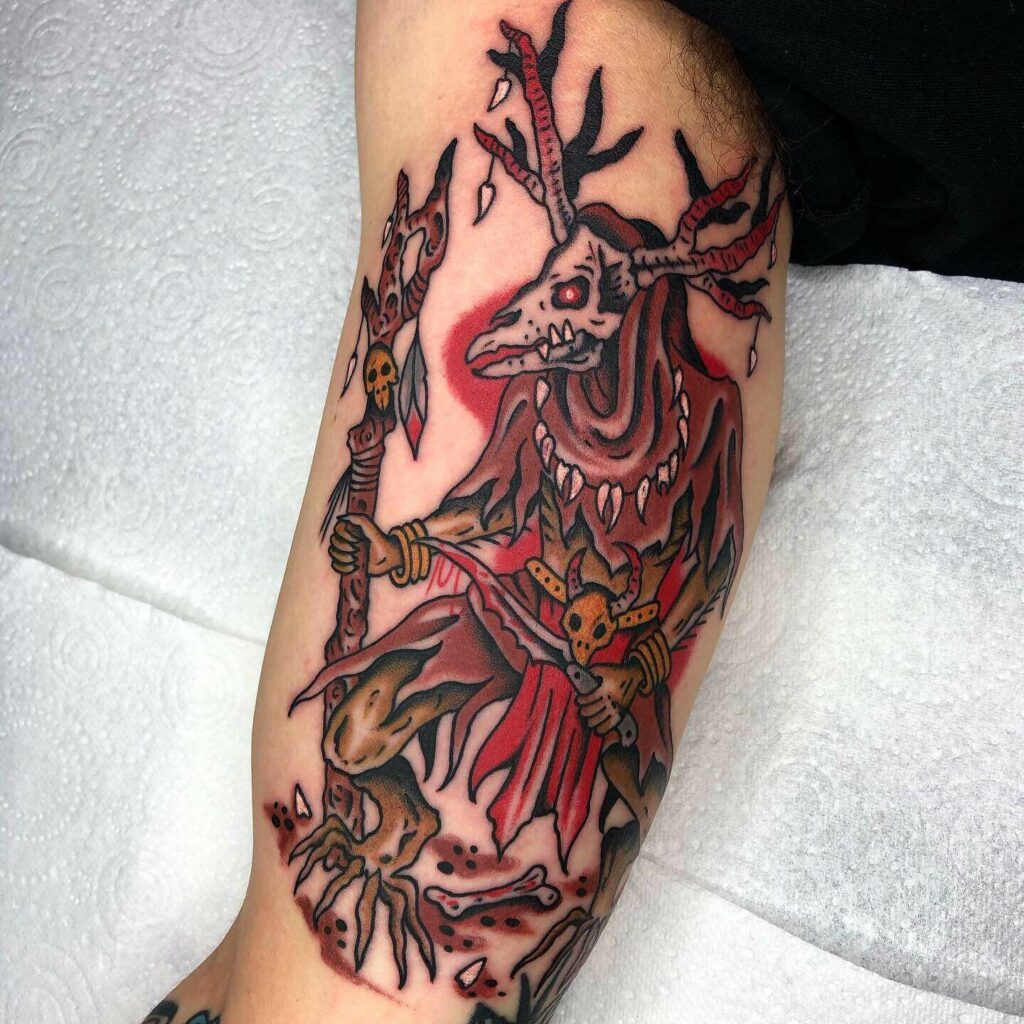 Are you a fan of spooky mythical beasts or wolf-like skull tattoos with dark and bright sides? Then wendigo tattoo ideas will be just perfect for you. This super cool tattoo is intricately designed with well-combined colors. The shadowing work in the tattoo is done precisely to add depth to the art. They are mainly found in dark inks, but making the body art in a colorful version makes it more appealing to the public.
This wendigo tattoo is more like the animation version of the real Wendigo. The origin of wendigo tattoos dates back to the creature's origin, which comes directly from native American flocks. Wendigo is tied explicitly to Algonquian peoples, and they are one of the more populous and widespread Native American groups from the northern parts. The tattoo will most likely complement the styles you will be wearing, but it will more likely go well with the primary and neutral colors.
Black Moon X Wendigo Tattoo
To represent the things in your way, this wendigo tattoo idea will be just like your preferred taste. Wendigo tattoos are known to be bold, edgy, and have a spooky aura. But this tattoo is a beautiful representation of the recreation of mythical folklore, which is not as mysterious as the original art or the origin story. The wendigo tattoo sketch is unlike the original design, which contains a wolf-like skulled monster hunting with its weapons. This art is of a woman who is the female and human version of the creature. The moon in this tattoo adds a unique touch to this tattoo.
The culturally literate human will be well aware of what the tattoo means, whereas some people can also consider cultural appropriation. Since ideas and viewpoints keep changing, recreating the mythical creatures is a form of revolution.
Stranger In The Woods Wendigo Tattoo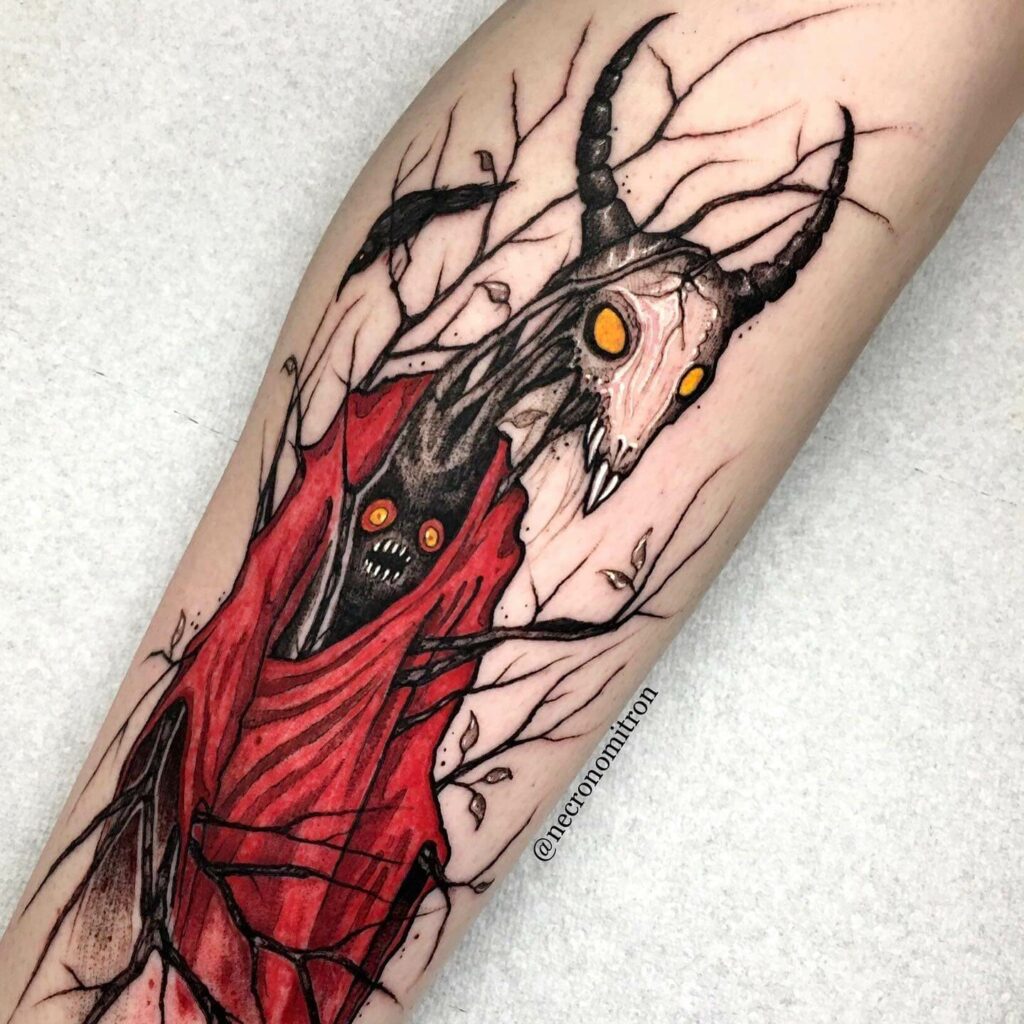 If you are a fan of Wendigo with a spooky dark aura and large antlers, this wendigo tattoo might be just for you. Have you ever wondered what a Wendigo tattoo means? It means a cautionary tale against greed during tough times. The tattoo perfectly depicts the origin story of how a wendigo is created. When a human is a wendigo, it is the symbol of simultaneous greediness and community.
That means the only way to avoid being a wendigo is to be generous with people so that your greed doesn't take over you. The detailing of the body art is done precisely with magnificent shadow works. The tattoo is not solely spooky due to the creative work of the tattoo artist. If you look into the tattoo briefly, you will find the tattoo cute.
Black Ink Wendigo Tattoo
If you like your tattoos to be realistic and high definition, then this tattoo design of a wendigo might be just to your liking. This tattoo perfectly depicts the creature's origin story we have heard throughout. The beautiful art is done very skillfully with just black ink. The artist did the tattoo so that he used the skin to add definition to the wendigo art. The tip work and the fine shadowing are done meticulously, making the tattoo look defined and realistic.
According to mythologies and fork loads, when a person engages in cannibalism, the Wendigo overtakes them, and they develop an insatiable hunger. In simple words, the Wendigo symbolizes greed overtaking a human's humanity. In other parts of the world, there are different versions of the same story. The tattoo will look amazing on your skin in whichever style you opt for.
Butterfly X Wendigo Tattoo On Upper Arm
Suppose you are looking for something out of the original storyline with a modern thinking touch or another viewpoint of the story. In that case, this tattoo might be for you as the tattoo depicts a situation where the Wendigo sits with a butterfly on his finger. Generally, it is shown that a wendigo is the symbol of greed overtaking its whole humanity and achieving incredible hunger. But the skeleton of the Wendigo with a butterfly can also depict that all wendigos don't go blind with greed.
They sometimes can come back to their senses and acknowledge their inner human emotion. Since the tattoo does not contain heavy art, this detailed tattoo will go well with any aesthetic and look good on everyone.
Hyper-Realistic Full Sleeve Wendigo Tattoo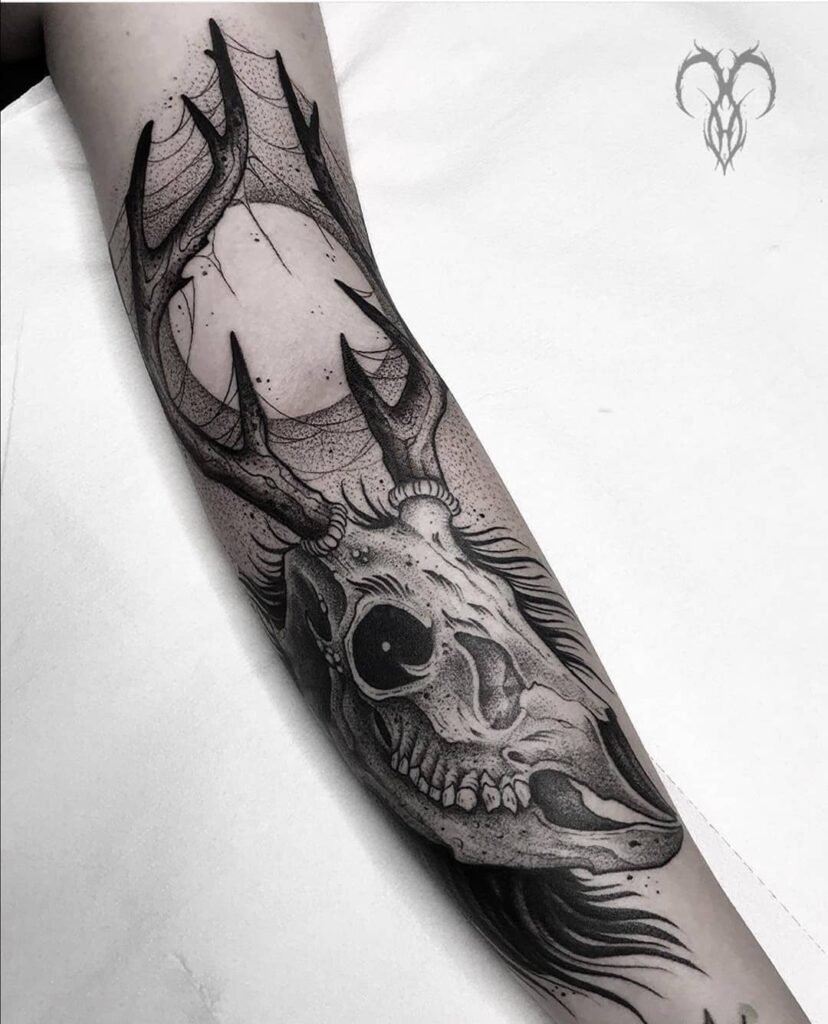 If you are a fan of hyperrealistic tattoos, then super cool wendigo tattoos will be just to your liking. The tattoo artist very skillfully details the tattoo. The artist used eye caching shadowing techniques, making the tattoo look fantastic and realistic. The precise detailing of the large antlers, the mouth, and the eyes of the dead monster, is done magnificently. And make sure to get this ink done by a professional artist to get the well fined and defined look of this wendigo art.
The tattoo has been placed perfectly, covering the full sleeve of the individual. The tattoo artist had added a unique twist to the tattoo, which might confuse people when first looked at, but when you take your time to observe, the ink looks edgier. You could always create this tattoo on any other part of your body, such as your leg, chest, or back.
Terrifying Black Ink Wendigo Tattoo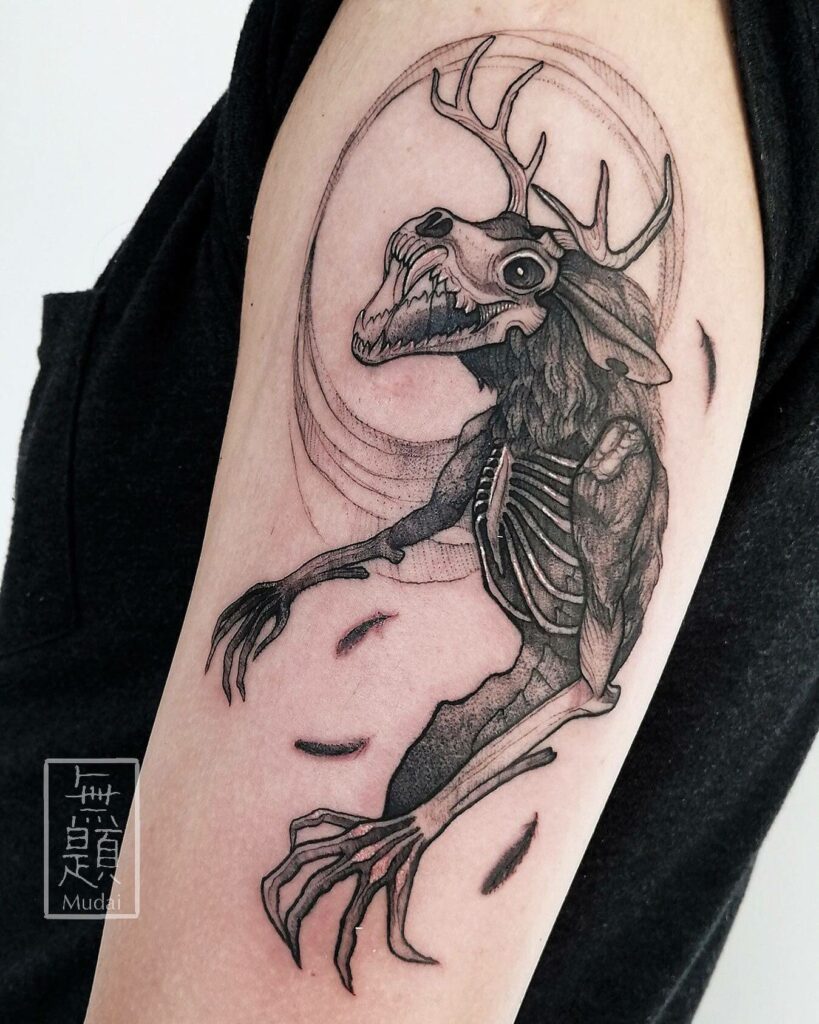 You might have seen a lot of wendigo tattoo ideas by now. The infamous creature turned from a person who engages with greed and achieves an insatiable hunger for it. The wendigo tattoos can range from terrifying to cute and beautiful. But if you are a fan of spooky dark aura themes, then this tattoo design might be just for you.
This wendigo tattoo can appear terrifying to some people as the art is so defined and realistic that it looks just like the scary creatures of the folklore myths. The fine detailing of the tattoo is done precisely by the artist. If you want, you could always add more spooky effects to the tattoo by adding more detail or by getting the dead monster's whole body inked.
Native American Creature Wendigo Tattoo
Wendigo illustrations were well known among the native American people. But in early dates, wendigos were known for ill reasons for murder or greed. But recently, in the tattoo world, Wendigo is becoming a sensation, maybe because of its relation to pop culture. But if you are of Algonquian descent and want to stay loyal to your origin and heritage, not forget your roots, or not get greedy, what would be a better option than getting a wendigo tattoo?
This Wendigo in this body art got a giant monster-looking skull with large antlers. The Wendigo in this tattoo also carries a vintage lamp intricately detailed with defined shadowing works. Since the art has lots of detailed works, you should get this tattoo as a sleeve tattoo or back tattoo.
Wild Simple Wendigo Tattoo
If edgy and spooky is your favorite aesthetic, this wendigo tattoo design will be intact to your desired tattoo. Wendigo tattoos the head can be of various giant animals, from wolves to cows heads. This wendigo figure contains a giant cow head, large antlers, and a bone skeleton figure.
The shadowing and the fine line of this wendigo art are very defined, which makes the tattoo look very realistic. The tattoo is done with a lot of precision. Make sure to get this tattoo done by a professional tattoo artist to get the clean and defined look of this art. Even if you generally wear a dark academia aesthetic, the tattoo will go well with the neutral and basic nude colors.
Spooky Insatiable Hunger Wendigo Tattoo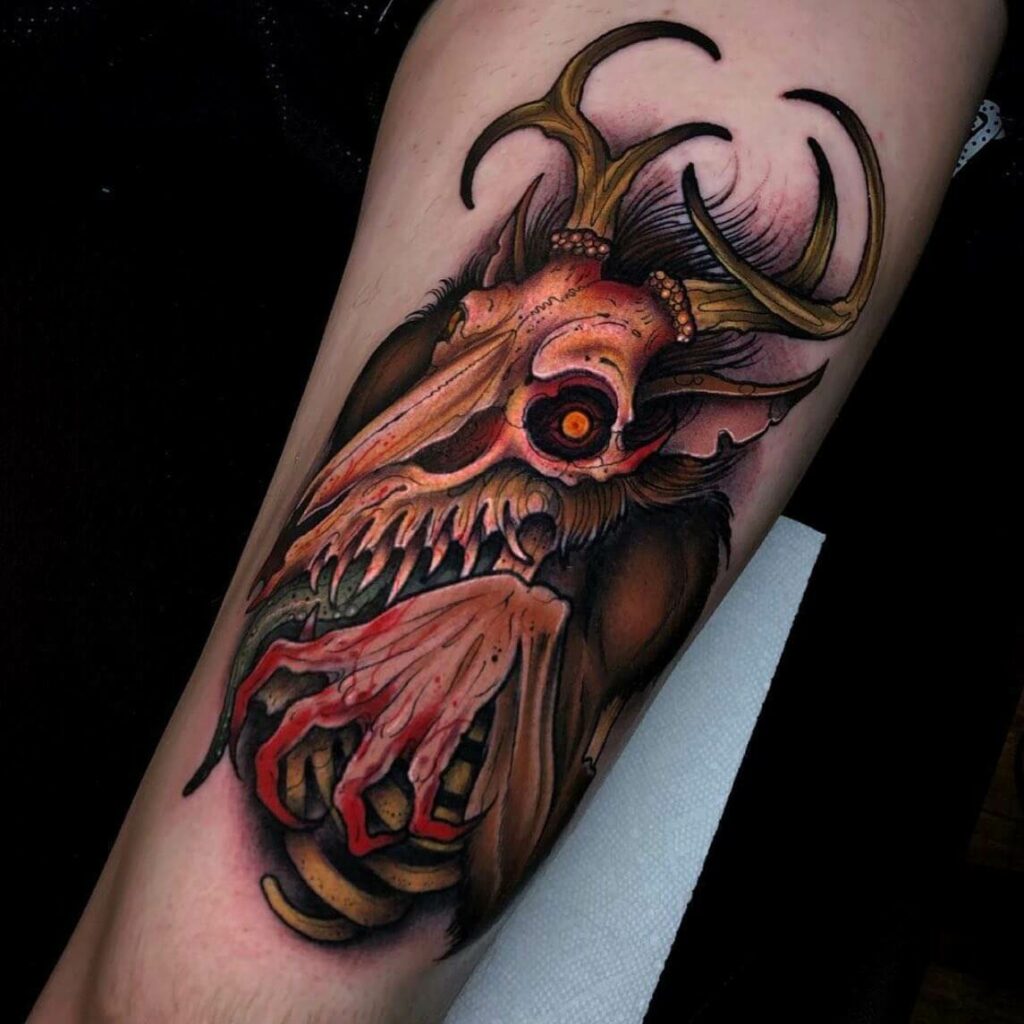 You might have seen many wendigo tattoo ideas by now. But if you are looking for some extraordinary, highly defined, colorful tattoo that will look as beautiful as it will look spooky, then this wendigo tattoo might be just for you. The tattoo has stunning illustrated artwork. This tattoo's wolf head is done precisely with nicely combined colors.
The horns, skull, and bony skeleton hand look highly defined and realistic. The artwork is done very precisely with every minute little detail kept in mind. So if you want to get this tattoo, then make sure to get this tattoo done by a professional artist to get the defined look of the tattoo and that the definition and every little detail are kept in mind.
People often like to get tattoos that represent what they feel. No matter how hard it is to agree, greed is an essential part of our life, and we all have felt it at some point. A wendigo tattoo is perfect for someone who wants a tattoo to showcase the demon that is a part of their personality.
Still looking for inspiration, then checkout this blog post about wendigo tattoo ideas
Feature Image from Pinterest – Want your tattoo to look brighter? Try "Tattoo Balm"
Last reviewed and updated on August 23, 2023