Greetings, ink enthusiasts and connoisseurs of culture. If you're in search of some inspiration to embolden your skin canvas with a slice of the Wild West, saddle up and journey with us. We've curated an anthology of the most intriguing Western tattoo designs just for you.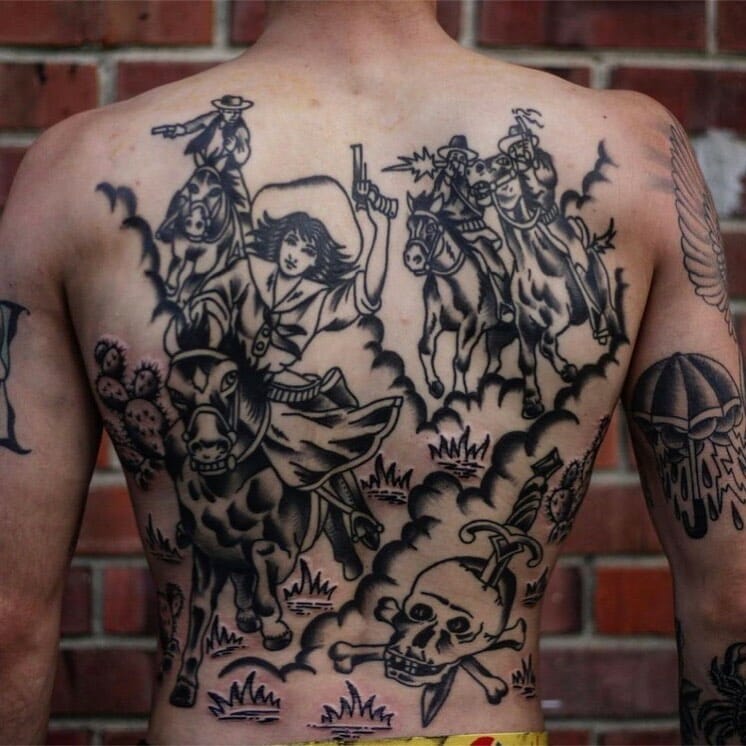 A resurgence in cowboy-themed body art is painting an evocative homage to a bygone era, merging the allure of ancient Western heritage with the dynamism of modern tattoo aesthetics.
Western culture, deeply entwined with the lore of the cowboy, paints a picture of men sculpted by nature and necessity. These figures, nestled amid the wilderness, shepherded their cattle on horseback and crafted a life bound to the open ranchlands.
Infused with a distinct flair, cowboys fashioned an aesthetic steeped in pragmatism and poise. From the iconic brim of the Stetson hat to the rugged elegance of their boots, the cowboy style remains unmatched and undiluted, standing aloof from conventional sartorial norms. It conjures images of audacious freedom, robust strength, and unyielding tenacity—a beacon of masculinity and a testament to rebellion. The cowboys' penchant for displaying their assorted paraphernalia has become a source of fascination and inspiration.
So, if your heart pulsates to the rhythm of the American cowboy legacy and you yearn to etch this pride onto your skin, then it's time to spur into action. We've wrangled a collection of the finest cowboy tattoos guaranteed to cater to every ink aficionado's palate.
Cowboy Tattoo Ideas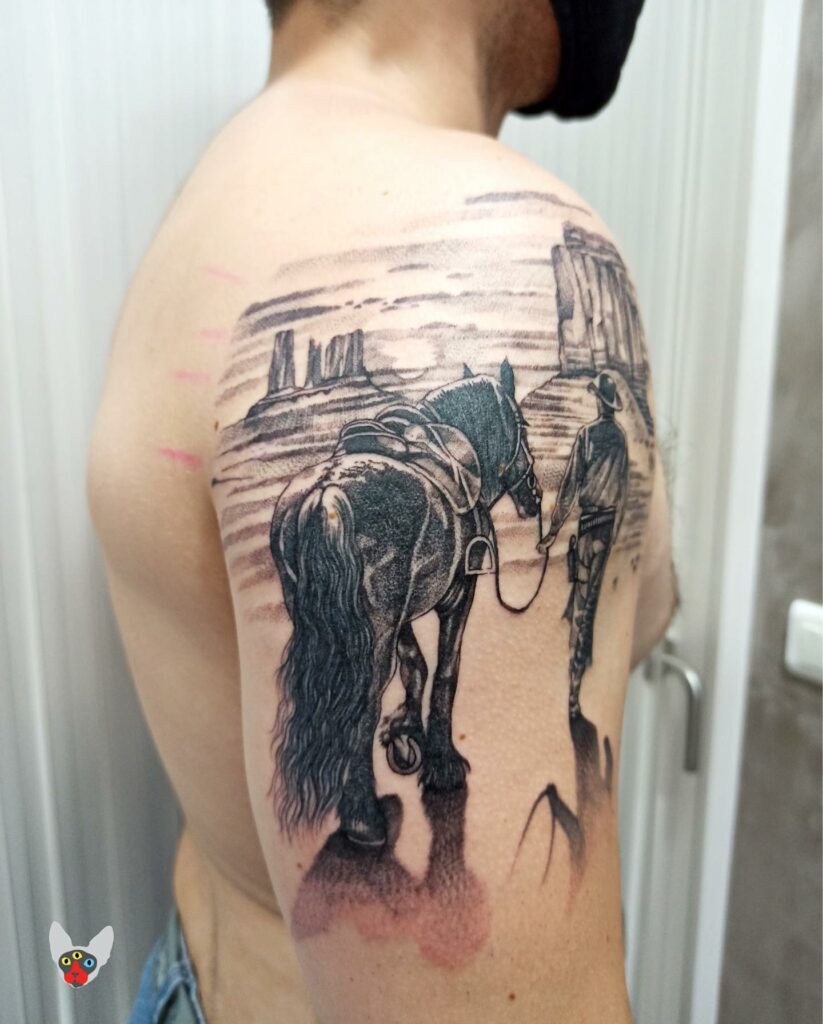 The cowboy is a symbol etched deep within the heart of American culture. Choosing to adorn your skin with the visage of this lone rider might be an expression of personal homage—perhaps to a cherished male figure, such as a father, brother, son, or grandfather. Alternatively, it could signal an affinity for the classics of Western cinema like 'The Good, The Bad, And The Ugly'. Notably intricate, these artistic masterpieces often require multiple sittings and can commandingly span the chest, back, arms, or legs. One striking example unfolds across a half-sleeve, where a monochromatic cowboy gently leads his horse towards the setting sun—shadows underscoring the vivid realism.
Realistic Western Tattoo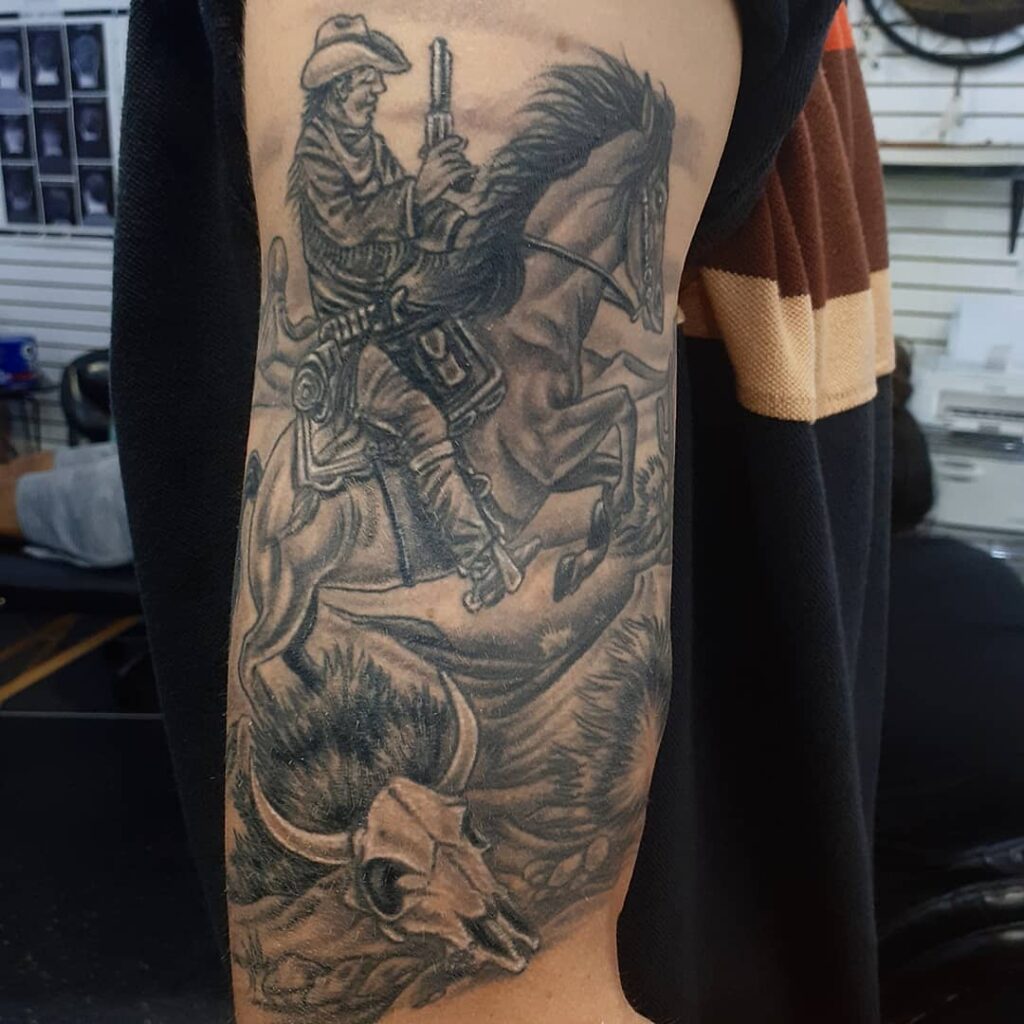 Embodying the spirit of independence, cowboy tattoos may symbolize an individual's journey towards mental liberation. There's an undeniable veracity to an inked cowboy astride his horse, his iconic hat and boot inked in immaculate detail. The danger-infused landscape marked by a skull at the horse's foot creates an image that speaks volumes about the untamed life in the wilderness.
Texas – Wild West Tattoo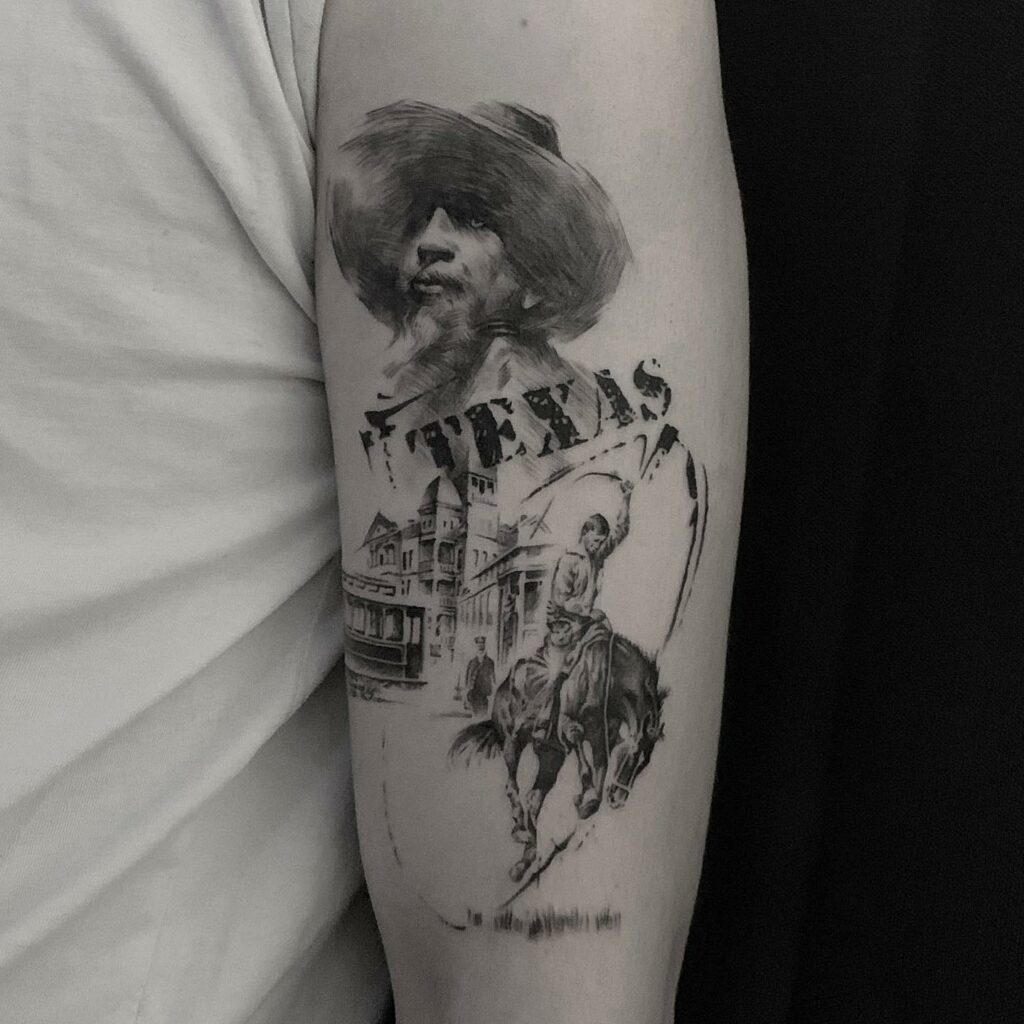 We turn next to the Lone Star State. Texas, renowned for its sizzling BBQ, foot-tapping live music, and of course, its cowboys, is often considered the global 'Cowboy Capital'. With vast ranches that are a constant testament to the cowboy work ethic, Texas holds an essential place in cowboy culture. A tattoo honoring this reality might incorporate a diverse range of elements, like a cowboy's weathered face crowned with his trusty hat, all contrasted against the silhouette of the State Capitol in Austin. Sketched in black ink, additional hues can bring this inked tribute to life, transforming it into a body art masterpiece.
Western Traditional Tattoo
Harking back to the quintessential cowboy life depicted in countless old west movies, another compelling tattoo design includes dice, cards, and the cowboy's trusty pistols. Black ink and varying shades of grey add depth to the design, with the notorious 'Wanted' poster providing a fitting backdrop. Despite the complexity, this inked narrative of the 'Wild West' can serve as an intriguing and evocative choice for a leg sleeve tattoo.
Gunslinger Tattoos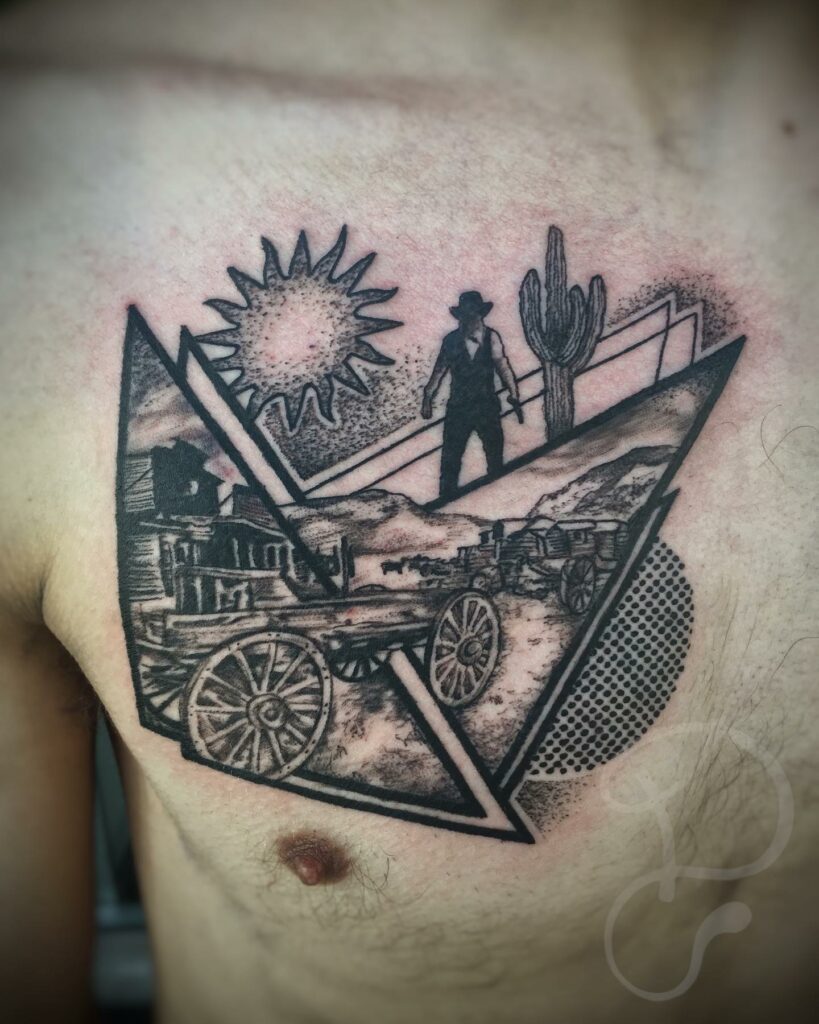 Turning our gaze to the more menacing figures of the Wild West, we encounter the 'gunslingers'. These dangerous denizens of the West, known for their participation in shootouts and gunfights, also offer an irresistible allure for body art. A surrealistic tattoo, alive with varied needlework techniques, might depict a barren desert landscape, with a solitary cowboy standing resolute and armed among the cacti. Dark black ink forms the mainstay of the design, with softer shades creating a balanced contrast.
Western Tattoo Sleeve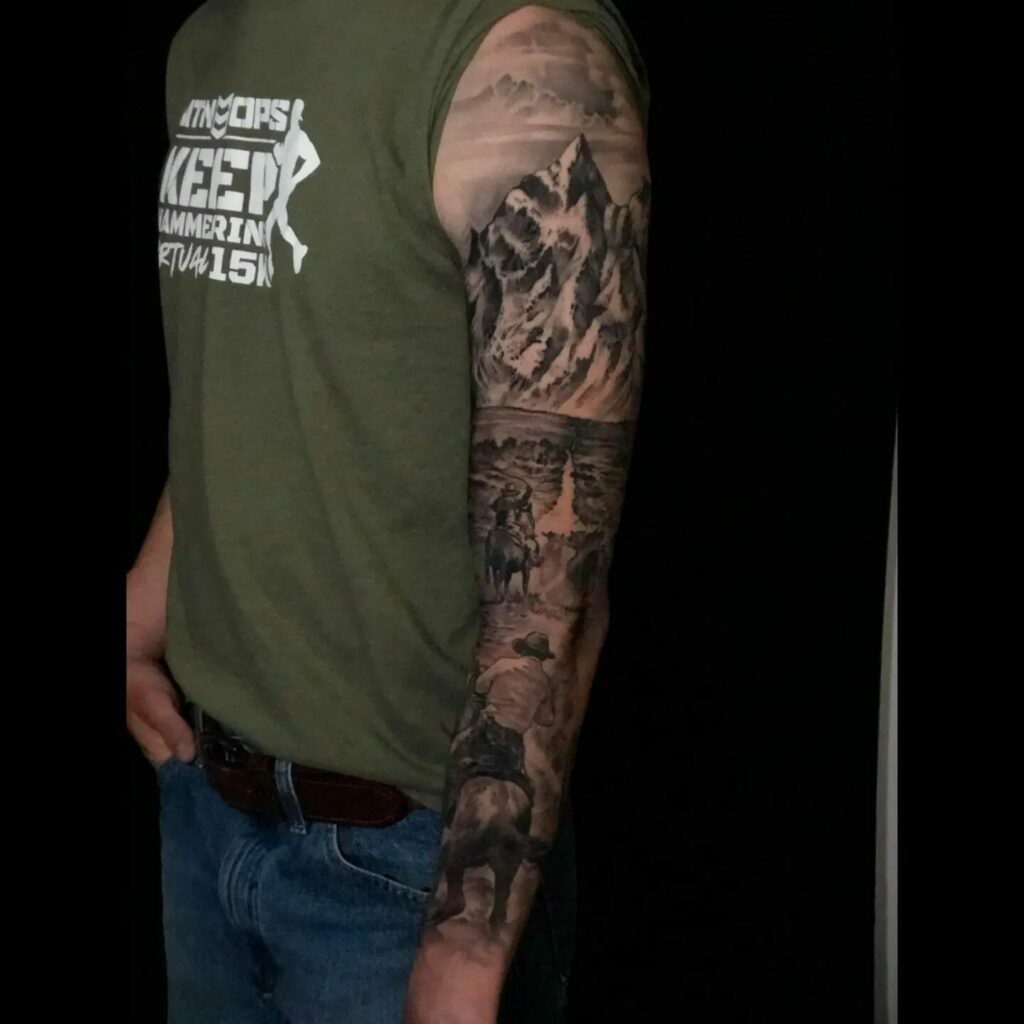 A Western tattoo sleeve can weave an intricate story, starting with clouds and mountains on the upper arm and descending to cowboys on horseback on the lower arm. Highly detailed and predominantly crafted with fine line-work, these designs are an ambitious undertaking but yield striking results. Similarly, skeleton cowboy tattoos, featuring skulls decked in cowboy hats, can be both audacious and distinctive, speaking to those who walk their own path fearlessly.
Skeleton Sheriff Tattoo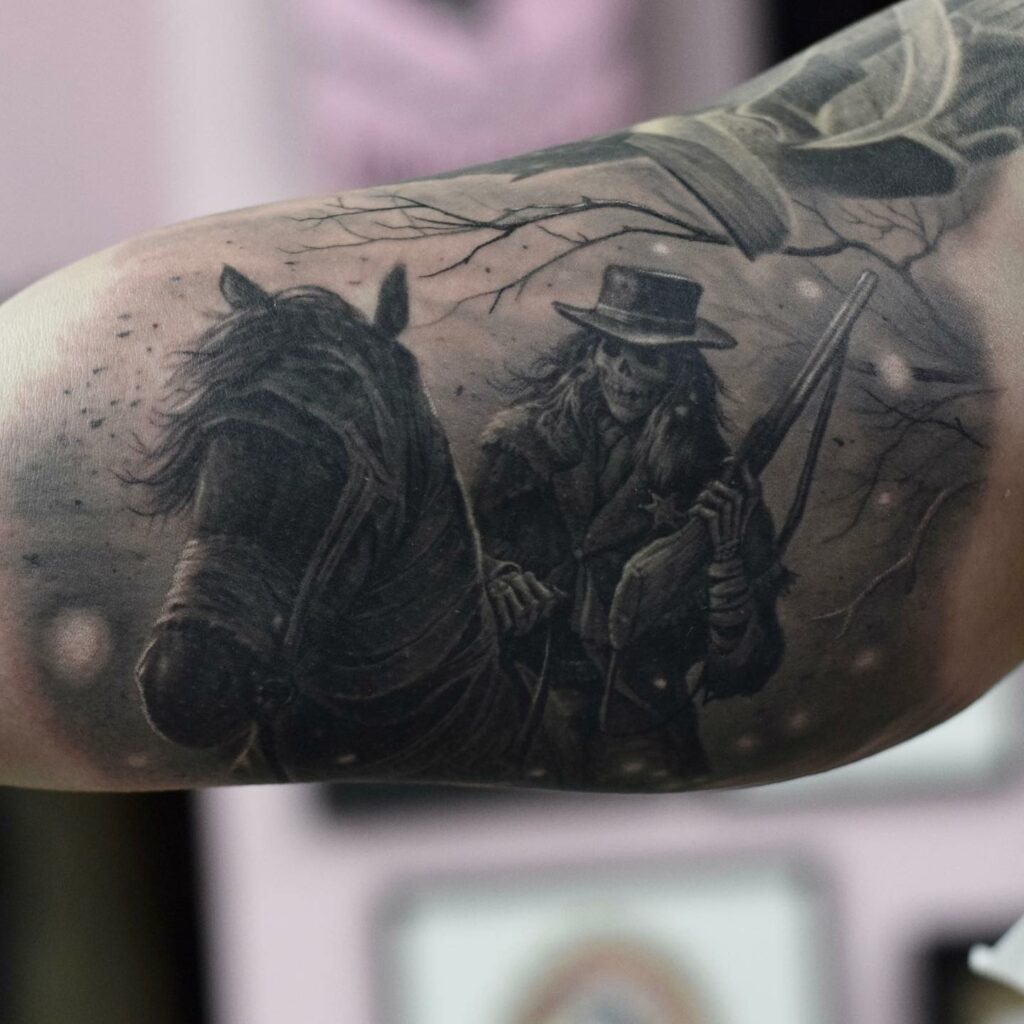 A skeleton cowboy tattoo is a unique design that not everybody finds very appealing. This tattoo is a symbol of bravado. They are a representation of somebody who is not afraid of going on their own path. These designs generally contain a skull of the skeleton wearing a cowboy hat.
This particular design has more elements to it. It shows a skeleton holding a gun, and riding a horse in The Dark Knight. The detailing on this tattoo makes it look very realistic. The colors used in this design are black and grey and white have been used to highlight some areas. The tattoo has been inked on the upper arm of the person. However, it is a big tattoo and can be placed on body parts like the chest, back, or thighs.
Western Culture Tattoo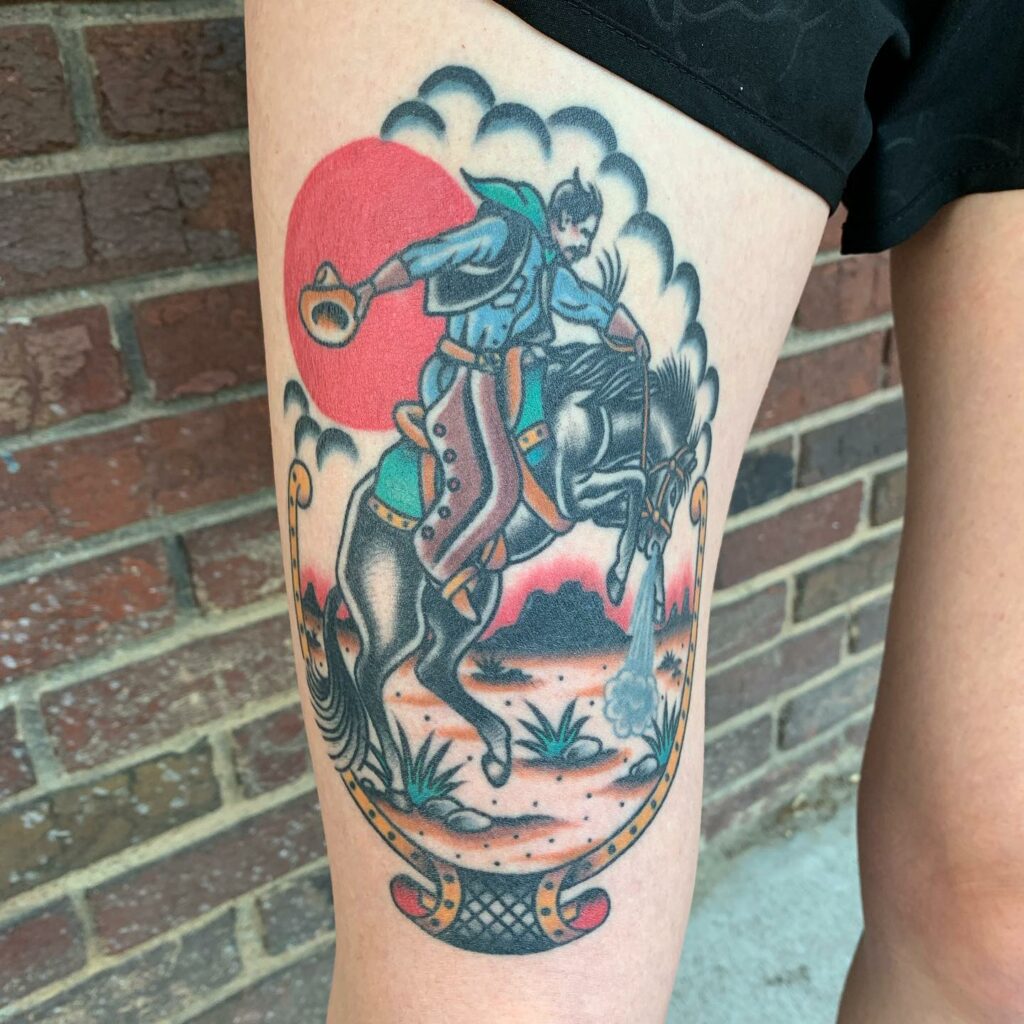 In the realm of neo-traditional tattoos, bold lines and vibrant colors breathe life into the scene of a cowboy riding through barren lands, with a fiery sun providing a vivid backdrop. In contrast, the adrenaline-fueled moment of a train robbery can be etched in stark monochrome, with the threat of gun-wielding cowboys laid bare.
The Train Robbery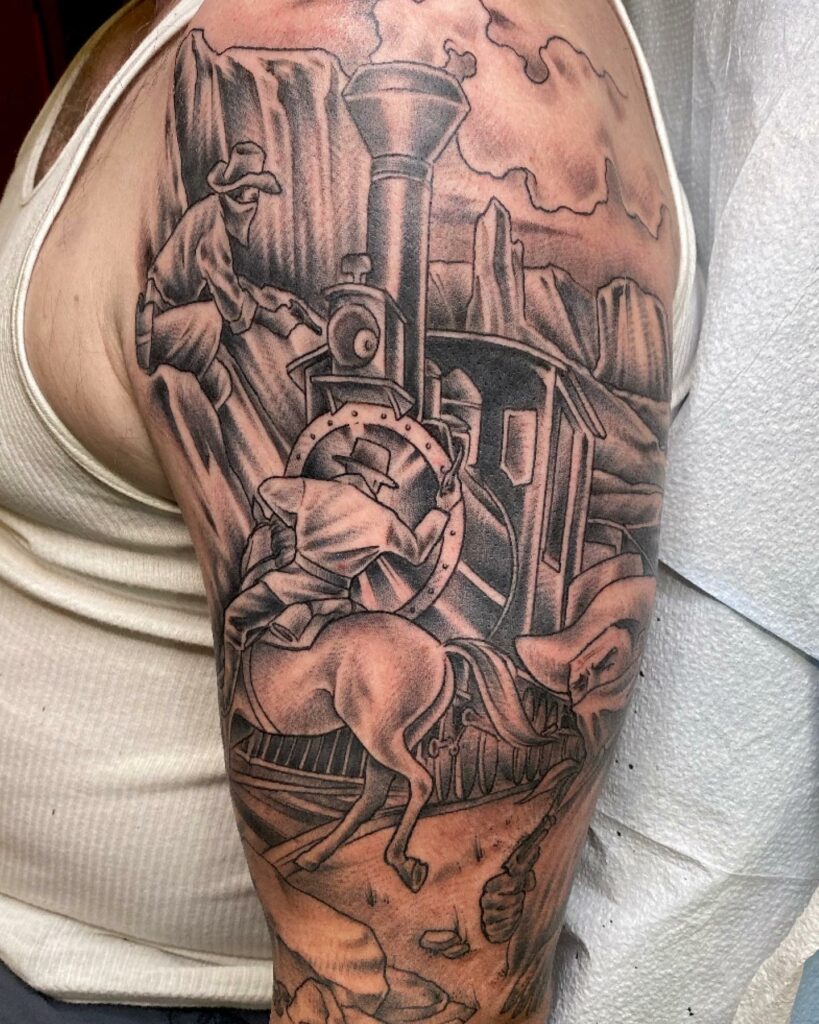 Finally, a daring design featuring a skeletal cowboy, still standing despite multiple arrows, speaks to resilience and bravery, a testament to the undying spirit of the cowboy.
Skeleton Cowboy Tattoo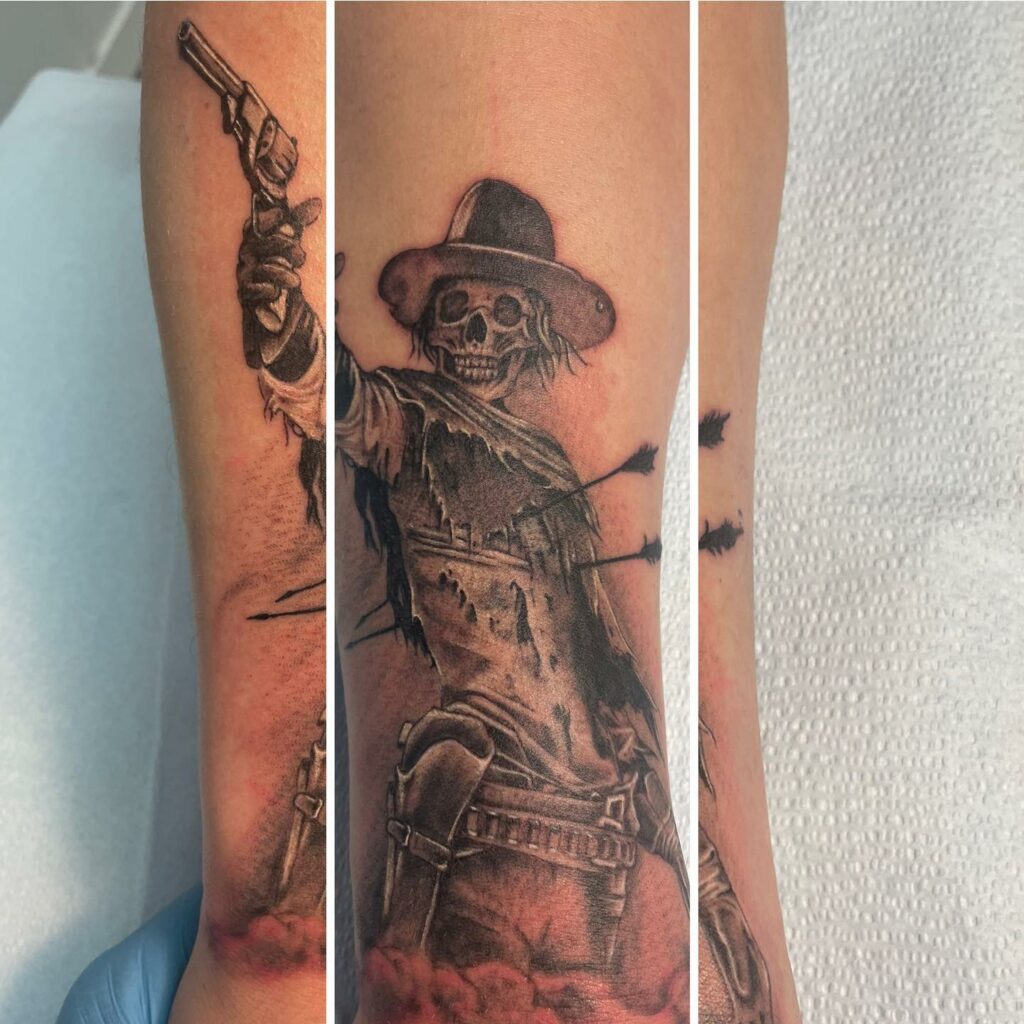 These evocative illustrations remind us that the tale of the cowboy, much like our own stories, is one of grit, resilience, and unwavering individuality. Whichever design you find yourself drawn to, each is a unique manifestation of Western legacy, ready to find a permanent home on the canvas of your skin.
Western Skull Tattoo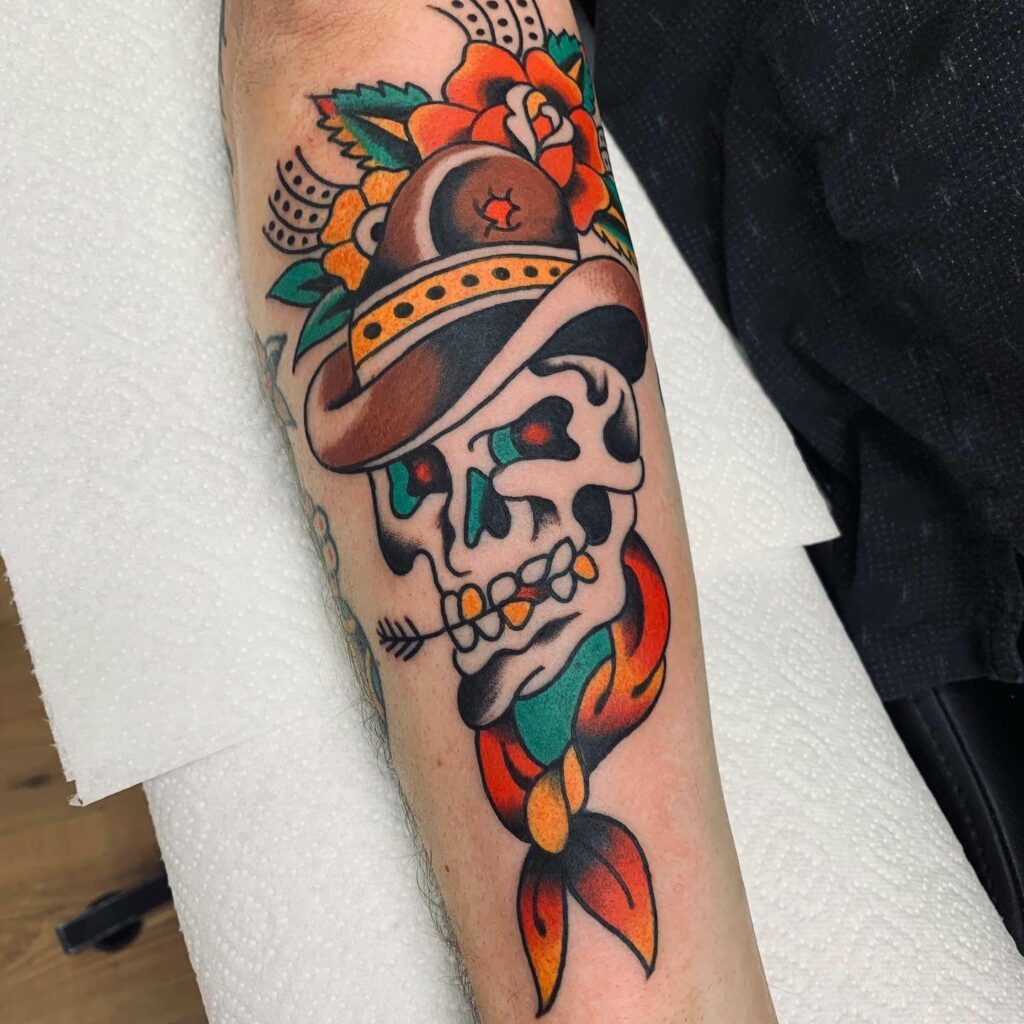 American Traditional Western Tattoo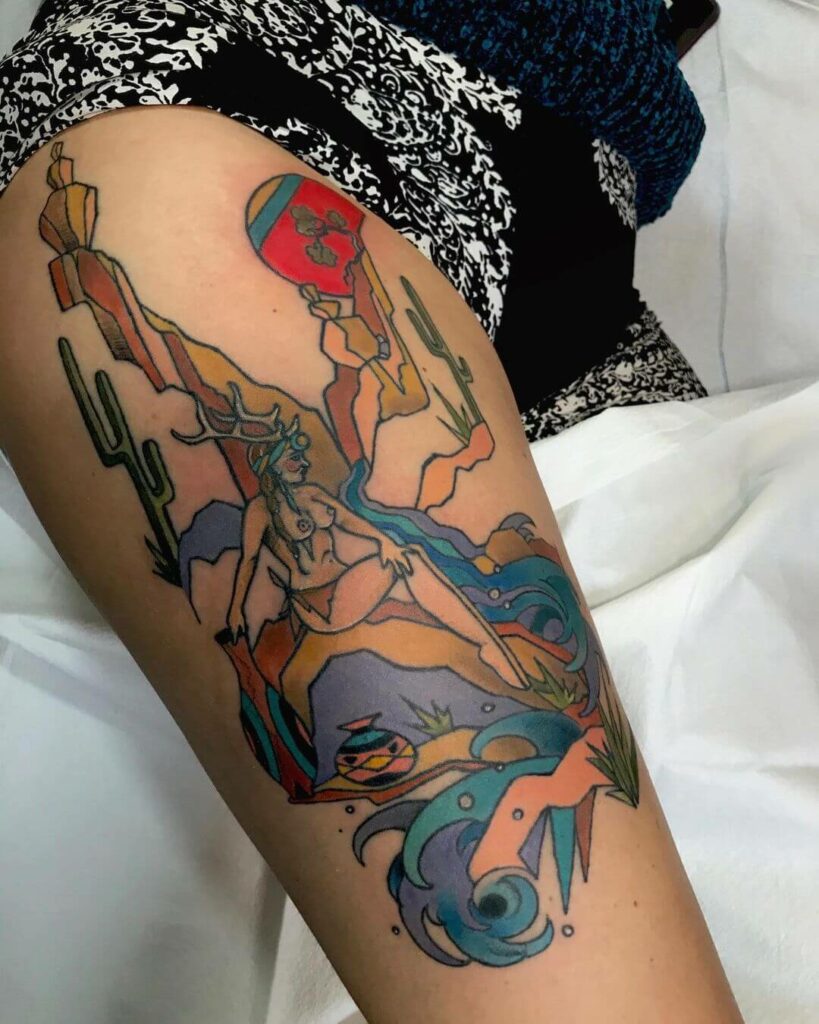 Conclusion
And so, dear reader, we find ourselves at the end of our inky journey across the plains of Western tattoo iconography. As we've galloped from design to design, we've discovered that each piece captures a unique sliver of a culture that has indelibly marked our collective history. The placement of your tattoo should ideally highlight its intricacy and narrative, with larger, more detailed pieces demanding broad canvases like the back, chest, or thigh. Keep in mind that tattoos of significant complexity might run you a few extra pennies, but rest assured, the masterpiece etched onto your skin will be worth every cent.
Yet, as with all adventures, it's not without its pitfalls. Professional tattooing is generally safe, but there's always the risk of skin infections, allergic reactions, or complications if you're not diligent about aftercare. Choose a reputable tattoo artist, prioritize cleanliness, and follow aftercare instructions to the letter. Remember, your tattoo is not just an expression of personal style—it's a commitment to a piece of art that will ride with you for the rest of your life. So, saddle up, select your design with care, and embark on the journey to embody the indomitable spirit of the Wild West on your own skin. Happy trails, compadres!
feature image from Pinterest
Last reviewed and updated on September 15, 2023