Hey there, ladies! Are you ready to show off your feminine side with some sexy rib tattoos? Look no further, because we've got some unique and beautiful women's rib tattoo ideas that you can personalize with your own special meanings.
In a world where accepting our bodies can still be a challenge, creating a beautiful tattoo design on it can be a powerful tool to help us embrace and appreciate our beauty. Rib tattoos, like any other tattoos, are a form of art that lets you showcase your stunning body and explore different aspects of your creativity.
The rib cage is an intimate part of the body, which makes getting a tattoo there all the more meaningful. With an array of unique tattoo designs, from small tattoos with flowers or butterflies to short quotes and more, rib tattoos allow you to express inner thoughts, emotions, and meanings that are impossible to convey through words alone.
While rib tattoos can be bold and fun, they can also reflect individualism and be molded into something that's uniquely you. Keep in mind that getting a rib tattoo can be painful, and it's often considered the second most painful place to get inked. However, with the right tattoo artist, the process can be much more bearable.
So, if you're on the hunt for inspiration for your next tattoo, whether it's for yourself or a loved one, keep scrolling for some of the most amazing rib tattoos for girls out there. Don't be afraid to add your own individual touches, meanings, and unique designs to make it truly one-of-a-kind!
Small Butterfly Tattoo On Ribs Women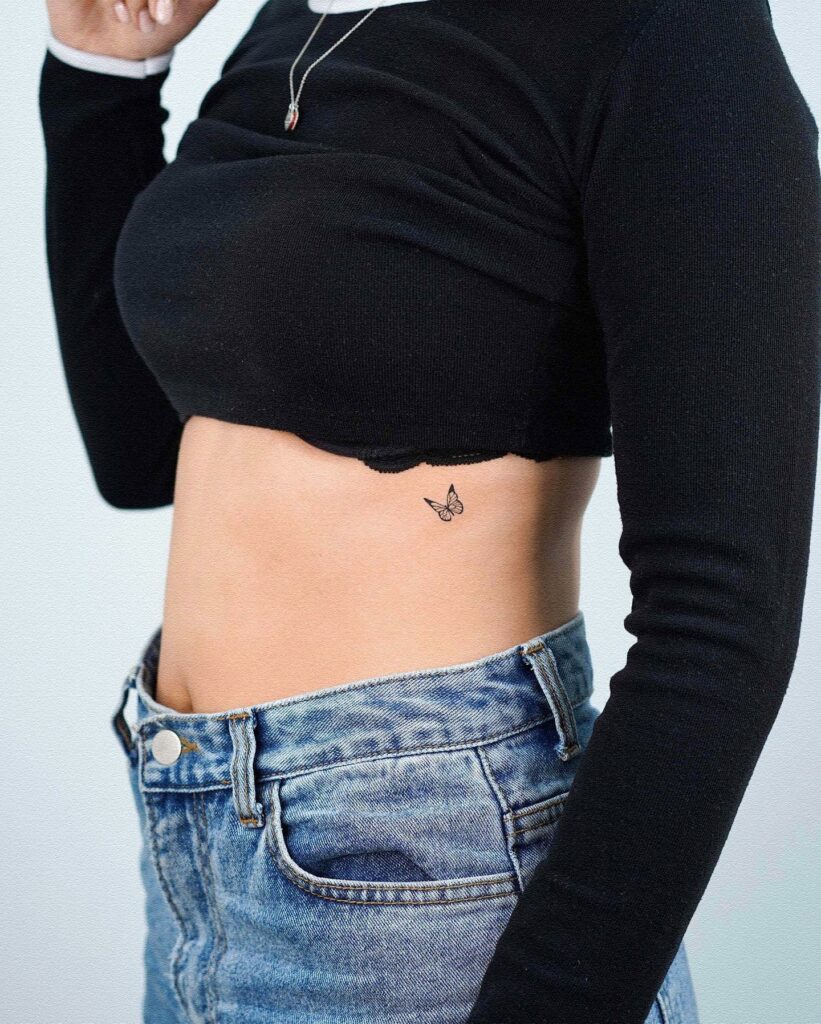 If you're someone who appreciates minimalist tattoos, then you'll love this tiny yet intricate butterfly tattoo! Despite its small size, the tattoo artist has managed to incorporate all the details perfectly. This tattoo is placed on the rib cage area, which can be a bit painful, but since it's small, the pain would be minimal. In fact, it's a great idea for a first tattoo if you're someone who's apprehensive about getting inked.
Butterfly tattoos have been a popular trend for a while now, and you can easily hop on to this trend while giving it your own personal meaning. The best thing about such small tattoos is that you can customize them with your own details, resulting in a unique design that's truly one-of-a-kind.
Snake And Flower Rib Tattoo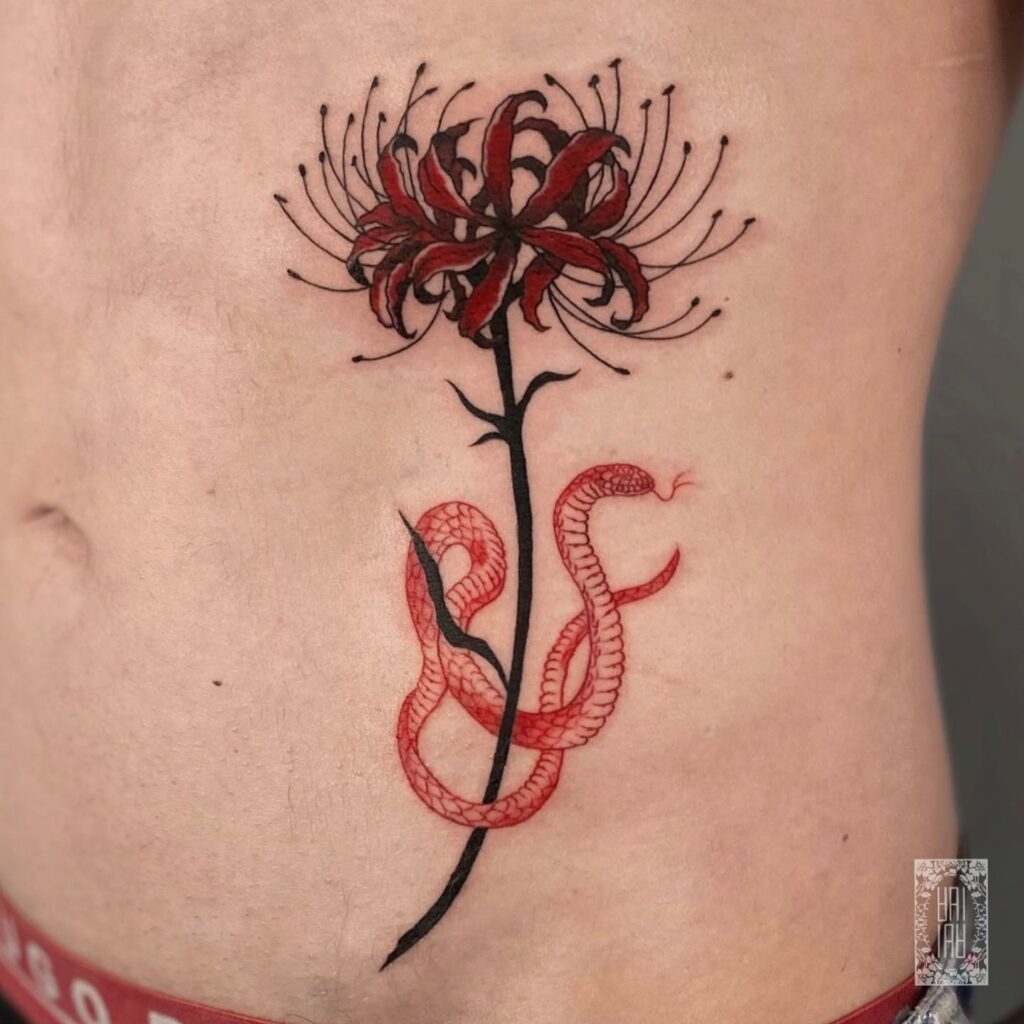 The spider lily and red snake rib tattoo design is a beautiful and meaningful choice for those who appreciate the idea of beauty and danger co-existing. This may represent the balance of yin and yang, a concept originating from ancient Chinese philosophy. Yin and yang symbolize opposing forces, and the co-existence of good and bad in everything. Flowers often represent beauty, while snakes are associated with danger, and this tattoo design showcases the paradox of these two elements coming together. However, the wearer can personalize the design by incorporating different types of flowers, such as a red rose or a lotus flower, to add their own unique touch. If you're looking for a tattoo that represents balance and the co-existence of opposites, this spider lily and red snake design may be the perfect choice for you.
Leaf Rib Tattoo
If you're a fan of minimalistic tattoos, then you'll love this design! It's simple yet stunning and can be a great choice for those looking for their first tattoo or something subtle. The details of the leaves are delicately drawn and the lines are laid out with great focus. This design can be done on both sides of the rib cage for a heavenly look.
If you want to personalize this design, you can add your favorite quote, flower petals, small butterflies, or even bright colors to it. This design can be adapted to suit your taste and style.
Anti-Romantic Ribs' Tattoo Women
Are you an anti-romantic who wants to showcase your views through your body art? Or perhaps you're a fan of the Korean band TXT's song "Anti-Romantic" and want to express your love for the band through your tattoos? Either way, this rib tattoo design is perfect for you! The playful font and ombre shading give it a bold and fun look. It's a great option for those who love bright and cheerful colors. And don't worry if you want to customize it even further – you can always choose your own colors or even change the font. So go ahead and embrace your unique style with this funky and bold tattoo!
Sun Rib Tattoo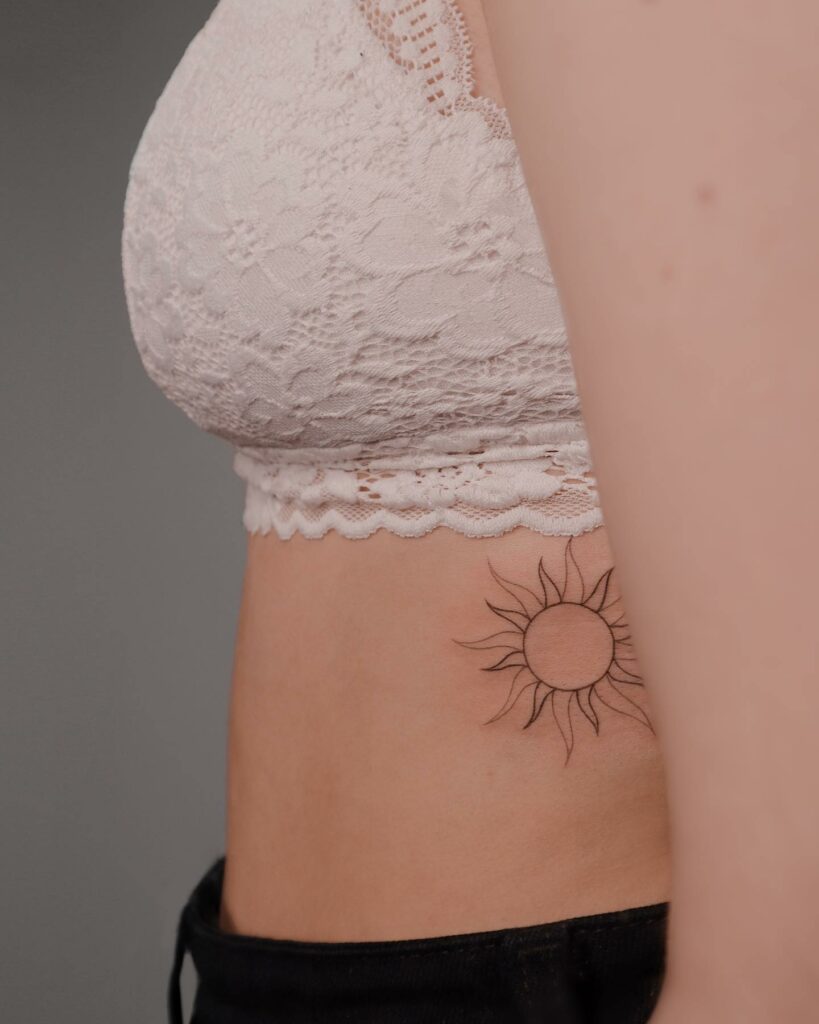 The clean and detailed drawing of the sun is placed on the ribs, making it an ideal location for a smaller yet meaningful tattoo. The artist has used two different patterns to draw the rays of the sun, which adds an interesting texture to the tattoo. Whether you're starting a new journey in life or looking for a fresh start, this tattoo design will inspire and motivate you. Plus, you can always customise it with your own ideas, such as adding a moon, colours, quotes, or more!
Viola And Rose Tattoo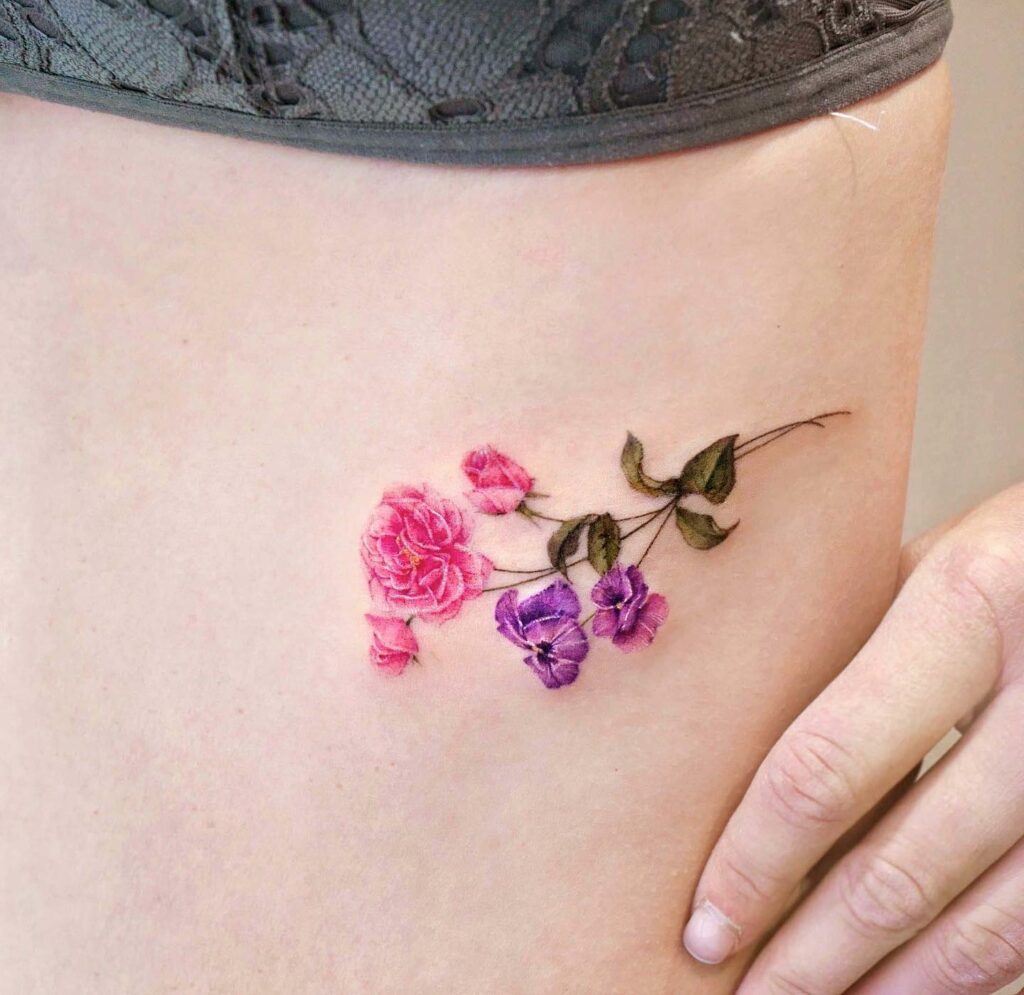 If you are looking for a feminine and realistic tattoo design, this gorgeous piece of violet violas and red roses on the ribs is simply breathtaking. The delicate and realistic details of the flowers create a beautiful piece of art on the skin. Not only does it highlight your feminine side, but it also represents deeper meanings. The Viola flower symbolizes innocence, modesty, and decency, while the red rose represents love, romance, and courage. This combination of flowers can represent innocent love or romance. The leaves add a touch of nature to the design and enhance its realism. You can customize this tattoo by using a different breed of flower that may hold a special meaning to you.
Black And White Daffodil Tattoo
Daffodils are a symbol of new beginnings and a fresh start, representing the arrival of spring and the end of winter. This simple yet elegant daffodil tattoo is minimalistic and can be interpreted in various ways. The shading is expertly done to give it a realistic 3D effect, with some petals appearing almost transparent.
If you are a fan of black and white tattoos, this design might be perfect for you. You can customize it to make it your own, adding personal touches to make it truly unique.
Rib Quotes Tattoo
If you're looking for a tattoo that represents kindness and positivity, then this design might just be for you! Featuring the famous quote from Selena Gomez's hit song, "Kill Em With Kindness", alongside a gun, this design is a unique way to show that you believe in spreading positivity, even in the face of negativity. Interestingly, this quote actually has a much longer history, dating back to the 16th century and appearing in Thomas Heywood's play "A Woman Killed with Kindness". So not only is this tattoo a modern and trendy choice, but it also has a rich history behind it.
Abstract Rib Tattoos For Girls
If you're a fan of abstract tattoos, you'll love this ethereal design featuring a pinecone with straight-line patterns. The artist has used dark shadings to create a stunning and unique piece. Pinecones are symbols of new beginnings and growth, making this design perfect for anyone embarking on a new spiritual journey. The potential of a pinecone seed to grow into something beautiful can also represent the potential for personal growth and enlightenment. Add your own personal touches to make this design truly your own and showcase your journey towards growth and enlightenment.
Abstract Line-Art Rib Tattoos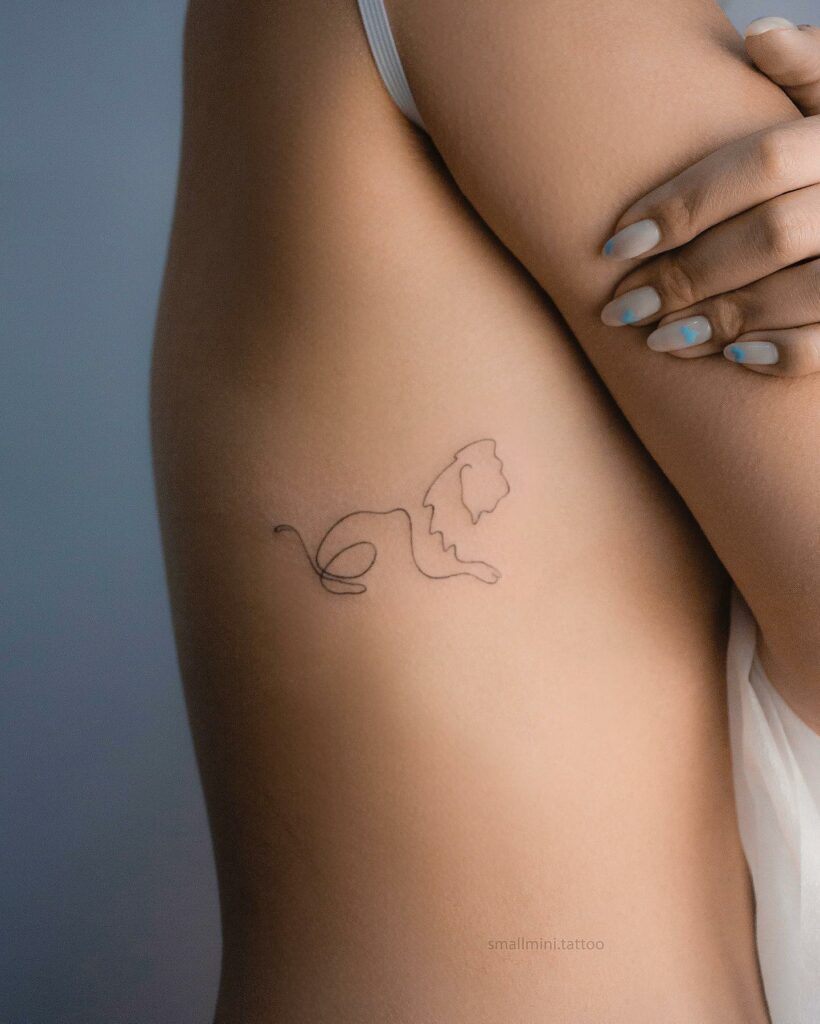 Line art tattoo designs are a beautiful and intricate form of tattoo art that requires immense skill to create. The designs consist of precise lines and shapes, making it difficult for most artists to recreate. As for the meaning, it is open to interpretation, giving the wearer the freedom to infuse their own personal meaning into the art. You could even add quotes to make it more meaningful to you. Despite their complexity, these designs are simple and elegant, and they are not limited to women. Men can also choose these designs as rib tattoos. Remember to take all necessary precautions and go for it if this is the design you love!
feature image from Pinterest – Want your tattoo to look brighter? Try "Tattoo Balm"