Welcome, tattoo enthusiasts! Tigers are undoubtedly one of the most impressive creatures on our planet. They are magnificent, strong, and fierce, which makes them a popular choice for tattoos. While most people associate tiger tattoos with power and strength, women often add a feminine twist to these designs to make them their own. A feminine tiger tattoo is a fantastic way to showcase your strength, passion, and dedication. You can get it inked anywhere on your body, and the design possibilities are endless. If you're on the lookout for some amazing feminine tiger tattoo ideas, look no further! We've got you covered with a list of the most fantastic designs to choose from.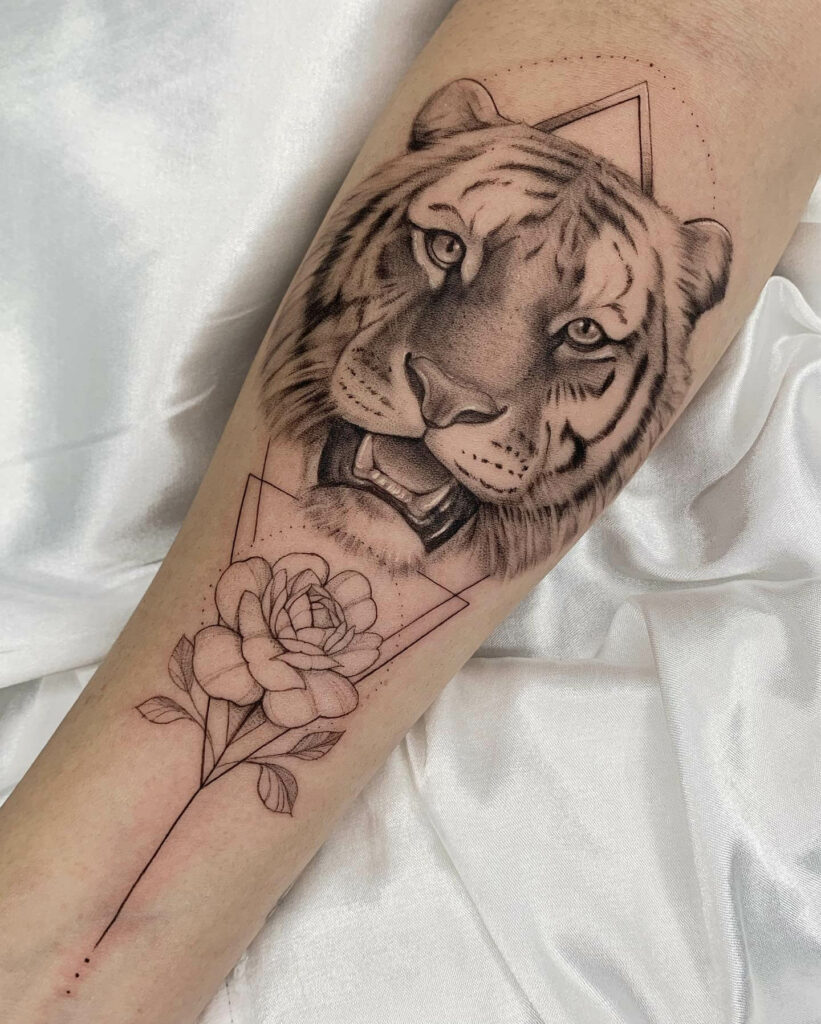 Adorable Tiger Cub Realistic Tiger Tattoo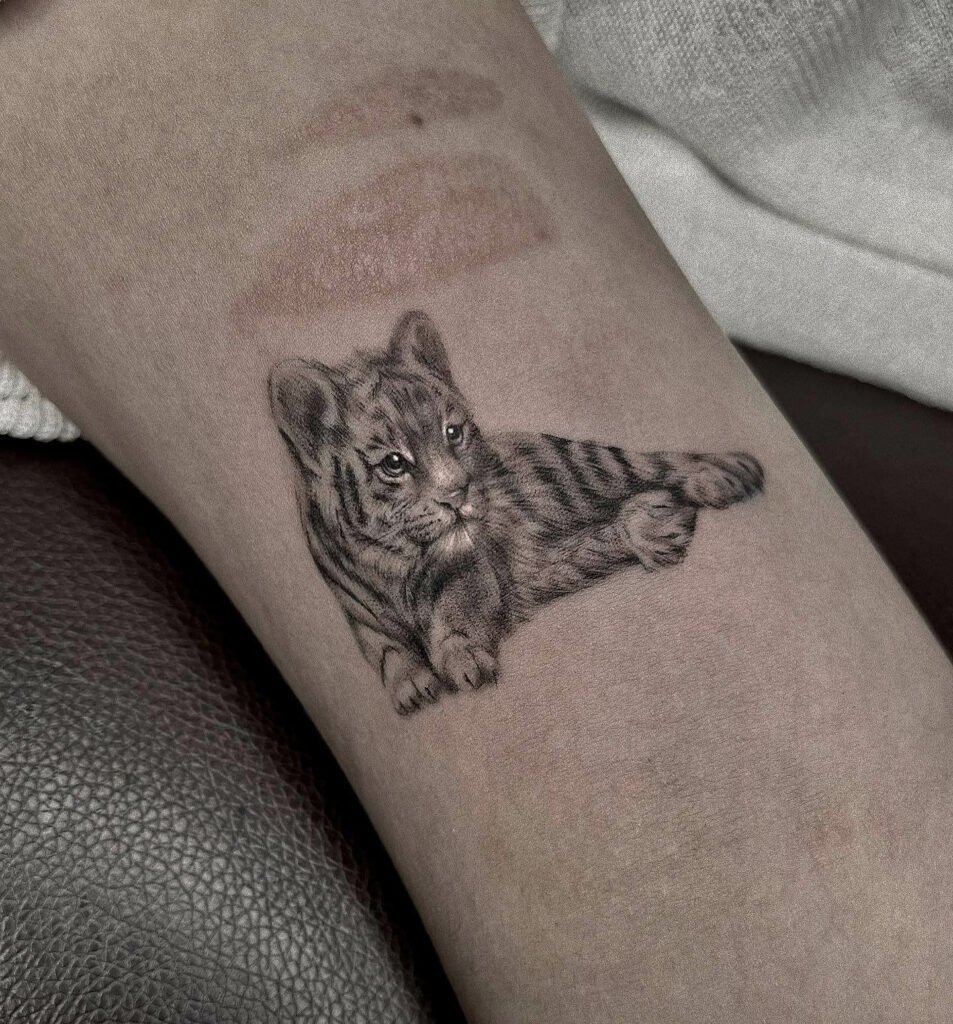 Tiger cubs are one of the most adorable creatures you'll ever see. Their innocent eyes can melt anyone's heart. If you're looking for a cute tattoo idea, this charming tiger cub tattoo is perfect for you. It features a baby tiger created using black ink, with some tiny white strokes adding a unique touch to the design. The tattoo artist has done an incredible job with the intricate detailing of the tattoo, so be sure to choose a skilled artist who can bring this design to life. The tattoo is a beautiful representation of how even mighty creatures like tigers can have a soft and innocent side.
Mother And Baby Black Tiger Tattoo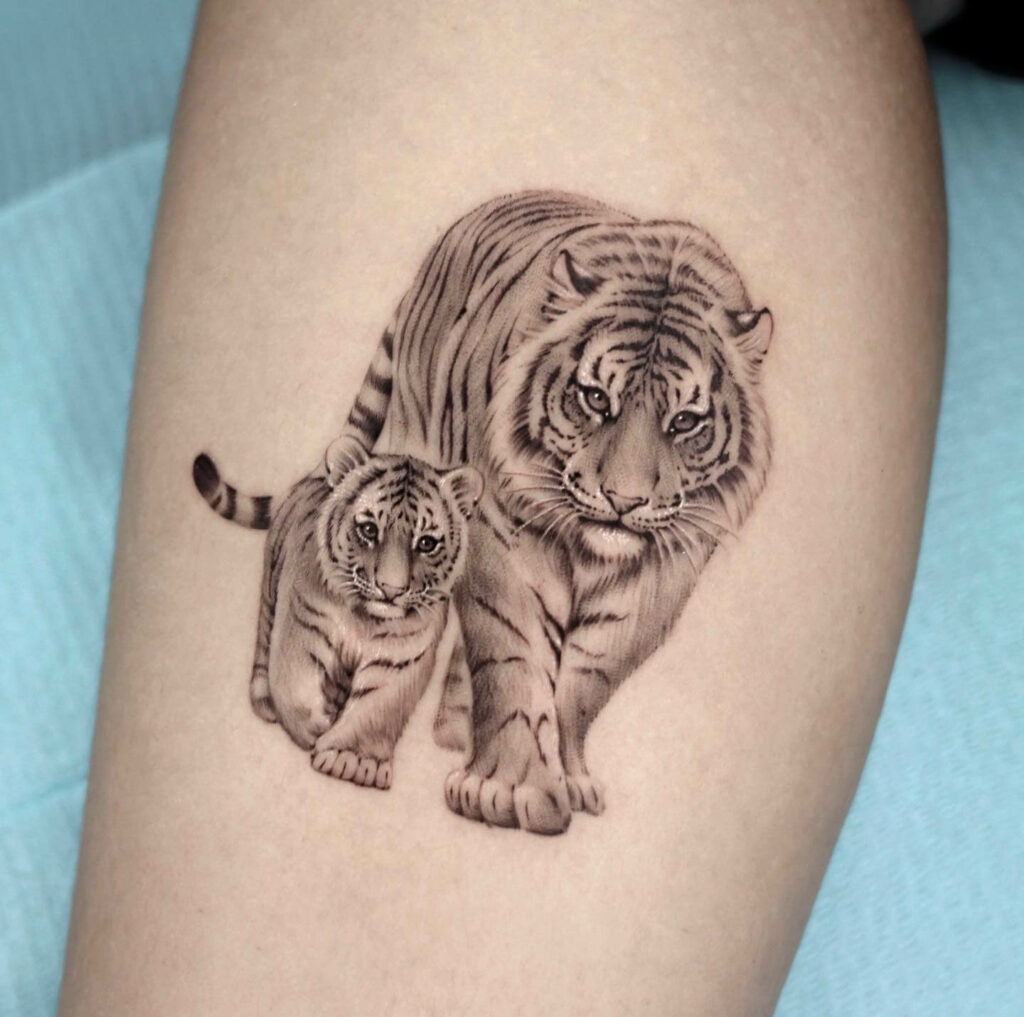 Tigers are some of the most powerful animals in the world, feared and respected for their strength and prowess. They are also fiercely protective of their young, just like any other mother. This beautiful tattoo captures the bond between a mother tiger and her cub, walking side by side. It's a touching tribute to the unconditional love and protection that a mother provides to her child. The tattoo is an excellent representation of the strength and control of both a mother and a tiger. The artist has done a fantastic job of creating a realistic and detailed image that looks almost lifelike. If you're a mom who wants to show the world how much you love your child, or a daughter who wants to honor her strong and protective mother, this tattoo is the perfect choice.
Moon X Tiger Gorgeous Body Art
The moon is a powerful symbol of fertility and femininity, and when paired with a tiger design, it creates a stunning work of art. This tattoo is crafted with precision and patience, resulting in a neat and gorgeous look. The moon looks incredibly realistic, with perfect crevasses and a shine that catches the eye. The tiger's black stripes and sparkling eyes are created with expert use of black ink. For the best results, ask your tattoo artist to use thin needles. This tattoo can be placed on your neck, chest, or back for a truly elegant and powerful look.
Elegant Tiger With Flowers Tattoo
Looking for a stunning animal tattoo that also represents good luck and wisdom? Look no further than the tiger tattoo! And if you want a feminine touch, check out this floral tiger tattoo design. The tiger's face is the centerpiece of the tattoo, inked with precise black lines that make it look almost real. But it's not just the tiger that makes this tattoo special – the artist has also added delicate floral outlines around the face. The petals and leaves are filled with intricate strokes, creating a beautiful texture that makes the flowers pop. The shading and detailing on this tattoo are incredible, making it a truly magnificent work of art.
Very Cool Tiger Different Colors Tattoo
If you're a fun-loving person and want a unique tattoo, this tiger tattoo is perfect for you! Contrary to popular belief, tigers can be playful creatures too. This tattoo showcases a tiger having a blast on vacation with sunglasses and a flower necklace, lying down and playing with a ball. The colors used in this tattoo are bright and lively, making it stand out. The tattoo artist has done a remarkable job in making the tattoo look lifelike, almost like a photograph. It's important to get this tattoo done by a professional to achieve the perfect look. This tattoo is sure to bring a smile to everyone's face who sees it.
Floral Minimal Realistic Tiger Tattoo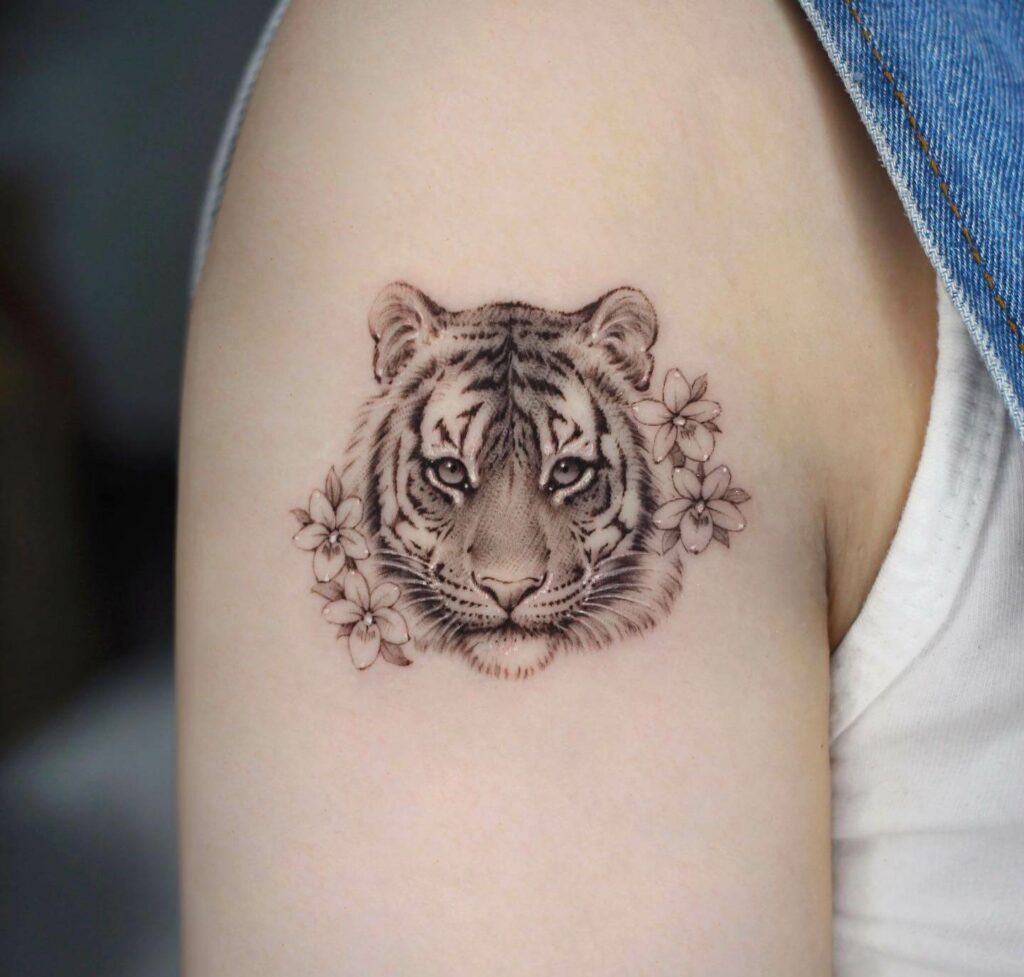 If you're a fan of tigers, you'll love this minimalist women's tattoo. These majestic creatures are a symbol of strength and pride, and this tattoo design features a tiger face surrounded by stunning minimalist flowers. The tattoo artist has done an amazing job of achieving a flawless look. The tiger's face is so well-detailed and lifelike that it's sure to catch anyone's eye.
The shadow work is magnificent, giving the tattoo depth and a 3D effect. To achieve the perfect look, make sure your tattoo artist uses thin needles. The flowers are left unadorned, with minimal detailing, giving them an exquisite look. Tiny accents using white ink have been added to the tattoo, providing a beautiful finishing touch.
Outlined Chinese Tiger Tattoo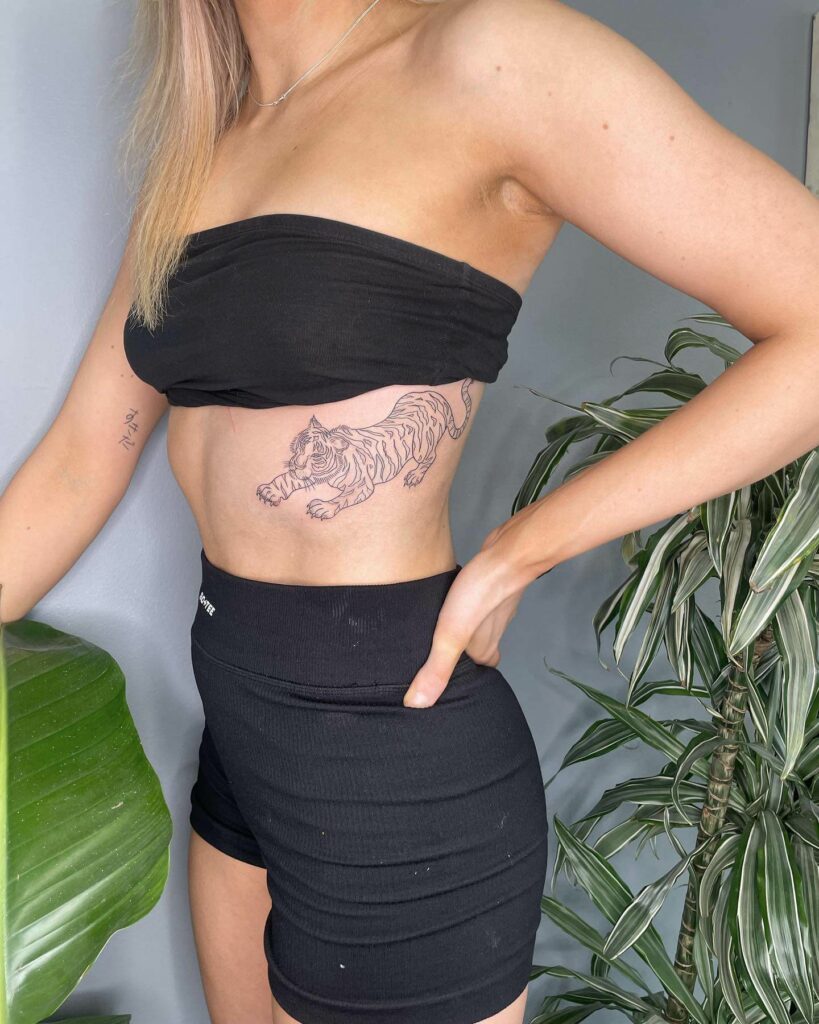 If you're looking for a tattoo that symbolizes strength and bravery, then this outlined tiger stomach tattoo is the perfect choice for you! Tigers have always been a symbol of strength and courage in many cultures, and this tattoo idea represents just that. The simplicity of the design adds a touch of subtlety, making it an elegant choice.
The tattoo artist has created this artwork using thin needles, which gives it a perfect outlined look. However, if you want to add some more detailing to the tattoo, then you could always go for some bright colors like yellow or brown, which will make the ink pop. This tattoo can be done on any part of your body, be it your back, chest, or shoulder blade, and will look fabulous no matter where you decide to get it done.
Red Lillies X Traditional Tiger Tattoo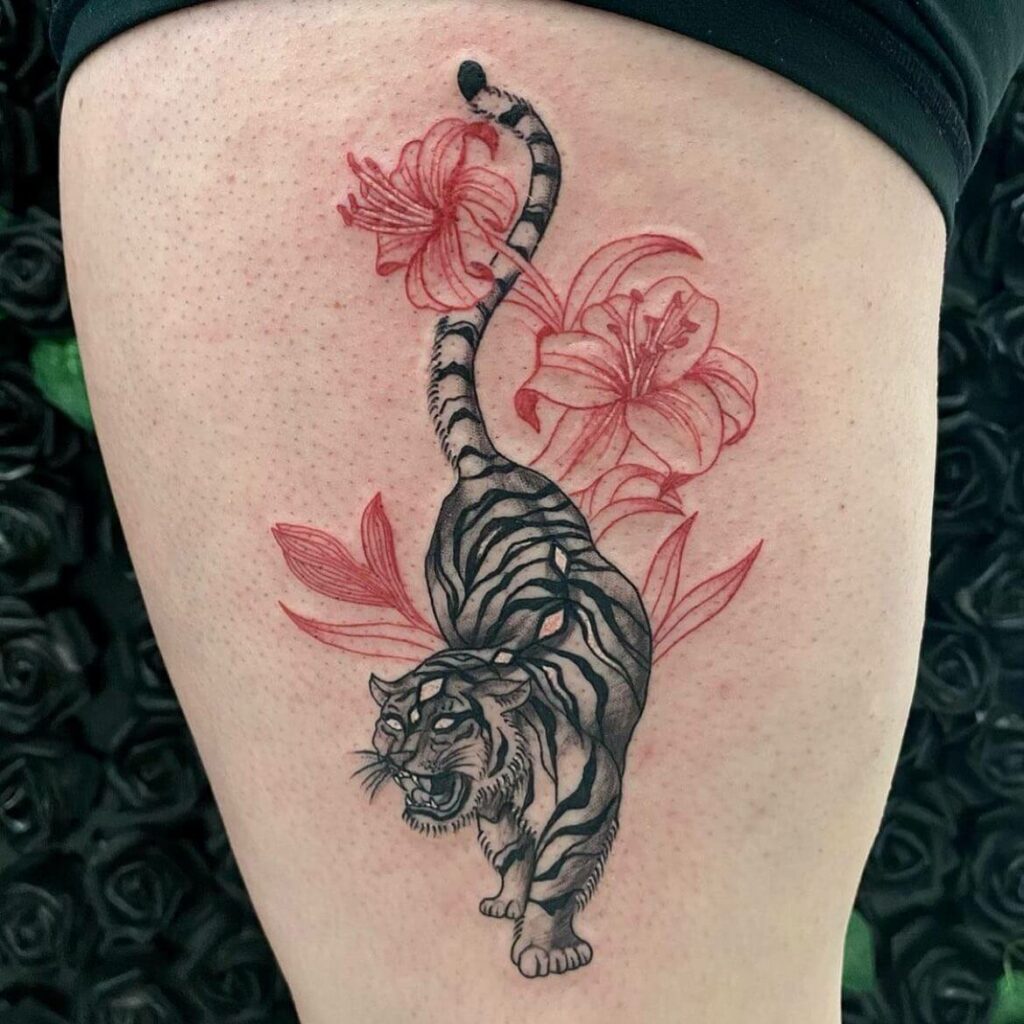 Looking for a tattoo that represents strength and energy? Look no further than this Japanese-style tiger tattoo! Tigers are revered in Japan for their fierce nature and are considered a symbol of power and strength. This tattoo is a perfect representation of those qualities, with its bold black outlines and expert shading. The addition of red ink adds a touch of elegance and makes the tattoo stand out. The inclusion of red lilies in the design adds a pop of color and intricate detailing, making the tattoo a true work of art. Whether you're from Japan or just appreciate Japanese culture, this tattoo is a beautiful way to pay homage to this magnificent animal.
Full Sleeve Tiger Eyes Tattoo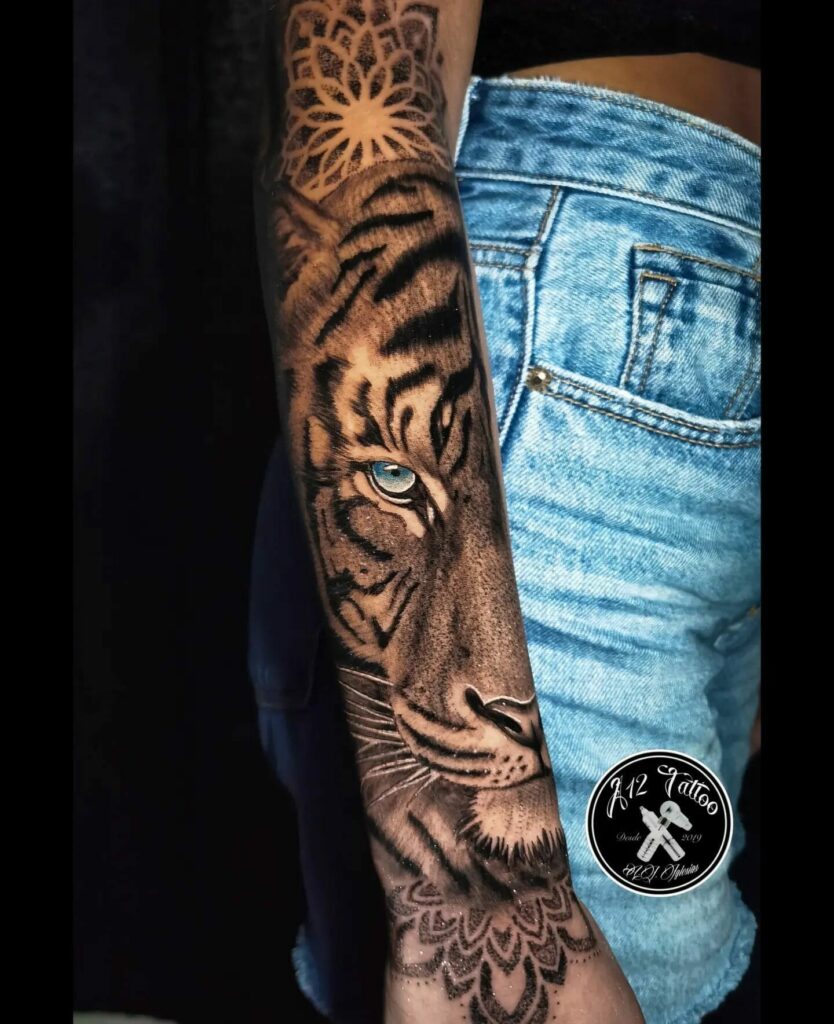 If you're looking for a tattoo that will turn heads, this tiger sleeve tattoo may be the perfect choice for you. Covering the entire arm, this ink is definitely a bold statement. The tiger hand tattoo features one eye of the tiger with half of its face visible, capturing the ferocity and strength of this majestic animal. What sets this tattoo apart are the numerous minute details that come together to create a beautiful work of art. The artist has done a wonderful job of capturing the emotion of the tiger, making the tattoo appear almost lifelike. The blue accent in the tiger's eye adds a pop of color that complements the black ink and makes the tattoo stand out. If you prefer a different color, black is always a great choice. The placement of this tattoo is flexible, as it can also be created on your leg, chest, or back, but it's important to make sure there's enough space for the artist to work on. With its intricate details and powerful imagery, this tiger sleeve tattoo is sure to make a statement wherever you go.
Crown X Small Tiger Tattoo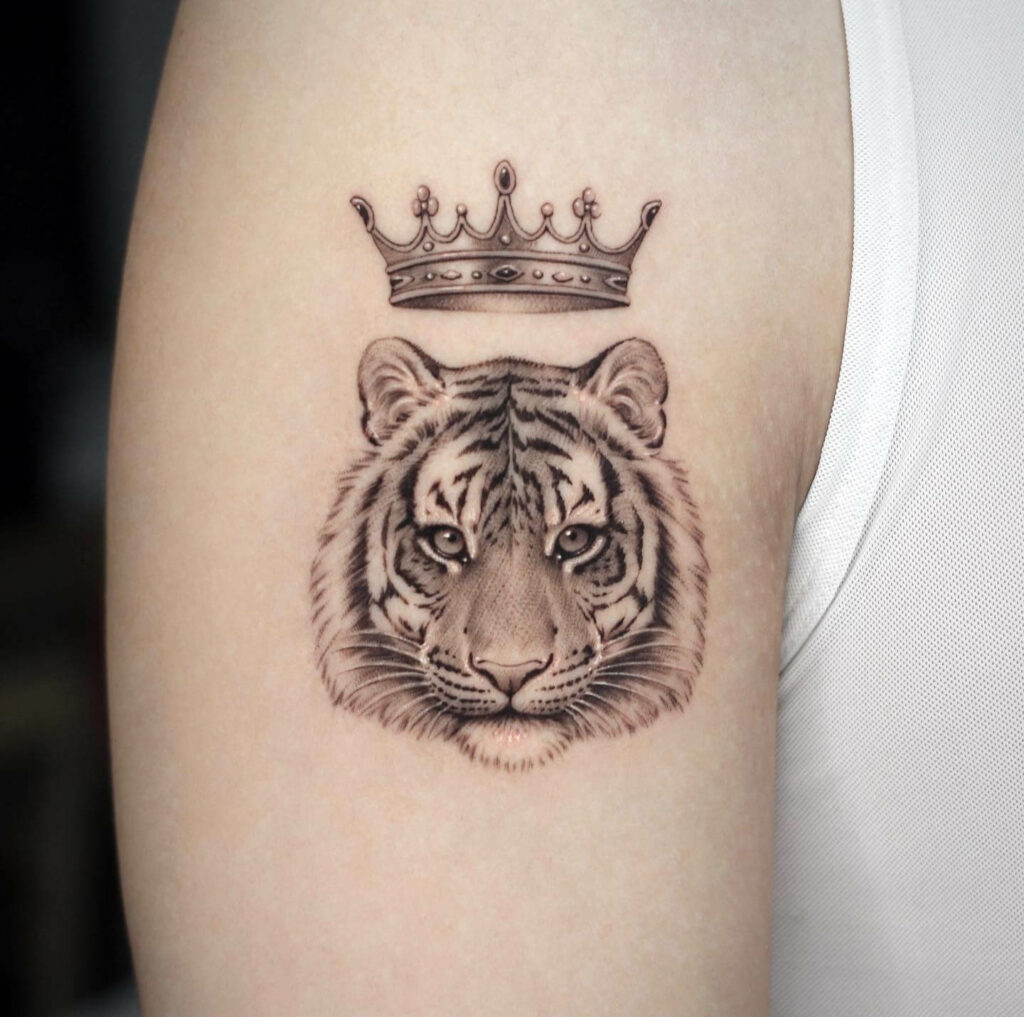 Tigers have long been a symbol of power and grace. A tiger tattoo is a great way to showcase the majestic creature and all it represents. This particular tiger face tattoo is a stunning piece of art, created with precision and detail. The ink has some incredible shadow work, which adds depth and dimension to the design. The tattoo artist has even included a crown over the head of the tiger, emphasizing its regal nature.
This tattoo is an excellent choice for anyone looking for a small but meaningful tattoo. The simple yet elegant design makes it a popular choice for many. Women in particular often want tattoos that represent strength, agility, and boldness, and a tiger tattoo captures all of these qualities perfectly. Not only is a tiger tattoo a beautiful and timeless design, it also has significant cultural symbolism across the world. Whether you want to represent your cultural heritage or simply admire the strength and grace of these majestic creatures, a tiger tattoo is an excellent choice.
Feature Image from Pinterest – Want your tattoo to look brighter? Try "Tattoo Balm"