Whether you imagine it as an elegant adornment akin to a bracelet, or a bold declaration like a gauntlet, a tattoo on your hand serves as a remarkable emblem of your personal journey. Envision understanding your tattoo as intimately as you know the lines and contours of your own hand, aligning your own style and personality with these striking designs specifically curated for women.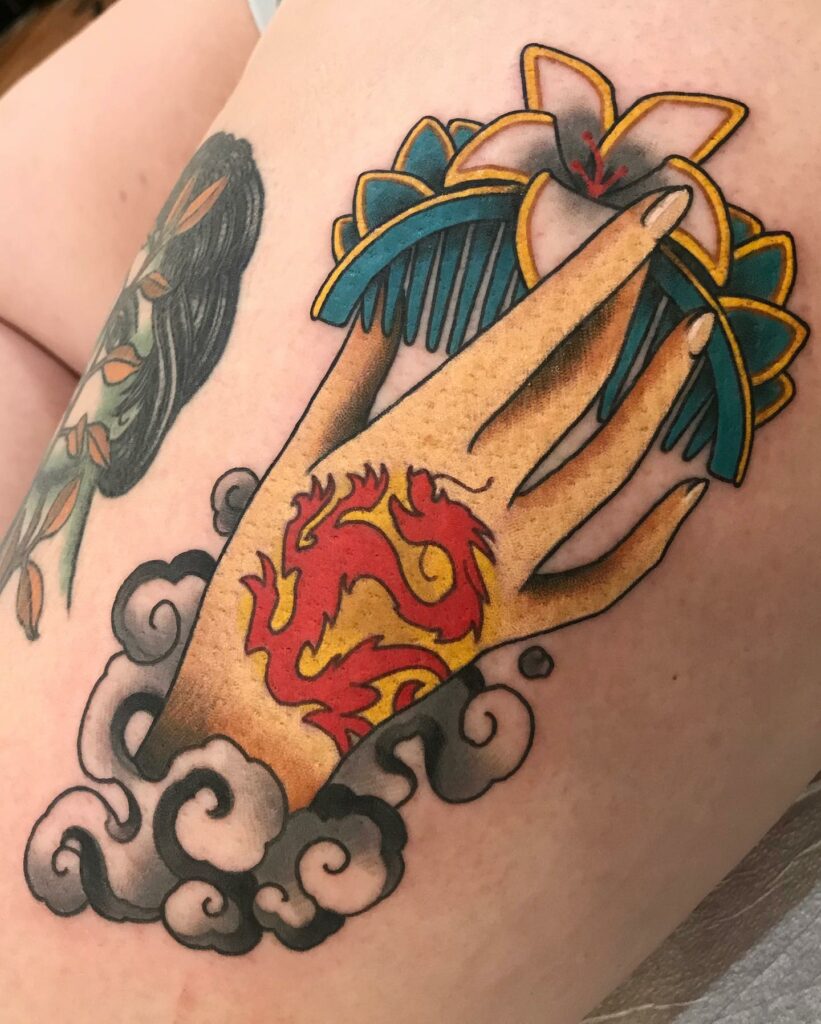 For the ladies out there, whether your hands are adorned with meticulous manicures or bear the calluses of hard-earned strength, there's no better way to express your unique charisma than through the artistry of hand tattoos. Yearning to delve into a sea of innovative tattoo patterns? From the delightfully whimsical to the profoundly inspirational, carve out your distinct persona with these entrancing hand tattoo designs that your skin is sure to adore.
Our hands, as extensions of ourselves, are powerful communicators, articulating our intentions and feelings almost as expressively as our words or facial expressions. Across the globe, from diverse cultures and societies, hand tattoos have stood as perennial staples in the world of body art. Whether celebrating masculine vigor or enhancing the enigmatic allure of a woman's touch, these tattoos are consistently among the most perceptible, contrasting sharply against their counterparts on less conspicuous parts of the body. For women, the realm of hand tattoo designs is rich and varied, encompassing everything from graceful floral motifs to heartfelt finger tattoos, from serpentine patterns to classic roses, and from olive branches symbolizing peace to myriad other unique finger adornments.
Case in point, Ariana Grande, a renowned American singer, and prolific tattoo enthusiast, exhibits an eclectic collection of tattoos all over her body. While her tattoo journey commenced with a heart outline on her toe, some of her most poignant tattoos adorn her hands, each one encapsulating a chapter of her personal evolution. On her right-hand ring finger, she showcases a Hebrew phrase, while her left thumb bears the Floridian area code 561, a homage to her place of birth. An identical cloud-shaped tattoo, shared with her ex Pete Davidson, graces her left middle finger. Her left hand also displays a celestial tableau of a crescent moon, the sun, and stars. The acronym "H2GKMO" finds a home at the base of her left thumb.
Contemplating these marvelous hand tattoos for women may spark the perfect vision for your own, giving you a tangible touchstone for the enduring, visible tattoo of your dreams.
The Mystical Hand Tattoo of Geometric Shapes
Consider for a moment the Geometric Lotus, an intricate hand tattoo design that seamlessly blends finesse and symbolism. With roots resembling the infinity sign, the lotus, akin to the revered snake tattoo, stands as an icon of enlightenment and rebirth, an emblem of boundless potential. Rendered in sharp, minimalist black ink, it serves as a daily reminder to have faith in oneself. The geometrical shapes constituting this design make it a versatile piece suitable for any location, be it finger or forearm.
The Eye-Catching Bird Hand Tattoo Designs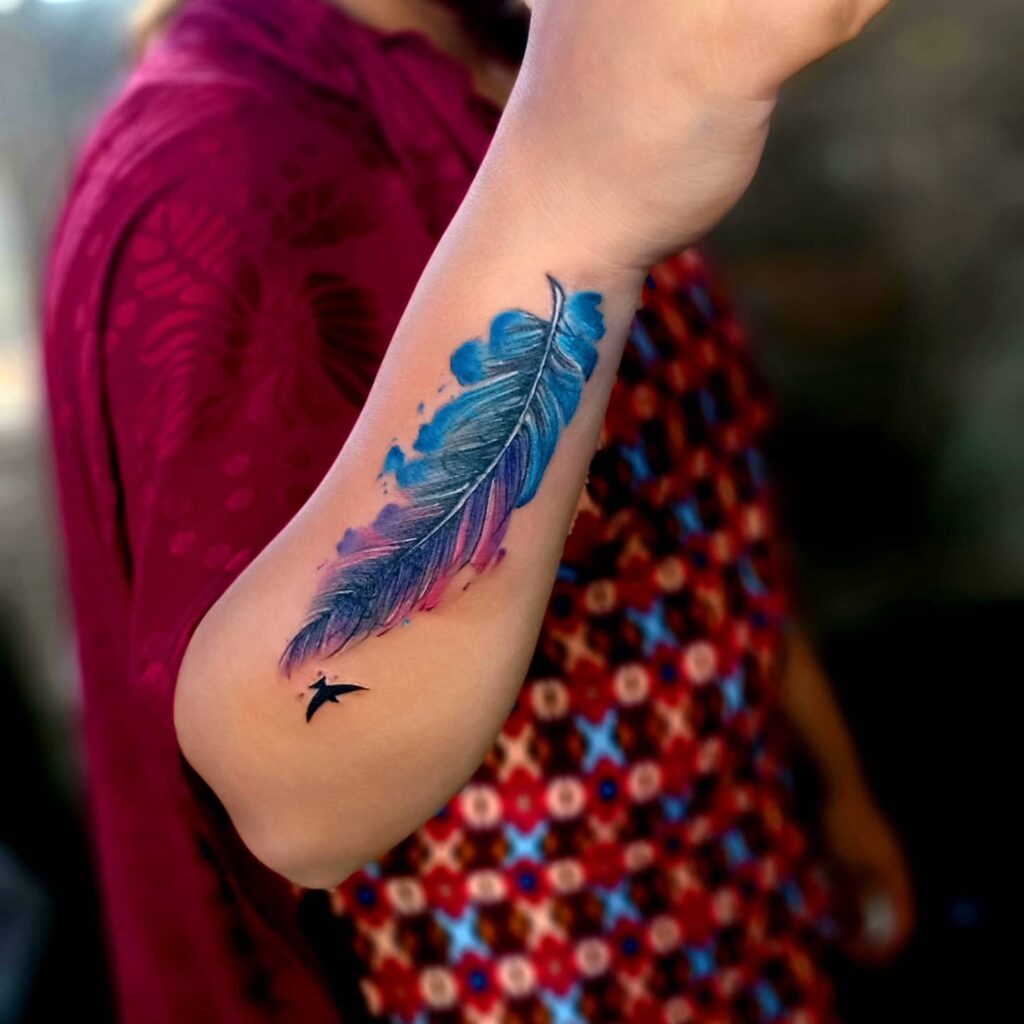 Turning our attention to the timeless Bird Tattoo, one observes its enduring popularity among women. Traditionally symbolizing freedom and peace, bird tattoos are often enriched with other elements, such as a vivid blue feather. A feather, much like the bird it comes from, is a token of hope, dreams, and celestial protection guiding us towards success and contentment. These designs, ranging from a solitary flying bird to a flock in varying stages of flight, beautifully encapsulate different stages of personal growth or unity in diversity. These designs, whether intricate or simple, have the potential to transform any finger into a canvas of self-expression.
The Subtle Rose Tattoo Style
No exploration of hand tattoos would be complete without the classic Rose Tattoo. Emblematic of love, beauty, and passion, a rose tattoo rendered in black ink is a timeless classic. Often personalized with dates or names, it can memorialize a significant event, person, or loss. Given the rose's universal appeal and its rich history in Victorian floriography, these tattoos continue to bloom on the hands of countless women worldwide.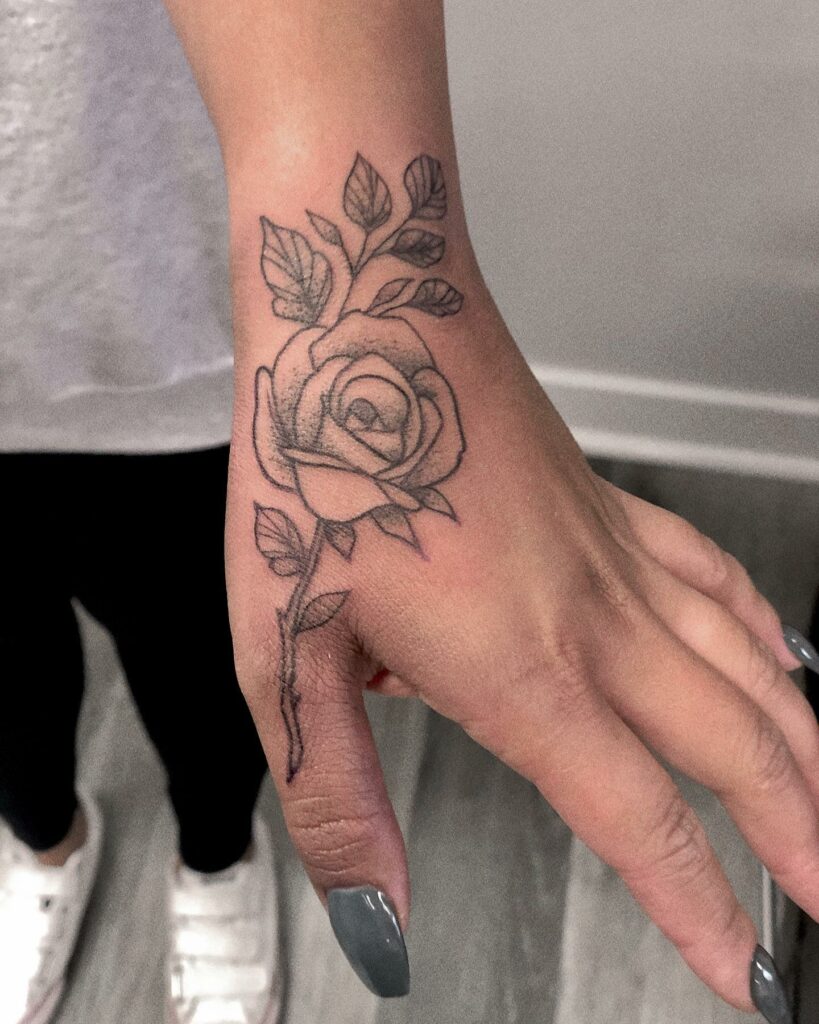 The Delicate Butterfly Tattoo of Inspiration
A perfect symbol of transformation, the Butterfly Tattoo is often a testament to an individual's journey of growth. Its detailed design, though monochrome, mirrors the intricate, natural beauty of the butterfly. To don a butterfly tattoo is to wear a badge of metamorphosis, a mark of change, and a testament to personal resilience.
The Unique Finger Tattoo
Unique Finger Tattoos, designed to resonate with the 'queen' in every woman. Consider, for instance, the ocean waves encapsulated within a geometric triangle, a unique tattoo signifying a deep connection to the sea, an emblem of life's origins. As Plato aptly said, "The sea cures all ailments of man" – a sentiment echoed by this mesmerizing tattoo design.
The Mandala Hand Tattoo Fashioned With Clean Lines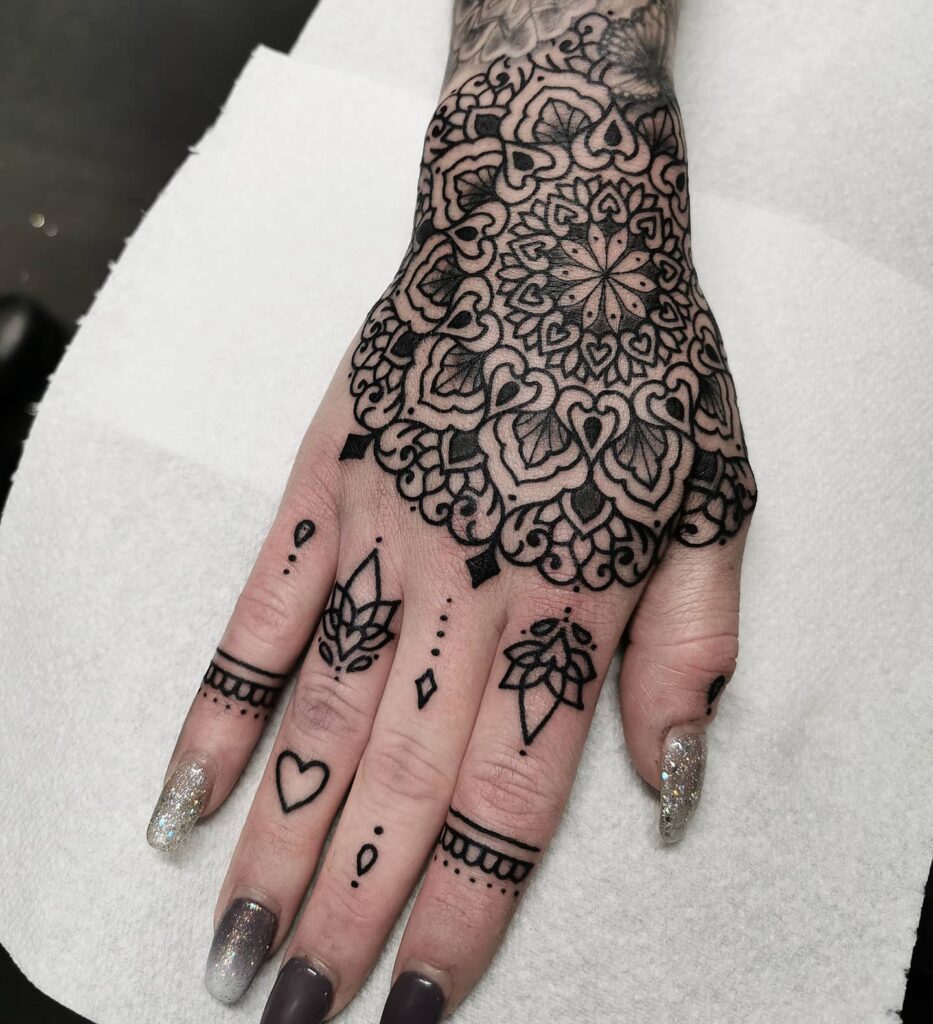 From the annals of ancient India come Mandala Hand Tattoos, intricate patterns inspired by henna designs that symbolize spiritual connection and healing. This art form, adorned with miniature hearts and lotus flowers, is known for its precise, clean lines and the mesmerizing harmony of its design elements.
The Mighty Dragon And Scorpion Tattoo Of Strength And Good Fortune
Witness the stunning Dragon and Scorpion Tattoo, which seamlessly integrates vibrant flowers, a potent dragon, and a sturdy scorpion. A blend of strength, power, protection, wisdom, and good fortune, this design offers an extraordinary narrative of a woman's multifaceted character.
The Lotus Hand Tattoo Of Self Awakening
Equally significant is the Lotus Hand Tattoo, an emblem of spiritual awakening and enlightenment according to Hindu beliefs. The tattoo design, featuring a radiant lotus and the sacred "Om" symbol, echoes a universal spiritual resonance. Accompanied by a metamorphosing butterfly, the lotus evokes themes of growth and transformation.
The Heart Tattoo For The Lovelorn's Anguish
This design, featuring a tear-filled eye enclosed in a heart, encapsulates the anguish of loss, a poignant tribute to a beloved. It serves as a tangible manifestation of the mourner's grief, a testament to love and remembrance.
The Floral Hand Tattoos Of Feminine Mystique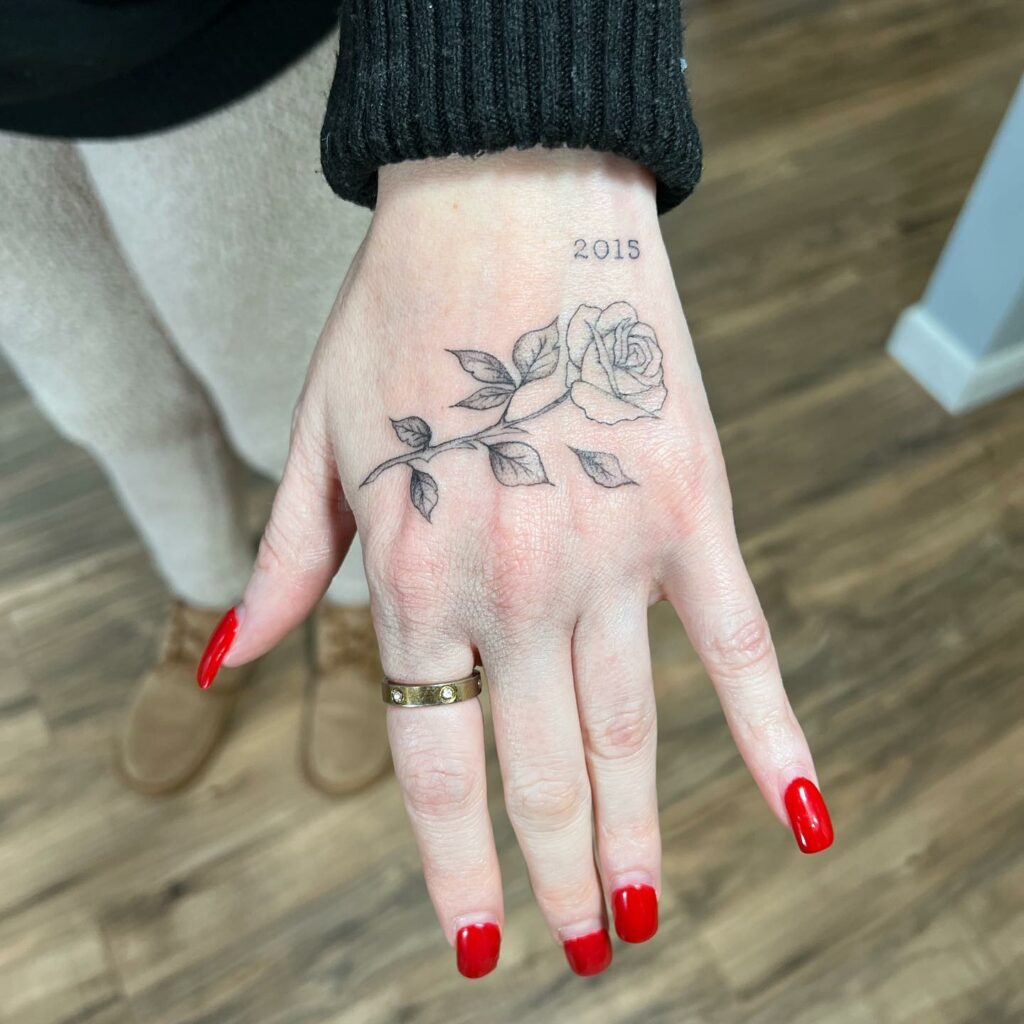 Floral Hand Tattoo embodies the mystique of femininity. This regal design, reminiscent of an arm sleeve, is distinguished by a queen and a wise jackal, symbols of intelligence and royalty.
Tattoo On Womans Hand
Letter Tattoo Designs On Hand
Hand Tattoo Small
Realistic Black And Gray
Conclusion
To wrap things up, my fellow ink enthusiasts, the placement of a tattoo is a deeply personal decision, one that depends on your lifestyle, profession, and personal comfort. Your hands, however, offer a visible canvas to display these stunning works of art. As with any form of body modification, the cost of a hand tattoo can vary widely based on the complexity of the design, the expertise of the artist, and the region in which you're getting inked. Ballpark, you could be looking at anything from $50 for a small, simple design to upwards of $300 for a more intricate piece.
It's also crucial to be aware of the potential risks involved with hand tattoos. The skin on our hands is thinner compared to other parts of the body, and it sees a lot of sun and everyday wear and tear, which can lead to faster fading of the tattoo. There is also a higher risk of infection due to the hands' constant exposure to germs, so a rigorous aftercare routine is essential. Plus, societal and professional perceptions of visible tattoos can vary significantly, so it's wise to consider any potential impact on career prospects or personal relationships.
In the end, tattoos are a deeply personal form of self-expression, a way to adorn our bodies with our own unique stories, beliefs, and passions. So whether you choose the mystique of a floral pattern, the resilience symbolized by a dragon, or the elegance of a simple geometric shape, the choice should ultimately reflect you. Remember, in the art of tattooing, you're not just selecting a design, you're choosing a life-long companion. Choose wisely, care for it diligently, and your tattoo will be a source of pride and joy for years to come.
feature image from Pinterest
Last reviewed and updated on May 18, 2023