Sometimes in life, your home is someone who doesn't speak your language. The bond you share is for life and beyond. Someday, even if you have lost everything in life, you'll still be accepted ardently when you return home.
Do you need more reasons to celebrate this togetherness or pay tribute to your furry family?
Even if tattoos are not your thing, I bet you'll love these woofy dog portrait ideas that will have you pining for new ink on your skin.
Imagine showing your tattoo to a newborn pup saying, "This is your mom and dad's first picture together" (with tears of joy overflowing).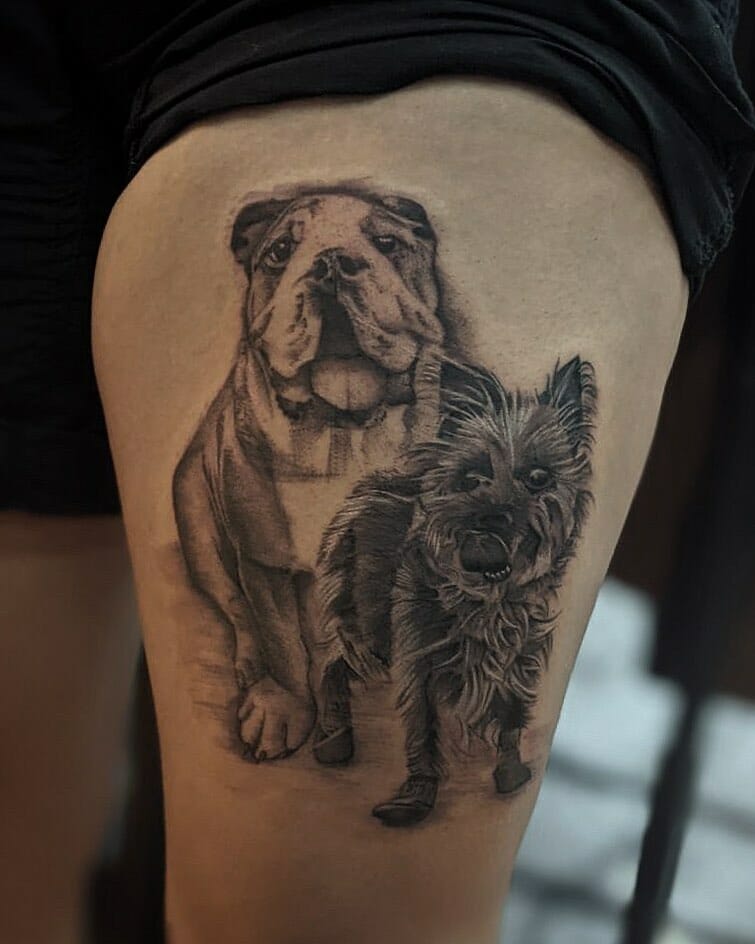 It is often said that when a dog licks you, the hole in your heart is forever filled with love and hope.
That is why dogs are a gift to humanity!
There is no better feeling than being in a room crowded with people, and the dog chooses to come to sit next to you.
This relationship is worth paying tribute to, and with the birth of body art and inks, it has become a new tradition to show love and respect to your furry friend.
Here's the most exciting and yearned collection of pet portrait tattoos that will inspire you at first sight (and the credit goes to the gigantic land of Instagram).
Realistic Dog Portrait Tattoo For A Naturalistic Person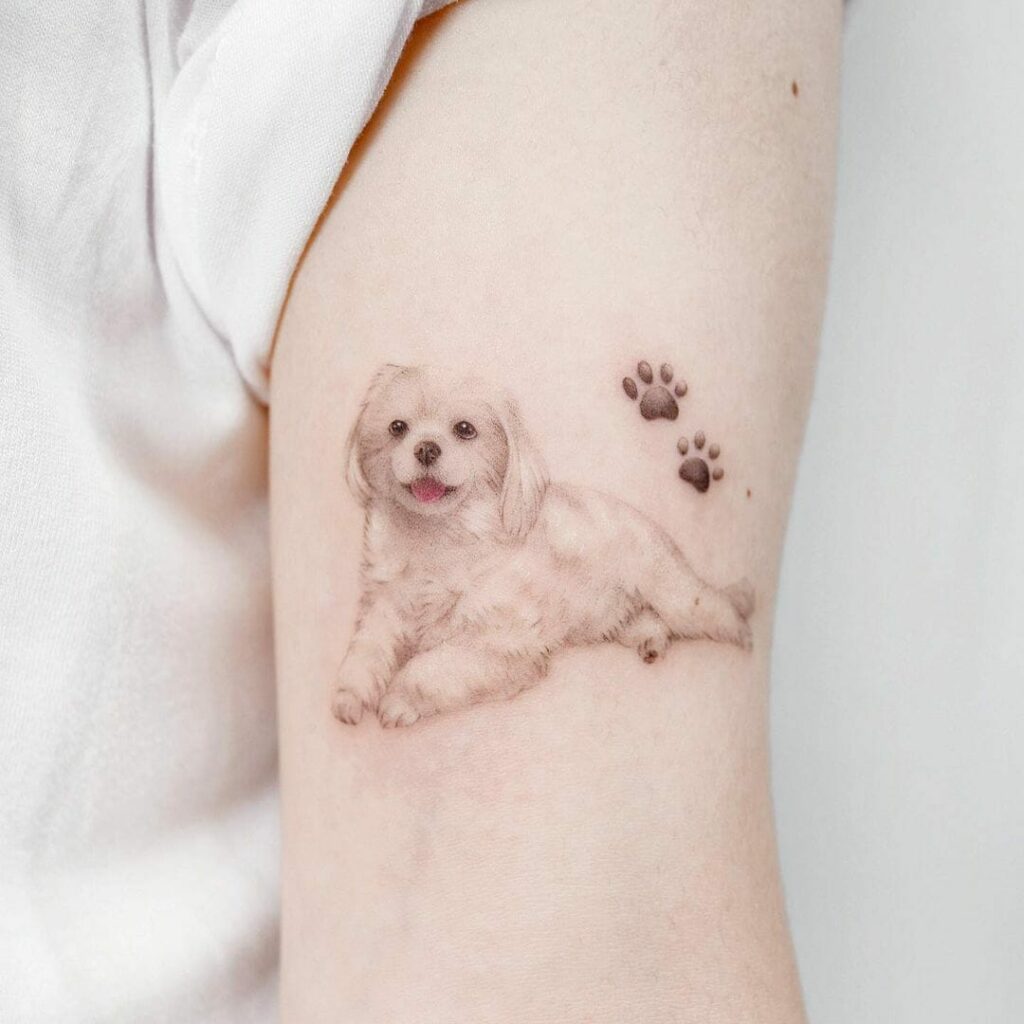 A naturalist will prefer a true and accurate tattoo impression rather than an artificial design.
A realistic pet portrait is the most pleasing way to hark back and glorify your bond with your furry friend. This design not only uses colors in an optimum manner but also brings the tattoo to life.
If you're looking to embrace and capture a glimpse of your pet in a perfect way, this is the best design for your skin.
Watercolor Dog Portrait Tattoo For The Blissed-out Ones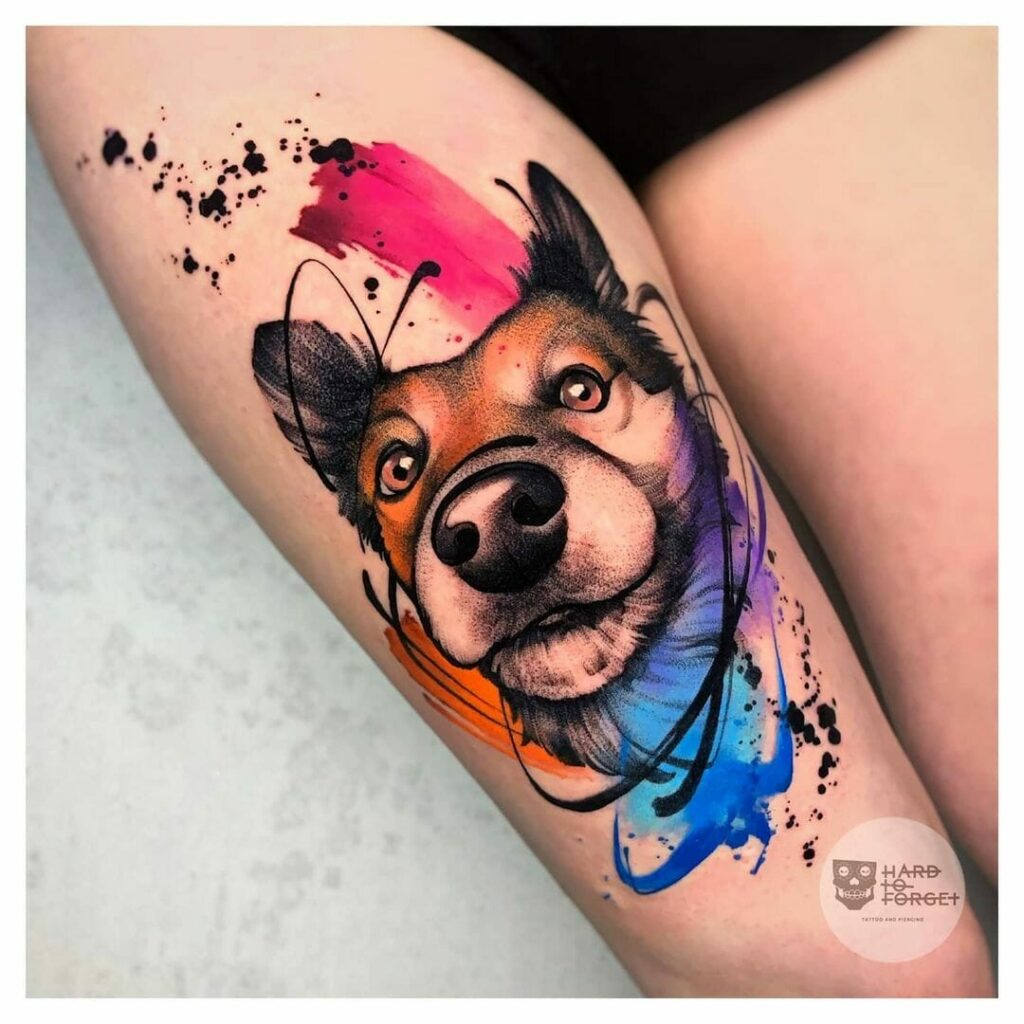 Watercolor dog portrait tattoos are fabulously alluring and dramatic, giving a paint-on-canvas impression. It is designed using vibrant colors to bring out the focused element in the tattoo well.
This style gives more liberty and brings a quirky touch to your tattoo by adding more colors to your sophisticated yet straightforward tattoo. You can create a unique tattoo by adding all those details close to your heart without dwindling its beauty.
Minimalist Dog Portrait Tattoo For Your Cup Of Simplicity In Life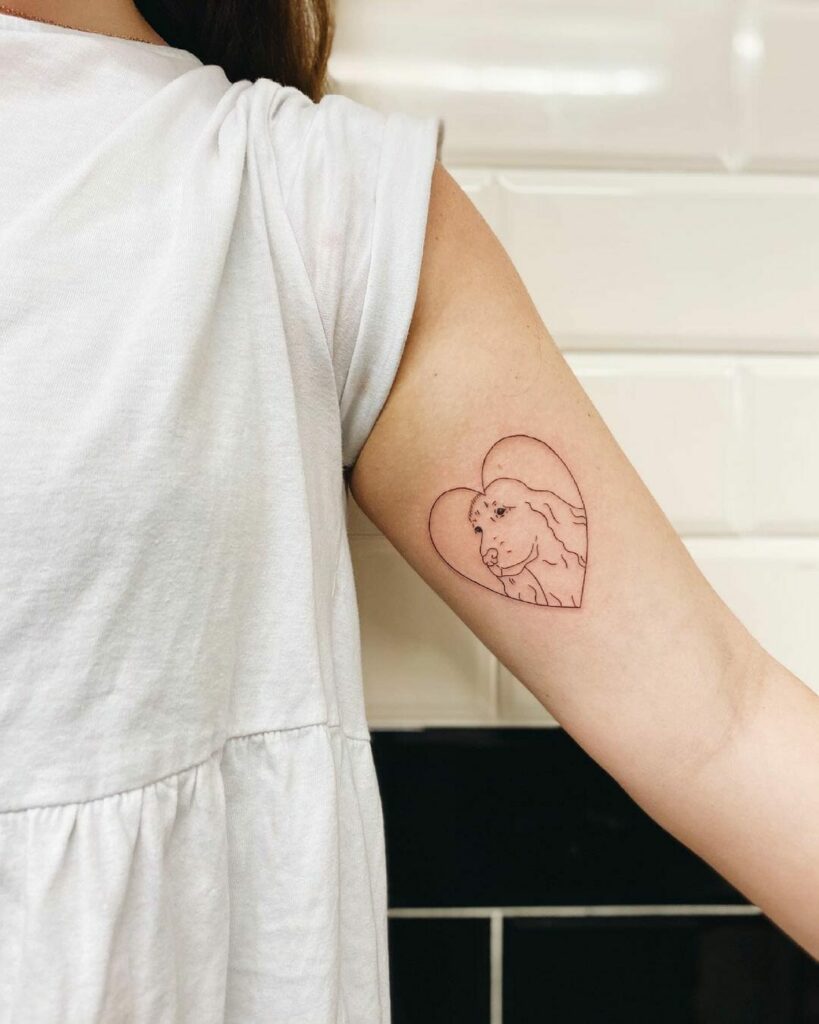 Minimalist pet portrait tattoos can offer profuse personal significance if you believe in simplicity and find more in less.
Simple dog tattoos holding huge sentiments and love are a skillful and elegant art. If you're looking for a qualitative option to the average, typical designs, minimalist dog portrait tattoo favors the mispriced outlook.
This tattoo idea typically shows how an effortless tattoo can bring a smile to anyone's face after getting these designs inked on their skin.
For dog lovers, getting inked for the first time can go for minimalist dog portraits tattoo and till the next time will get to learn a stack of trends and ideas. I'm sure you're more excited about your next tattoo as much as for your first.
Dog Paw Print Tattoo For An Emotional Experience
Who said you have to get your pet's face inked as a pledge of love?
This tattoo design gives a deep feeling for someone special– a touch for life. The detailed dog paw print tattoo touching a human's hand shows a heavenly tribute breaking the square game of dog portrait tattoos.
This unique design idea shows how a passionate emotion like 'love' can bring depths to the tattoo design.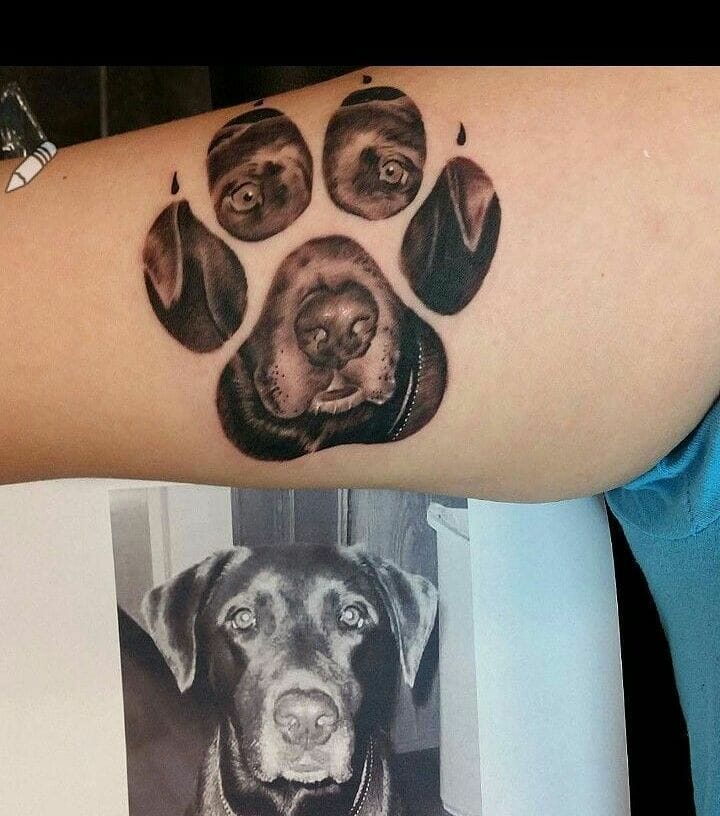 What if you want to go for a dog paw print tattoo along with a great Memoriam?
This idea can turn out to be the most fabulous dog memorial tattoo fusion of all time.
A tiny dog portrait tattoo that brings the most memories back to life. (Can you get those eyes out of your sight?)
What more can you add to your small dog tattoo?
The dog paw print tattoo can be designed with black ink, including your pet's name (Isn't Cujo a cute name?) or maybe your pet's date of birth. Any detail can be added or excluded, customizing it all according to your wish.
Cool Dog Portrait Tattoo For A Badass Person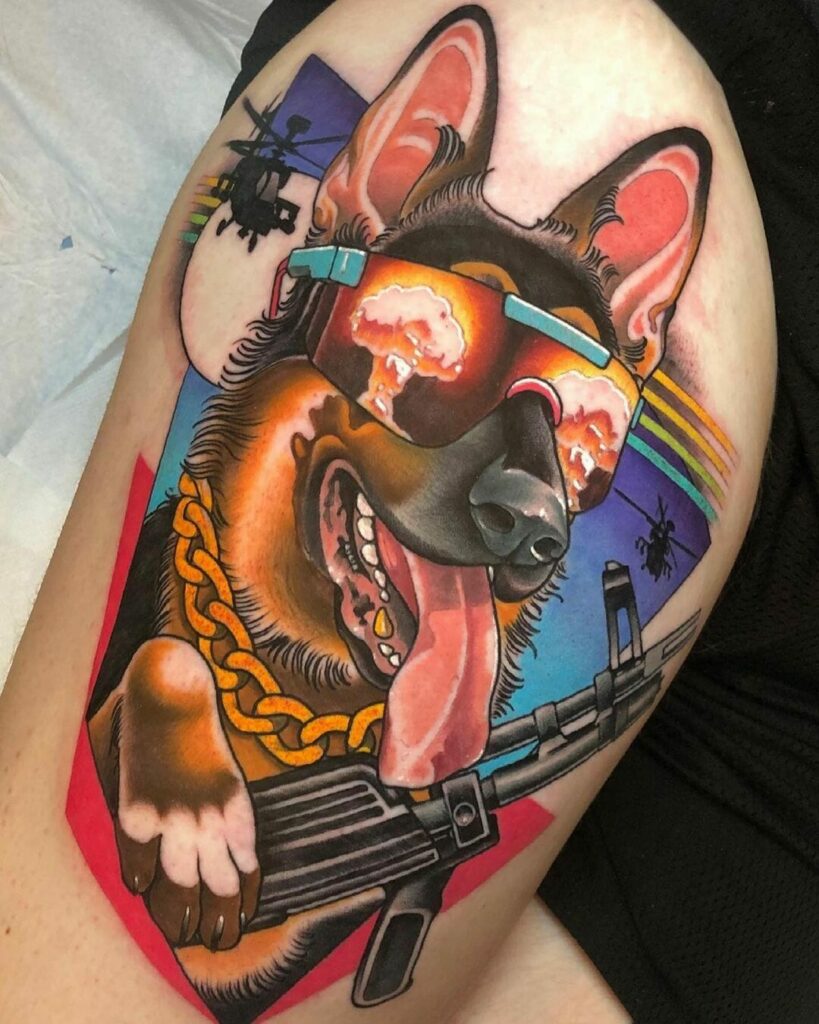 Hello to all the lovers of police dog games and army dog games! (Unless you fantasize yourself as your dog ??)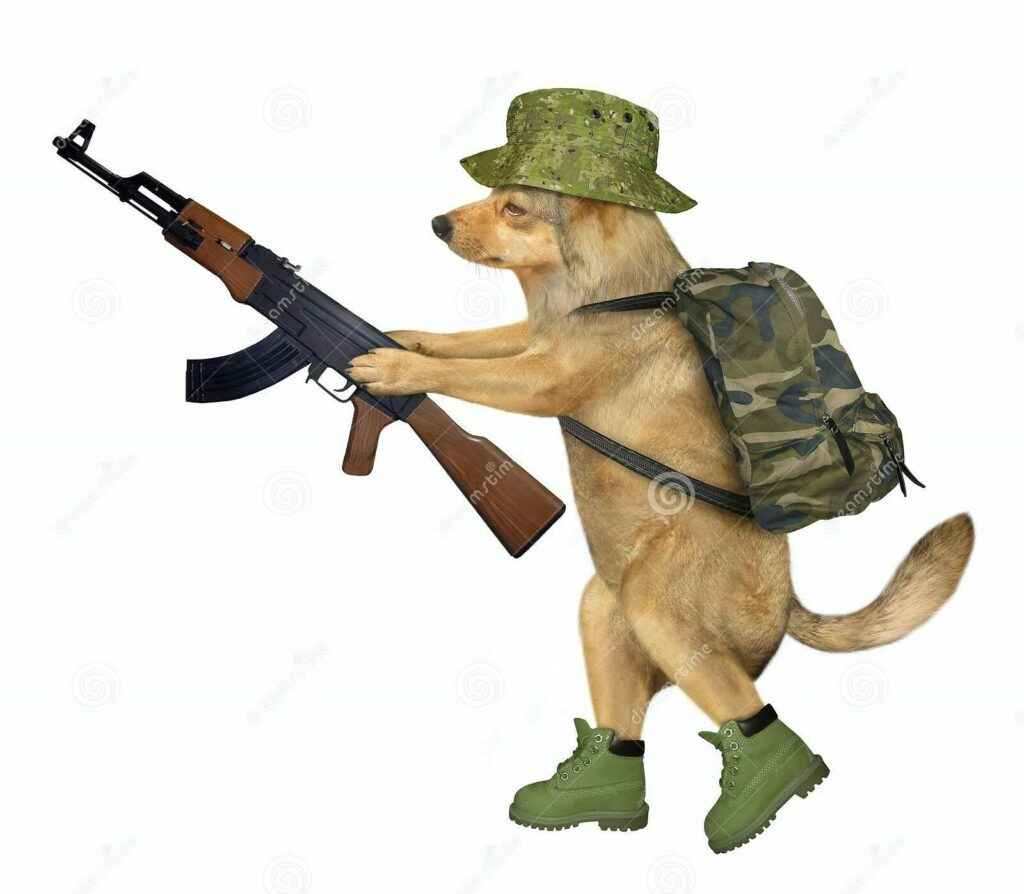 These cool dog portrait tattoos are the perfect way to pay tribute to your partner-in-crime (your best friend) in your style.
You can add on as many fictional battle scenes and elements as you like to make your pet portrait tattoo memorial and the coolest of all.
Isn't it just like taking your furry friend to your wonderland?
But you need to look for a unique tattoo artist who explores this kind of idea.
Neo Traditional Dog Portrait Tattoo For A Classic Taste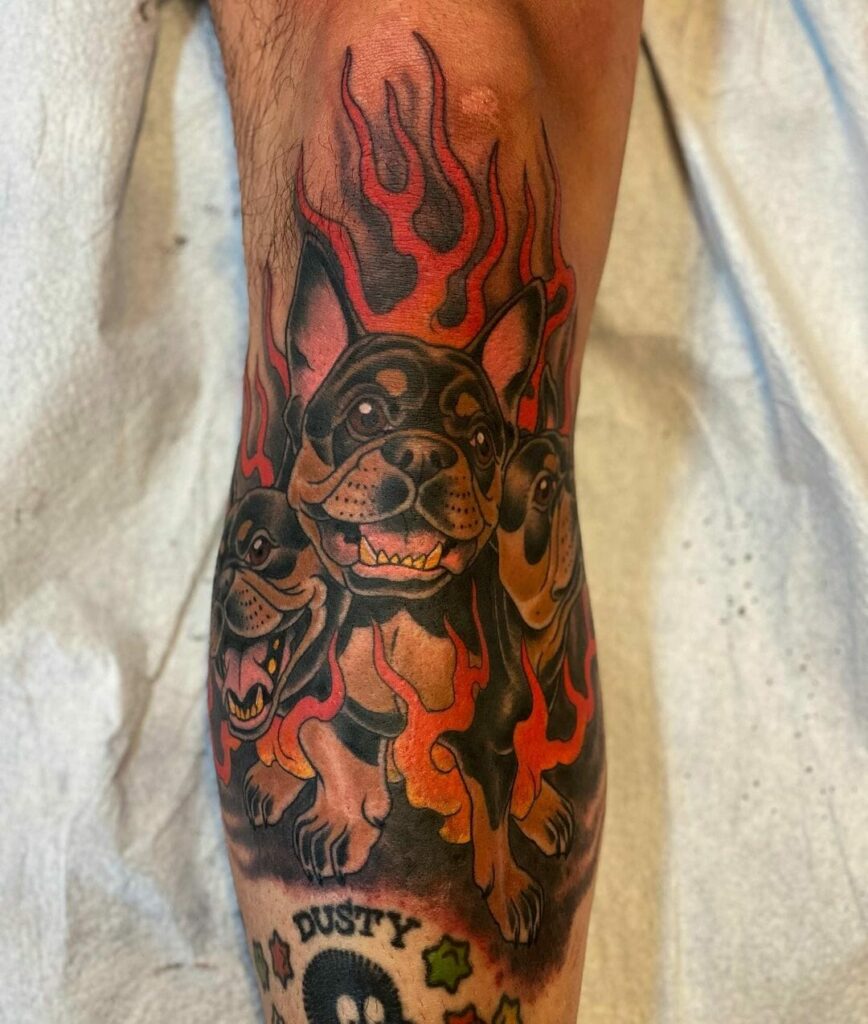 If you're a fan of Greek mythology, then this pet portrait tattoo is your dream tattoo!
It is inspired by the hound of Hades, a multi-headed dog that warders the underworld gates to impede the dead from leaving.
It is a neo-traditional tattoo that is getting more popular day by day (but still, wildly few tattoo artists can kick off this design). It is an ultimate blend of traditional and classic taste.
In the tattoo community, this fancy aesthetic style merges the techniques of orthodox American tattooing with a varied history of work of art.
Look at the tattoo, such a great combination of vibrant colors and a perfect depiction of your furry pet into the Cerberus theme. It depicts the dedication of canines towards their master and life (the three heads representing the past, present, and future).
You can't miss out on this fantastic choice — this can be your mythical warrior tattoo to slay Cerberus.
Art Nouveau Dog Portrait Tattoo For An An Aesthete
Art nouveau style is at a growing stage in the tattoo industry.
Art nouveau style was born in Europe near the end of the 20th century to soften the conventional lines between fine art and applied art.
This pet portrait tattoo shows how fashionably you can beautify the whole aura of your pet. It looks like a rich tattoo of your royal fur king, with flowers, royal-style dresses, ornaments, vintage frames.
If you long for a terrific free-flowing tattoo design idea to get a mesmerizing visual of your out-of-this-world dog memorial tattoo, then this option can never go wrong.
Geometric Dog Portrait Tattoo For A Mathematics Enthusiast
If you're in love with geometry, you should go for geometric dog portrait tattoo designs.
These are simple, tidy, achromic, and geometric designs giving a definitive yet straightforward look. A monochrome tattoo of your pet made with varied geometric shapes and sizes leave a powerful impression of stability and happiness in life.
It symbolizes perfection and symmetry.
With time, this unconventional tattoo design is catching the interest of people and is in demand.
Dog Portrait Tattoo With A Colorful Spectrum Of Hope
If you ever had a bonzer dog, a life without one is a life washed-out.
With their friendly and joyous nature, dogs have filled a human's life with all the colors of hope.
This pet tattoo is a perfect illustration of a dog bringing all the seven hues of a rainbow into our life. An ideal partner for a lifetime with whom experiencing life becomes much more manageable.
It is a perfect tattoo depicting the meaning of life in the most basic and minimal design.
Dog Portrait Tattoo With An Amazing Art Work
Last but not least, this pet portrait tattoo remarkably captures the saying 'Live in the moment.'
Each other's support, reliance, and existence is the greatest blessing in a human-canine relationship.
While dogs ease off their owner's stress and make them feel safer, humans care for and foster their canines.
A beautiful message from a beautiful tattoo!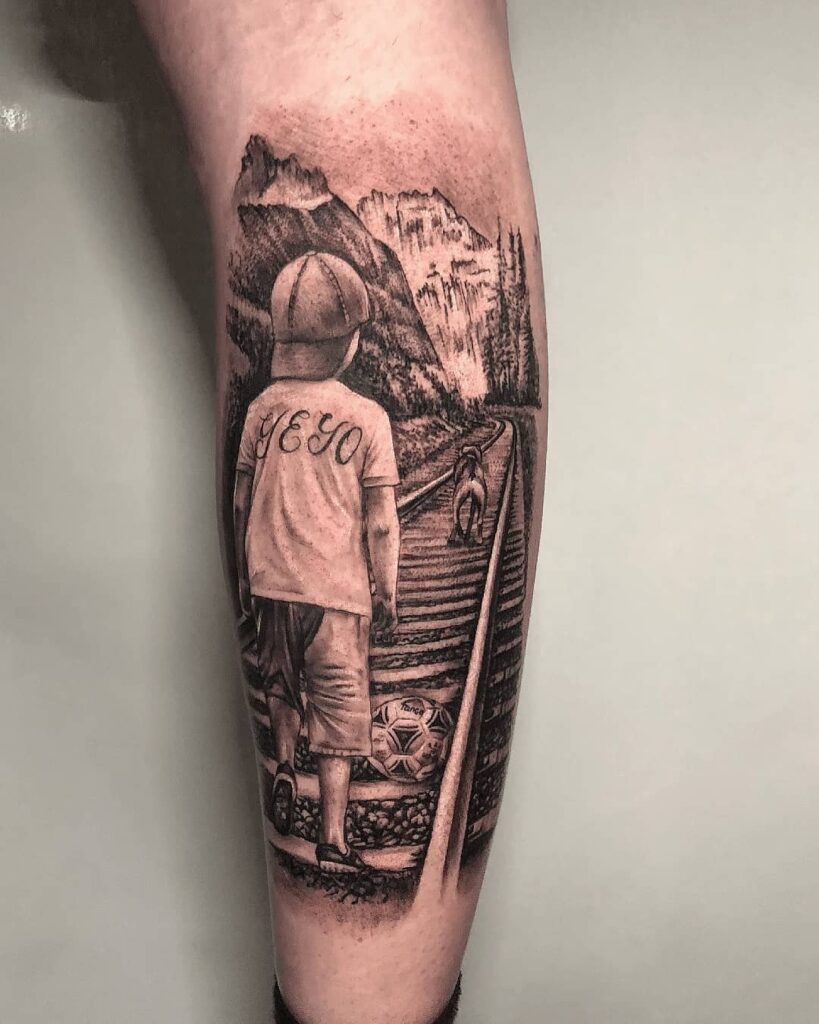 Did you know which is the most tattooed dog breed?
Pugs with an innocent and cute appearance are the most popular tattooed furry companion on the skin. (? Queen Victoria's beloved dog was Pug– she admired and owned 38 in her kingdom)
These are 10 pawsome petattoes– aka pet tattoo ideas that you can wear with honor.
If you want a standard, medium-sized pet tattoo, expect to lay out around $150 to $450 for a fantastic design. A full-sleeve or full-back pet portraits, such as a large-sized tattoo, can cost about $500 to $4000 or more. Nevertheless, you only get as much as you pay. 
Feature Image from Pinterest – Want your tattoo to look brighter? Try "Tattoo Balm"