Are you a fan of heart tattoos and thinking about getting one on your wrist? Look no further as we've got you covered with some of the best heart tattoos on wrist ideas that you'll surely love!
Heart tattoos have always been a popular choice among tattoo enthusiasts, and for good reason. They not only look delicate and stunning but also hold special meanings and emotions for the wearer.
A heart tattoo symbolizes love, passion, affection, and attachment, making it a perfect design to honor someone special in your life. And when it comes to placement, a heart tattoo on the wrist looks elegant and graceful.
If you're looking for some inspiration for your next tattoo, we've compiled a list of the best heart tattoos on wrist designs for you to choose from. With a wide range of options to select from, you're sure to find a heart tattoo that resonates with you and your style.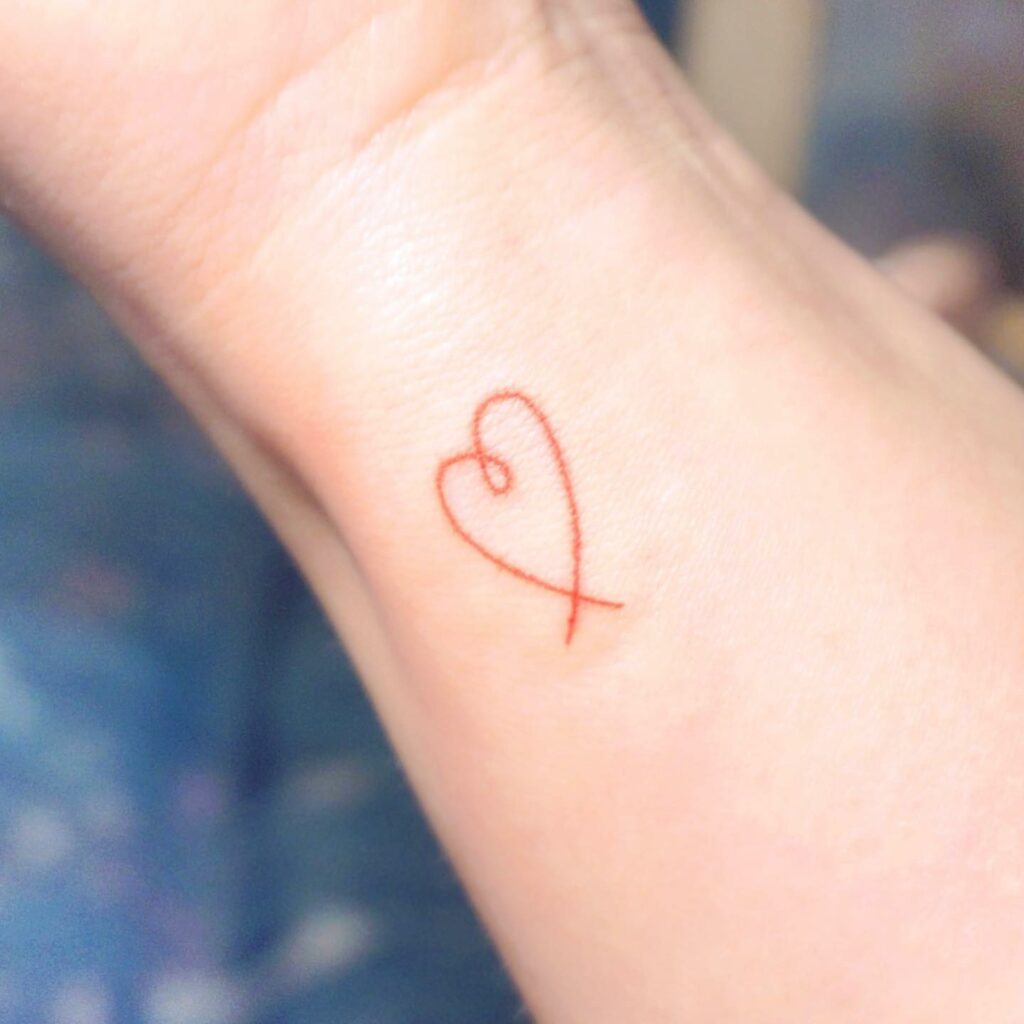 Continuous Line Outline Wrist Heart Tattoo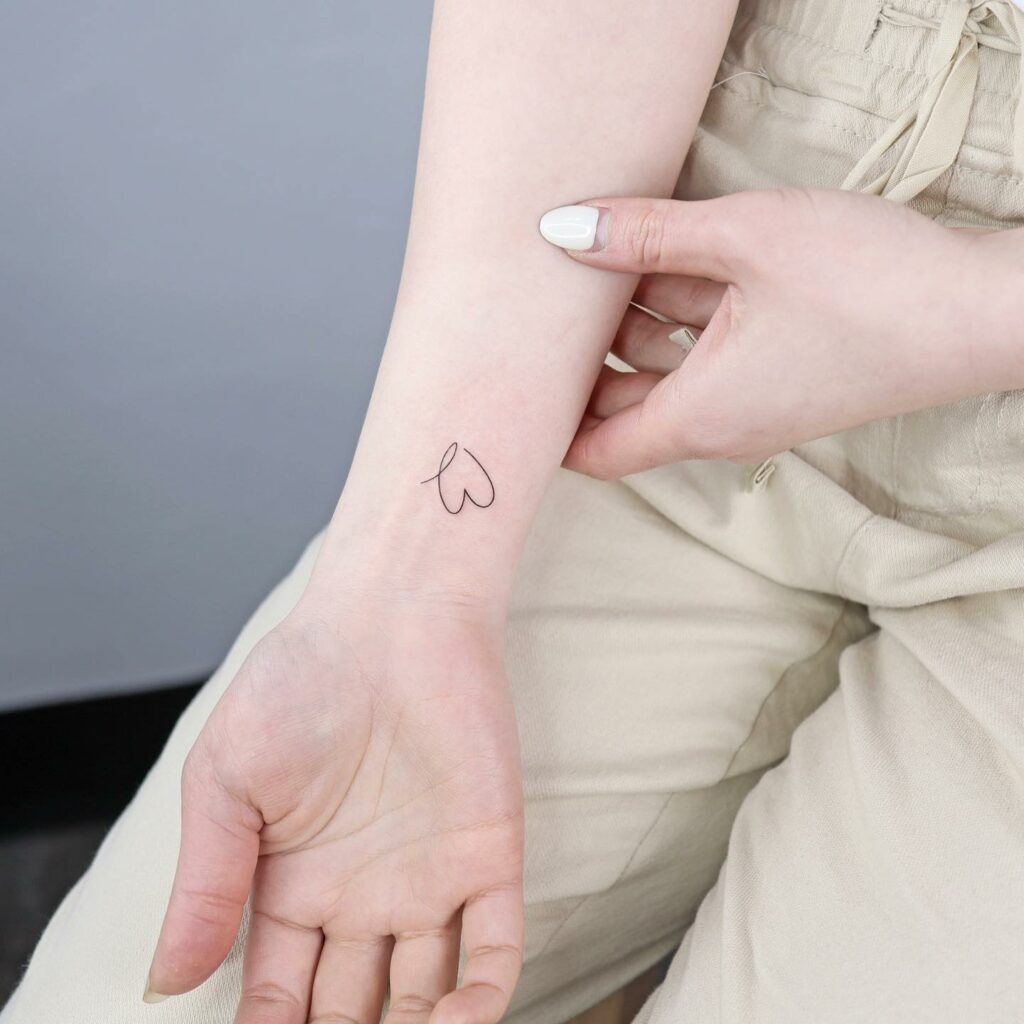 Looking for a small and subtle tattoo that will add a touch of elegance to your wrist? Consider an outline heart tattoo! This particular design features a continuous line that starts and ends at the same point, giving it a unique and eye-catching look. The black ink used in this tattoo can be changed to other colors, such as red or orange, to add a pop of brightness and complement your personal style. When getting this tattoo, be sure to choose a skilled artist who can use a fine needle to create a flawless and seamless design. With its delicate appearance and timeless symbolism, this tiny heart tattoo is sure to be a beautiful addition to any aesthetic.
Broken Heart Wrist Tattoo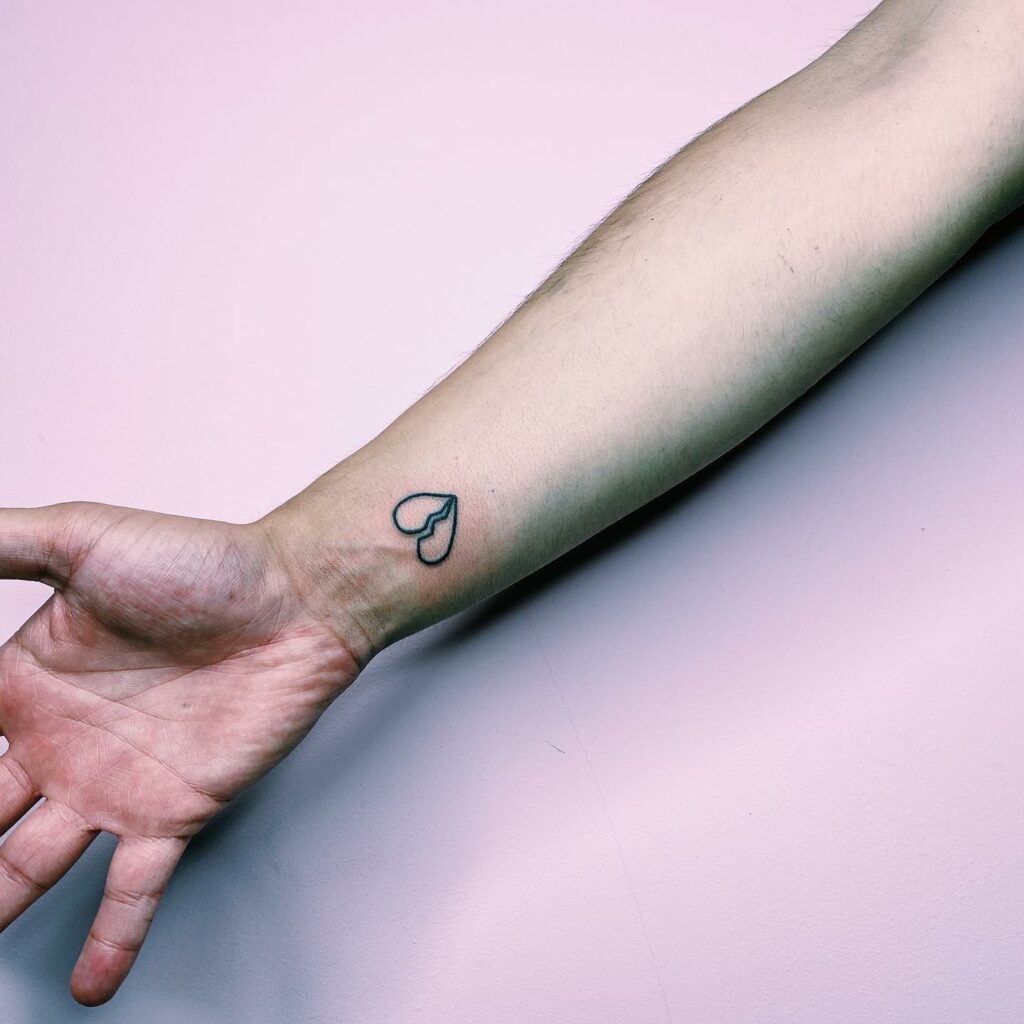 This tattoo is an excellent choice for those who want a symbol of a heart with a crack in it to signify the intensity of lost love or a broken relationship. It can also be a meaningful way to honor a loved one who has passed away.
The simplicity of this tattoo is what makes it so striking. It has been made using black ink, which represents sorrow and is often the preferred color for broken heart tattoos. The crack in the heart adds a touch of realism to the design and highlights the pain and anguish that comes with heartbreak. This small and powerful tattoo is perfect for those who want a simple yet meaningful expression. Consider adding your own unique touch to personalize it further.
Fingerprint Classy Heart Tattoo On Wrist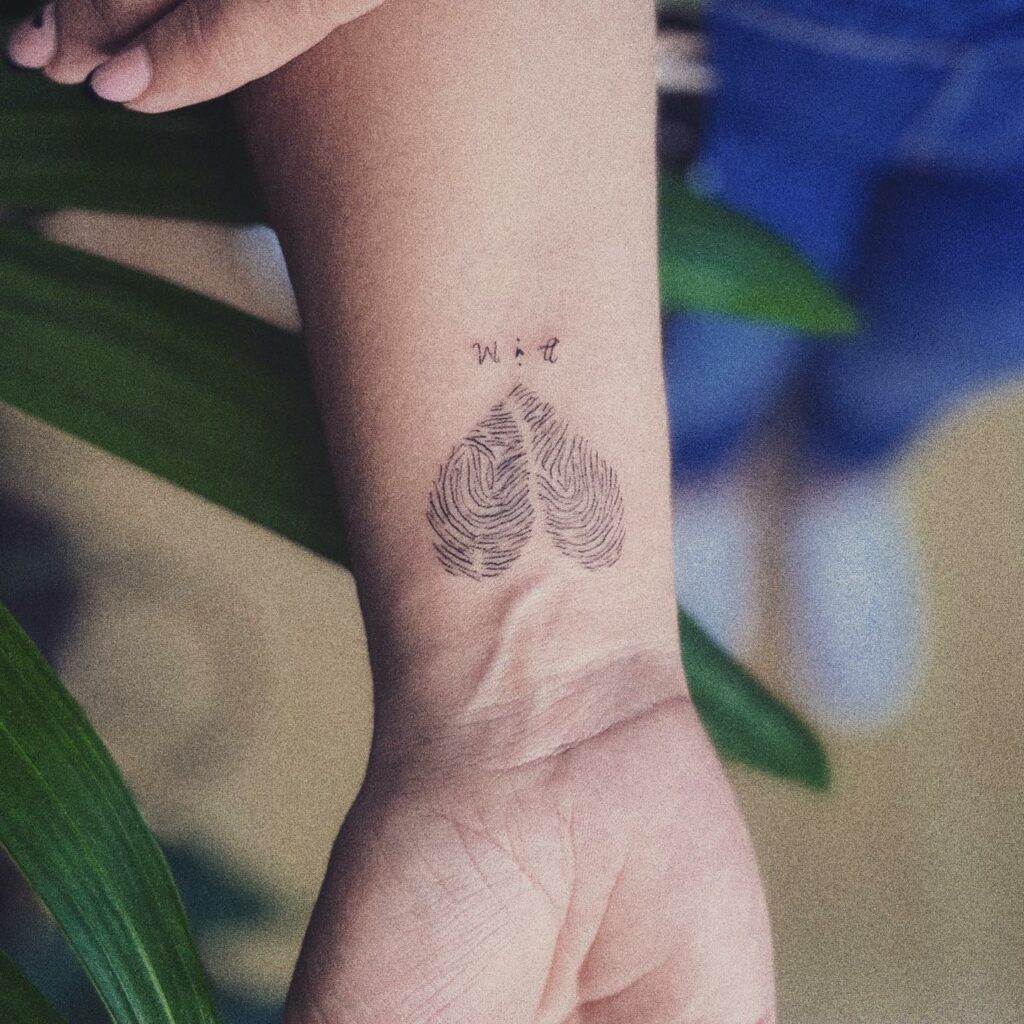 The fingerprint heart tattoo design is a unique and personalized way to express your love for someone special. This popular tattoo design involves two halves of a heart, with each half made up of a unique fingerprint. The fingerprints could belong to you and your partner, a friend, or a loved one. The bottom of the tattoo includes the initials of the two individuals, making it even more special and meaningful. This small heart tattoo looks best on the wrist, and the thin needle ensures intricate detailing that captures the essence of the design. Although the tattooing process may take a bit longer, the final result is well worth it. Show your love and dedication with this one-of-a-kind tattoo design.
Wrist Heart With A Message Tattoo
Dogs are known to be man's best friend, and many consider them as a part of their family. A heart tattoo on your wrist is a great way to express your love and appreciation for your pet.
This small outline heart tattoo is created using small dots that form a heart symbol. The heart is connected to a pair of paws with a bold black ink line, which is a perfect way to show your love for your four-legged companion. The tattoo can be customized, but the original design has a special charm that you might not want to change. If you are a dog lover, you will find this wrist small heart tattoo to be a unique and special way to celebrate the bond between you and your pet.
Heart Smile Plane Tattoo On Wrist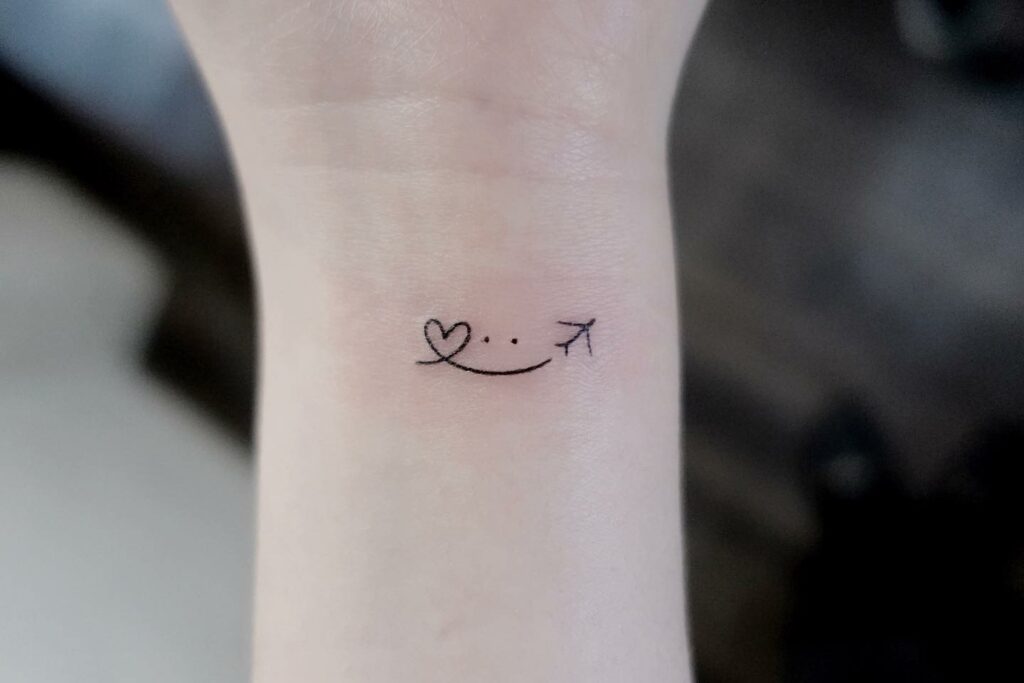 This small heart tattoo on the wrist is the perfect way to express your passion for exploring the world.
The tattoo starts with a heart and is connected to a beautifully designed airplane, which gives it a unique and personal touch. The curved line that connects the heart and the airplane has been carefully crafted to create a smiley face, adding a touch of playfulness to the design. This tattoo is the perfect size for anyone looking for a subtle yet meaningful piece of art.
Of course, you can always personalize this tattoo with elements of your choice, such as your favorite travel quotes, landmarks, or even the coordinates of your favorite destinations. The possibilities are endless, and our skilled artists are here to help you create the perfect design that will represent your love for traveling.
Multicolor Small Hearts Tattoos On Wrist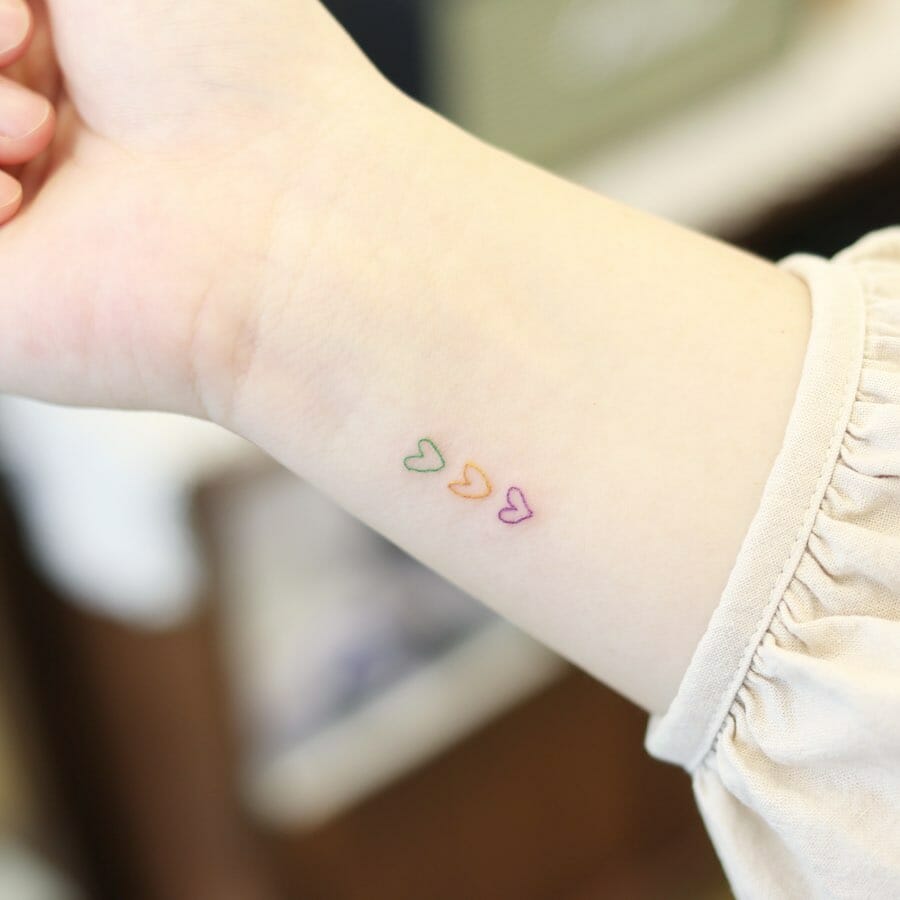 This multicolor heart tattoo on the wrist is the perfect way to showcase your unique style. The tattoo consists of three small hearts, outlined in green, orange, and purple, creating a beautiful contrast of colors that will surely turn heads.
This tiny heart tattoo was made with precision, using a fine needle to achieve the perfect outline for each heart. You can choose your preferred colors for the hearts to make it even more personal to you. Despite its small size, this heart tattoo is eye-catching and versatile, making it a great addition to any outfit.
If you prefer a different arrangement, the tiny hearts can also be placed in a row, allowing you to customize it to your liking. Regardless of your preference, this multicolor heart tattoo is a beautiful way to express your love and show off your unique style.
Matching Wrist And Feet Tattoo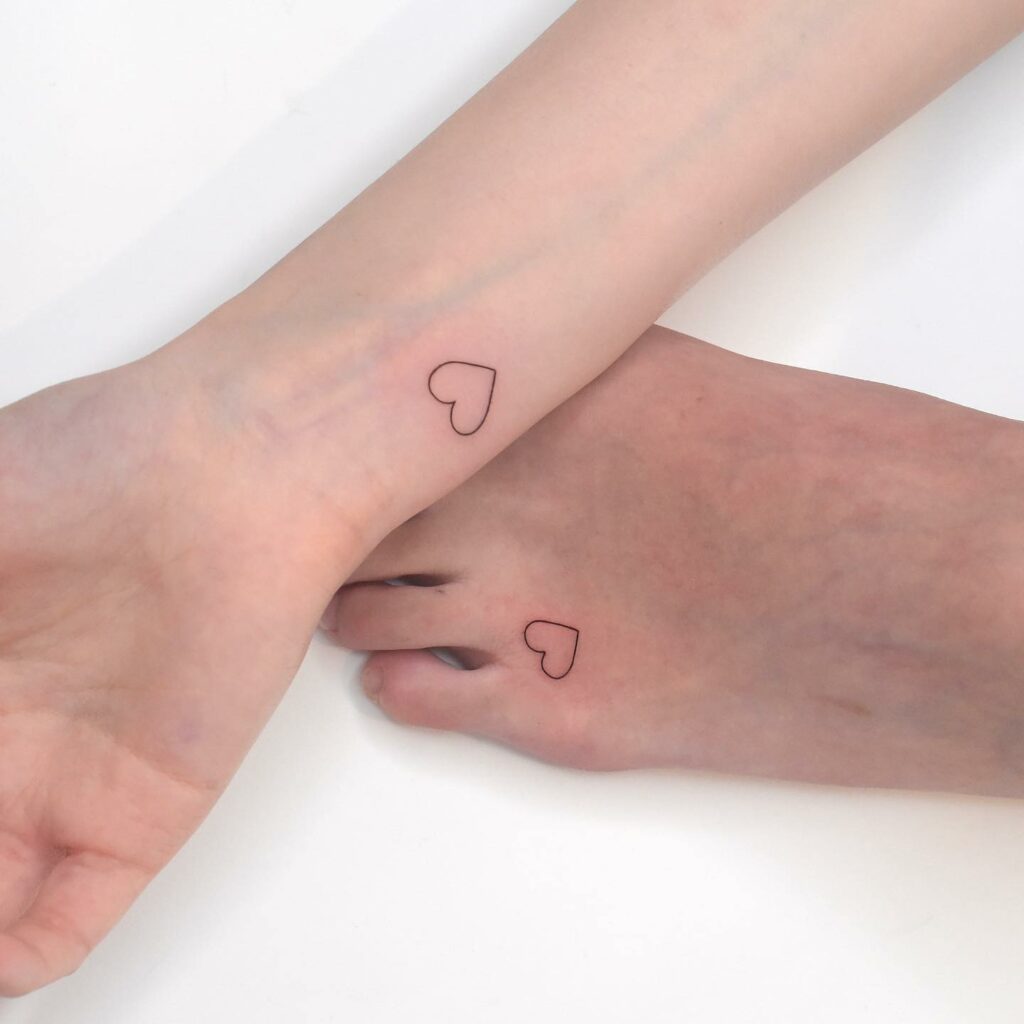 Matching tattoos can be a unique way to show your love and appreciation for someone special in your life. But have you ever considered getting a matching heart tattoo that is a little different from the usual designs? This particular tattoo is simple yet adorable, with one heart inked on the wrist and the other on the foot. The tiny size of these heart tattoos gives them a subtle, elegant look, while their placement on different parts of the body adds a fun twist. Not only is this tattoo a symbol of self-love and appreciation, but it's also a great way to bond with someone special. The tattoo can be created using a fine needle with black ink, and you have the freedom to customize it with additional elements or even different colors.
Mini Hearts Wrist Small Tattoos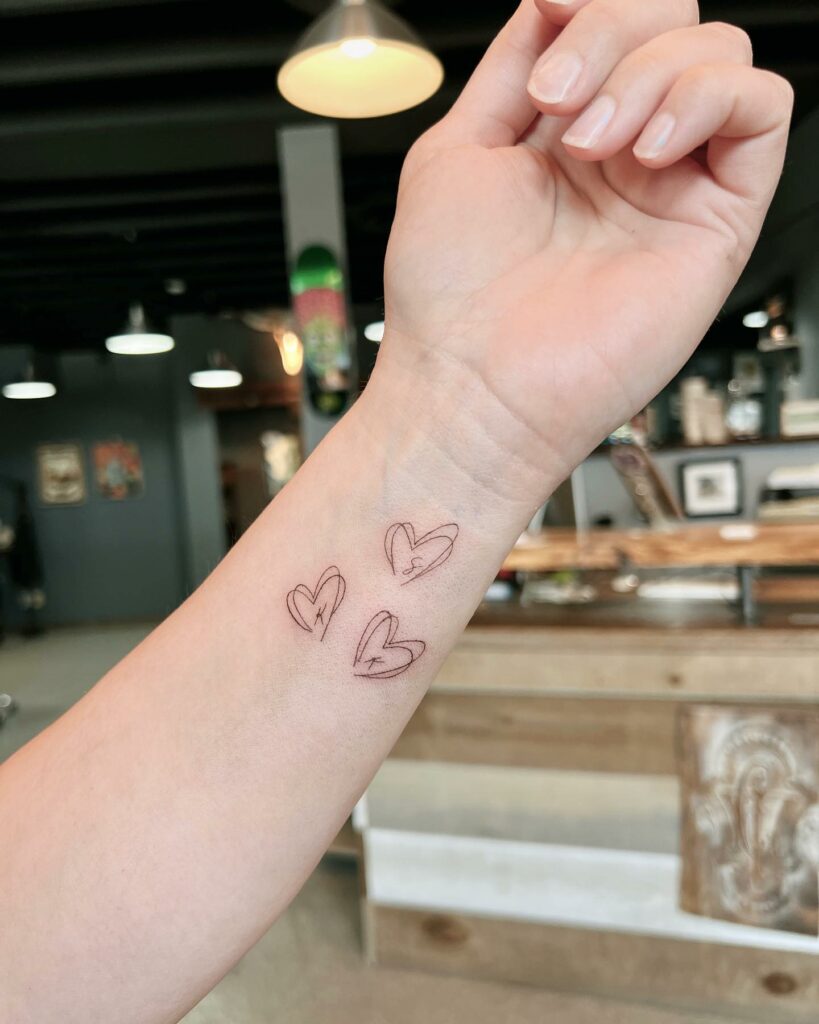 If you're looking for a heart tattoo that pays homage to your loved ones, this one may be the perfect choice. With three hearts on the wrist, you can customize this tattoo to represent your family or closest friends. The double-lined hearts give the tattoo a rough and edgy look that adds to its charm.
To make it even more special, each heart has an initial, representing the first letter of your loved one's name. This personal touch makes the tattoo unique and intimate. You can add more hearts if needed to include all the important people in your life. It's a beautiful and meaningful way to keep your loved ones with you at all times.
Heart x Infinity Wrist Heart Tattoo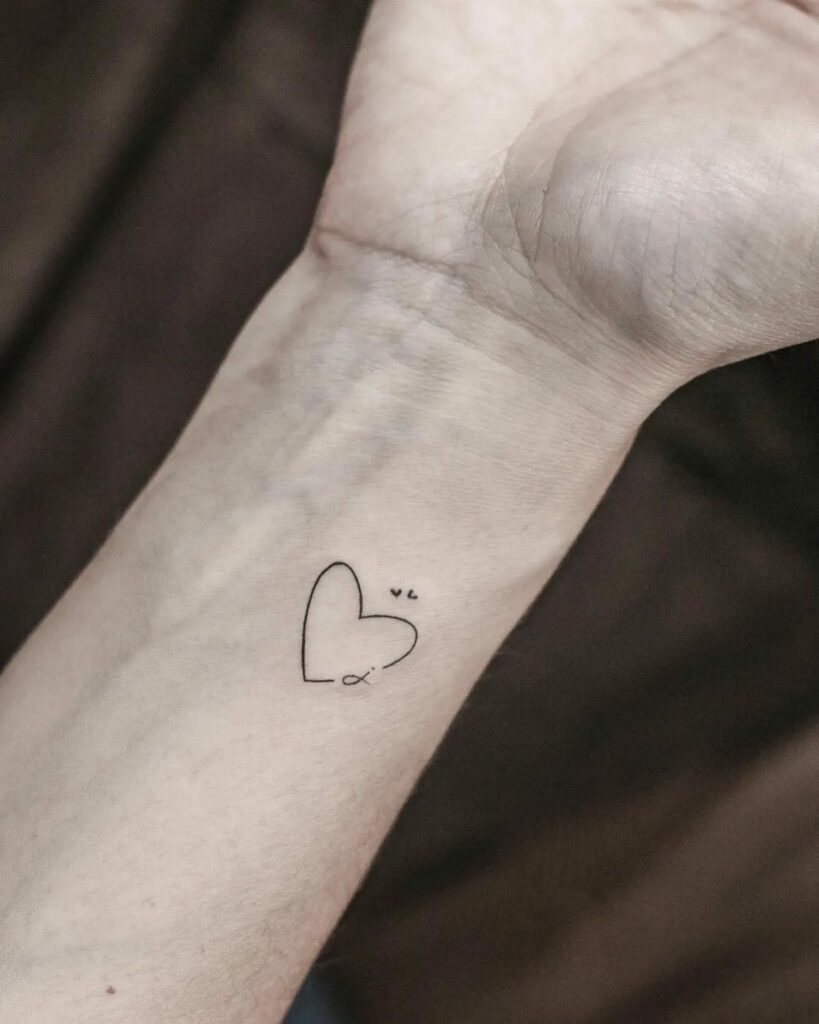 Looking for a simple yet beautiful tattoo that represents everlasting love? This infinity heart tattoo is the perfect choice for you. Crafted with black ink, the tattoo features a heart outline with an infinity symbol on the border, along with two tiny dots in bold black ink. The meaning behind this tattoo is powerful, representing the idea that love lasts forever, despite the ups and downs that come along the way. Plus, its simple design makes it an excellent option for those looking for a subtle and elegant tattoo. With its versatility and meaning, this infinity heart tattoo is sure to be a cherished addition to your collection.
Multicolor Small Heart Tattoo Design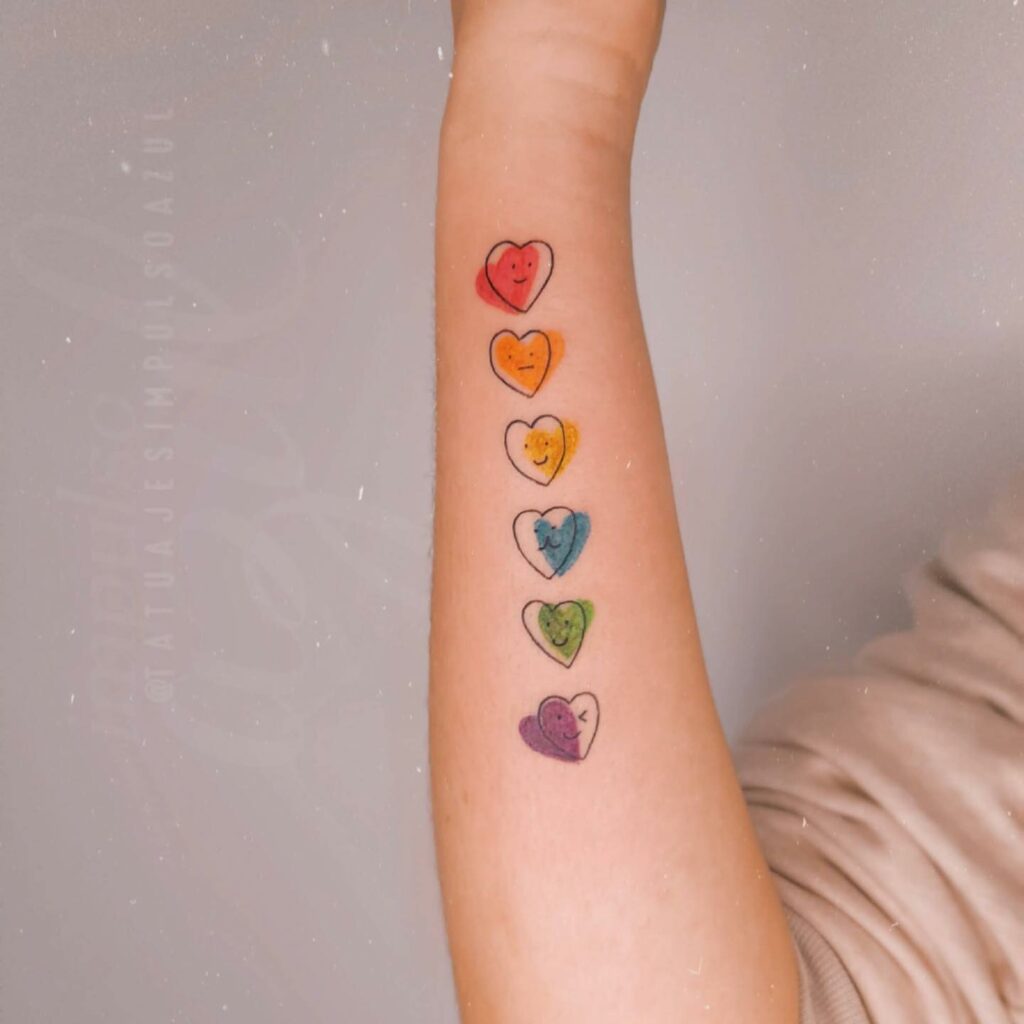 Heart tattoos are a popular choice among tattoo lovers, and this wrist tattoo design is truly unique. It features six small hearts, each with a different color and mood attributed to them. The red heart represents passion, while the orange one symbolizes warmth and enthusiasm. The yellow heart is for joy and happiness, blue for calmness, green for growth, and the purple heart is for creativity.
What makes this tattoo stand out is the fact that the colors have not been filled, giving it a whimsical and imperfect look. This multicolor heart tattoo is perfect for someone who is outgoing and fun-loving. Plus, you can always customize the colors to your liking.
A small heart tattoo on the wrist is a subtle yet meaningful way to express yourself. Heart tattoos hold a special significance and can be placed anywhere on the body, but the wrist has a unique charm to it. If you're considering getting a heart tattoo, we've got you covered with more options to choose from.
feature image from Pinterest – Want your tattoo to look brighter? Try "Tattoo Balm"