In today's post, we'll explore the top indie makeup brands currently taking the beauty industry by storm. We'll delve into their brand philosophies, their show-stopping products, and what sets them apart in a sea of mass-produced makeup.
Get ready to discover beauty's best-kept secrets and find your new holy grail product! If you're keen on experimenting with cutting-edge products, supporting small businesses, and learning about sustainable and inclusive beauty practices, you're in for a treat. So please sit back, relax, and let's set off on this incredible journey into the vibrant world of indie makeup. Ready to shake up your beauty routine? Let's go!
Unraveling the Definition of Indie Makeup
You've probably heard the term 'indie' thrown around in the beauty sphere, but what does it mean? 'Indie' is short for independent, a term reminiscent of a quaint, independent bookstore – free from the control of a larger entity. Therefore, an indie makeup brand is independently owned and completely controls its products.
Now, let me share some examples. Urban Decay, owned by L'Oreal, is not an indie brand because it falls under a large corporation's umbrella. Contrary to popular belief, indie makeup brands are not confined to handmade products or those unavailable in mainstream stores. The heart of an indie brand lies in its independence from external control.
Why I'm in Love with Indie Beauty Brands
Indie brands offer a variety of high-quality and affordable products that are as unique as you are. And just like my unique, gothic couture wedding dress, custom-made for me, I've found that many indie brands offer bespoke fashion items, which I adore. But what's crucial to remember is that not all brands claiming to be indie hold true to this spirit.
Some brands sell private-label formulas without customization. I vividly remember buying what I believed were four different teal gel eyeliners from four indie brands at different prices. It wasn't enjoyable to find they were all from the same private-label company.
Honesty and transparency from brands are what I value most. If you're not genuinely indie, please don't pretend to be.
Where to Find Your Indie Makeup
Primarily, indie makeup can be bought directly from the brand's website or platforms like Etsy and Storenvy. You might also find them at larger stores like Ulta, Sephora, and Amazon. For safe transactions, I'd recommend using PayPal, thanks to its Buyer's Protection program.
Navigating the Indie Makeup World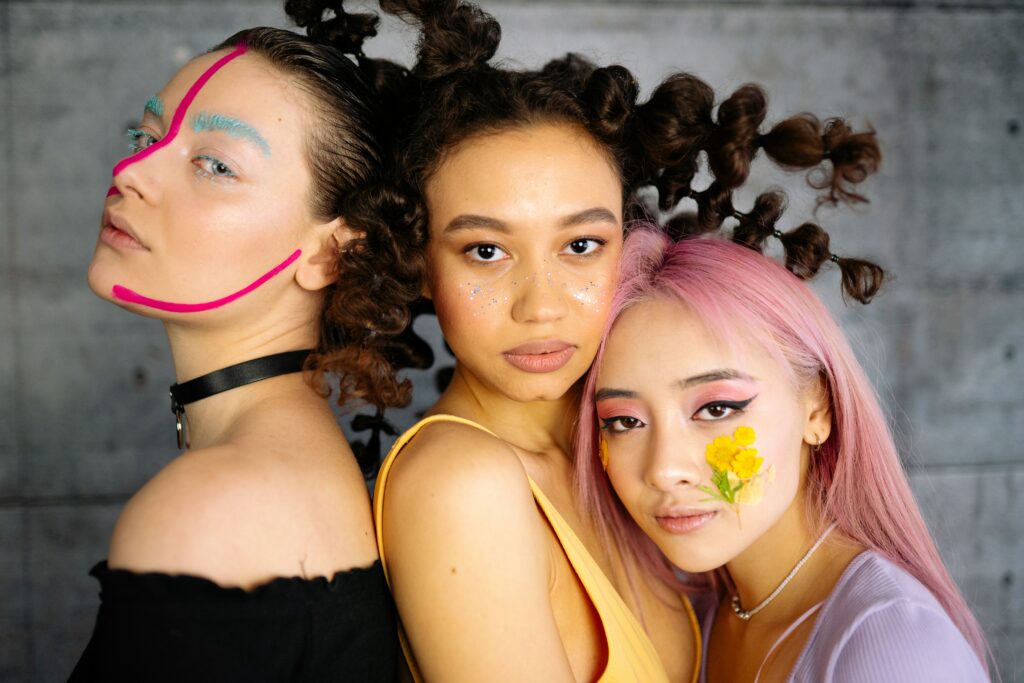 The terms' clean beauty,' 'cruelty-free beauty,' and 'vegan beauty' are buzzwords you might encounter. Don't let these non-FDA-regulated labels mislead you. And here's a pro tip: if you find a brand making an SPF claim, ensure it's FDA-rated.
Finding an excellent indie product might initially seem daunting, but resources like Google, Reddit, and YouTube can help you find reviews and swatches. My blog is another excellent resource, though I apologize if you stumble upon some older posts I'm in the process of updating.
When choosing indie makeup products, pay attention to the ingredients. For instance, an eyeshadow's blendability and lasting power are usually determined by zinc oxide, magnesium myristate, or kaolin clay.
However, avoid any irritating ingredient, like Bismuth Oxychloride, and always cross-verify with the FDA-approved color additives for the cosmetics list. Beware of brands that claim 'all-natural' ingredients. Even poison ivy is natural, but you wouldn't want that on your skin!
My Not-So-Secret Beauty Theory
Hey, beauties! I've got a little theory I want to share with you today. Let's call it my beauty conspiracy theory (cue dramatic music). Ready? I've always been skeptical of 'clean beauty.' The term sounds excellent, but have you ever had a concealer turn rancid within just a month of use? Trust me; it's not pretty.
I'm a fan of preservatives in my makeup because I like my cosmetics to last. So, here's my theory: clean beauty brands emerged to encourage us to buy makeup more frequently. Yep, that's late-stage capitalism for you! In the world of shareholders and perpetual growth, are we being coaxed into buying more and more?
Exploring the Indie Makeup Wonderland
So, what's Indie Makeup?
If you're new to indie makeup and wondering where to start and how to identify the good stuff, let's walk down this less-traveled beauty path together. Firstly, do your research. Google, YouTube, and Reddit are all your friends when it comes to finding top indie makeup brands. And remember, my blog is always here to guide you!
Be sure to look into the brand's reputation, the quality of its products, and its customer service. My blog has been funky recently as I'm fixing some old posts, so bear with me if something seems off!
Quality Check: Ingredients Matter
For indie makeup, always check the ingredients list. If the list says 'shimmer, pigment, or frost,' be wary. Those aren't FDA-approved ingredients. You can find the current list of FDA-approved color additives here.
Understanding Indie Ingredients
Here are some examples to give you an idea of what you're likely to find in indie makeup ingredients lists:
Eyeshadows: Good eyeshadows typically have zinc oxide, magnesium myristate, kaolin clay, coated mica, zinc stearate, carnauba-coated mica, or silica. This help improves blend-ability and lasting power.
Blushes: They'll often contain things like Mica, Silica, iron oxides, Titanium Dioxide, and Tin Oxide, among others.
Foundations: Common ingredients include Mica, Zinc Oxide, Titanium Dioxide, Silk Powder, Magnesium Stearate, Boron Nitride, Silica, and more.
Remember, if a foundation claims to have SPF, it should be FDA-rated. Only more prominent brands usually afford the expensive testing required to make this claim.
Steering Clear of Suspicious Ingredients
Watch out for Bismuth Oxychloride, as it can cause irritation and rashes. You can read more about prohibited and restricted ingredients on the FDA website.
And please, don't fall for fearmongering from apps or sites that make everything seem toxic. They're usually misleading.
The Indie Brand Landscape
Indie brands come in different forms, each offering something unique to the beauty world.
Handmade Beauty Brands: These brands create their formulas from scratch. Silk Naturals and Aromaleigh Cosmetics are great examples of this.
Unique Formulas and In-House Lab Brands: These are slightly larger indie brands with unique formulas and in-house labs. My personal favorites are Lethal Cosmetics, Baby Bat Beauty, and Fyrinnae.
Unique Formulas + Private Labeling: These brands mix unique and private-label products. They usually mark private-label products.
Outside Labs + Unique Formulas: These brands create unique formulas but use an outside lab for production. Danessa Myricks Beauty, Sugarpill, and Black Moon Cosmetics are some examples.
Innovation: Indie brands are often at the forefront of beauty industry innovation. They tend to be quicker to adopt new trends or create new ones, and they are known for their unique and creative product offerings.
Niche Markets: Indie brands often focus on serving specific or niche markets that may be overlooked by larger brands. This could include products for specific skin types or conditions, makeup for diverse skin tones, or products that meet specific ethical or environmental standards.
Direct-to-Consumer Model: Many indie brands sell directly to consumers online, cutting out the middleman. This allows them to have a more intimate connection with their customers and allows for quicker feedback and adaptation to consumer needs and preferences.
Ethics and Sustainability: Indie brands are often more focused on ethical and sustainable practices. This could include cruelty-free testing, vegan products, eco-friendly packaging, and fair-trade sourcing.
Transparency: Indie brands often prioritize transparency, sharing more information about their ingredients, sourcing, and production processes. Customers often feel more connected to the brand because of this.
Community Engagement: Indie brands often have a strong social media presence and engage closely with their community of users. This helps them build a loyal customer base.
Founder-led: Indie brands are typically led by their founders, which can lead to a strong brand story and vision. Consumers often feel a connection to the founder's story and the brand's mission.
My Top Picks
Here are some of the top indie makeup brands currently making waves in the beauty industry:
Tower 28: Founded by Amy Liu in 2019, this AAPI-owned brand is known for its vegan and cruelty-free formulas that adhere to the National Eczema Association's ingredient guidelines. Its products are suited for those with sensitive skin but can be used by everyone. Some of their bestsellers include the SunnyDays SPF 30 Tinted Sunscreen, BeachPlease Luminous Tinted Balm, and ShineOn Lip Jelly​.
Kulfi Beauty: Launched in February 2021 by Priyanka Ganjoo, this brand is quickly gaining popularity​.
Bread Beauty Supply: Founded by Maeva Heim in the summer of 2020, this brand has quickly become a bestselling Black-founded brand at Sephora. It offers hair-care staples that are color-safe, sulfate-free, cruelty-free, and vegan​.
True Botanicals: This female-founded brand has a variety of celebrity fans and offers a range of products for different skin types. The Chebula Active Serum is particularly popular for addressing a range of skin concerns​​.
Brandefy Skin: Launched in 2018 by Meg Pryde, this brand aims to provide affordable products with the same ingredients and benefits as more expensive brands. It focuses on high-quality ingredients and formulas, and one of the best sellers is the brand's 15% Vitamin C + E + Ferulic Acid Serum​.
PYT Beauty: This brand was co-founded by Mary Schulman to offer a clean, safe, vegan, hypoallergenic line of products that are also sustainable. The packaging is made with recycled plastic and the products can be recycled after use. The brand covers a wide range of makeup products, with the eyeshadow palettes being particularly popular​.
There are more indie beauty brands listed in the source I found, but I didn't have time to fully explore all of them. If you want more information about these brands or others, please let me know and I'll be happy to help further!
Conclusion
And there you have it, beautiful souls! Our deep dive into the indie makeup universe. Remember, makeup is an art form, a way to express yourself. There's so much more to discover beyond the mainstream brands! Do your research, pay attention to ingredients, and steer clear of brands with questionable reputations or unethical practices. Feel free to try something new and support small businesses. Remember that every coin spent sends a message about the world you want. Yes, there may be risks involved, but the beauty of indie makeup is its potential for uniqueness and innovation. So, put on your explorer's hat and enter the intriguing indie makeup world. As always, you have the power to shape your beauty journey. Let's make it a fabulous one!
Feature image by freestocks on Unsplash