Hey, beauties! If you're looking to switch things up in your foot-care game, let me tell you, blue pedicures are where it's at. This isn't just a random pop of color; it's a vibe that screams confidence and style. In today's post, we'll dig into why blue pedicures have been making waves, which shades are drop-dead gorgeous, and how you can get that salon-quality look right at home. Trust me, once you go blue, you might never look at a classic French pedi the same way again. Keep reading to discover how to make those toes look like they just stepped out of a fashion magazine—without breaking the bank. Ready? Let's dive in!
Blue French Tips: A Whole Mood
Let me introduce you to something jazzing up the classic French tip—blue tips with a gold accent line. Shoutout to The Bawan Sisters for making this chic look even chicer! Blue tips paired with gold jewelry? Instant glam. Personal tip: Try a gold anklet to take the whole look up a notch. Trust me, you won't regret it!
Mix It Up with Amalfi Blues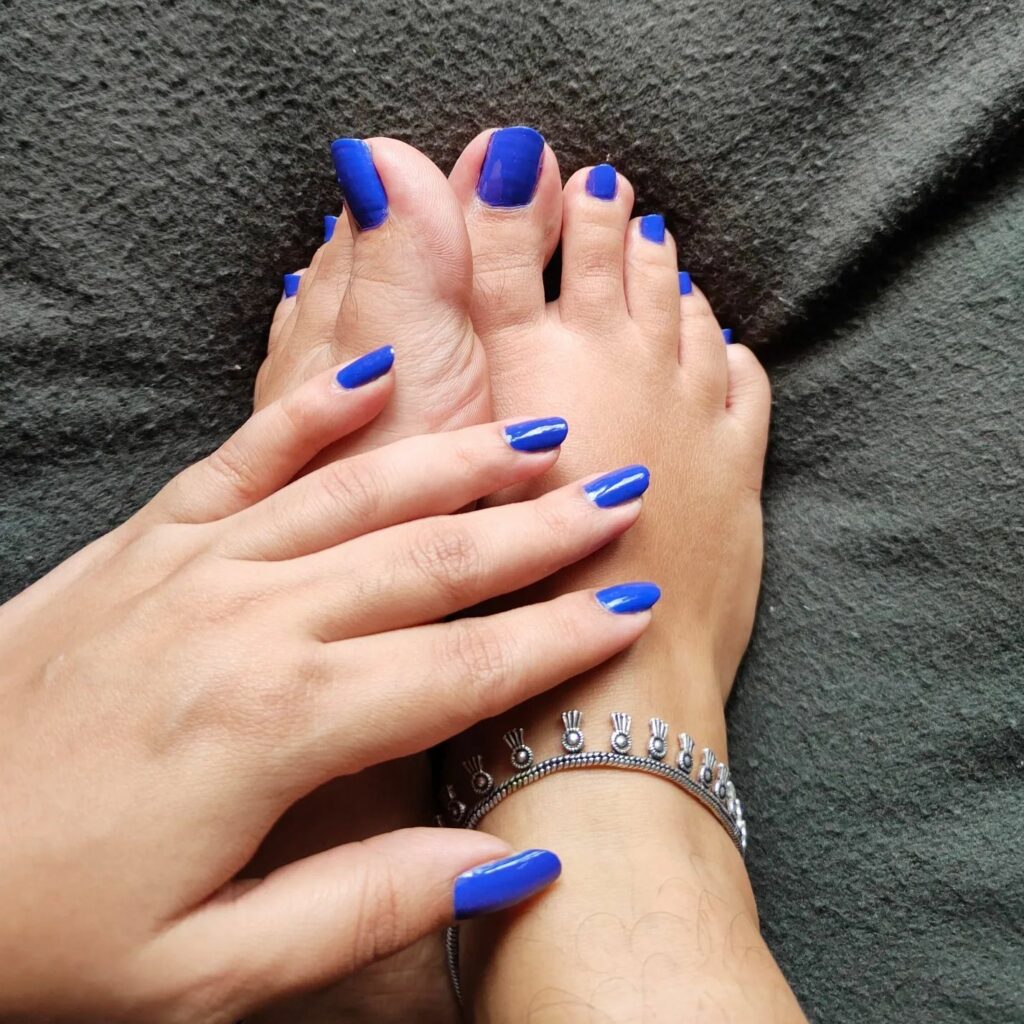 Aneta Ujwary is a genius with patterns, and her Amalfi blue mani is something to behold. Imagine two glossy, solid blue nails sitting pretty next to matte blue French tips adorned with a tiny white heart. Adorbs, right? This one's perfect for the indecisive souls who love a bit of everything.
Sip Tea with Fine Florals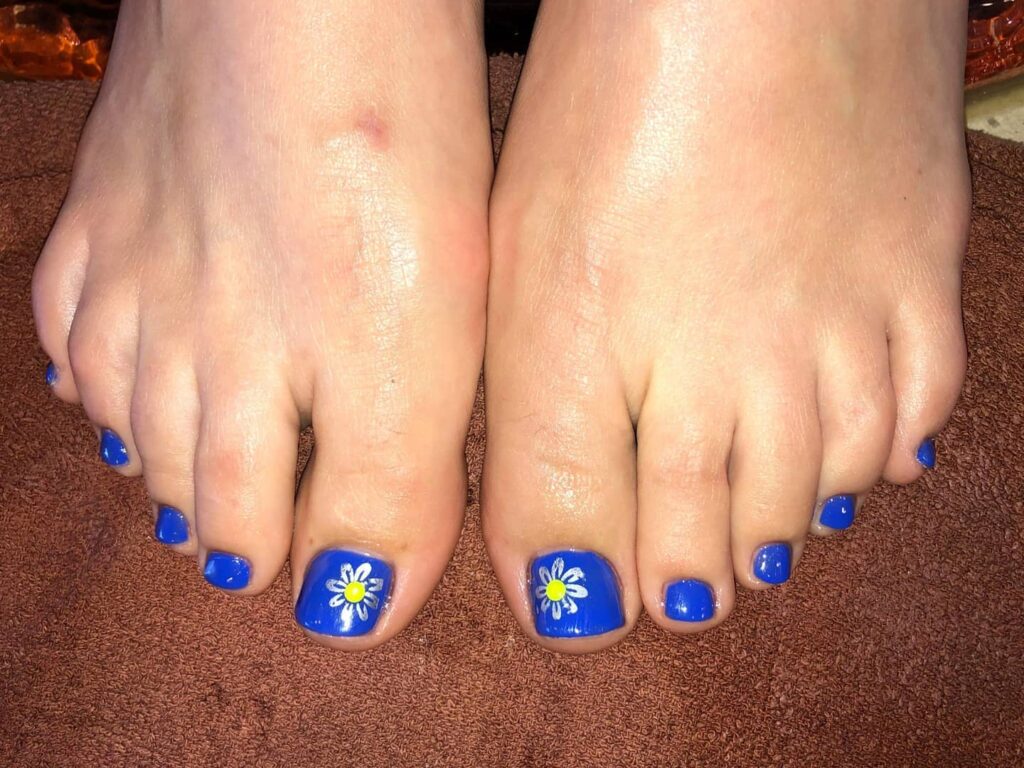 For those moments when you want to channel your inner royal, celebrity nail artist Pria B's delicate floral design is the way to go. It's like having fine china right at your fingertips—literally. I'm saving this one for my next high-tea outing; you should, too!
Subtle Glamour by Betina Goldstein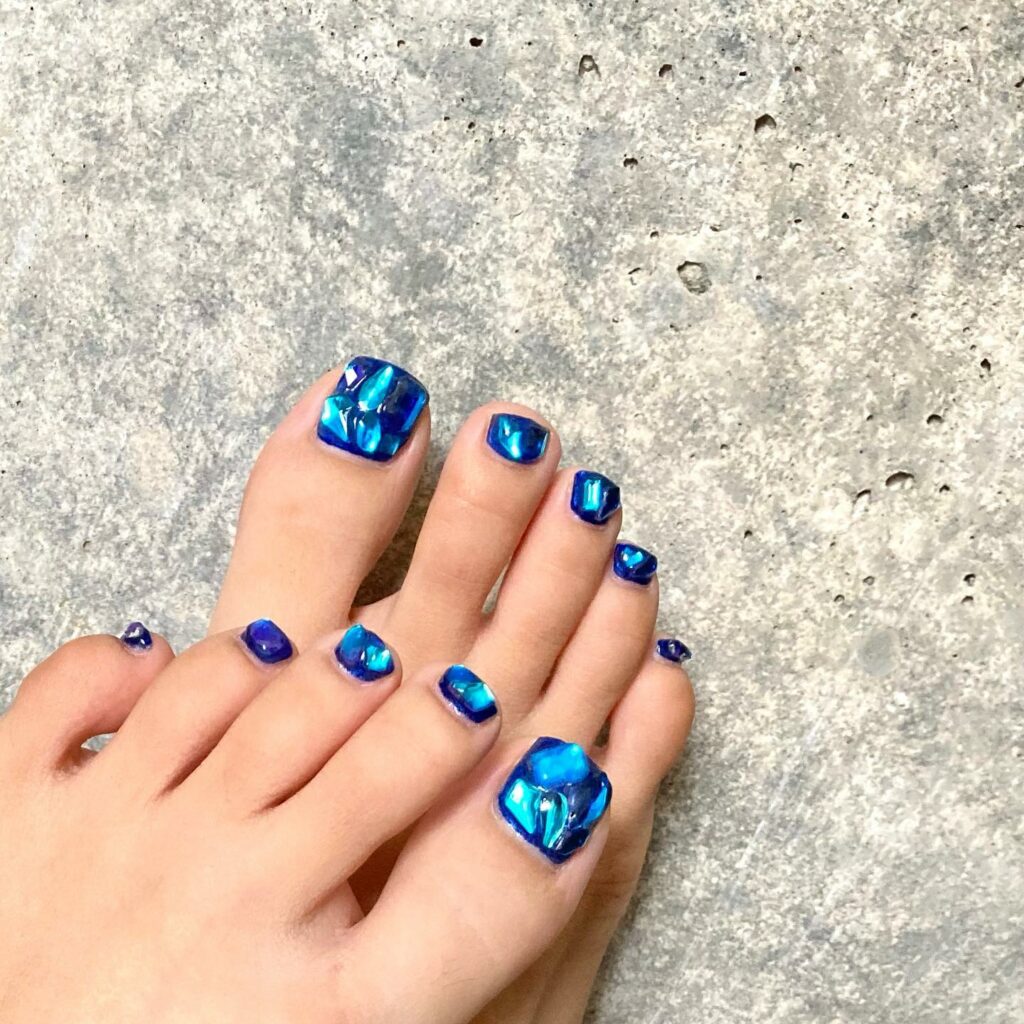 Now, Betina is the queen bee in the nail art world, and her dainty design is subtle but oh-so-eye-catching. The sheer neutral base is a game-changer here. My advice: Pair this with a minimalist outfit and let your nails do the talking.
Dive Into Ocean Blue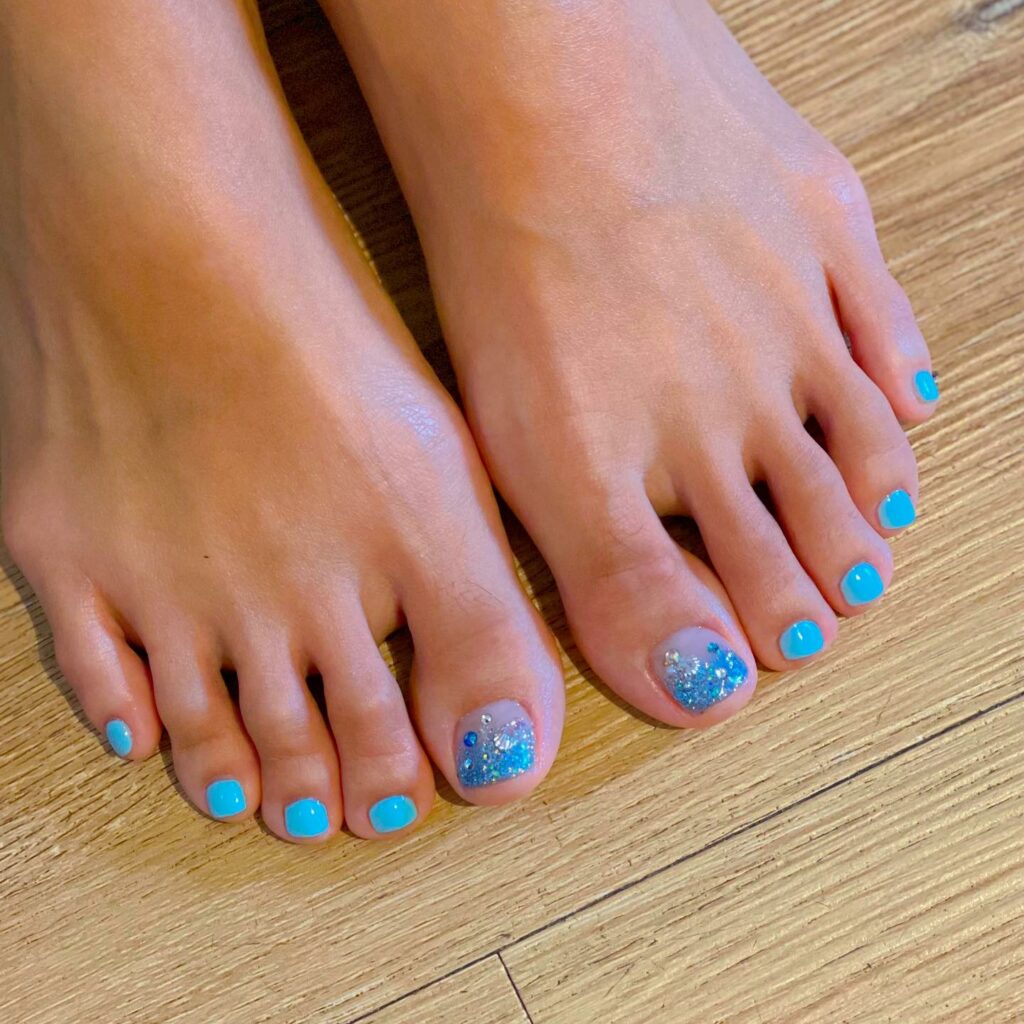 Imarni Nails had me speechless with this ocean-inspired design. Multiple shades of blue intermingle, while a touch of white gives the impression of sea foam. It's like having a mini-vacation right on your nails! I'm definitely adding this to my summer must-do list.
The Ombré Blue Blend
Why limit yourself to one shade of blue when Aneta Ujwary offers a gradient look? Matte blues transition smoothly from one to the other, and I'm living for it. There is no need for any accessories; these nails are a statement.
Swirls and Twirls: Less is More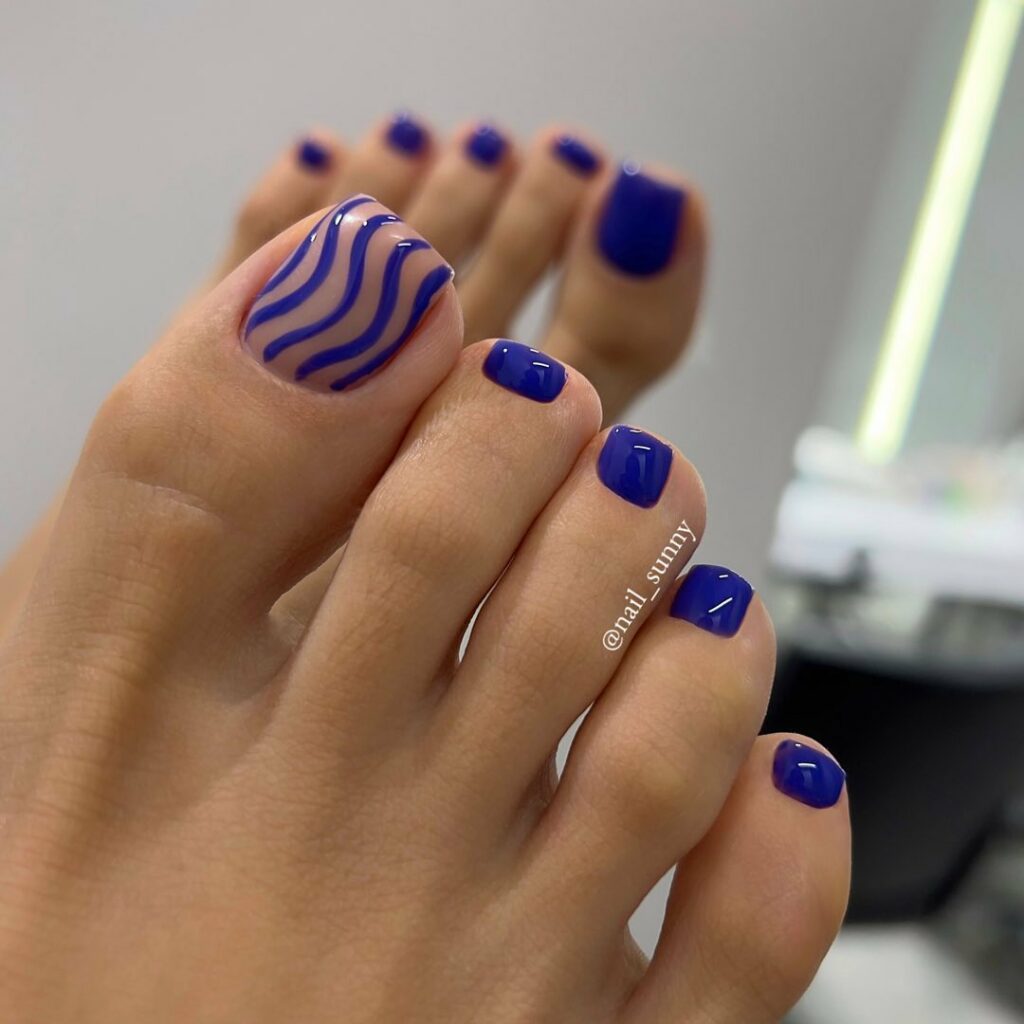 Artist Keshia knows how to make blue pop without going overboard. The nude base is critical here. My two cents? This design is perfect for both casual brunch and an evening soiree. Versatility, people!
Cool Off With Cyan Dreams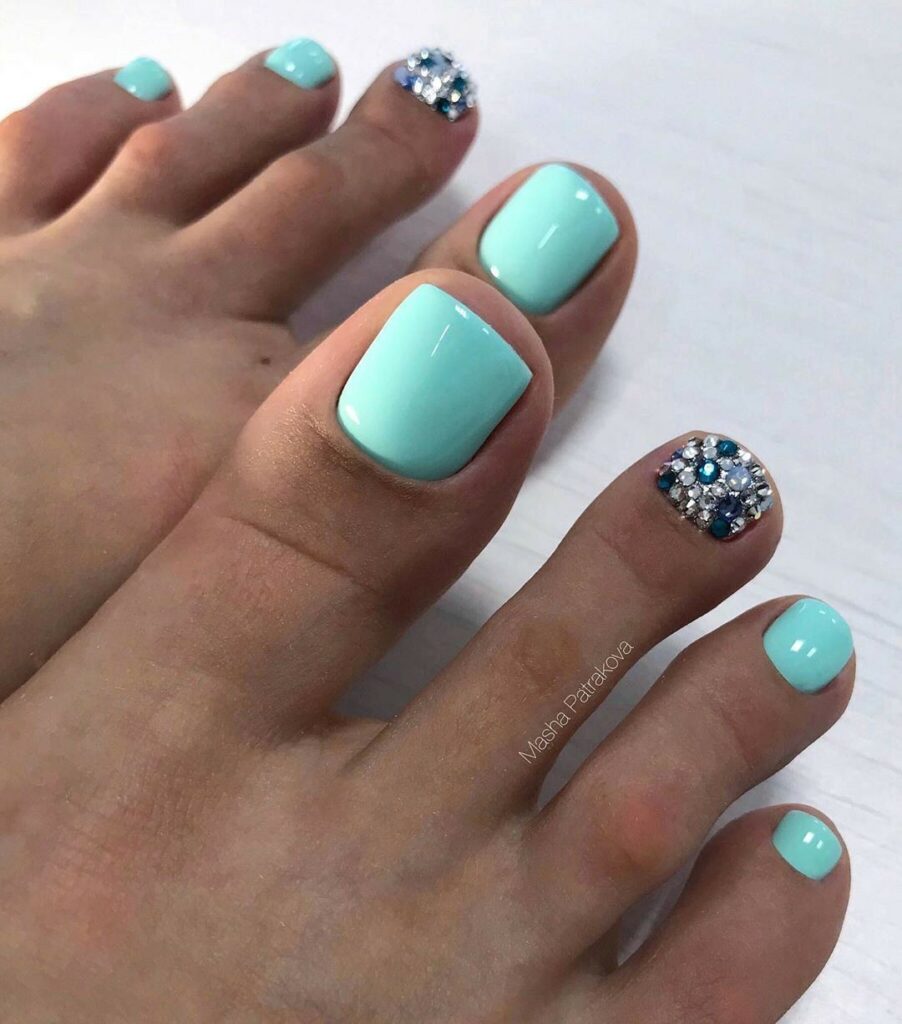 Chelsea King LeBouton's cyan nails scream summer and pool parties. The marble details? Unbeatable. Grab your favorite swimsuit, and you're good to go.
Turquoise Elegance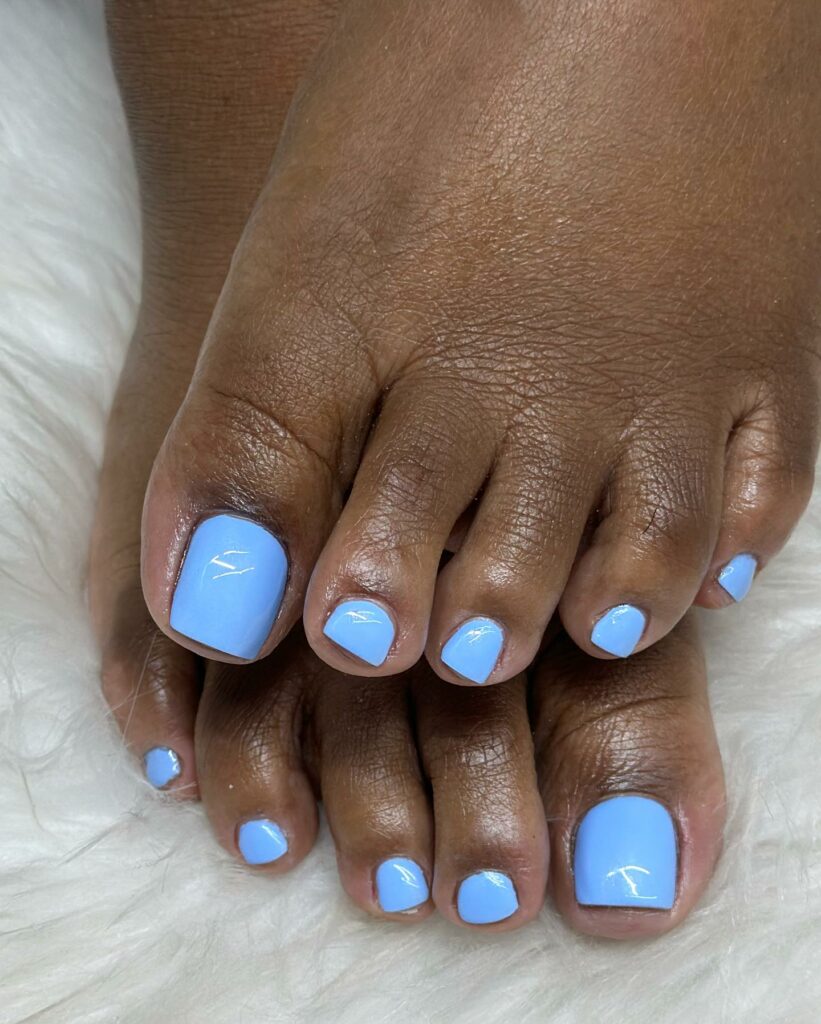 When a shade speaks for itself, sometimes less is more. Take this dreamy turquoise polish from Essie, for example. Perfectly applied by @lolo.nailedit, it's a color you'll keep returning to.
Liquid Glamour
Step aside, traditional designs—Soji Nails brings you blue nails topped with gel droplets. They look like morning dew on petals and add a fun, 3D touch to your mani.
The Royal Treatment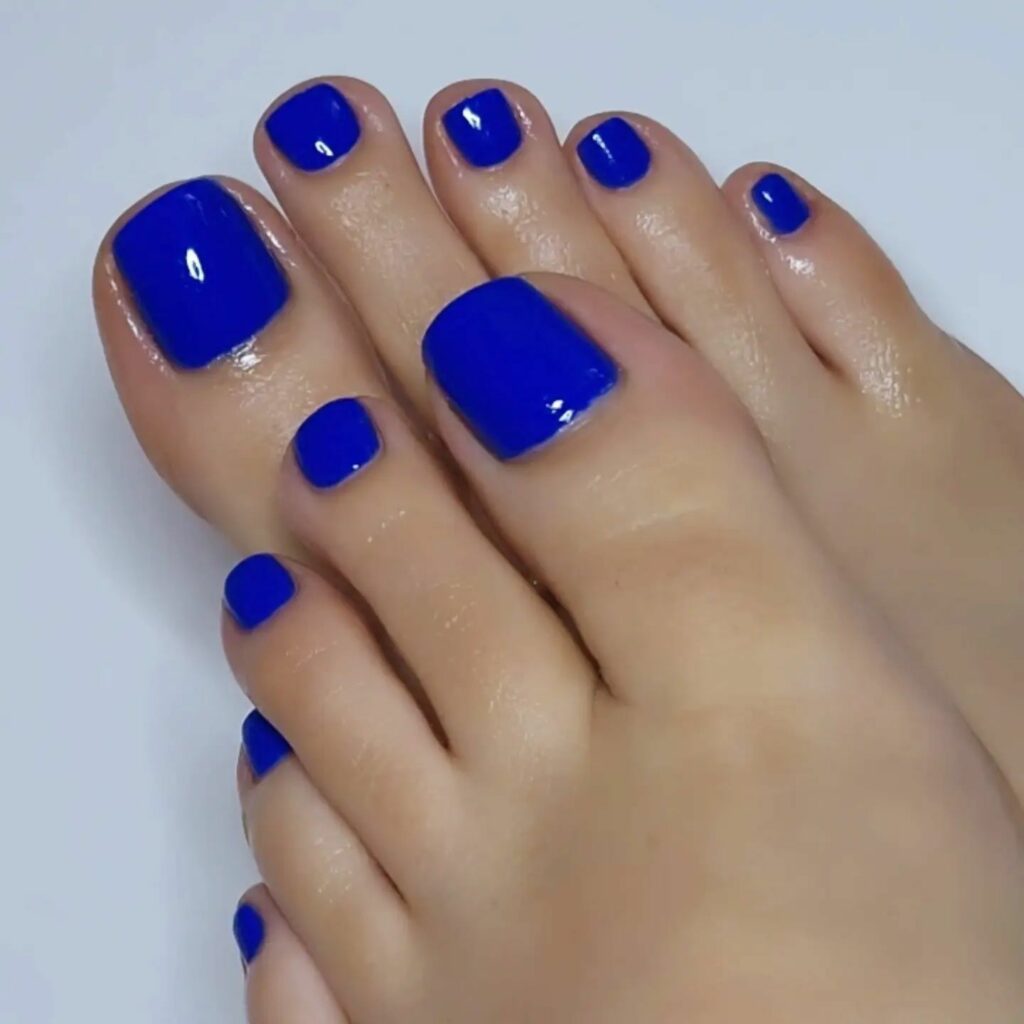 If timeless elegance is your vibe, look no further than Charlyne's matte royal blue claws. It's the epitome of classy, and I'm already fantasizing about pairing this with a bit of black dress.
All In the Patterns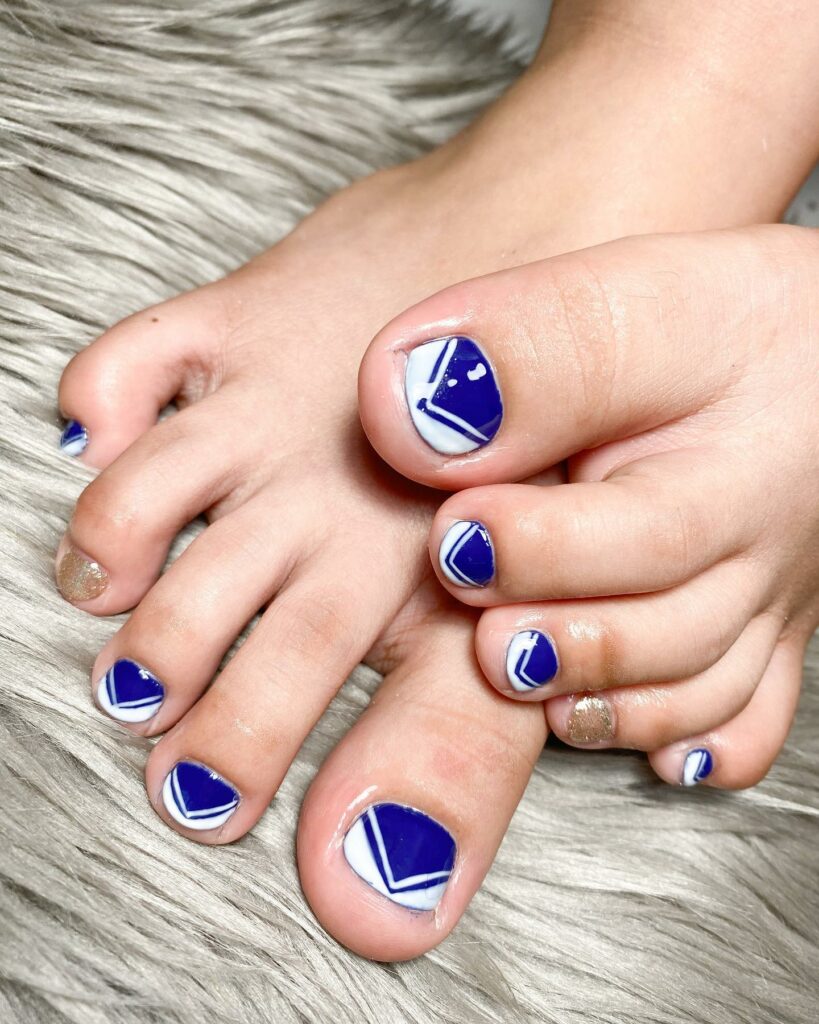 Canishiea J. Sams offers a mix-and-match set featuring a spectrum of blues that's just mesmerizing. Artwork on your nails? Yes, please!
Blazing In Blue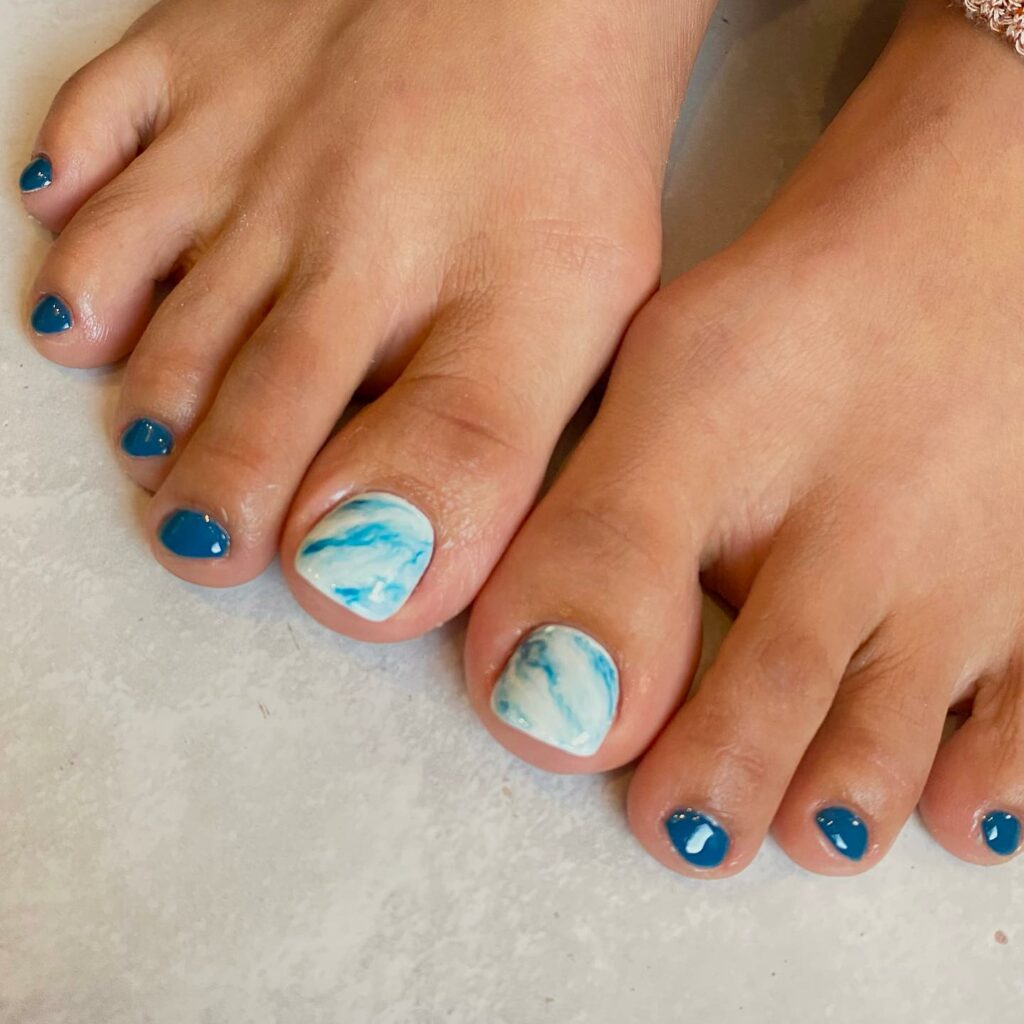 Who knew flames could be so chill? Artist Keshia takes a fiery design and cools it down with shades of blue and green. It's spunky, it's playful, and it's next on my list.
Make A Splash, Literally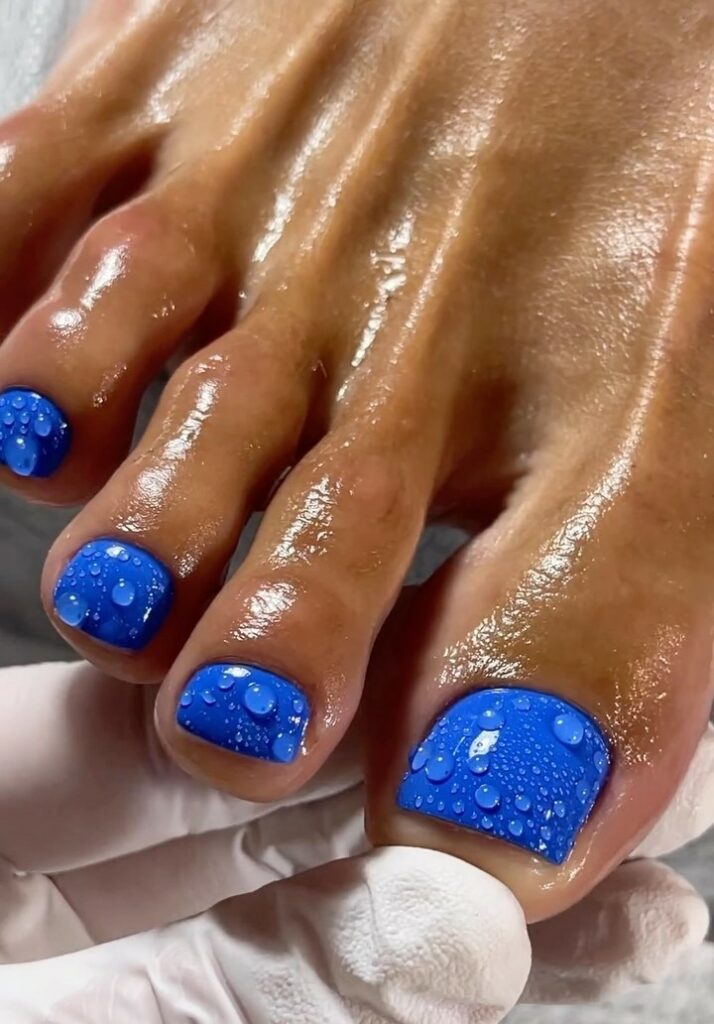 The pool water-inspired mani by @nuka.nails is impressive, but those 3D gel droplets? They're the cherry on top.
Under The Sea Fantasy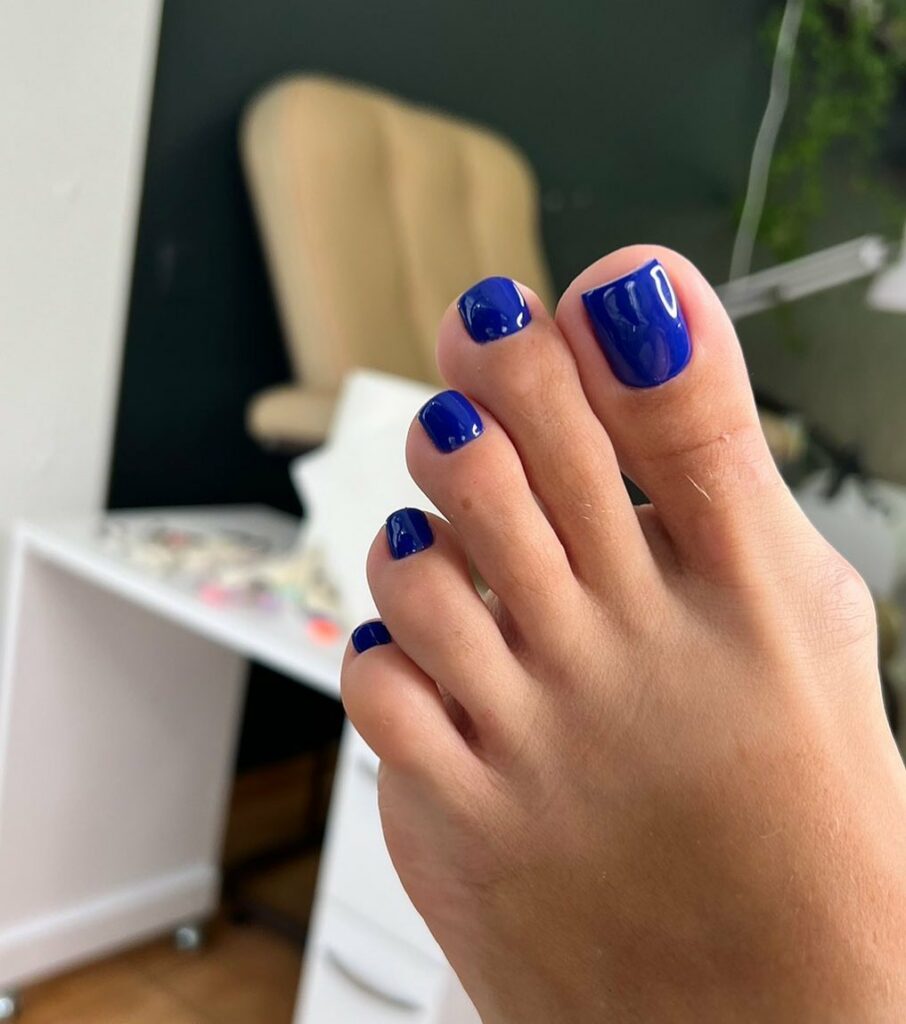 Sarah Thompson brings you an ocean-inspired mani detailed down to the fish scales. This one is for those who love to go all out on their nail art, and let me tell you, it's worth every minute spent on it.
Elevate Your Look with Sky Blue and Gold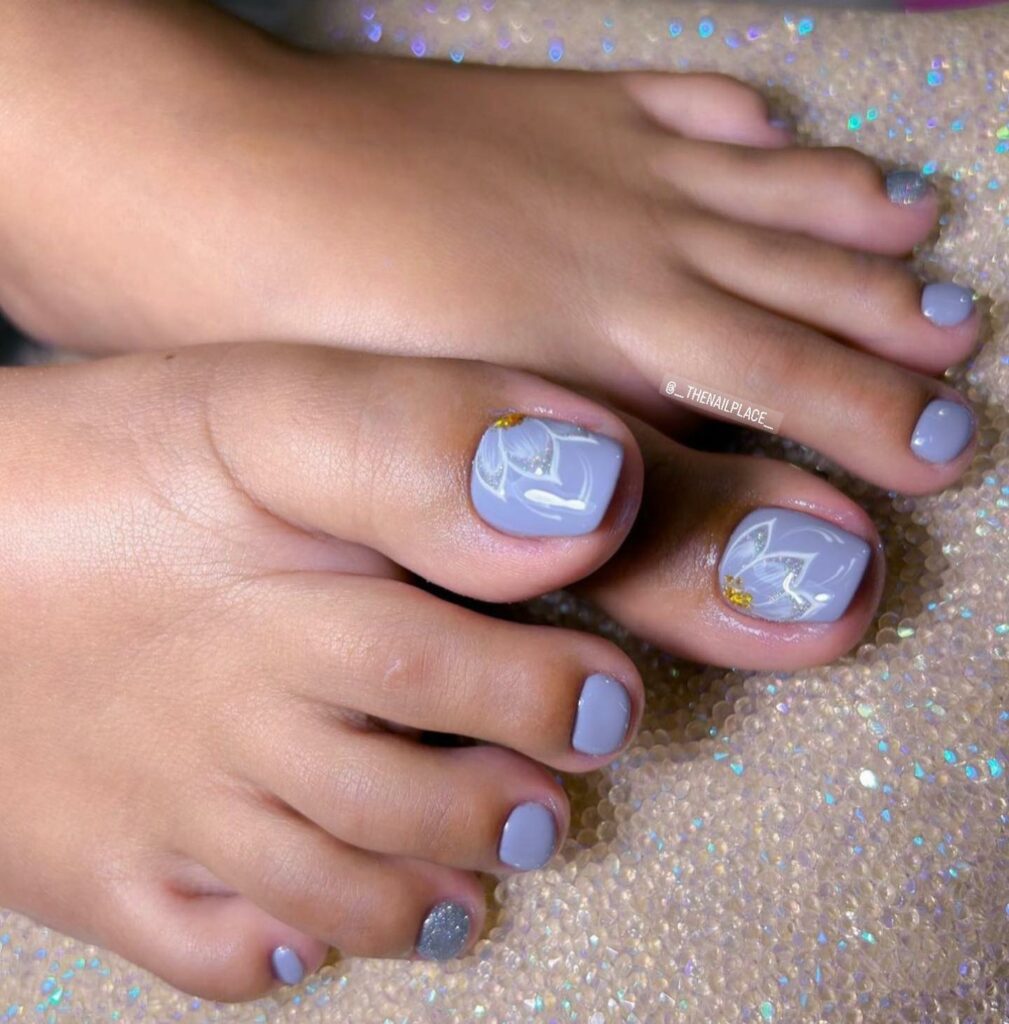 Listen, if you're into elegance but still want to keep things fresh, sky-blue tips adorned with golden swirls are the way to go. It's like the clear blue sky met the golden sun and decided to have a party on your nails. I wore this to a beach wedding last summer, and let me tell you, the compliments were endless!
Get Creative With Silver Swirls on Blue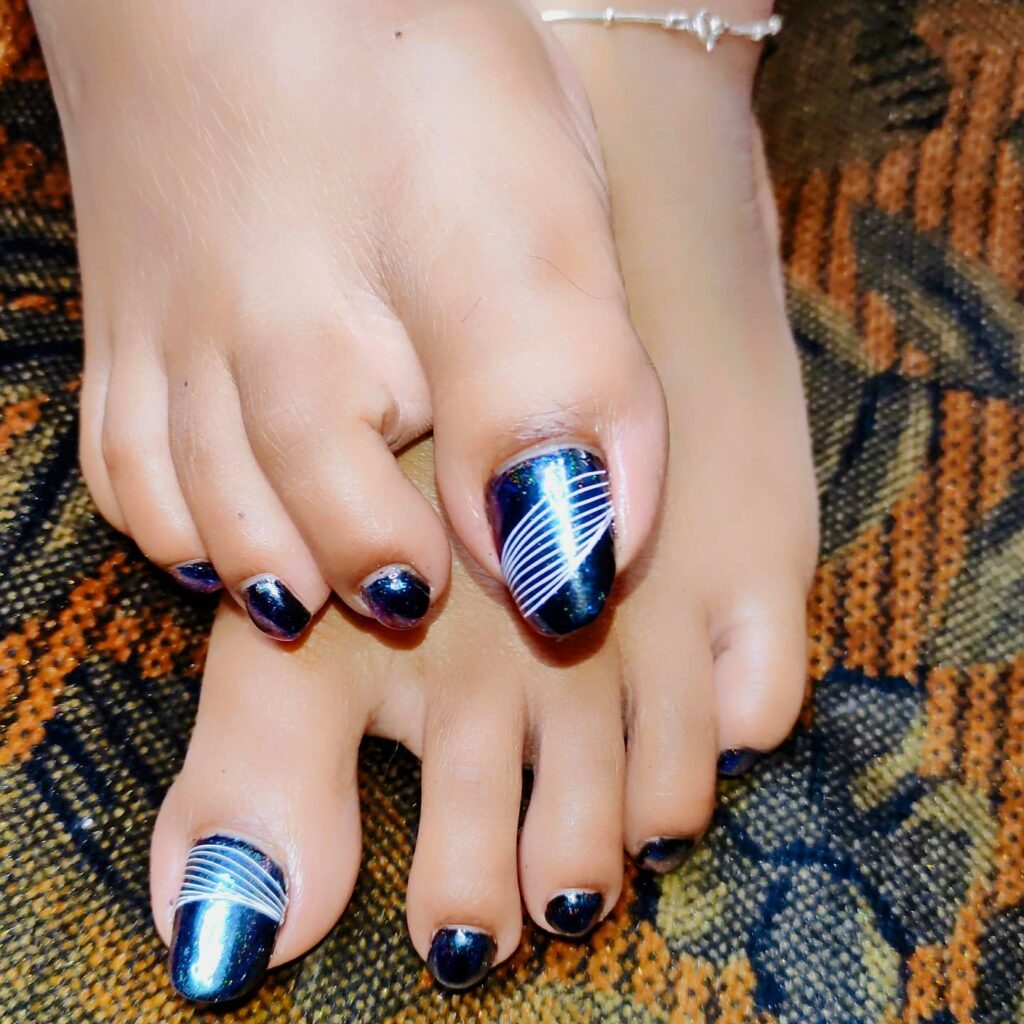 Blue gradient nails are excellent, but add some silver swirls, and you're onto a masterpiece! The clear droplets make it look like dew on a fresh morning. Must-try, especially if you're aiming for a mystical vibe.
Dazzling Blues: A Playground for Design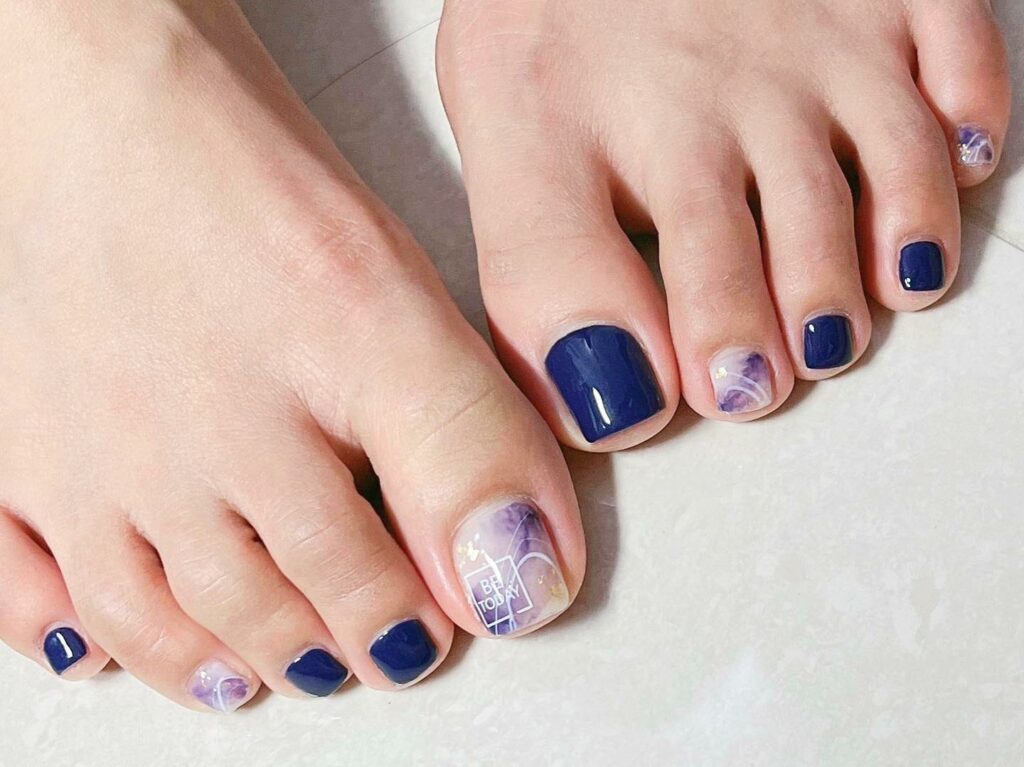 How about painting your nails sky blue but going all artsy on the accent nails? Think swirls, different shades, and a standout swirly blue French tip on the ring finger. I did this one for a music festival, and it was a hit.
Unconventional Elegance: Navy Blue Nail Design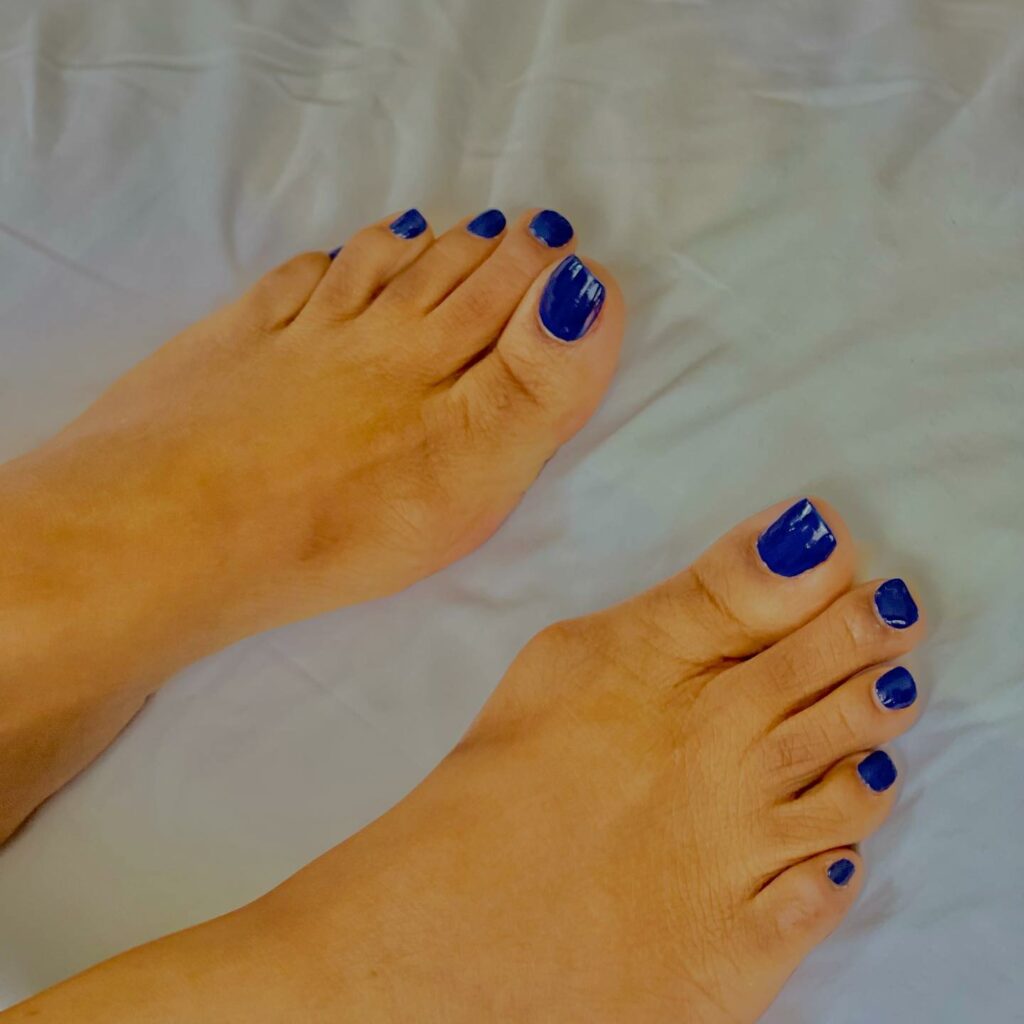 Solid navy blue nails are a classic, but how about adding some blue heart-shaped tips with eyes on select nails? It's quirky yet so elegant. Seriously, the heart shapes are a work of art, and they add an unexpected twist.
A Symphony Of Swirly Blue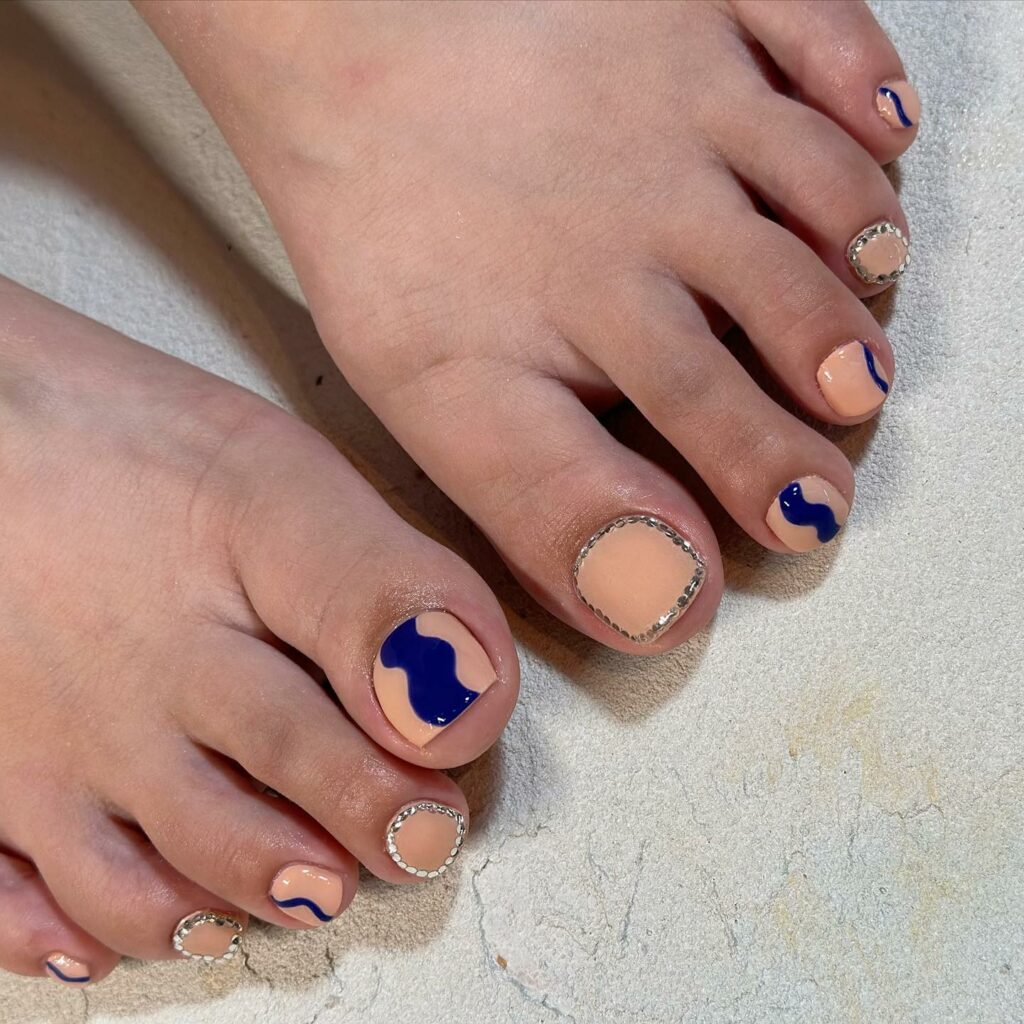 Deep blue swirls on nude nails are already a win, but add some light-green curvy lines, and you've got yourself a look! It's a design I'd recommend when you can't decide between going bold or keeping it subtle—this one has the best of both worlds.
Blue-On-Blue For A Poolside Splash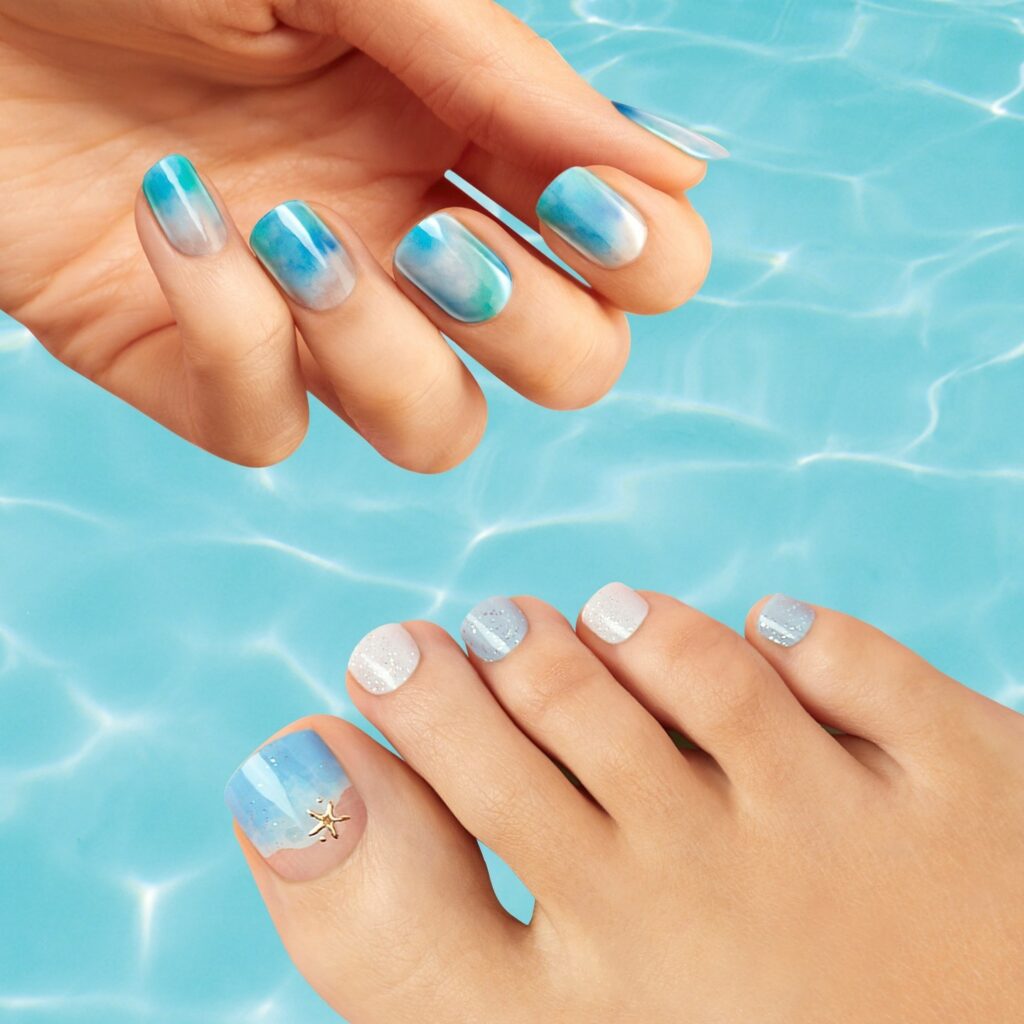 Let's talk shades of blue—like light blue cloud-shaped accents on a deeper aqua base. Perfect for that poolside selfie or, you know, just feeling fabulous while you lounge.
The Intricate Pattern Saga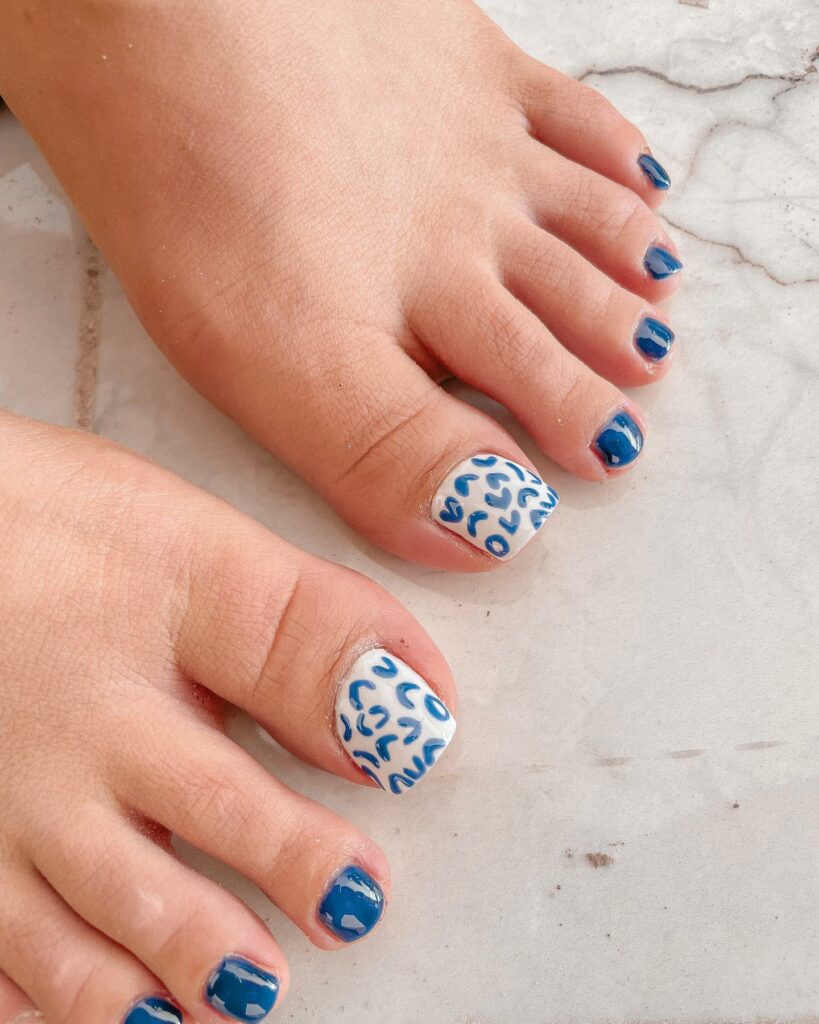 Neutral nails are timeless, but add some intricate blue patterns, and you're in for profound awe. The fine lines and dots in deep blue make this a fascinating piece of nail art. And trust me, you'll want to look closely at these beauties!
Butterfly Elegance In Blue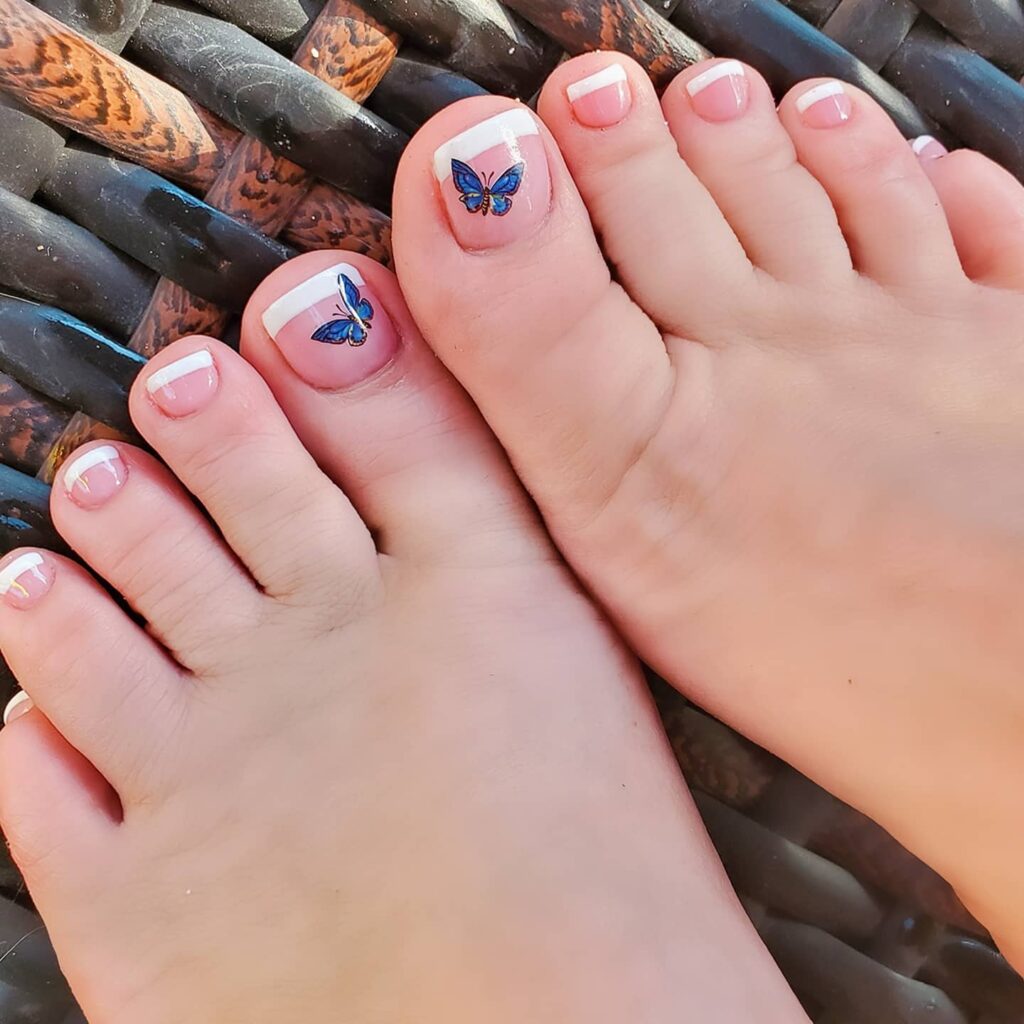 Butterflies symbolize so many beautiful things, and this nail art captures their essence perfectly. Black and blue crisscross patterns topped with white studs are mesmerizing. It's like wearing a piece of art on each nail.
A Sprinkle Of Elegance On Royal Blue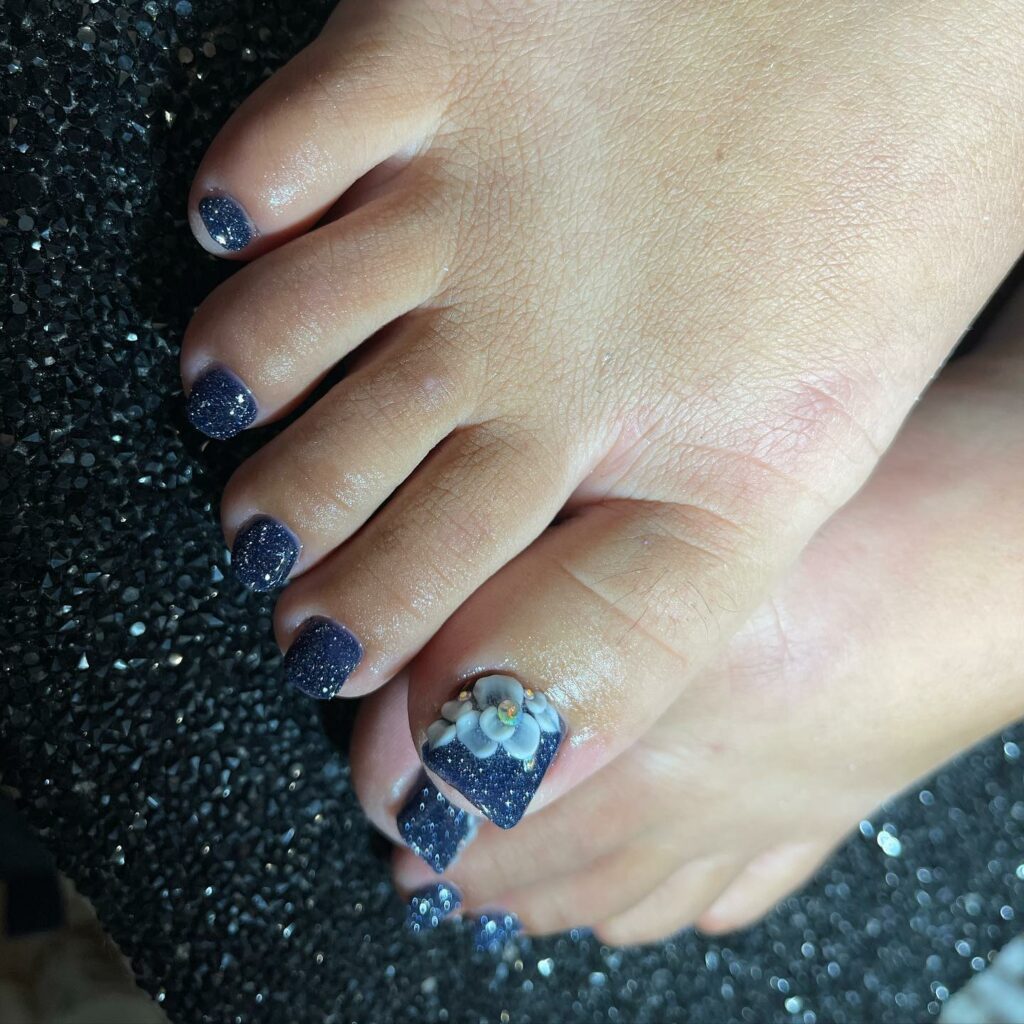 Picture this: royal blue nails and then—BAM!—a light sprinkle of silvery dust on the accent nail. It's a minimalistic way to bring serious glamour to a classic look. I sported this look at a corporate event, and even my boss complimented me!
Go Bold With Gleaming Blue And Glitter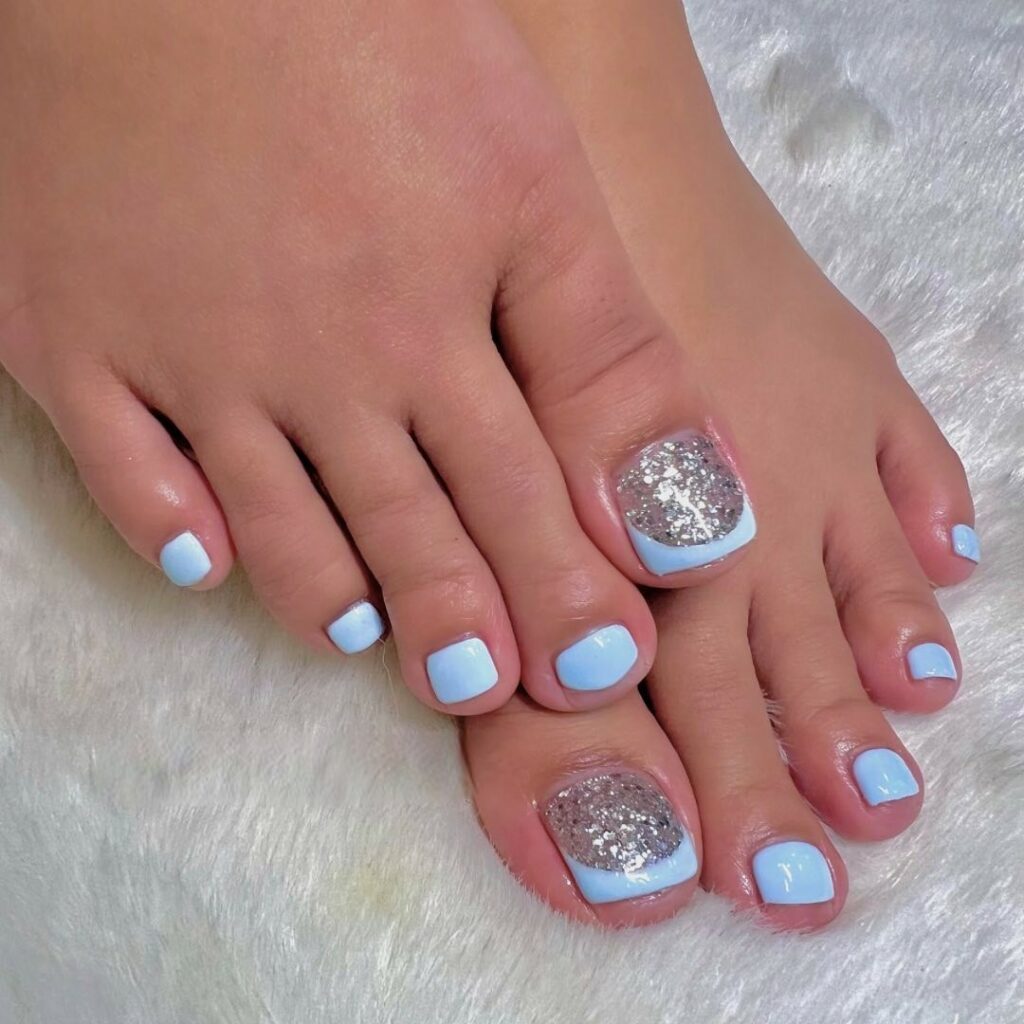 If you're bold, go full-on sparkle with deep-blue nails and chunky blue glitter. Remember that sparkling blue French tip; it's the cherry on top. This one is a showstopper, guaranteed.
Fall In Love With Blue Hearts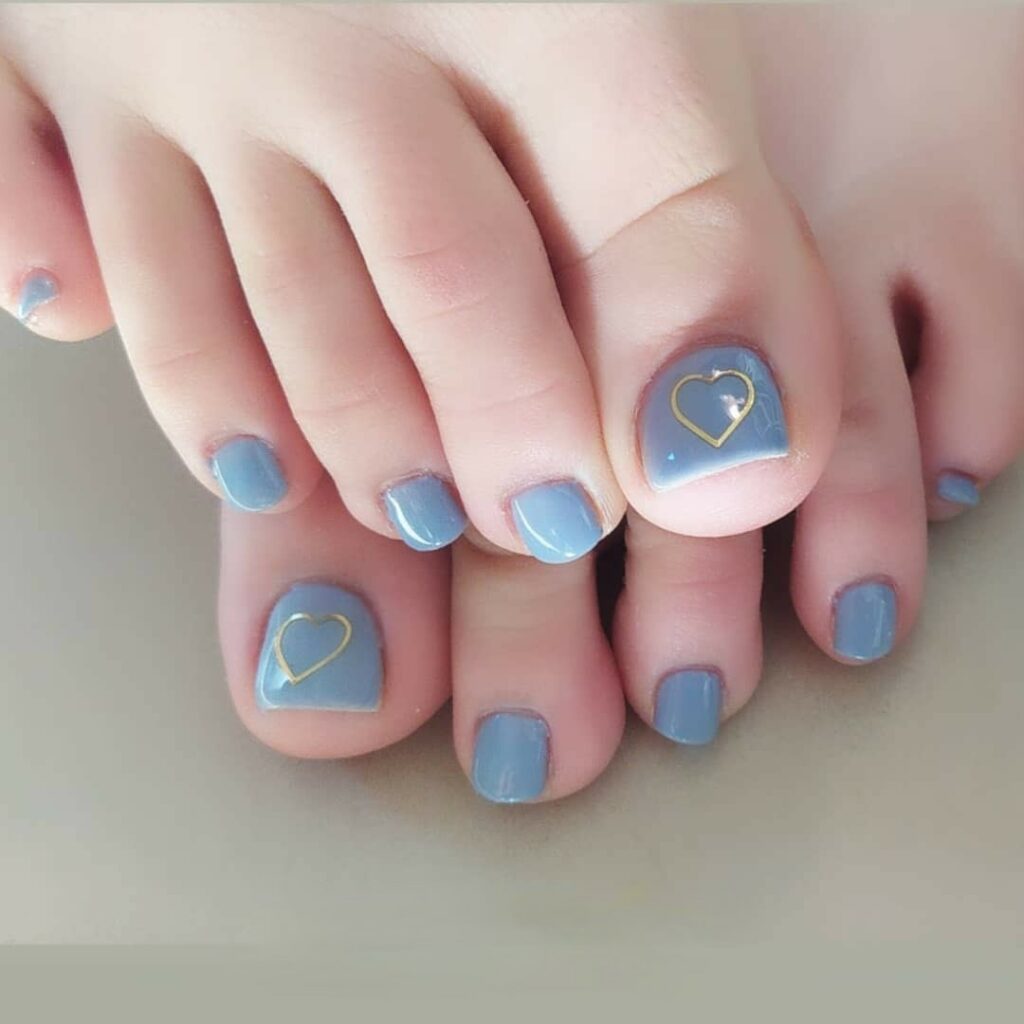 Lastly, imagine a deep blue canvas on your nails with a heart pattern in different shades of blue for the accent nail. It's cute, it's chic, and it's so much fun. It is a must-try for date night or a fun outing with friends.
7 Shades Of Blue That Are Perfect For A Pedicure?
Baby Blue – It is a soft, almost pastel shade perfect for spring or adding a whimsy touch. It's like a breath of fresh air but for your feet.
Turquoise – This shade brings that vacation vibe straight to your toes. Imagine sitting by the pool with a margarita in hand—turquoise nails will make you feel like that.
Cobalt Blue – Bold, vibrant, and unapologetically you. Cobalt blue is for those days when you feel sassy and want the world to know it.
Navy Blue – It's a classic that always goes in style. Navy blue is for the sophisticated among us, perfect for upscale events or when you feel like a boss.
Teal – A little green, a little blue, and a lot of gorgeous. Teal is a versatile shade that complements many skin tones and occasions.
Denim Blue – Yes, your favorite pair of jeans can inspire your pedicure, too! Denim blue is casual yet chic, making it a perfect everyday choice.
Royal Blue – For the days you're feeling regal, royal blue is the go-to. It's rich, stunning, and makes a statement without saying a word.
So there you have it, the ultimate blue pedicure shade guide straight from your favorite nail aficionado. Whether you opt for a soft baby blue or go all in with a daring cobalt, remember: life's too short for boring toenails. Happy pedi pampering!
My Top Tips To Achieve Salon-Quality Pedicure At Home?
Getting that salon-quality pedicure from the comfort of your home is totally doable, and I'm here to spill all the secrets. Let's get those tootsies looking fabulous, shall we?
Gather Your Tools – First things first, have your essentials ready. You'll need nail clippers, a nail file, a cuticle pusher, cuticle oil, a pumice stone or foot file for calluses, your favorite nail polish shades, a base coat, and a top coat. Optional but totally worth it: toe separators and quick-dry spray.
Prepping the Canvas – Soak your feet in warm, soapy water for 10-15 minutes. Trust me, this step is a game-changer; it softens the cuticles and makes it easier to trim your nails. After soaking, go ahead and trim and file those nails into your desired shape. Round or square, it's your call!
Exfoliate and Moisturize – Tackle those calluses and dry spots with your pumice stone or foot file. After that, rinse off and apply a hydrating foot cream. My favorite is one with shea butter and some cooling peppermint oil—it's like a spa day for your feet.
Cuticles 101 – Apply a cuticle or even a little olive oil in a pinch. Gently push back the cuticles with a cuticle pusher or an orange stick. Be gentle—this isn't a wrestling match!
Time to Paint – Apply a thin layer of base coat to protect your nails and enhance the polish's lifespan. Once it's dry, go in with your color. Pro tip: apply in thin layers, allowing each to dry before adding another. This prevents bubbles and streaks. Finish with a top coat to add that salon-like shine and durability.
The Final Touch – A quick-dry spray or drops can be a lifesaver if you're impatient like me. Otherwise, give your toes ample time to dry to avoid any smudging. Take this time to relax; you've earned it!
Still Looking for Inspiration, Then Check Out This Video
Conclusion
So, that wraps up our tour through the fabulous world of blue nail art. Whether dipping your toes into this trend with subtle blue and gold tips or going all out with chunky glitter and intricate designs, the sky's the limit! My fave must be the "Dazzling Blues"; it's like having a little art exhibit at your fingertips. But no matter what, don't forget to have fun with it. Experiment, mix shades, and let your nails be the canvas for your creativity. Blue is anything but basic, and your nails should be, too. Happy painting!
Feature Image Photo By @dashingdiva_usa via on Instagram
Last reviewed and updated on October 11, 2023