It's time to bring the holiday spirit right to our fingertips! I'm thrilled to be your guide through an extraordinary journey where we'll explore 69 meticulously curated holiday nail designs, a symphony of style and elegance to grace your festive celebrations. Picture this: a beautiful blend of minimalistic elegance and extravagant luxury that truly embodies the holiday jubilance, right at your fingertips!
From the classic charm of red and green palettes to the mesmerizing sparkle of glitter and gems, this piece promises to unveil a wealth of inspiration, even captivating the hearts of the ultimate style aficionados. So settle in, and let's immerse ourselves in a holiday spectacle where each nail design carries a sprinkle of festive magic and a burst of artistic flair. Together, we'll uncover a narrative where each design spins a tale of festive cheer, harmoniously complementing your holiday attire, and leaving you brimming with ideas to sprinkle a little festive magic on your nails this season. Let's commence this celebratory-style expedition, shall we?
Unconventional Snowflakes
Picture this: a frosty night under the twinkling stars, with snowflakes gently falling upon your fingertips… Well, not literal snowflakes, but chic snowflake designs that defy the usual holiday color norms. Break the mold with a dark yet delightful design using Essie's Infinity Cool as your base, and dazzle it with snowflake stickers. It's a winter wonderland right at your fingertips!
Gingerbread Charm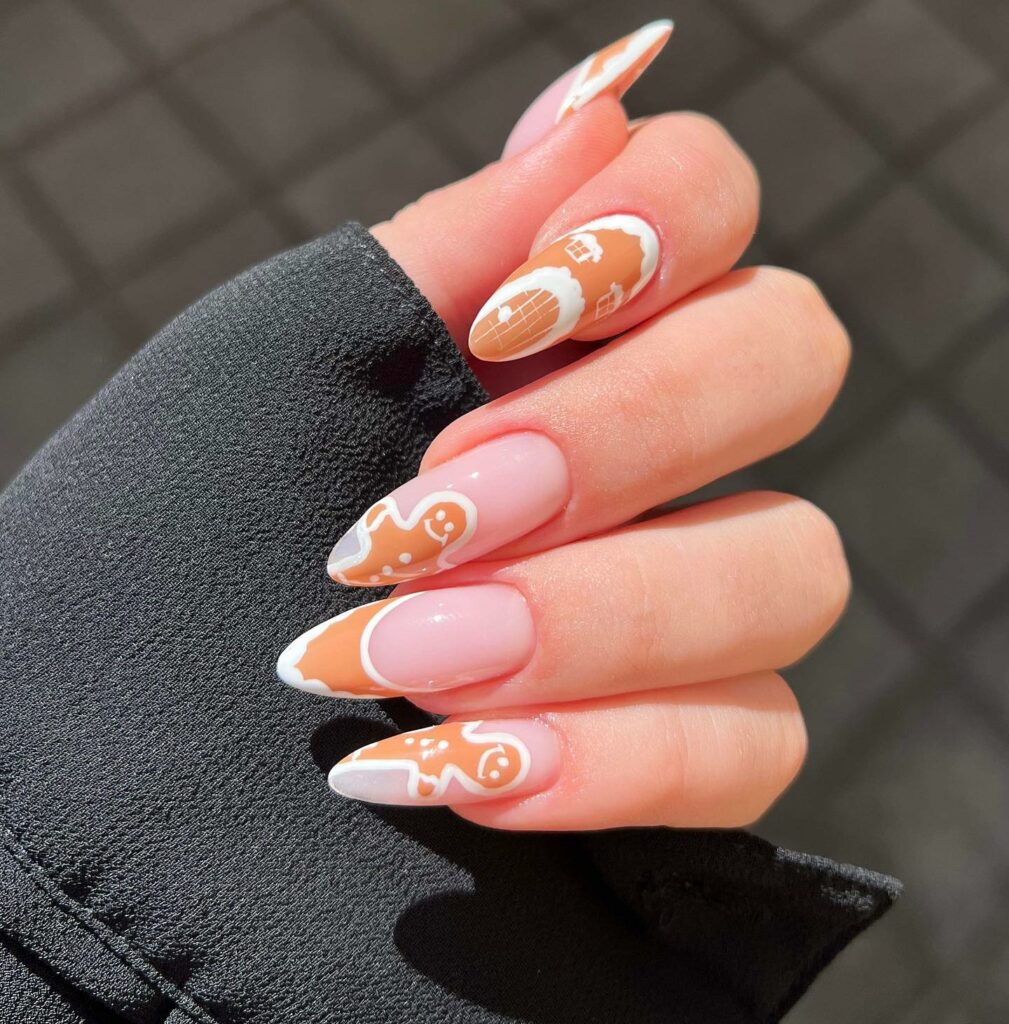 Stepping into the holiday season without indulging in some gingerbread is almost sinful. Why not take the indulgence a notch higher with a gingerbread-inspired mani? Grab a teddy brown polish like Chanel's Impulsion to recreate this adorable yet classy look, and give it a neat outline with a white polish pen. It's as sweet as sipping hot cocoa by the fireside!
The Emerald Fantasy
Now, if you enjoy a blend of tradition and trend, the iridescent emerald manicure is your go-to. This style is a merry marriage of festive spirit and modern fashion. Easily recreate this look with Kelly's Emerald by ORLY, and witness the magic unfold at your next holiday party!
Stylish Candy Cane French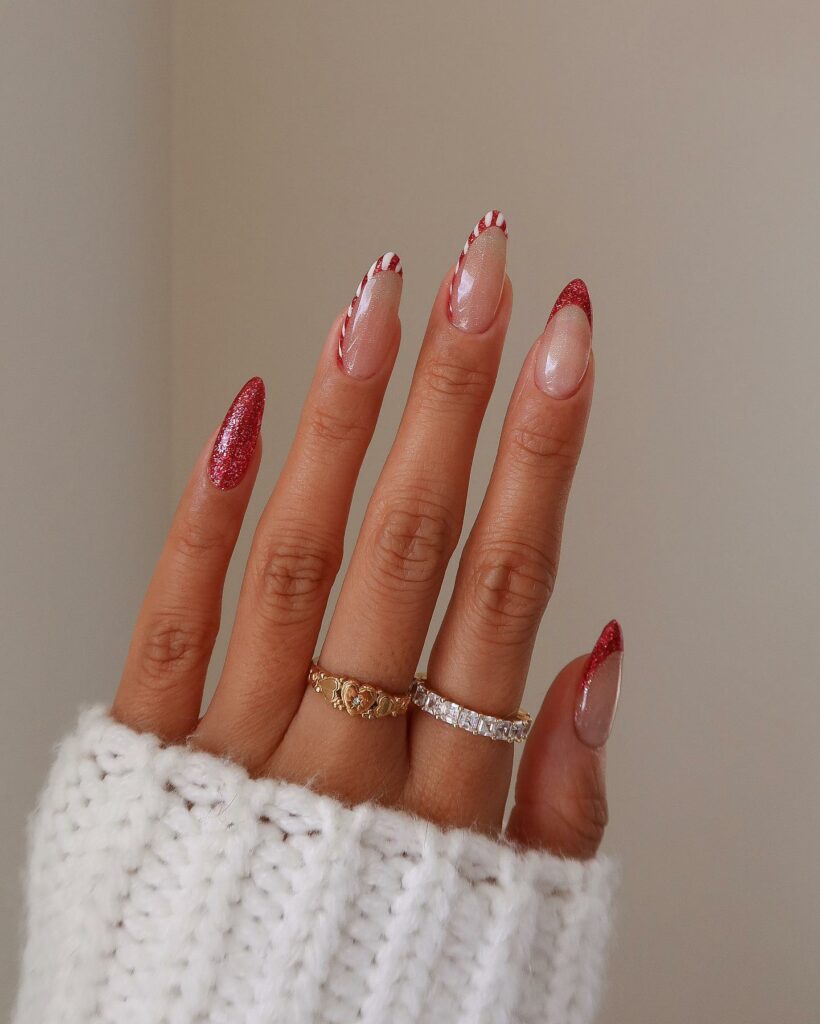 Candy canes aren't just for hanging on the tree or stirring your hot chocolate; they make a fabulous inspiration for a holiday manicure, too! Transform the classic candy cane into a fashion statement on your nails using OPI's Big Apple Red teamed with a white polish pen. If you're in a hurry, candy-cane-patterned stick-ons will do the trick nicely!
Dainty Diamonds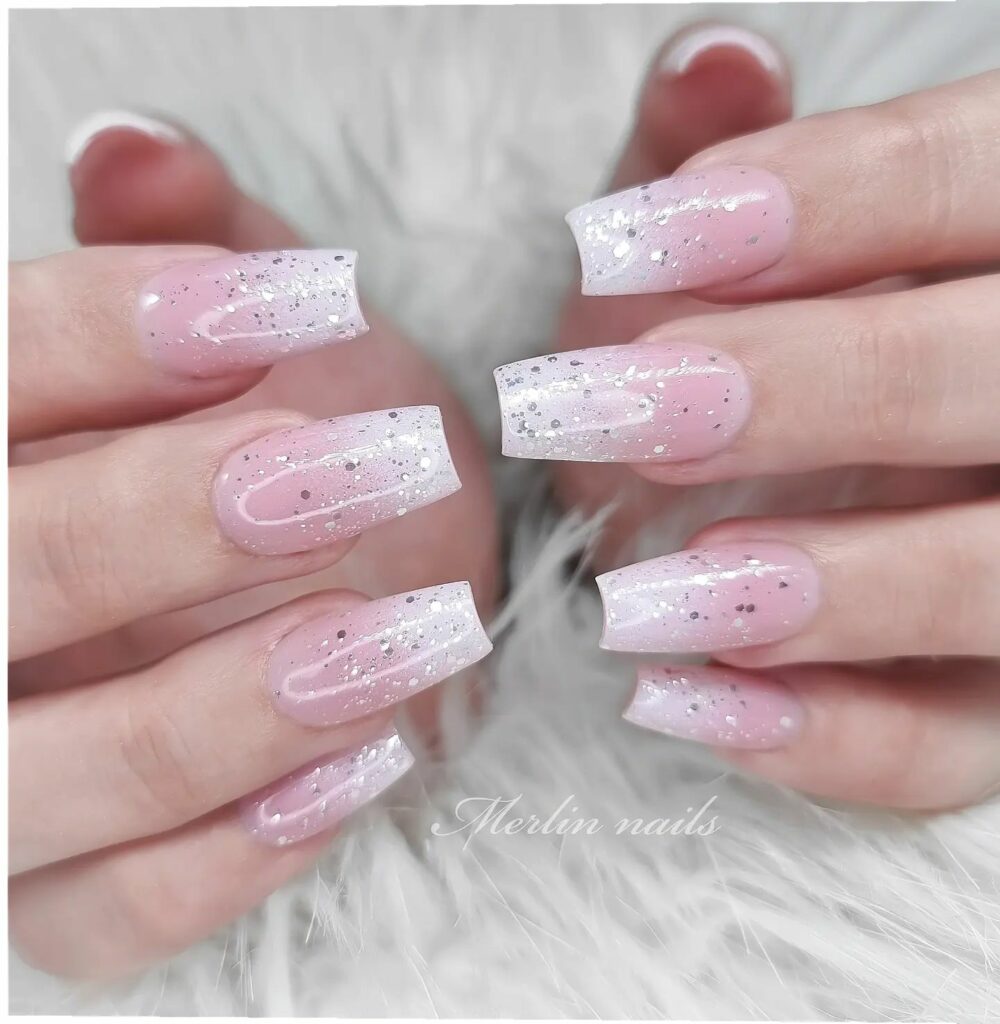 This delicate diamond design will be a hit for those who lean towards subtlety. It reminds me of when I went sleigh riding under the soft glow of streetlights. Just top your favorite neutral shade with a shimmery coat like ILNP's Poise, and you're ready to steal the show, or shall I say, sleigh the show!
Enchanting Sapphire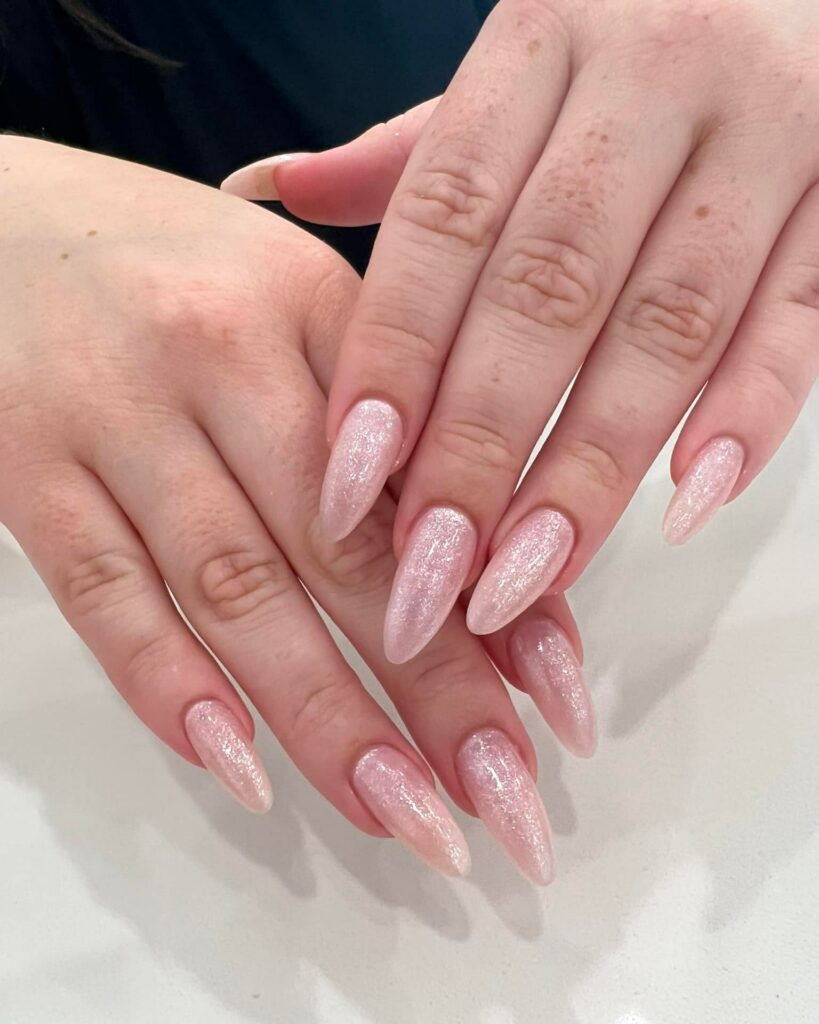 Blue Christmas doesn't necessarily mean a sad one, especially when you're flaunting a sapphire style that is nothing short of magical. Using Cirque Colors' Sapphire as your base, deck your nails with festive decals for that snowy Christmas vibe. It's like having tiny ornaments gracing your nails!
Cosmic Christmas
Welcome the holiday season with an abstract design that is a true conversation starter. This design, a melange of navy blue, black, and silver, gives off cosmic vibes, making your nails a celestial celebration. Seal the deal with a holographic top coat like ILNP's Mega to give it that starry night finish.
Elegant Snowflake Tips
Snowflake tips are your best bet if you're looking for something that spells elegance and festivity without much hassle. With a neat application of OPI's Happy Anniversary on your tips, topped with snowflake stickers, your nails will be nothing short of a winter wonderland story.
Present-Perfect
Now, who doesn't love presents during the holidays? Embrace the spirit by dressing your nails with delicate bows, adding a holiday pizzazz. Just imagine how picturesque they will look while holding a Christmas cocktail!
Santa with a Sparkle
Bring Santa to the party in style! This take on the classic French mani features bold and glittery tips with a spirited twist. You can even fashion a few into tiny Santa hats using Cirque Colors' Garnet, adding festive joy to your look.
Starlit Tips
Imagine a serene night sky adorned with twinkling stars right on your nails! Opting for twinkling tips on a canvas of nude nails adds a dash of glam and a touch of sophistication to your holiday style.
Nature-Inspired Ombré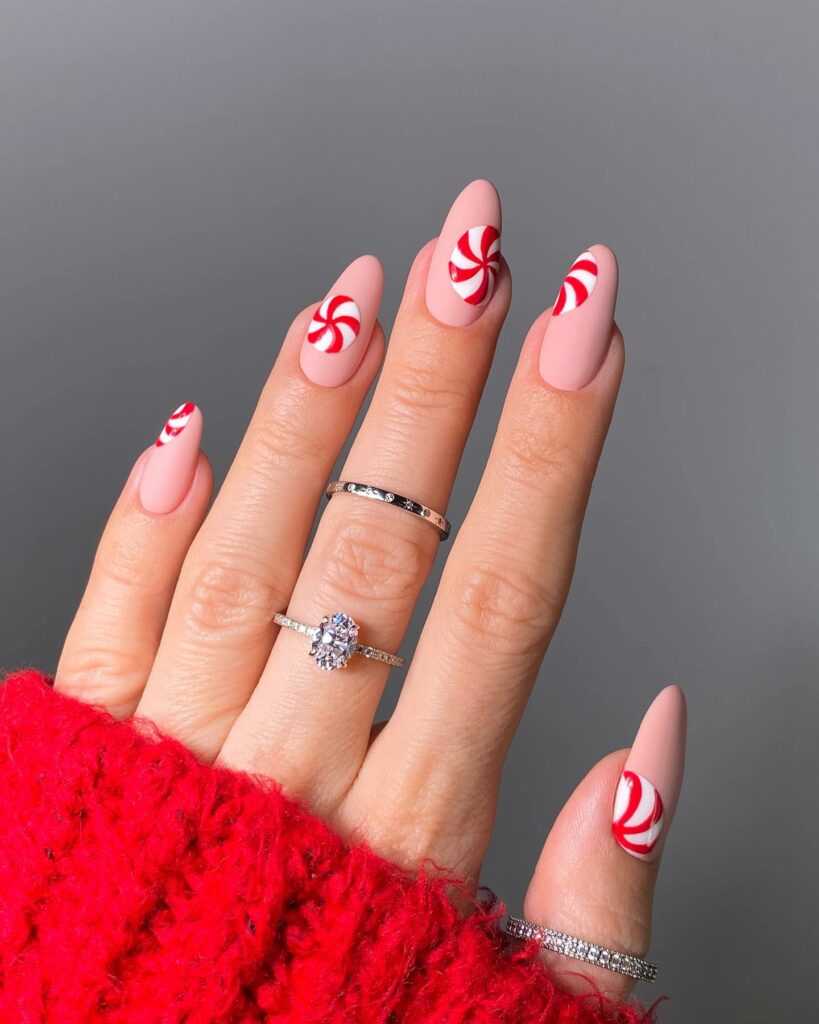 As someone who can spend hours admiring the beauty of a Christmas tree, I find it incredibly delightful to match my mani with its earthy hues. Picture emerald green merging with gold, embellished with festive decals, creating an art piece that resonates with the season's joy.
Winter's Hues
Dive into the charm of winter with a sparkling silver polish accentuated with hints of blue and turquoise flakes – a true reflection of winter at its finest, reminding me of the tranquil, snow-covered landscapes that hold a magical allure.
The Enchanting Jewel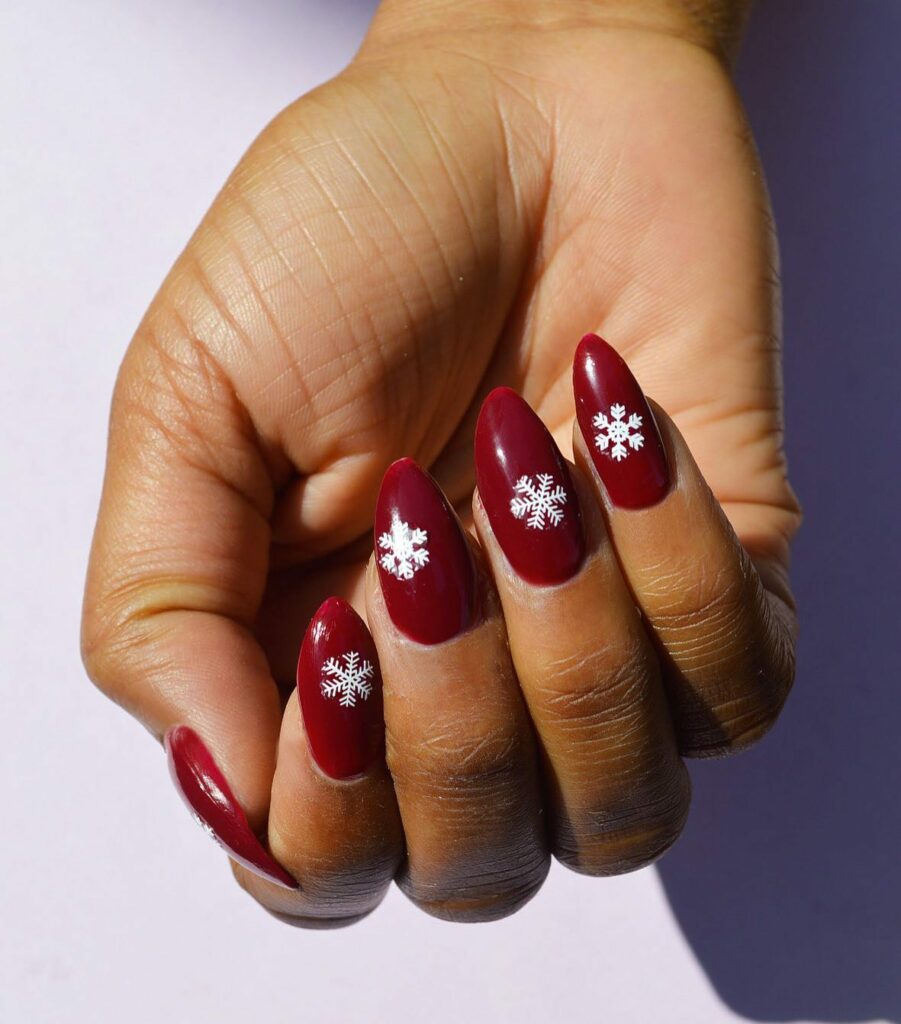 Bring in the splendor of a shimmering Christmas tree onto your nails with this jolly jewel tone. The metallic moss green intertwined with fine golden shimmers promises to be a show-stealer this season.
Playful Skittles Nails
Dare to be different with a quirky combination of red, green, and a surprise element – purple! This unexpected twist adds a playful vibe and turns heads wherever you go.
Golden Glam
Gold dust has always been my go-to for adding a touch of luxe to any look. A sprinkle of gold leaf or a dollop of gold polish can instantly elevate a subtle mani, preparing your nails for the festive spotlight.
Icicle Inspiration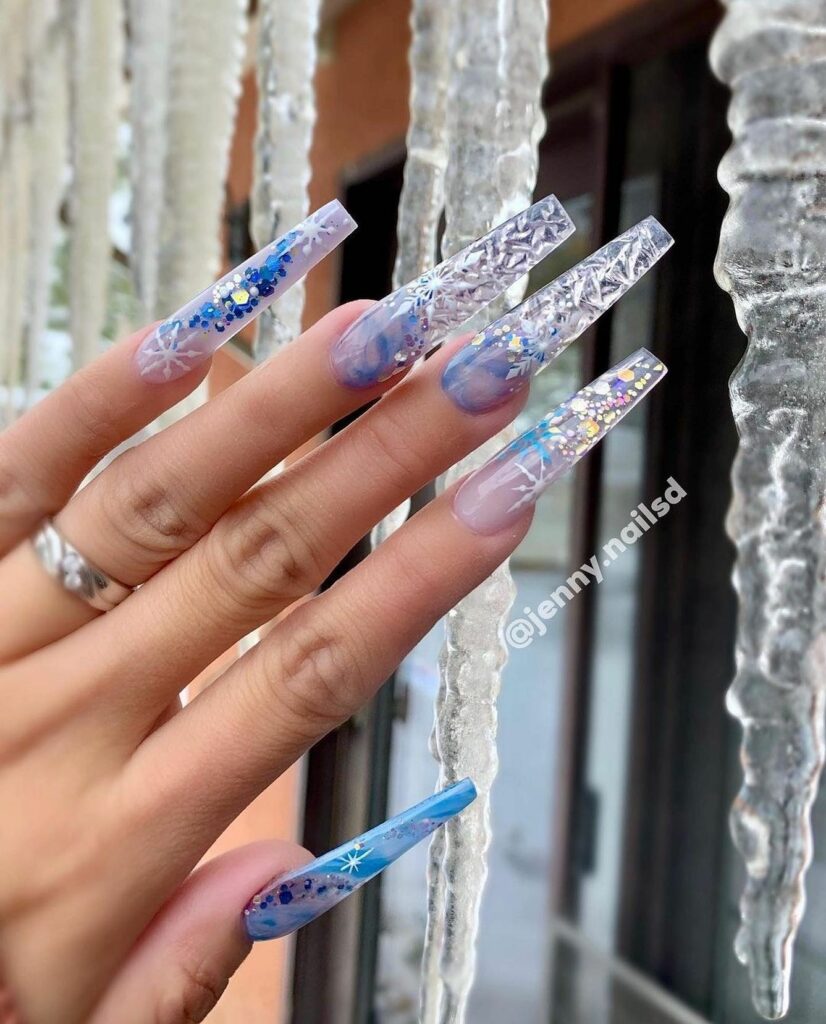 Nothing screams winter like the sight of glistening icicles. A sprinkle of silver glitter on your nails echoes this beautiful phenomenon, adding a shimmering contrast to your cozy winter sweaters.
Candy Cane Ombré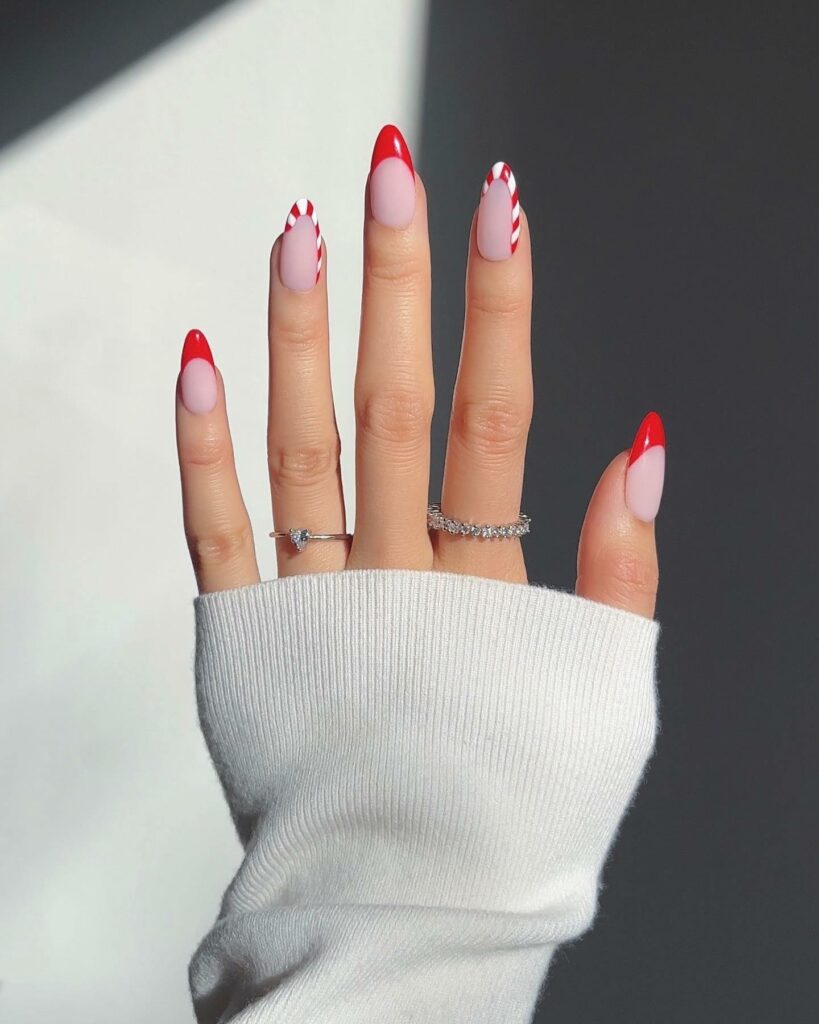 Olive & June nailed it (pun intended!) with this candy cane ombré, a perfect tribute to one of the most beloved holiday treats. I couldn't think of a better name for this delightful combination of hues.
Holiday Twist on the Classic French
Breathe life into the classic French manicure with a sprinkle of Christmas spirit. Adding red and green tips revamps the traditional style and adds a festive flair that pairs perfectly with your holiday-themed coffee cup.
Frosted Wonderland
I have been swooning over the icy silver tips, a refreshing and glittery take on the classic French manicure. I recommend trying Ella + Mila polish in Moonshadow to achieve that perfect glittering tip.
Rosy Festivity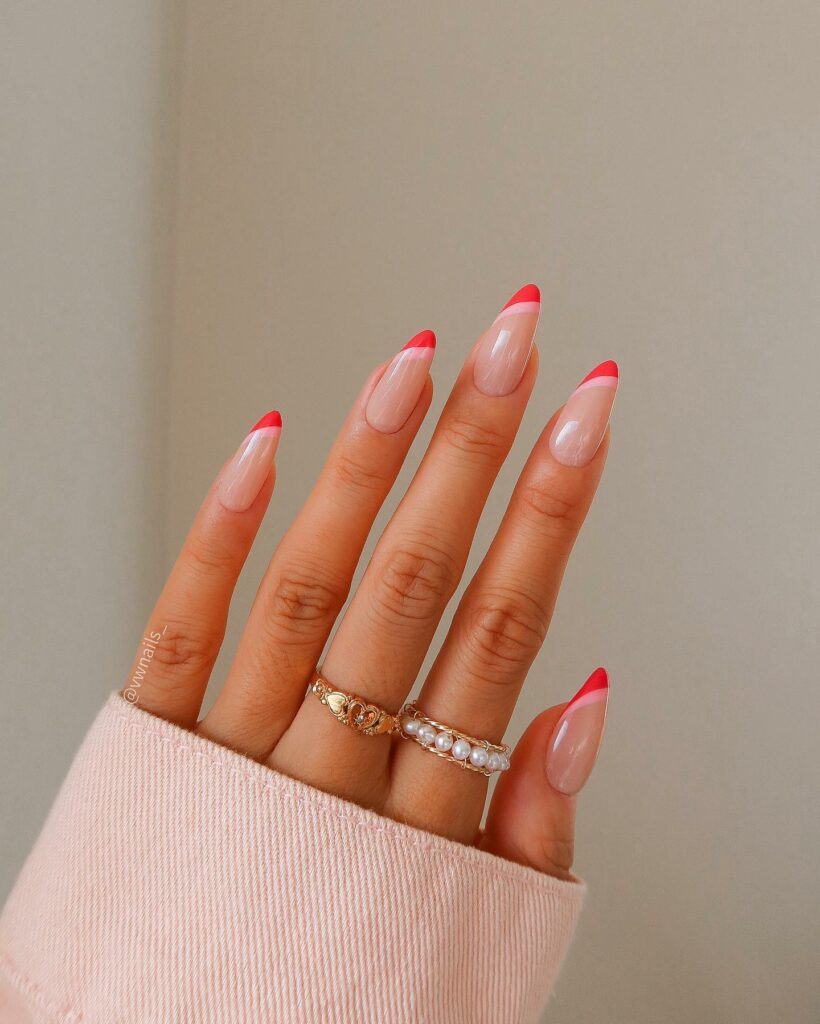 Creating a look that pairs seamlessly with your gold jewelry? Opt for a chic blend of red and pink, a combination testament to holiday elegance.
Vintage Waves
Planning to spend your holidays in a sunny locale? This wavy mani, reminiscent of vintage aesthetics, would be the perfect companion to a Palm Springs holiday adventure.
Chic Plaid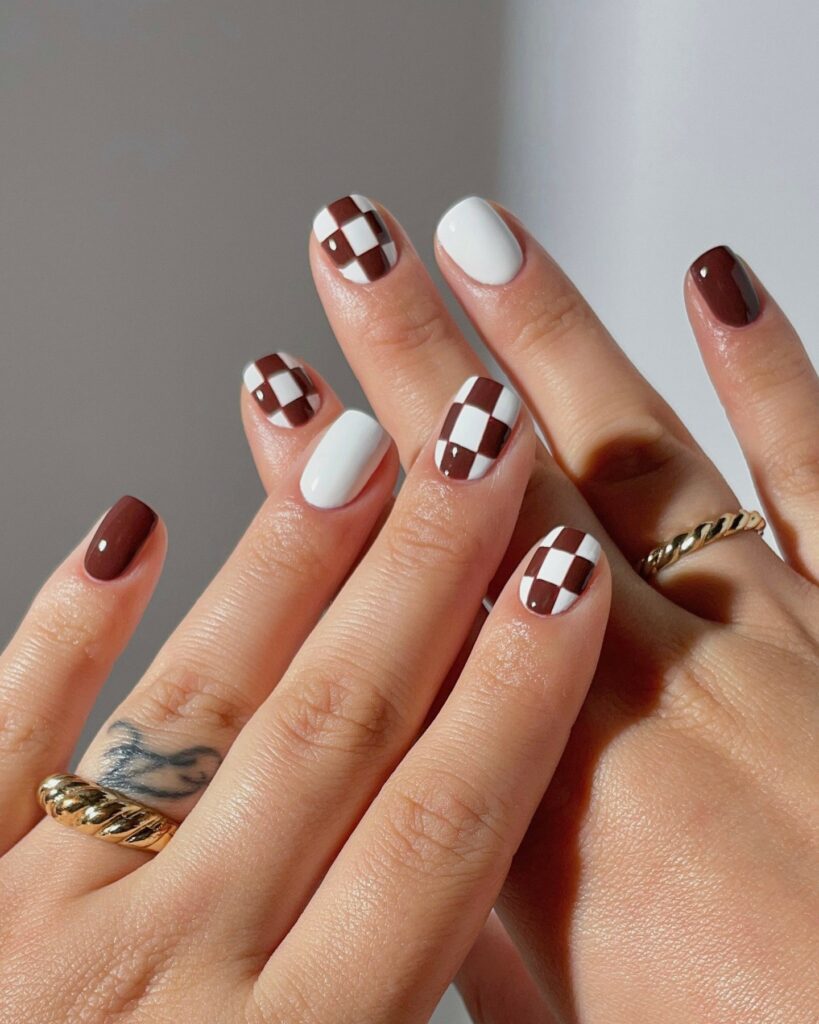 Embrace the chic intersection of the iconic 'Clueless' style meeting Christmas vibes with a red plaid pattern, heightened with a touch of gold for that extra festive sparkle.
Sparkling Celebration
Make a statement that resonates with the holiday spirit with a splash of silver glitter. Olive & June's Exclamation Point offers the perfect blend of holographic sparkles, echoing the joyous jingles of the season.
Cozy Snowflakes
And last but certainly not least, channel the warmth of your favorite Fair Isle sweater with a cozy snowflake pattern. For those who are hesitant about free-handing the design, snowflake decals can be your savior, promising a festive and sophisticated look.
Festive Flourish with Shimmering Stripes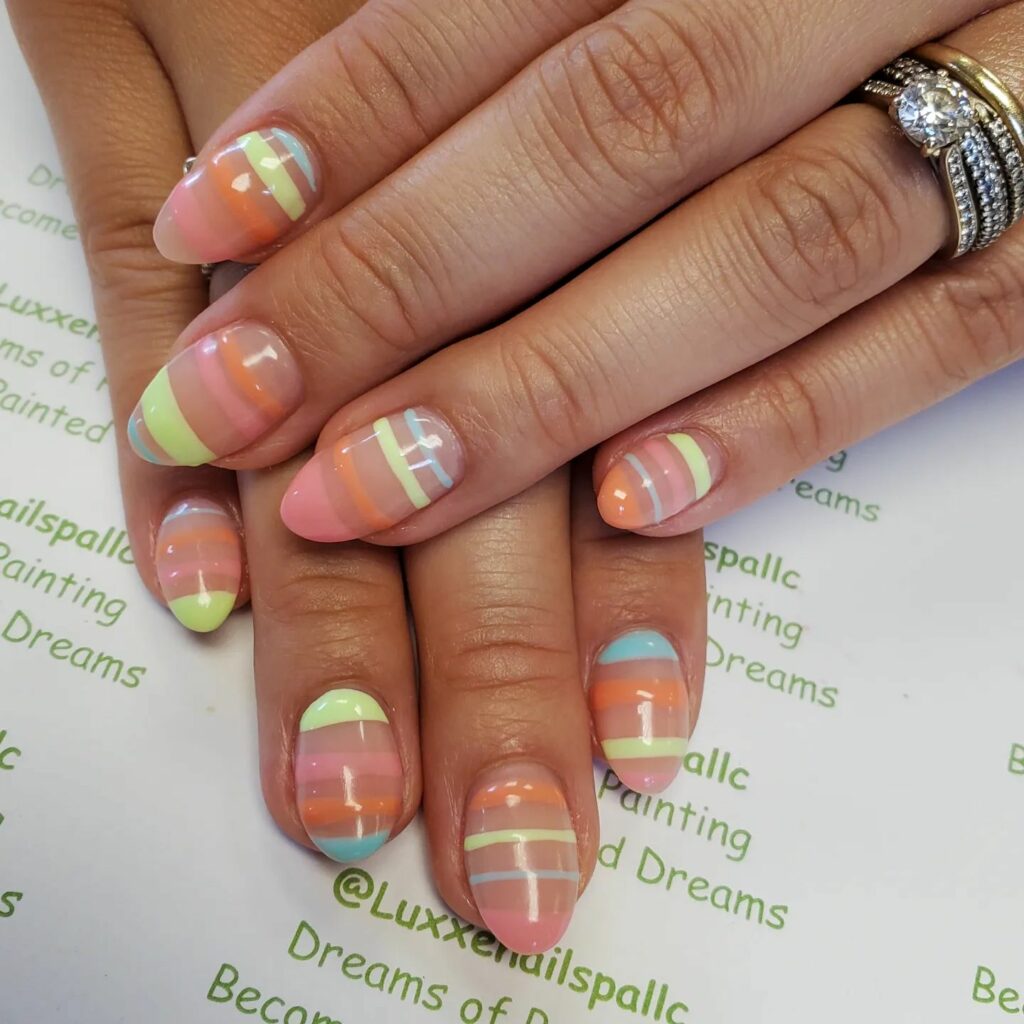 Ever find yourself mesmerized by the beautiful patterns on wrapping paper? I do all the time! Why not let that inspiration flow right onto your nails? Think red and gold stripes, echoing the festivities wrapped in joyful packages.
Glitter Meets Green
Step into the season with a splash of sparkle gracing the sides of your nails, creating an arresting and effortlessly simple look. Trust me, it's a head-turner!
Starry Night with Silver Stars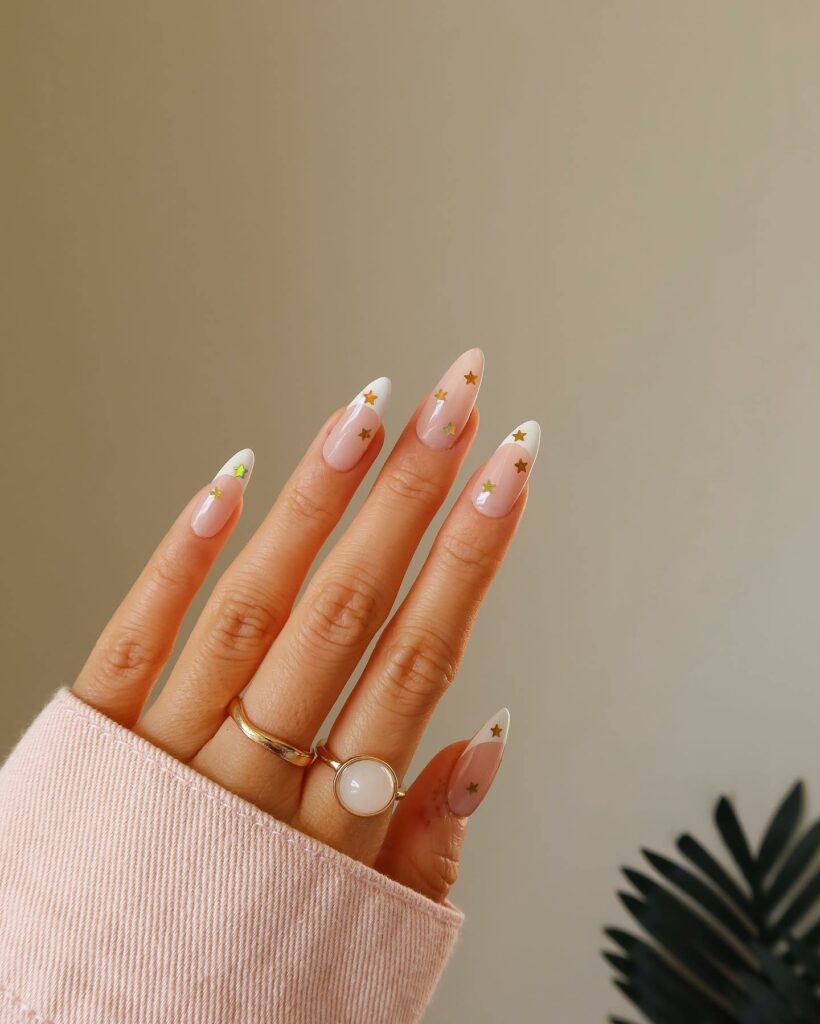 Are you looking for a nail art that's pretty yet insanely easy to master? Well, here's a little secret from my personal experience: All you need are star stickers and a reliable topcoat to bring the sparkling night sky onto your nails.
Present Perfection: Green and Gold
Imagine your nails resembling miniature Christmas gifts with a splash of gold over a color-blocked base. It's like having a little ribbon-tied present at your fingertips, offering a captivating contrast between metallic and matte textures.
Timeless Red Half-Moons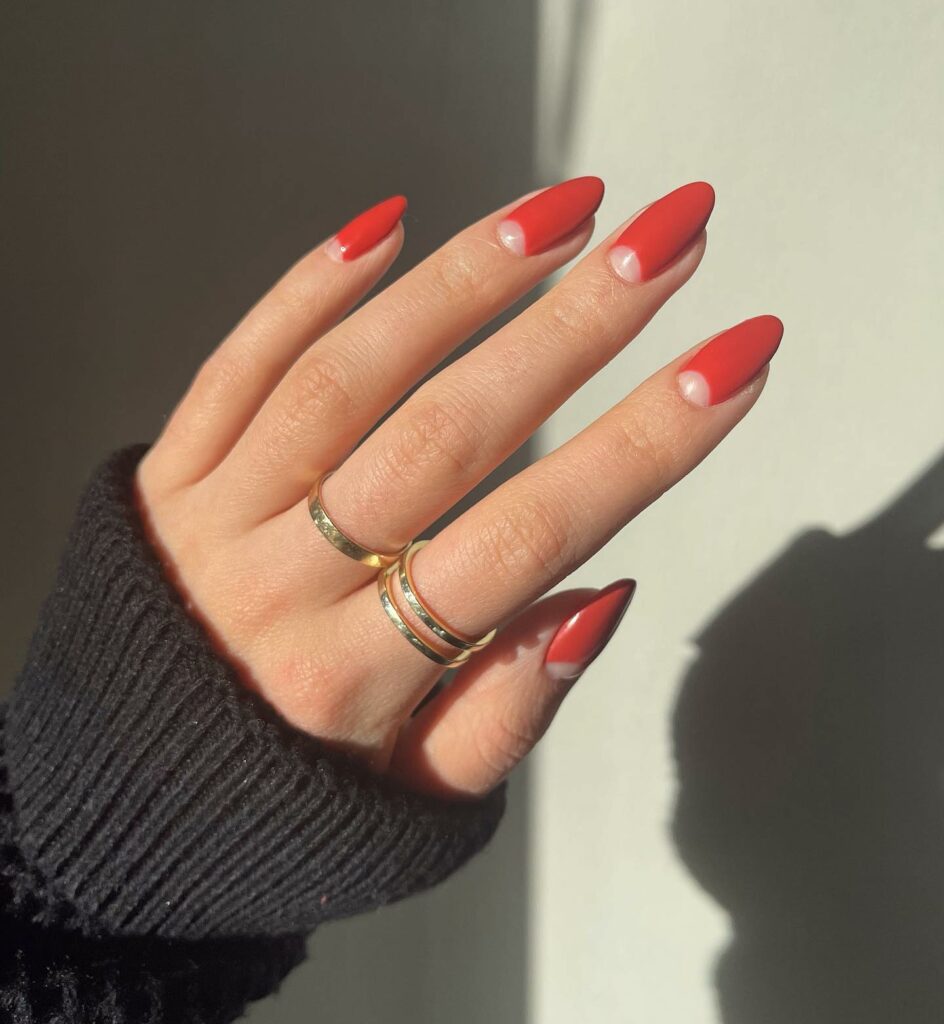 Venture beyond the traditional with red velvet half-moons that encapsulate the spirit of Christmas, yet gracefully transition into the new year without missing a beat.
Sophisticated Emerald Green
Let's give a stylish nod to Christmas trees with forest green hues, offering a classy twist to the brighter alternatives. It's subtle, sophisticated, and oh-so-seasonal!
Minimalist's Delight: Striking Red
Fear not, lovers of simplicity, I've got you covered with a minimalistic yet striking red design. A tiny detail brush is your best friend to achieve clean, crisp edges on your circles, proving that less can be more.
Touch of Midas: Gold Leaf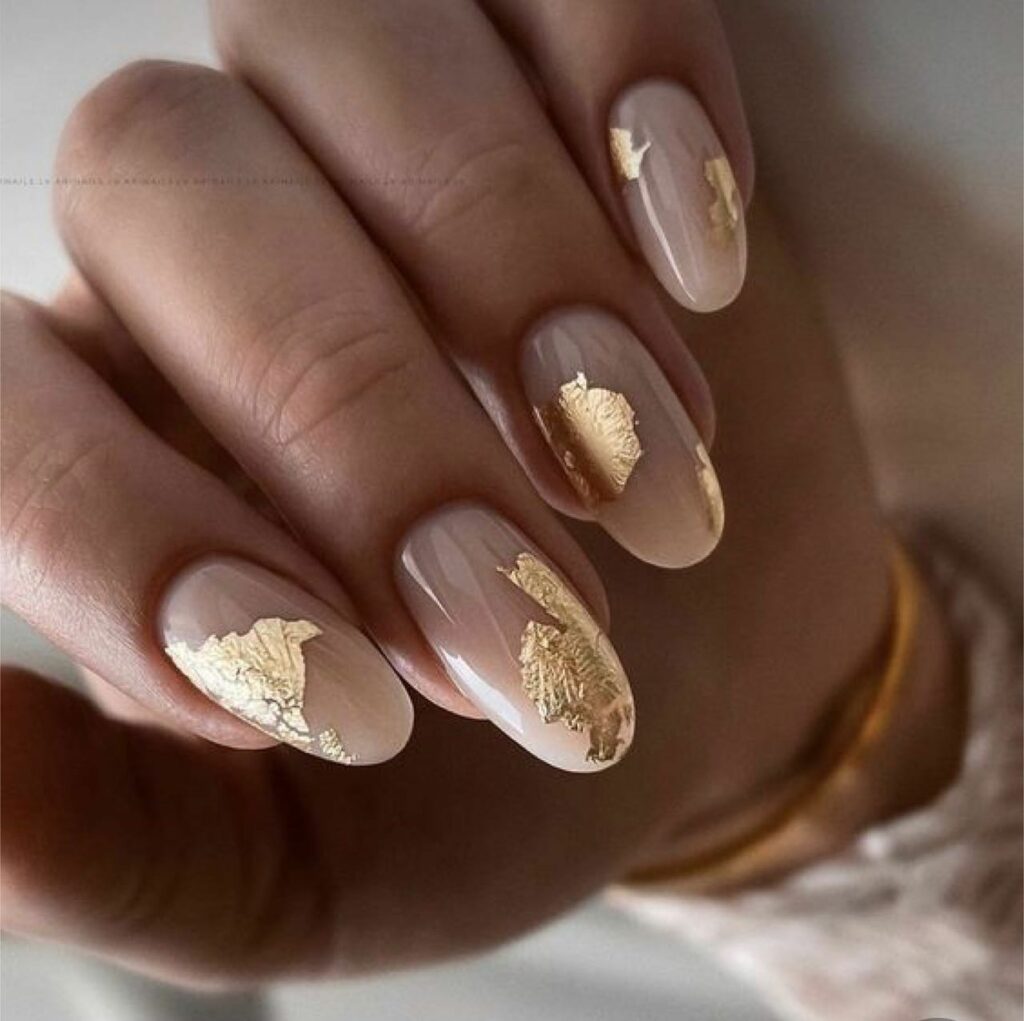 Elevate your nail game with a touch of gilded holographic foil over forest green, an accurate representation of the Midas touch. Crown it with a matte topcoat for a modern, soft vibe ready to dazzle.
New Year's Eve Glam: Textured Stars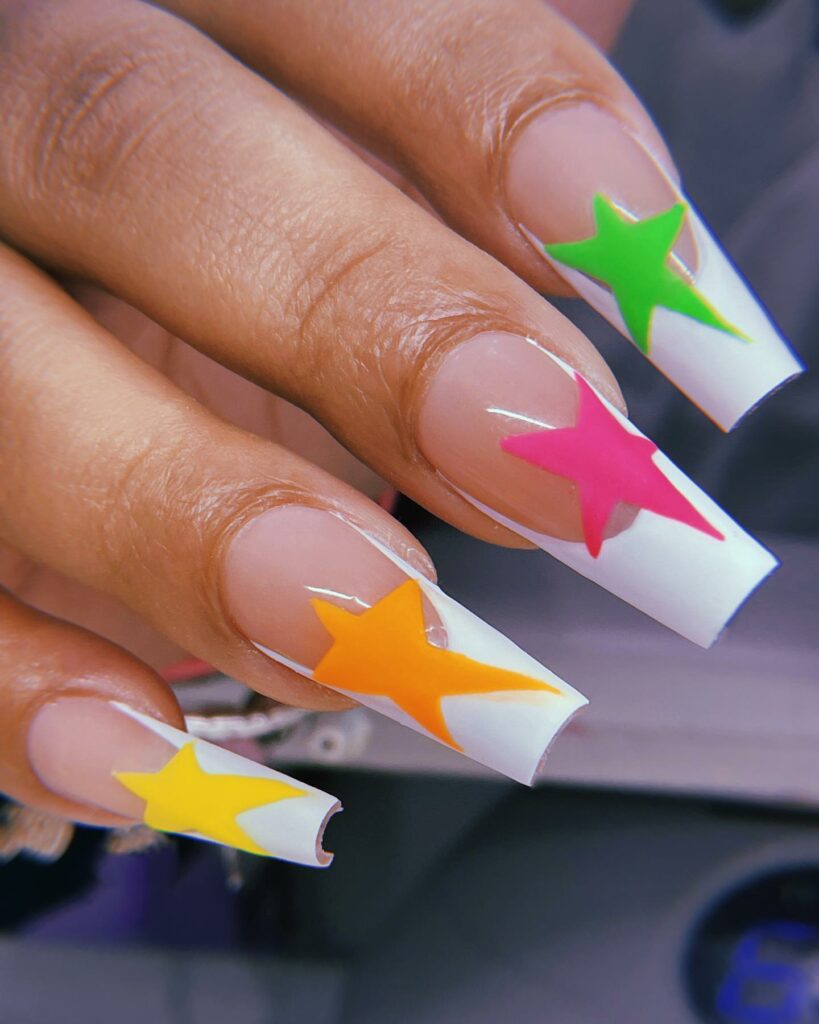 Whether planning a grand celebration or a cozy night in, these blingy stars are your go-to for a sparkling New Year's Eve. Elevate your star game with a crystal kit that promises to add a touch of glam to your comfy couch celebration.
Sparkle On with Glittery Gold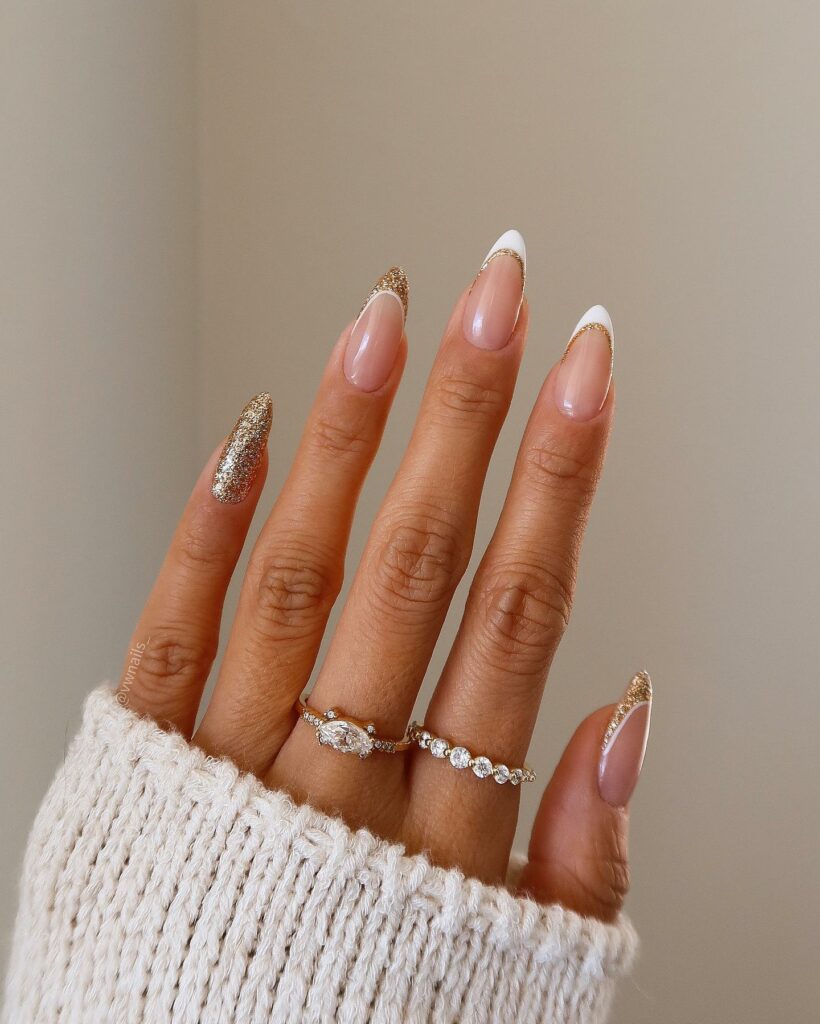 Dive into the festive spirit with glittery gold stripes, where imperfection is the new chic! Opt for a polish laden with chunky glitter flakes to create a bold yet effortlessly imperfect masterpiece.
Deck the Nails: Colorful Gems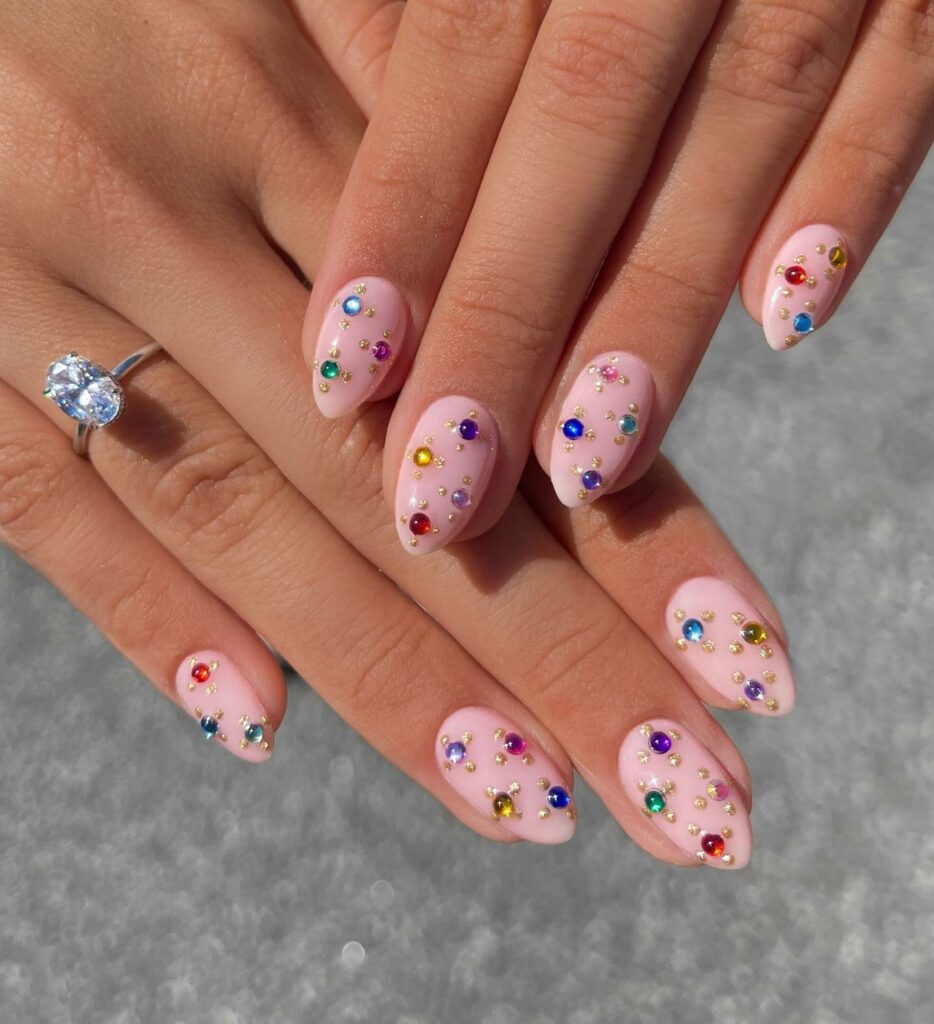 Recreate the magic of twinkling ornaments on a Christmas tree right on your nails! Tiny rhinestones act as little ornaments, creating a dazzling effect, especially when layered over a glitter overlay. It's festive, fun, and fabulous!
Cozy Buffalo Plaid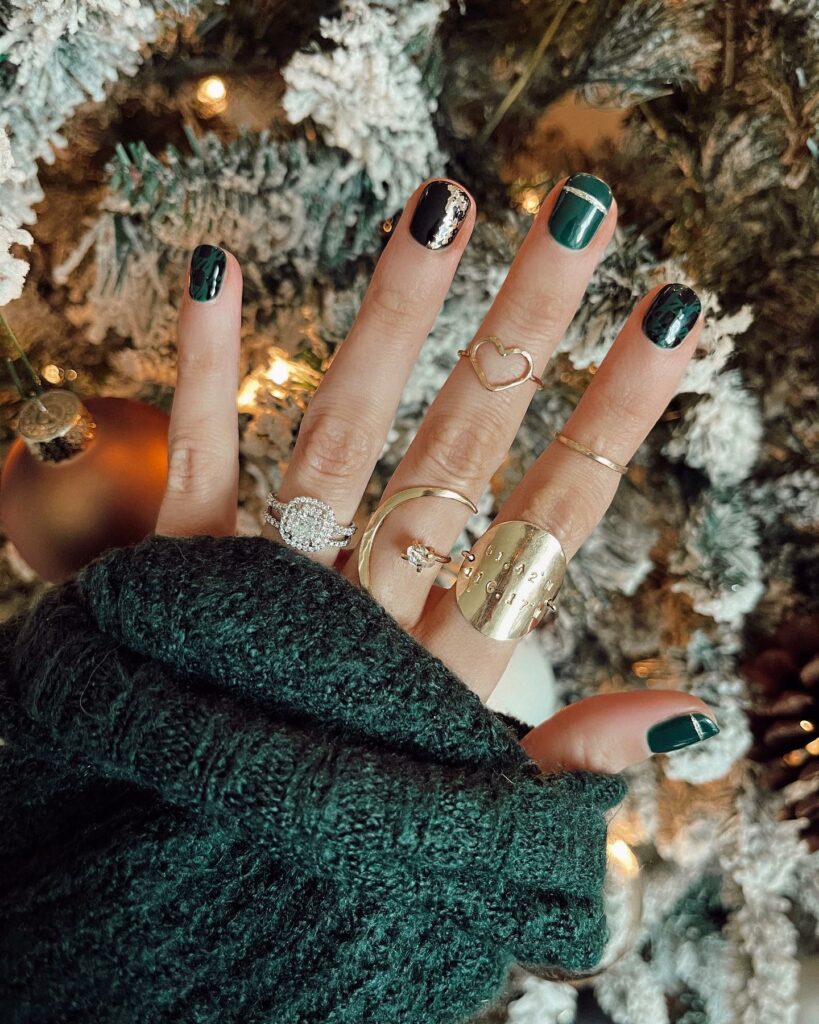 Transport the coziness of winter onto your nails with a buffalo plaid pattern, coupled with a surprise pop of blue on the thumb, embodying the cool winter vibes most stylishly.
Party Ready with Confetti Nails
Get into the party spirit with nails resembling a vibrant confetti burst. Concentrating the sparkles at the base of your nails adds a fresh and celebratory touch, ready to welcome the festivities with gusto!
Mesmerizing Art Deco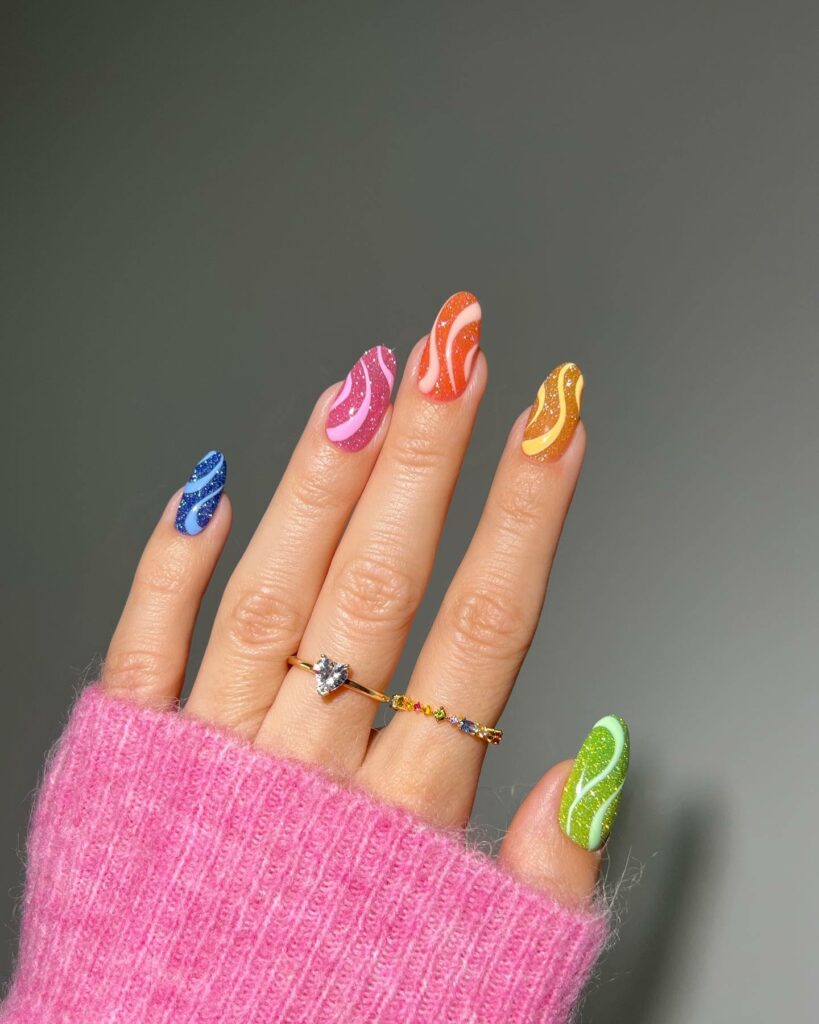 Prepare to be mesmerized by this stunning manicure, characterized by extreme shine. When paired with classic Christmas colors, a high-gloss topcoat like Static's Liquid Glass creates a home-based nail salon experience that's nothing short of captivating.
Abstract Elegance: Green Dots
For abstract art lovers, here's a design that subtly hints at a Christmas tree without being too literal. Play around with varying shades of green, creating a modern masterpiece that's a visual treat.
Modern Metallics: Silver and Gold
Celebrate the season with a contemporary twist on the classic French manicure featuring a mix of silver and gold. It's a modern, understated approach to embracing the festive spirit without going over the top.
Shine Bright with Translucent Shine
Get ready to dazzle at your next holiday gathering with straightforward tips adorned with a splash of glitter, promising a sparkling entrance wherever you go!
Channel the Grinch with Grinch Green
Oh, how I remember giggling at the mischievous adventures of the Grinch during childhood Christmas movie marathons. This year, let's channel our inner Grinch with a splash of vibrant green on our nails. To recreate the look above, consider using Pearnova's nail polish in One Piece Wonder, which promises an exciting twist to the holiday season!
Snuggle Up with Cozy Stripes
Imagine your nails replicating the snug warmth of your favorite winter sweater. To achieve this, opt for striped nails in cozy hues. I love the combination of Chanel Le Vernis in Brun Fumé and Rouge Brun – a perfect pairing that echoes the comforting vibes of the holiday season.
Classic Charm of Red Stripe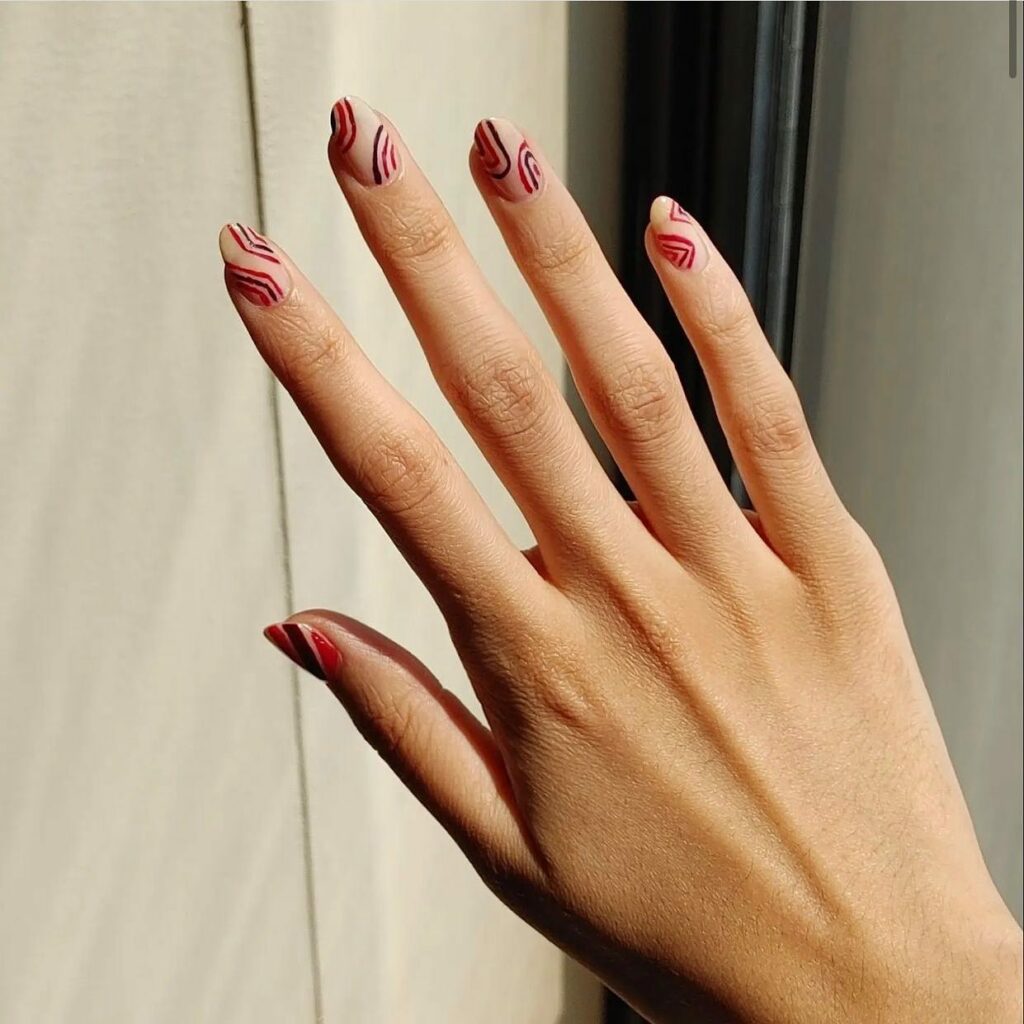 Sometimes, simplicity speaks volumes. Even if you're channeling the Grinch, a touch of red polish can add a festive flair that's hard to resist. Nail striping tape will be your best companion to craft those crisp, eye-catching lines.
Celebrate with Festive Dots
Let's keep the festive spirit alive with some adorable Christmas-themed nails. Here's a tip from my experimentation: Use the end of a bobby pin to create a beautiful row of red, green, silver, and gold dots on your preferred base shade. It's fun, easy, and utterly festive!
Elegance of Pearl Nails
Nothing screams elegance quite like a single pearl adorning the base of each nail. But save the gift unwrapping for later to preserve the pristine beauty of this look!
Artistic Flair with Cute Dots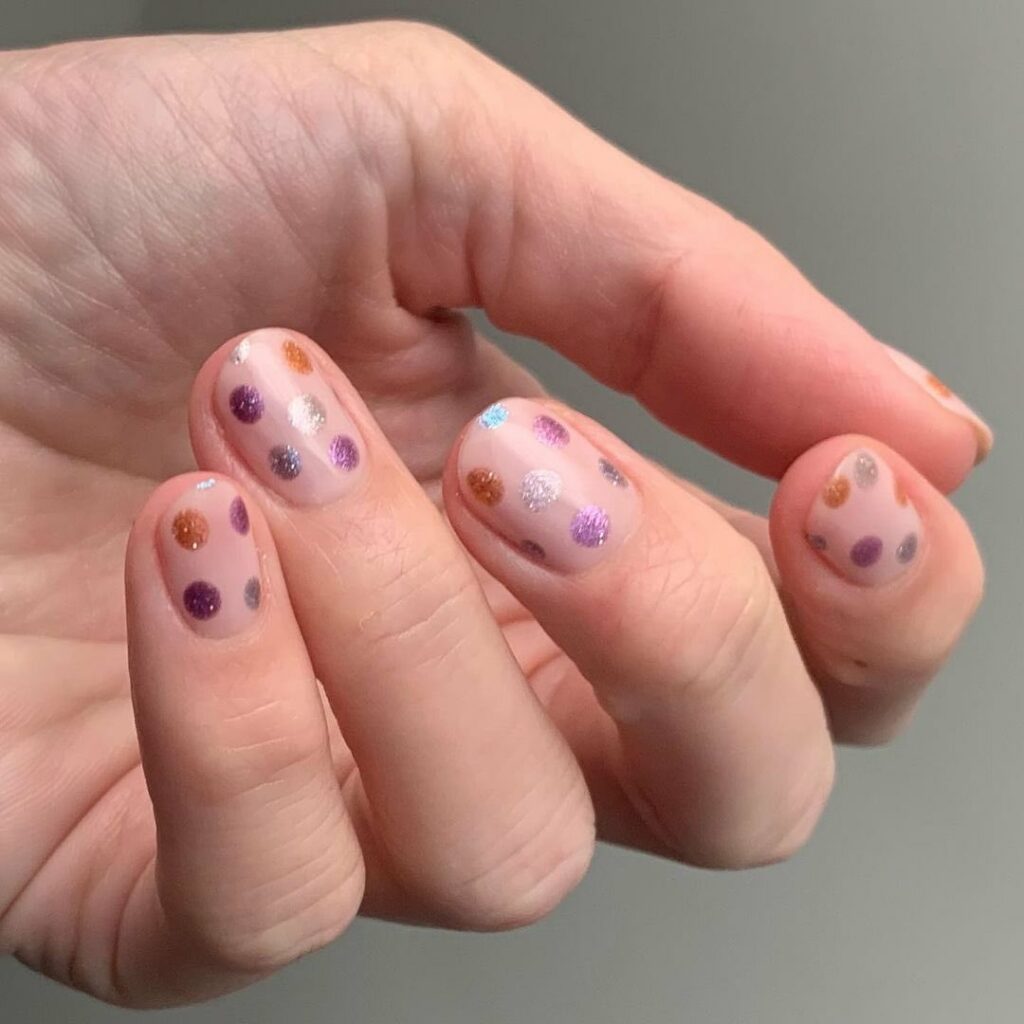 Invoke your inner Yayoi Kusama with a dot overload, creating a playful and chic look. OPI's Big Apple Red and I'm Sooo Swamped are splendid choices for crafting similar vibrant patterns.
Subtle Sophistication with Shades of Red
Why not opt for a subtle yet vibrant display of varying red shades? This gradient effect presents a fun and tasteful alternative to more flashy nail art designs, adding elegance to your festive ensemble.
Sparkling Gold Stars
On days when bright colors feel too much, glittery stars come to the rescue. A pro tip from my many nail art adventures: Amazon is a treasure trove of nail sequins in many shapes and sizes, ready to add sparkle to your nails.
Gleaming Glitter Trees
Create a forest of tiny glitter trees on your nails, where the key is to pack as much glitter as possible. I recommend China Glaze's A Grouchy New Year as the go-to shade to create that perfect sparkle.
Fashion-Forward with Festive Tweed
Are you ready to take the fashion world's preppy trend to your nails? A classic tweed pattern in festive green and burgundy shades is all you need to make a stylish statement this season.
Fresh and Funky French Tips
For those preferring a subtle approach to holiday nails, a modern take on the French tips with a dash of green can be refreshing. Adding hints of white and brown brings a cool and unexpected twist to this classic style.
Sweet Delight of Spangled Stripes
And here's to more sparkle! Create patterns reminiscent of ribbon candy with glittering stripes. And remember, when it comes to glitter, any color combination works wonders, so let your creativity shine!
Elevate Your Style with Rich Red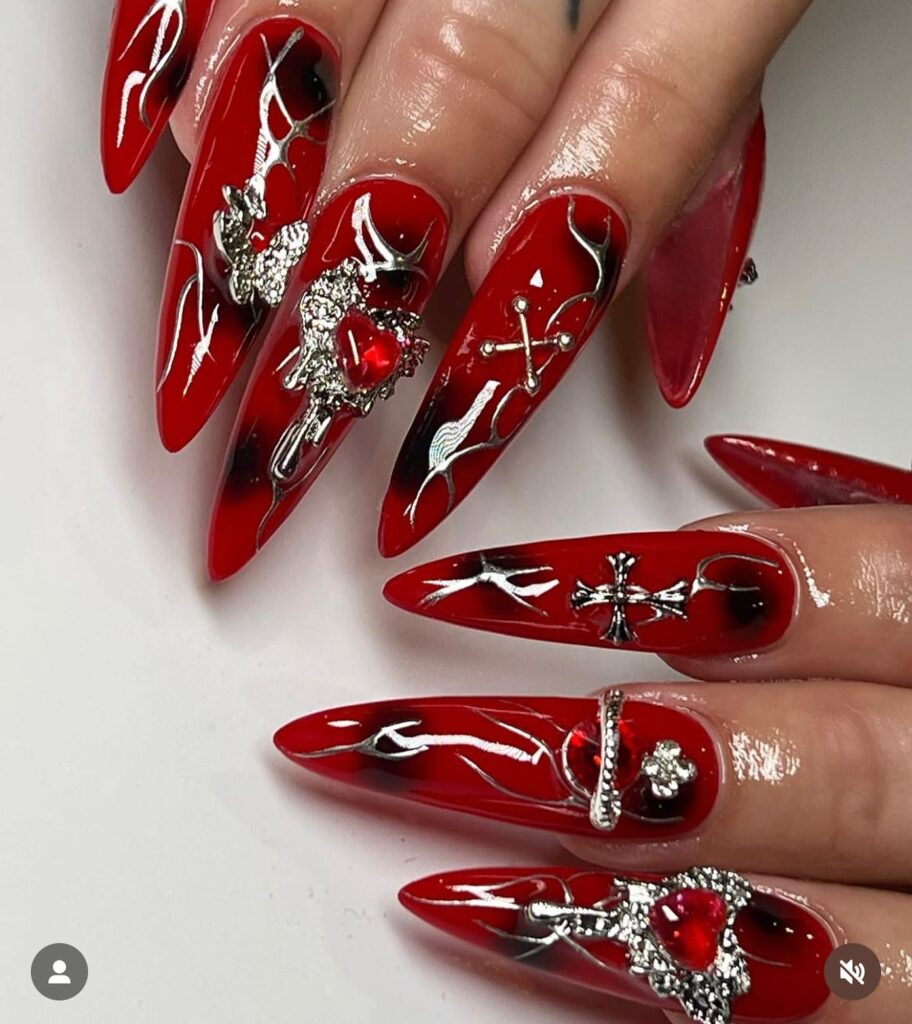 Oh, how I adore playing with negative spaces on nails! It's like adding a dash of mystery to your festive look. Pairing it with a classic Christmas combo of red and gold is pure sophistication. During one of my playful experiments, I found that this technique brings out an exquisite charm bound to turn heads at any holiday gathering.
Step into a Winter Wonderland with Silver Snowflakes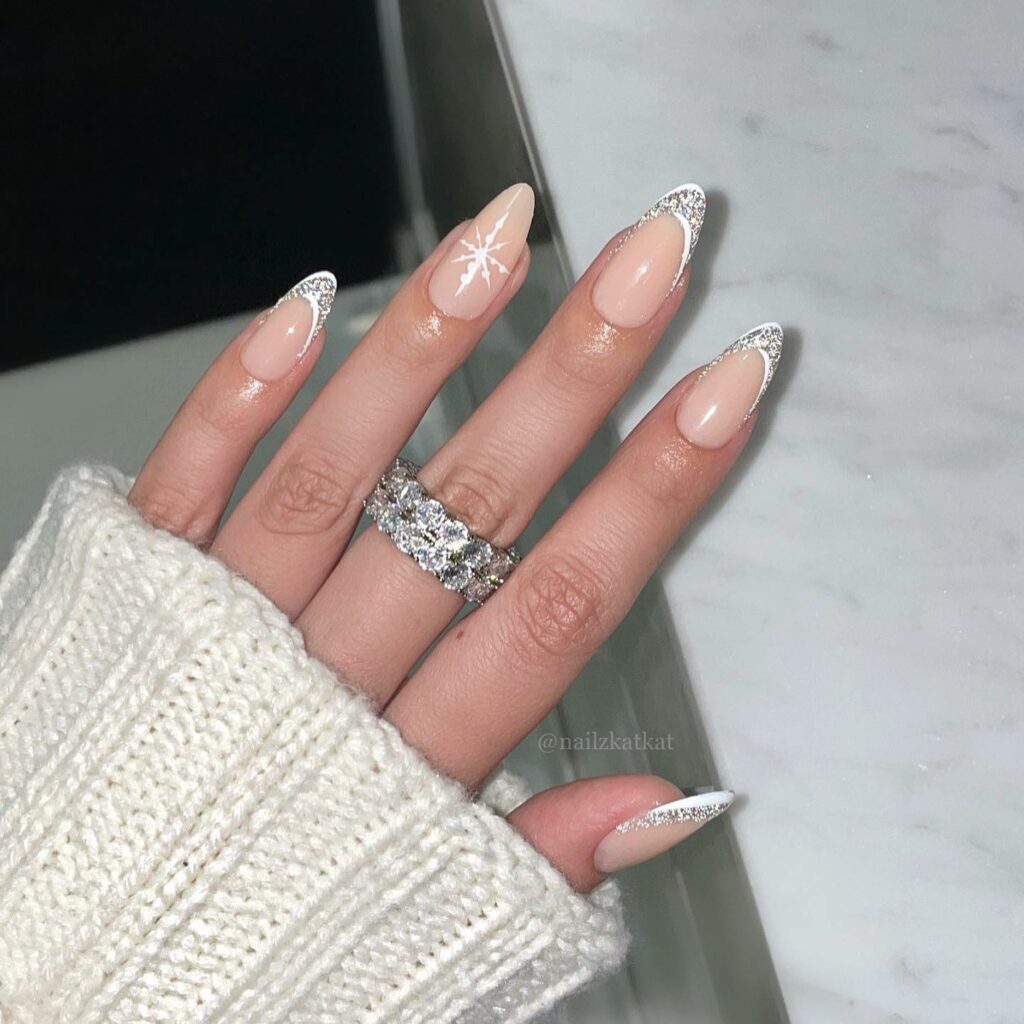 Welcome the wintery vibes with open arms with a mesmerizing silver snowflake-themed mani. The silver accent nail is a sparkling centerpiece, surrounded by sweet snowflakes. Don't worry if handling a nail brush isn't your forte – I've stumbled upon these stickers that can effortlessly bring the winter wonderland to your fingertips! And, to keep the inspiration flowing, I've curated some of my favorite snowflake nails for you to explore further.
Embellish with Pearls and Studs
Why limit the fun to just your nails, suitable? Consider adorning your entire hand with gleaming beads and pearls this season, just as nail artist Miss Pop does. A little trick from my toolkit: eyelash glue works wonders in attaching these tiny beauties firmly to your fingers. I spotted a trend last year and am thrilled to see it coming back!
The Timeless Appeal of True Red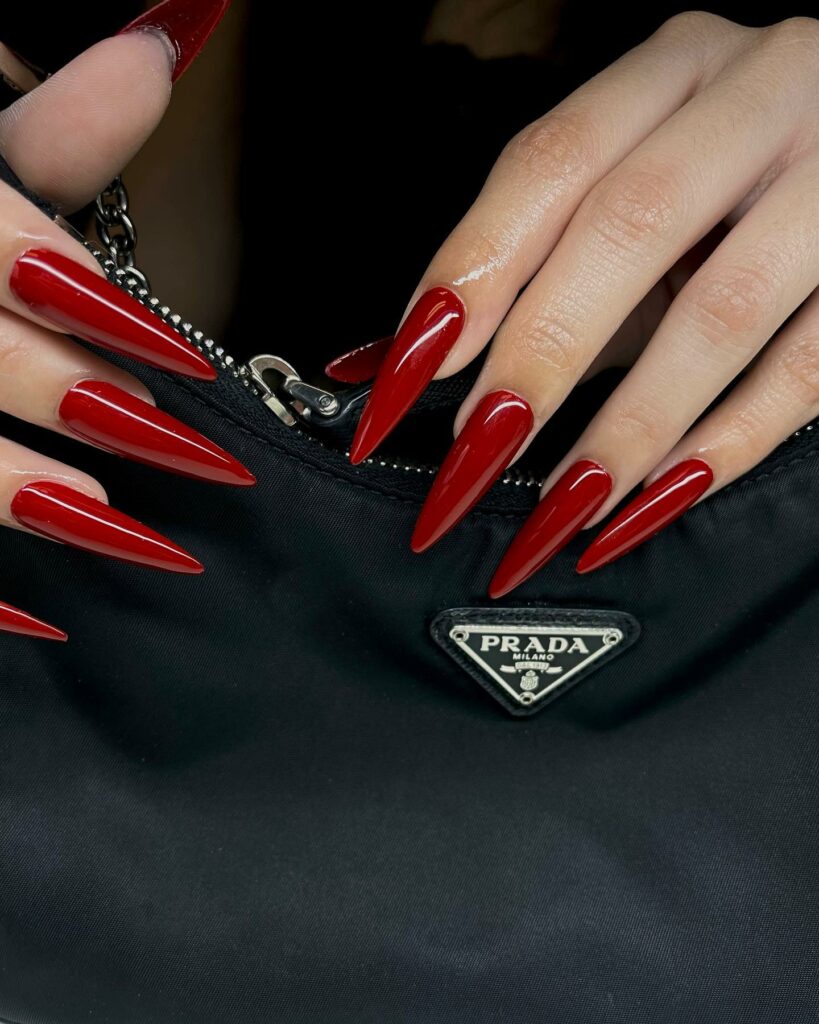 When in doubt, opt for the timeless elegance of a cherry red gel manicure. I've noticed that no matter the salon I visit, this classic shade always resonates with the holiday spirit, adding a splash of vibrant color to the celebrations.
Experience the Unexpected with Chic Squares
Here's a trend that captivated me instantly – the layering of pale pink over metallic red, creating a fascinating contrast of textures that is just so cool! The pastel touch is unexpected yet brings a chic modernity to the traditional holiday hues. I'm already planning to showcase this at my next holiday dinner!
Delight in the Details with a Snowflake Accent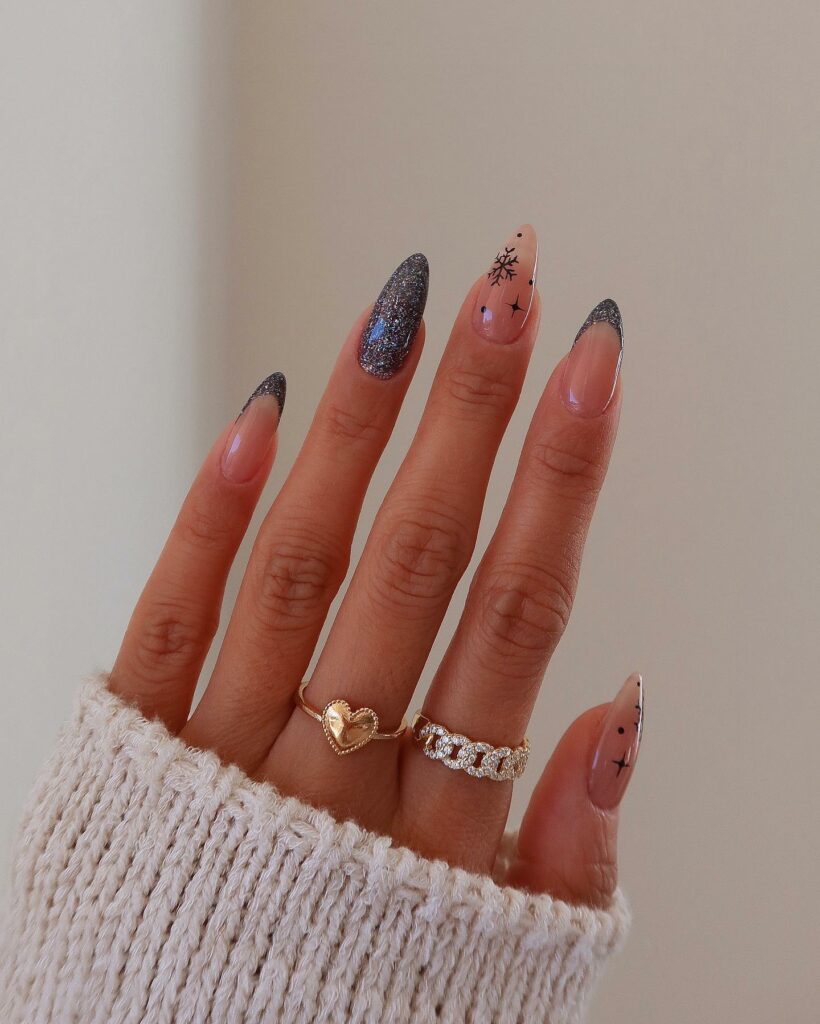 Break the monotony of an icy white manicure with a delicate snowflake design. This simple addition can effortlessly elevate your look, adding a touch of elegance to your winter-style narrative.
Get Playful with Rudolph Nails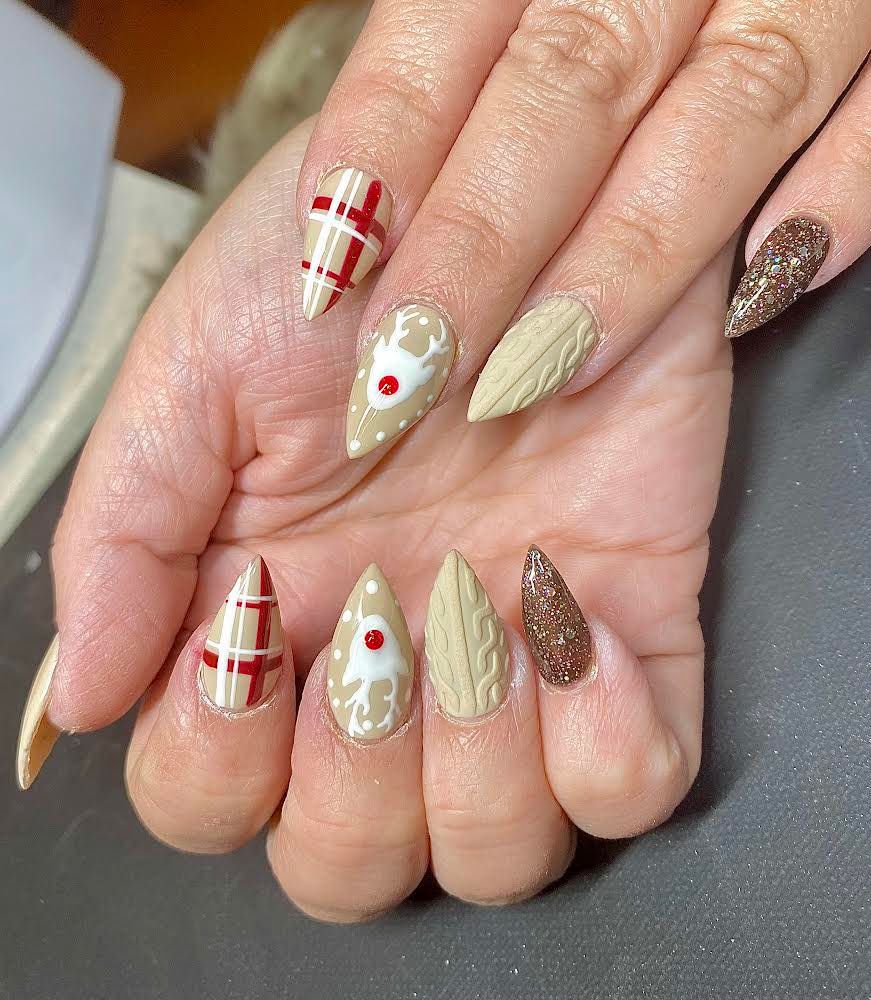 Now, this is a delightful treat for all – a cute reindeer nail art that's as easy to create as it is to admire! A toothpick and your favorite neutral polishes are all you need to bring this adorable Rudolph to life on your nails. I've tried this with various shades, and trust me, it's a fun, creative break!
Embrace the Classic Charm of Red Check
Immerse yourself in the holiday spirit with nails that remind you of your favorite wrapping paper. A classic red plaid pattern is not only festive but also quite manageable for a DIY session at home, especially when you keep it to a few nails.
Dive into the Richness of Cranberry
Ending this festive list on a high note, you can never go wrong with a rich berry shade like Olive & June's Cozy Up. It embodies the essence of the holiday season, bringing warmth and style to your fingertips.
Gingerbread Fun
Nothing screams Christmas like gingerbread cookies! Consider decorating your nails with little gingerbread men or houses. You can play around with a nude or brown base coat and then use a fine brush to draw these delightful characters or structures, adding tiny strokes of white for icing details.
Starry Night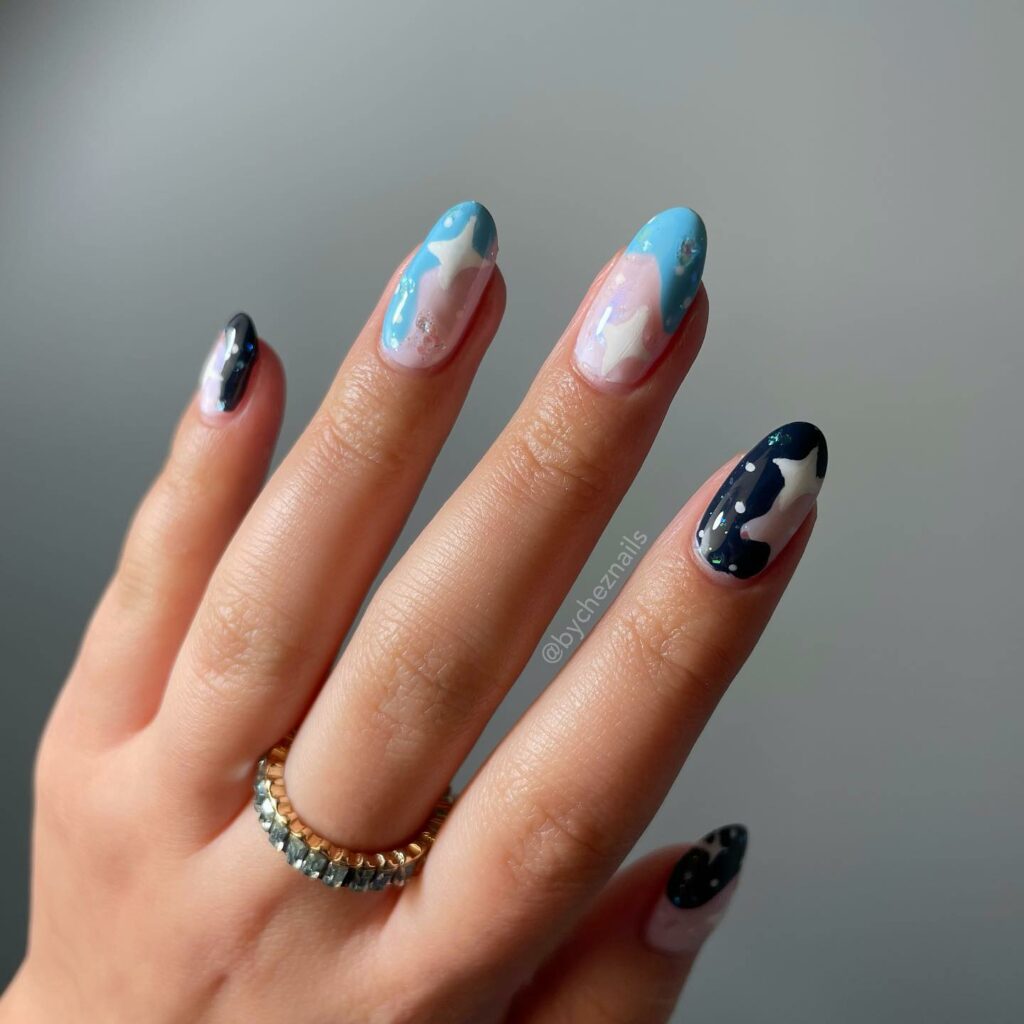 Capture the enchantment of Christmas nights by opting for a deep blue or black base coat and then adding tiny stars in gold or silver. You could go for a scattered pattern or maybe even paint a delicate constellation on one or two accent nails.
Candy Cane Stripes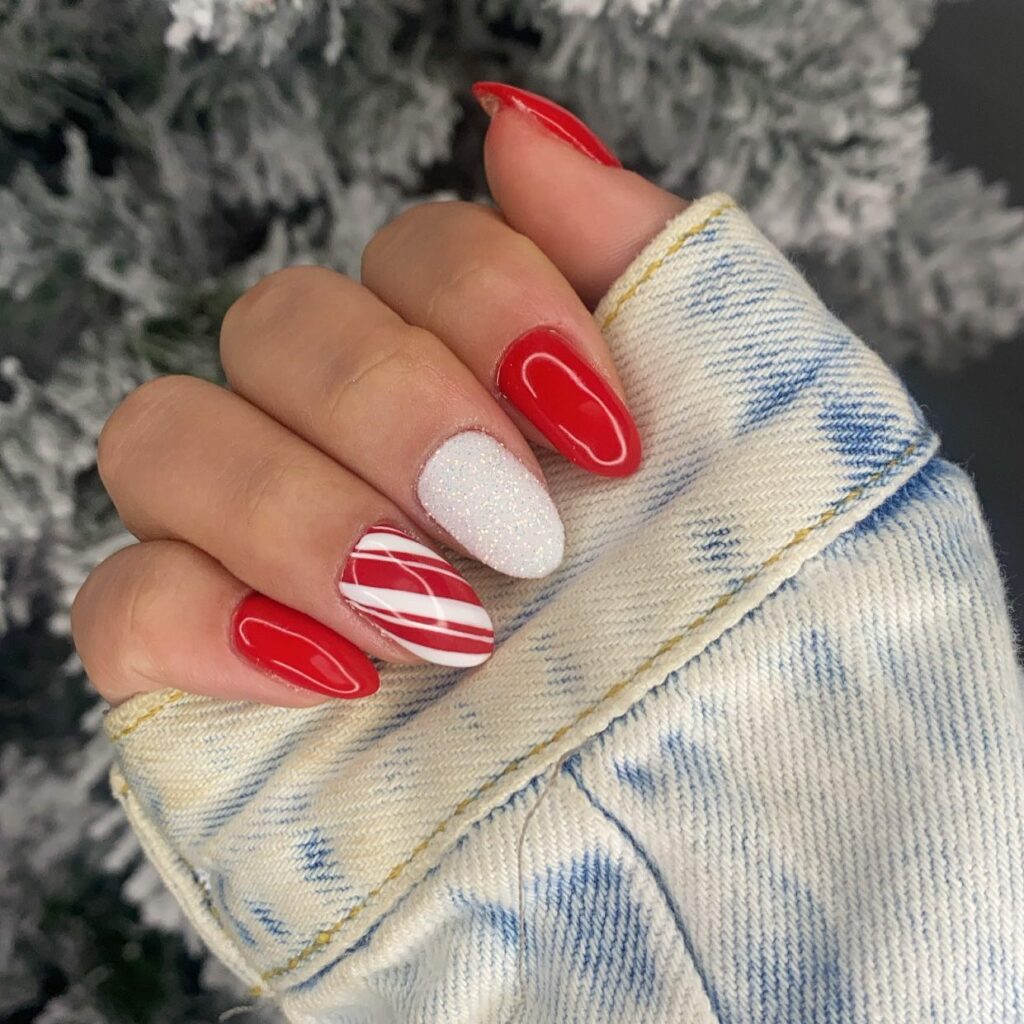 If you want something sweet and simple, why not try painting your nails with white and red stripes to resemble candy canes? This design is quite easy to create using striping tape or a steady hand and a thin brush. Add a touch of sparkle with a glitter top coat for that extra festive flair!
Holiday Wreath
For a fresh take on Christmas nails, consider painting a wreath on each nail using green for the leaves and adding small red dots as berries. It's a subtle yet festive nod to the season.
6 Seasonal Nail Care Tips You Will Love
Ah, the winter season – a time of joy, festivities, and alas, a bit of a challenge for our cherished nails. As we transition into this season of chilly winds and fluctuating temperatures, it's paramount that we give our nails the extra tender loving care they deserve. Especially, when we're indulging in changing our nail designs frequently to match our festive vibes, a robust nail care routine is non-negotiable. Here's your mini-guide to keeping your nails healthy and vibrant throughout the season:
Moisturize, Moisturize, Moisturize – During winter, the air gets quite dry, which can be harsh on your nails. Make it a daily ritual to moisturize your hands and nails. Consider investing in a nourishing nail oil or cream. These products usually contain vitamins and minerals that strengthen the nail and prevent breakages.
Give Your Nails a Break – With the flurry of activities and the temptation to switch up your nail designs to match your outfits, your nails might be under a lot of stress. It's a wise practice to give your nails a 'breathing space' in between nail art changes. A few days of rest can help maintain the natural health of your nails.
Hydration is Key – Well, this tip is not just for the nails but for your overall well-being. Keeping yourself hydrated is essential in maintaining healthy nails. Drink plenty of fluids to avoid brittle nails that can easily crack and chip.
Use Gentle Nail Polish Removers – When it comes to changing your nail designs frequently, you'd be using nail polish removers quite often. Opt for acetone-free removers as they are less drying and harsh on your nails and cuticles.
Protect Your Hands – As you engage in holiday activities, be it crafting, cooking, or cleaning, remember to shield your hands and nails. Wearing gloves can protect your nails from potential damage and keep them looking pristine.
Regular Nail Maintenance – Develop a routine for regular nail maintenance, including filing and buffing. A weekly session can help in preventing splits, tears, and painful conditions. Also, always file your nails in one direction to prevent breakage.
Conclusion
In wrapping up our festive nail adventure, hello fashion enthusiasts! Navigating the vibrant world of nail art can be both exhilarating and daunting. Embracing new designs offers a fabulous opportunity to express oneself and resonate with the season's spirit. Remember, the key lies in experimenting and discovering what resonates with your style. While trying every trend is tempting, ensure you're using safe, quality products to avoid any potential nail damage. Do your research, start with more straightforward designs before diving into complex patterns, and most importantly, have fun! Your nails are a canvas awaiting your creative touch. Here's to making a statement with each flick of your fingers and stepping into any room with newfound confidence. Go on, let your nails do the talking!
Feature image @nailsbyalsn via Instagram