There's a beauty secret that I've been dying to share with you, and today is the day. You know those annoying dark spots that just refuse to fade away, always staging an unwelcome comeback at the most inconvenient times? Don't fret, because we are about to bid them a stylish adieu!
Welcome to my latest blog post, "Best Concealer for Dark Spots". where we'll dive into the world of concealers, exploring eight hand-picked power players that promise to leave your skin looking flawless and unblemished. And don't worry, I've got you covered—literally—no matter what your skin type or budget might be. We'll walk you through their ingredients, benefits, application techniques, and price points. I'll share insider tips from professional makeup artists, dermatologists, and of course, my own time-tested experiences.
7 Things To Look For When Buying Concealer
When shopping for a concealer, there are several key factors you should consider:
Skin Type: Your skin type – whether oily, dry, combination, or sensitive – will greatly influence the type of concealer that will work best for you. If you have dry skin, for instance, a hydrating or creamy concealer is usually a better choice. Conversely, if you have oily skin, you might want to opt for an oil-free and matte formula.
Purpose: Are you looking to cover blemishes, dark circles, redness, or hyperpigmentation? Different concealers are designed to address different concerns. For instance, a peach or orange-toned concealer works best for dark circles, while a green-tinted concealer can neutralize redness.
Shade: This might seem obvious, but it's crucial to find a concealer that matches your skin tone. The right shade will seamlessly blend into your skin. However, if you're focusing on the under-eye area, you might want to go a shade or two lighter to brighten it up. Many brands offer a wide range of shades to accommodate various skin tones.
Coverage: Concealers come in varying levels of coverage, from light to full. If you're aiming to cover minor imperfections or to brighten the under-eye area, a light to medium coverage might suffice. However, if you're dealing with darker spots or prominent blemishes, you'll probably need a full-coverage concealer.
Formula: Concealers come in various formulas – liquid, cream, stick, etc. Liquids are usually versatile and work for most skin types. Creams offer more coverage and are great for dry skin. Stick concealers offer full coverage and are useful for spot concealing.
Ingredients: If you have sensitive skin or specific skincare concerns, check the ingredient list. Look for non-comedogenic concealers (which won't block pores), and avoid any ingredients you know irritate your skin. Some concealers also include skincare ingredients to help improve your skin while providing coverage.
Finish: Concealers can have matte, semi-matte, or dewy finishes. If you have oily skin, you might prefer a matte finish, while those with dry skin might opt for a dewy finish for added luminosity.
Remember to take your time and try different products to see what works best for you. Many stores offer testers, so don't hesitate to test a few before making your decision. It might take some trial and error, but you'll find the perfect concealer for your needs eventually. Now onto 10+ concealer that I think are great.
My Concealer Tales: Magic Away Concealer by Charlotte Tilbury
The magic of makeup! One of my all-time favourites is the Magic Away Concealer by Charlotte Tilbury. I still remember the first time I applied it—like a magic wand, it just blurred away blemishes and dark circles, leaving behind a canvas so flawless, I couldn't help but stare. With an impressive lineup of shades, finding your perfect match is a breeze. What I love most? The Magic Precision cushion applicator. It feels like a gentle kiss on the skin, hugging the eye area just right. Not to mention, the Bliss Molecule that graces this concealer, doing wonders to reduce fine lines and wrinkles. At $32, this is my beauty investment that pays off every time I look in the mirror.
Fenty Beauty Pro Filt'r Instant Retouch Concealer
Pros: Known for its wide shade range, this concealer from Rihanna's Fenty Beauty line offers a soft-matte finish that's long-lasting and buildable, perfect for various skin types. It has an easy-to-blend formula which ensures seamless coverage. Cons: It can be a bit drying for those with very dry skin. Also, it dries quickly, so you need to blend it in swiftly after applying.
Water-Resistant Wonder: IT Cosmetics Bye Bye Under Eye Anti-Aging Concealer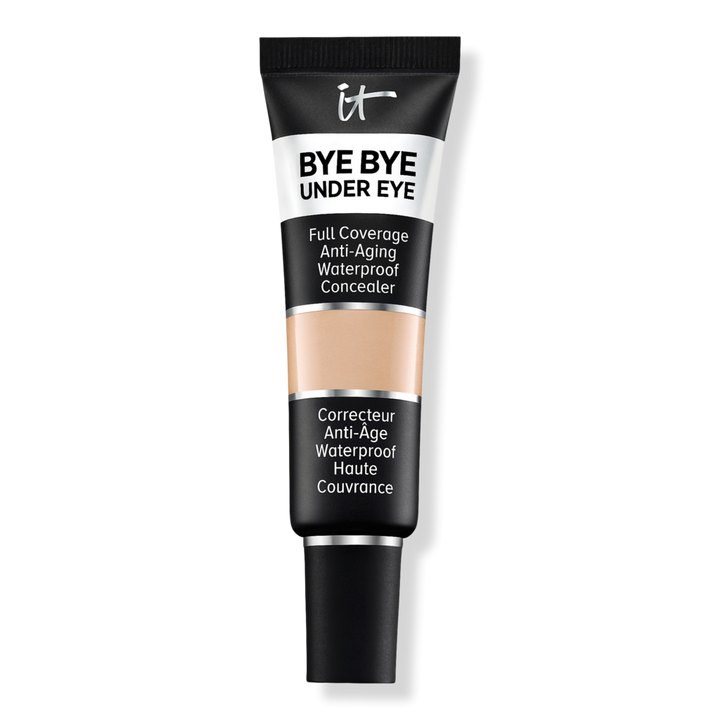 We all have our go-to beauty saviors, and IT Cosmetics' Bye Bye Under Eye Anti-Aging Concealer is mine. It's my rainy day companion, thanks to its full coverage and waterproof formula. The secret? Its natural finish and cream base that work beautifully on dry skin. The best part? Its longevity. This darling stays put for a whole 24 hours, crease-free and fresh. Just warm some up with your fingers, dot it on, blend, and voila—you've got skin that could rival a Greek goddess. And when it comes to hiding those dark circles, you can trust this concealer to do the job flawlessly.
Timeless Favorite: Tarte Shape Tape Contour Concealer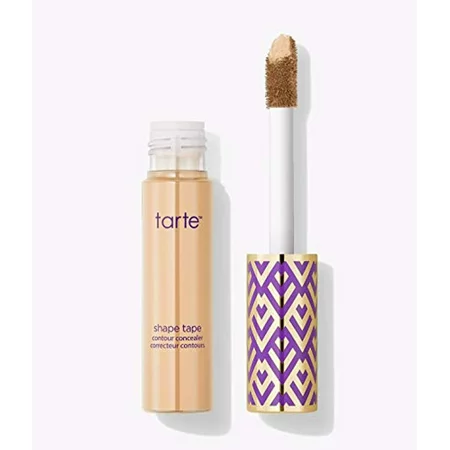 When it comes to concealers for dark spots, Tarte's Shape Tape Contour Concealer is like a loyal friend that never lets me down. With its commendable coverage and zero creasing, it's been a part of my beauty arsenal for years. The tape technology gives a blur effect, smoothly covering fine lines and wrinkles, and its ingredient list is like a love letter to your skin—shea butter, mango butter, and licorice root to hydrate and maintain skin's elasticity. Its vegan, cruelty-free, and waterproof formula is, as we say in the beauty world, chef's kiss good!
Creamy Perfection: Dior Forever Skin Correct Concealer
The Dior Forever Skin Correct concealer is like that popular girl in school who is adored by everyone. It's creamy and hydrating, giving you full coverage that lasts up to 24 hours. I love how it glides on smoothly and doesn't settle into fine lines. Plus, its brightening effect is like a soft glow from within, making your face appear youthful and radiant. One swipe, and it's Dior to the rescue!
Natural Beauty's Best Friend: ILIA True Skin Serum Concealer
I chanced upon ILIA on Instagram and their philosophy of clean ingredients caught my attention. Their True Skin Serum Concealer, with Vitamin C, Mastic, and Albizia Julibrissin Bark Extract, not only covers blemishes but also works towards a brighter, more even complexion. Plus, it's a knight in shining armor against environmental stressors. Its medium coverage might not fully conceal very dark spots, but if you're okay with that, this featherweight concealer that blends seamlessly into the skin is a gem.
Classic Charm: NARS Radiant Creamy Concealer
The Radiant Creamy Concealer from NARS is like that classic black dress in your wardrobe—elegant, versatile, and always a good idea. It offers medium to buildable coverage that lasts up to 16 hours without creasing. Its formula leaves your skin looking dewy and radiant. A word of caution, though—if you're not a fan of the dewy finish, this may not be your cup of tea.
Oily Skin's Best Ally: NARS Soft Matte Complete Concealer
Next on my list is another beauty from NARS, the Soft Matte Complete Concealer, especially for my ladies with oily skin. It's a cream-based, oil-free formula that gives a full coverage. It's packed with nourishing ingredients like Peptides, Hyaluronic Acid, and Antioxidants and leaves your skin looking natural. Plus, it's long-wearing and won't crease, making it a worthy addition to your beauty kit.
Double Delight: Kosas Revealer Super Creamy + Brightening Concealer and Daytime Eye Cream
Last but not least, I present the Kosas Revealer Super Creamy + Brightening Concealer and Daytime Eye Cream. This two-in-one beauty has been on my wishlist for a while now. It's a medium coverage concealer that never creases and blends into the skin like a dream. Its ingredients, including caffeine, pink algae, arnica, provitamin B5, peptides, and hyaluronic acid, work to brighten, soothe, and plump your skin. The best part? Regular use reduces dark spots and discoloration.
Still, looking For Inspiration?
Here are five more well-regarded concealers, each with their own pros and cons:
Maybelline Instant Age Rewind Eraser Dark Circles Treatment Concealer Pros: This drugstore hero is loved for its ability to instantly erase dark circles and fine lines. The sponge applicator makes it easy to apply, and the formula is enriched with goji berry and Haloxyl to help reduce puffiness and shadows. Cons: Some people might not be fans of the sponge applicator for hygiene reasons. Also, the shade range could be better.
Laura Mercier Secret Camouflage Concealer Pros: This classic concealer is known for its high pigment and long-lasting formula. It's excellent for spot concealing and comes with two shades for custom blending. Cons: Its formula is a bit dry, so it might not be suitable for those with dry skin. It also requires a bit of practice to master blending the two shades correctly.
YSL Touche Éclat High Cover Radiant Concealer Pros: This concealer doubles as a highlighter, brightening up the under-eye area and adding radiance to the high points of your face. It has a lightweight, fluid formula that's easy to blend. Cons: It offers more of a light to medium coverage, so it might not be the best choice if you have very dark circles or spots. It's also on the pricier end of the spectrum.
Benefit Boi-ing Industrial Strength Concealer Pros: True to its name, this concealer offers "industrial-strength" full coverage that can conceal blemishes, dark circles, and discoloration. It has a creamy texture that doesn't crease or cake. Cons: The shade range is limited, which can make finding a perfect match challenging for some skin tones. Also, the pot format may not be as hygienic as a tube or wand applicator.
Remember that everyone's skin is different, so what works for one person might not work for another. It's always a good idea to try out a concealer in person if possible, to see how the formula works with your skin type and tone.
Conclusion
And there we have it, my beauties! Remember, when it comes to concealing dark spots, the trick is to find a product that not only camouflages but also nourishes your skin. We've explored a variety of options, from full coverage magic wands to two-in-one beauties, creamy formulas to ones perfect for oily skin, and concealers that brighten while they hide those pesky blemishes. Of course, it's essential to consider your skin type and preference for finish while choosing the right one. And always remember, the art of concealing is as much about the technique as the product. So, keep experimenting until you find the method that works best for you. It may take a bit of trial and error, but I promise you, the journey is as exciting as the destination. Be open, be curious, and most importantly, enjoy the process. Makeup is a form of self-expression, after all. Now, it's time for you to wield your magic wands and let your beauty shine through. Go forth and glow, my lovelies! Remember, you are beautiful, inside and out. Can't wait to hear about your makeup adventures. Until next time, keep sparkling!
Feature image via Karly Jones on Unsplash